When you want a showstopper dessert this holiday season, this Christmas Bourbon Pecan Pie with Painted Poinsettia Crust is just the ticket!
This fancy, yet easy, painted poinsettia pie crust can be made with either homemade pie dough or store-bought pie dough. Since I'm not the best at making my own pie crust, I've used two kinds of store-bought dough. The bottom crust is a 9″ deep dish pie shell (found in the freezer section), and the painted poinsettia is made from the roll out store-bought pie dough (found in the refrigerated section).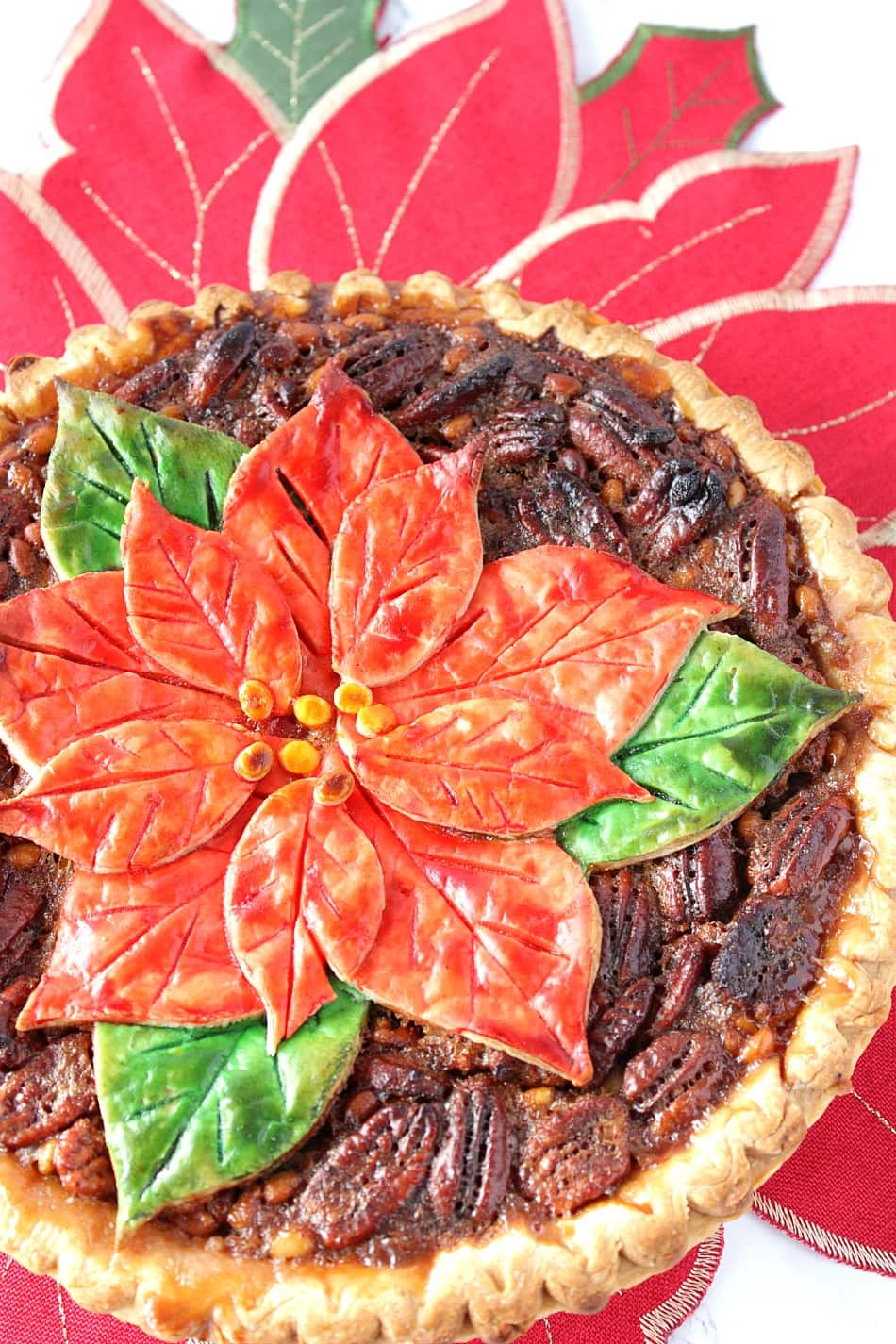 Because I normally share step-by-step photo tutorials for almost all of my recipes, this one is a little different because I actually made this pie LIVE on Facebook a few weeks ago. This was my first ever live presentation so as you can imagine; I was nervous. If you have the time to sit back and watch the following video, I'll walk you through the process of making this Christmas Bourbon Pecan Pie with Painted Poinsettia Crust. The tools you'll need for making the painted pie crust are as follows: two leave templates (made from cardboard) one approximately 3″ and the other approximately 1½" , scissors, paring knife, gel food color (red, green and yellow), water, egg wash, paint brush, Wilton #12 round piping tip, and pie crust.
I hope you found that video helpful. But, should you have any questions please leave them for me in the comment section and I'll be happy to get back with you as soon as possible. Here is a look at the pie right before I put it in the oven: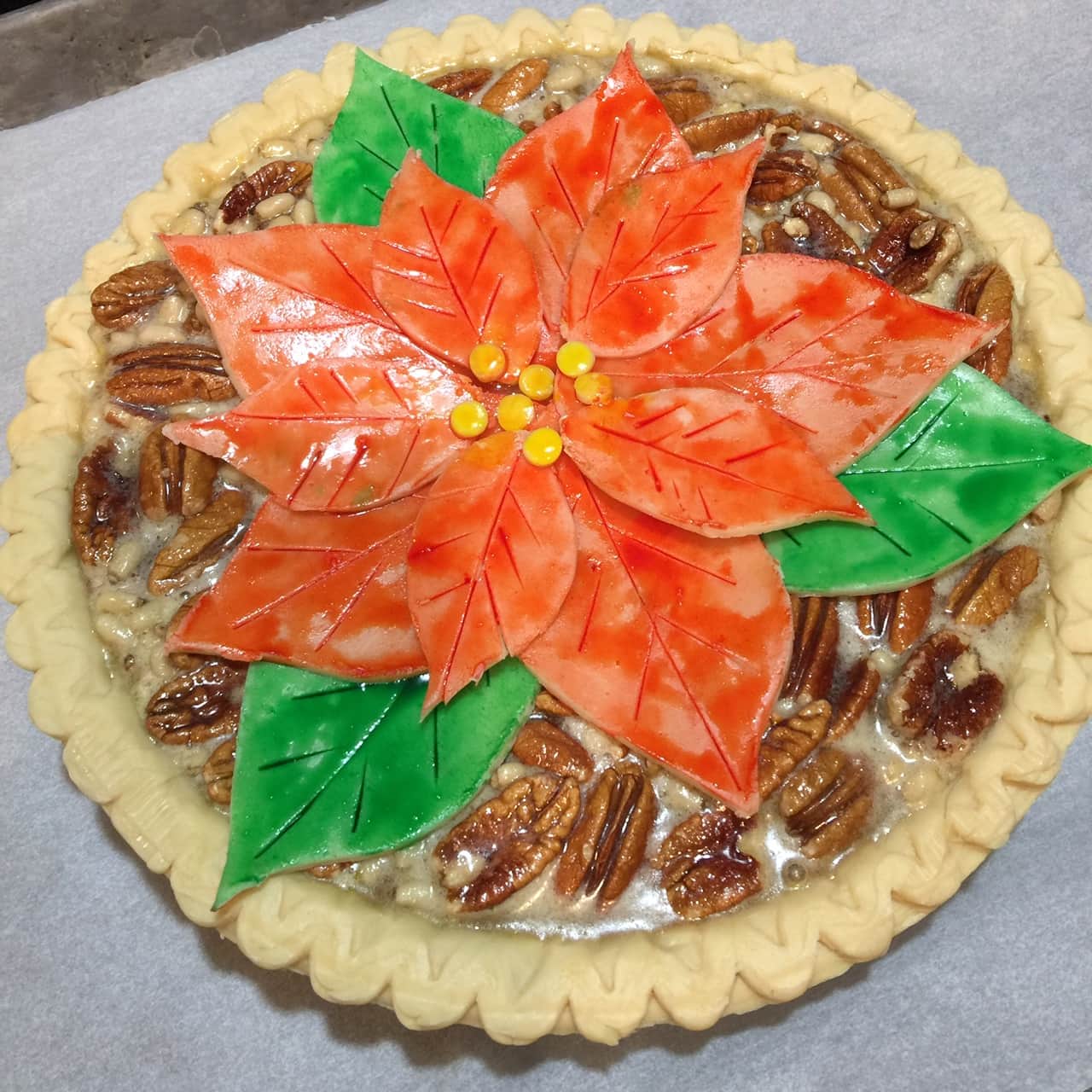 And, after only 35 minutes in the oven…It's pretty, right? See how the gel food colors intensify?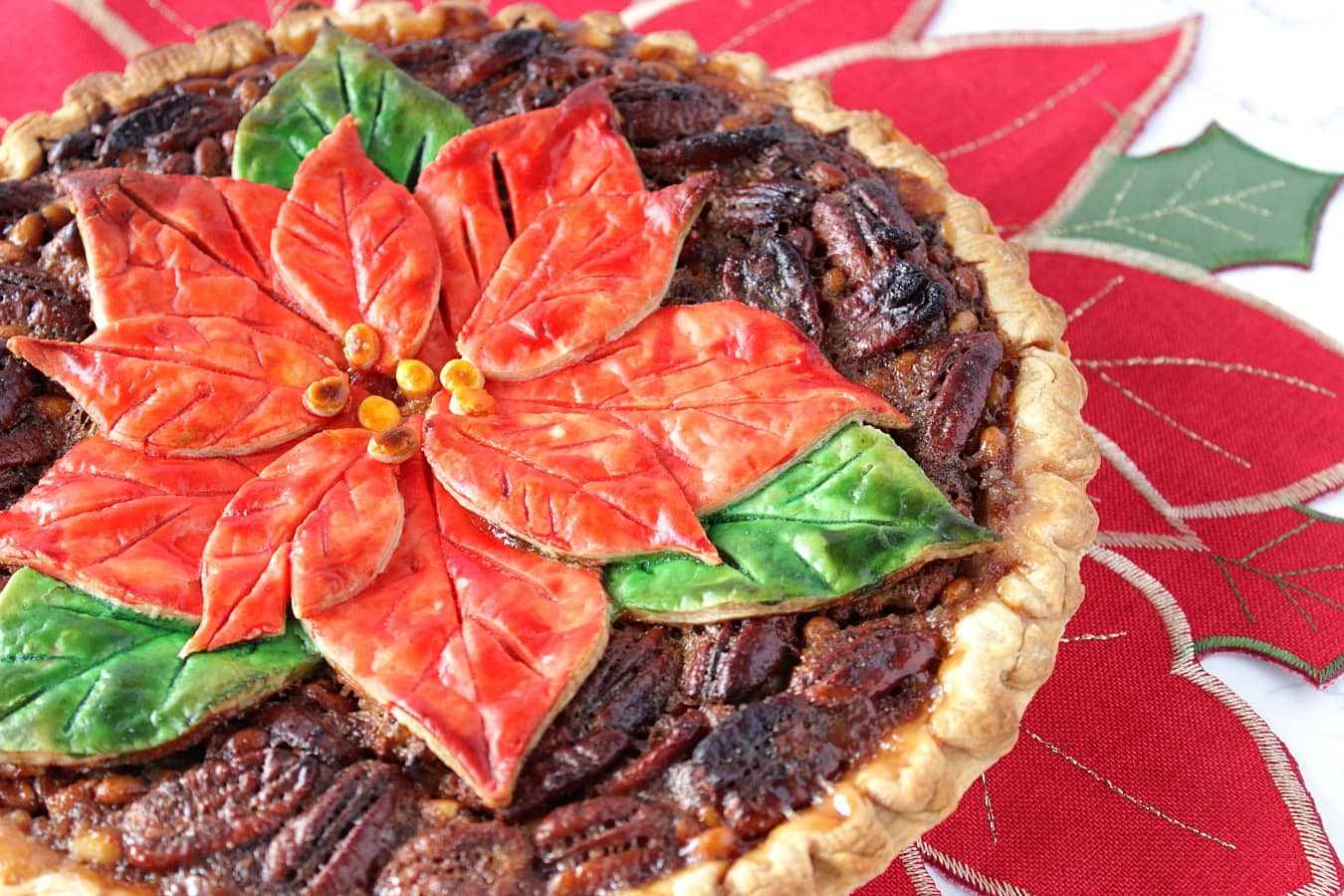 And, since I made many references to our little girl Nutmeg many times during that video, here's a quick picture of our baby girl, Nutmeg the Boston terrier. This girl has captured my heart one thousand times over. She is part pig, part dog, and all sorts of funny! I love her more than I can put into words…
But, back to the business at hand…
The following Amazon.com items are some suggested products I've chosen that will aid you in the making (and serving) of this recipe for Christmas Bourbon Pecan Pie with Painted Poinsettia Crust, if needed. By clicking on the item, you'll be taken directly to Amazon.com if you're interested in purchasing any of these products. You are in no way required to do so, and you will not be charged in any way unless you decide to purchase a product through Amazon.
Before I share the printable pie recipe with you, I'm super excited to be able to offer you the chance to win this set of two LOVE ACTUALLY (my all- time favorite Christmas movie) hand painted wine glasses. I painted these glasses specifically to coordinate with this post and recipe for Christmas Bourbon Pecan Pie with Painted Poinsettia Crust. I'm self-sponsoring this special giveaway as my way of saying Merry Christmas and Happy Holidays to all of my readers. This is a $65 value. Each glass will come in its own gift box. My hand painted glassware items are all completely dishwasher safe as well as being non-toxic. Each glass is painted for you, by me, with love, actually. Details about this giveaway are listed at the end of this post.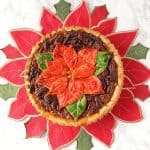 Bourbon Pecan Pie with Painted Poinsettia Crust Plus a Giveaway
When you want a showstopper dessert this holiday season this Christmas Bourbon Pecan Pie with Painted Poinsettia Crust is just the ticket!
Ingredients
3

eggs

lightly beaten

1/2

cup

granulated sugar

1/2

cup

brown sugar

1

cup

light corn syrup

5

tablespoons

butter

melted

2

tablespoons

bourbon

1

teaspoon

vanilla extract

pinch

salt

2

cups

pecan halves

¼

cup

pine nuts

optional

1

unbaked 9" deep dish pie shell

1

pie crust for a 9" pie

rolled flat

2

poinsettia leaf templates

cardboard 3" and 1½"

reg

green, yellow gel food color

1

egg and 1 tablespoon water
Instructions
Preheat oven to 375 degrees.

In a large bowl whisk together the eggs.

Add the next 9 ingredients and whisk until well combined.

Pour the pecan mixture into the deep dish pie shell. Set aside.

Use a paring knife to cut out 8 large petal shapes and 5 small petal shapes from the second pie crust.

Use a Wilton #12 round tip to cut out 5-7 berries from the pie crust.

Use a paring knife to vein the petals, being careful not to cut all the way through.

In a small bowl or paper cup, mix together the egg and water,

Divide the egg wash into three small bowls, and color each bowl with either red, green or yellow gel color. Mix well.

Use a clean paint brush to paint 5 large petals and 5 small petals with red.

Clean the paint brush with water and paint 3 large petals green.

Clean the paint brush with water and paint the round dots yellow.

Assemble the poinsettia on top of the pecan pie starting with the 4 outer green leaves and work your way to the 5 larger petals and then the small petals and finish by placing the berries in the center of the poinsettia.

Place the pie on a baking sheet and bake in a preheated oven for 30-35 minutes (or until the pie is set in the middle).

Remove the pie from the oven and cool on a wire rack.

Slice and serve warm or at room temperature.

For full video instructions, please visit:
Recipe Notes
Tools and equipment:
Large bowl
Whisk
9" deep dish pie crust
1 - 9" pie crust, rolled flat
red, green and yellow gel food color
2 petal templates (cardboard) 3" and 1½"
scissors
small bowls
paint brush
baking sheet
paring knife
parchment paper
And now more about the LOVE ACTUALLY wine glasses. Due to this being a self-hosted giveaway, this giveaway is open to US residence only. The winner will be notified via mail that they have won and will have 2 days to supply me with their shipping address. If the winner fails to supply me with their address within that 48 hour window, another winner will be chosen at random. This giveaway is totally random and the winners will be selected via Rafflecopter.
Good luck to all who enter, and please enjoy this opening clip of the movie…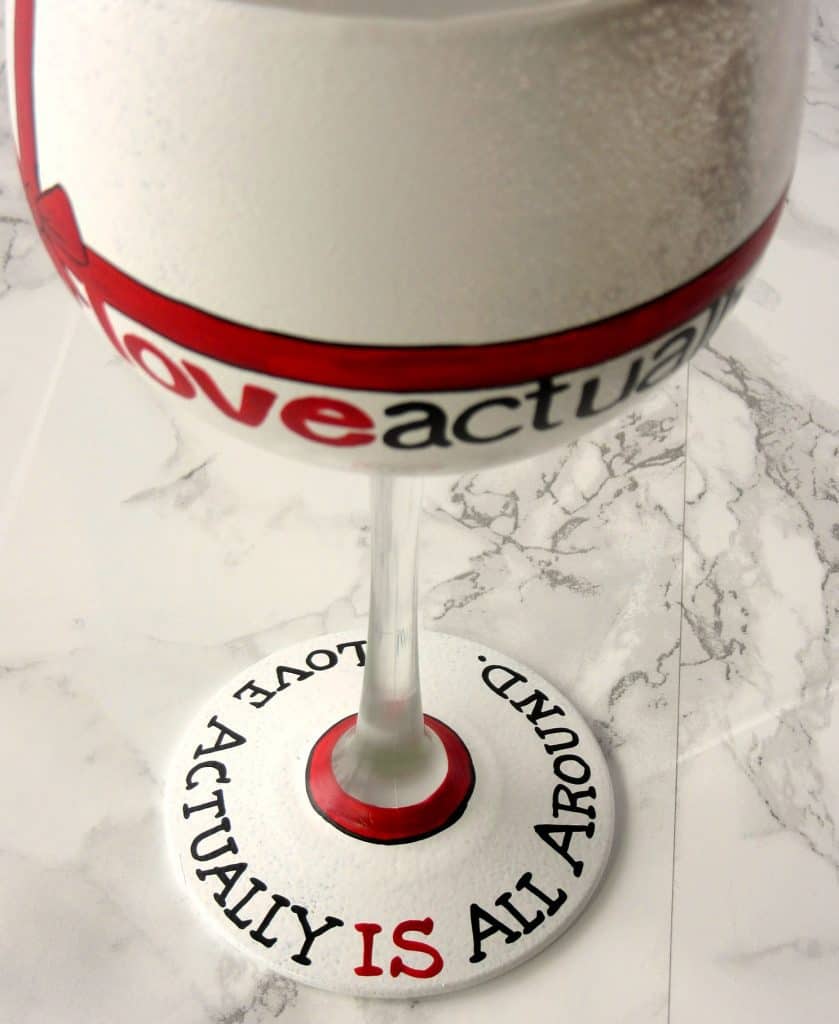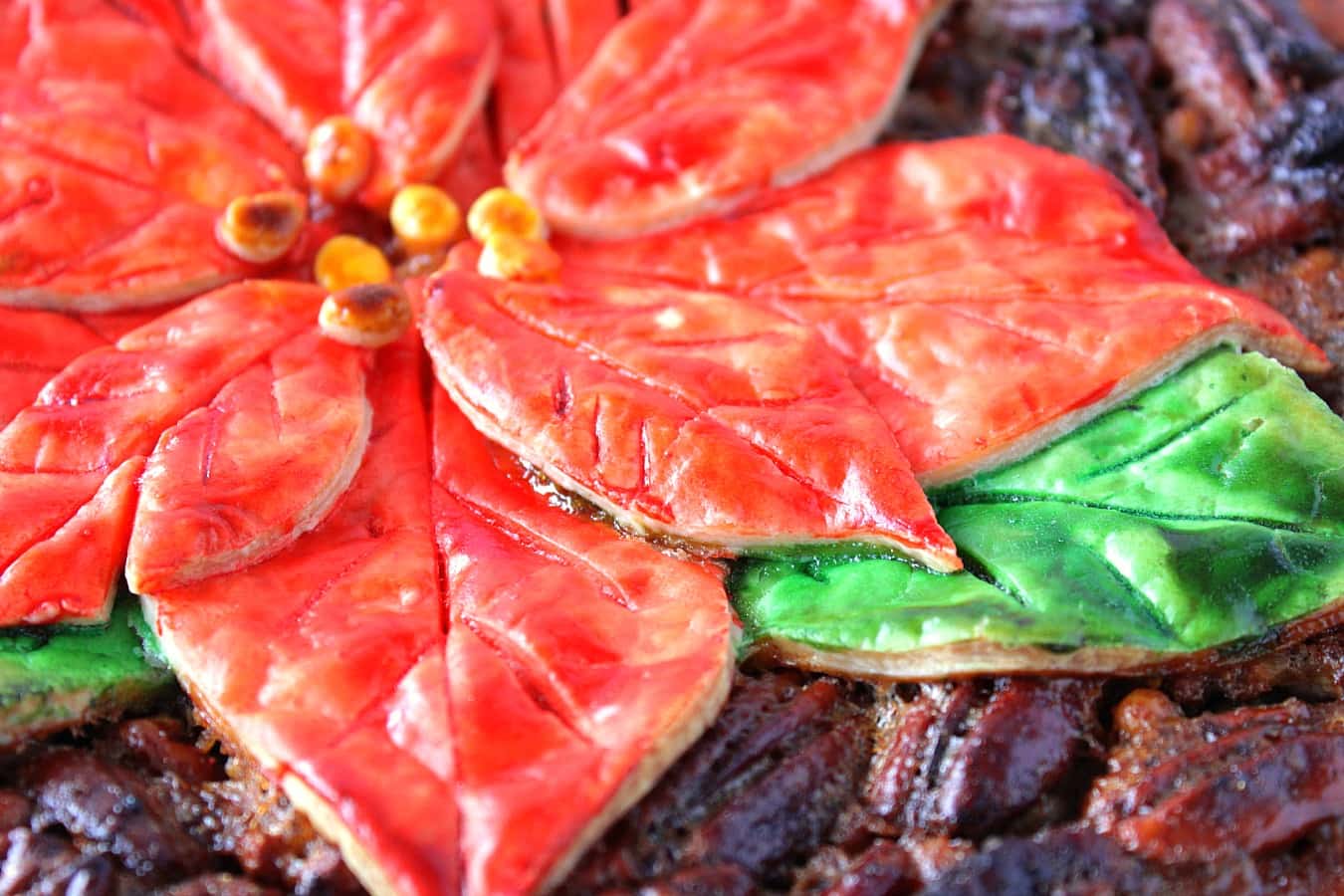 So now, might I suggest that you go pour yourself a glass of wine and cozy up under a nice blanket on the couch with someone you love, and watch the movie LOVE ACTUALLY(find it on Netflix). And while you're at it, better grab a few tissues (and maybe a nice slice of pie), because you're going to need them 😉
Kudos Kitchen by Renée ~ Where food, art, and fun collide each and every day!
Until we eat again, I hope you have a delicious day!
The post above includes affiliate links. When I find a great product or service, I like to share it with my readers. Sometimes I use affiliate links so I can earn commission for my recommendations. As always, I thank you for your support!