This easy Cheesy Spinach and Artichoke Quiche is packed with flavor and color! If you're a fan of the hot dip, you'll flip for this amazing quiche!!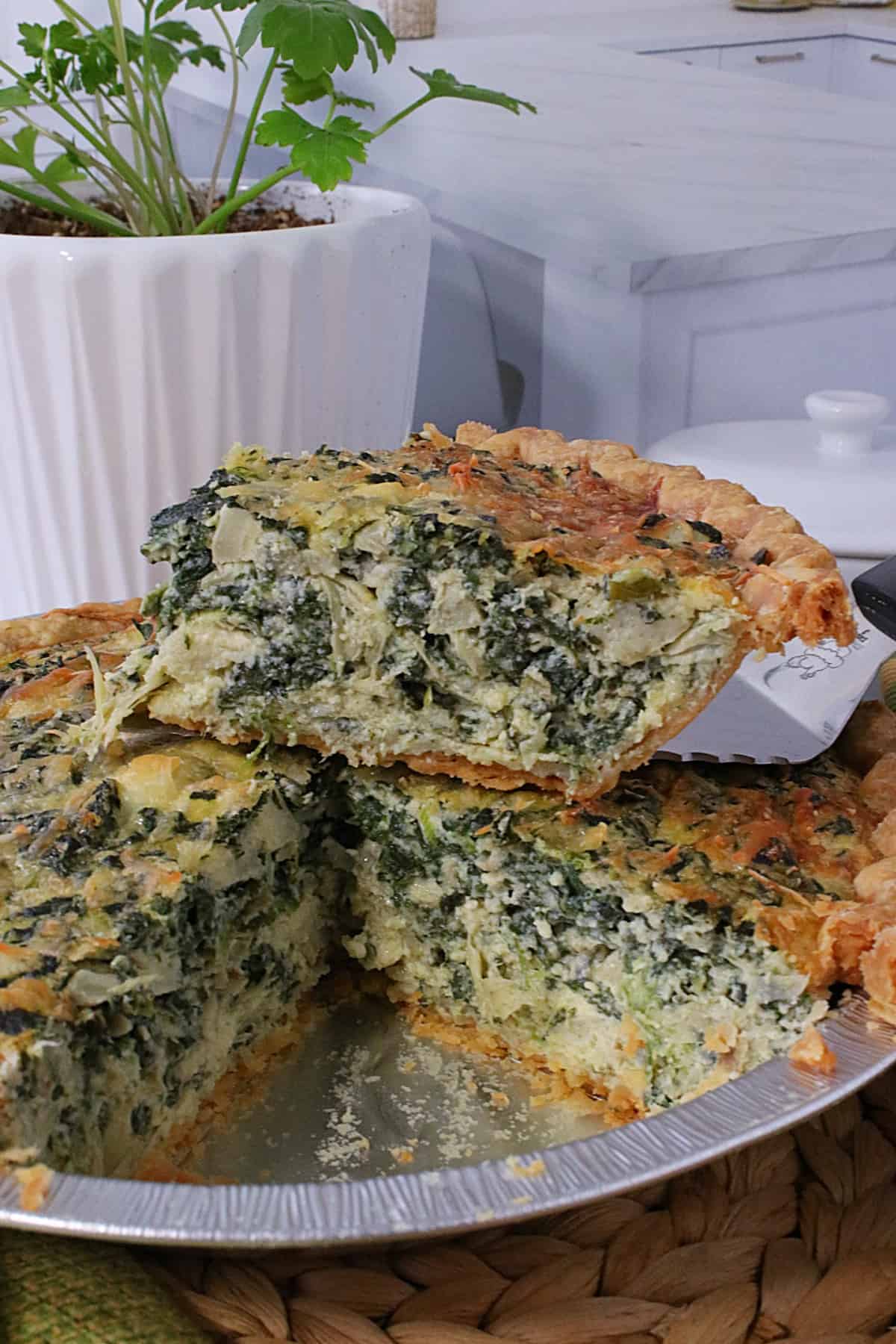 This easy vegetarian quiche is quick to prepare, especially if you use a deep dish ready-to-fill pie crust from the store, as I did. It will be ready for the oven in a matter of minutes, and then you can go about your business as it bakes and fills the house with its wonderful aroma!!
**Note - The following recipe post or category contains affiliate links (highlighted in blue) for your consideration. By clicking on a link I may earn a small commission at no additional cost to you. Thank you!
Jump to:
The ingredients
*Please note that the exact measurements along with a new "shop the recipe" feature from Instacart is available in the printable recipe card.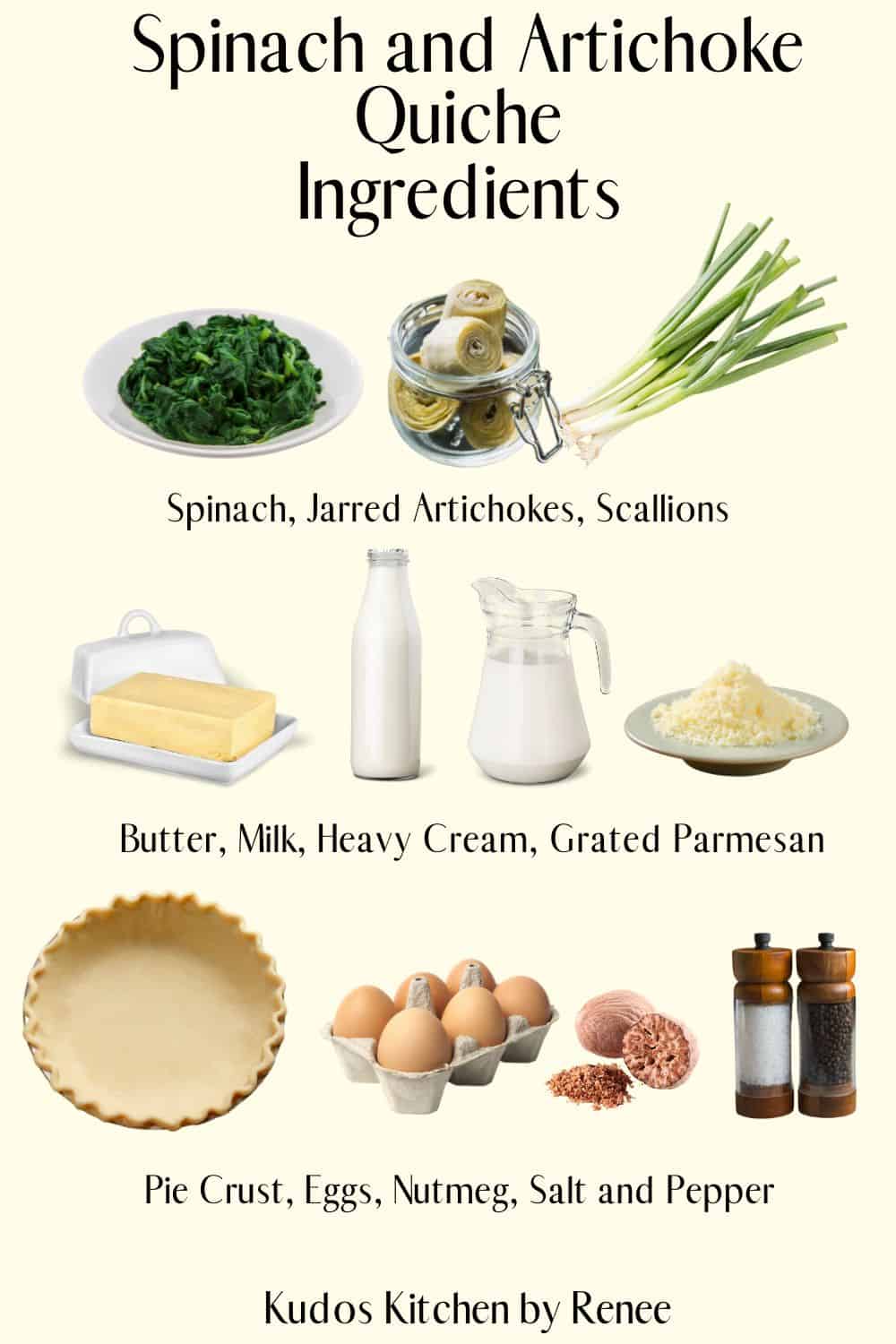 The above ingredient image was made using Canva Design. It's one of my very favorite design tools. You don't need to be a food blogger to use Canva. All you need to be is someone who loves designing graphics. Check them out if you're interested and a whole new world of artistic expression will be opened to you.
Ingredient information
DEEP DISH PIE SHELL - You'll want a pie shell that will hold most, if not all, of this delicious filling, which is why I chose a deep dish. However, if you'd like to make two individual quiches, feel free to use two regular-size pie crusts, and you'll be good to go. Remember that the baking time will be less because the filling won't be as deep.
THAWED FROZEN SPINACH - It is imperative to ensure all the water is squeezed from the spinach after thawing. Water that, if left in the spinach, will ruin the consistency of your quiche. You can do this in two ways. The way I did it was to use a strainer, and then I pressed all the water from the thawed spinach. Another way is to add the thawed spinach to an impeccably clean kitchen towel, then wrap it up and wring it dry. You'll be amazed at how much water you'll get from the spinach.
CANNED ARTICHOKE HEARTS - I used non-marinated baby artichoke hearts in a can (drained) and then chopped them into smaller pieces before adding them to the filling. The baby artichoke hearts are more tender and less fibrous than larger artichokes.
SCALLIONS - I added scallions (aka spring or green onions) for a touch of onion flavor. Still, I kept with this vegetable quiche's green "theme" because I love the taste of scallions!
GRATED NUTMEG - I always appreciate the light nutty, warm flavor nutmeg adds to any green leafy vegetable dish. It's a flavor you'll appreciate in this recipe, but odds are you won't fully be able to detect what it is.
GRATED PARMESAN CHEESE - Use the best quality Parmesan cheese you can afford and steer clear of the kind in the green can on the grocery store shelves. Parmesan in the refrigerated section has much more flavor than shelf-stable Parmesan, so spending the extra money is worth it in my book.
EGGS - Like all recipes, this recipe uses large eggs. Break the yolks first using a whisk or fork to make quick work of beating eggs by hand. I like to lightly beat the eggs before adding the milk and cream.
MILK - I used 2% milk in this recipe because that's what I had on hand. Feel free to use whole or even 1% milk if you like. The more milk fat, the richer the flavor of the quiche, but since this recipe also calls for heavy cream, using 1% milk isn't much of a flavor issue.
HEAVY CREAM - This is a crucial ingredient for richness and flavor. This recipe doesn't call for much heavy cream, but it makes a big difference even in the small quantity of ½ cup.
BUTTER - I always use salted butter, even in my baking. Always taste your salted butter before adding it to a dish. If you can detect a salty flavor, reduce the salt in the recipe by a touch. If the butter tastes delicious (as it should), go ahead with the recipe as written, and I promise you won't notice your finished product being too salty!
SALT AND PEPPER - Kosher salt and freshly cracked black pepper are always my number one and two seasonings, from which almost every savory dish benefits.
Highlighted kitchen tools for success
PIE WEIGHTS - Even though this is an optional tool, pie weights are fantastic for ensuring a pie crust won't bubble and puff during the blind baking stage, hence making sure you'll have plenty of room for all the delicious filling.
STRAINER - This tool, for this recipe, is a lifesaver. Add the thawed spinach to the strainer and firmly press (using your hand or a spatula) to express all the water from the spinach. You'll be amazed at how much liquid comes out. Water that, if left in the spinach, would entirely ruin the outcome of this particular quiche recipe.
MICROPLANE - This is a handy tool in the kitchen. For this recipe, I used it to grate the nutmeg pod. A microplane is also an excellent tool for zesting citrus. I like grating my fresh nutmeg from the pod, but you can also use ground nutmeg from the store.
KITCHEN TIMER - I don't know about you, but the more I do at one time, the less confident I feel about remembering when something needs to be taken out of the oven. Hence the oven timer. It has saved me countless times from over-baking things, and now I don't feel comfortable baking without it.
What does blind baking mean, and how does it pertain to pie crust?
Blind baking a pie crust means baking the crust before filling it with ingredients. Blind baking prevents a pie crust from getting soggy while baking, especially with a wet filling like a quiche.
This vegetarian quiche recipe calls for blind baking the crust.
What is docking a pie crust, and why is it important?
It's a simple way to keep pie dough from puffing while baking in the oven. Simply pricking the bottom of an unbaked pie dough with the tines of a fork allows the steam to escape through the little holes and prevents unwanted puffy air bubbles from forming in the crust.
What are pie weights, and what do they do?
Pie weights are extra insurance to keep the pie crust from bubbling and puffing during blind baking. Docking works well enough, but pie weights will set your mind at ease, leaving plenty of room inside the crust for the delicious filling.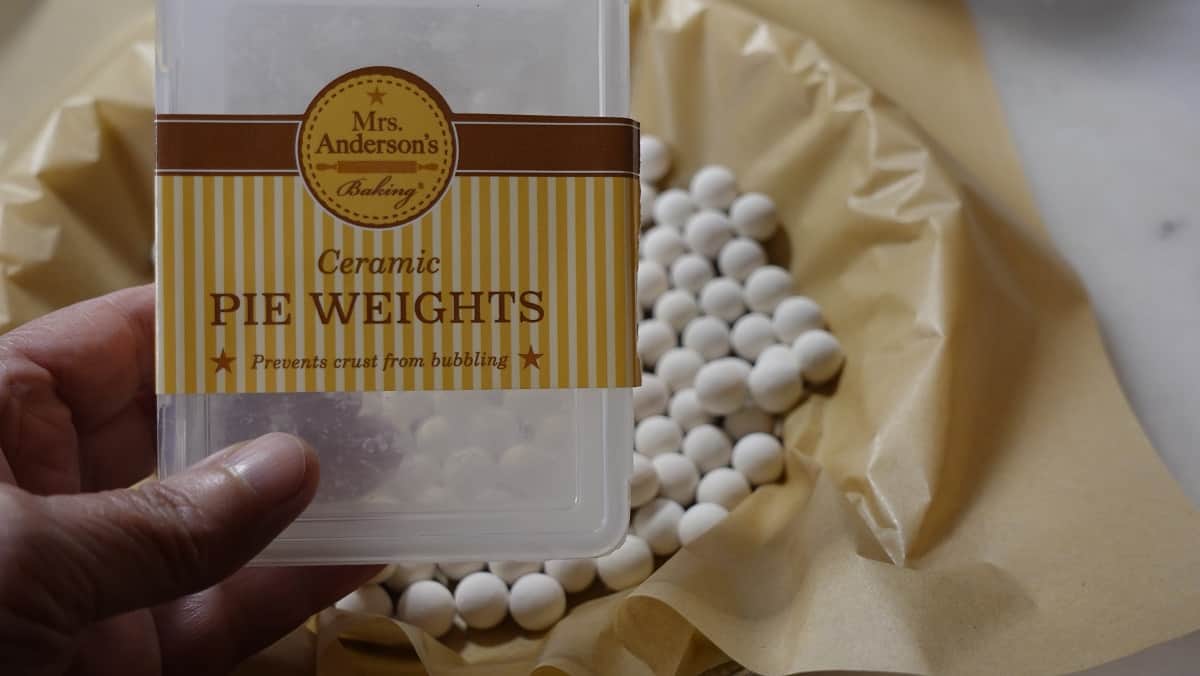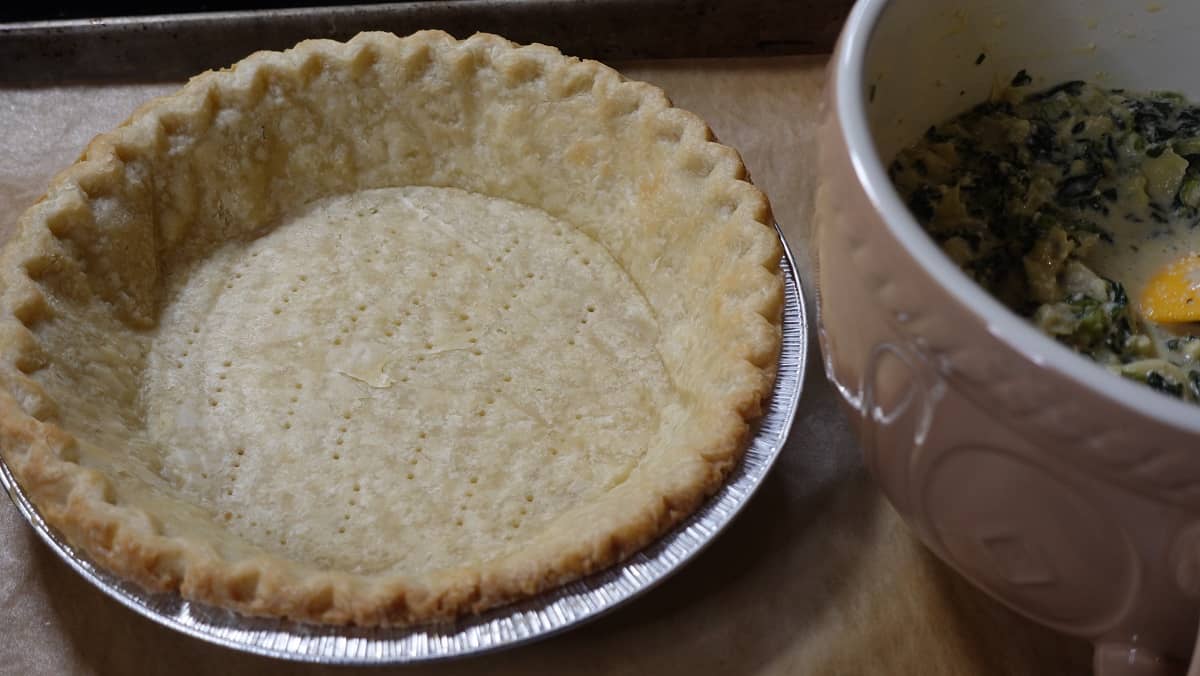 What does the parchment paper do when using pie weights?
The parchment paper (shown in the photo above) is an easy way to remove the pie weights from the crust after blind baking. Use two hands to gently and evenly lift the parchment (along with the weights) and quickly and easily funnel the pie weights back into their container.
Alternatives to ceramic pie weights
Many people use dried beans or uncooked white rice (saved specifically for blind baking) instead of ceramic weights.
Feel free to also use washed and dried pebbles or small river rocks. Unusual, but fun! Just remember that they'll be HOT after baking, so allow them time to cool before removing them from the crust and storing them for another use.
How to make cheesy spinach and artichoke quiche
Blind bake the deep dish pie crust in a preheated 450-degree oven for 7-10 minutes and prepare the filling while the crust bakes. Remove the crust and set aside.
Add the thawed spinach to a strainer and use a firm touch to press out ALL the excess water until the spinach is completely dry. Set aside.
Drain and chop the artichokes. Chop the scallions (using both the white and green parts). Set aside.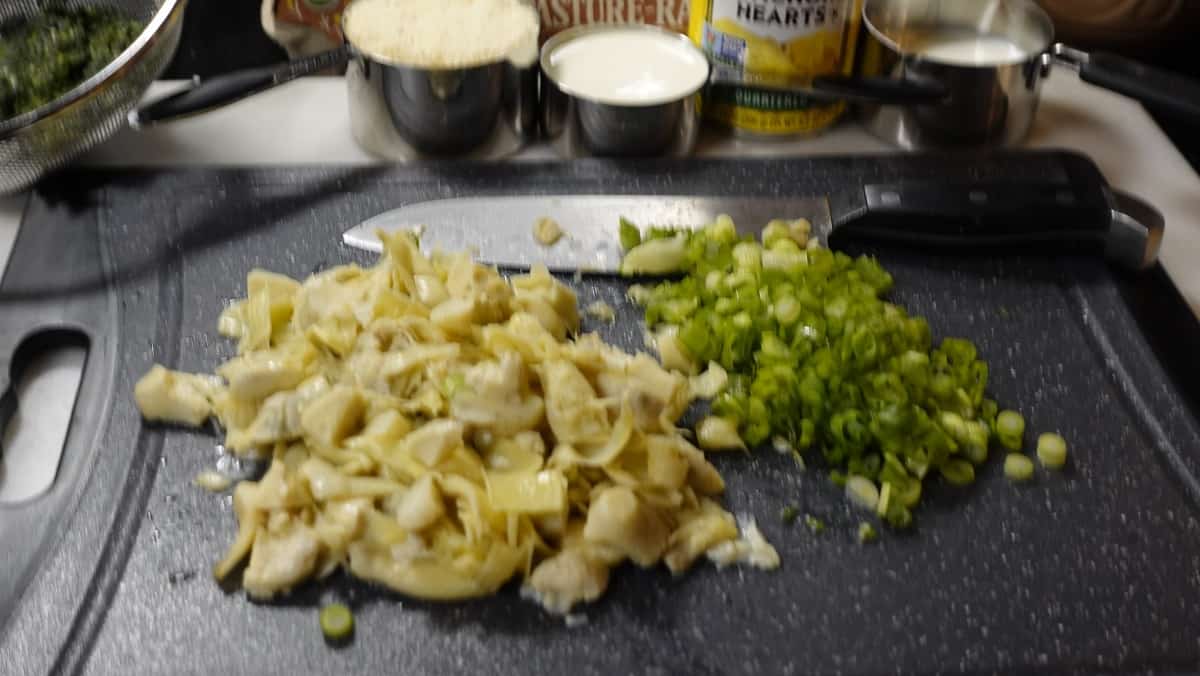 Melt the butter and allow it to cool slightly.
Whisk the eggs, milk, heavy cream, cooled melted butter, salt, pepper, and nutmeg in a medium bowl.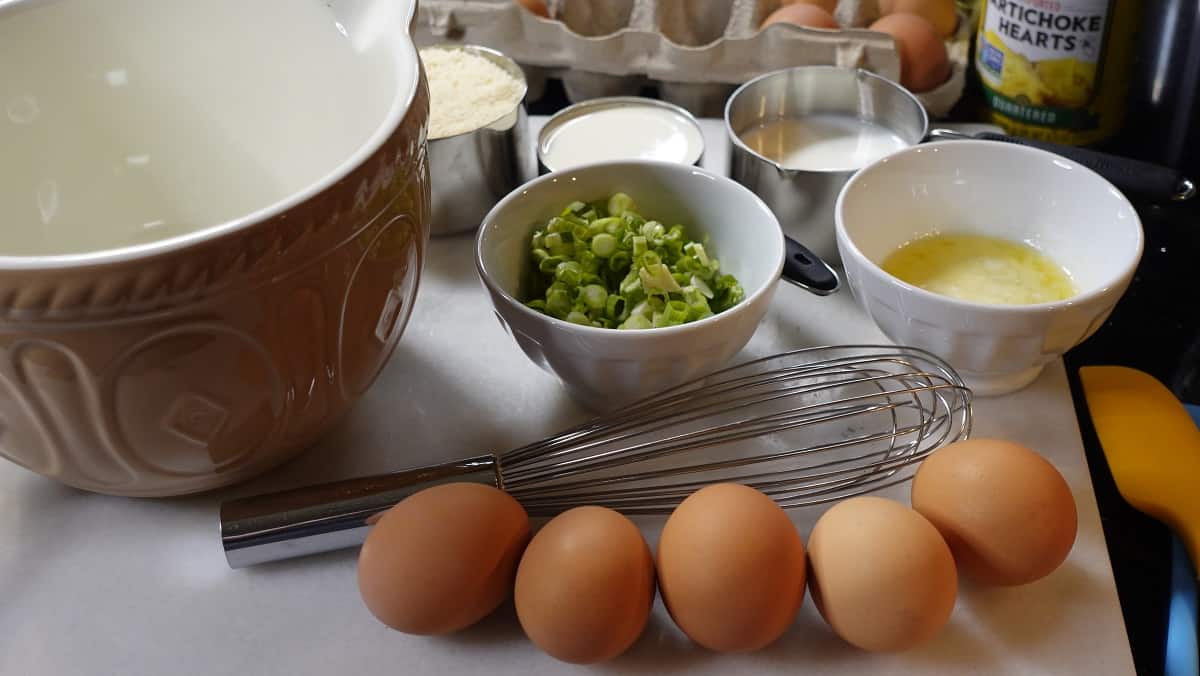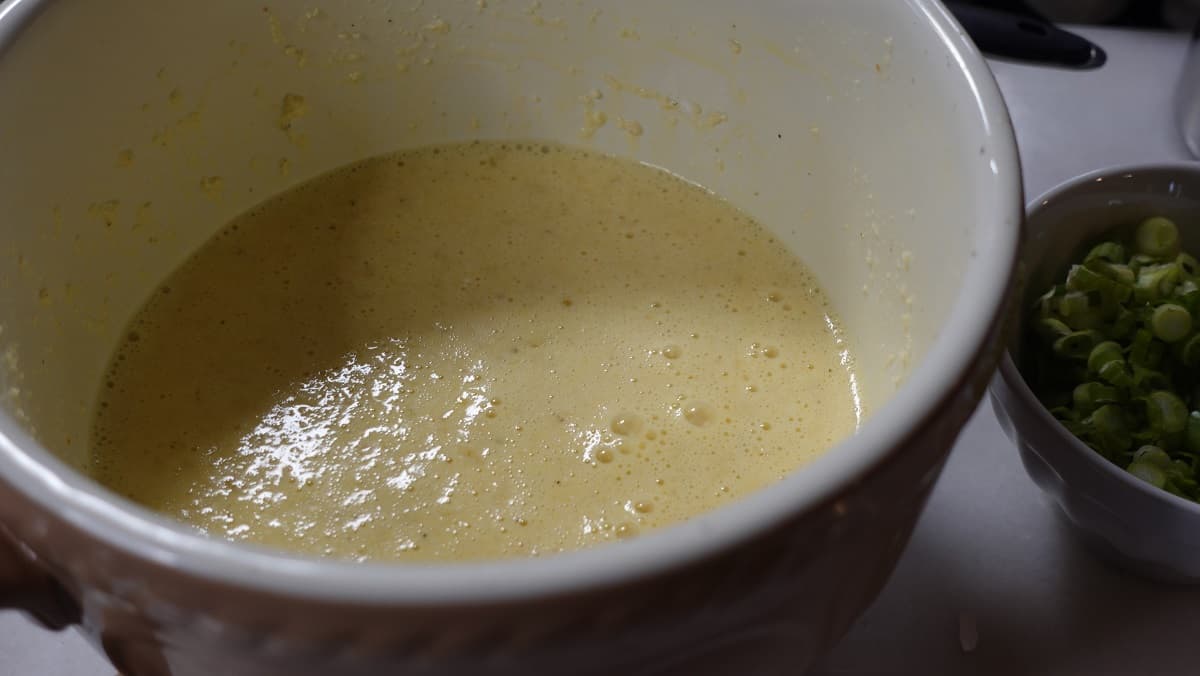 Now you can add the dried spinach, chopped artichokes, and scallions to the egg mixture. Stir well to combine. Reduce the oven temperature to 350-degrees Fahrenheit.
Carefully pour the egg and spinach mixture into the partially baked pie crust. Top the quiche with the Parmesan cheese and return to the oven to bake for 45-50 minutes or until the quiche is set in the center and no longer looks wet.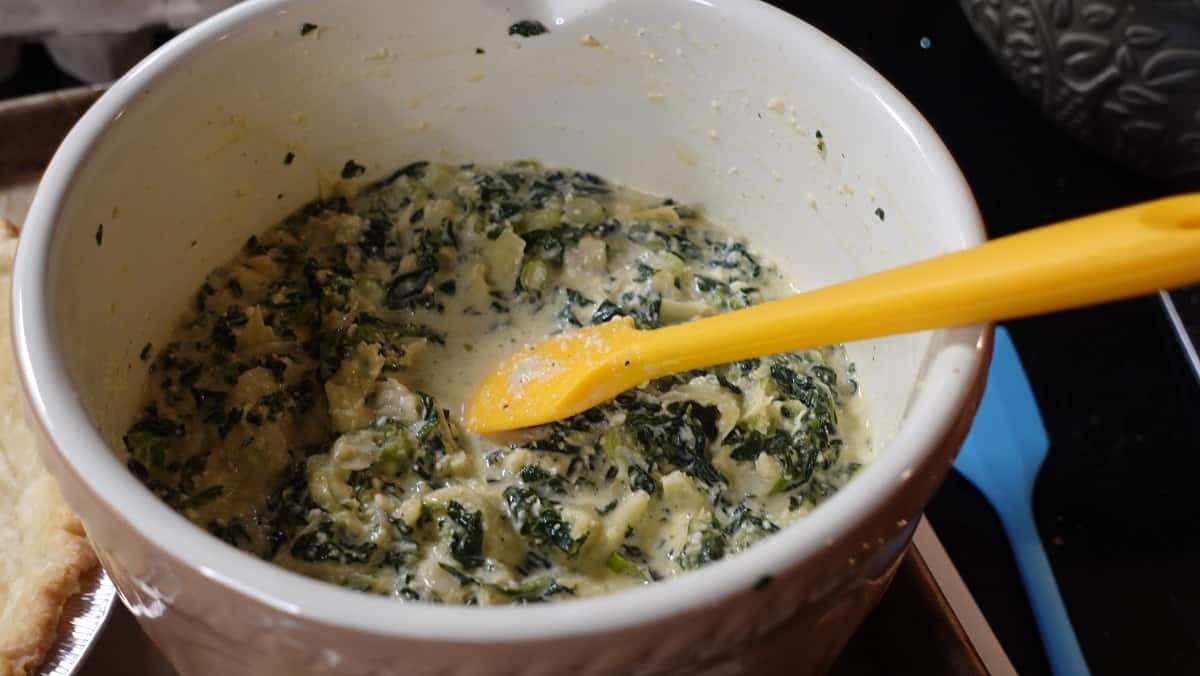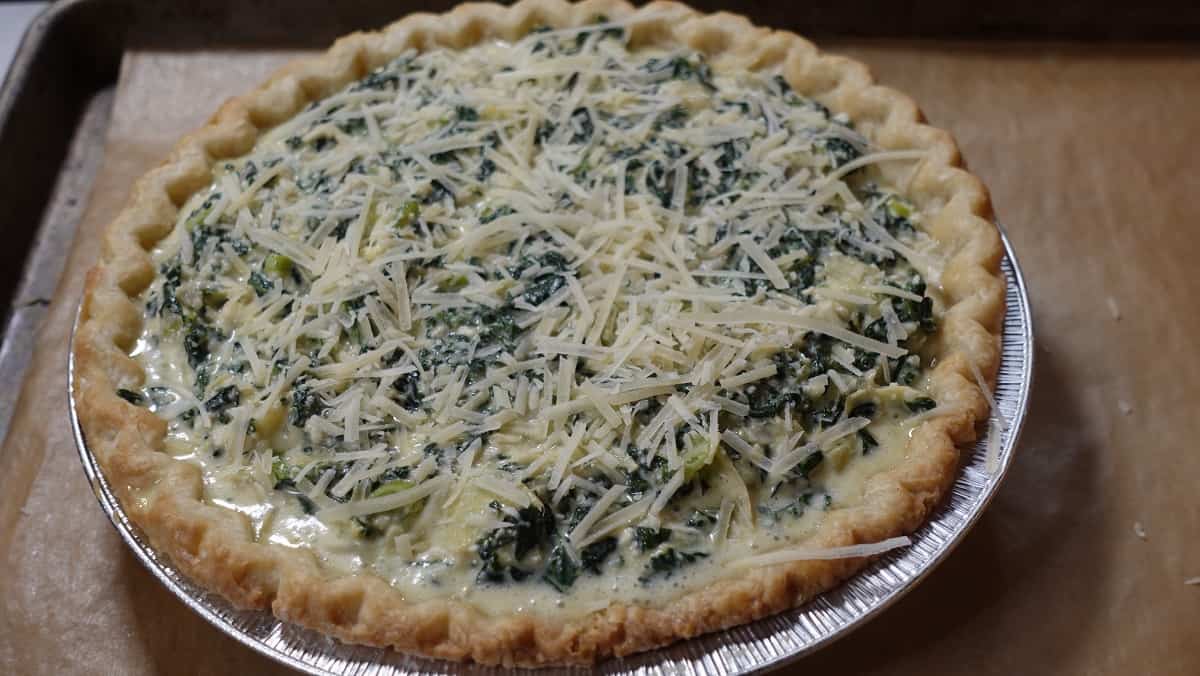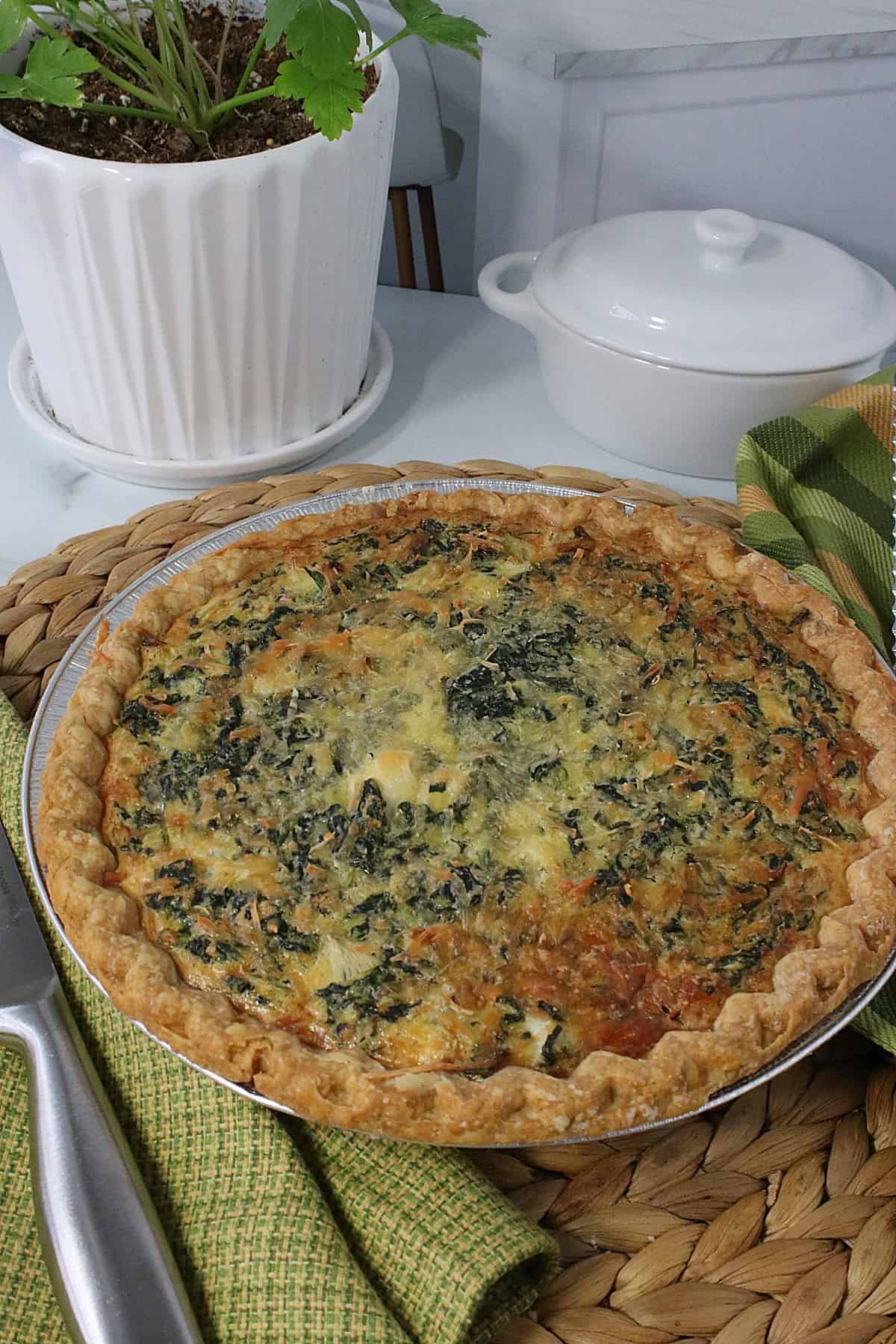 Very important tip for success
I can't emphasize this enough...It is imperative that the thawed and/or pre-cooked spinach has been thoroughly squeezed of all the excess water. Spinach is loaded with natural water (which is why it wilts down as it does during cooking) and if that excess water is not removed it will make the quiche filling far too watery and it will never set properly during baking.
Ingredient add-in suggestions
Feel free to use any additional cooked vegetables that you enjoy. Cooked and chopped broccoli, asparagus, cauliflower, or peas are delicious options.
Cooked and chopped bacon or breakfast sausage would also be a tasty addition, but only if you're not serving a vegetarian quiche.
Drained chopped pimentos would make a beautiful addition as far as flavor and color. I wish I had thought of it sooner. *wink*
Ingredient substitution suggestions
Feel free to substitute any shredded cheese you like in place of the Parmesan.
If you'd rather use cooked kale instead of spinach, please be my guest.
As a substitution for the artichokes, hearts of palm or bamboo shoots will work in a pinch.
FAQs
Can fresh spinach be used in this recipe?
Yes! I like to use fresh spinach whenever possible. Make sure to cook it down and cool it first before adding the eggs.

To wilt spinach: add approximately 3-4 cups of fresh spinach leaves to a large skillet with a touch of oil (1 tablespoon), a pinch of salt, and pepper and cook (covered) over medium/low heat, occasionally stirring until the spinach has wilted and cooked down considerably in volume. Cool completely and strain any excess moisture before using it for this recipe.
What do artichokes taste like?
To me, artichokes have a slightly acidic and bitter taste (in a good way, of course). In this recipe, the artichokes balance the earthy grassy-like flavor of the spinach, the richness of the eggs, milk, and cream, and the saltiness of the Parmesan.
Can the grated nutmeg be left out of this recipe?
You can, but you'd be missing a flavor that makes this quiche a standout (in my opinion). Nutmeg adds a slightly earthy, nutty flavor that highlights the taste of the spinach in this quiche. I strongly urge you to use it.
Can this quiche be frozen after baking?
Yep! Cool it completely after baking and then store it in an airtight freezer container (or bags) for up to 2 months.

Thaw the quiche in the refrigerator overnight and reheat in a preheated 350-degree oven until hot.
Can this vegetarian quiche filling be used for other things?
You bet!! Feel free to add it to a skillet with some butter and scramble it over medium heat.
Add it to a small gratin dish and bake it until set. Spoon it over toast for an unusual but delicious savory breakfast!
I also have a recipe coming that I call quiche in the Bagel Hole (pictured below) that is just as it sounds. The recipe and instructions are coming soon, so please stay tuned.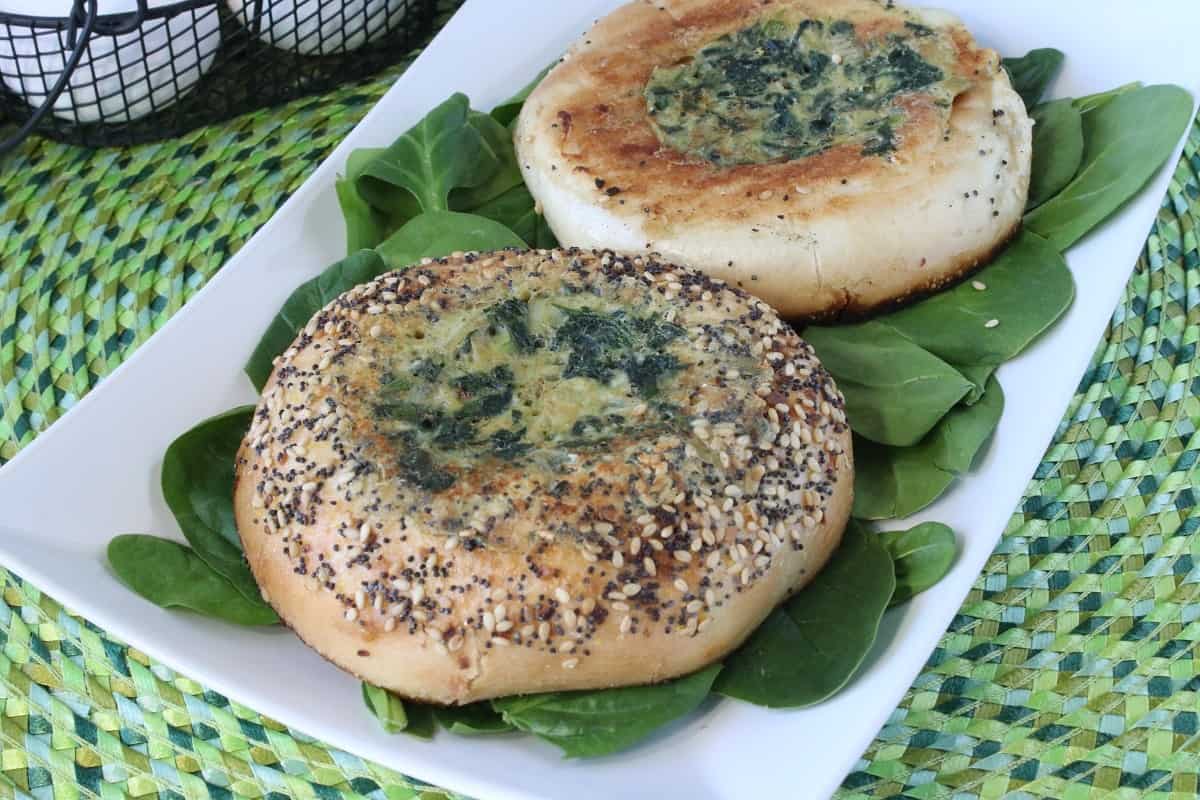 Additional savory breakfast recipes
This Ham and Cheese Tater Tot Breakfast Bake will become your weekend go-to breakfast or brunch staple because everyone loves it. Plus, it's quick to put on the table without much effort.
Here's a delicious low-carb, keto-friendly (optional) Grated Egg Avocado Quesadilla breakfast sandwich that can be made in the air fryer, oven, or stovetop.
Ham and Asparagus Quiche is a deliciously special yet easy breakfast or brunch item that utilizes leftover ham, frozen hash browns, and fresh tender asparagus.
Scrambled Egg Breakfast Sliders make for a tasty morning treat. They're fun to eat, filling, and will please the entire family!
⭐If you've made this recipe, or are excited to make this recipe, I'd appreciate it if you'd take a moment to leave it a star rating on the recipe card, along with a comment if you're so inclined. Thank you. 🙂
Printable Recipe Card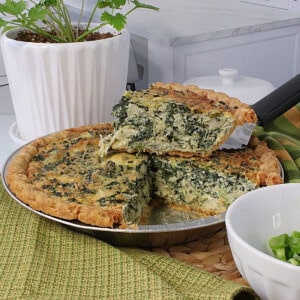 Cheesy Spinach and Artichoke Quiche
This easy Cheesy Spinach and Artichoke Quiche is packed with flavor and color! If you're a fan of the hot dip, you'll flip for this amazing quiche!!
Ingredients
1

deep dish

pie crust

5

large

eggs

½

cup

milk

I used 2%

½

cup

heavy cream

3

tablespoons

butter

melted and cooled

1

teaspoon

kosher salt

½

teaspoon

black pepper

⅛

teaspoon

grated nutmeg

12

ounces

frozen chopped spinach

thawed and squeezed dry

1

jar (14 ounces)

artichoke hearts

drained and chopped

3

(approximately ½ cup)

scallions, chopped

white and green parts

1

cup

grated Parmesan cheese

plus additional for topping (optional)
Instructions
To blind bake the deep dish pie crust:
Preheat the oven to 450-degrees Fahrenheit (230-degrees Celsius).

Place the pie crust (in the tin or pie plate) on a parchment-lined baking sheet.

Dock the bottom of the crust with the tines of a fork. Add a piece of parchment paper on top of the crust and spread pie weights evenly over the unbaked crust (optional).

Bake the crust in the preheated oven for 7-10 minutes. Remove the crust from the oven, cool, and remove the parchment paper and pie weights.

Once the crust is removed from the oven reduce the heat to 350-degrees Fahrenheit ((175 Celsius).
To make the quiche filling:
In a large bowl, beat together the eggs, milk, heavy cream, salt, pepper, nutmeg, and melted butter.

Stir the dried spinach, chopped artichokes, chopped scallions, and grated Parmesan cheese into the egg mixture until thoroughly combined.

Carefully pour (or ladle) the egg and spinach mixture into the pre-baked pie crust and top with additional grated Parmesan cheese if desired.

Bake at 350-degrees Fahrenheit for 45-50 minutes or until the center of the quiche is set and no longer looks wet.

Remove the quiche from the oven and cool on a cooling rack for at least 30 minutes.

Cut into wedges and serve warm for best taste.
Notes
Store any leftovers in an airtight container in the refrigerator for up to 5 days.
This quiche may be frozen after baking. Cool quiche completely after baking and then store it (in slices, or the entire quiche) in an airtight freezer container or bag for up to 2 months.
Thaw the frozen quiche in the refrigerator overnight, and heat in a preheated 350 degree oven before serving.
Nutrition
Serving:
1
serving
Calories:
207
kcal
Carbohydrates:
5
g
Protein:
10
g
Fat:
17
g
Saturated Fat:
9
g
Polyunsaturated Fat:
1
g
Monounsaturated Fat:
5
g
Trans Fat:
0.2
g
Cholesterol:
156
mg
Sodium:
631
mg
Potassium:
252
mg
Fiber:
1
g
Sugar:
2
g
Vitamin A:
5634
IU
Vitamin C:
3
mg
Calcium:
213
mg
Iron:
1
mg
Follow me across my social media platforms and join in on the conversation: FACEBOOK, INSTAGRAM, PINTEREST, TIKTOK, AND YOUTUBE.
I sincerely hope you've enjoyed today's cheesy spinach and artichoke breakfast quiche recipe as much as I've enjoyed bringing it to you!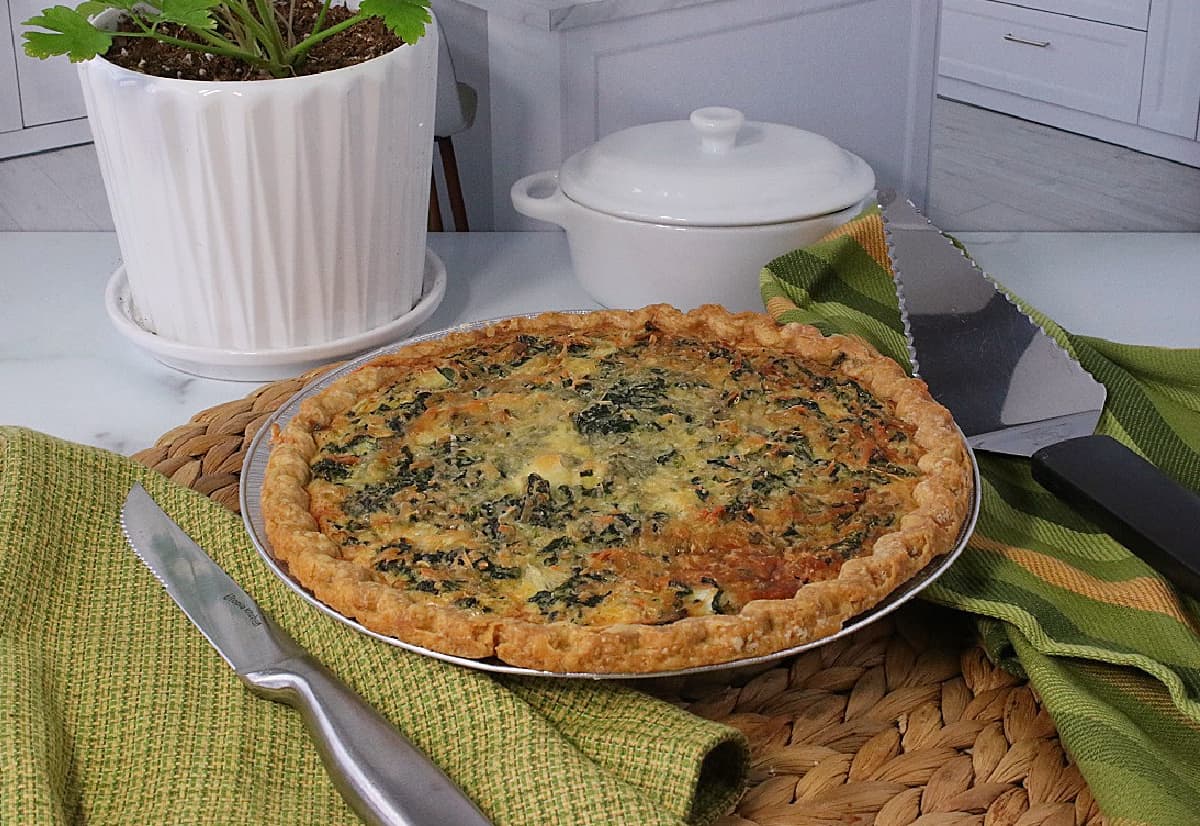 Thank you so much for visiting me today in my Kudos Kitchen. I hope you found something you'll love and that you'll come back and visit me often. There is always room for you around my table!
Should you have any questions or comments regarding anything you've seen here on my blog, please don't hesitate to reach out to me. It is always my distinct pleasure to respond to you just as soon as I possibly can.