With the help of store-bought pie dough, you can easily recreate this whimsically delicious Easter Bunny Pie in the shake of a cottontail...so you'd better hop to it!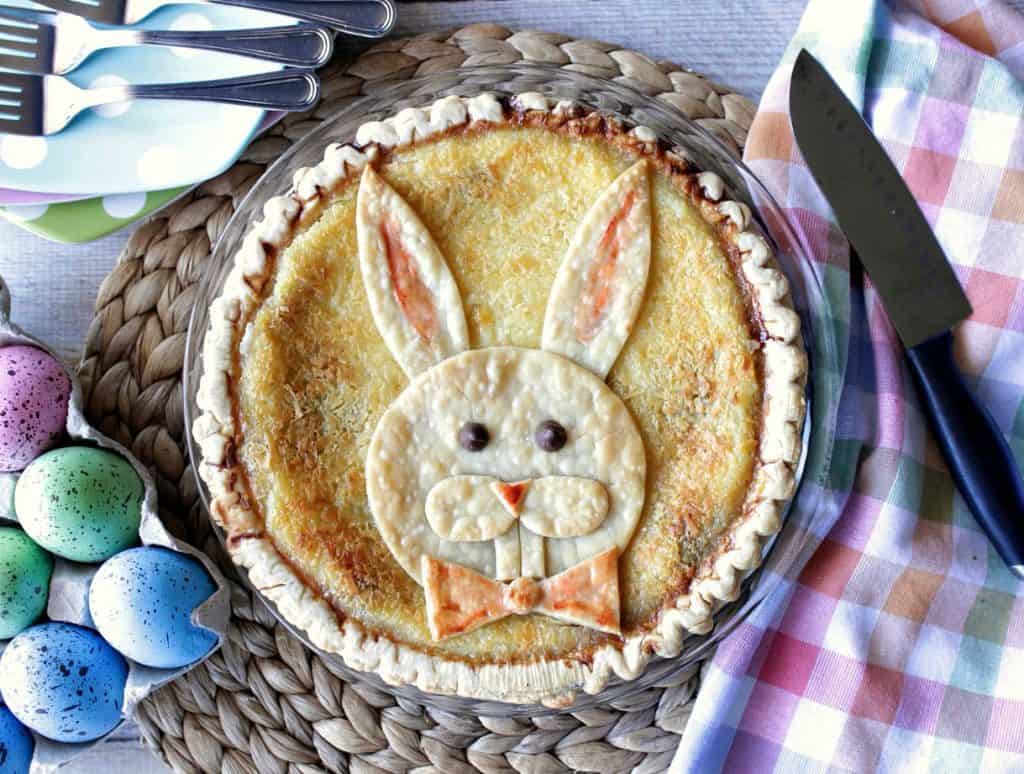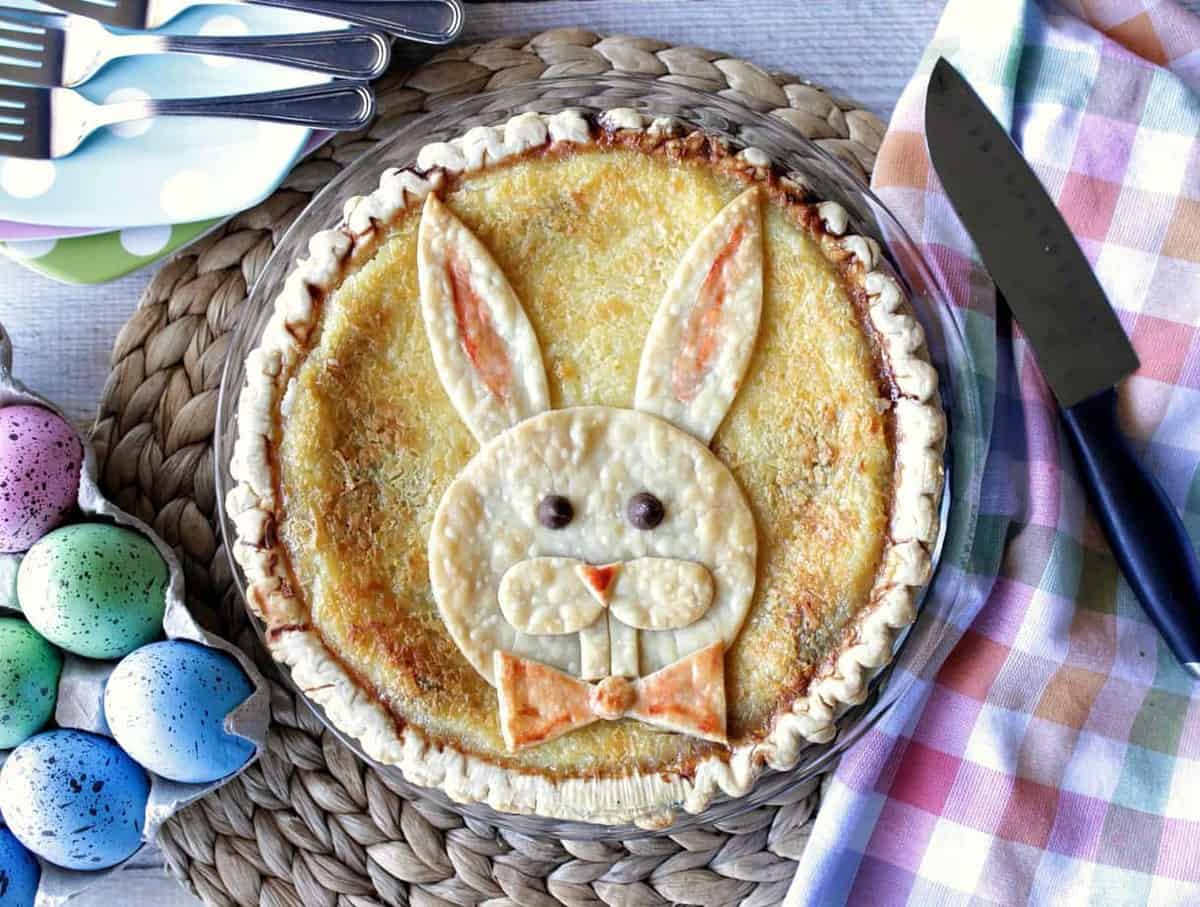 I always have so much fun bringing you fun and whimsical food preparation ideas that are as simple to recreate as they are delicious to eat, and serve.
**Please Note - The printable recipe card with detailed instructions, complete ingredient measurements, and nutritional information for making Easter Bunny Pie is available near the end of this post. OR click on the "jump to recipe" button (found above) to be taken directly to the recipe.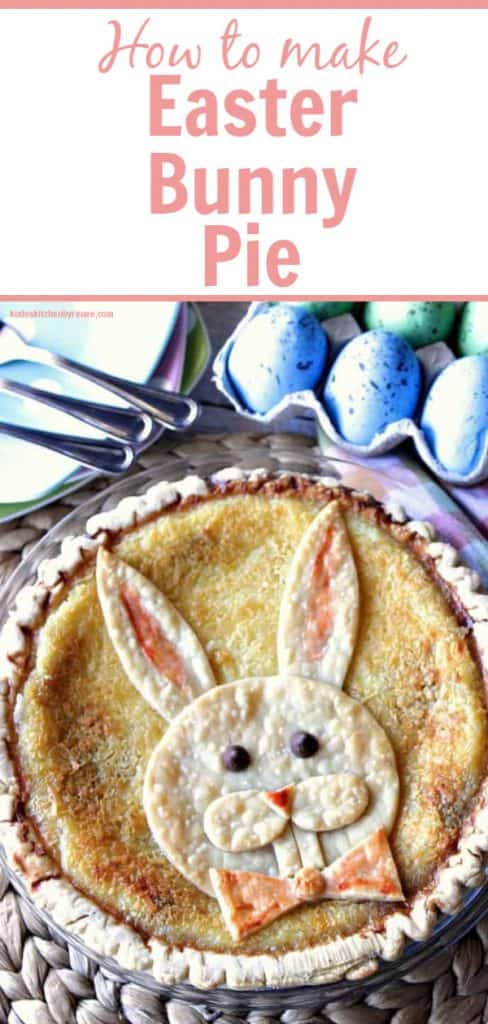 The ingredient list:
The inspiration:
As I've written about before, most times, I get the best ideas for my recipes as I lay wide awake in bed in the middle of the night. It's a blessing (and a curse) as my mind races with all sorts of food images playing through my brain at a rabbit's pace. See what I did there? Ha! Ha!
Sometimes I'll write my ideas down in a little note pad that I keep on the nightstand, and other times the ideas are so strong that I know I'll never forget them.
Many times, I almost want to hop (LOL, there I go again) out of bed and start cooking and baking right there in the middle of the night (I have yet to do that, but don't put it past me).
This was entirely the case with the Easter Bunny Pie, but at least I waited until morning to set up my video equipment and start baking.
Thank you to Good Housekeeping Magazine for adding this Easter Bunny Pie to their list of 20 Easter Pies Your Guests Will Love!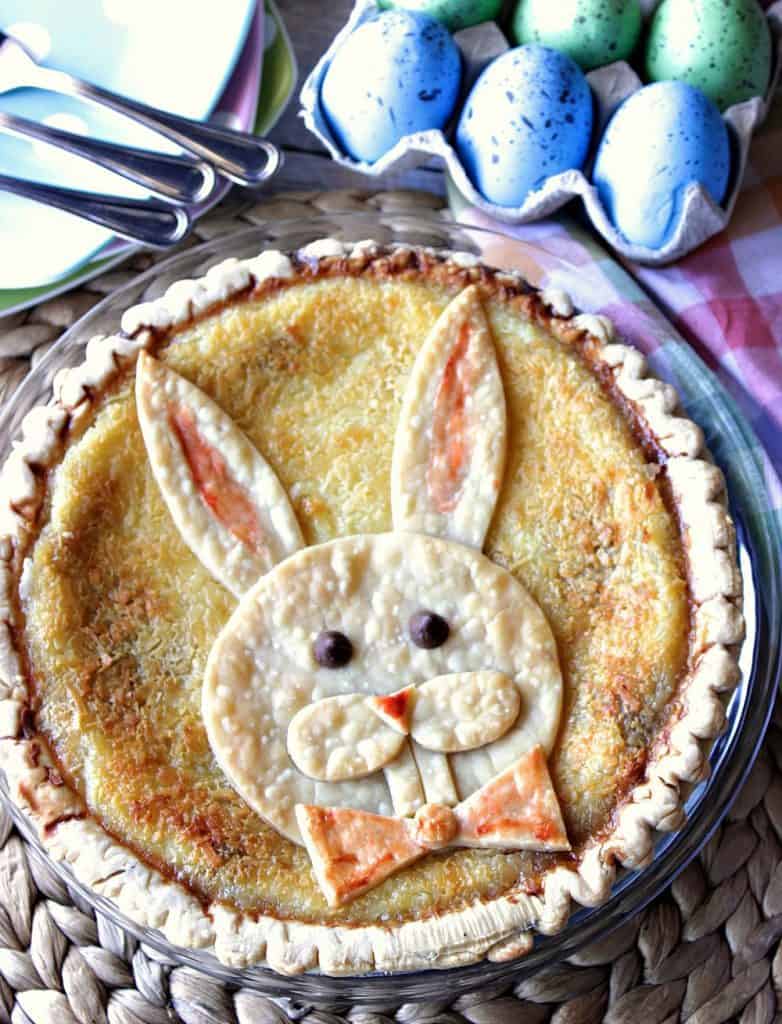 Store-bought or homemade pie crust? You be the judge!
I've used two types of store-bought pie crusts in the making of this recipe.
The bottom crust is the pre-formed deep dish pie crust that you can find in the freezer section of the grocery store, and for the bunny himself, I used the pre-rolled flat pie crust that is found in the refrigerated section near the canned pop-out biscuits. You know the ones.
Of course, should you choose to make your own pie crust for this Easter Bunny Pie, I certainly wouldn't discourage you. Just remember to make enough for a top and bottom crust.
What to do with the leftover scraps of dough:
Sprinkle the leftover crust you'll have after cutting out the bunny with cinnamon and sugar. Place them on a baking tray, and then bake until golden. It's a great way to use up the remaining pieces of dough without wasting them.
My dad always used to call the scraps made this way "crust pie," and I believe it was always his favorite part of any pie.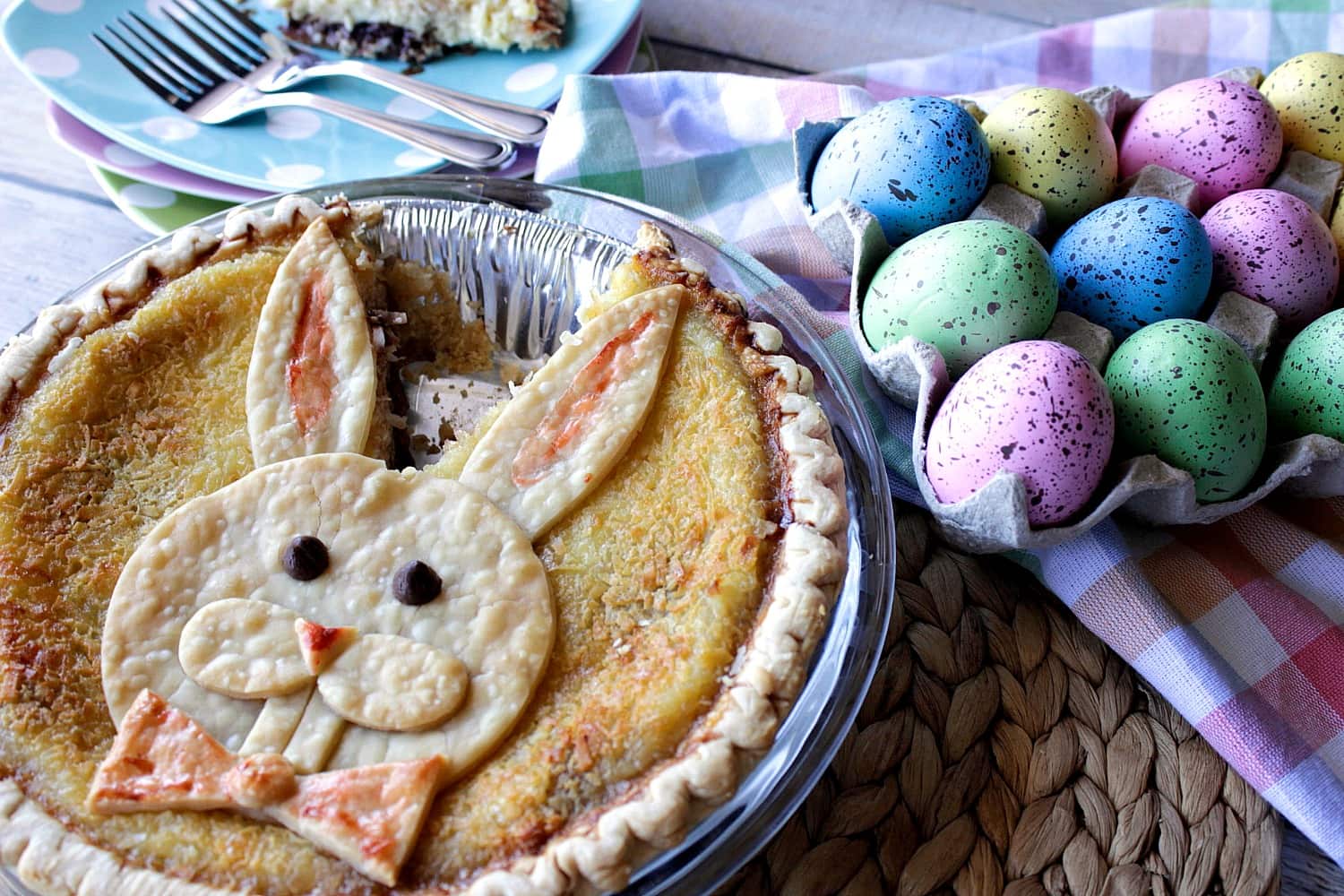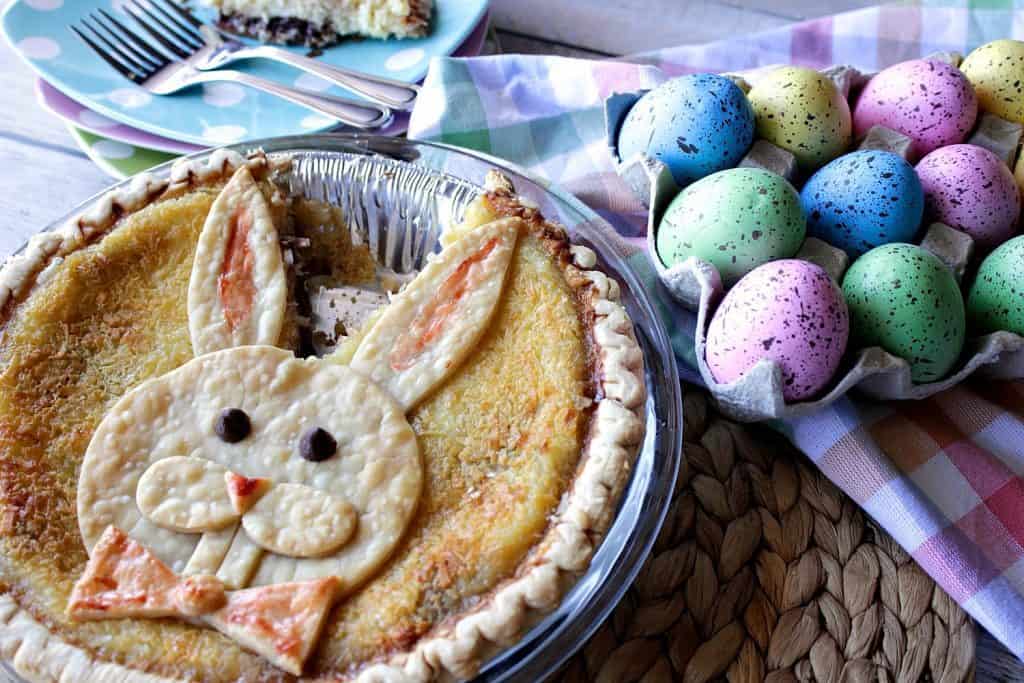 I know, I know. How in the world can you take a knife and cut into this cute little bunny? Well, if you'll notice from the photo above, I cut between his ears. I couldn't do it either. LOL. Actually, I could, but for the sake of the photo, I thought it would make a better picture to slice there, instead of through his cute little triangle shaped nose.
And, as we all know the first slice of pie never is the prettiest (it's some sort of weird pie and pancake phenomenon) I felt I needed to cut unto this Easter Bunny Pie so you could see all that delectable coconut and melted chocolate tucked away inside. Be still my rabbit heartbeat. Whoops! I did it again!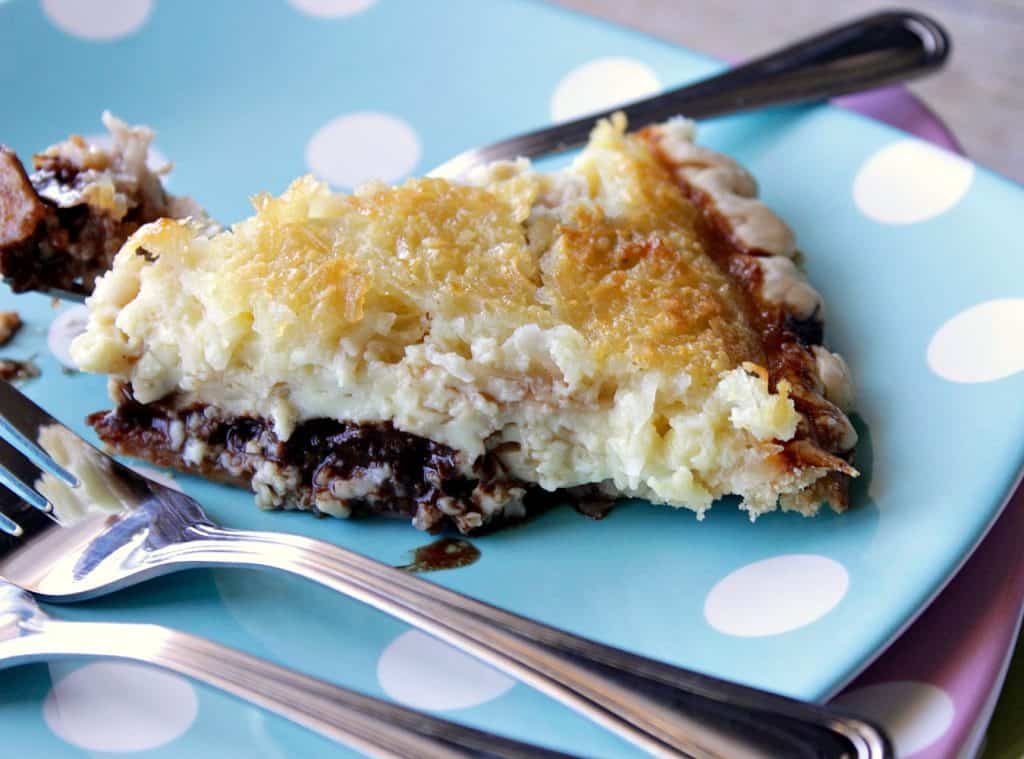 Now, wouldn't this be the perfect ending to your Easter dinner? Save room because you're going to want a piece of this Easter Bunny Pie!

Additional decorated pie crust recipes: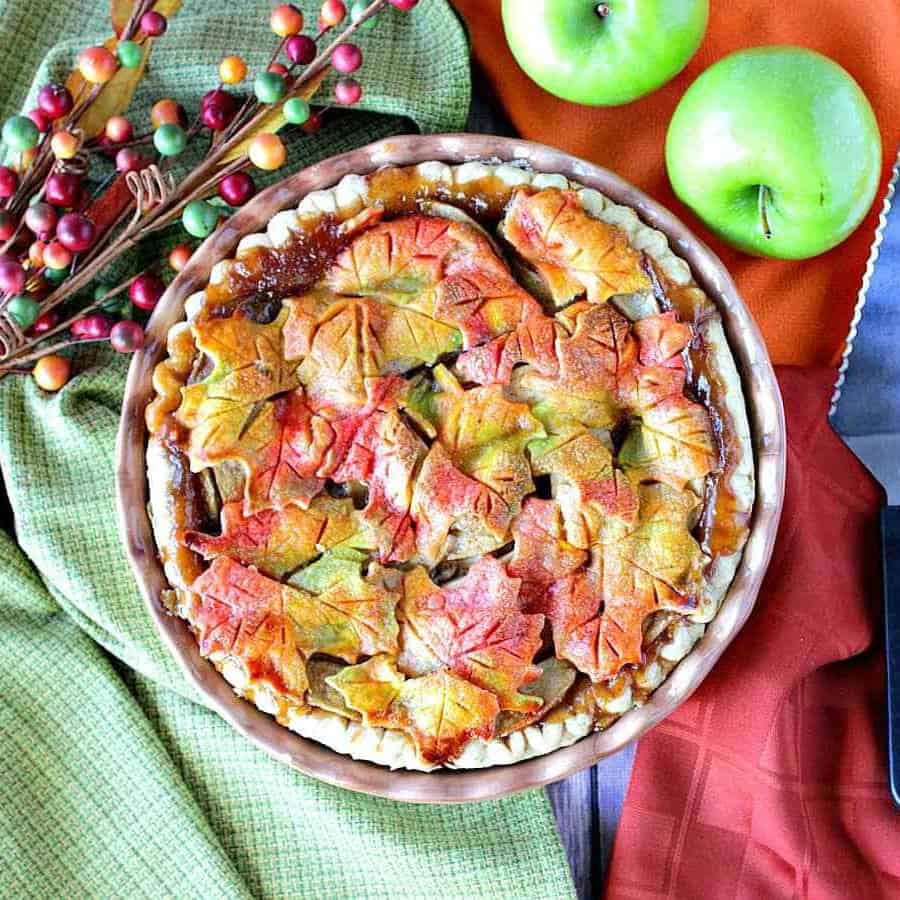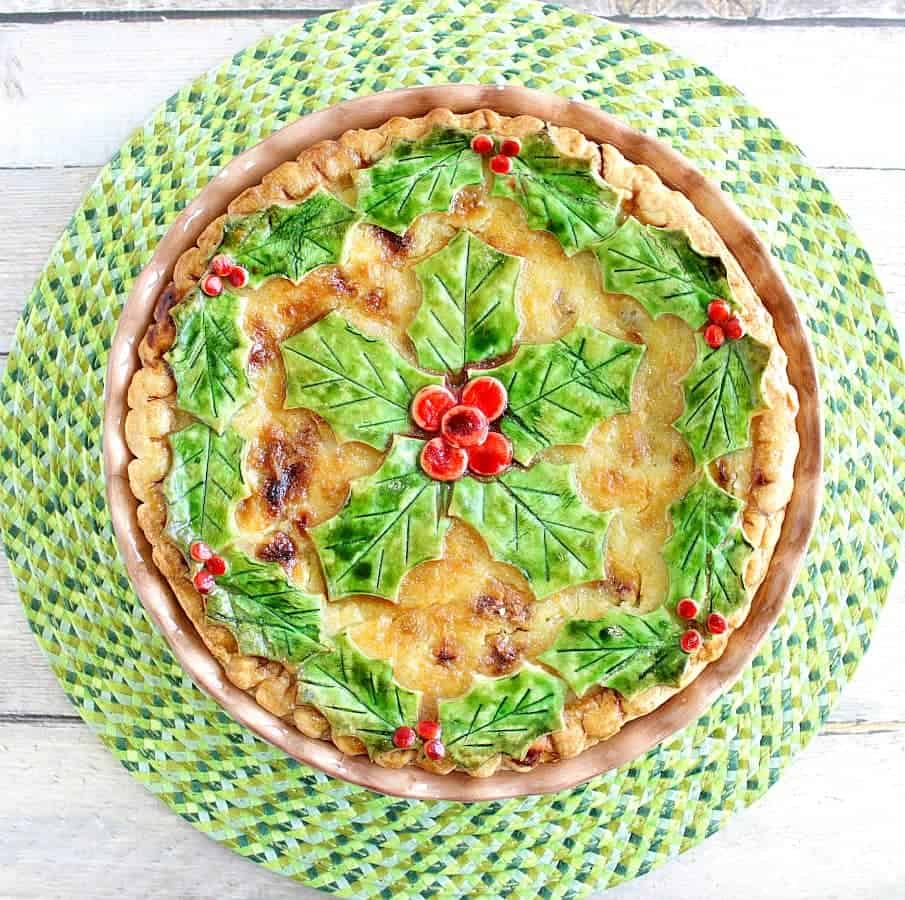 Below is the printable recipe card along with the exact ingredient measurements and nutritional information for making today's decorative chocolate coconut custard pie.
⭐If you've made this recipe, or are excited to make this recipe, I'd appreciate it if you'd take a moment to leave it a star rating on the recipe card, along with a comment if you're so inclined. Thank you. 🙂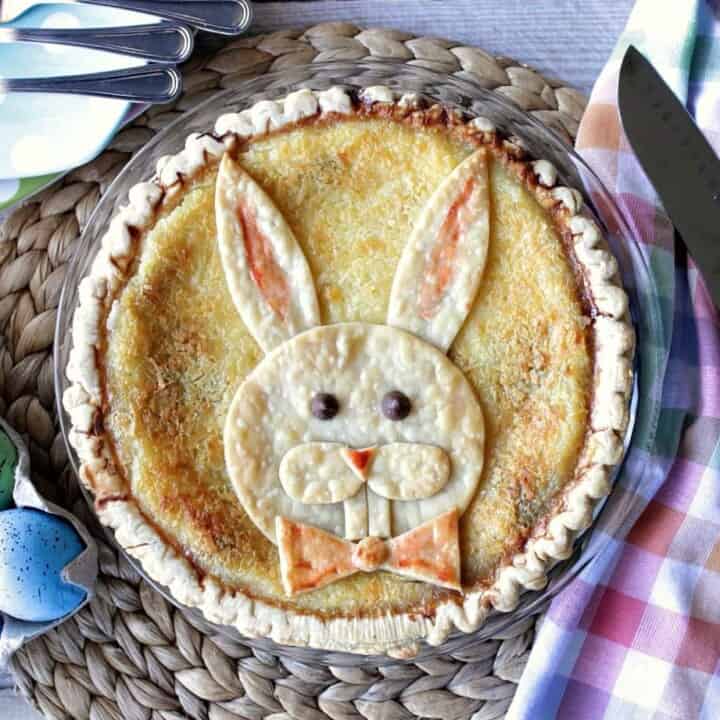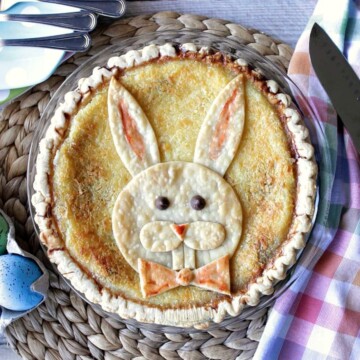 Coconut Chocolate Chip Custard Easter Bunny Pie
With the help of store-bought pie dough, you can easily recreate this whimsically delicious Easter Bunny Pie in the shake of a cottontail.
Ingredients
1

9"

" deep dish pie shell

store-bought, freezer section

1

9"

" rolled pie crust

store-bought, refrigerated section

5

eggs

¾

cup

granulated sugar

2

cups

milk

1

teaspoon

vanilla

pinch

salt

1½

cup

shredded

sweetened coconut

1

cup

semi-sweet chocolate chips

plus two for the eyes

Tools and equipment:

tiny bowl

optional

small bowl

3" - 4" in diameter

medium bowl

large bowl

baking sheet

parchment paper

optional

whisk

paint brush

pink gel food color

stiff cardboard

paring knife

scissors

water
Instructions
Preheat oven to 400 degrees.

In a medium bowl, whisk the eggs. Pour about a tablespoon of the whisked eggs into a small bowl and set aside.

Pour the eggs into the large bowl and whisk in the sugar, milk, vanilla and salt.

Stir in the coconut and chocolate chips.

Place the deep dish pie crust on a baking sheet which has been lined with parchment paper.

Pour the custard mixture into the pie shell. Partially bake the pie for 30 minutes in the preheated oven.

While the pie is baking, unroll the pie crust. Invert the small bowl on the pie dough and use the paring knife to cut out the circle.

Trace one (or two) rabbit ears on the cardboard and use the scissors to cut the template.

Lay the ear/ears on the dough and cut out two ear shapes.

Cut out a small rectangle for the teeth, two oval shapes for the cheeks, a small triangle for the nose, a bow tie and a small circle for the knot.

Remove the partially baked pie from the oven and assemble the bunny face on top of the custard. *Note - use a small amount of water to attach each piece of dough to the next.

In the tiny bowl, add a drop or two of pink food color to the egg and mix well to combine.

Use a clean paintbrush to paint the bunny's pink nose, the inside of his ears and his bow tie.

Add the reserved two chocolate chips for the bunny eyes.

Return the pie to the oven and continue baking for an additional 30 minutes or until the pie is a light golden brown and completely set in the middle.

Cool the pie completely before cutting and serving.

Cover and store any uneaten pieces in the refrigerator for up to 4 days.
Nutrition
Serving:
1
slice
Calories:
335
kcal
Carbohydrates:
34
g
Protein:
11
g
Fat:
17
g
Saturated Fat:
9
g
Cholesterol:
124
mg
Sodium:
201
mg
Potassium:
264
mg
Fiber:
1
g
Sugar:
30
g
Vitamin A:
360
IU
Vitamin C:
0.1
mg
Calcium:
206
mg
Iron:
2
mg
I sincerely hope you've enjoyed today's recipe for Coconut Custard Chocolate Chip Easter Bunny Pie as much as I've enjoyed bringing it to you!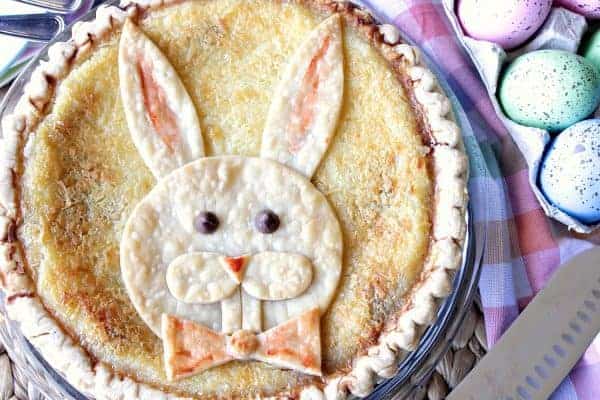 **The post above includes affiliate links. When I find a great product or service, I like to share it with my readers. Sometimes I use affiliate links so I can earn a commission for my recommendations. As always, I thank you for your support!