This Goat Cheese Christmas Wreath Appetizer with dried cherries and pistachios is as festive looking as it is delicious. It's sure to make a statement on the buffet table at the annual holiday party!
You'll get plenty of oohs and aahs when you serve this festive goat cheese Christmas wreath at your next party or gathering.
Not only is it a buffet table showstopper, but it's also an utterly delicious cheesy appetizer that people can't seem to get enough of.
Grinch Guacamole is another fun and festive appetizer you'll enjoy serving;
**Please Note – The printable recipe card with detailed instructions, complete ingredient measurements, and nutritional information for making goat cheese Christmas wreath appetizer with dried cherries and pistachios is available at the end of this post.

Click here to like and subscribe to my Kudos Kitchen cooking channel on YouTube! Thank you! 🙂
The simple ingredient list;
**Note – The following lists of ingredients plus kitchen tools and equipment contain affiliate links (highlighted in blue) for your consideration and shopping convenience. #CommissionsEarned
Kitchen tools and equipment needed;
Shallow Tray or Baking Sheet (for rolling the parsley)
Holiday Bow (optional, but recommended)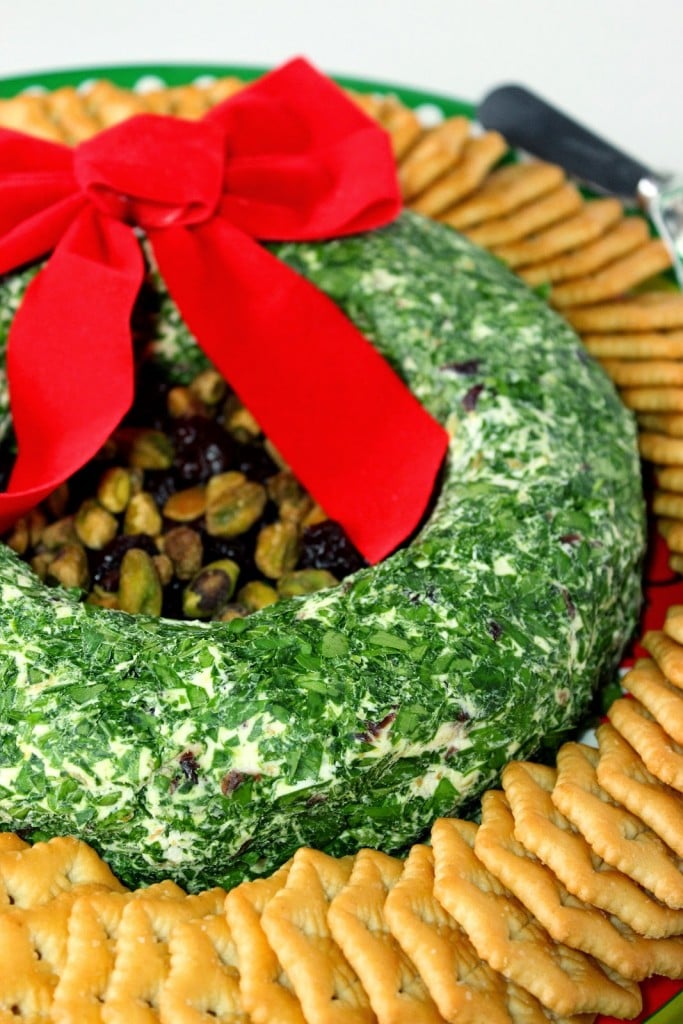 Why this recipe works.
This wreath may look complicated to make but in all actuality, it's very simple and only takes a matter of minutes to assemble, and only takes 5 ingredients.
Plus, it can be made in advance, so that makes this appetizer a hostesses' dream come true when it comes to preparing for the party.
What can I use in place of the goat cheese in this recipe?
What's that? You're not a fan of goat cheese? No problem.
Just substitute cream cheese for the goat cheese in the recipe, and you're good to go.
However, if you're using cream cheese, the wreath will be slightly sweeter flavor whereas the goat cheese has a creamy, but mild tanginess which pairs wonderfully well with the sweetness of the dried cherries and the wonderful flavor of the pistachios.
Can dried cranberries be substituted for the dried cherries?
Sure thing. The choice is yours.
Can the pistachios be swapped with something else, or left out entirely?
Feel free to use whatever chopped nut suits your fancy.
Or, leave the nuts out entirely.
The reason I went with pistachios (besides the fact that I love them) is their festive green color which is the perfect holiday complement to the sweet red cherries!
How many people can this festive cheese ball appetizer serve?
Lots! It's party-sized so it can feed a crowd comfortably!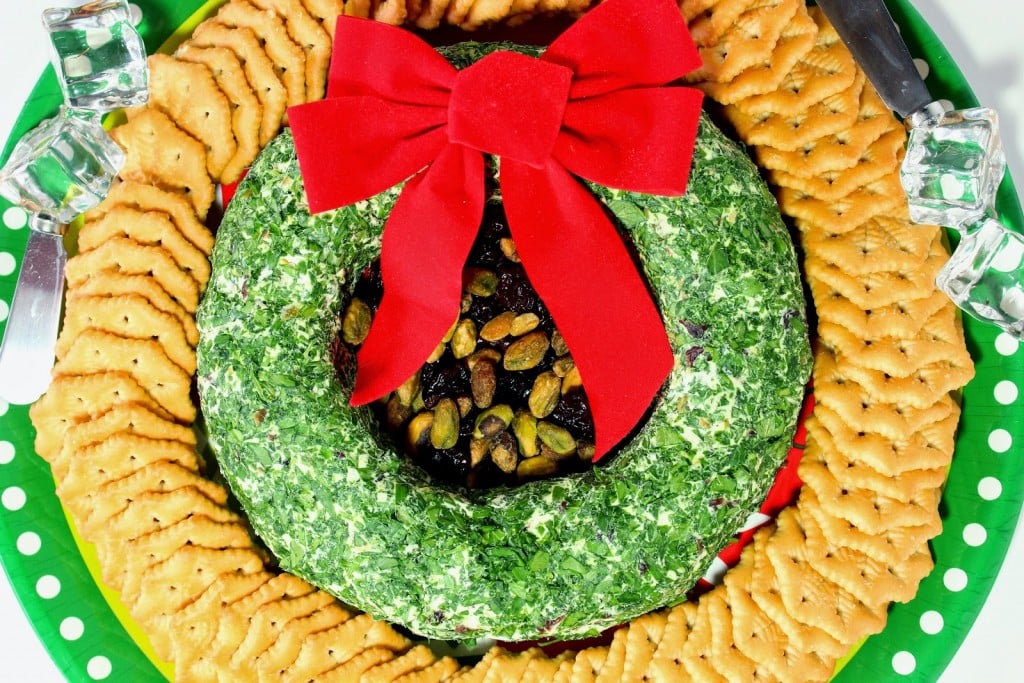 For more festive holiday appetizer ideas, please click on the following titles for;
"This festive and easy Shrimp Cocktail Appetizer recipe takes only minutes to make, but they look like you slaved for hours. Plus they're cheap and cheerful which makes them perfect for this (or any) holiday gathering."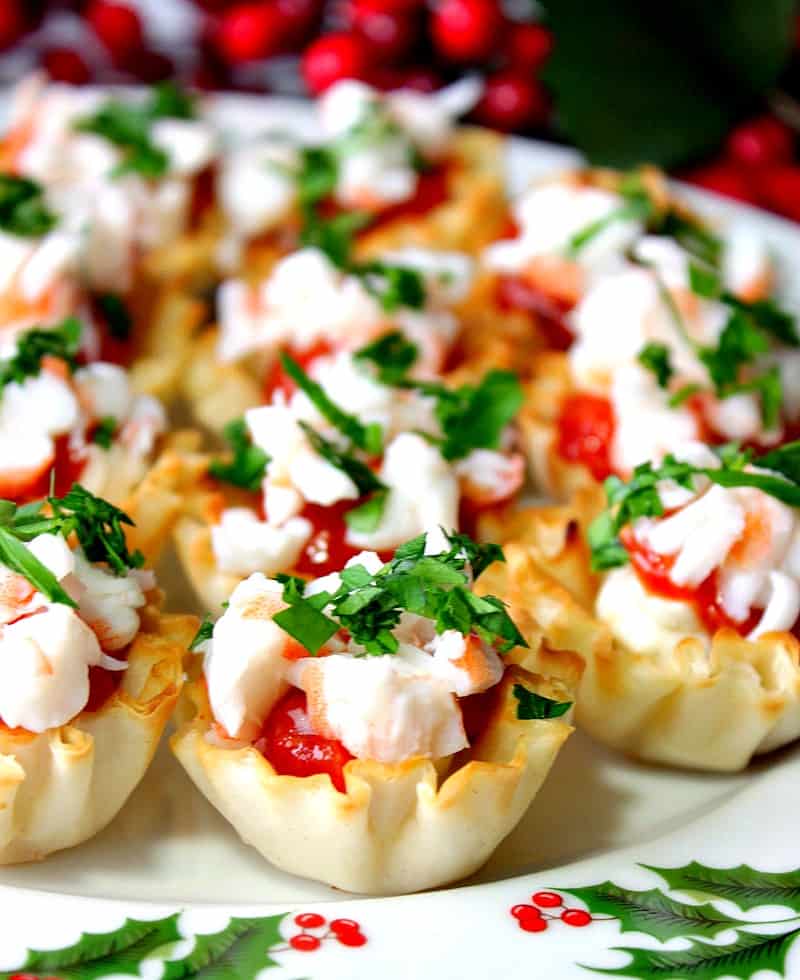 Grinch Guacamole (pictured below and in the featured video) from (yours truly) Kudos Kitchen
"With a few simple ingredients and some easy instructions, you can warm the hearts of your family and friends with this gloriously easy to make realistic looking Grinch Guacamole."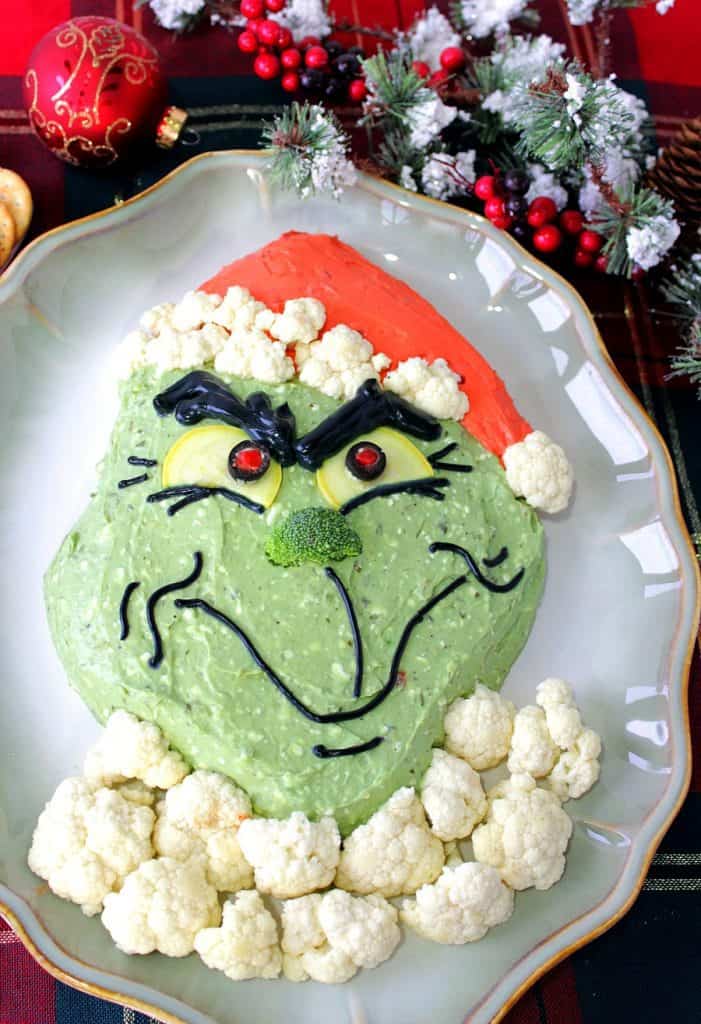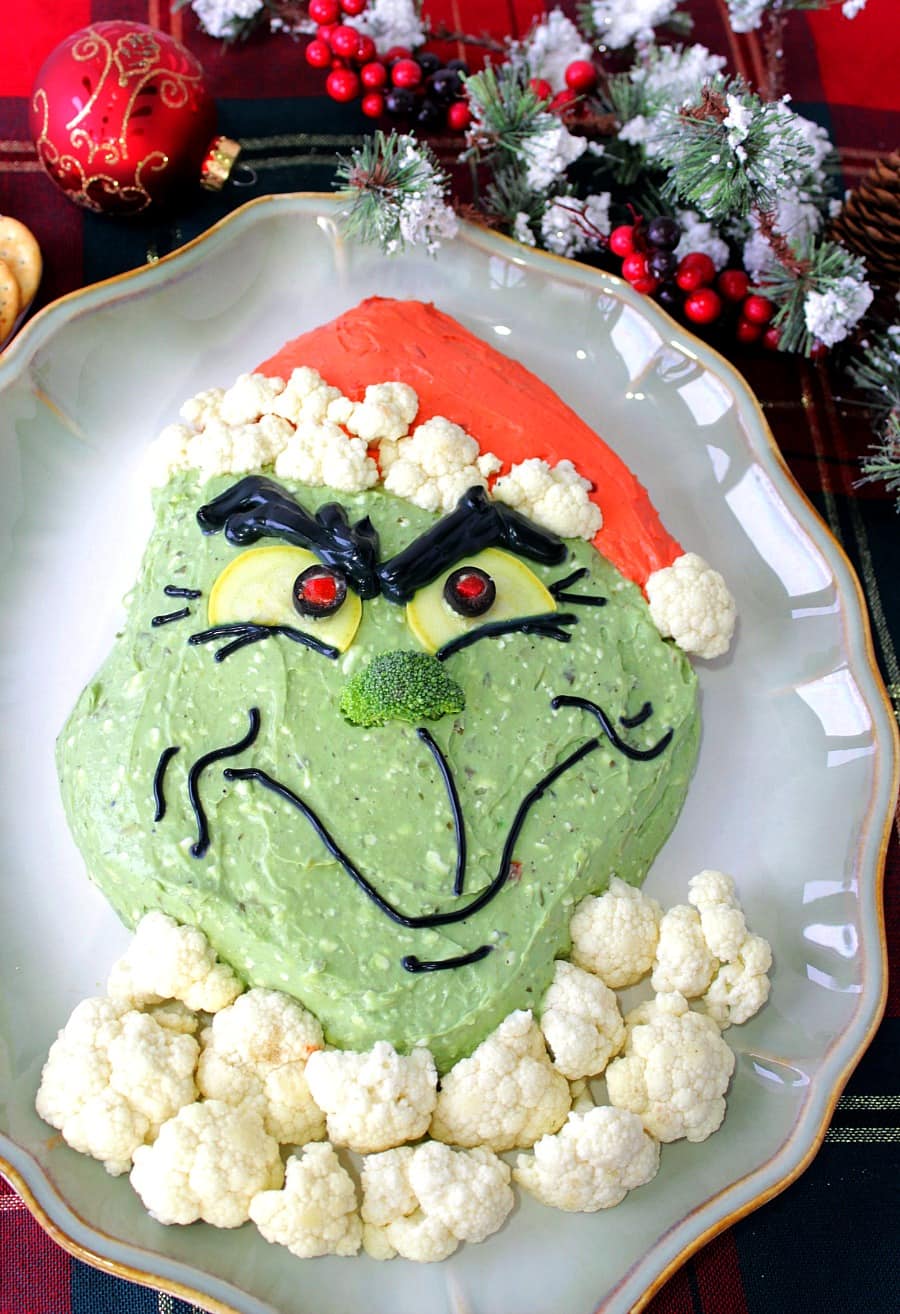 "Not only is this Chicken with Strawberry Satay Sauce healthy and nutritious, but the flavor is out of this world delicious and the festive colors are perfect for holiday entertaining.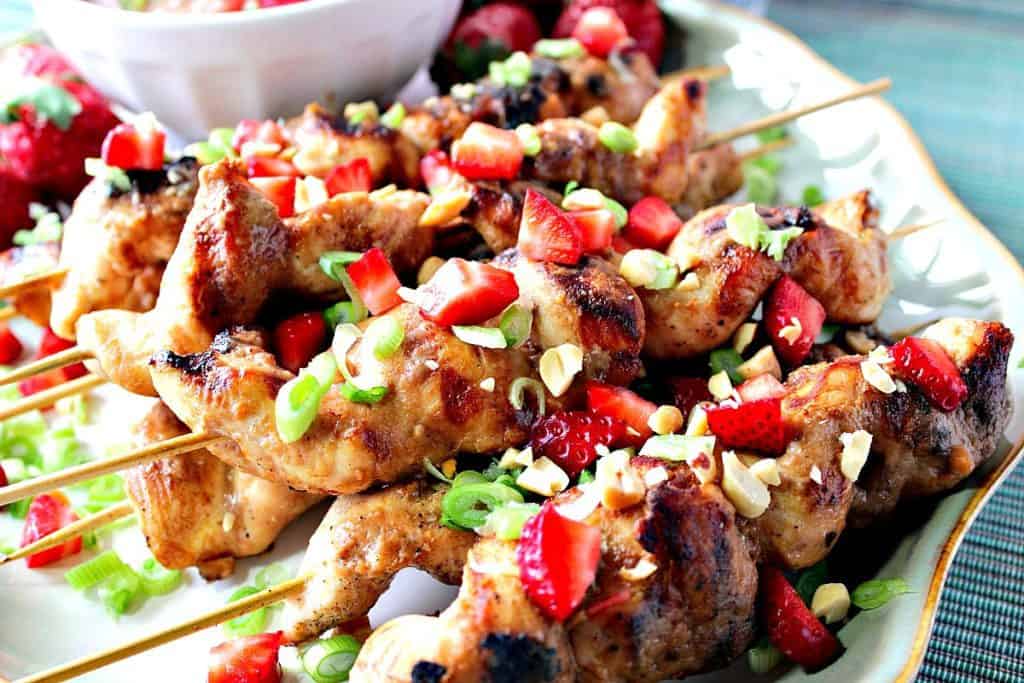 Goat Cheese Christmas Wreath with Pistachios and Dried Cherries

(pictured below) This is the place!!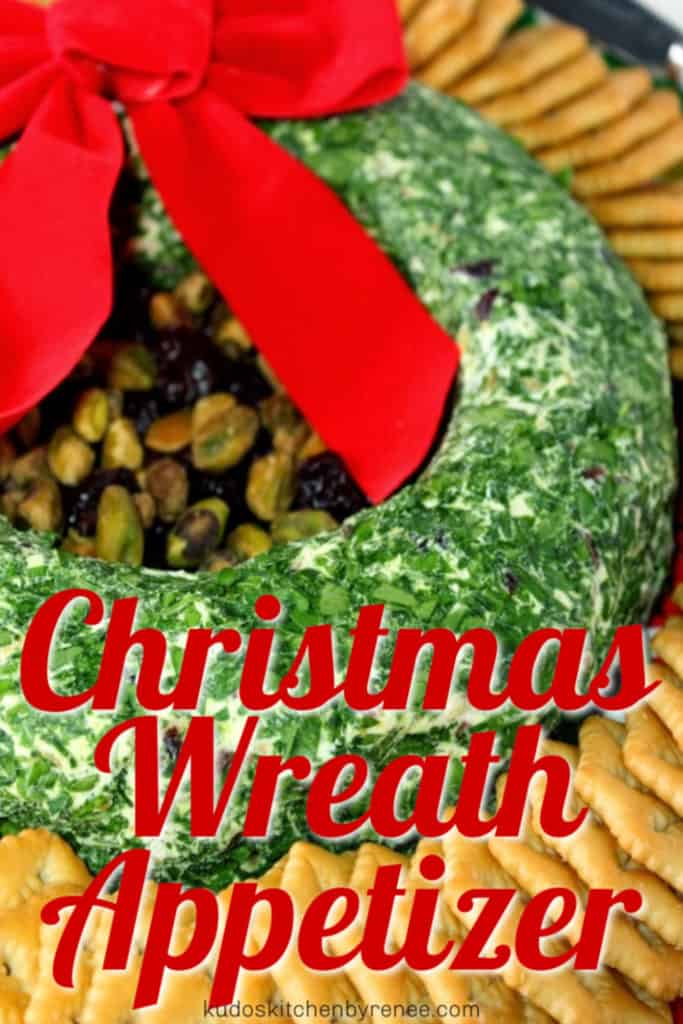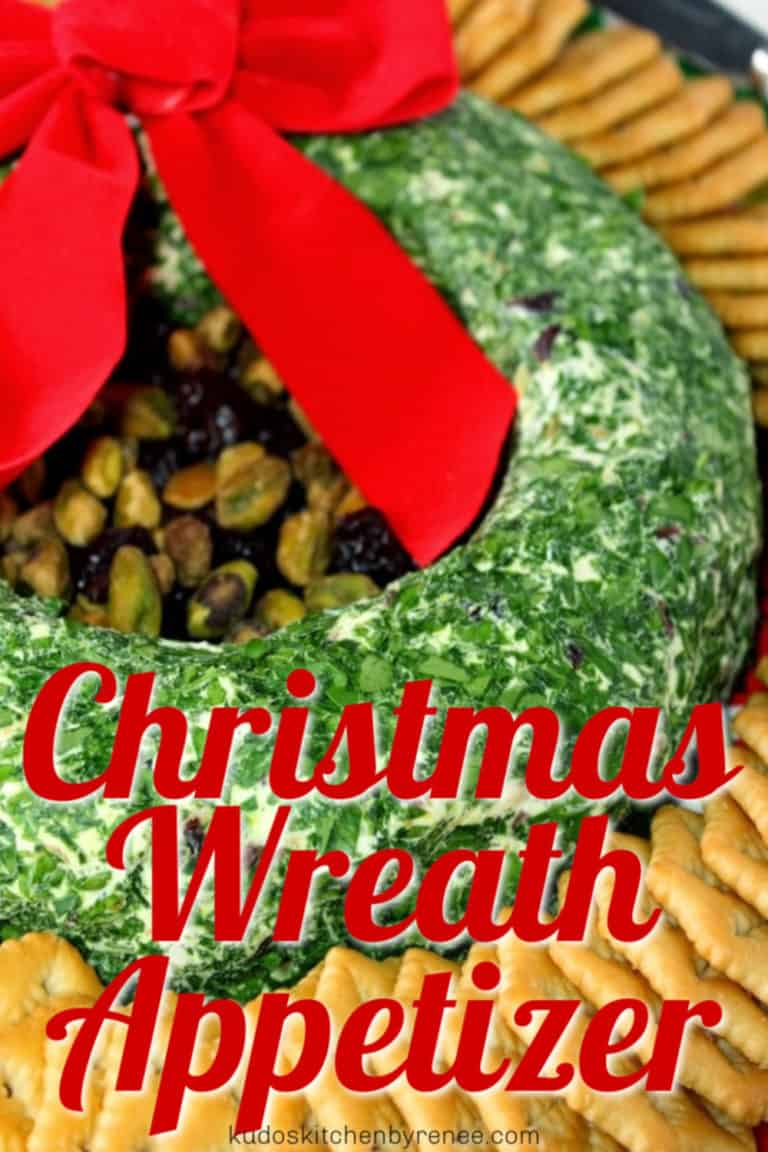 Whether you're working on a blue screen all day, or in the kitchen, the following affiliate products are ones I can highly recommend to save your eyesight and your sanity.
Below is the printable recipe card along with the nutritional information and instructions for making for today's Goat Cheese Christmas Appetizer Wreath recipe.
Yield: 4 cups
Goat Cheese Christmas Wreath Appetizer
You'll get plenty of oohs and aahs when you serve this festive goat cheese Christmas wreath at your next party or gathering.
Not only is it a buffet table showstopper, but it's also an utterly delicious cheesy appetizer that people can't seem to get enough of.
Total Time
1 hour
30 minutes
Ingredients
2 logs (10 ounces each) goat cheese
1½ cups chopped dried cherries, plus additional for garnish
1½ cups shelled, chopped pistachios, plus additional for garnish
pinch black pepper
1 cup chopped fresh parsley
Instructions
In the bowl of a stand mixer or a large bowl with a and mixer, combine the first 4 ingredients.
Shape the mixture into a long log on a piece of plastic wrap.
Press the chopped parsley onto the cheese long on all sides, except the bottom.
Wrap the log semi-tightly with the plastic wrap and chill for 30 minutes.
After chilling, work the log (non-parsley side down) into a circle shape on a round serving platter, pressing and pinching as needed to make a wreath shape.
Garnish the inside of the wreath with additional cherries and pistachios (if desired) and press a red bow in the cheese.
Cover and refrigerate at least 30 minutes, or until ready to serve.
Serve with assorted crackers and or breadsticks.
Thank you so much for visiting me here in my Kudos Kitchen!!
I sincerely hope you've enjoyed this festive and fun holiday cheese ball recipe as much as I've enjoyed bringing it to you.
Should you have any questions or comments regarding this recipe or anything else you've seen on my site, please don't hesitate to contact me directly or leave me a comment in the comment section below. It is always my distinct pleasure to get back to you with a reply just as soon as I possibly can!
For more information regarding my Kudos Kitchen recipes, please follow me on my social media:
Kudos Kitchen by Renée ~ Cooking up artistically delicious family-friendly dishes from my Kudos Kitchen to yours!
Until we eat again, I hope you have a delicious day!
**Note – The post above includes affiliate links. As always, I truly thank you for your support!
As an Amazon Associate, I earn from qualifying purchases. When I find a great product or service I like to share it with my readers. For additional information please view my privacy policy.