Spaghetti Squash Alfredo with pancetta is a healthy and delicious option if you're watching your carb intake but you still want great flavor and texture.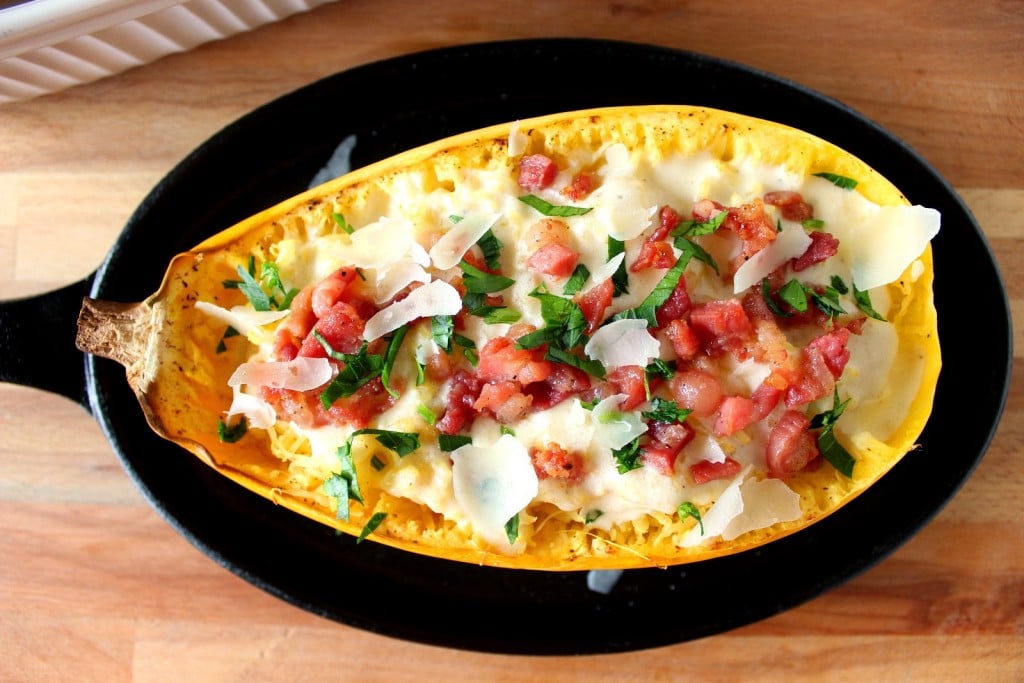 *Disclaimer - This recipe was originally published in 2014. I'm working hard to update all my older recipes with recipe cards, new photos, and additional recipe information. But, getting to all of them will take time. Please bear with me. In the meantime let me assure you that this recipe is still a winner and one I'm sure you'll be well pleased with when you make it at home.
The produce section in the grocery store is all about winter squash this time of the year. One of my absolute favorite winter squashes is the spaghetti squash. It's so fun to eat with its delicious spaghetti-like strings and its mild, slightly nutty taste.
I was inspired to make this recipe for Spaghetti Squash Alfredo with Pancetta by one of my favorite food bloggers, Brandy of Nutmeg Nanny, and her recipe for Sausage and Peppers Stuffed Spaghetti Squash.
When I saw Brandy's recipe, I was so enamored that I needed to try and make my own version and yet have it be something completely different.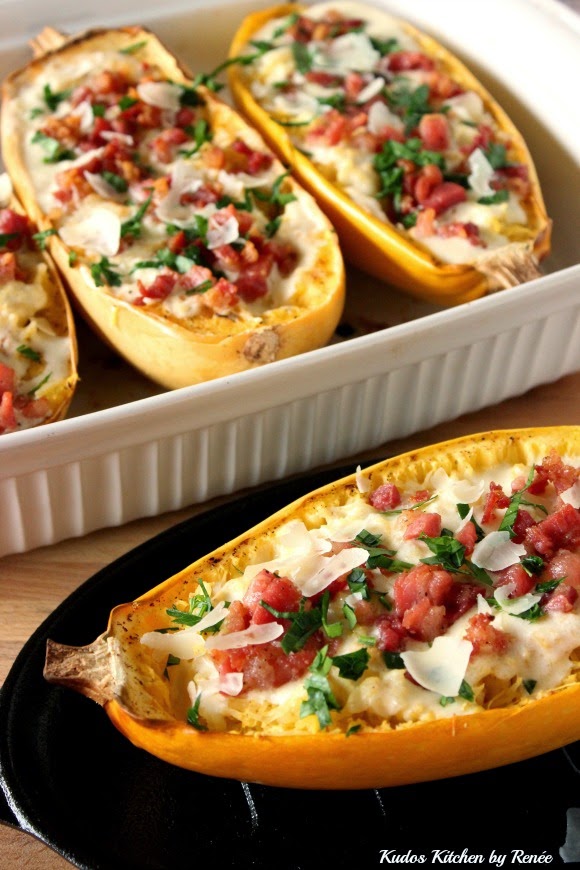 My husband isn't normally a big fan of spaghetti squash so the night I was making these for dinner he looked at me with questioning eyes and a very skeptical frown on his face.
My one saving grace was the fact that I decided to add some crispy pancetta.
Of course, you can opt to make them a totally vegetarian meal by leaving the pancetta off, and they will be equally delicious... just not something my husband would enjoy. LOL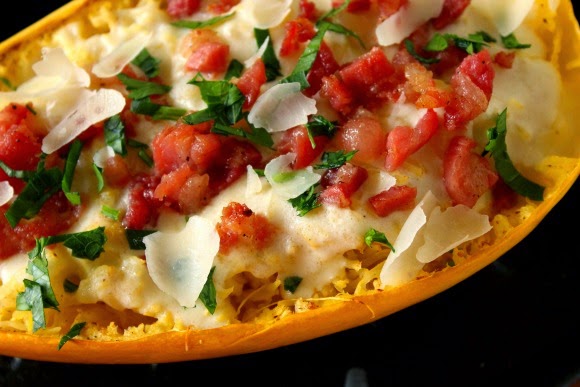 For this Spaghetti Squash Alfredo with Pancetta, you can either buy your Alfredo sauce in a jar from the store or make your own, which is what I did.
Either way is perfectly fine, but the homemade version takes all of ten minutes to make and is really delicious mix of cream cheese, butter, and garlic. In the great words of Ina Garten..."How bad can that be?"
Split and prepare the seasoned spaghetti squash by roasting in the oven until soft.

Set aside to cool while you prepare the Alfredo sauce.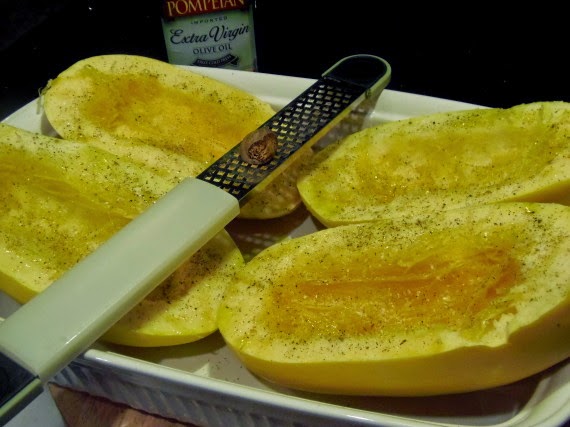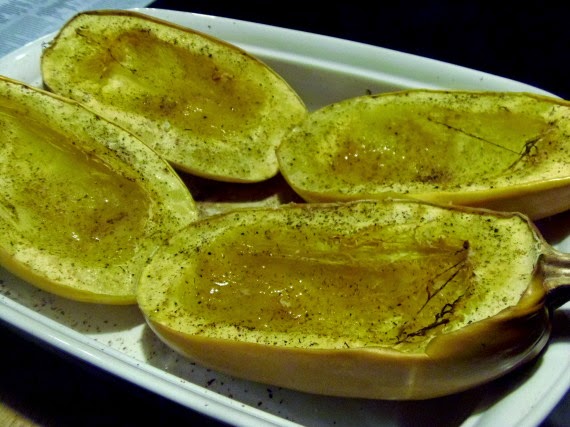 In a saucepan, whisk together the butter and cream cheese until smooth.

Stir in the milk, nutmeg, and garlic.

Cook until thickened.

Stir in the Parmesan cheese.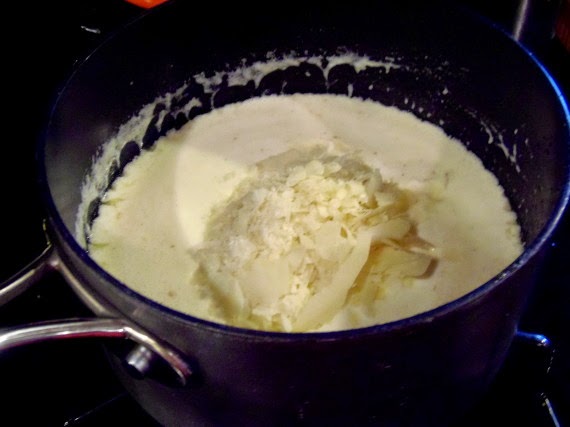 Use a fork to loosen and separate the strands of the spaghetti squash and then spoon each shell with approximately ½ cup of

the Alfredo sauce.
Top with the crisp, cooked pancetta (optional but recommended) and return the squash to the

oven until heated through.

Serve hot.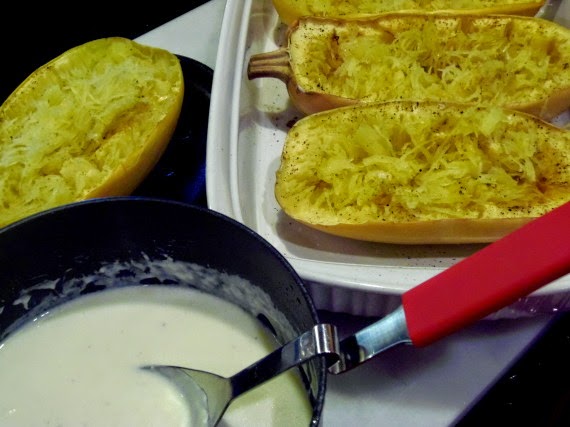 Servings: 4 Prep Time: 15 minutes Total Bake Time: 60 minutes
2 medium-sized spaghetti squash, halved and seeded
2 tablespoons olive oil
1 teaspoon salt
¼ teaspoon pepper
¼ teaspoon freshly grated nutmeg
8 ounces pancetta, diced and cooked to crisp and drained
6 tablespoons butter
8 ounces reduced-fat cream cheese
3 cloves garlic, minced
1 cup milk
1 cup Parmesan cheese, plus additional for garnish
pinch freshly grated nutmeg
pinch black pepper
chopped fresh parsley for garnish
-Preheat the oven to 425 degrees. Place the squash on a baking sheet or baking pan. Drizzle the olive oil on the cut sides of the spaghetti squash and season with salt, pepper, and nutmeg.
-Bake in a preheated oven for approximately 40-45 minutes or until the squash is soft. Set aside until it's cool enough to handle.
-Meanwhile, in a medium saucepan over medium heat, melt the butter and cream cheese and whisk until creamy. Stir in the garlic and milk. Cook over medium heat until the sauce thickens and reduces (approximately 10 minutes).
-Stir the Parmesan cheese into the cream sauce and add a pinch of nutmeg and pepper.
-Use a fork to pull and shred the strands of the spaghetti squash. Pour some of the Alfredo sauce over each squash half and top with the cooked pancetta.
-Place the Alfredo squash back into the oven and cook for approximately 15-20 minutes until heated through.
-Serve with a garnish of Parmesan cheese and chopped parsley.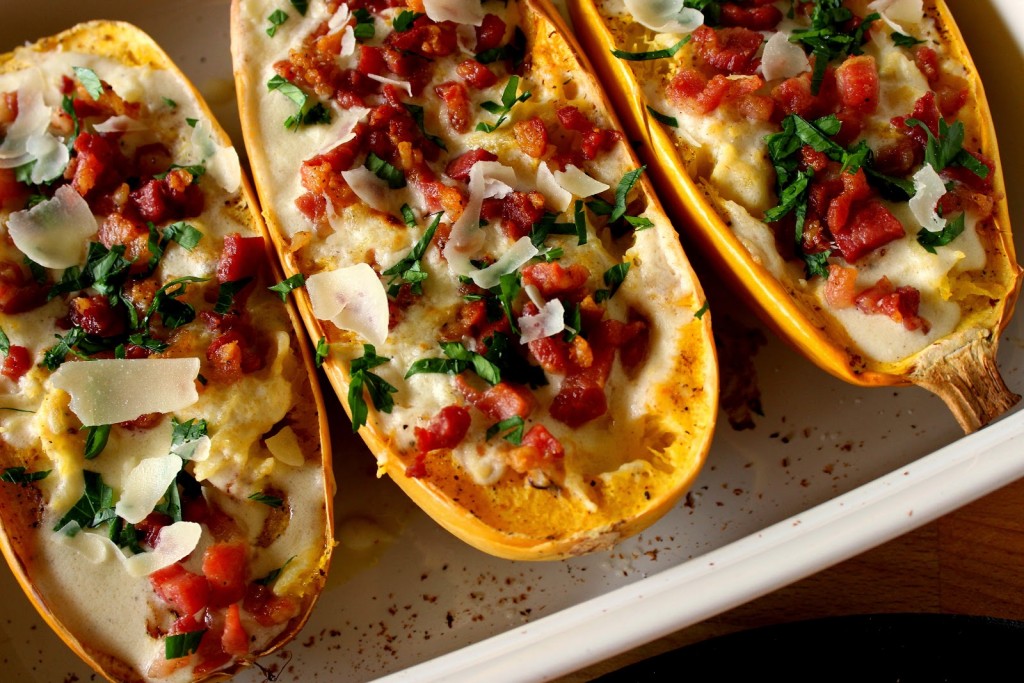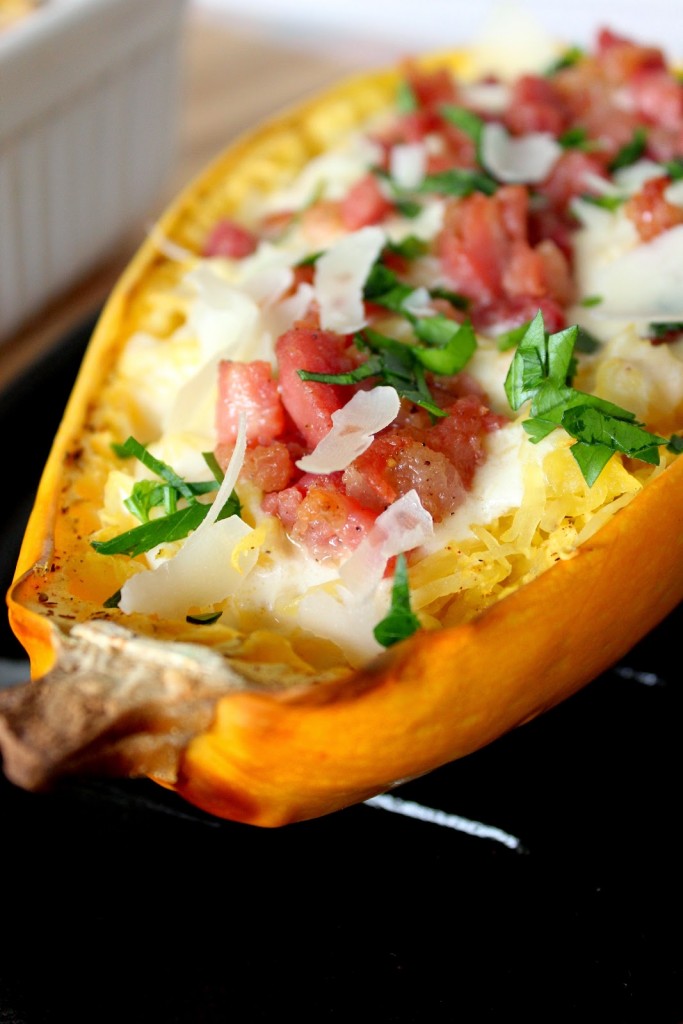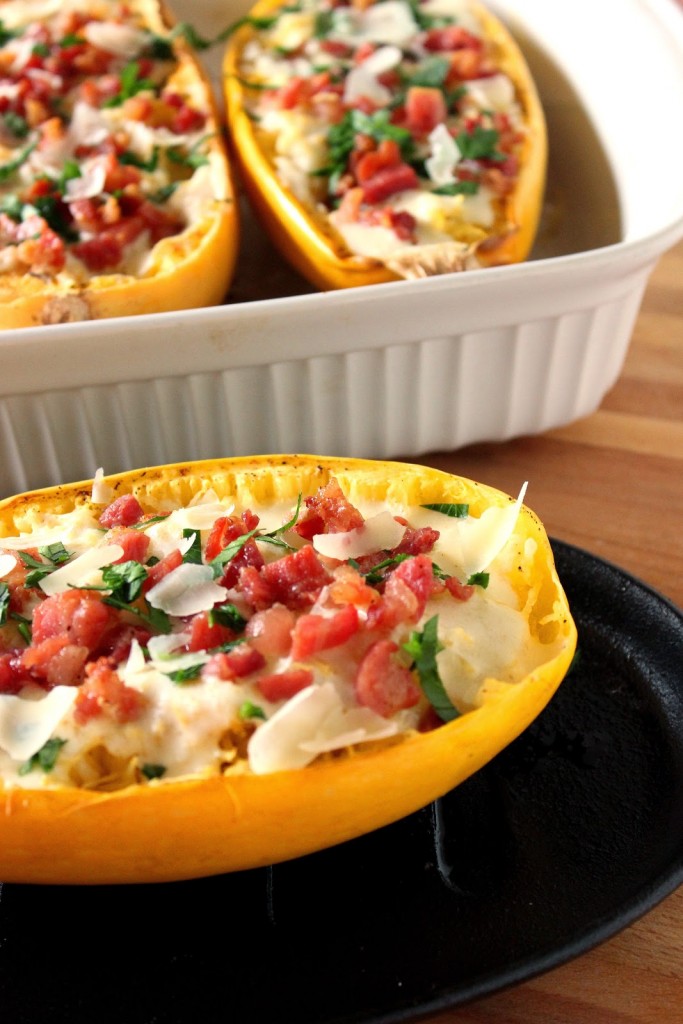 I hope I've been able to whet your whistle for all things spaghetti squash.
If so, why don't you check out my recipe for Spaghetti Squash and Zucchini Pancakes? It's one of my absolute favorites!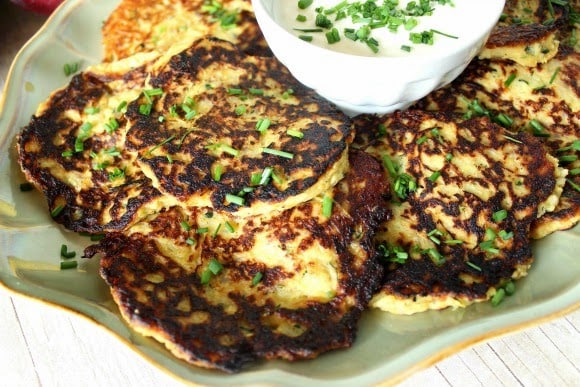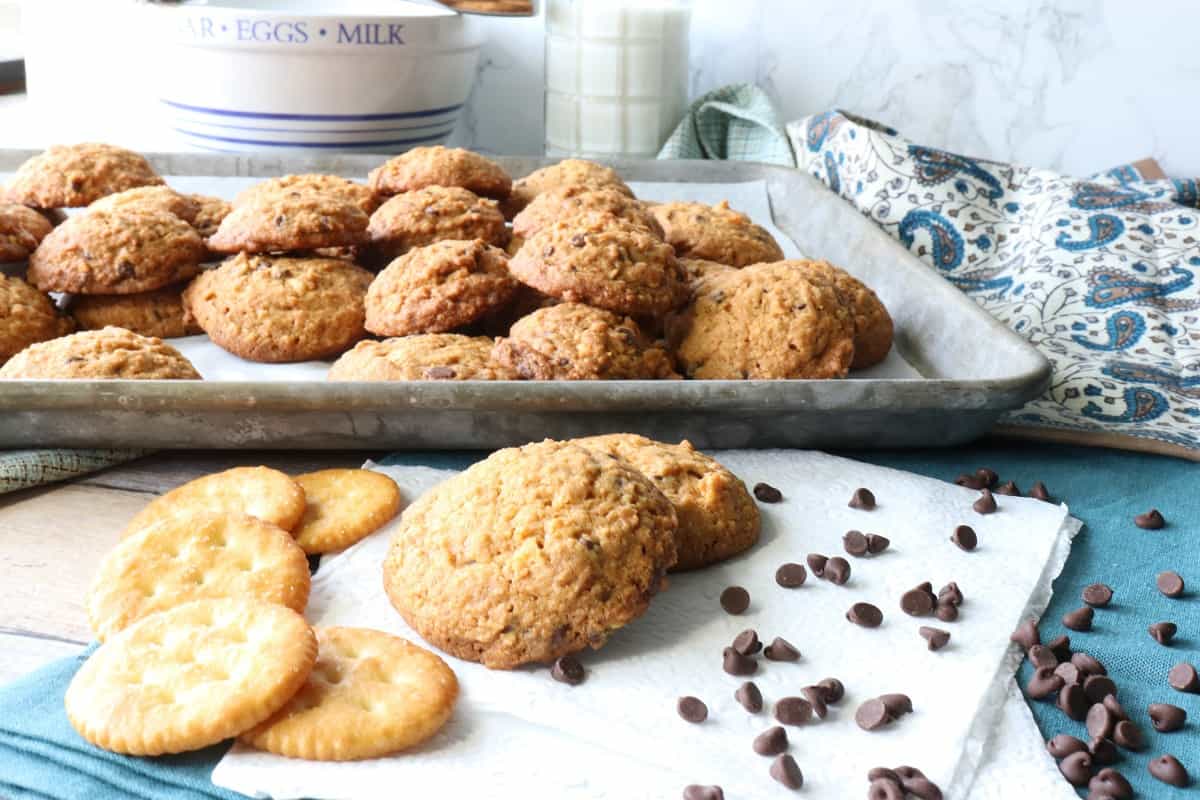 Follow me across my social media platforms and join in on the conversation: FACEBOOK, INSTAGRAM, PINTEREST, TIKTOK, AND YOUTUBE.
Thank you so much for visiting me today in my Kudos Kitchen. I hope you found something you'll love and that you'll come back and visit me often. There is always room for you around my table!
Should you have any questions or comments regarding anything you've seen here on my blog, please don't hesitate to reach out to me. It is always my distinct pleasure to respond to you just as soon as I possibly can.
Until we eat again, I hope you have a delicious day!!