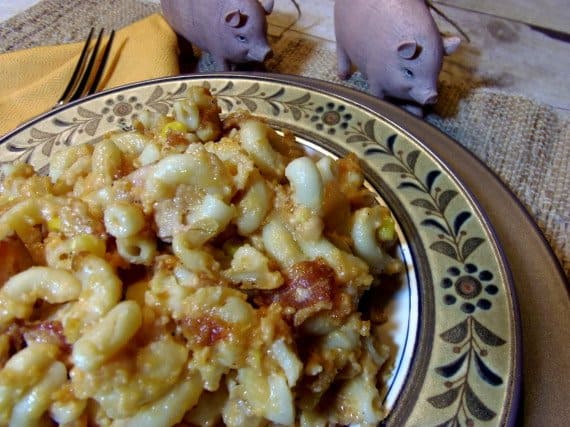 I think macaroni and cheese is just about everyone's favorite comfort food. Mine included.
When my kids were little, they ate macaroni and cheese probably about 3-4 days a week during the summer months for lunch.
Of course, back then it was all about the blue box macaroni and cheese. It was certainly their favorite, as well as the favorite of all of their friends. You knew you could always make the gang happy when you brought out the neon orange cheese powder and a half a stick of butter.

Fast forward to today (a mere 20 years later), the blue box is basically a thing of the past.
Truth be told, on a rare occasion (what can I say, my boys still love it) I will whip some up as a surprise, but the real treat comes when mom (yes, that's me) makes it from scratch and adds all sorts of real cheeses (not that faux orange stuff) and mixes in awesome stuff like bacon and corn!
Naturally, butter still plays a role but it's not nearly as much as what was used those many, many years ago.
Gosh, if I knew then what I knew now....oh well. I digress.
Comforting, creamy and delicious. Macaroni and cheese brings back so many summertime memories of when my kids were young.
No matter how it's prepared, to me, macaroni and cheese is love on a plate.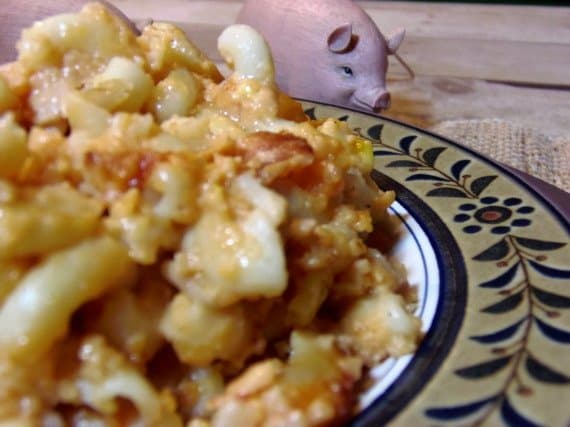 BACON AND CORN MACARONI AND CHEESE {PRINT THIS RECIPE}


1 pound bacon (cooked, drained and crumbled)
½ large Vidalia onion, chopped and sauteed with bacon
1 pound elbow macaroni (cooked according to package directions, and drained. Keep warm with a lid)
1 ½ cups frozen sweet corn
1 teaspoon salt
½ teaspoon pepper
3 tablespoons butter
3 tablespoons flour
1 can evaporate fat-free milk
2 cups shredded sharp cheddar cheese
2 cups shredded medium cheddar cheese
1 cup cream cheese
1 ½ tablespoons apple cider vinegar
-Preheat the oven to 350 degrees.
-During the last 5 or so minutes of cooking the bacon, add the chopped onion and cook to soften slightly.
-Drain the onion and bacon on paper towels.
-In the same large pot that you cooked the macaroni, add in the frozen corn, bacon, onion, salt, and pepper.
-In a medium saucepan over medium/low heat melt the butter and add the flour to make a roux. Stir well and cook over medium-low heat for a minute or two.
-Add in the evaporated milk and whisk thoroughly. The mixture will thicken as it heats.
-Once thickened, reduce the heat to low and add in the cream cheese and the shredded cheddar cheeses.
-Stir in a figure 8 rotation until all the cheeses have melted and you have a nice, thick cheese sauce.
-Remove from the heat and stir the apple cider vinegar into the melted cheese sauce.
-Pour the cheese sauce over the elbow macaroni mix and stir well to thoroughly coat the macaroni with the cheese sauce.
-Prepare a 9x13 casserole dish by spraying it with cooking spray and pour the macaroni mixture evenly into the casserole dish.
-Bake covered with foil for approximately 30 minutes until completely heated through.
-Serve and enjoy the compliments you'll receive 🙂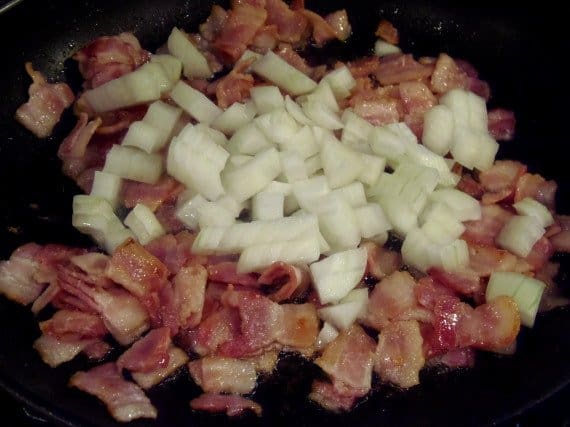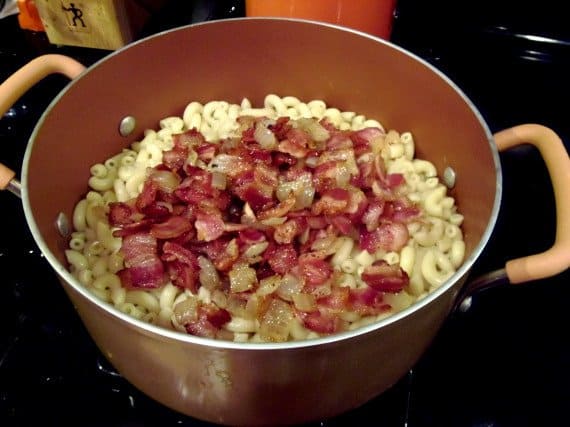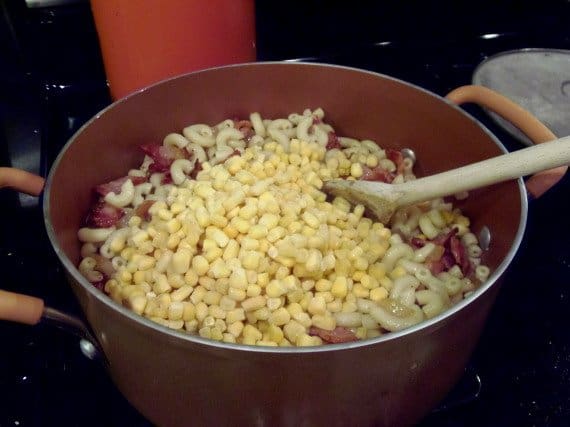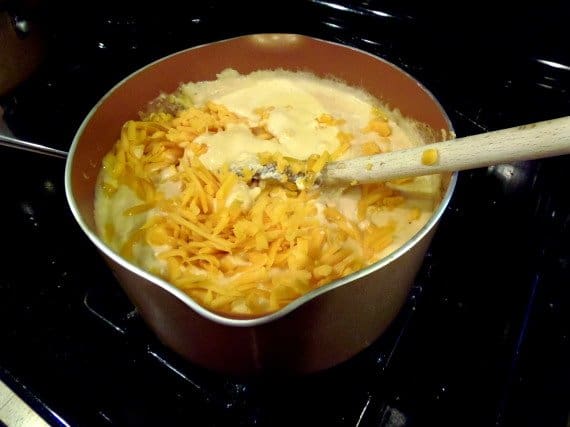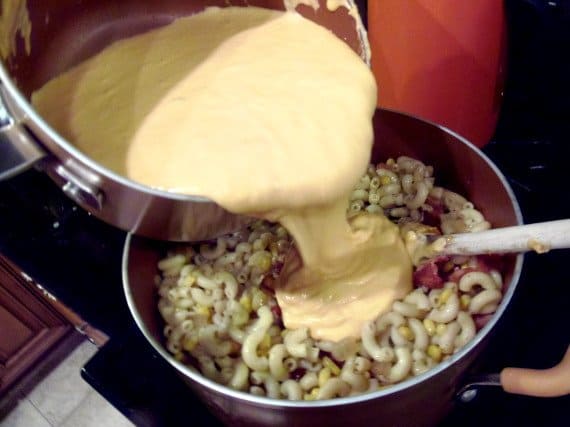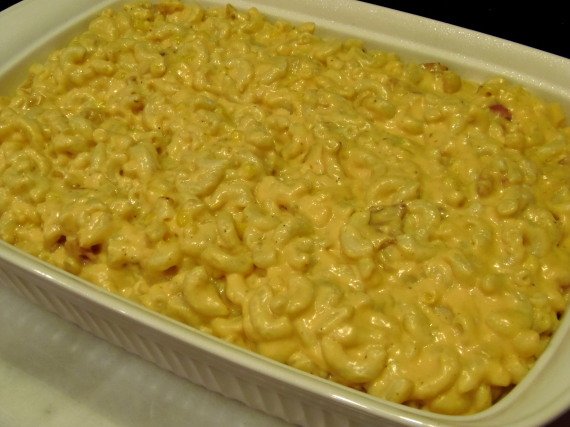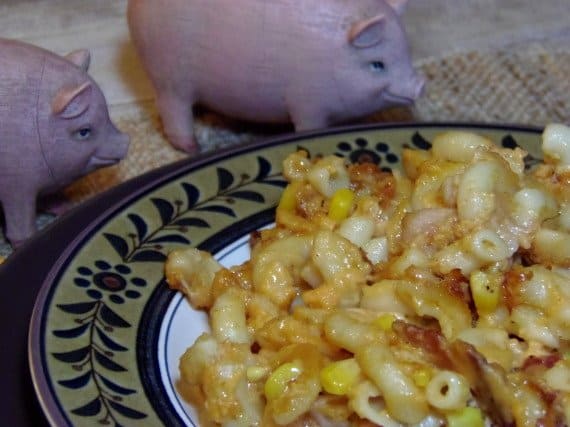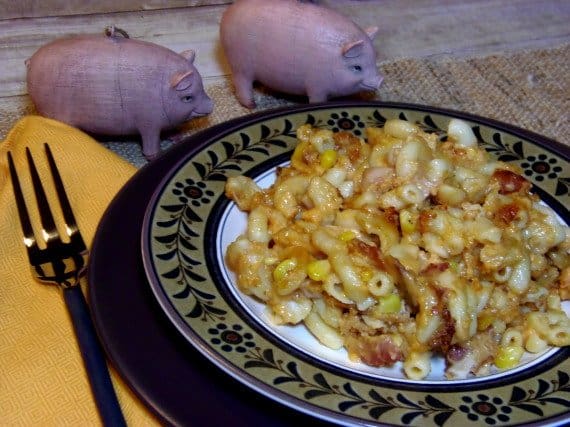 You'll have to watch yourself once this macaroni and cheese is set on the table. It's been known to have people make little piggies of themselves 🙂
Until we eat again,