This adorable Turkey Crust Pumpkin Pie is easy to recreate and will amaze your family and friends this holiday season. Let me show you how easy it is to assemble and bake this fun Thanksgiving holiday treat.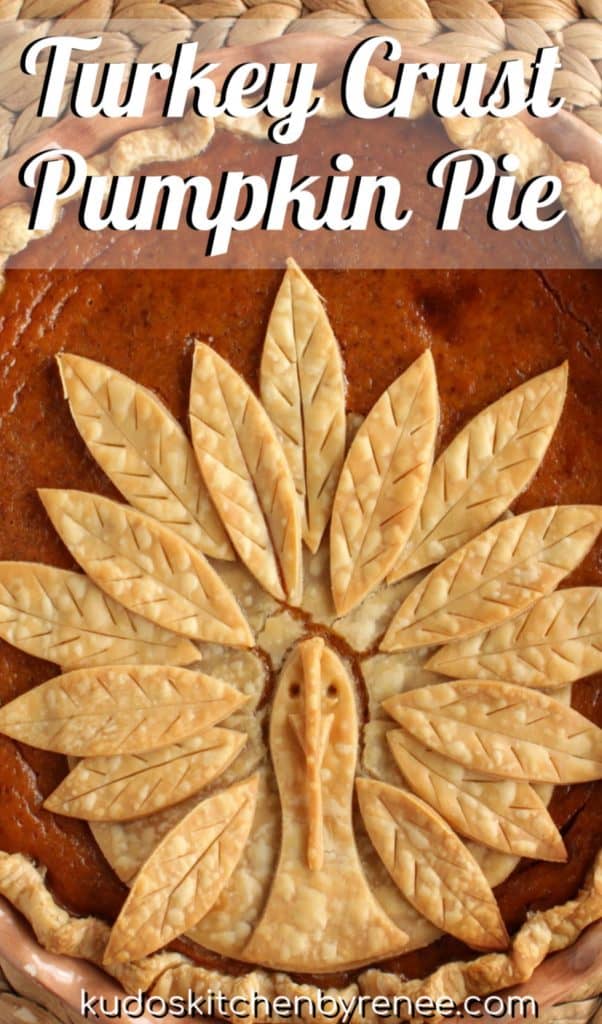 Jump to: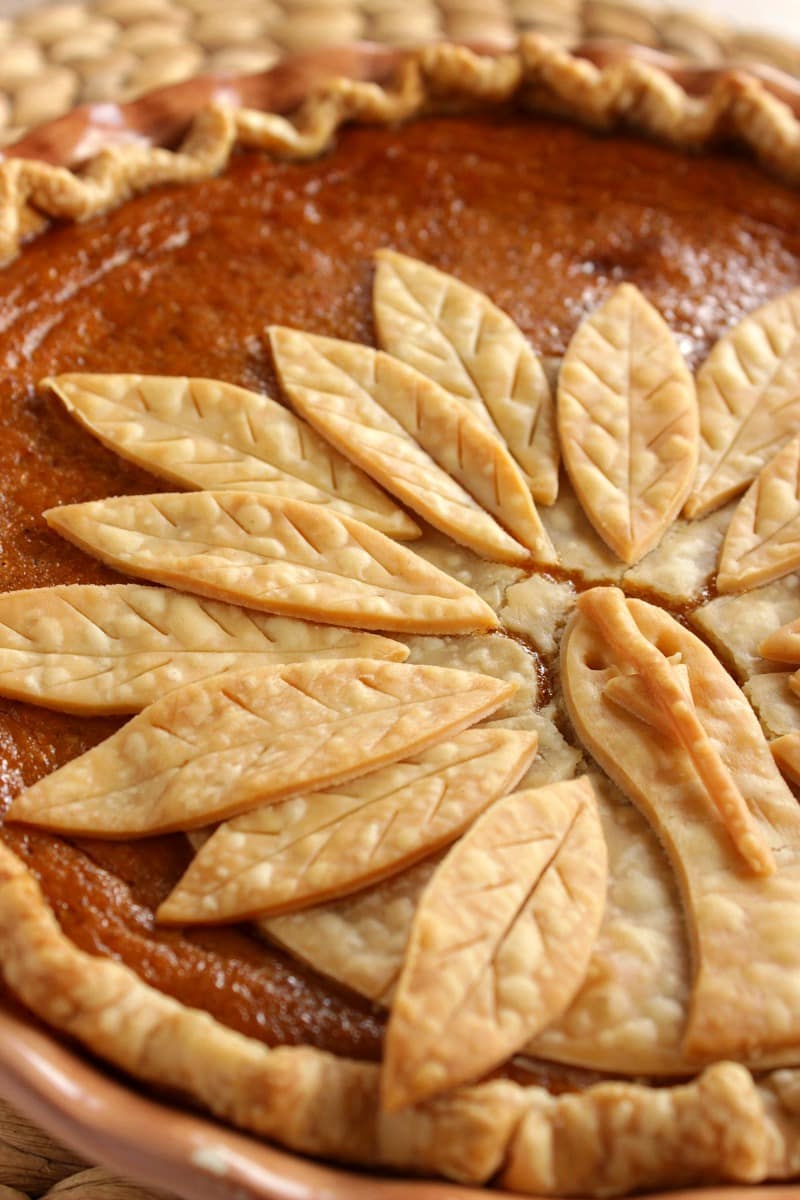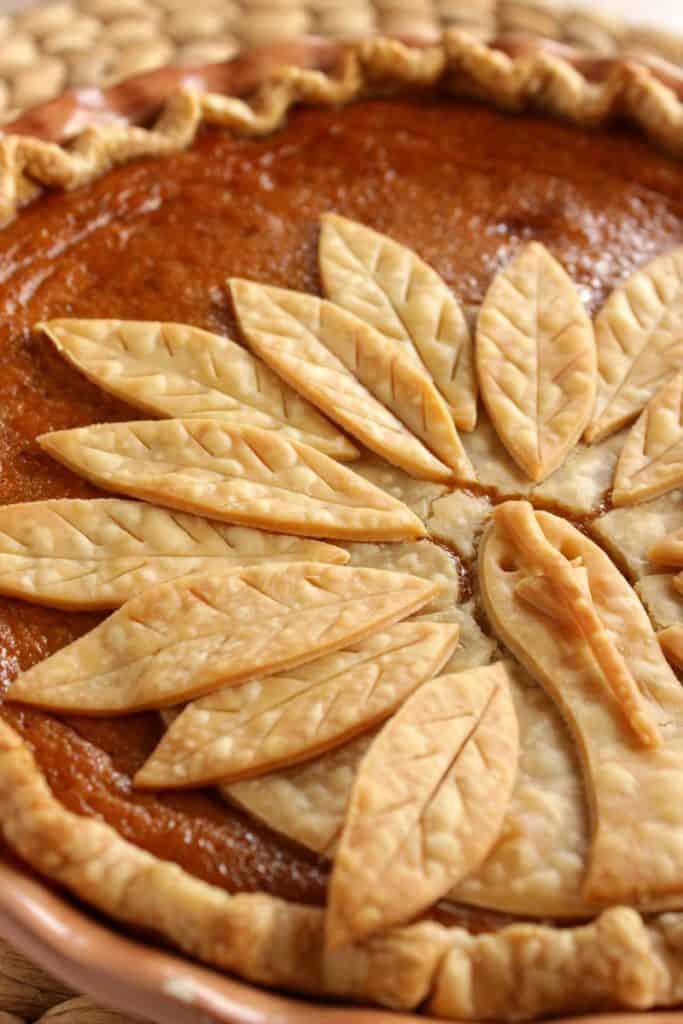 The ingredient list:
**Note - The following lists of ingredients plus kitchen tools and equipment contain affiliate links (highlighted in blue) for your consideration and shopping convenience.
2 - 9" round pie crust (store-bought or homemade)
all-purpose flour (for rolling the pie dough)
granulated sugar
eggs
evaporated milk (not sweetened condensed milk)
Kitchen tools and equipment needed:
Why this recipe works?
Because the pie is tasty, and the decorations are not difficult or intimidating.
I've done my best to give you easy step-by-step instructions and descriptions but the best pies are the ones that are unique with your own style and personality.
Have fun with this and you'll be as proud as a peacock (um, make that turkey) with how your pie turns out.
Oh, don't forget to tag me across all the social media platforms (@kudoskitchen) with a photo of your turkey crust pie because I'd love to see your edible work of art!
GO YOU!
What is the key to assembling this turkey pumpkin pie?
The major key to assembling the turkey crust (so he doesn't drown in all that luscious pumpkin filling) is to bake the pumpkin pie partially before adding Mr. Tom Turkey on top.
That way the custard pie will be set enough so the turkey crust will sit on top of the pie and won't be eaten up and fall to the bottom of the pie, rendering him invisible.
That would be no fun at all!

Is homemade or store-bought pie dough better for this recipe?
That depends on you!
To simplify the process of making this pumpkin pie with a turkey crust, I used some store-bought pie crust that can be found in the refrigerator section of the grocery store.
However, if you have a penchant for making your own crust, by all means, use your favorite recipe, but be sure you make enough for a double-crust pie.
Can this turkey pie crust design be done on a store-bought pumpkin pie?
Sure thing!! Whatever is easier for you!
If using a store-bought pumpkin pie (as shown in the video), start by baking the pie halfway before adding the turkey crust.
OR, you can pre-bake the turkey and add him to the fully baked pie as described below.
Can I assemble and bake the turkey crust by itself first?
You sure can!
I've heard of a lot of people who prefer to bake their turkey crust and pumpkin pie separately and then lay the baked turkey crust on top of the finished pumpkin pie.
If this sounds like a method you'd like to try, make sure to watch the baking of the turkey closely.
I suggest assembling him on a baking sheet lined with parchment paper and sprayed lightly with baking spray.
Bake him in a preheated oven for 12-15 minutes (keeping a close eye on him so he doesn't burn).
Once he is golden brown, remove him from the oven and allow him to cool completely before adding him to the top of the cooked pumpkin pie. A large cake mover works well for this.
View some of the turkey crust pumpkin pies made by readers like you!
Can this turkey crust pumpkin pie be made in advance and frozen?
YES!! I've done it several times!
Cool the pie completely after baking.
Once fully cooled, wrap the pie well in 2 - 3 layers of cling wrap and freeze for up to 2 months.
Thaw at room temperature for 1 hour and unwrap the pie. Continue thawing until no longer frozen.
The step-by-step photo instructions for making a pumpkin pie with a turkey crust:
Roll out one pie crust to fit a 9" pie plate.

Roll the dough loosely onto the rolling pin and transfer it to a waiting 9" pie plate.

Carefully unroll the dough...

Gently press the dough into the corners of the plate and up the sides.

In a medium bowl, whisk together granulated sugar, cinnamon, salt, ground ginger, grated nutmeg, and cloves.

In a large bowl, whisk together 2 eggs, pumpkin puree, evaporated milk, and vanilla.

Add the dry ingredients into the wet ingredients and whisk well to combine.

Pour the filling into the prepared pie crust.

Once the pie is filled, partially bake it in a preheated 375-degree oven for 40-45 minutes.

While the pie is baking, roll out the second pie crust and start trimming the pie crust pieces to form the turkey body.


Use water on your finger to "glue" the turkey beak and waddle to the neck and head.

Using more water, carefully transfer the turkey neck to the body (a spatula works well for this).

Use a small piece of cardboard (from the back of a small note pad), and draw out two sizes of feathers, one longer, and one shorter.

Cut out the cardboard feathers to use as a pattern.

Use a paring knife to trim at least 15 feathers (both sizes) from the remaining pie crust.

Carefully use the blade of the paring knife to score lines into the dough to resemble feathers.

If needed, use the paring knife to gently fraction the body of the turkey to more easily determine the placement of the feathers.

Once the pie is partially baked, it's time to start assembling the turkey on top of the pie, starting with his body.

Use a touch of water to add the feathers, one at a time to the body of the turkey until you like the way he looks.

Use a skewer or toothpick to make the holes for the eyes.

When the turkey is completely assembled, return the pie to the oven and continue baking until the center of the pie is completely set and the turkey crust is lightly brown and golden.

Cool completely before cutting and serving.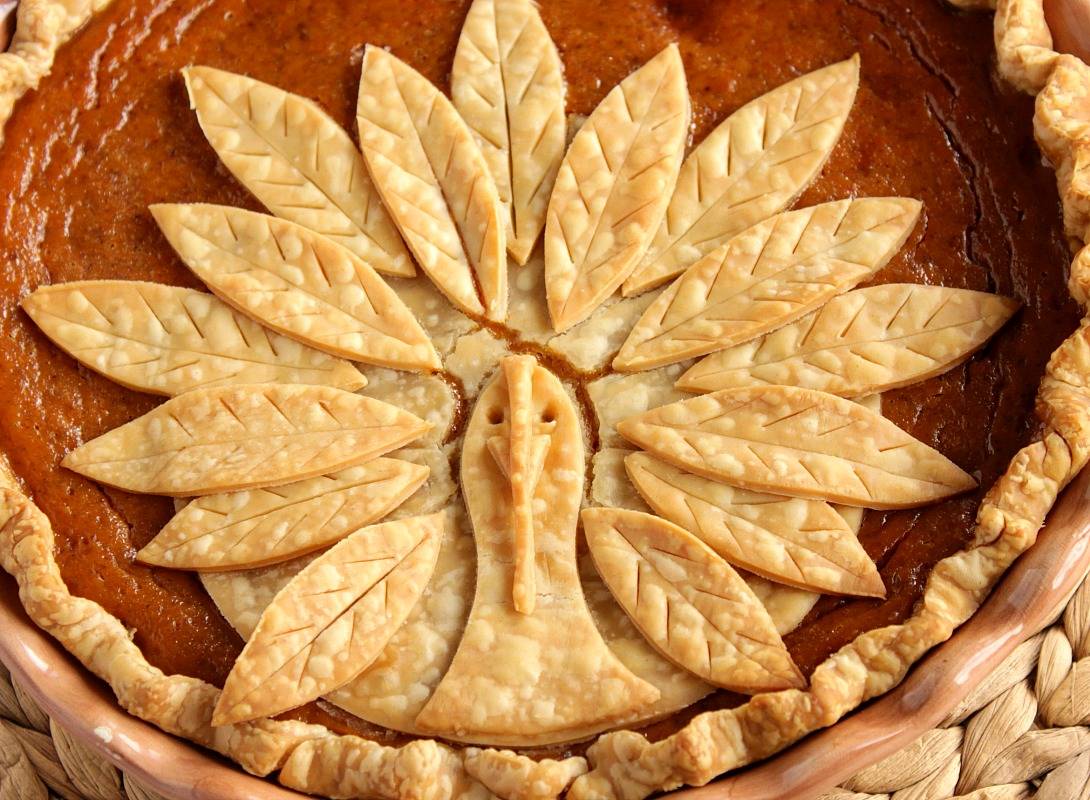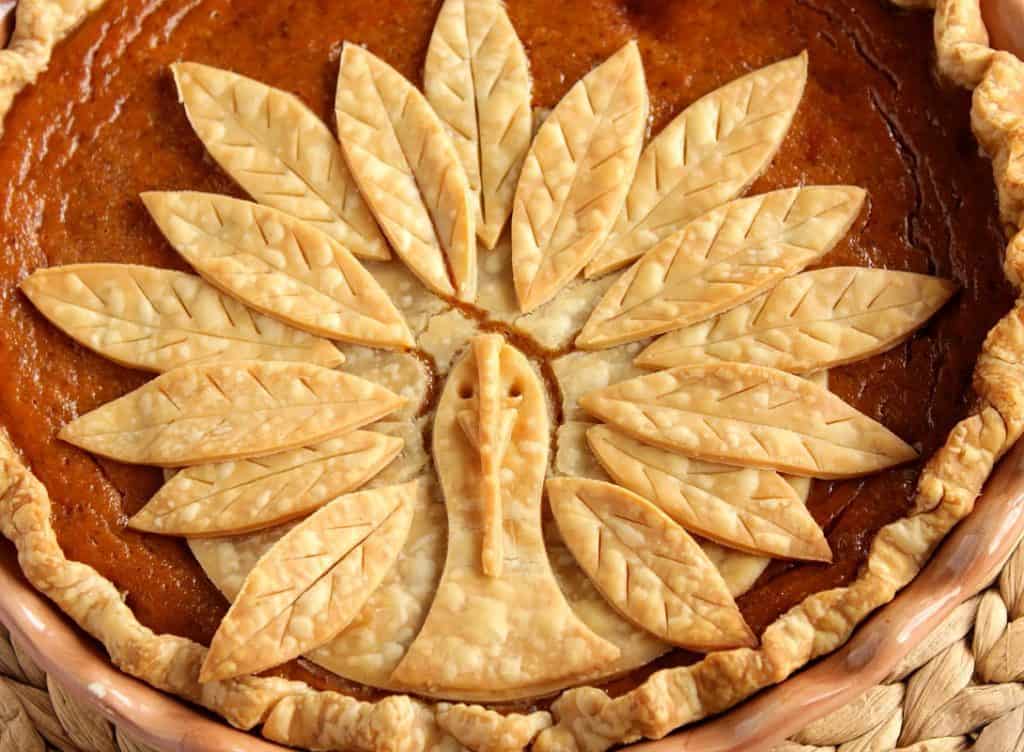 Popular homemade pie crust recipes from around the web:
*Art of the Pie Dough Recipe from Kate McDermott
*Homemade Buttery Flaky Pie Crust from Sally's Baking Addiction
*The Best Homemade Pie Crust from Cookies and Cups
*Mom's Homemade Pie Crust from (yours truly) Kudos Kitchen
Alternative pumpkin pie recipe:
Easy Pumpkin Pie from Wonderful Cook - This pumpkin pie recipe is bursting with an incredible profile flavor and is super easy to make! Add the turkey crust topper and you'll please and delight everyone at the table!
My turkey pumpkin pie has been featured in the following publications:
Since his original creation, I'm as pleased as pie that this Tom turkey-decorated dessert has been featured in the following publications -
Blu Ridge Vintage
Tip Hero
XO Katie Rosario
Country Living Magazine (yes, twice!)
This recipe post for my pumpkin pie with a turkey crust is also proudly featured on Meal Plan Monday.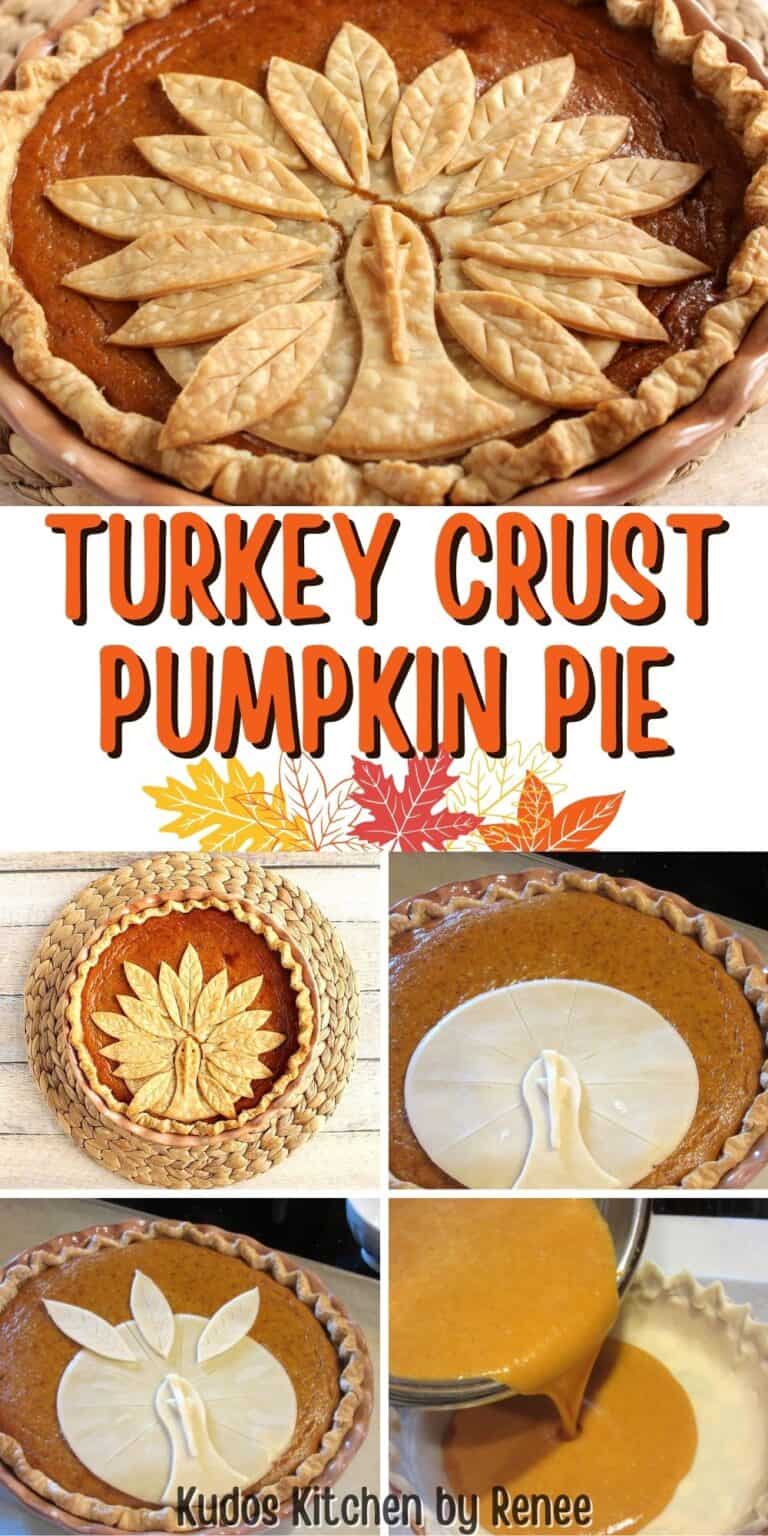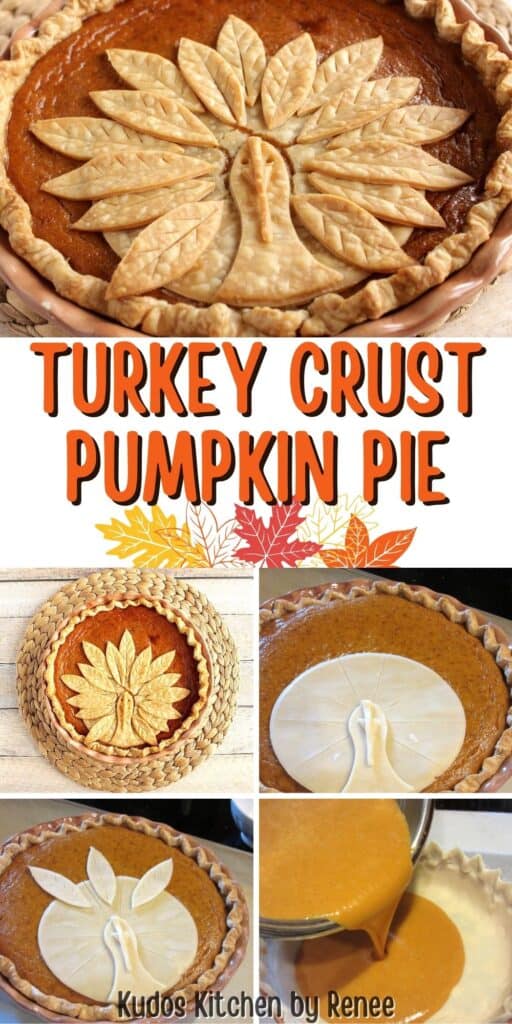 A full Thanksgiving menu
You'll be pleasantly pleased after your first sip of this Pumpkin Spice Martini. After your second sip, you'll be warm all over. You're welcome!! 🙂 Enjoy Responsibly!
With a savory filling of pumpkin, cream cheese, bacon, and sage, these Pumpkin Crescent Pinwheel Appetizers are always a hit when it's time to party.
You'll be amazed at how delicious Brown Bag Roast Turkey is! The skin is crispy, and the meat juicy! It's utter perfection!! This method for roasting a Thanksgiving turkey has it IN THE BAG so don't miss out your chance to serve the best roast turkey you've ever had!
You can have this impressive Bacon Bourbon Green Bean Almondine side dish on the table in under 30-minutes. It's fancy enough to serve for the holidays and yet it's easy enough to make any night of the week.
Don't think this amazing Pretzel Roll Stuffing with pine nuts should only be made for Thanksgiving. After your first bite, you'll be looking for reasons to make it all year long!
Take some of the stress out of serving a big holiday meal to a large group of people (or any meal for that matter) by preparing these Cheesy Horseradish Mashed Potatoes in advance. Then pop it into the oven about an hour before you're ready to eat! Now it's time to relax before dinner. You've earned it!
When you make this recipe, and I hope you do, I'd appreciate it if you'd take a moment to leave a star rating on the recipe card and briefly comment on why you rated it as you did. FYI - Google appreciates recipe ratings and, in turn, will share my recipes with more people. Thank you so much!!
Printable Recipe Card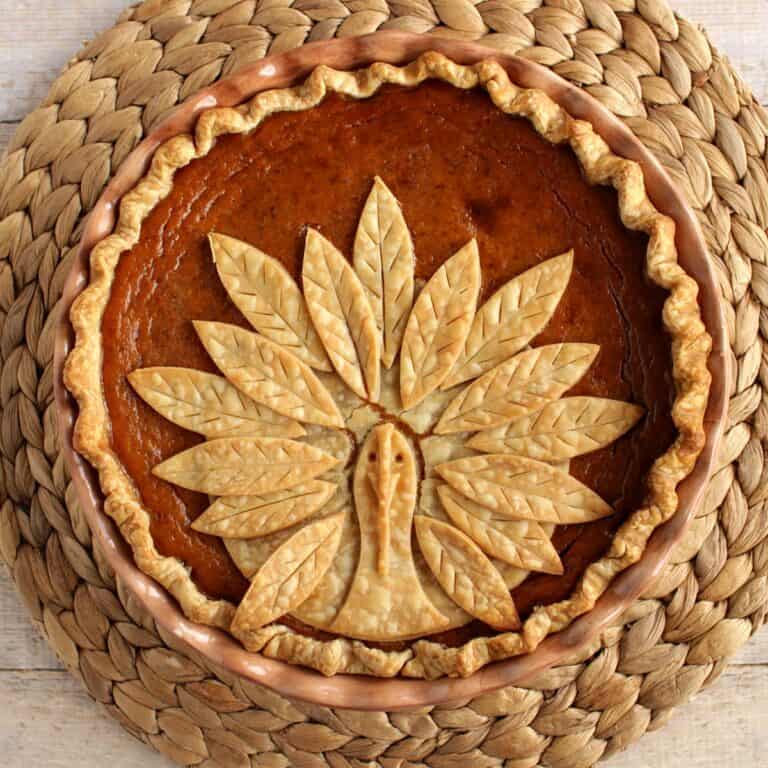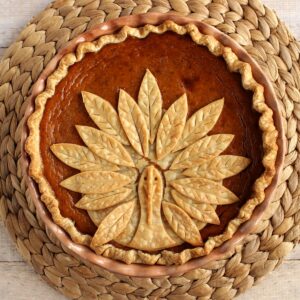 Turkey Crust Pumpkin Pie
Charm and delight your family and friends with this easy-to-make turkey crust pumpkin pie.
Ingredients
1

deep dish

pie crust

store-bought or homemade

1

9-inch round

pie crust

store-bought or homemade
To make the pumpkin pie filling:
¾

cup

granulated sugar

1

teaspoon

ground cinnamon

½

teaspoon

kosher salt

½

teaspoon

ground ginger

¼

teaspoon

ground cloves

pinch

freshly grated nutmeg

2

large

eggs

1

can (15 ounces)

pumpkin purée

Not pumpkin pie filling

1

can (12 ounces)

evaporated milk

½

teaspoon

pure vanilla extract
Instructions
Use card stock or cardboard and scissors to cut out two thin sizes of feathers. One longer (approximately 2") and one shorter (approximately 1½"). Set aside.
If you are making homemade crust, start here:
Preheat oven to 375 degrees Fahrenheit (190 degrees Celsius)

Roll out one of the pie crusts to fit slightly larger than a 9" deep dish pie plate.

Loosely roll the pie crust upon the rolling pin and transfer it to a waiting 9" pie plate.

Gently unroll the crust and evenly press the crust into the corners and up the sides of the plate.

Crimp the edge of the crust with your favorite method of decoration.
If using store-bought crust, start here:
Whisk together the sugar, cinnamon, salt, ginger, cloves, and nutmeg in a medium bowl.

Whisk together the eggs, pumpkin puree, evaporated milk, and vanilla in a large bowl.

Add the dry ingredients to the wet ingredients and whisk to thoroughly combine the pie filling so that it's creamy with no lumps.

Carefully pour the pie filling into the waiting pie crust in the pie plate.

Partially bake in a preheated oven for 30-35 minutes.

While the pie partially bakes, roll out the second pie crust.

Roll out the second pie crust and use the paring knife to cut the round body from the 4-inch bowl.

Use the round body as a size reference and cut out the turkey's neck, head, beak, and thin waddle with the paring knife.

Use a fingertip and water (sparingly) to "glue" the pie crust pieces together.

Use an offset spatula to carefully transfer the turkey's body onto the partially baked pie crust.

Cut 14 feathers (both sizes) from the remaining dough and carefully, with a light hand, use the back of the paring knife to score the crust to resemble feathers lightly.

Add the feathers to the turkey's body in a pleasing design using water.

Return the turkey crust pie to the oven to finish baking until the custard center is no longer jiggly (approximately 20 minutes, observing so the turkey doesn't get too dark). *Note - if needed, loosely cover the pie with foil if the crust is browning too quickly and the center of the pie is still uncooked.

Once fully cooked, remove the turkey crust pumpkin pie from the oven and cool on a cooling rack.

Serve chilled or at room temperature.
Video
Notes
Store leftovers, covered, in the refrigerator for up to 4 days.
The baked pie may be frozen, well wrapped, for up to 3 months.
Nutrition
Serving:
1
serving
Calories:
93
kcal
Carbohydrates:
19
g
Protein:
2
g
Fat:
1
g
Saturated Fat:
0.4
g
Polyunsaturated Fat:
0.3
g
Monounsaturated Fat:
0.5
g
Trans Fat:
0.01
g
Cholesterol:
47
mg
Sodium:
165
mg
Potassium:
22
mg
Fiber:
0.2
g
Sugar:
19
g
Vitamin A:
88
IU
Vitamin C:
0.02
mg
Calcium:
11
mg
Iron:
0.3
mg
I sincerely hope you've enjoyed today's recipe for Turkey Crust Pumpkin Pie as much as I've enjoyed bringing it to you!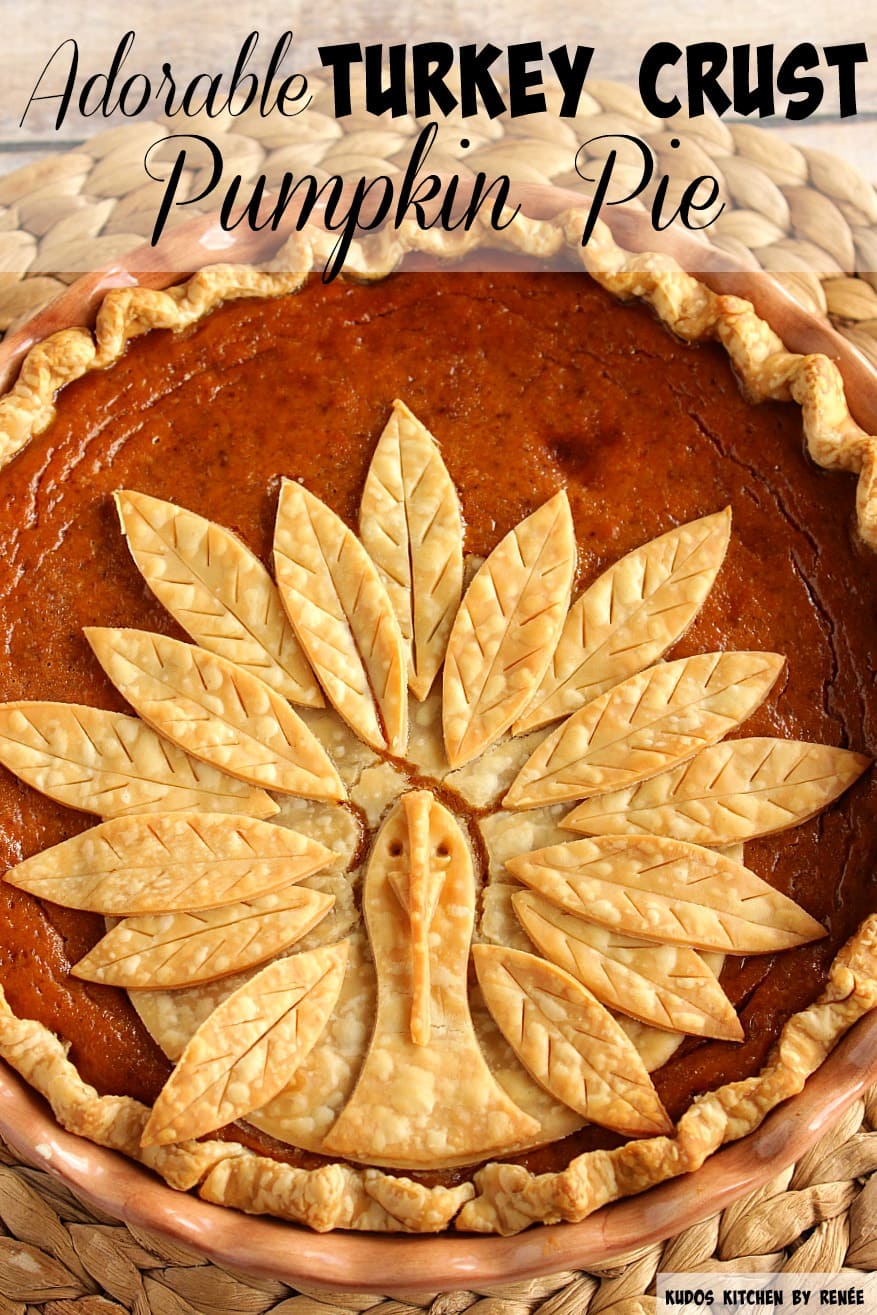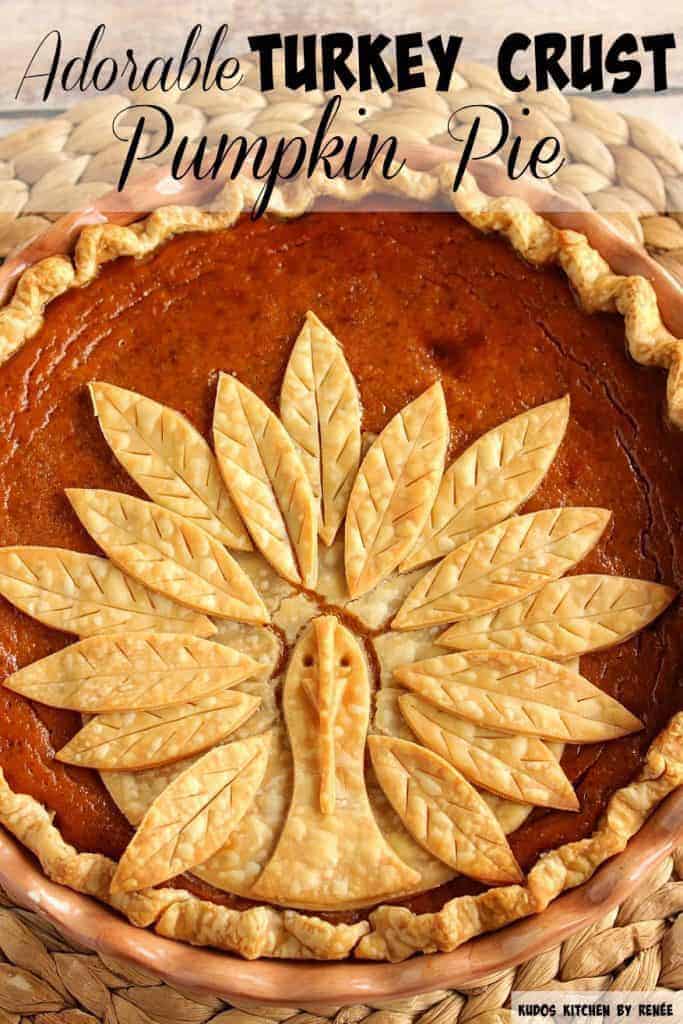 Follow me across my social media platforms and join in on the conversation: FACEBOOK, INSTAGRAM, PINTEREST, TIKTOK, AND YOUTUBE.
Thank you so much for visiting me today in my Kudos Kitchen. I hope you found something you'll love and that you'll come back and visit me often. There is always room for you around my table!
Should you have any questions or comments regarding anything you've seen here on my blog, please don't hesitate to reach out to me. It is always my distinct pleasure to respond to you just as soon as I possibly can.
Until we eat again, I hope you have a delicious day!!