You'll be amazed at how delicious Brown Bag Roast Turkey is! The skin is crispy, and the meat juicy! It's utter perfection!! This method for roasting a Thanksgiving turkey has it IN THE BAG so don't miss out your chance to serve the best roast turkey you've ever had!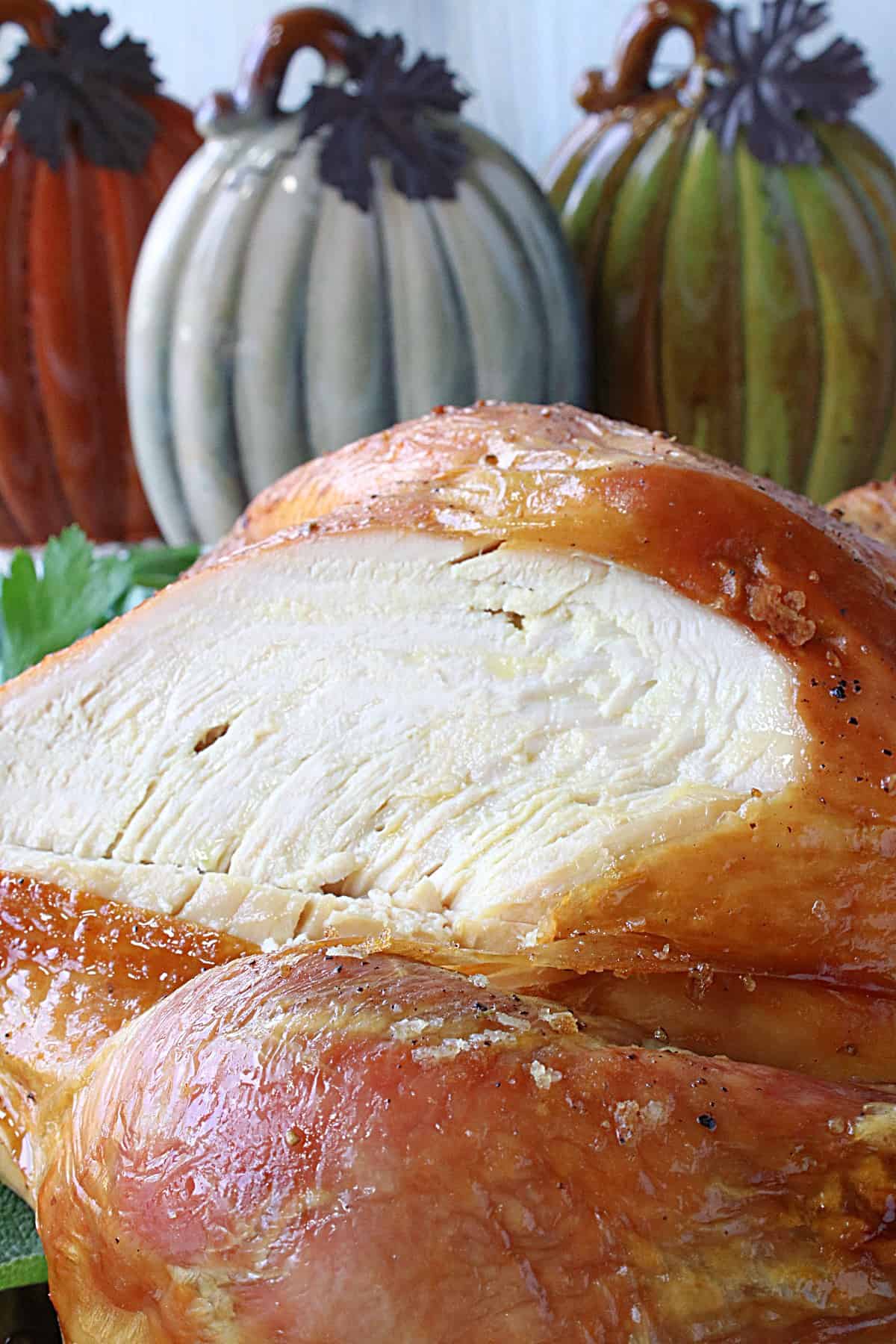 While roasting a turkey in a brown bag may seem a little odd (believe me, I thought so, too), the results are so outstanding that I need to share the method with you!
You'll notice in the video for this method of roasting a turkey in a brown bag that I slather the turkey with a Roasted Garlic and Herb Butter before placing it in the parchment paper bag.
This step is, of course, optional but encouraged. You can choose to skip this step and only season the turkey with salt and pepper and the results will still be a roast turkey with deliciously crispy skin and juicy white meat. The choice is yours.
Jump to:
🛒The ingredient list:
*Please note that the exact measurements along with a new "shop the recipe" feature from Instacart is available in the printable recipe card.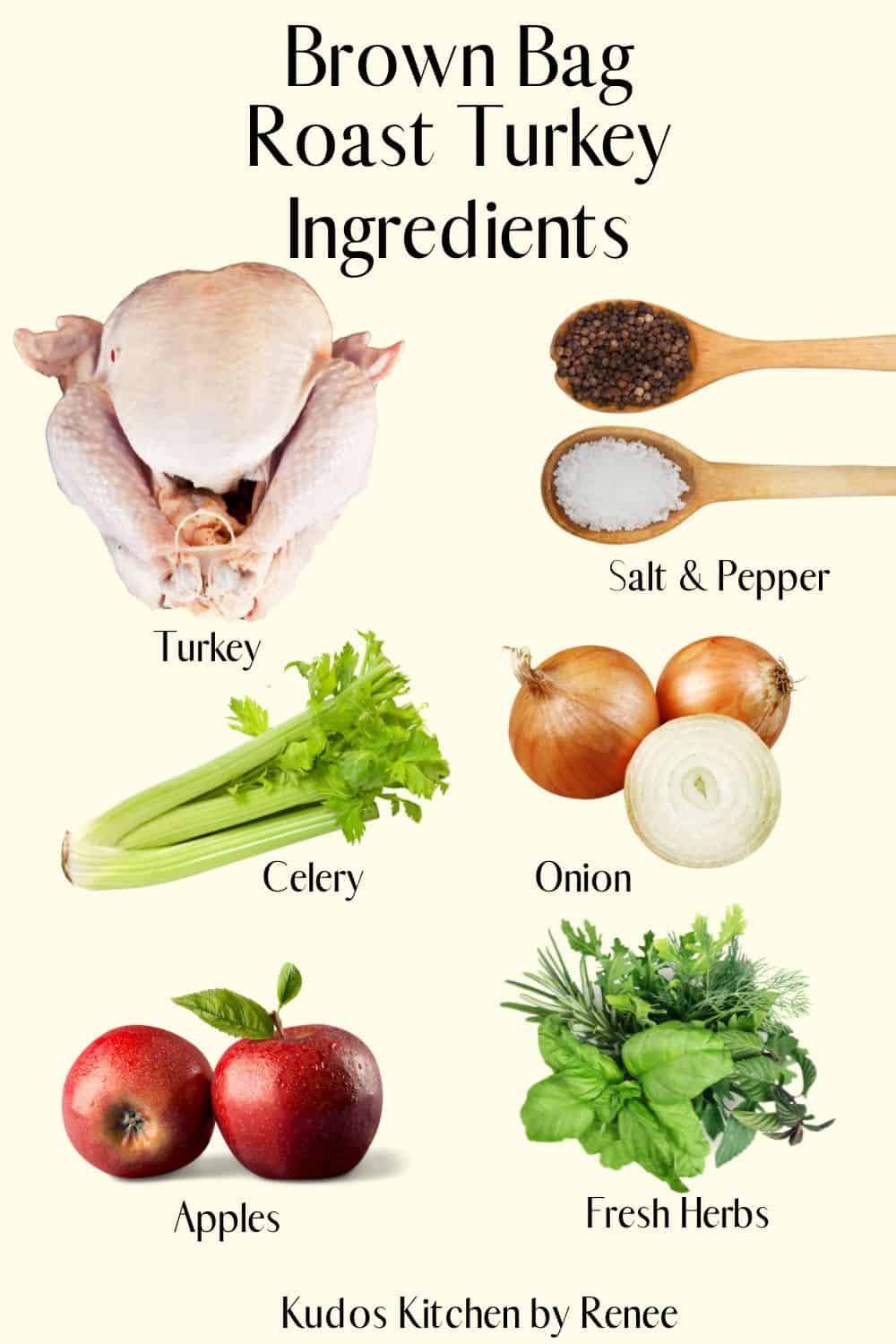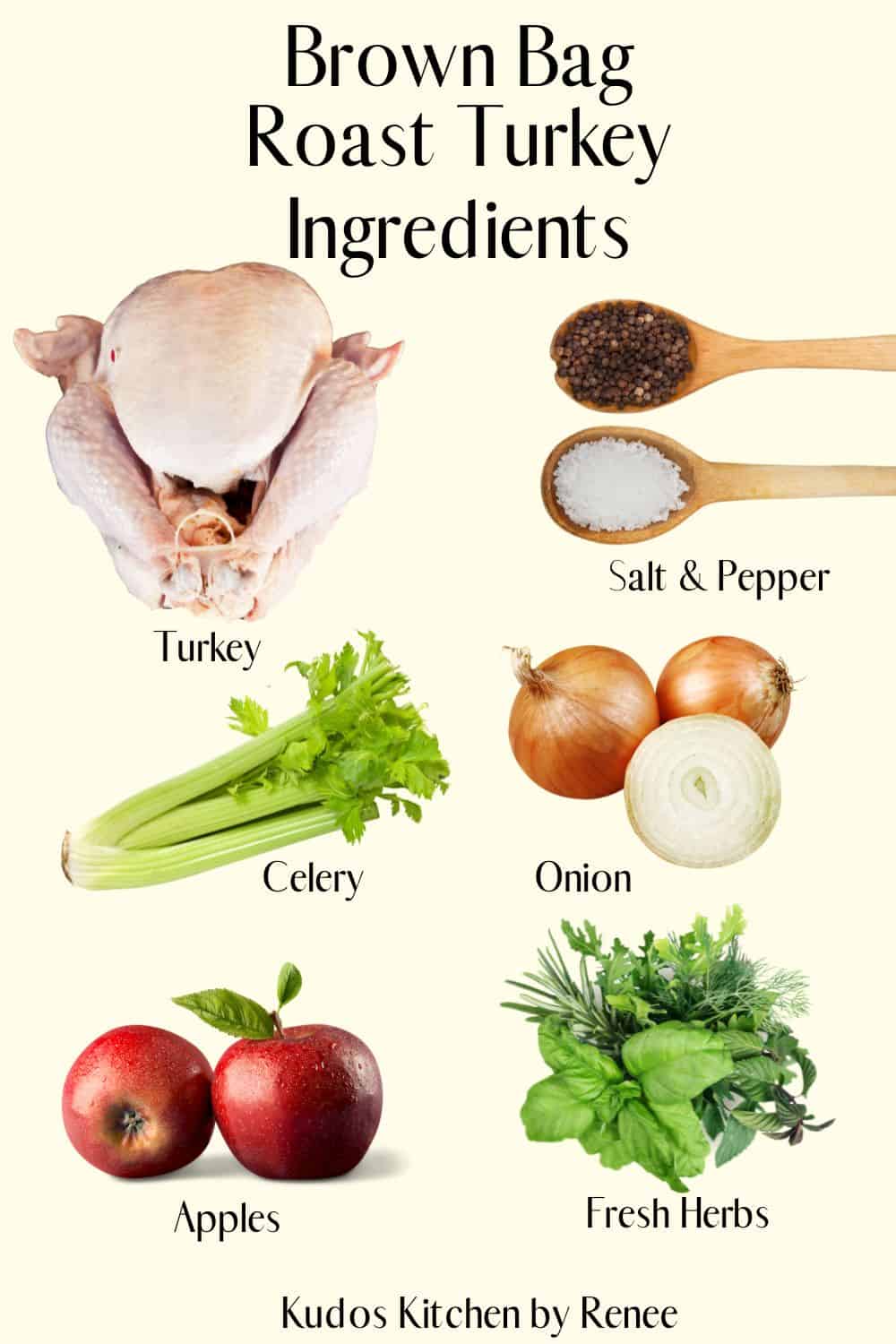 🧈If using the compound butter: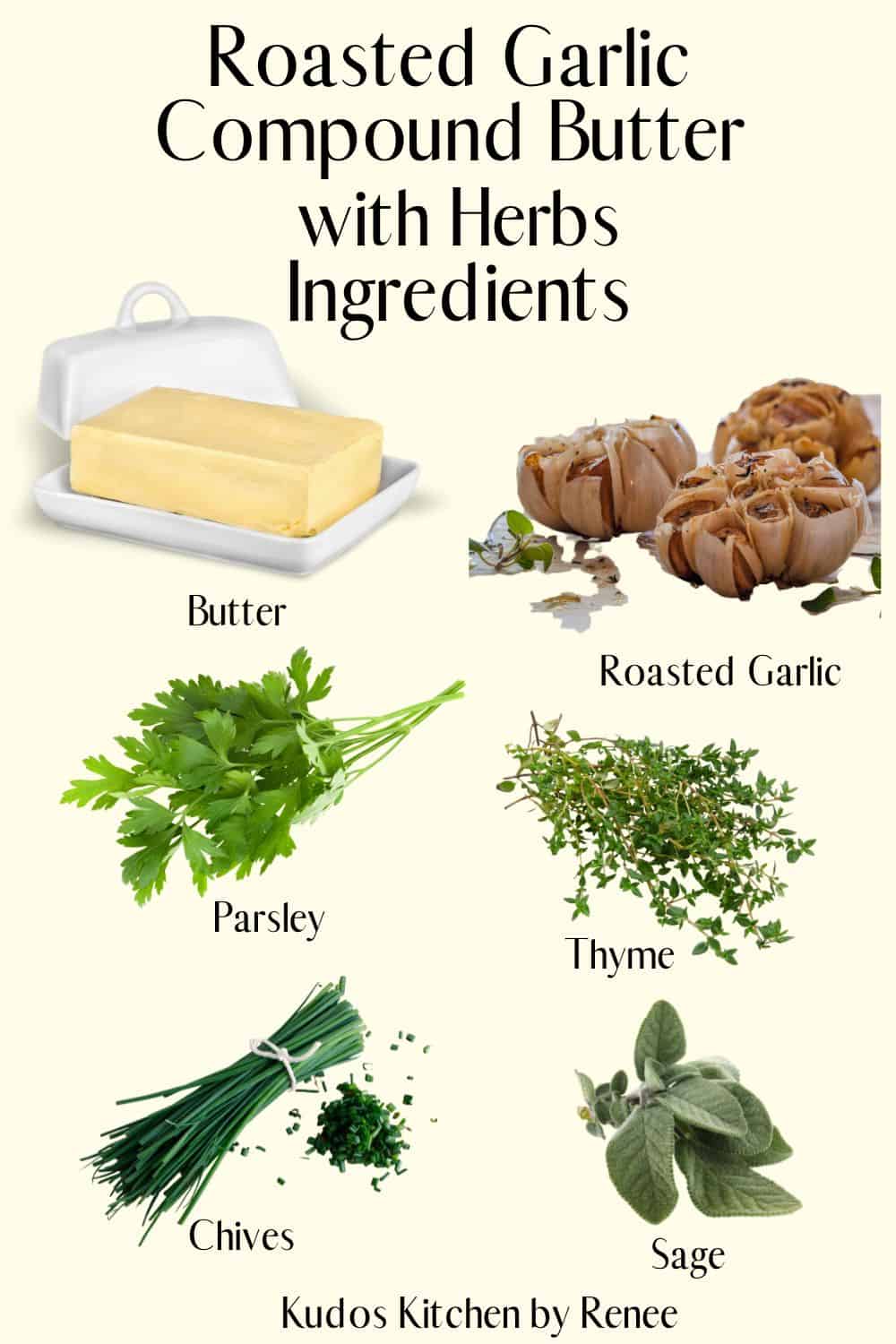 🔪Key kitchen tools and equipment needed
✴️How this recipe came to be
I have to give all props on this method for roasting a turkey in a brown paper bag to my sister-in-law, Sue. After hearing all the rave reviews it got from family members, I knew I needed to give it a try myself.
🚦Grocery store brown bags vs parchment bags
The difference between my sister-in-laws method and mine is that that she used a brown grocery bag from the market, and I used a parchment bag large enough to fit a turkey.
I didn't even know there was such a thing as turkey-sized parchment bags until I did a little research and found out that grocery store brown bags aren't necessarily food-grade safe.
The extra large parchment roasting bags will fit a turkey up to 25 pounds. They're food-safe, unbleached, chlorine free, non-stick, silicone coated, and compostable.
📷How to roast a turkey in a brown bag
Preheat the oven to 325 degrees Fahrenheit. The time needed to roast the turkey will depend on how large the turkey is. In the photos shown, this is a 14 pound bird and it took about 3½ hours to roast.
Remove the giblets and neck bone from both sides of the turkey. Season well with salt and pepper both inside and out.
Add herbs and aromatics to the cavity of the bird before roasting. I urge you not to skip this step as it imparts a lot of extra flavor.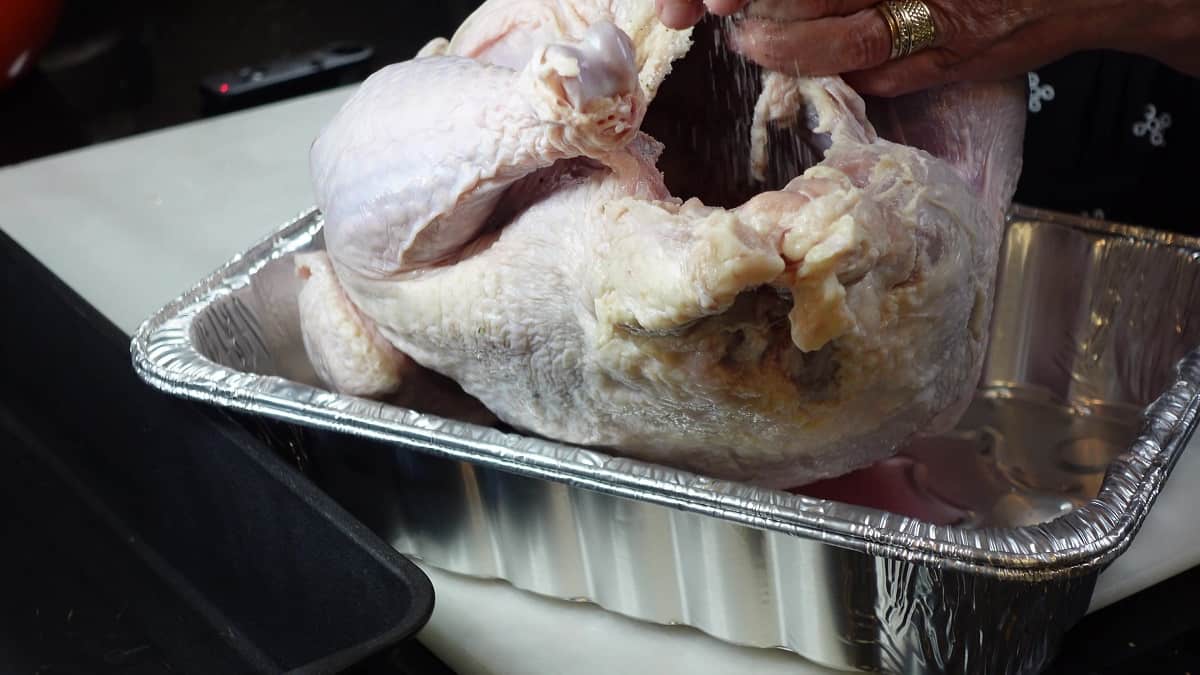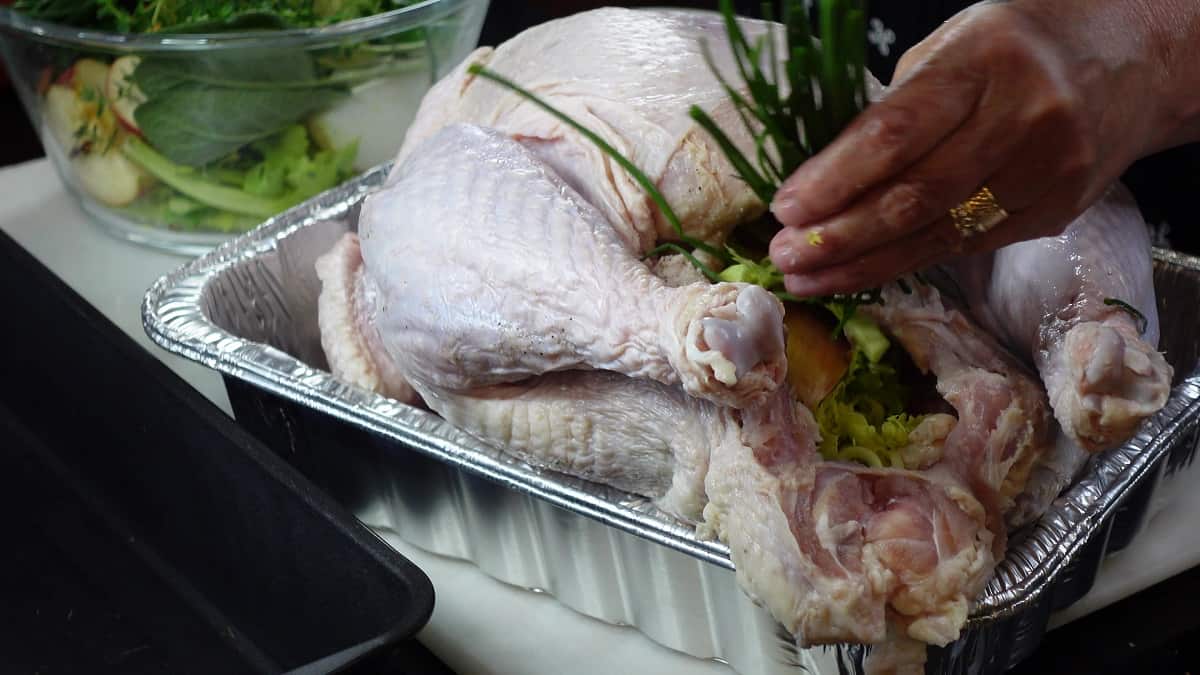 Place the turkey inside the extra large parchment bag and place additional herbs and aromatics inside the bag around the turkey.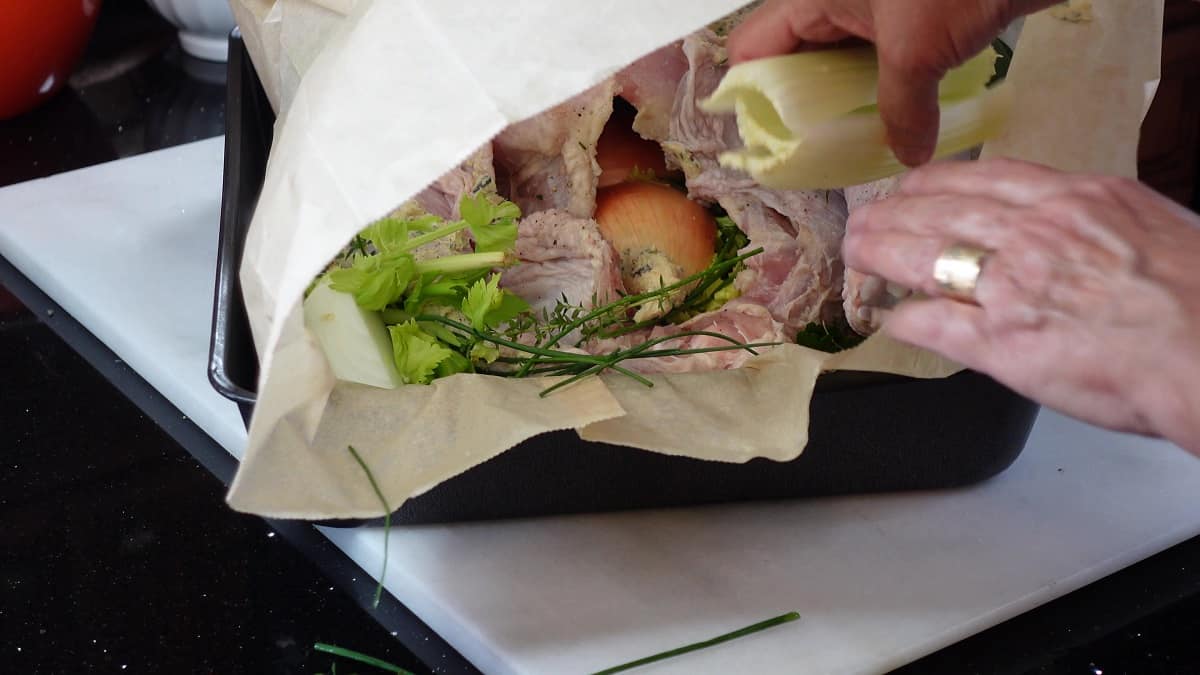 Close the bag well and place the roasting pan on the center rack of the oven. The turkey can also be roasted on an outdoor grill at a medium heat making sure to elevated the pan on two or three bricks so the pan doesn't come in direct contact with the flames.
Roast in a 325 degree Fahrenheit oven until the turkey reaches an internal temperature of 180 degrees (dark meat), and 170 degrees (on the breast) on an instant read thermometer. *Note, this can be done by piercing the bag with the probe of the thermometer.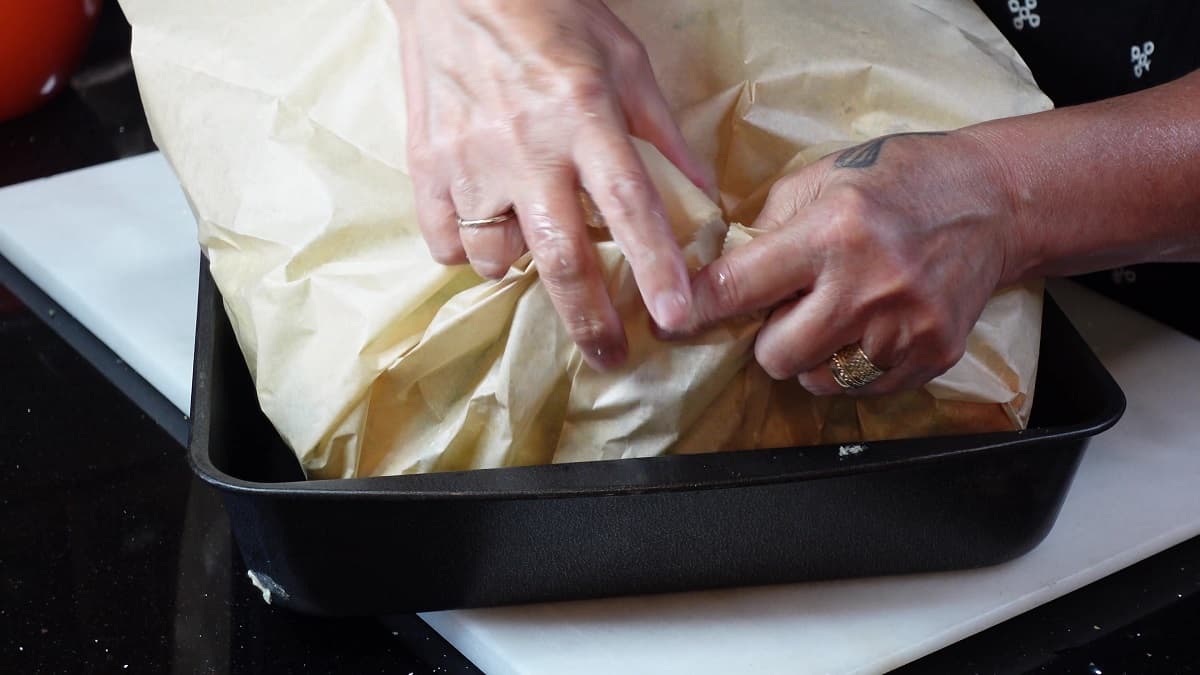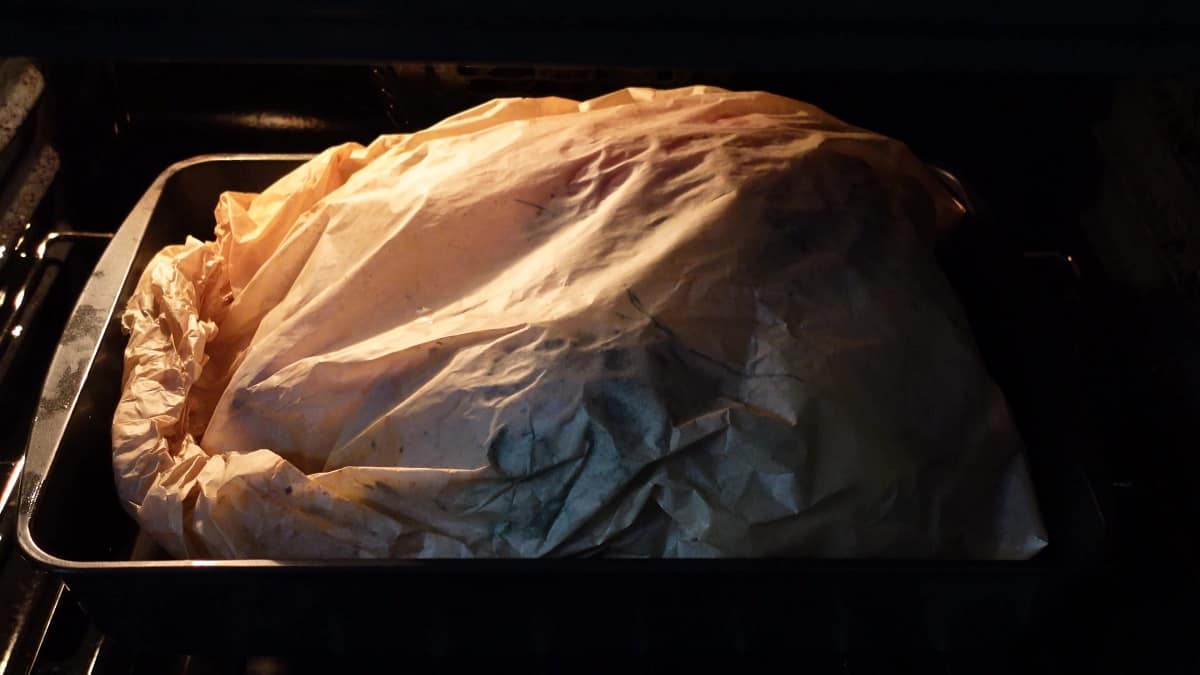 Allow the turkey to sit (covered) for 30 minutes before slicing. The resting time is imperative for a juicy bird. *Note - you can remove the turkey from the bag and pour the juices into the roasting pan to make gravy (if desired) while the turkey rests.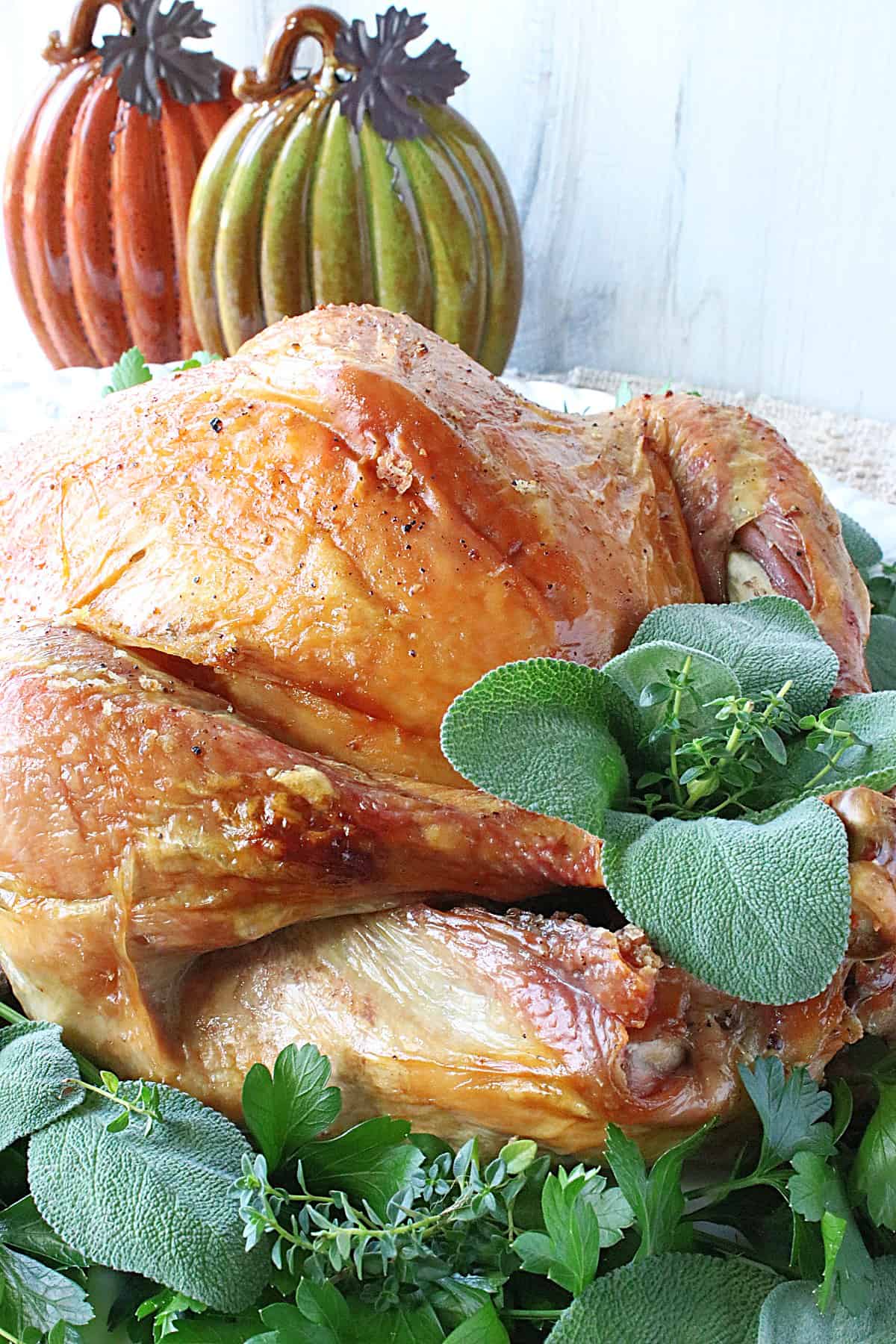 ❓FAQs
Won't the bag burn in the oven?
Nope. Parchment paper is made for the oven so no worries!
What is the proper internal temperature for cooked turkey?
The dark meat (thighs and legs) should reach an internal temperature of 180 degrees Fahrenheit, and the white meat (breast) needs to reach an internal temperature of 170 degrees Fahrenheit on an instant read thermometer.
Should I rinse the turkey with water before roasting?
That is a question that has recently been pondered by many over the past few years. My thoughts are do what feels right to you. It's a personal preference.

That said, IF you choose to rinse your turkey under running water, make sure to keep the "splash-potential" down by not having the tap up to full-force while rinsing, and pat the turkey dry with paper towels before seasoning and roasting.

And should you choose NOT to rinse your turkey (that's perfectly fine), pat the turkey well with paper towels to dry any liquid that has collected under the plastic wrapping before seasoning and roasting.
Can gravy be made using this brown bag method of roasting a turkey?
Yes! Once the turkey has reached the proper internal temperature (as stated above), remove it from the bag and allow the juices that have collected in the bag to remain in the roasting pan. Remove all the used herbs and aromatics, and make the pan gravy as usual.
What size turkey do I need?

A general rule of thumb is typically 1-1½ pounds of turkey per person. However, depending on the amount of people you're serving, and if you're hoping for leftovers, a larger turkey may be in order. A brown bag roast turkey will disappear quickly, so you may want to buy a bigger bird. LOL
How long will it take to thaw a frozen turkey?
The safest way to thaw a frozen turkey is in the refrigerator. This will take time, but because it's always a consistent temperature, this is the most reliable way.

As a rule it will take one day for every 4-5 pounds of weight. So if you have a 14 pound bird, for example, figure on 3-4 days in the refrigerator to fully thaw the bird.

I also like to thaw the turkey on a baking sheet located on the bottom shelf of the refrigerator. This way if the plastic wrapping should happen to leak, the baking sheet will catch any drippings.
Is it necessary to brine or baste a parchment bag turkey?
Nope. The bag does all the work for you so there's no need for those extra steps. After all, you've got more to do then babysit a turkey.
🔍"Talking turkey"
Who you gonna call? Why, Butterball of course. From shopping to leftovers, and everything in-between, the Butterball website answers all your turkey questions!
🧅What are the best herbs and aromatics to use when roasting a turkey?
My absolute favorites are onion, carrots, celery, and apple to stick inside the cavity of the bird. I also love thyme, rosemary, sage, parsley, and chives.
I've also used citrus (lemons, limes, and oranges) in the past, and that's always a lovely addition.
Of course you can use or substitute your own favorite herbs and aromatics, but I urge you not to skip this step as they help impart extra flavor beyond salt and pepper.
🔔What to do with the turkey carcass after the meat is gone
I love using the leftover bones to make homemade turkey stock (made the same way as chicken stock).
You can either store the bones in a large zip-top bag in the refrigerator and make the stock within the next couple of days, OR you can freeze the turkey carcass for up to 4 months and make the stock whenever it fits your schedule.
📅How long with leftover turkey keep in the refrigerator
If stored well in air-tight containers, cooked turkey will keep for up to 5 days in the refrigerator.
🧊Can cooked turkey meat be frozen
You bet!! Wrap it well in several layers of plastic wrap or in an air-tight freezer container or bag and cooked turkey can be frozen for up to 4 months.
🍽️The full Thanksgiving menu
If you're planning your Thanksgiving menu, below I've listed some wonderful recipes that will be delicious on your holiday table.
You'll be pleasantly pleased after your first sip of this Pumpkin Spice Martini. After your second sip, you'll be warm all over. You're welcome!! 🙂 Enjoy Responsibly!
Roasted Garlic Compound Butter with Herbs takes only minutes to make and will liven up any savory dish with big, bold flavor! Make some today and keep it handy for everyday cooking, and also for special occasions!
Homemade Honey Orange Crescent Rolls are perfectly delicious! This buttery sweet enriched yeast dough is what dreams are made of. They're swoon-worthy!
You can have this impressive green bean side dish on the table in under 30-minutes. It's fancy enough to serve for the holidays and yet it's easy enough to make any night of the week. Bacon Bourbon Green Beans Almondine is a delicious buttery bourbon update on a classic and will soon become your favorite way to eat green beans.
Don't think this amazing Pretzel Roll Stuffing with Pine Nuts should only be made for Thanksgiving. After your first bite, you'll be looking for reasons to make it all year long!
Take some of the stress out of serving a big holiday meal to a large group of people (or any meal for that matter) by preparing these Cheesy Horseradish Mashed Potatoes in advance. Then pop it into the oven about an hour before you're ready to eat! Now it's time to relax before dinner. You've earned it!
This adorable Turkey Crust Pumpkin Pie is easy to recreate and will amaze your family and friends this holiday season. Let me show you how easy it is to assemble and bake this fun Thanksgiving holiday treat.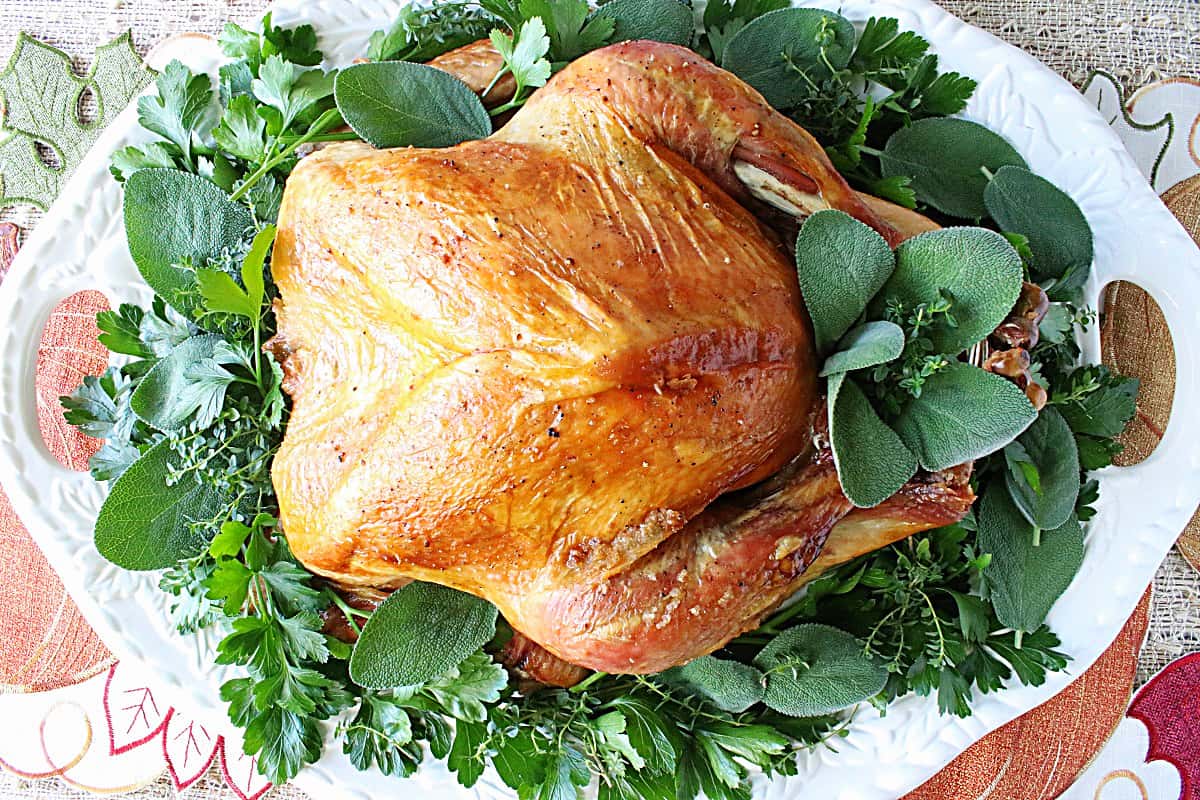 🔑The best way to carve a turkey
Below is a video from my very favorite source "America's Test Kitchen."
🎯Top tips for success
ALWAYS wash hands and surfaces well (and often) with soap and water to avoid cross contamination with handling raw poultry!!
Make a specific seasoning blend, just for the turkey, so there is no double-dipping into the standard salt and pepper containers.
A second pair of hands is extremely helpful when it's time to lift the turkey into the parchment paper bag. Rustle up a helper. It will make your life a whole lot easier!
Turkey forks/lifters are your friend. Invest in a good pair and they'll serve you well for many holidays to come!
Tying the turkey legs together with kitchen twine is optional but it makes for a prettier, compact presentation.
Unless you're a pro at carving a perfect bird, make your life easier and carve in the kitchen, and not at the table. It will take a lot of pressure off the carver and who needs the extra stress at a holiday meal?
When you make this recipe, and I hope you do, I'd appreciate it if you'd take a moment to leave a star rating on the recipe card and briefly comment on why you rated it as you did. FYI - Google appreciates recipe ratings and, in turn, will share my recipes with more people. Thank you so much!!
Printable Recipe Card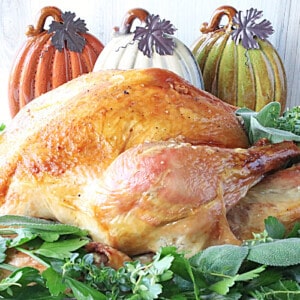 Brown Bag Roast Turkey
You'll be amazed at how delicious a Brown Bag Roast Turkey is! The skin is crispy, and the meat juicy! It's utter perfection!!
Equipment
electric carving knife

optional
Ingredients
1

14 pound

turkey

thawed if previously frozen

2

tablespoons

kosher salt

1

tablespoon

fresh cracked pepper

½

cup

compound butter or salted butter

optional

1

small

apple

halved or quartered, optional

1

medium

onion

halved or quartered

2

medium

carrots

cut into chunks, optional

fresh thyme sprigs

lightly chopped, optional

fresh sage leaves

lightly chopped, optional

fresh rosemary leaves

lightly chopped, optional

fresh parsley

lightly chopped, optional
Instructions
Preheat the oven to 325 degrees Fahrenheit.

Remove the gizzards and neck bone from both ends of the turkey. Save for another use or discard.

Dry the turkey well with paper towels.

If using butter or compound butter, slather the entire turkey (even under the skin of the breast if desired) with the softened butter.

Season the turkey well with salt and pepper both inside and out.

Add the chopped herbs and aromatics (onion, celery, carrots, etc.) into the cavity of the turkey.

Carefully add the prepared turkey into the parchment paper bag.

Add additional herbs and aromatics into the bag around the turkey.

Close up the bag tightly and lift the turkey into a roasting pan.

Roast the turkey in the preheated oven for 3½ hours or until the turkey reaches the temperature of 180 degrees F (dark meat), and 170 degrees F (white meat). *Note - probe the instant read thermometer through the bag and into the turkey.

Once the turkey is at the desired temperature remove it from the oven and allow it to sit in the bag for 7-10 minutes.

Open the bag carefully (the steam will be very hot) and use turkey forks to place the turkey on a carving board. Cover the turkey with foil and allow it to rest for an additional 20-30 minutes minutes.

While the turkey rests, pour the juices from the bag into the roasting pan (discarding the spent aromatics) and make gravy if desired.
Notes
A larger, or smaller, turkey may be used for this recipe. As long as the temperature of the cooked turkey reads 170 (white meat) and 180 (dark meat) on an instant read thermometer before removing it from the oven.
Allowing the turkey to cool for 30 minutes (covered) is the best way to achieve juicy white meat.
Using compound butter or salted butter is completely optional but will add more flavor to the completed turkey.
Roasting the turkey with the aromatics and herbs in the cavity is optional, but encouraged for maximum flavor.
Don't forget to remove the gizzards and neck bone from both sides of the turkey before roasting.
Rinsing the turkey with water is optional, but remember turn the water pressure down from the faucet so there isn't excessive splashing in the kitchen.
Dry the turkey well with paper towels before seasoning and roasting.
Have a second pair of hands help to load the turkey into the parchment paper bag to make your life easier.
Nutrition
Serving:
1
serving
Calories:
83
kcal
Carbohydrates:
4
g
Protein:
0.4
g
Fat:
8
g
Saturated Fat:
5
g
Polyunsaturated Fat:
0.3
g
Monounsaturated Fat:
2
g
Trans Fat:
0.3
g
Cholesterol:
20
mg
Sodium:
1231
mg
Potassium:
69
mg
Fiber:
1
g
Sugar:
2
g
Vitamin A:
1944
IU
Vitamin C:
2
mg
Calcium:
11
mg
Iron:
0.1
mg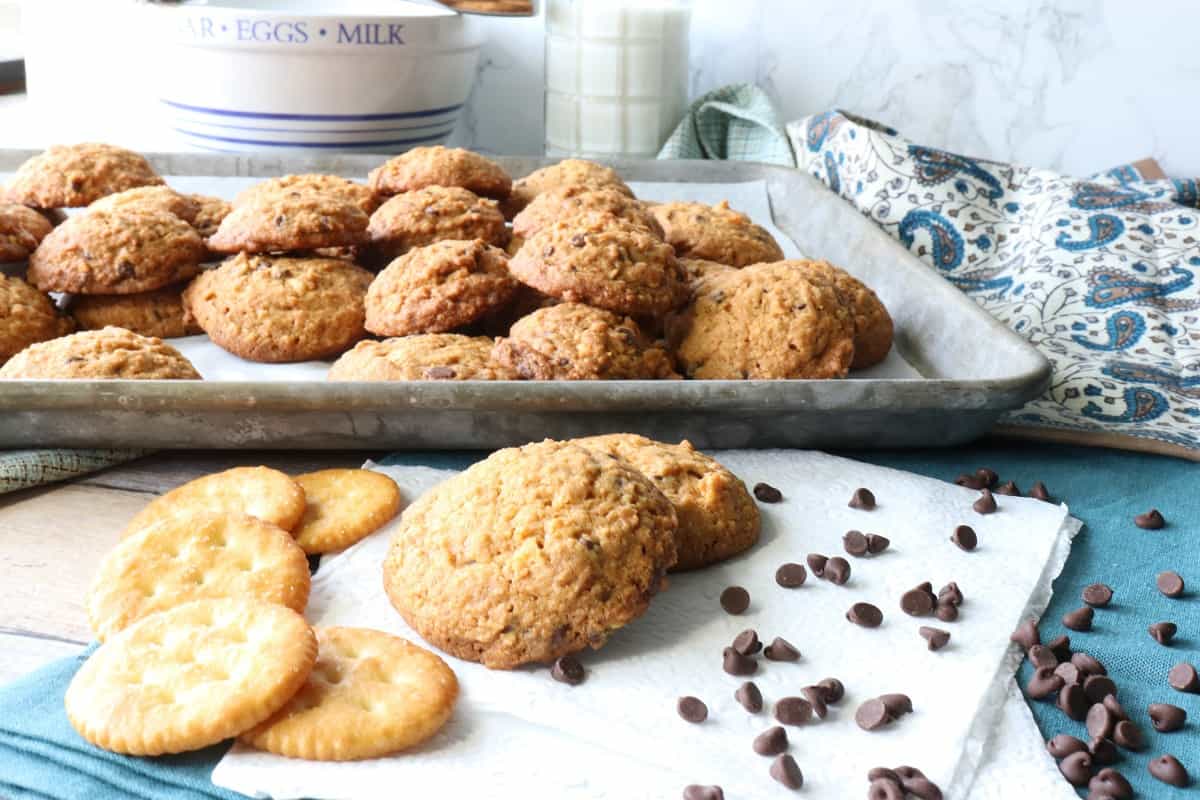 Follow me across my social media platforms and join in on the conversation: FACEBOOK, INSTAGRAM, PINTEREST, TIKTOK, AND YOUTUBE.
Thank you so much for visiting me today in my Kudos Kitchen. I hope you found something you'll love and that you'll come back and visit me often. There is always room for you around my table!
Should you have any questions or comments regarding anything you've seen here on my blog, please don't hesitate to reach out to me. It is always my distinct pleasure to respond to you just as soon as I possibly can.
Until we eat again, I hope you have a delicious day!!