Cooking these oven-roasted baby back ribs, low and slow, with a minimum of ingredients ensures great meaty flavor and quality tenderness.
As much as I enjoy eating baby back ribs, I never order them in restaurants. Ever. I just can't seem to bring out my cannibal cave-woman side in public.
At home, however, all bets are off, and you can find me gnawing on the bones of these delicious baby back pork ribs with the best of them.
Watch just how easy these baby back are to make;
**Please Note – The printable recipe card with detailed instructions and complete ingredient measurements for making Oven Roasted Baby Back Ribs is available near the end of this post.

Click here to like and subscribe to my Kudos Kitchen cooking channel on YouTube! Thank you! 🙂
The ingredient list;
**Note – The following lists of ingredients plus kitchen tools and equipment contain affiliate links (highlighted in blue) for your consideration and shopping convenience. #CommissionsEarned
Kitchen tools and equipment needed;
What makes this recipe special?
Whenever I see baby back ribs for sale in the market, I make sure to buy a few slabs to keep on hand in the freezer for when our desire for sweet and smoky pork ribs hits.
What makes this recipe so special is that it takes only a small handful of ingredients, and doesn't require a store-bought sauce BBQ sauce that has tons of sugar and preservatives.
What is the silver-skin and does it have to be removed?
The sliver-skin is found on the backside of the baby back ribs, and other various large cuts of meat.
It's a very thin layer of see-through membrane which, if left on the ribs can make them tough and chewy because it will not breakdown (or melt) during the cooking process.
Eating the silverskin is not harmful in any way, however, it will only make the eating process a little less enjoyable!
By removing the silverskin, the marinade and flavorings will better infuse the meat without the thin membrane impeding the process.
What is the easiest way to remove the silver skin?
I find it best to carefully pierce or slice a tiny hold through the thin whiteish membrane and then use a paper towel (because it can be slippery to remove) to peel the membrane from the back of the ribs and discard. See the step-by-step photos below for more information.
How long will it take to roast these baby back ribs from start to finish?
With 30 minutes of marinating time (with the vinegar) and 4½ hours of slow roasting oven time, this recipe will take 5 hours from start to dinner.
Please plan accordingly.
How to make easy oven-roasted baby back ribs;
Use a paper towel and paring knife to remove as much of the silver skin from the back of the ribs as possible.

The key to keeping these ribs moist and tangy is by liberally brushing them with apple cider vinegar before roasting. Allowing the ribs to sit approximately 30 before roasting allows the vinegar to permeate the meat making it tender and tasty.

Once the ribs have had a chance to sit with the vinegar, it's time to season them with salt, pepper and garlic powder before sliding them into a low, 300-degree oven to roast for 2½ hours.

After the initial roast, sprinkle the ribs generously with smoked paprika and return them to the oven to cook for an additional 1½ hours. Just wait until you smell these Oven Roasted Baby Back Ribs cooking. You'll go crazy! But hold on because they get even better!
Upon removing the ribs from their second roasting in the oven, spread them liberally with tomato paste (yep, you read that right), and sprinkle them lightly with brown sugar.

That's it!! Crazy, right?

Return the ribs back into the oven for 40 minutes at 300 degrees, and then increase the oven temperature to 425 and cook for an additional 15 minutes which will caramelize the brown sugar just the right amount, making the ribs sticky, and messy. Just the way baby back ribs are supposed to be!

The delicious results;
Once you smell these easy baby back ribs cooking in the oven, you're going to think you've died and gone to hog heaven. 
So you'd better be careful or you'll make a complete pig out of yourself. 😉
For additional delicious pork recipes, please click on the recipe titles for;
"Taco Tuesday just got an upgrade! These Lime Marinated Mexican Pork Tenderloin Tacos don't take much longer to make than a standard ground beef taco, but the flavor is far superior."
"This low carb recipe for Juicy Pork Burgers with Dried Apricots & Grainy Mustard comes together in a snap and with only FOUR ingredients! By all means, if you want to add a bun, go for it!! The flavors in this burger are exceptional, with or without the extra carbs."

"Garlic Lovers Pork Chops have a mildly sweet and fragrant garlic flavor that doesn't overpower or overwhelm the taste buds. Trust me when I tell you that they will be some of the best pork chops you've ever eaten!"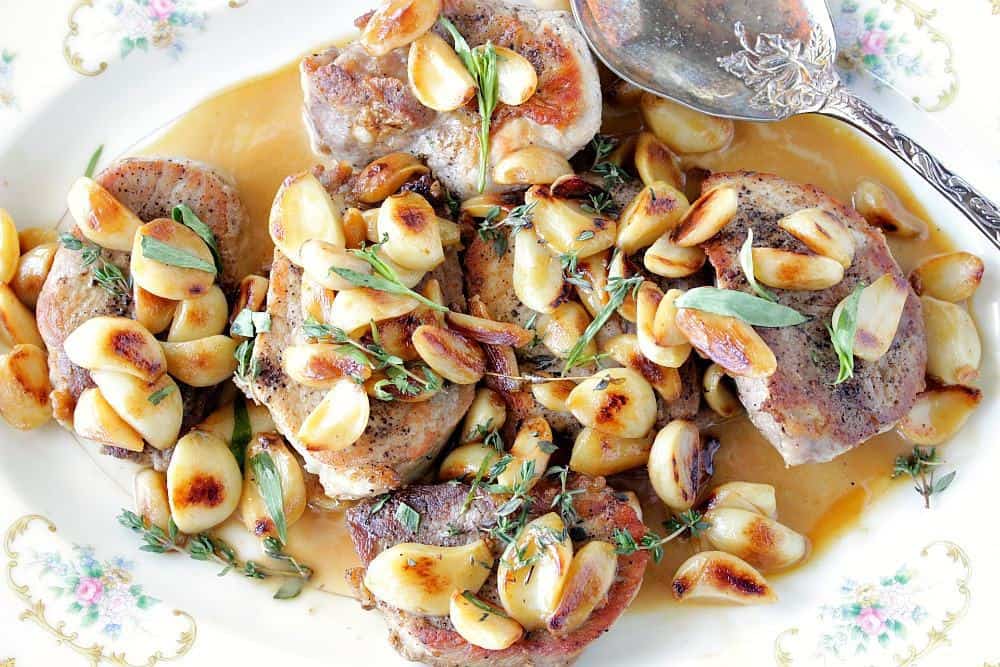 Easy Oven-Roasted Baby Back Ribs (pictured below) This is the place!!
Whether you're working on a blue screen all day, or in the kitchen, the following affiliate products are ones I can highly recommend to save your eyesight and your sanity.
Below is the printable recipe card for today's Oven Roasted Baby Back Ribs.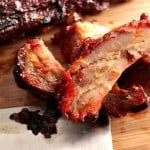 Mouth Watering Oven Roasted Baby Back Ribs
Cooking these baby back ribs, low and slow, with a minimum of ingredients ensures great meaty flavor and quality tenderness. Oven Roasted Baby Back Ribs for the WIN!
Course:
BBQ, Easy Main Course
Keyword:
how to cook baby back ribs, oven roasted baby back ribs
Ingredients
2

slabs

baby back ribs

silver skin removed (or scored through between the bones)

2

tablespoons

apple cider vinegar

2

teaspoons

salt

divided

1

teaspoon

pepper

divided

2

teaspoons

garlic powder

divided

2

tablespoons

smoked paprika

4

tablespoons

tomato paste

4

tablespoon

brown sugar
Instructions
Preheat oven to 300 degrees.

Prepare the ribs by removing the silver skin or scoring it between the bones on the underside of the ribs.

Place the ribs on a baking sheet and liberally brush the apple cider vinegar over both sides of the ribs.

Allow the ribs to sit for at least 30 minutes with the vinegar.

Season the ribs with salt, pepper and garlic powder.

Roast the ribs, meat side up, in the oven for 2½ hours.

Remove the ribs from the oven and sprinkle with the smoked paprika.

Return the ribs to the oven for 60 minutes.

Remove the ribs from the oven and increase the oven temperature to 375 degrees.

Slather the tops of the ribs with the tomato paste and sprinkle with brown sugar.

Return the ribs to the oven and roast for an additional 40 minutes.

Serve and enjoy!!
Recipe Notes
Tools and equipment:
Baking sheets, paper towels, paring knife, basting brush, measuring spoons, aluminum foil
Nutrition Facts
Mouth Watering Oven Roasted Baby Back Ribs
Amount Per Serving (1 g)
Calories 443
Calories from Fat 279
% Daily Value*
Fat 31g48%
Cholesterol 130mg43%
Sodium 1026mg45%
Potassium 640mg18%
Carbohydrates 4g1%
Protein 37g74%
Vitamin A 1355IU27%
Vitamin C 2.3mg3%
Calcium 68mg7%
Iron 2.3mg13%
* Percent Daily Values are based on a 2000 calorie diet.
Thank you so much for visiting me here in my Kudos Kitchen!!
I sincerely hope you've enjoyed this recipe for Oven Roasted Baby Back Ribs as much as I've enjoyed bringing it to you!
Should you have any questions or comments regarding this recipe or anything else you've seen on my site, please don't hesitate to contact me directly or leave me a comment in the comment section below. It is always my distinct pleasure to get back to you with a reply just as soon as I possibly can!
For more information regarding my Kudos Kitchen recipes, please follow me on my social media:
Kudos Kitchen by Renée ~ Cooking up artistically delicious family-friendly dishes from my Kudos Kitchen to yours!
Until we eat again, I hope you have a delicious day!
**Note – The post above includes affiliate links. As always, I truly thank you for your support!
As an Amazon Associate, I earn from qualifying purchases. When I find a great product or service I like to share it with my readers. For additional information please view my privacy policy.