When you want a quick snack or party appetizer that everyone loves and that you can bake in an oven or air fryer, reach for this recipe for Ham and Cheese Eggrolls.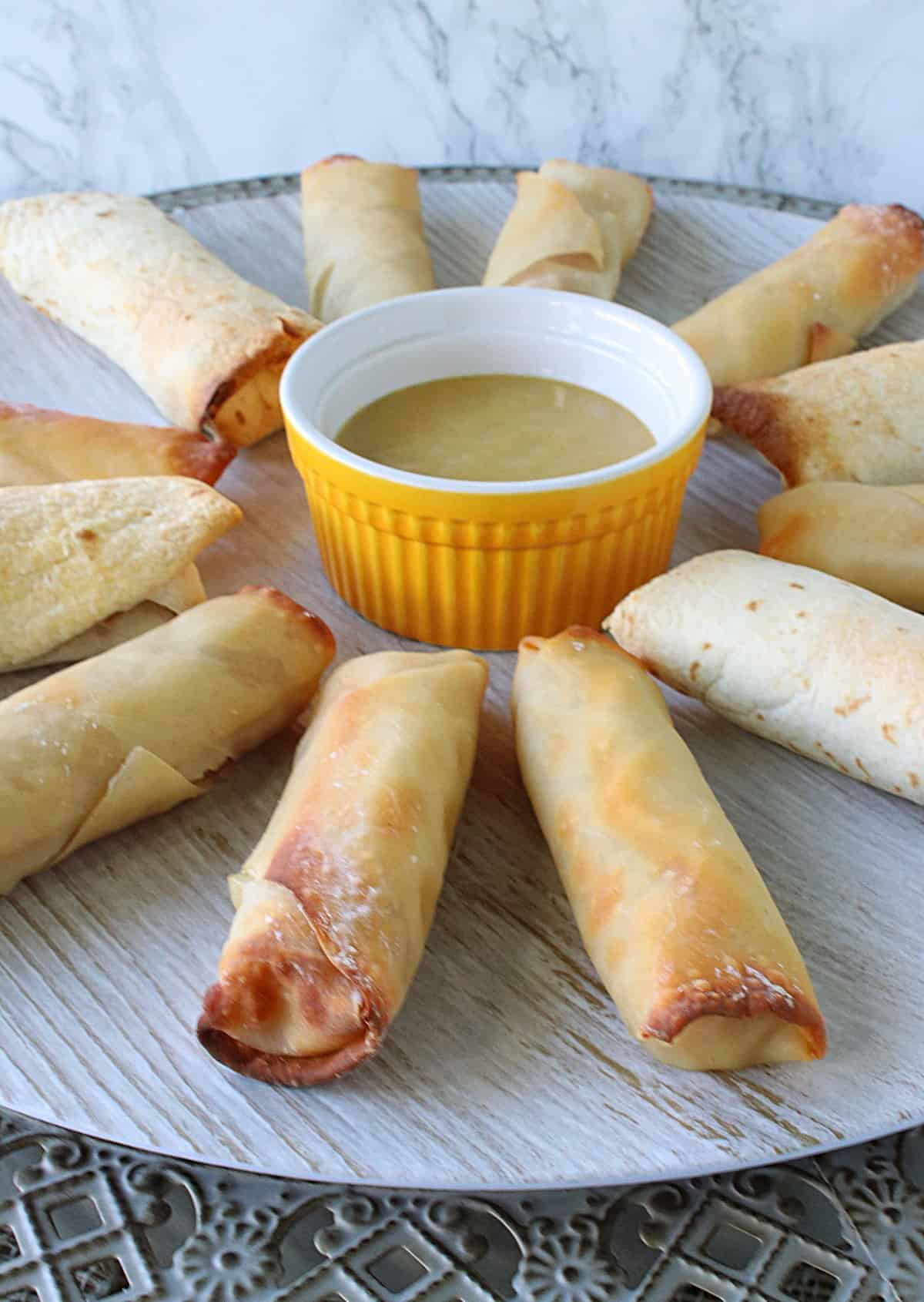 This recipe came about because I had some wonton wrappers in my fridge that I needed to use up. Sometimes, the best recipes come from necessity. This hot and cheesy eggroll is one of those recipes.
This recipe post and its contents may include affiliate links for your consideration. I may earn a commission from qualifying purchases, but your prices are never increased as a result. Thank you.
Jump to:
The ingredients:
*Please note that the exact measurements along with a new "shop the recipe" feature from Instacart is available in the printable recipe card.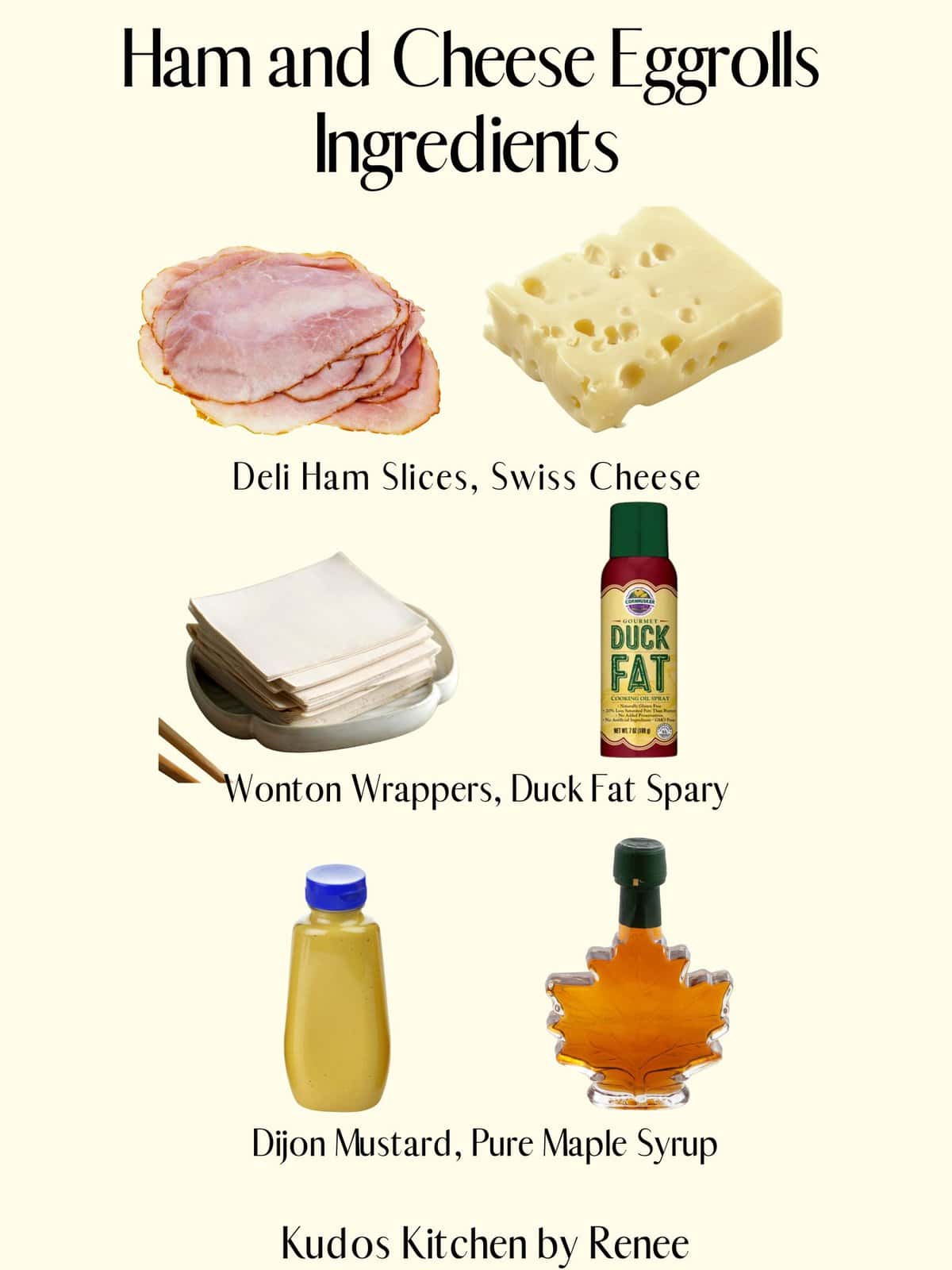 Ingredient information:
DELI HAM - I don't often buy deli meat, but I like to purchase a thinly sliced maple ham when I do. Something about that sweet and salty flavor gets me every time. The choice of ham you use is totally up to you. You can even use leftovers if they're sliced thin enough to roll into a cigar shape.
SWISS CHEESE STICKS - What goes better with ham than Swiss cheese? Not too much in my book. However, if you're not a Swiss fan (or prefer shredded cheese, no matter the flavor), it will all be delicious as long as you don't overstuff the eggrolls.
WONTON WRAPERS - These are such a versatile ingredient, and they're fantastic to have on hand in the fridge for quick appetizers (like this one) or even to use as pasta. Did you know you can make ravioli or tortellini using wonton wrappers? Why not, right?
DUCK FAT SPRAY - I've recently started using duck fat spray with a lot of my cooking, and I'm never looking back. The spray lends a richness and flavor you won't get from other cooking sprays, but it can be costly, so I urge you to use it sparingly. Other cooking sprays may be used for this recipe (see suggestions below). You certainly aren't limited to duck fat spray.
DIJON MUSTARD - Light, tangy, and delicious. I love Dijon for all sorts of dressings and dips. Feel free to use whole grain or even yellow mustard if those are your preference.
PURE MAPLE SYRUP - Since I love the flavor of the maple ham (mentioned above), I wanted to mimic that flavor in the dipping sauce to drive home the sweet and savory flavor. If you like, honey or agave may be substituted.
Kitchen tools and equipment needed:
oven or air fryer
baking sheet with a rack
air fryer rack (if you're using an air fryer)
tongs
parchment paper (optional)
small mixing bowl
whisk
measuring cups and spoons
Ingredient swaps and add-in suggestions:
As you'll see in the video, I swapped out flour tortillas for a few of the wonton wrappers. The entire process of using the tortillas was just like the wontons, even using water as the adhesive. *Note - If using flour tortillas, cook them seam side down to keep them from unwrapping while they cook, as they don't seal quite as well as the wonton wrappers.
Feel free to use your favorite luncheon meat if you do not like ham. Or if you're making several different varieties for an eggroll sampler platter. The key to using deli meats is using thinly sliced meat, as you don't want the roll to be over-stuffed and break open while cooking.
Any flavor of cheese can be swapped for Swiss. Use your very favorite. Shredded cheese will also work, as will slices of cheese.
Get creative and go wild with your rolls. You are only limited by your imagination (and how much stuffing you can safely fit into your wrapper)!
Regarding add-in suggestions, I recommend using something small, flat, and pliable. Fresh herbs like basil would be lovely, especially if you're making a prosciutto and mozzarella eggroll; then you could use a marinara dipping sauce. See? Use your imagination.
Of course, you can also dip your eggroll appetizers into anything you wish, or of course, nothing at all.
Wonton wrapper or flour tortilla? The choice is yours.
You'll notice that wrapping an eggroll is very similar to making a burrito. Feel free to use your favorite wrapper and roll until your heart's content!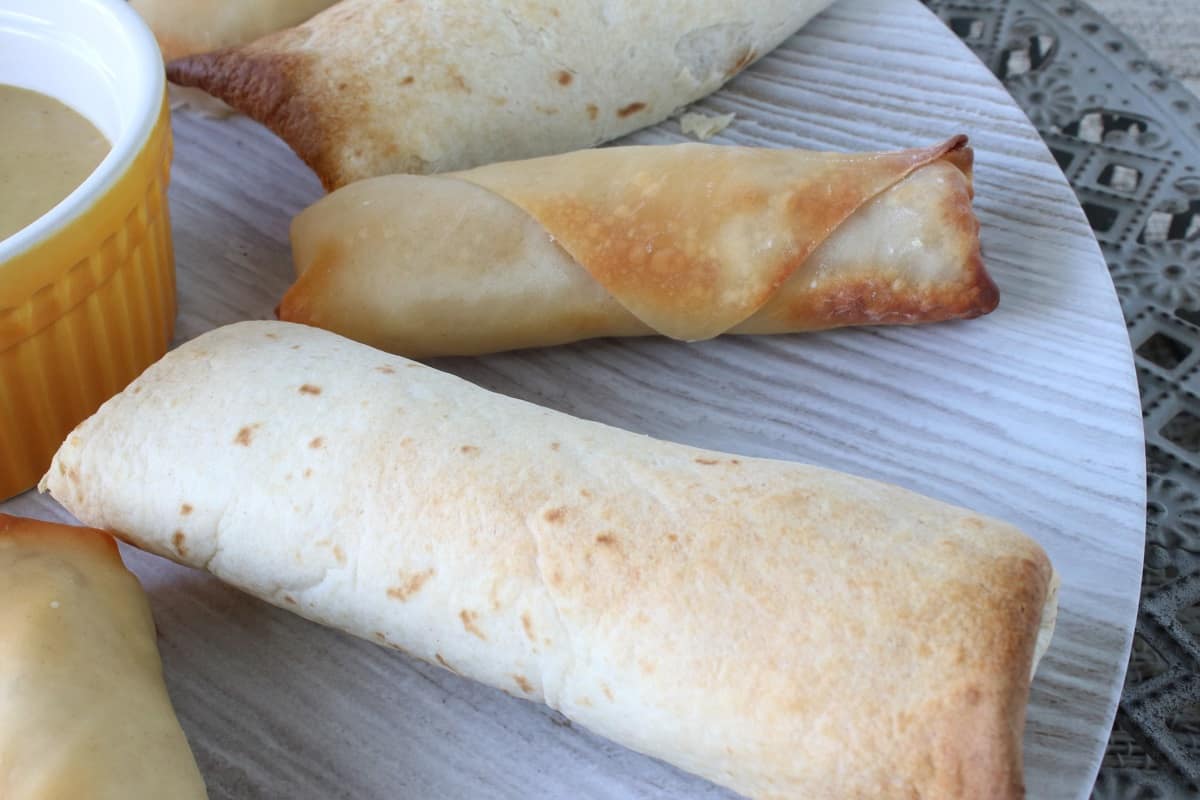 What works best? Air fryer or oven?
They will both work well for making eggrolls golden and crispy, but an air fryer will do it quicker.
However, if you're making a lot of eggrolls, a conventional oven may be the best call for making more at one time instead of working in batches.
Can these cheesy eggrolls be made in advance?
Yes, they can be made, assembled, and stored (covered in the refrigerator) until you're ready to bake and serve.
I also recommend storing the unbaked eggrolls in a single layer if possible. If that's impossible, add a sheet of parchment paper or plastic wrap between the layers to prevent them from sticking together.
*Note - Don't make the ham and cheese eggrolls too far in advance. I suggest only 12-24 hours, but no longer than that, as the wrappers may get gummy.
What is a wonton wrapper and where can they be found in the grocery store?
Wonton wrappers are essentially a thin Asian-style pasta used to hold various fillings.
Wonton wrappers can be easily found in the grocer's refrigerated produce section.
Wonton wrapper tips:
Always store wonton wrappers in an airtight container in the refrigerator. They're prone to drying out, so work quickly when using them or keep them under a damp paper towel to retain their flexibility and moisture.
How to wrap an eggroll:
Wrapping an eggroll is just like making a burrito. Once you have the technique down, you can knock them out quickly.
Renee's top tips for success:
Do not overfill the eggrolls, or they won't close properly, and the filling may ooze out during cooking.
Use a generous amount of water to adhere the edges of the wonton wrappers and/or the tortillas. A wet fingertip works just as well as a pastry brush for this job, but it's your call.
Keep the wonton wrappers moist while working with them by covering them with a damp paper towel.
Be sure to rub the oil spray (whichever kind you're using) over the entire eggroll before cooking for a golden brown and crispy exterior.
Cooking the eggrolls on a rack (in the oven OR air fryer) will ensure even cooking around the rolls' entire surface.
Why duck fat spray?
Duck fat spray will give your eggrolls the very best fried flavor without actually frying them.
However, olive oil, grapeseed, ghee, or canola spray will also work.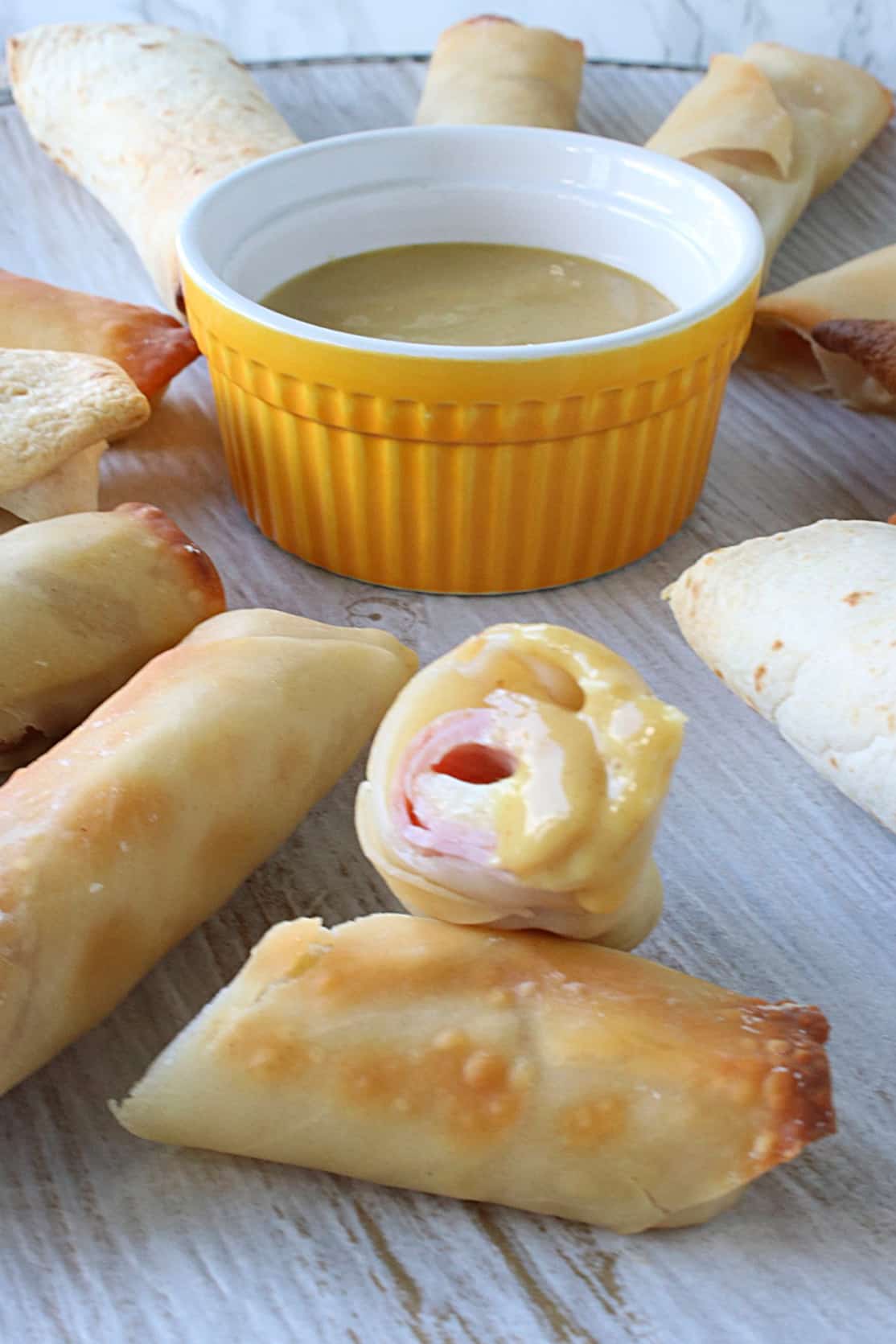 What is the dipping sauce, and how is it made?
You can't get any easier than whisking together some Dijon mustard and pure maple syrup. That's all there is to it. You can also use this sauce as a sandwich spread for a sweet and savory bite.
Additional appetizers and dips you'll love:
Everything you love about a patty melt sandwich is in this easy to make Patty Melt Dip. It's sure to be a real crowd-pleaser at your next party or celebration!
French Onion Crostini can easily go from fancy to casual in the blink of an eye. Everyone loves these two bite appetizers, and they'll disappear quickly whenever you serve them!
Even if you're not a huge mushroom fan, I'll bet you're going to flip over these Beer Battered Fried Mushrooms. I double-dog dare you to eat just one!
Spicy, hearty, cheesy, and delicious. This Cheesy Sausage Bean Dip covers all the bases and will score you some serious game-day points with the fans.
Monte Cristo Appetizers are a fried appetizer recipe and a fun new way to eat everyone's favorite sweet and savory sandwich, but in appetizer form!
When you make this recipe, and I hope you do, I'd appreciate it if you'd take a moment to leave a star rating on the recipe card and briefly comment on why you rated it as you did. FYI - Google appreciates recipe ratings and, in turn, will share my recipes with more people. Thank you so much!!
Printable Recipe Card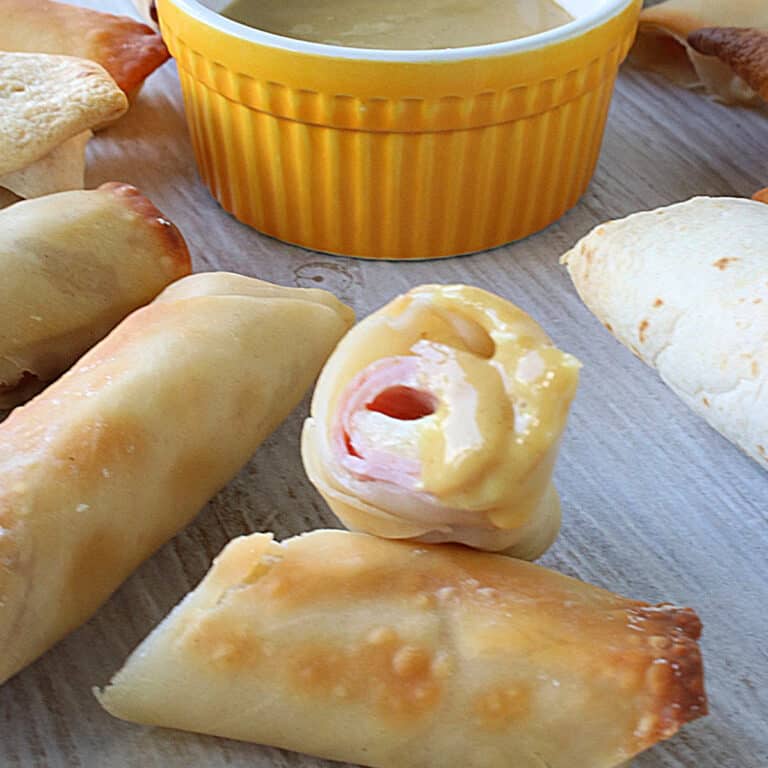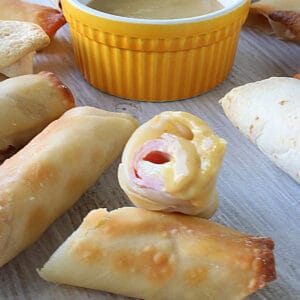 Ham and Cheese Eggrolls
When you want a quick snack or party appetizer that everyone loves and that you can bake in an oven or air fryer, reach for this recipe for Ham and Cheese Eggrolls.
Ingredients
For the eggrolls:
4

ounces

Swiss cheese sticks

cut into ½" strips about 3" long

4

ounces

deli ham slices

12

each

wonton wrappers

water

duck fat spray

or other all-natural cooking spray (olive oil, ghee, canola oil, avocado oil)
For the dipping sauce:
2

tablespoons

Dijon mustard

1

tablespoon

pure maple syrup
Instructions
To make the eggrolls:
Preheat oven (or air fryer) to 350-degrees F.

Wrap one piece of ham around one piece of cheese.

Wrap each ham and cheese bundle in a wonton wrapper, using water as glue to keep it closed. See video for instructions.

Place the completed eggrolls onto a baking sheet lined with a rack, or the rack of an air fryer.

Spray each eggroll with a light touch of duck fat (preferred) or other all-natural cooking spray and rub the oil over all sides of each roll.

Bake the eggrolls for 20-22 minutes in the oven (or 10-12 minutes in an air fryer), or until the eggrolls are golden brown and crispy.

*Note - Please be mindful that the cooking time in an air fryer is less than in a conventional oven.
To make the dipping sauce:
While the eggrolls are cooking whisk together the mustard and maple syrup in a small bowl.

Serve the hot eggrolls with the dipping sauce and enjoy!
Video
Notes
Store any leftovers in an airtight container in the refrigerator for up to 5 days.
Reheat uncovered in an oven or air fryer until hot.
*Note - Please be mindful that the cooking time in an air fryer is less than in a conventional oven.
Nutrition
Serving:
1
serving
Calories:
69
kcal
Carbohydrates:
2
g
Protein:
5
g
Fat:
5
g
Saturated Fat:
2
g
Polyunsaturated Fat:
0.3
g
Monounsaturated Fat:
1
g
Cholesterol:
15
mg
Sodium:
163
mg
Potassium:
42
mg
Fiber:
0.1
g
Sugar:
1
g
Vitamin A:
80
IU
Vitamin C:
0.01
mg
Calcium:
89
mg
Iron:
0.2
mg
I sincerely hope you've enjoyed todays delicious hot and cheesy appetizer eggroll recipe as much as I've enjoyed bringing it to you!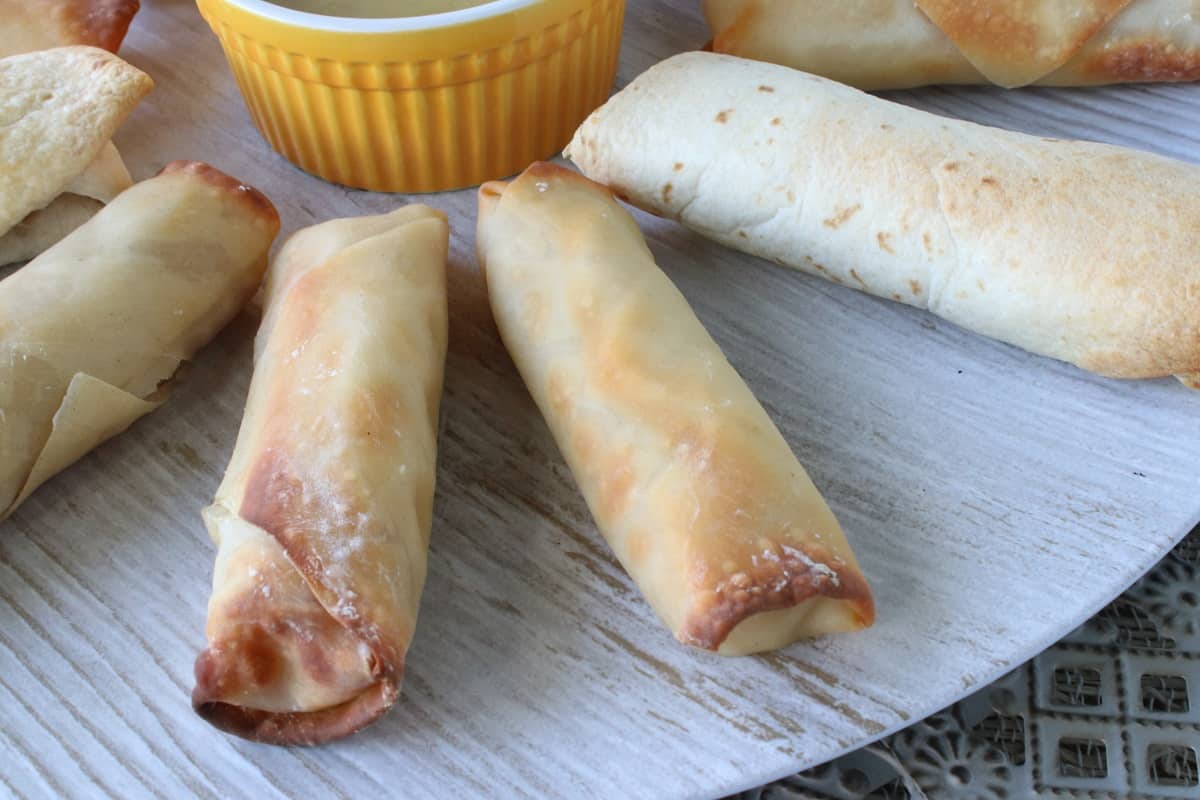 Follow me across my social media platforms and join in on the conversation: FACEBOOK, INSTAGRAM, PINTEREST, TIKTOK, AND YOUTUBE.
Thank you so much for visiting me today in my Kudos Kitchen. I hope you found something you'll love and that you'll come back and visit me often. There is always room for you around my table!
Should you have any questions or comments regarding anything you've seen here on my blog, please don't hesitate to reach out to me. It is always my distinct pleasure to respond to you just as soon as I possibly can.
Until we eat again, I hope you have a delicious day!!