A delicious and eye-catching start to any day of the week, but for the Christmas holidays, these Greek Yogurt Parfaits are delightfully festive.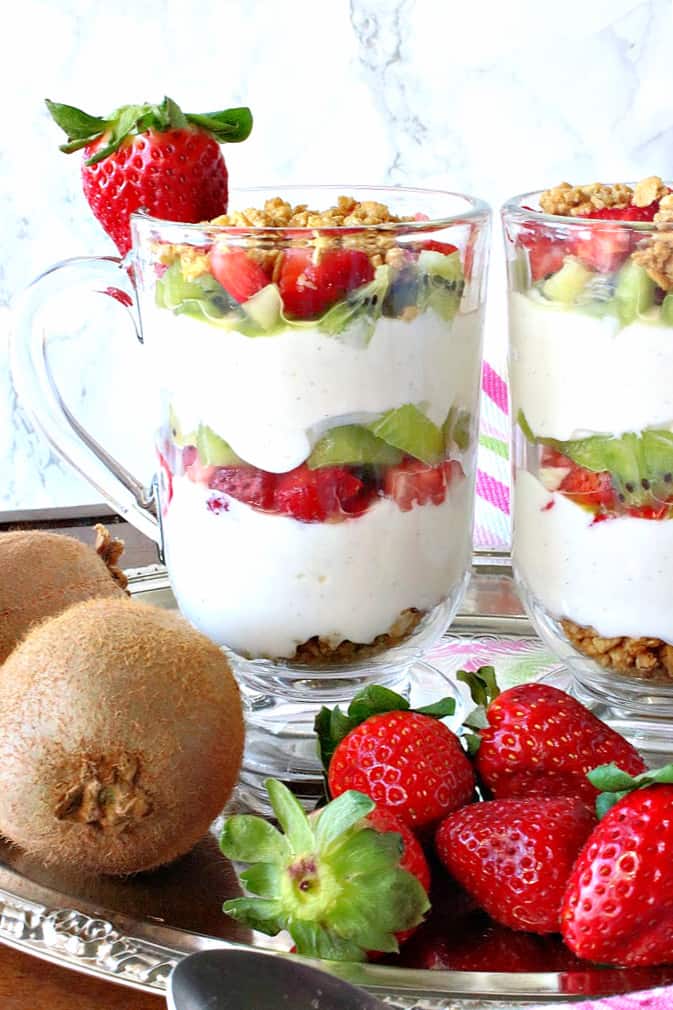 Thick and tangy Greek yogurt is layered with fresh red strawberries, bright green kiwi, and crunchy sweet granola.
Greek Yogurt Parfaits will get your morning off to a great start and keep you full and satisfied until lunchtime.
**Please Note - The printable recipe card with detailed instructions, complete ingredient measurements, and nutritional information for making Greek Yogurt Parfaits is available at the end of this post. OR you can hit the "jump to recipe" button (found above) to be taken directly to the recipe.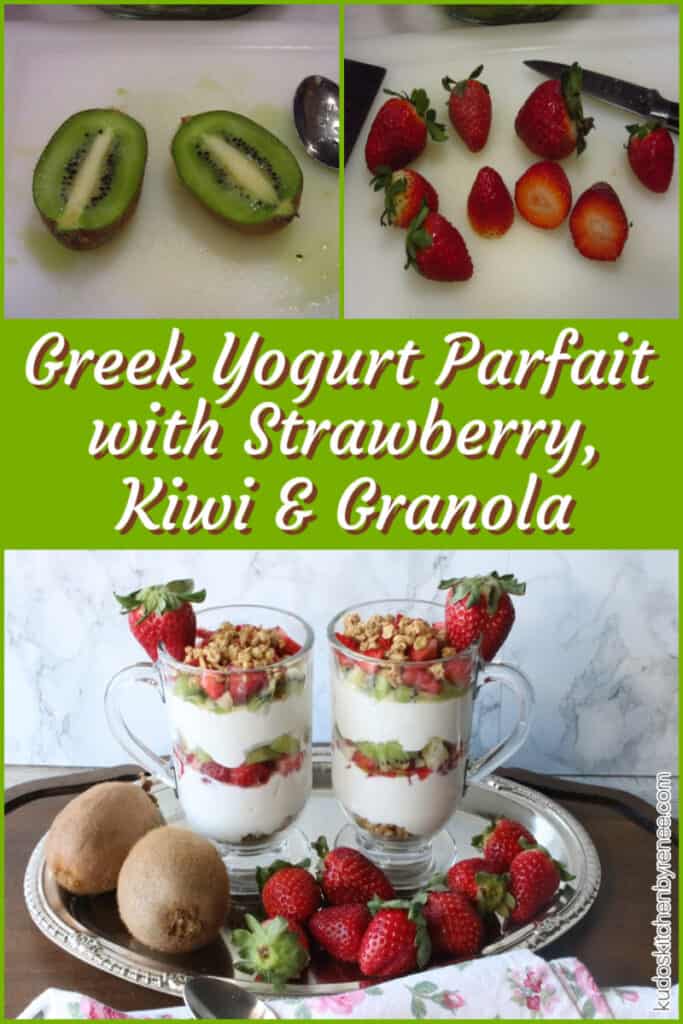 The ingredient list:
Greek vanilla yogurt
fresh strawberries
fresh kiwi
honey
Kitchen tools and equipment needed:
How to easily peel a kiwi fruit:
How far in advance can Greek yogurt parfaits be assembled?
I wouldn't assemble them much more than 1-2 hours in advance, as the parfaits will tend to get watery the longer they sit due to the juice in the fruit.
That said, you can prepare the diced fruit in advance and let it sit in the refrigerator (covered) for up to 2 days, if needed.
What are some of the health benefits of kiwi?
Kiwi contains serotonin which can help promote better sleep
Kiwi fruit can improve iron absorption and prevent iron deficiency in your body.
Kiwi is great for eye health and can prevent many age-related eye disorders.
Kiwi helps regulate the digestive system.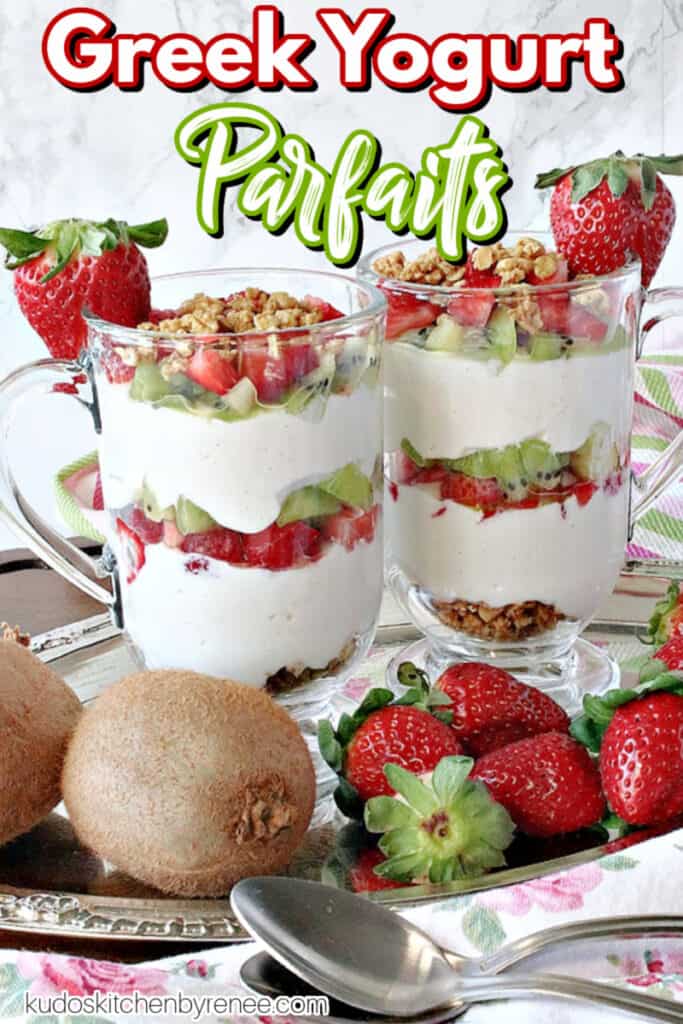 Can regular yogurt be used in place of Greek yogurt?
Sure, but why would you?
Greek yogurt has more body and less sugar than a standard yogurt and it will hold up well in a layered parfait with big, bold flavors.
How does Greek yogurt stand up nutritionally next to regular yogurt?
Greek yogurt and regular yogurt are made from the same ingredients yet their nutritional values vary greatly.
Greek yogurt has more protein and less sugar than regular yogurt.
An average serving of Greek yogurt can have up to 17 grams of protein (depending on the brand) which will help build stronger bones and muscles and will keep you feeling fuller, longer.
Can different fruit be swapped out for the strawberry and kiwi?
Yes! Use your favorites, or don't use fruit at all. It's totally your call.
Options for swapping out the granola:
chopped, toasted nuts
toasted coconut
crushed graham crackers
crushed pretzels (for that sweet and salty thing)
crushed sugar cones
crushed frosted (or corn) flakes
get creative and use your imagination...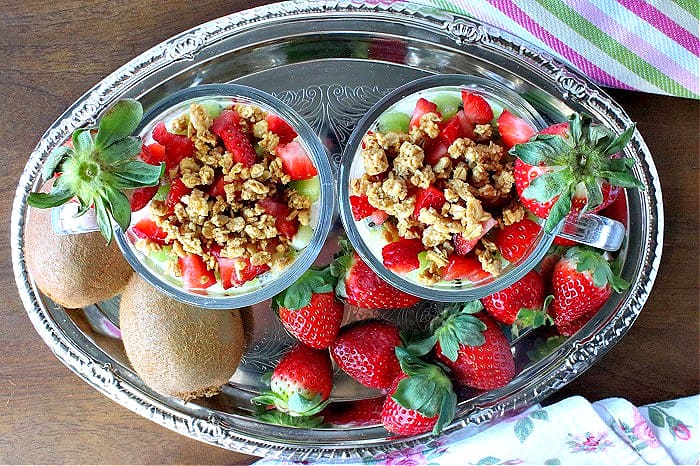 What is the cleanest way to get the yogurt into the parfait glasses?
I like to add the yogurt into a large zip-top bag and then snip off a bottom corner to fashion a homemade piping bag.
Then, gently squeeze the yogurt into the glasses and you won't have any of those unsightly drips running down the sides of the glasses and messing with your pretty layers.
Of course, you can use a piping bag if you have one, or you can use a spoon if you're not that particular about how it looks, and you're specifically after the taste instead. Whatever floats your boat! I'm not here to judge. 😉
Greek yogurt isn't just for breakfast...
Additional delicious recipes using Greek yogurt:
*Double Chocolate Cherry Bundt Cake (shown below)
This chocolate cherry bundt cake is a chocolate and cherry lover's dream come true! It's a rich, dense cake with a brownie-like consistency, and you have my promise that the chocolate and cherry taste will make you swoon with delight!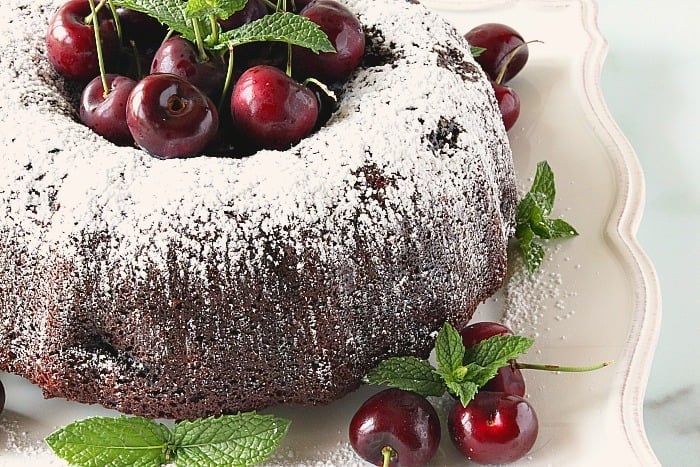 *Gluten-Free Tater Tot Chowder (shown below)
Mashup your potato soup recipe by adding everybody's favorite…tater tots! Tater Tot Chowder is hearty, delicious, and will soon become a family favorite!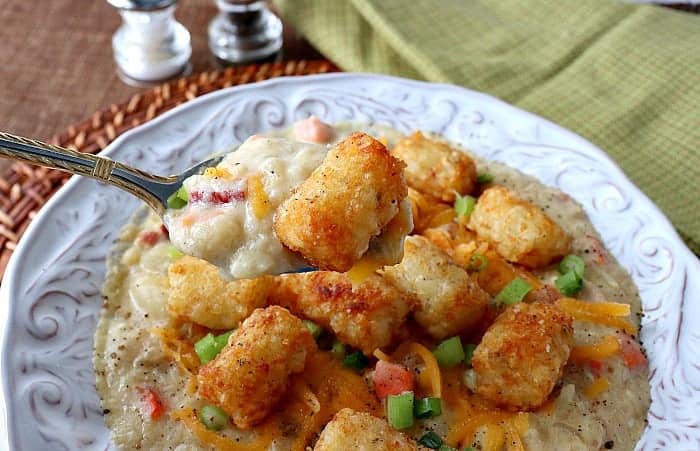 *Blueberry Sausage Breakfast Casserole (shown below)
This sausage blueberry breakfast casserole is sweet, savory, and comforting. It's a wonderful treat for any day of the week and also makes a great brunch item because you can make it in advance!
*Greek Yogurt Parfait (shown below) THIS IS THE PLACE!!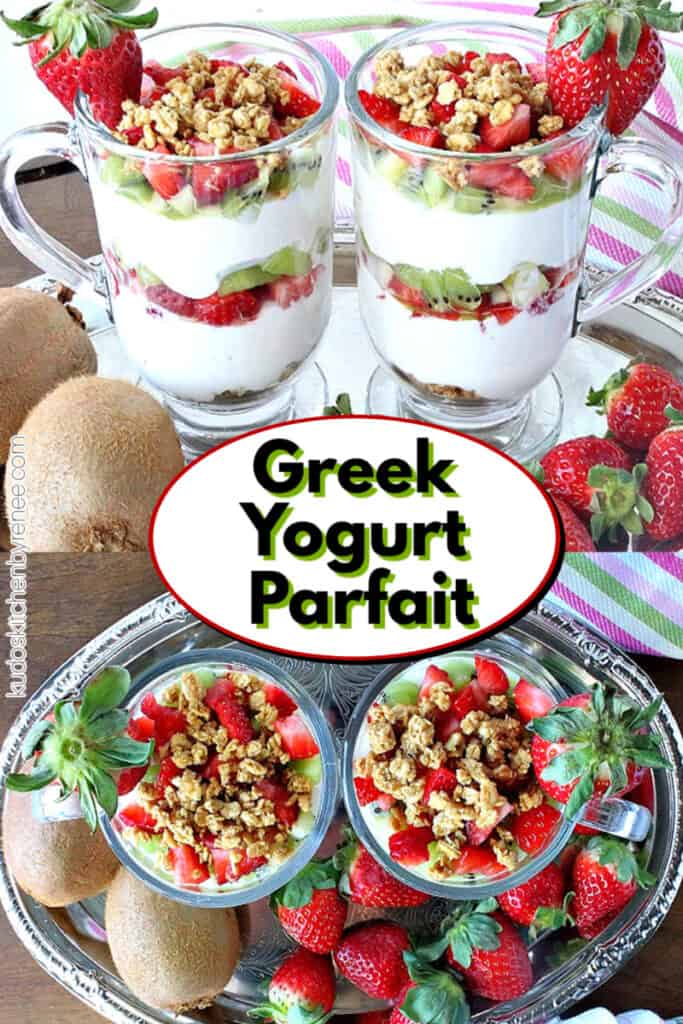 Below is the printable recipe card along with the exact ingredient measurements and nutritional information for making today's easy and healthy Greek Yogurt Parfaits.
If you've made this recipe, or are excited to make this recipe, I'd appreciate it if you'd take a moment to leave it a star rating on the recipe card, along with a comment if you're so inclined. Thank you. 🙂
Greek Yogurt Parfaits with Strawberries and Kiwi
A delicious and eye-catching start to any day of the week, but for the Christmas holidays, these Greek Yogurt Parfaits are delightfully festive.
Ingredients
32

ounces

Greek vanilla yogurt

4

kiwi

peeled and diced

1

pint

strawberries

hulled and diced (keep 4 whole for garnish, if desired)

2

tablespoons

honey

2

teaspoons

vanilla bean paste

2

cups

prepared granola
Instructions
Add about 2 tablespoons of prepared granola into the bottom of each parfait glass. Set aside.

In a medium bowl, stir together the diced strawberries and kiwi.

Add the honey to the fruit, and stir to combine. Set aside.

Place the Greek yogurt in a large bowl and stir in the vanilla bean paste.

Add the prepared yogurt to a large zip-top bag and snip off about ½" from one of the bottom corners.

Pipe (or spoon) a layer of the prepared Greek yogurt into the parfait glasses over the granola, and top with a layer of both strawberries and kiwi.

Follow with another layer of granola, yogurt, strawberries, and kiwi.

Top again with granola to finish.

Garnish the glasses with whole fresh strawberries (if desired) and serve immediately.

Or keep the Greek yogurt parfaits in the refrigerator for no more than 2 hours before serving.
Nutrition
Serving:
1
Calories:
583
kcal
Carbohydrates:
82
g
Protein:
29
g
Fat:
16
g
Saturated Fat:
3
g
Polyunsaturated Fat:
12
g
Cholesterol:
7
mg
Sodium:
97
mg
Fiber:
10
g
Sugar:
53
g
I sincerely hope you've enjoyed today's fast, easy, and healthy breakfast, brunch, or snack recipe using Greek yogurt, fruit, and granola as much as I've enjoyed bringing it to you.