This classic Swiss Cheese Fondue is rich, creamy, and super cheesy with just the right amount of white wine, along with a splash of nutty Amaretto to keep things extra flavorful.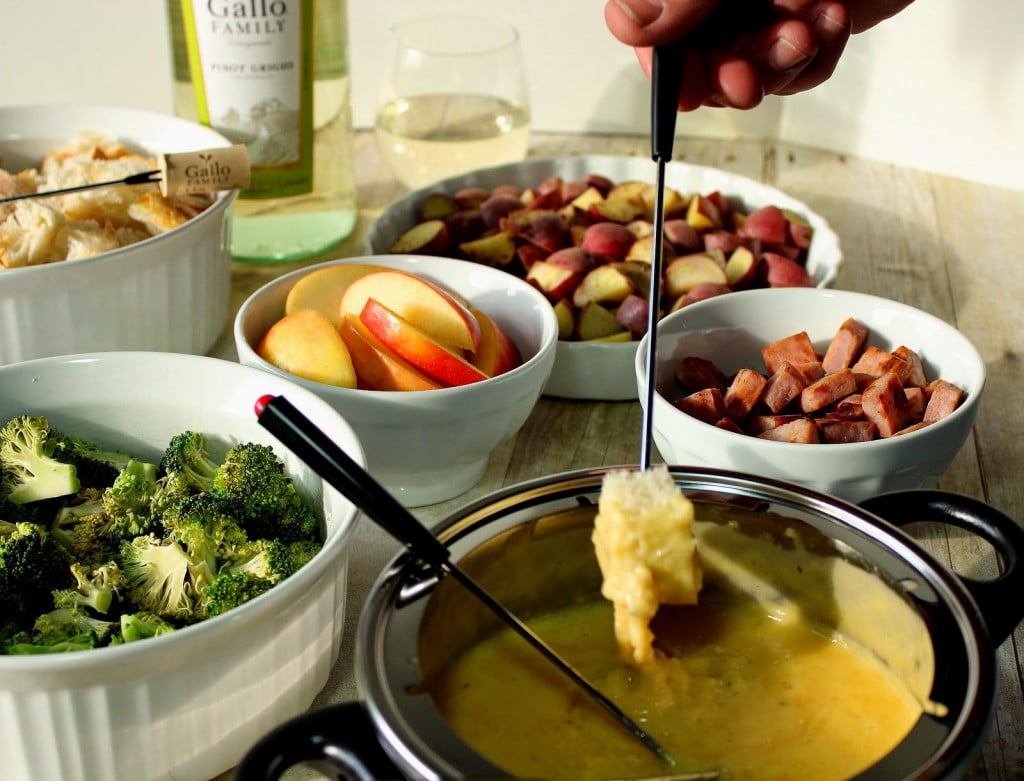 Perfect for use with all kinds of dippers. Swiss Cheese Fondue as warm as a comforting hug on a cold winter's night.
*Disclaimer – This recipe was originally published in 2014. I'm working hard to update all my older recipes with recipe cards, new photos, and additional recipe information. But, getting to all of them will take time. Please bear with me. In the meantime let me assure you that this recipe is still a winner and one I'm sure you'll be well pleased with when you make it at home.
Giving comfort to those in need is a wonderful thing and should not be holiday exclusive. It should be something we all think about and do on a regular basis.
However, as we all know, life gets busy, and we tend sometimes to forget that there are others in this world who need help from time to time.
Whether it's a warm meal, a comforting hug, or a hand up to those who are down on their luck.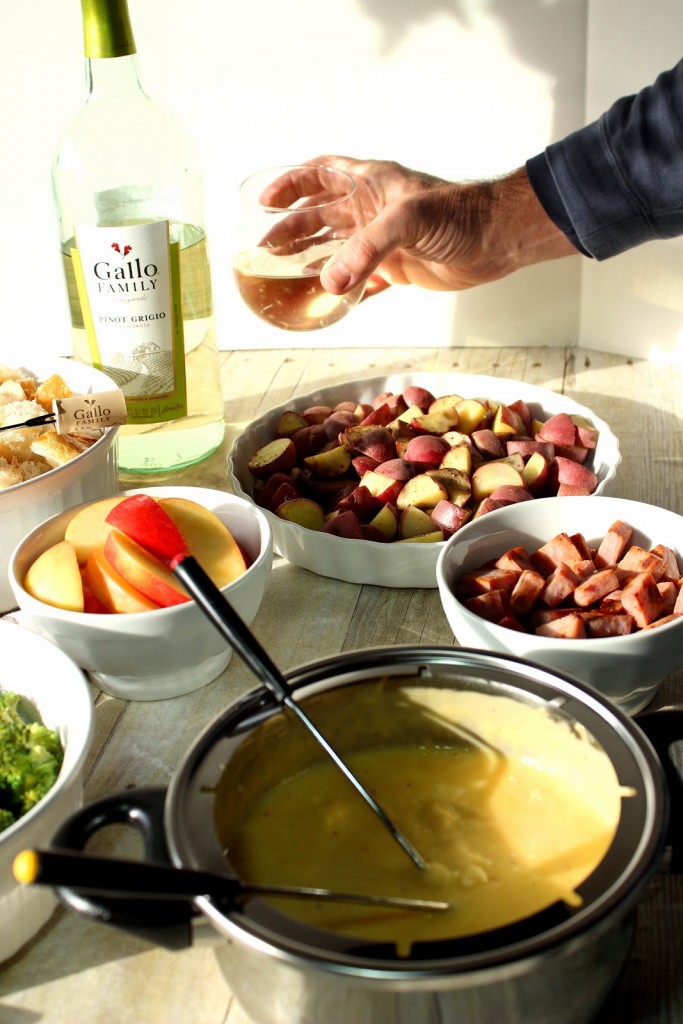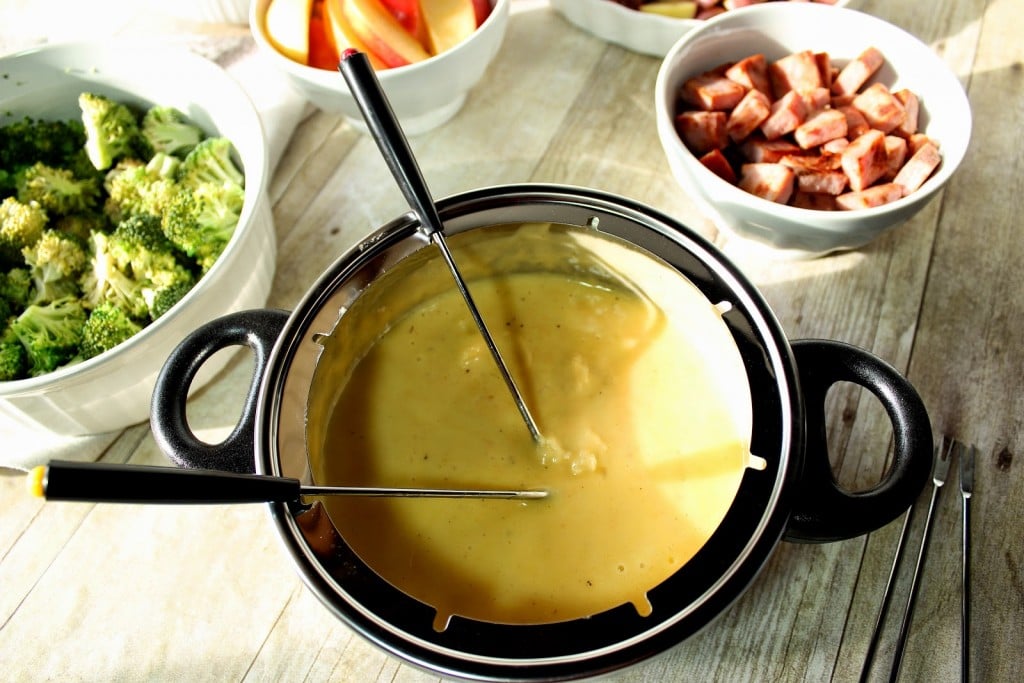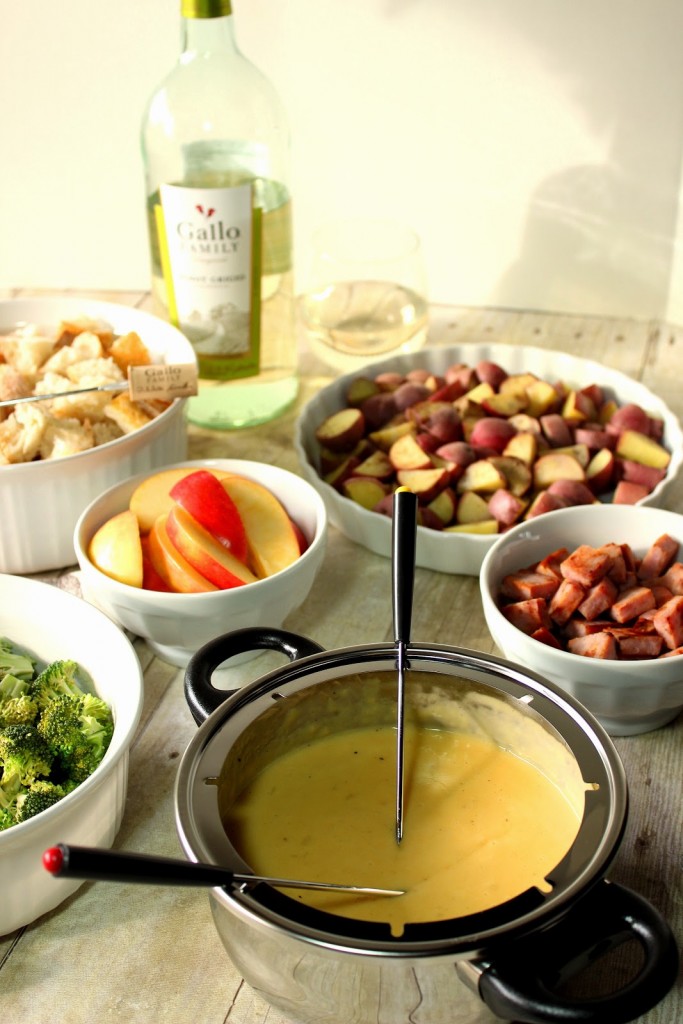 For the fondue:
1 cup Gallo Family Pinot Grigio
1 large shallot, minced
1 tablespoon butter
8 ounces Gruyere cheese, shredded
8 ounces Swiss cheese, shredded
4 ounces Colby cheese, shredded
1 tablespoon apple cider vinegar
1/8 teaspoon fresh cracked black pepper
pinch freshly grated nutmeg
1½ tablespoon amaretto
-In a medium saucepan over medium heat, saute the shallot in the butter until softened.
-Add the Gallo Family Pinot Grigio and bring to a simmer.
-Stir in shredded cheeses and stir until melted and creamy.
-Stir in the apple cider vinegar, black pepper, nutmeg, and amaretto.
-Transfer the fondue to a fondue pot and serve with your choice of dippers.
Suggested Dippers:
broccoli florets (microwaved slightly to soften),
sourdough bread cubes, cut into bite-sized chunks
red potatoes, cubed and microwaved to cook through but not mushy
ham steak, cut into cubes and lightly sauteed to brown
Gala apples, cored and cut into slices
Thank you so much for visiting me here today in my Kudos Kitchen!
Should you have any questions or comments regarding this recipe or anything else you've seen on my site, please don't hesitate to reach out to me. It is always my distinct pleasure to get back with a reply just as soon as I possibly can!
For more Kudos Kitchen recipe information, please follow me on my social medial channels (listed below), and don't forget to TAG me @kudoskitchen with photos so I can view all your delicious recipe creations! It's exciting for me when you share them, so don't be shy!
Instagram, Pinterest, Facebook, and YouTube
Instagram, Pinterest, Facebook, and YouTube
Kudos Kitchen by Renee – BRINGING YOU EASY, ECONOMICAL, AND DELICIOUS DISHES TO FEED YOUR LOVED ONES!
Until we eat again, I hope you have a delicious day!