This recipe for Gruyere Cheese Fondue is the best! It's creamy and rich with just the right amount of white wine and a splash of nutty amaretto to keep things extra flavorful.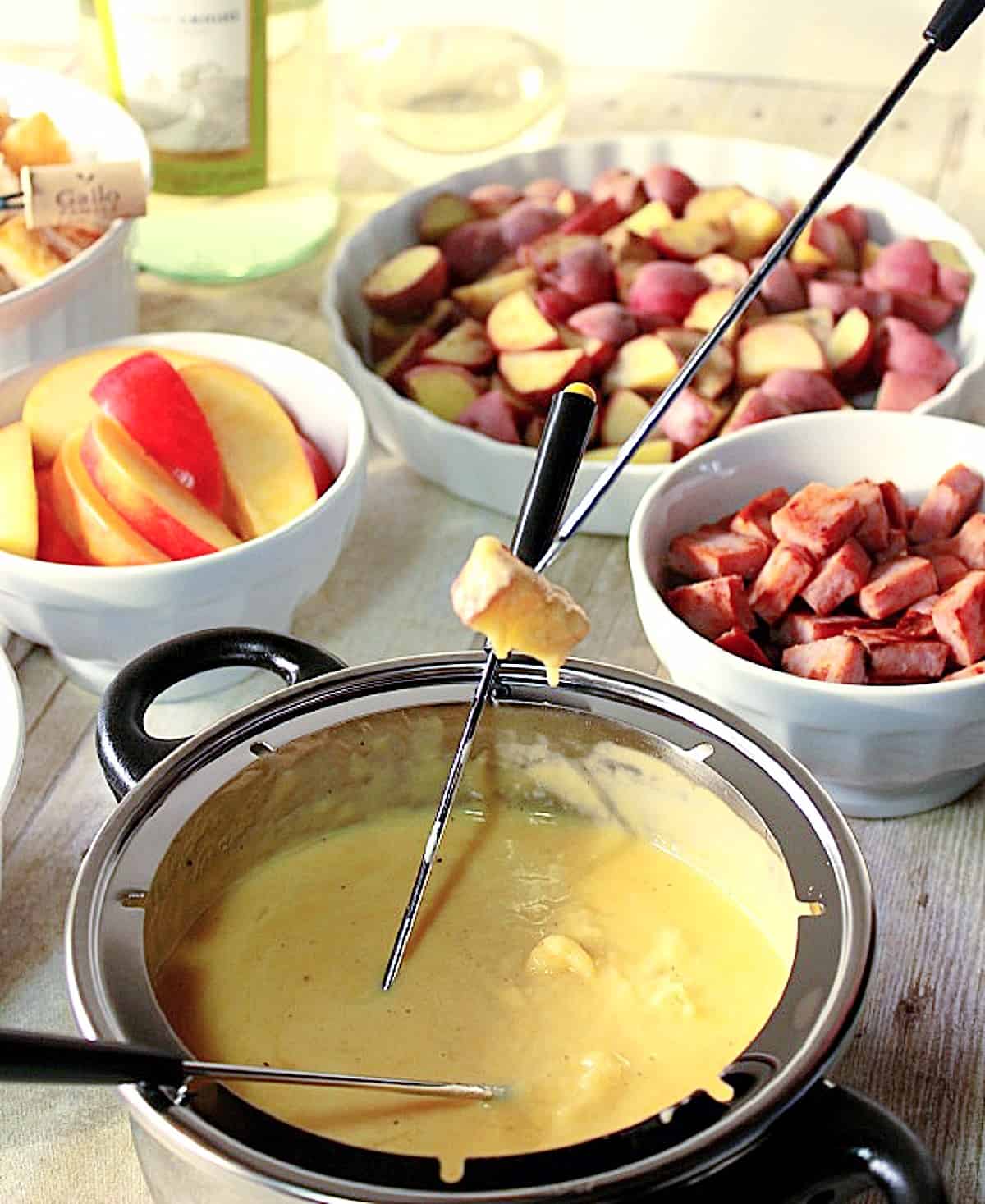 This delicious and mildly nutty cheese fondue is comforting and so much fun to eat with an array of tasty dippers! So gather the gang around the fondue pot, and dig in, everybody!!
Jump to:
Some of my very favorite recipes are interactive and communal. The ones where folks congregate and share good times, company, and food.
Why not gather around this easy Patty Melt Dip? It's everything you love about the iconic sandwich, but it's made in dip form. It's sure to be a real crowd-pleaser at your next party or celebration!
And this Cheesy Corn and Black Bean Dip is a deliciously easy and cheesy dip that everyone gravitates to when it's out on the table.
And for a real conversation-starter, what about this Turkey Bread Bowl with Creamy Spinach Ranch Dip. It's super easy to recreate and the tail feathers play double duty as dippers. What could be more fun?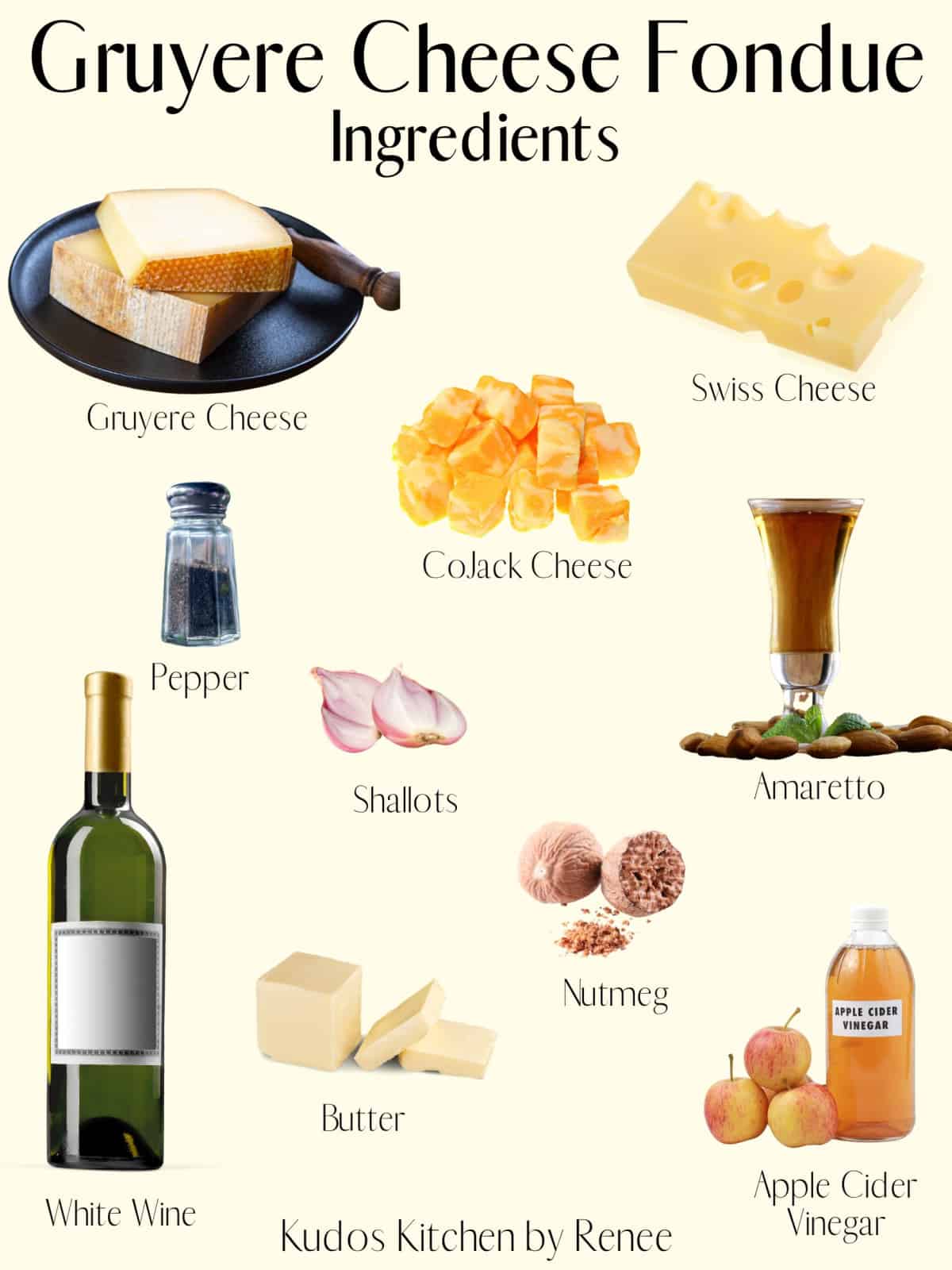 🛒The ingredients:
White Wine - I used a Pinot Grigio, but feel free to use another medium to dry white wine that you may have at home or enjoy. A sauvignon blanc or chardonnay are other great choices.
Shallots: The mild flavor of shallot is like a cross between an onion and garlic. When finely minced, a shallot's flavor will blend seamlessly into the easy cheese sauce and won't be noticed texturally, but the flavor will enhance the fondue as nothing else can.
Gruyere Cheese - This classic Swiss cheese gets more flavorful with age. When young, it's sweet, creamy, and nutty; as it ages, it takes on an earthy, more complex flavor. It's my favorite type of Swiss cheese and one I love to use when cooking!
Amaretto Liqueur - The nutty notes of amaretto makes this fondue one of the best cheese fondues you'll have. The amaretto compliments the nutty component of the gruyere cheese wonderfully well, making it the perfect Swiss cheese fondue!
Apple Cider Vinegar - It may sound like an odd ingredient in a cheese fondue, but it brings a balanced flavor to the richness of the completed dish.
📷The easy instructions: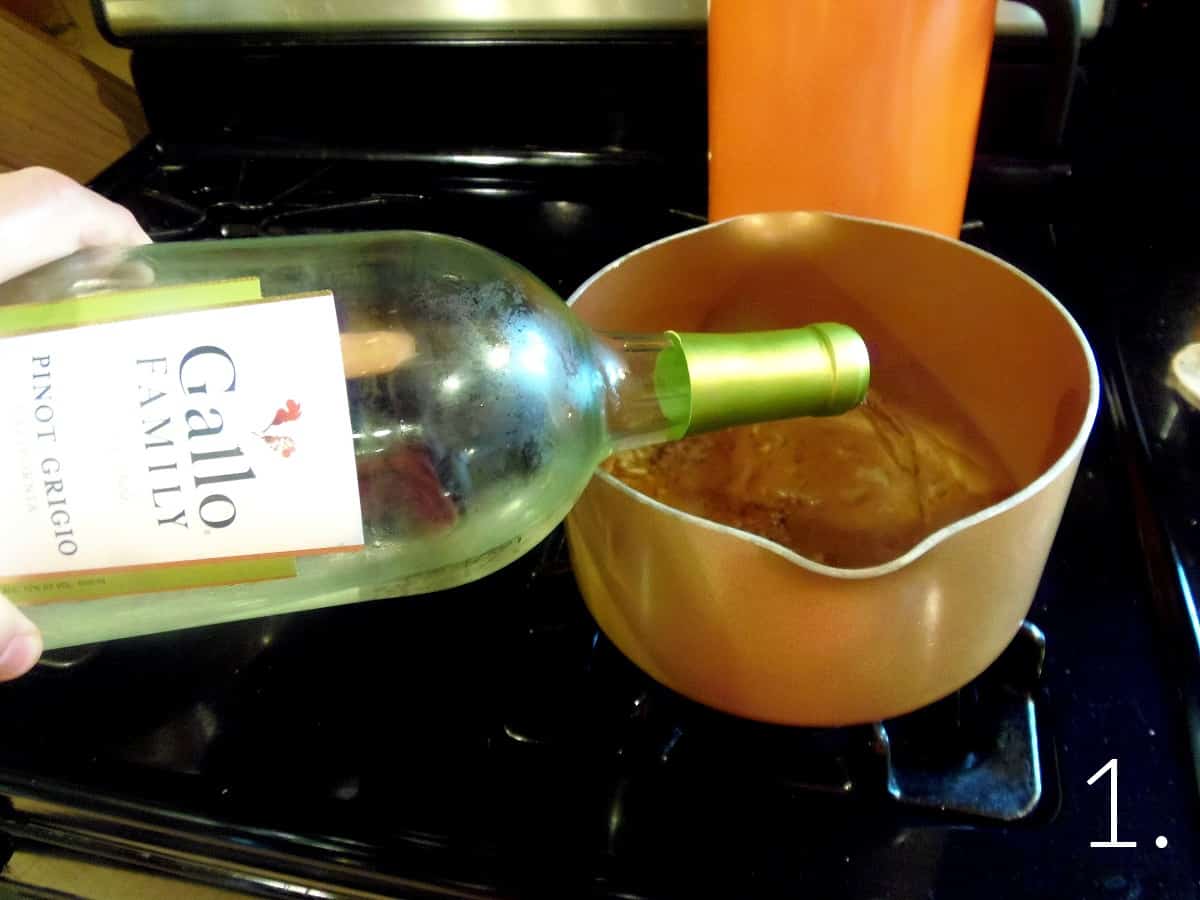 Add the wine to the same saucepan with the sautéed shallots and bring to a simmer.
Shred the Gruyere, Swiss, and Co-Jack cheese.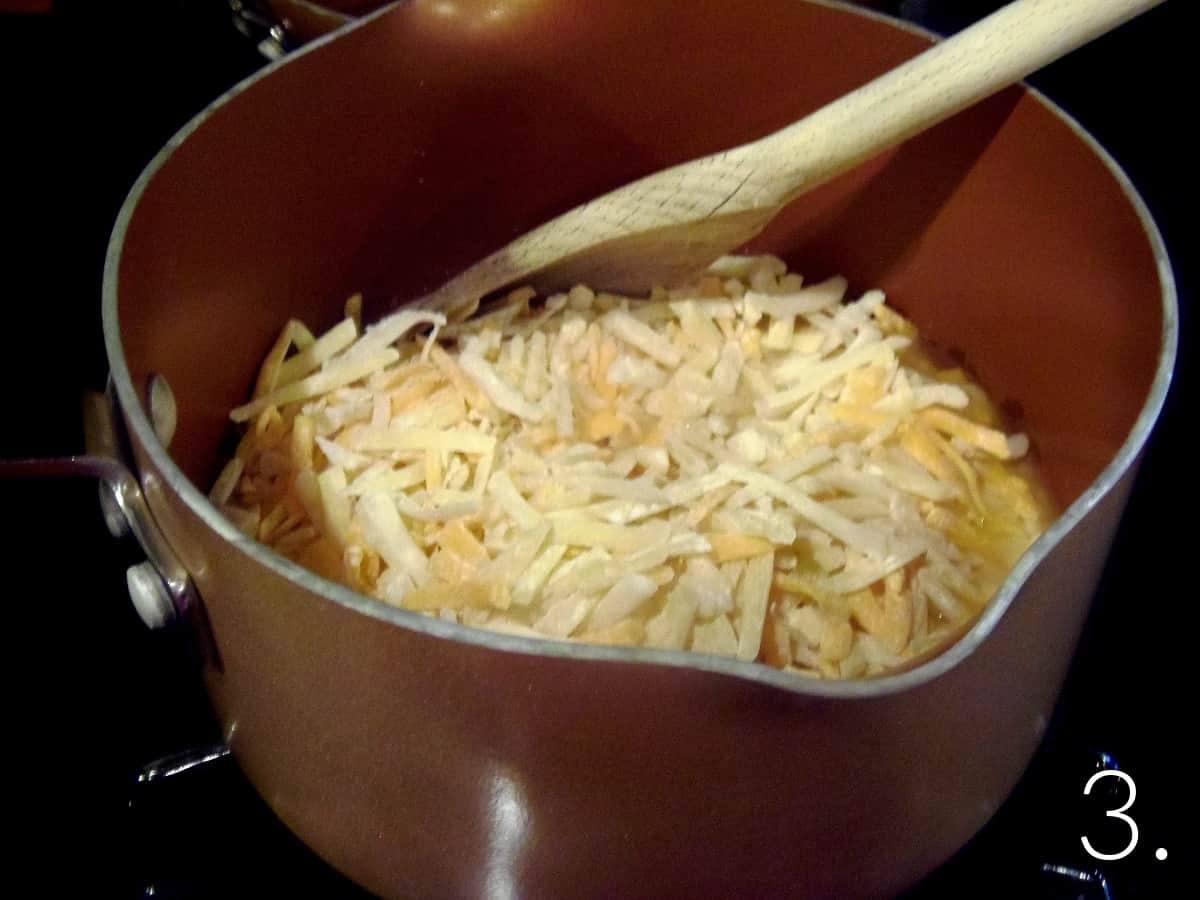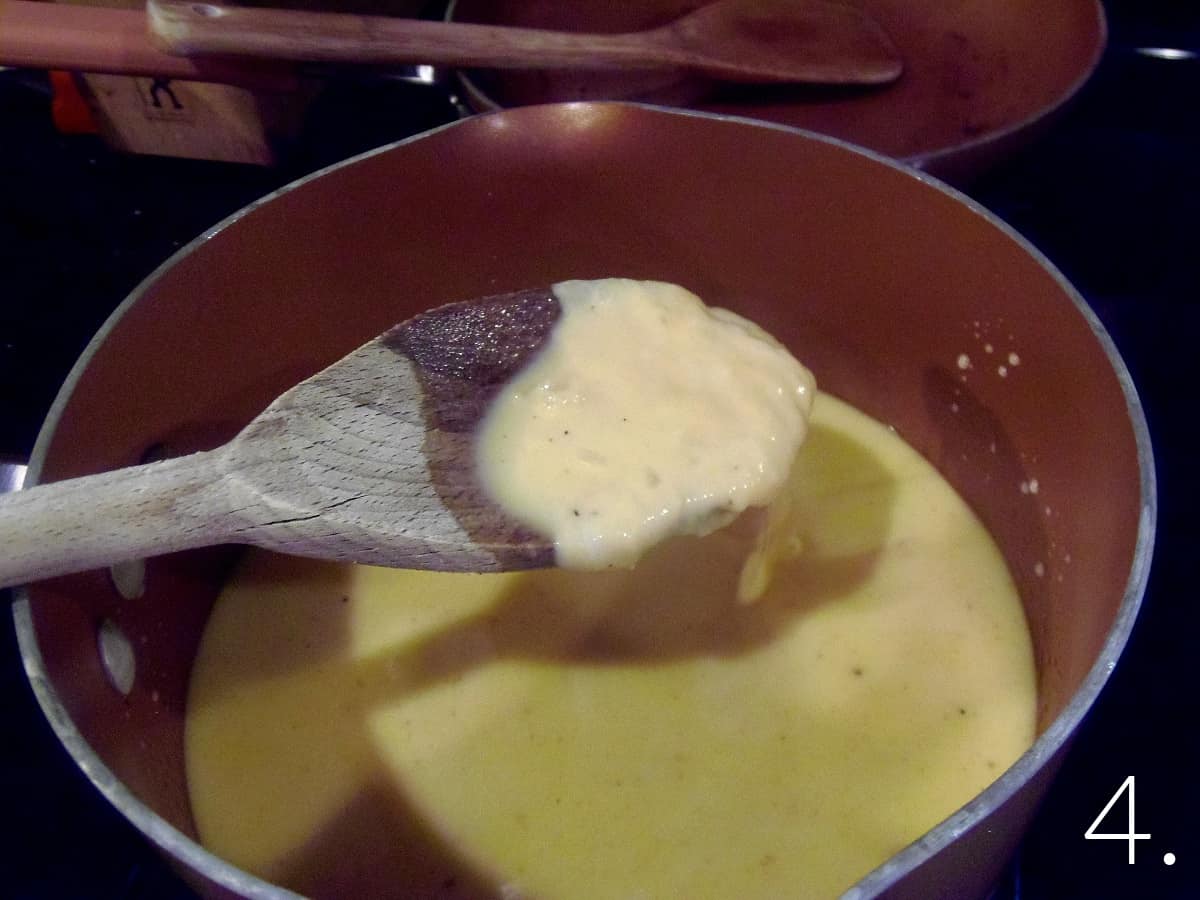 Add the shredded cheese to the saucepan with the wine and shallots.
Stir frequently until the cheese is completely melted and creamy.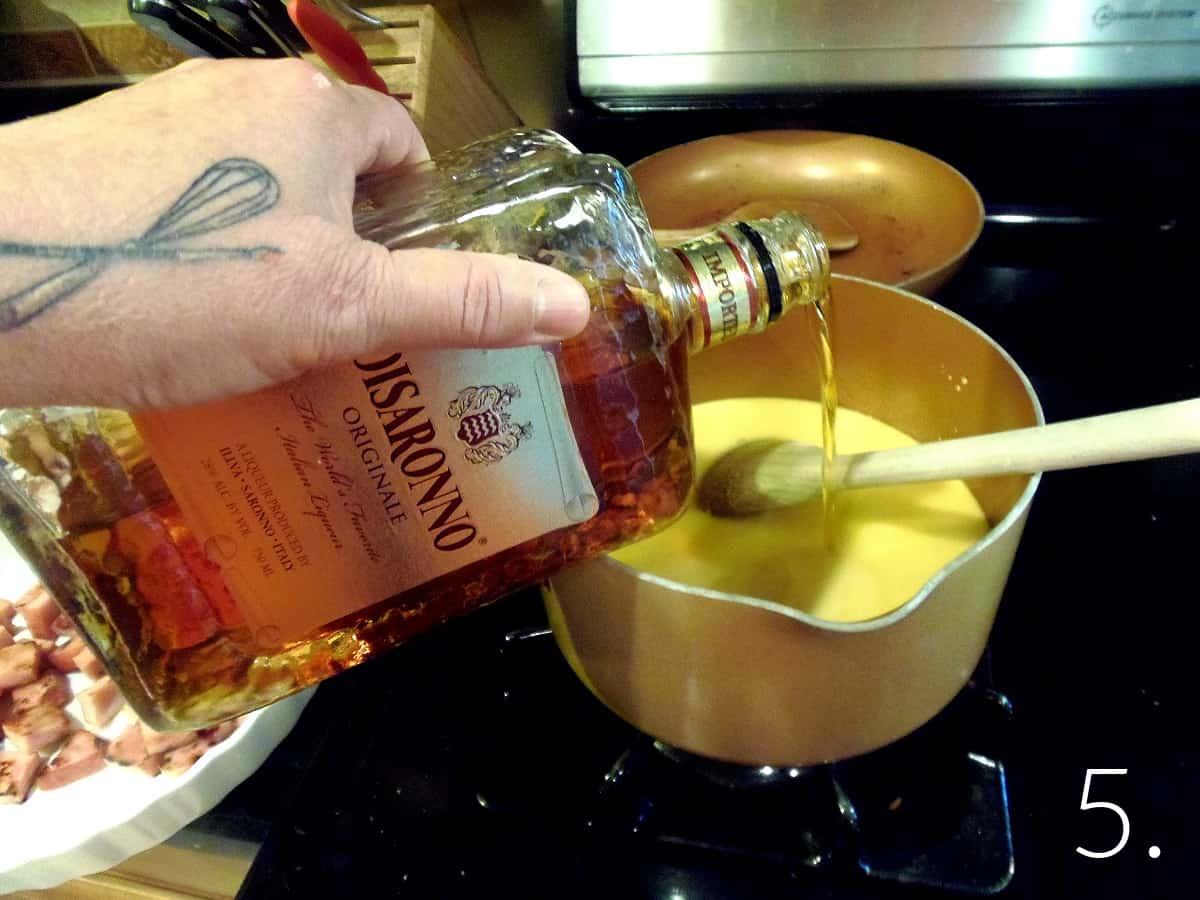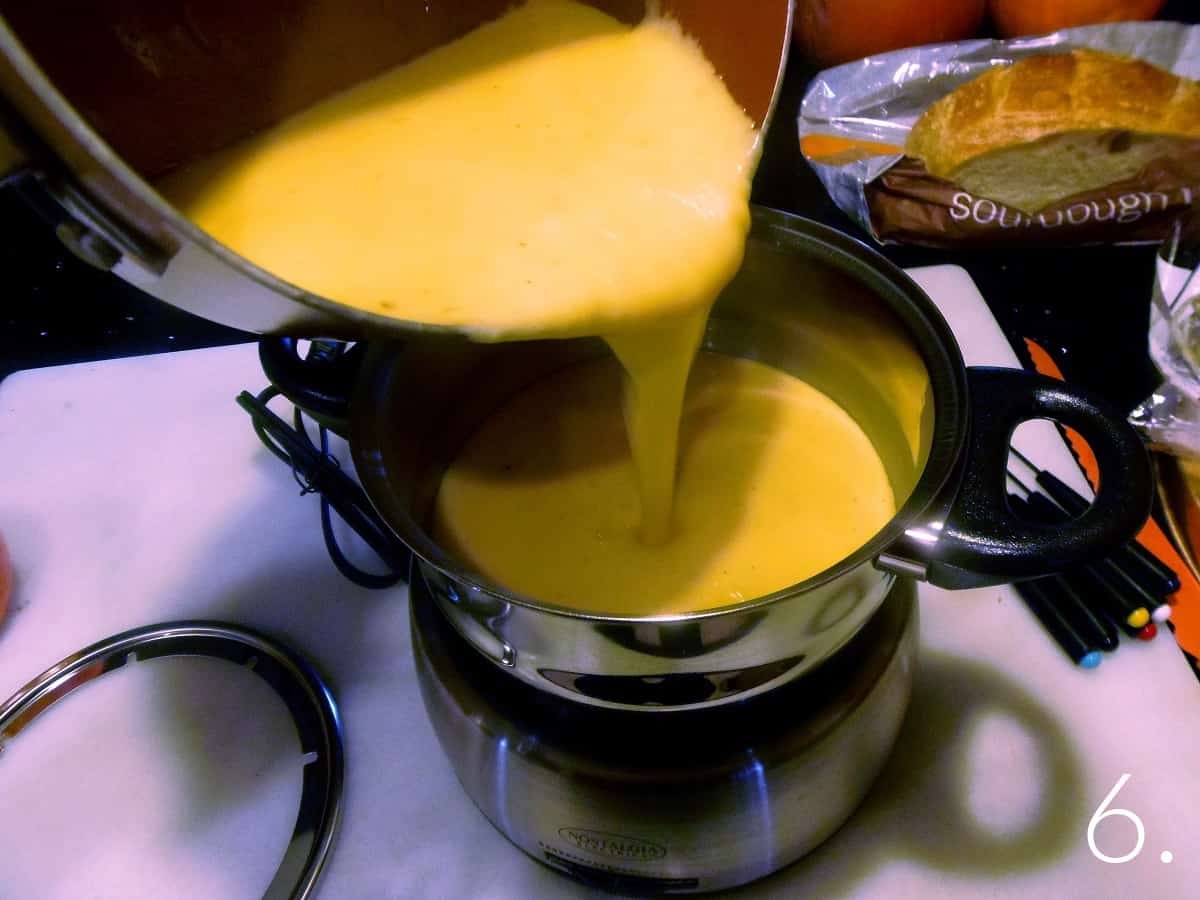 Time to stir in the apple cider vinegar, black pepper, grated nutmeg, and amaretto.
Once thoroughly combined, carefully pour the melted gruyere cheese sauce into a fondue pot to keep warm during service.
⚠️Use caution:
When serving hot cheese dip from an electric fondue pot always make sure the cord is not a trip hazard for anyone, especially children.
✂️Swaps and substitutions
Bourbon or Kirsch (flavored cherry brandy) would be an excellent substitution for the amaretto. Of course, you can leave the liquor out altogether if desired.
I've not tried it, but I think apple juice or white grape juice would be a good call in place of the white wine. Of course, you could also use chicken or beef broth, or maybe a combination of both, but with only a touch of juice, so it's not overly sweet and has a nice balance of flavor.
Feel free to use whatever type of Swiss cheese you love. Emmental is always a good choice, and as far as swapping goes, how about trying Fontina or Jarlsberg, which are both excellent for melting and have a lovely nutty flavor.
Feel free to omit the co-jack cheese altogether, or swap it out with a mild cheddar, Colby, Monterey Jack, or even go with a pepper jack cheese if you like.
🧀To learn more about cheese (serving and storing tips, types, textures, pairings, and more), hop on over to Cheese.com and tell them Renée sent you. 😉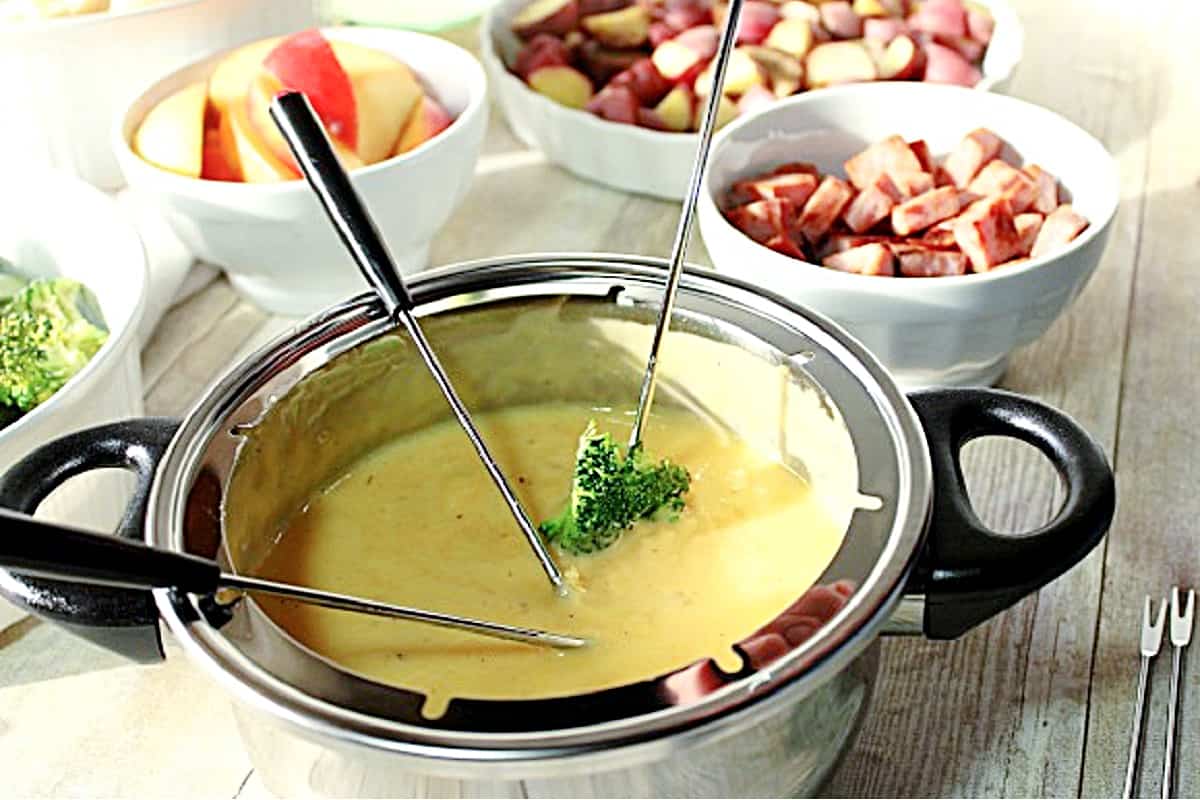 ❓FAQ's
What are the best dippers to use with cheese fondue?


I like to use broccoli and cauliflower florets that have been slightly blanched for 1-2 minutes in boiling water to take away some of the rawness, but so they still have body and crunch.

Apple slices, ham cubes, cooked potato wedges, sourdough bread cubes, rye bread cubes, baguette slices, homemade croutons sautéed in butter, summer sausage, cooked bratwurst slices, asparagus spears, pear slices, roasted Brussels sprouts, red and green bell pepper slices or chunks, pearl onions, garlic cloves, pickles, cooked meatballs, or cooked chicken cubes, just to name a few.
What to drink with cheese fondue?

That's really your call, but I would recommend using the same white wine that you've used in the fondue itself. A chilled glass of pinot Grigio, chardonnay, or sauvignon blanc would be the perfect choice.

If you're a beer drinker, then I suggest either a pilsner or lager.
Is a fondue pot needed?

No, not at all.

A fondue pot is a terrific convenience when you want to move the fondue from the kitchen to a different location for serving. It also lends a great ambiance and charm when entertaining.

That said, if you're okay with congregating around the stovetop, or if you're willing to bring the pan back to the stovetop for reheating when the cheese starts to set, then, by all means, you can certainly serve it right out of the saucepan.
Where does fondue originate?

Fondue originated in Switzerland as a way of utilizing stale bread and overly hard cheese throughout the winter months.

The word is derived from the French word fondre which means "to melt."
What is the best bread for dipping into cheese fondue?

I like a crusty, hearty bread with a lot of texture.

A sourdough bread would be an excellent choice, as would a hearty rye, French baguette, or a dark pumpernickel.

Bread that has been cubed (or torn) into bite-size pieces works best, even better if it's a little on the stale side! If needed, pop the cubed or torn bread into a low oven (300 degrees Fahrenheit) on a baking sheet for a few minutes to remove some of its moisture.
Can pre-shredded cheese from the grocery store be used?

I don't recommend it and always shred my cheese for fondue on a box grater.

The reason is that pre-shredded cheese contains anti-caking additives that prevent the cheese from clumping in the bag.

These anti-caking additives also hinder the proper melting of cheese, which naturally isn't ideal for creamy cheese fondue, or any melted cheese dish.
📌Tips for recipe success
Avoid store-bought pre-shredded cheese (as stated in the FAQ's), and when cooking the cheese sauce on the stovetop make sure to keep the heat at medium or medium-low temperature and stir frequently.
A whisk works well after the cheese has melted, but a wooden spoon will work best in the early stages of melting.
🔗Related recipes using amaretto or gruyere cheese:
When you make this recipe, and I hope you do, I'd appreciate it if you'd take a moment to leave a star rating on the recipe card and briefly comment on why you rated it as you did. FYI - Google appreciates recipe ratings and, in turn, will share my recipes with more people. Thank you so much!!
Printable Recipe Card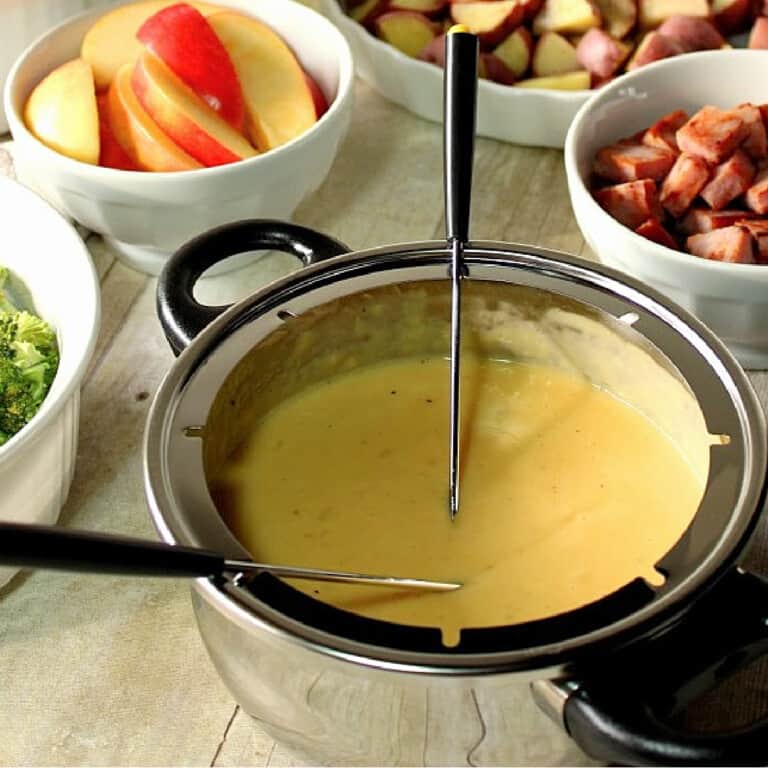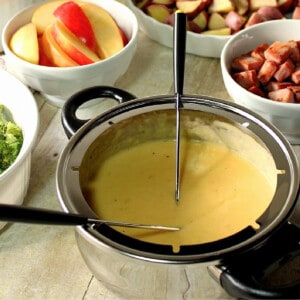 Best Gruyere Cheese Fondue
This is the BEST Gruyere Cheese Fondue! It's super cheesy with just the right amount of wine and nutty Amaretto to keep things extra flavorful.
Ingredients
1

large (approximately 1 tablespoon)

shallot,

minced

1

tablespoon

butter (salted)

1

cup

medium to dry white wine

I used a Pinot Grigio

8

ounces

shredded gruyere cheese

8

ounces

shredded Swiss cheese

4

ounces

shredded Colby cheese

1

tablespoon

apple cider vinegar

¼

teaspoon

salt

⅛

teaspoon

black pepper

⅛

teaspoon

grated nutmeg

1½

tablespoons

Amaretto liqueur
Dipper suggestions:
lightly steamed (or blanched) broccoli and cauliflower florets

bread cubes (any variety)

lightly toasted (optional)

apple slices, pear slices

cooked sausages, chicken, or meatballs

cubed ham

soft pretzels
Instructions
In the saucepan, sauté the minced shallot in butter over medium heat until softened (about 3-4 minutes).

Add the wine to the softened shallots and bring to a simmer, stirring occasionally.

Reduce the heat to medium-low and add the shredded gruyere, Swiss, and Co-Jack cheese to the pan. Stir occasionally until the cheese has melted completely.

Stir in the apple cider vinegar, black pepper. ground nutmeg, and amaretto until combined.

Remove from the heat and carefully transfer the cheese sauce to a fondue pot (optional) to keep warm and serve with your choice of dippers.
Notes
Please note that the calorie calculation is for the gruyere cheese fondue only. It does not include the dippers.
The calorie calculation is also for 1 cup of cheese fondue. I caution you NOT to eat an entire cup. Please share responsibly. 😉
Once the cheese fondue is smooth and creamy transfer it carefully to the fondue pot for serving along with your choice of dippers. Set the temperature to medium and stir the melted cheese occasionally if needed.
*Caution - If using an electric fondue pot, make sure the cord is not a trip hazard for anyone (especially children). Please plan accordingly.
Never allow small children to be left unattended around the hot cheese fondue pot.
Nutrition
Serving:
1
cup
Calories:
1324
kcal
Carbohydrates:
11
g
Protein:
78
g
Fat:
96
g
Saturated Fat:
57
g
Polyunsaturated Fat:
4
g
Monounsaturated Fat:
26
g
Trans Fat:
0.2
g
Cholesterol:
299
mg
Sodium:
1705
mg
Potassium:
344
mg
Fiber:
0.1
g
Sugar:
6
g
Vitamin A:
2756
IU
Vitamin C:
0.04
mg
Calcium:
2557
mg
Iron:
1
mg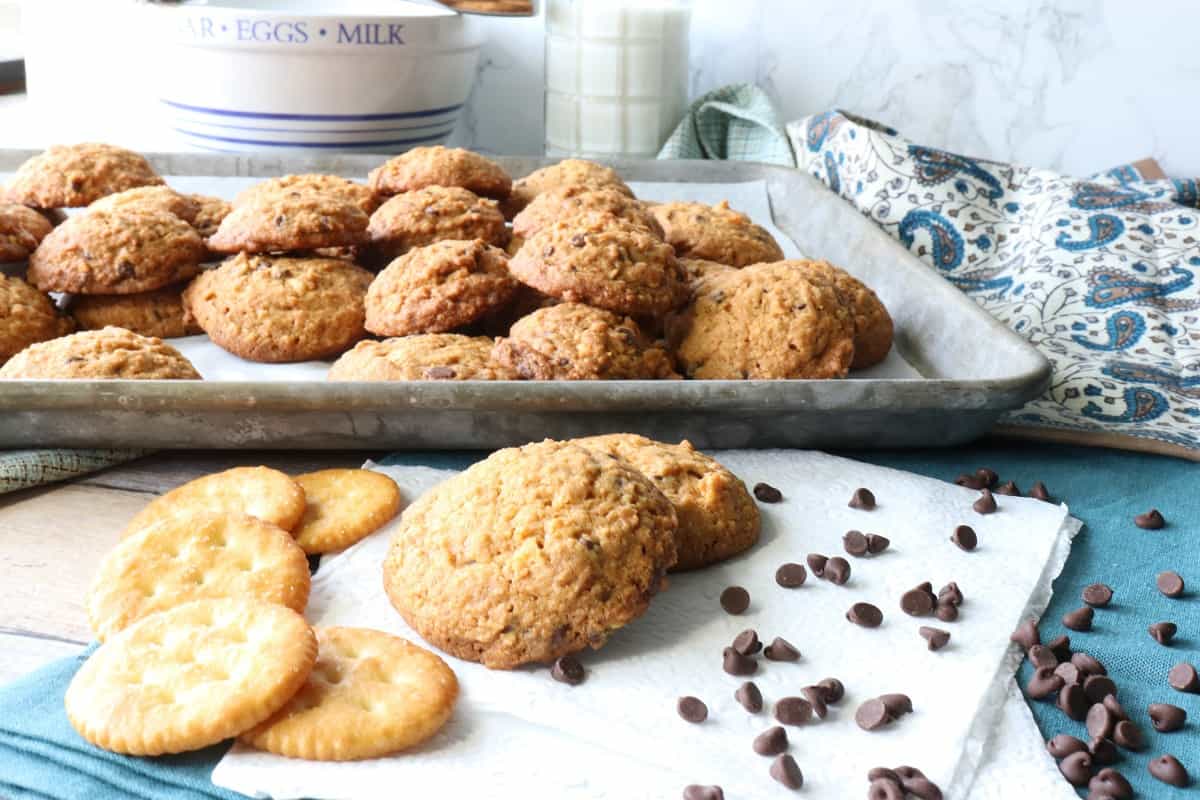 Follow me across my social media platforms and join in on the conversation: FACEBOOK, INSTAGRAM, PINTEREST, TIKTOK, AND YOUTUBE.
Thank you so much for visiting me today in my Kudos Kitchen. I hope you found something you'll love and that you'll come back and visit me often. There is always room for you around my table!
Should you have any questions or comments regarding anything you've seen here on my blog, please don't hesitate to reach out to me. It is always my distinct pleasure to respond to you just as soon as I possibly can.
Until we eat again, I hope you have a delicious day!!