These soft and pillowy German Pumpkin Spaetzle with Gruyere Cheese dumplings may not be all that traditional, but they sure are tasty.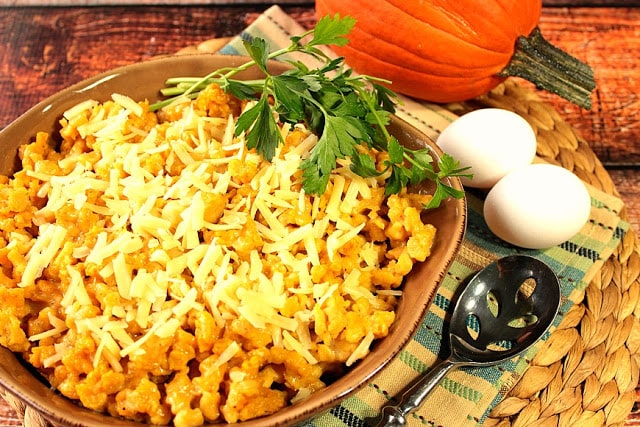 When the cooler months arrive, I tend to gravitate to German cuisine as my comfort food of choice. It just speaks to me, and I hope it speaks to you too.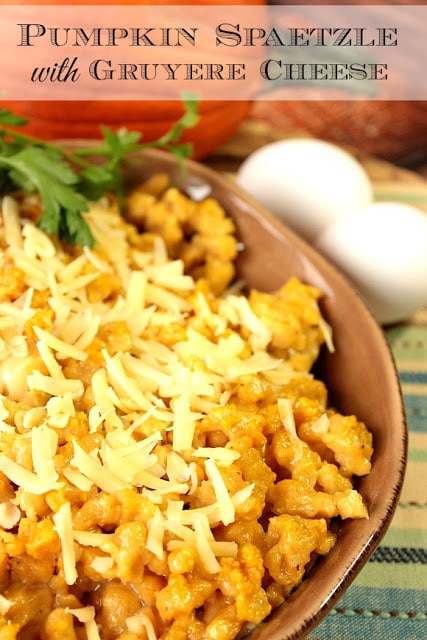 Now that October is now only a memory (how did that happen so fast?), I'm still in an Oktoberfest mood, and I may well stay here until the end of winter. Don't say I didn't warn you. LOL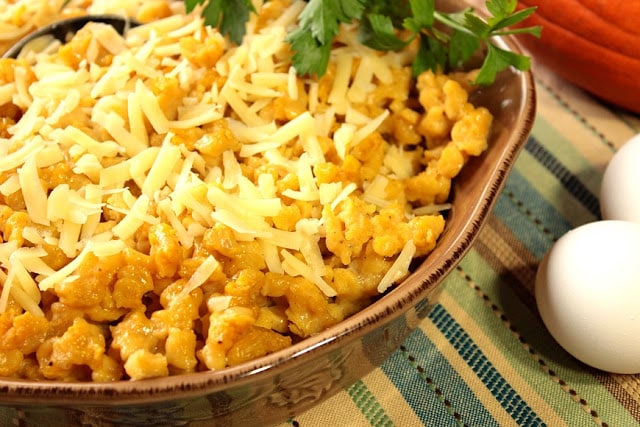 Pumpkin Spaetzle with Gruyere Cheese may look intimidating to make, but trust me when I tell you that it's as easy to make as mixing the simple batter ingredients in a bowl with a wooden spoon, and boiling pasta. After all, that's what spaetzle is, German pasta.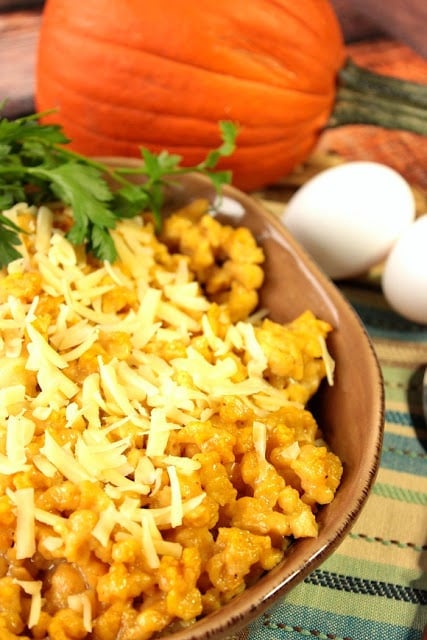 Since I tend to make spaetzle often, I purchased a handy dandy spaetzle maker that you'll see in the photos. However, if you don't have one (and honestly they're almost more pain and mess than they're worth), you can use a standard kitchen colander with basically the same results. By making sure your batter is relatively loose, so it will easily funnel through the colander holes with a little help from a spatula, you're all set.
If you're wondering how a spaetzle maker works, you fill the hopper with the batter when the spaetzle maker is over the pot of boiling water. Then you slide the hopper back and forth as the dough funnels through the holes and drop into the boiling water. It's easy, but I always end up sliding the hopper too far off the side of the pot and then I have spaetzle batter all down the outside side of my pot. You'd think I'd learn, but I haven't.
Serves: 6-8 Prep Time: 5 minutes Cook Time: 20 minutes
4½ cups all-purpose flour
1½ teaspoons kosher salt
¼ teaspoon pepper
pinch of freshly grated nutmeg (I like a lot)
4 eggs
3/4 cup canned pumpkin puree
1¼ cup beef broth (more if needed)
1 tablespoon olive oil
cooking spray
4 quarts lightly salted, boiling water
2 quart casserole dish
1 cup grated Gruyere cheese (or Swiss may be substituted)
-Preheat oven to 350 degrees.
-In a large bowl, whisk together the flour, salt, pepper and nutmeg. Make a well in the center of the flour mixture and add the eggs, pumpkin puree and beef broth. Stir with a wooden spoon until the mixture is somewhat thick but still loose and runny and will thickly drip through the holes of a spaetzle maker or colander.
-Bring the water to boil. Add the spaetzle batter into the colander or spaetzle maker so that small drops of dough fall into the water. As they do they'll drop to the bottom of the pot, but once cooked they'll float to the top. This should take about 5-7 minutes. Remove the cooked spaetzle with a large slotted spoon and place in a casserole dish that has been sprayed with cooking spray. Drizzle the olive oil over the cooked spaetzle and stir well.
-Top the spaetzle with the grated cheese and bake in a preheated oven for 15 minutes to melt the cheese. Top with parsley if desired and serve immediately.


These little golden nuggets of pure deliciousness make a wonderful side dish for just about any meal, but they go especially well with German fare such as: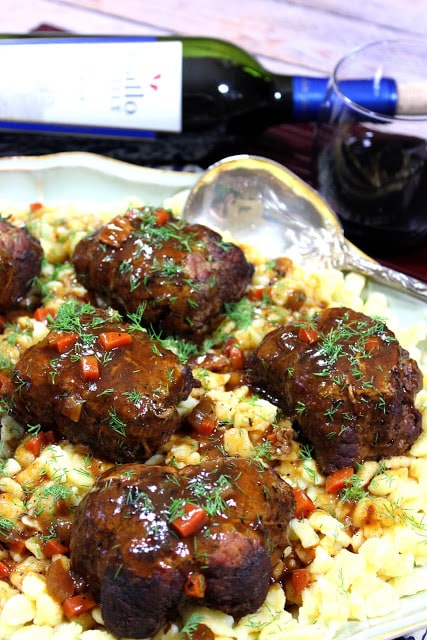 SLOW-COOKER RIBS AND SAUERKRAUT: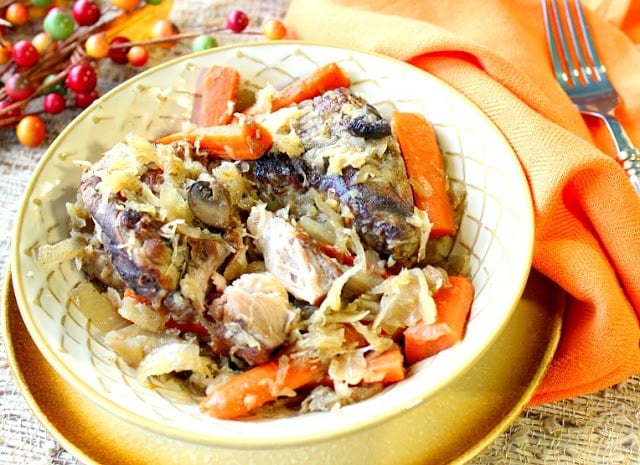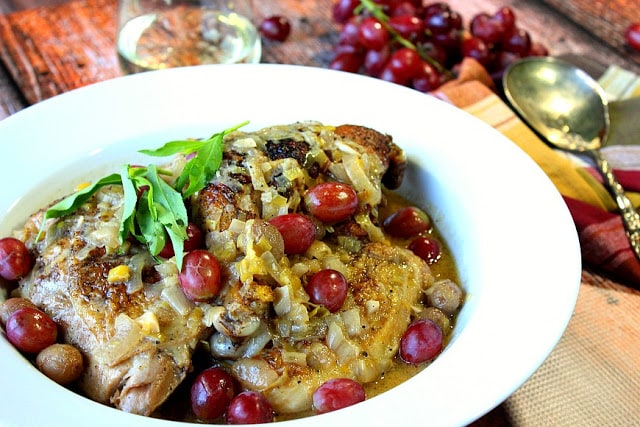 SLOW-COOKER BAVARIAN POT ROAST: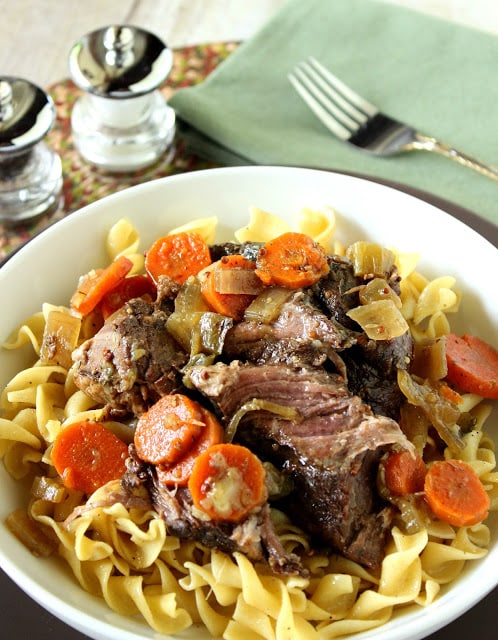 I don't know about you, but now I'm seriously hungry and ready to start cooking!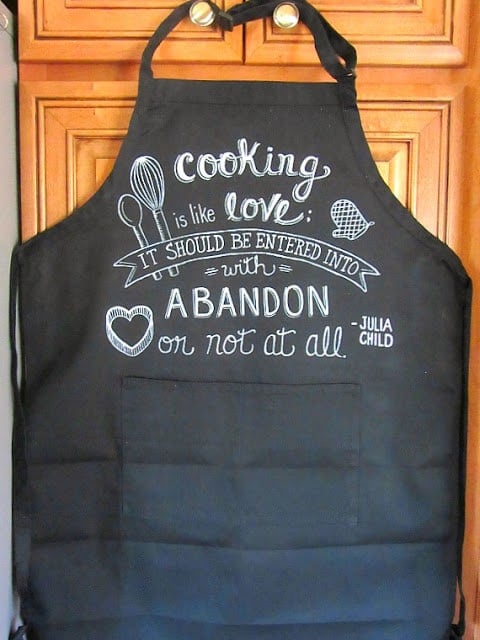 If there is ever anything I can paint for you, from fabrics to glassware items, please don't hesitate to contact me or visit my shop on Etsy. Custom orders are always welcome and I will happily work from any photo or description you send my way.
Kudos Kitchen by Reneé ~ Where food, art and fun collide on a regular basis!

Until we eat again, I hope you have a delicious day!