Everything you love about a patty melt is in this easy to make Patty Melt Dip. It's sure to be a real crowd pleaser at your next party or celebration!
My husband and I love patty melts, and we order them often when we go out to eat. This recipe idea came to me when I was thinking of appetizer ideas I wanted to serve at our upcoming small but annual big game day party.
It's an easy and delicious twist on a patty melt burger, and once you try it, you'll be amazed how much the flavor of this Patty Melt Dip resembles the iconic patty melt burger, caramelized onions and all!
Ingredients for making Easy Cheesy Patty Melt Dip:
1½ large yellow onions, 1 pound ground beef, olive oil, salt, pepper, beef stock or broth, garlic, dill pickle relish, yellow mustard, Velveeta or 1 pound American cheese, and cocktail rye bread or dippers of your choice.
I did use Velveeta in this Patty Melt Dip because I knew it would melt better than any other cheese I could think of. If you're not a fan of Velveeta then, by all means, you can substitute one pound of American cheese for the Velveeta. I think the result will be similar in texture and flavor, but I can't be 100% positive because I've not tried it myself. If you do, please write me and let me know how it turned out!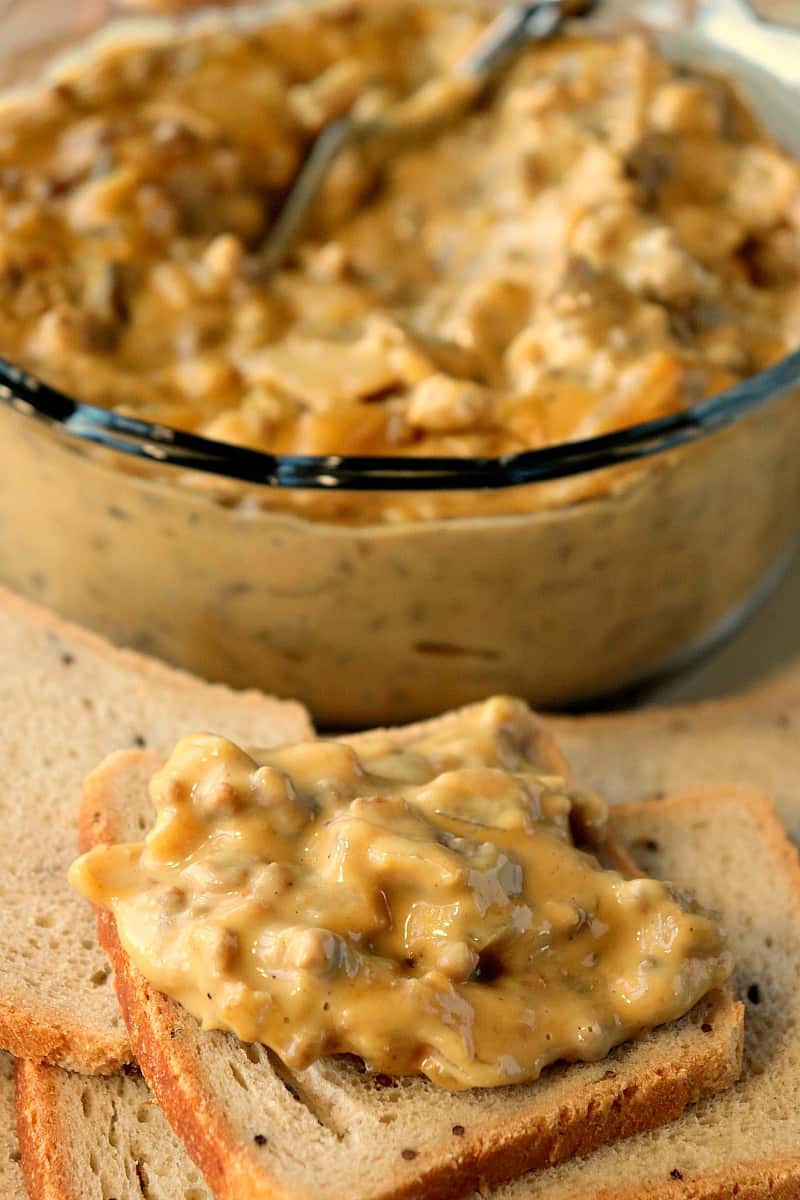 The day I made this Patty Melt Dip and shot the photos and video, I couldn't stop snacking on it. I guess that's the sign of a really good recipe. At least I like to think so.
In my defense (not that I need one, haha), it also doubled as my lunch that day, which brings me to my point of serving Patty Melt Dip as you would a sloppy Joe, by adding on a burger bun. Or, spoon Patty Melt Dip over a baked potato! How about that idea? Before you know it, you have two easy and delicious main course dinner ideas that you didn't even see coming!

Easy Cheesy Patty Melt Dip
Everything you love about a patty melt is in this easy to make patty melt dip. It's sure to be a real crowd pleaser at your next party or celebration! - www.kudoskitchenbyrenee.com
Ingredients
3

cups

medium diced yellow onions

about 1½ large onions

2

tablespoons

olive oil

½

cup

beef stock or broth

1

pound

ground beef

1½

teaspoons

coarse salt

¼

teaspoon

pepper

2

cloves

garlic

minced

3

tablespoons

dill pickle relish

1

pound

Velveeta or American cheese

cut into cubes

2

tablespoons

yellow mustard

Cocktail rye bread or assorted dippers
Instructions
In a large skillet over medium heat, caramelize the onions in the olive oil, stirring frequently (approximately 10 minutes).

Add the beef broth to the onions and stir until almost evaporated.

Add the ground beef to the onions in the skillet and stir until browned.

Add the salt, pepper, garlic, and cheese. Stir well until melted.

Add the dill pickle relish and yellow mustard. Stir to combine.

Serve hot with cocktail rye bread or assorted chips or dippers of choice.
Recipe Notes
Tools and equipment:
large skillet
chef's knife
cutting board
wooden spoon or spatula
measuring cups
measuring spoons
If you enjoy patty melts, you are going to love, love, love this Patty Melt Dip. You have my word on it! My husband gave this dip a full two thumbs up and believe you me, he knows his patty melts! 🙂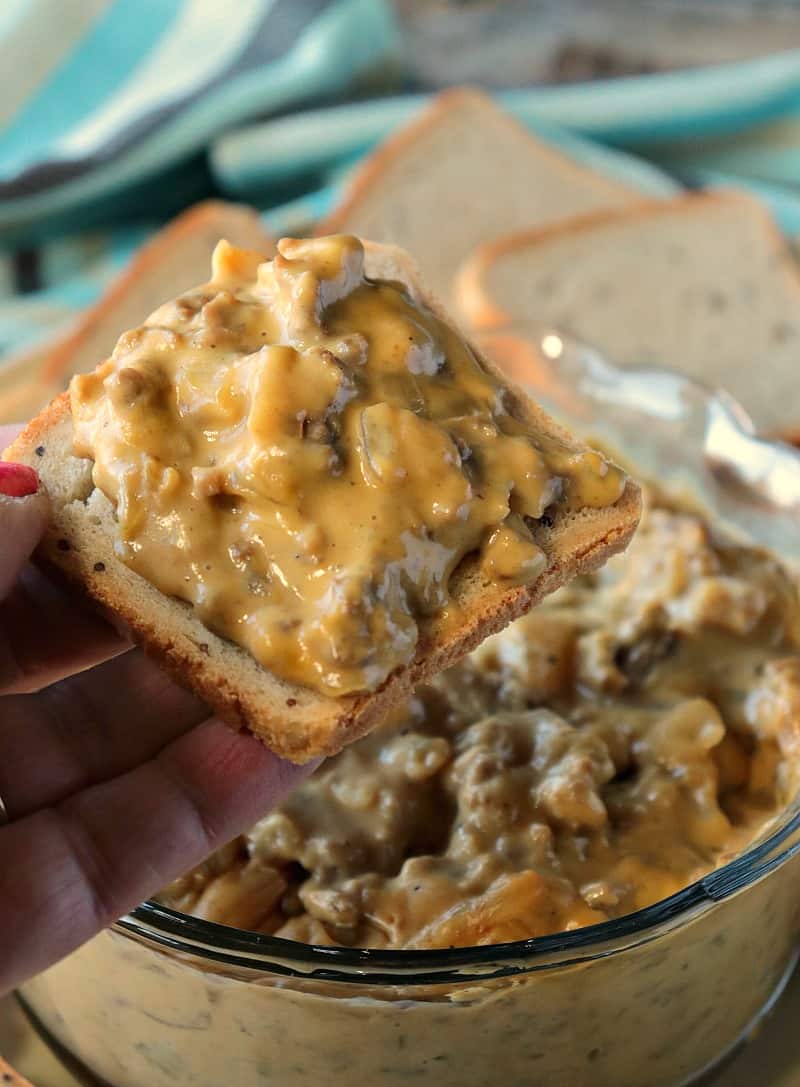 If you're hungry for more dip and appetizer ideas, here are a few other recipes I've shared which I think you'll enjoy. By clicking on the titles you'll be taken directly to the recipes for:
Crescent Wrapped Bratwurst Bites with Sauerkraut Dipping Sauce
Cream Cheese Salami Dip with Dill Pickles
I hope you've enjoyed this recipe for Patty Melt Dip as much as I've enjoyed sharing it with you. Should you have any questions regarding this recipe, or anything else you see on my site, please don't hesitate to contact me directly or leave me a comment in the comment section below. It's is always my distinct pleasure to get back to you with a reply just as soon as I possibly can!
For additional information regarding my Kudos Kitchen recipes, and/or my hand painted glassware or fabric items, please follow me on;
FACEBOOK, PINTEREST, INSTAGRAM, TWITTER, YOUTUBE and MY PAINT SHOP
Kudos Kitchen by Renée ~ Where food, art, and fun collide each and every day!
Until we eat again, I hope you have a delicious day!