Amaze your family and friends with this Thanksgiving Turkey Bread Bowl Appetizer with Creamy Spinach Ranch Dip. He's super easy to recreate, and Mr. Tom Turkey's tail feathers play double duty as the dippers. What could be more fun?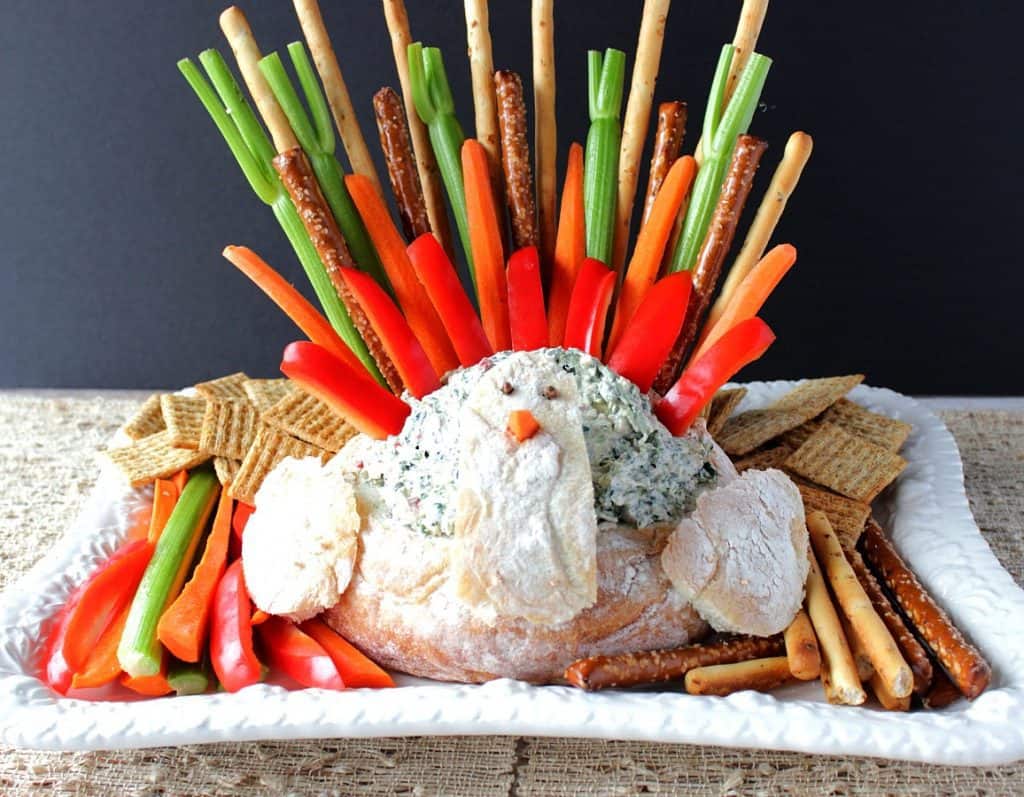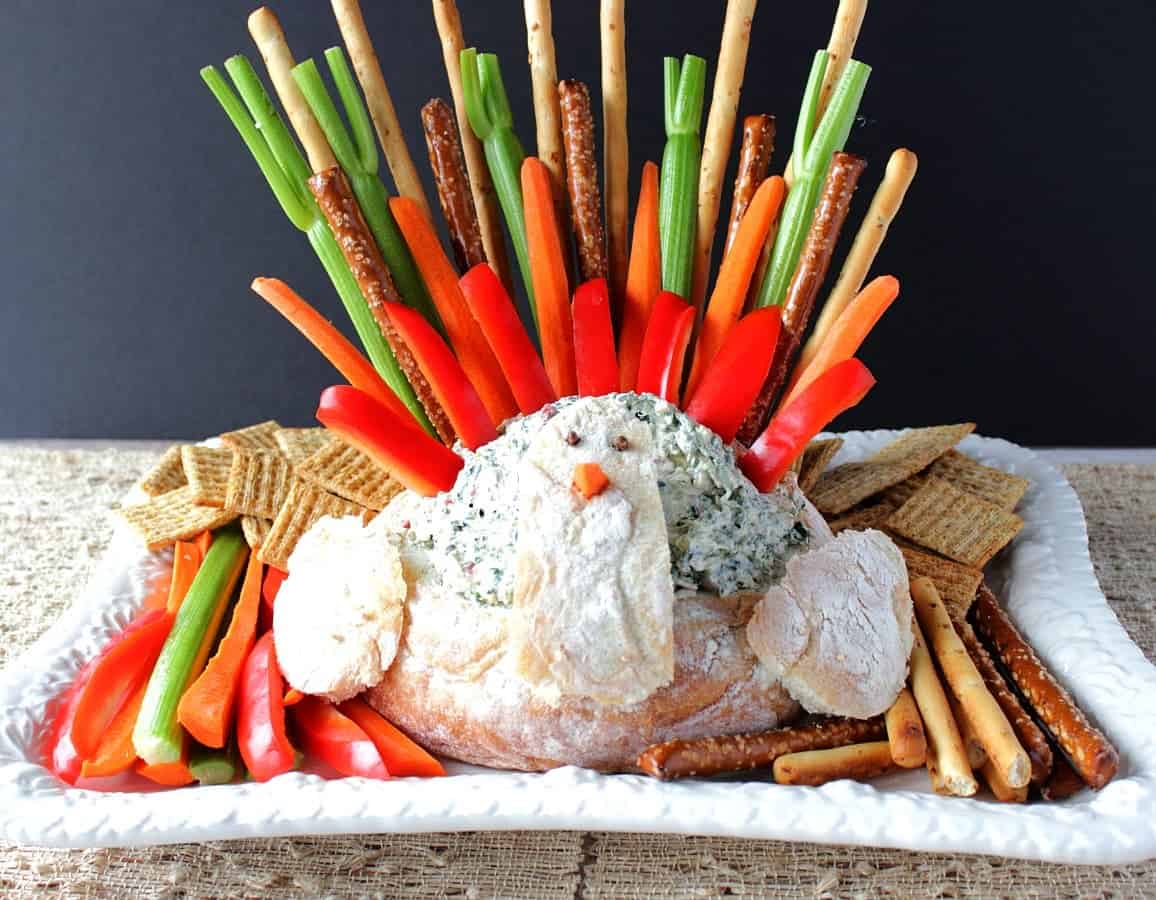 This Thanksgiving Turkey Bread Bowl Appetizer with Creamy Spinach Ranch Dip is a fun starter to get the festivities off on the right foot.
**Please Note - The printable recipe card with detailed instructions, complete ingredient measurements, and nutritional information for making this fun turkey bread bowl with spinach ranch dip is available at the end of this post.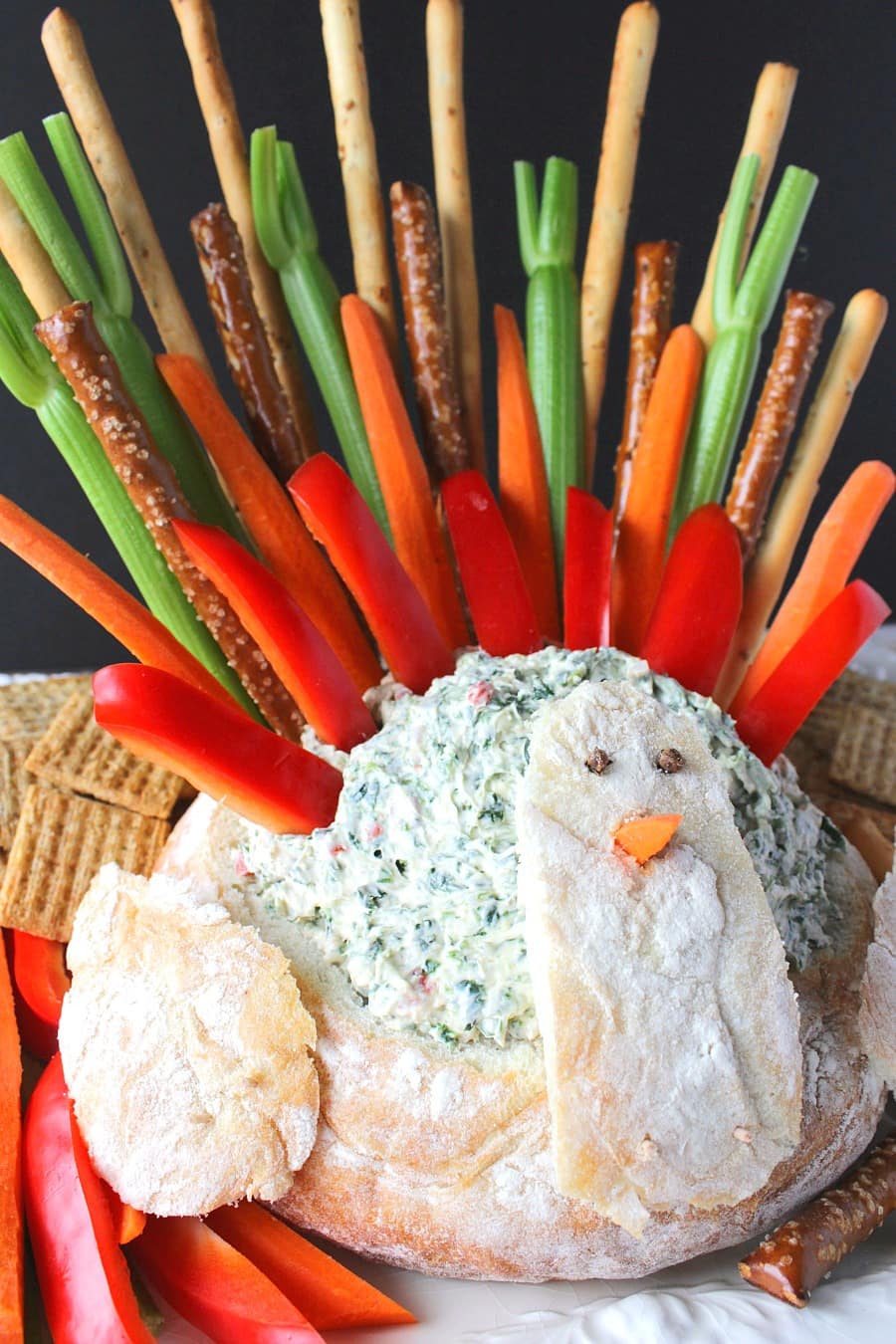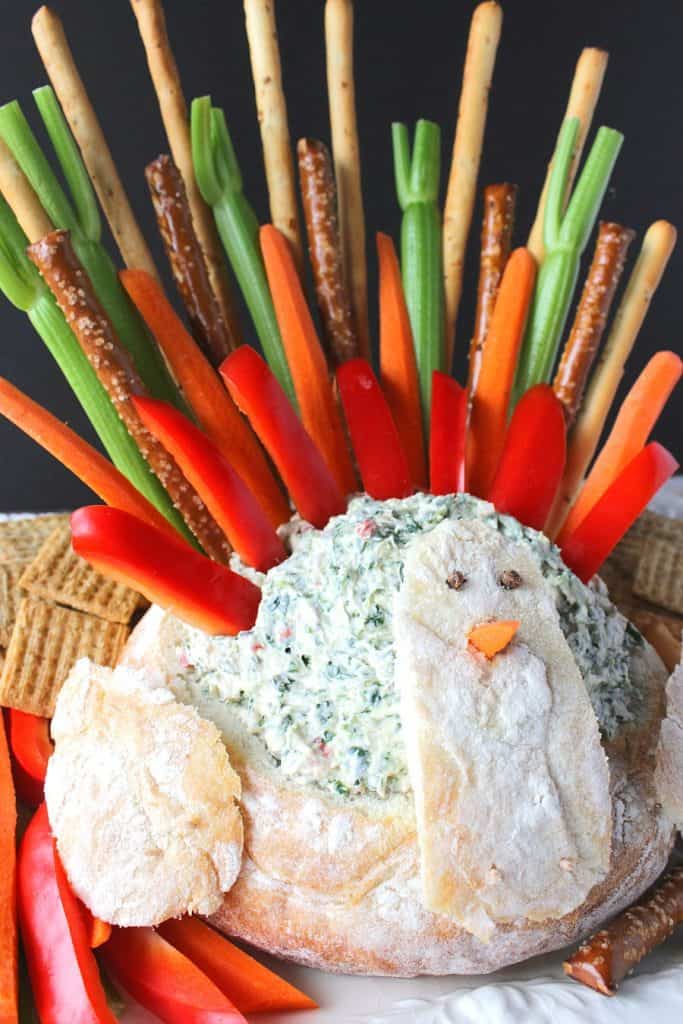 The ingredient list:
**Note - The following lists of ingredients plus kitchen tools and equipment contain affiliate links (highlighted in blue) for your consideration and shopping convenience. #CommissionsEarned
Cream Cheese
Diced Pimentos
Mayonnaise
Shallots
Scallions
Frozen Spinach, thawed and squeezed dry
Prepared Horseradish Sauce
Dry Ranch Seasoning
Salt and Pepper
Bread Bowl (from the bakery section of the supermarket)
Cloves
Carrots
Red Bell Pepper
Assorted vegetables, breadsticks, and pretzels for the tail feathers (get creative)
Kitchen tools and equipment:
Why this recipe works?
What you'll love about this turkey bread bowl appetizer, besides how festive and cute he is, is how yummy the spinach ranch dip is. After all, how can you go wrong with cream cheese, pimentos, spinach, horseradish, and shallots?
You simply can't.
Of course, if you'd like to alter the ingredients for the dip, I encourage you to play around with your favorite flavors.
As long as the texture of the dip remains a bit firm and not too soft (so the dippers stand up and don't fall over), you'll be ready to show off your tail feathers in a big way. 🙂
Can this be made in advance?
I can recommend making only the dip in advance. The flavor will actually improve if it sits in the fridge for a couple of days before serving.
However, the assembling of the turkey bread bowl should be done the day you're serving so the bread doesn't get soggy and the vegetables remain fresh and firm.
Remember, nobody likes droopy tail feathers!
What to do with the bread that is removed to make the bread bowl?
Save it!!
You can use it as a dipper for this particular appetizer, or you can freeze it and use it another time for making bread crumbs, croutons, etc.
How to prevent the bread bowl from slipping around on the platter?
Add a medium-sized dollop of dip onto the platter itself and then press the bread bowl onto the dip.
The dip will act as glue and keep the bread bowl from skidding around the platter.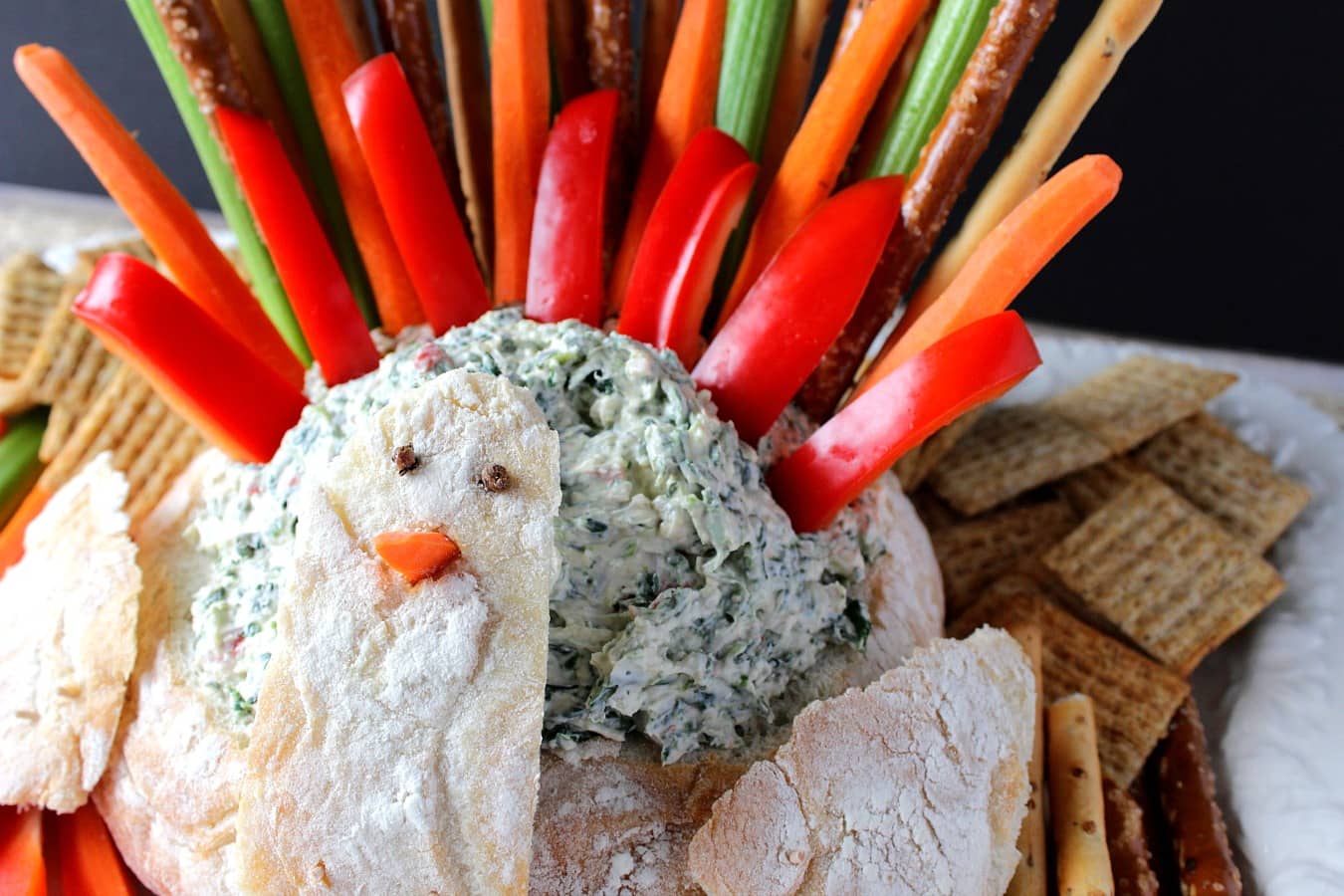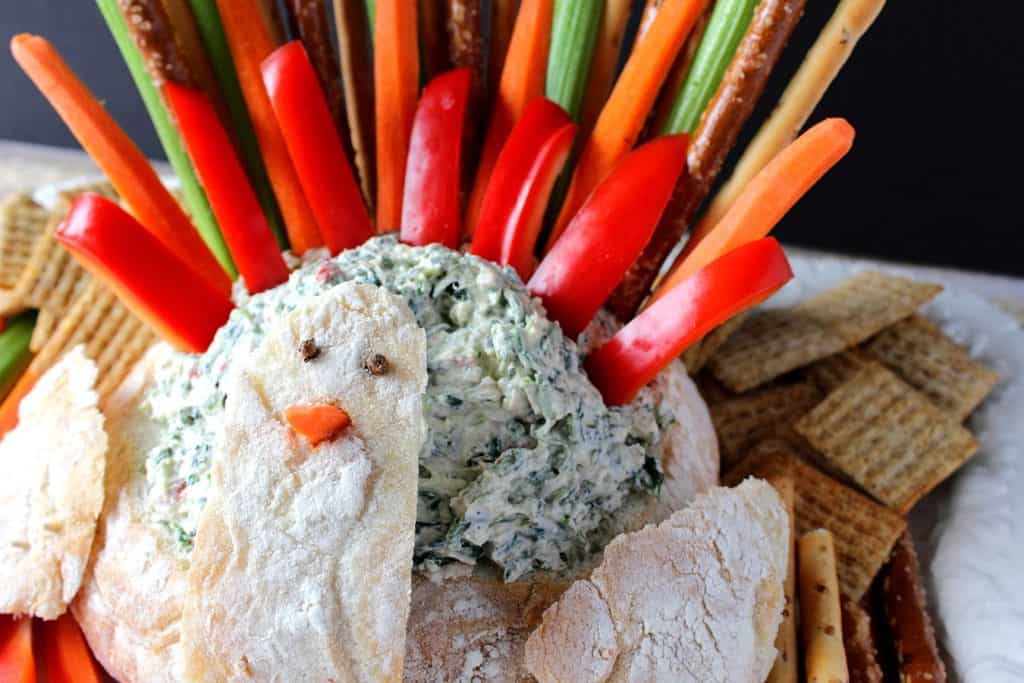 Tips and tricks for making a Turkey Bread Bowl Appetizer:
Feel free to make the dip a day or two in advance of when you're going to serve the turkey bowl.

Keep it in a covered container in the fridge until you're ready to assemble.

Make sure to mark the container with a note, so nobody sneaks in and eats the dip while you're not looking.

This dip is seriously so good that I don't want you to be shocked when you go to assemble your turkey bread bowl, and you find that your family has eaten all the dip, unbeknownst to you! 😉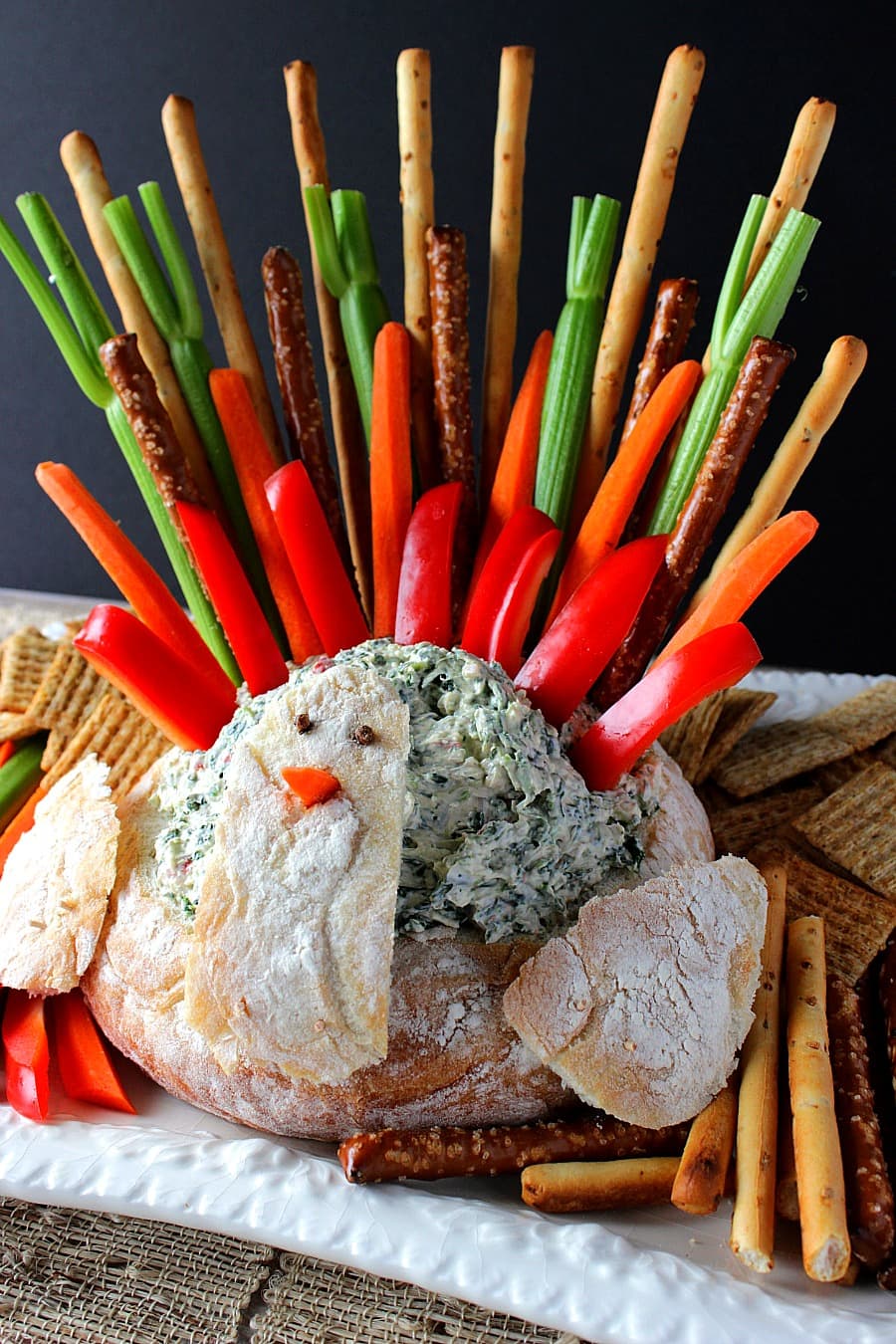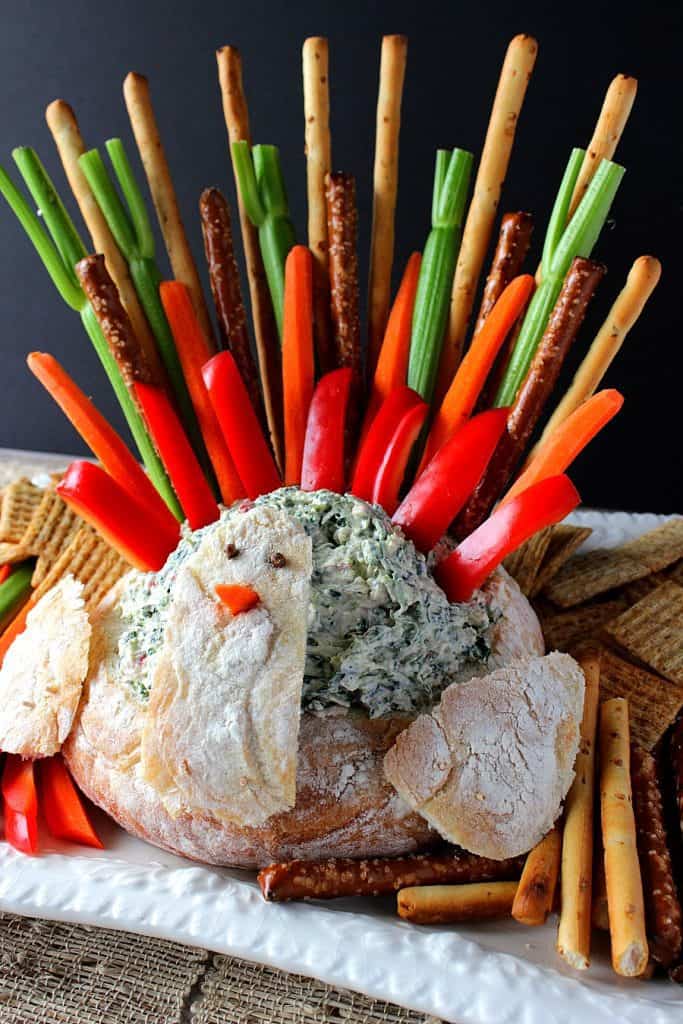 Tail feather tips and tricks:
When choosing (and inserting) the tail feathers, always go for eye-catching colors and textures, and remember to place the tallest feathers in the back, and then work the smaller feather ingredients into the front.

Feel free to play around with your favorite dippers. You can easily go with all pretzels and breadsticks, or you can go with all the vegetables.

Just make sure that your ingredients vary in size, and when you insert them into the dip that you splay them outwards, like a fan.
How to transport a turkey bread bowl?
If you're planning on transporting your turkey bread bowl appetizer already assembled, make sure to place him on a serving platter, and then find a box that is only slightly larger than the platter dimensions, so he won't slide from side to side while being transported. But, make sure the box is still tall enough to protect the tail feathers.

Or, you can bring all the components to your destination and then assemble him on-site. Of course, the wow factor won't be the same as arriving with him already assembled, but if you're putting him together on-site, then maybe this can become a fun project for your family and friends to do together. Either way, you and your family and friends will be very Thankful when you see (and eat) the results!

The easy instructions:
Prepare the long carrot sticks and celery ribs by washing, peeling, and slicing.

Thaw, and thoroughly squeeze and drain 1 bag of frozen spinach.

In a medium bowl, add cream cheese, drained pimentos, mayonnaise,

minced shallots, sliced scallions, one package of dry ranch dressing and dip, prepared horseradish, salt,

and

pepper.

Blend until creamy.


Stir the drained and dried spinach into the cream cheese mixture until thoroughly mixed.

At this point, you can refrigerate the dip until you're ready to prepare the turkey bread bowl.

To prepare the turkey, use a round, rustic loaf of bread. I used a store-bought boule (found in the bakery section).
Use a serrated knife to evenly slice the top

off

the bread and then hallow the loaf by picking out the interior of the bread, leaving only a bread bowl. *Note - the pieces of bread that have been removed can be used as

dippers

, or save and use for stuffing, bread crumbs, or meatballs.

Freezing the bread pieces can also be done.

Do NOT discard the top that you've sliced off as that will be used to make the wings and head of the turkey.
Wash, seed, and slice a red bell pepper.

Once your tail feathers are prepared (breadsticks and pretzel rods too), you're ready to begin assembling the turkey.

Mound the chilled spinach ranch dip into the turkey bread bowl.

Determine which side will the tail end and begin inserting the "feathers" making sure to start with the longest items in the back and work your way forward with the shorter items.

When you're adding the "feathers" make sure to splay them as a fan.

Using the top of the loaf that was sliced off, cut two shapes to resemble his wings.

Use toothpicks to attach the turkey wings to his body.

Once the wings are in place cut a long, rounded piece to resemble his neck and head.

Attach it using toothpicks and insert a small bit of carrot for the beak, and two whole cloves for the eyes.

The final step is to trim the toothpicks with scissors.

Place the turkey on a large serving platter and surround him with additional types of

dippers

(veggies, pretzels, breadsticks, and crackers).

Serve and ENJOY!


For many more delicious appetizer recipes from all around the web, please check out my popular Thanksgiving and Fall Appetizer Roundup.
Here's another party appetizer that will wow your friends and family! This recipe for Gruyere Cheese Fondue is the best! It's creamy and rich with just the right amount of white wine and a splash of nutty amaretto to keep things extra flavorful.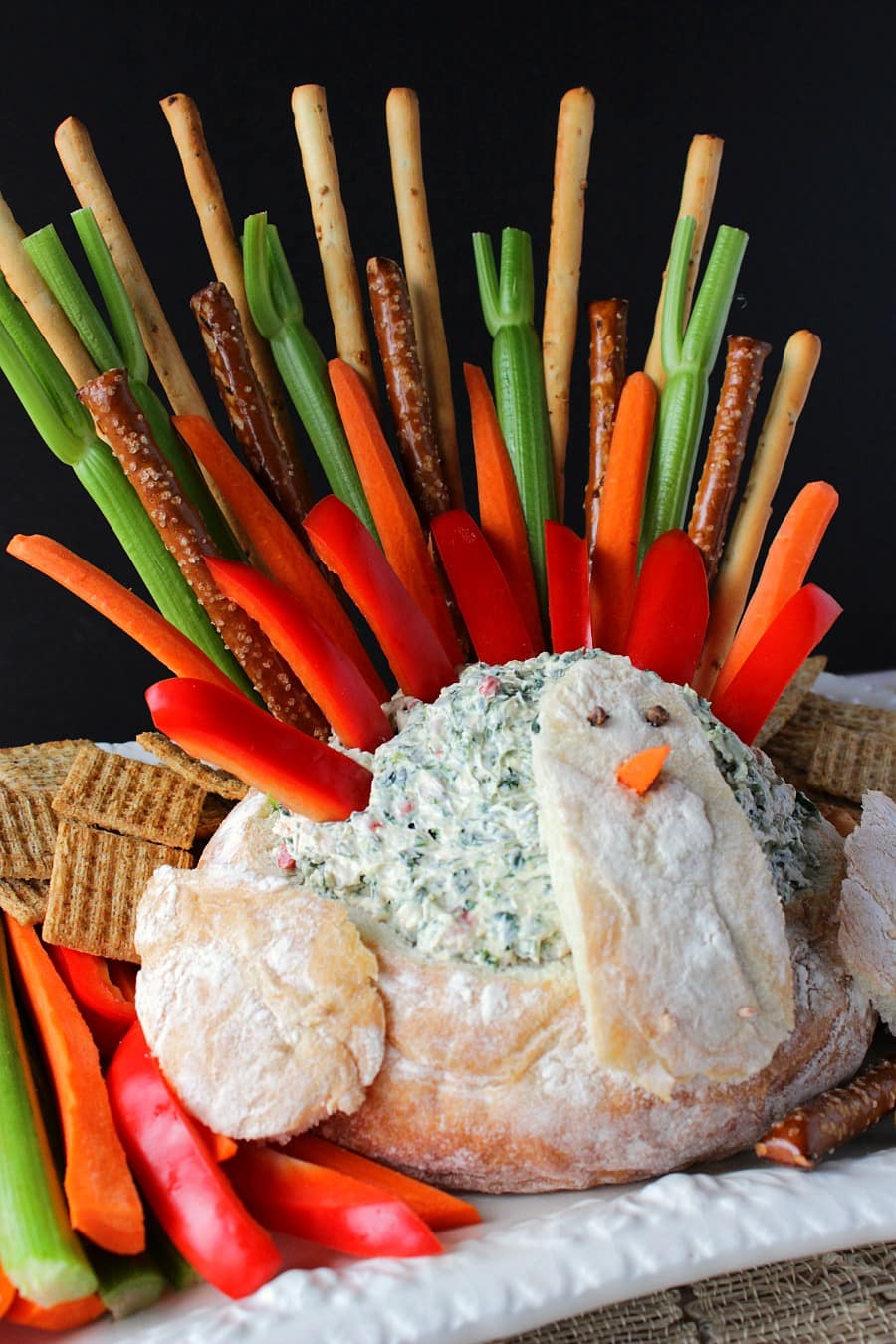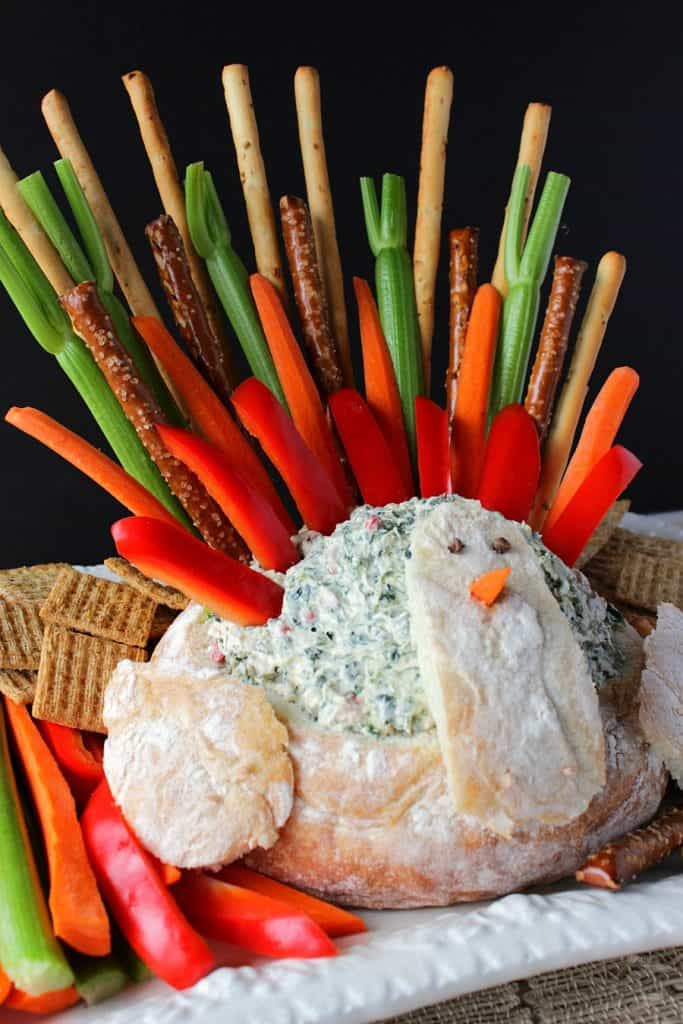 Below is the printable recipe card along with the nutritional information and instructions for making for today's showstopper turkey bread bowl.
When you make this recipe, and I hope you do, I'd appreciate it if you'd take a moment to leave a star rating on the recipe card and briefly comment on why you rated it as you did. FYI - Google appreciates recipe ratings and, in turn, will share my recipes with more people. Thank you so much!!
Printable Recipe Card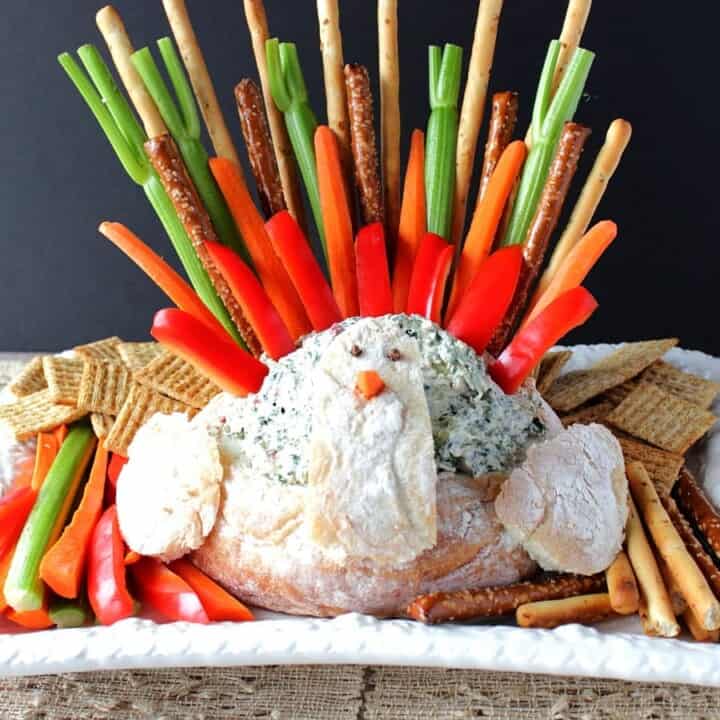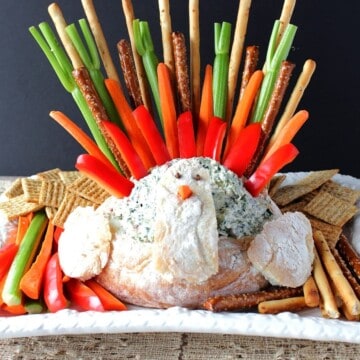 Showstopper Turkey Bread Bowl Appetizer with Creamy Spinach Ranch Dip
Fun and festive. This turkey bread bowl appetizer will charm and delight. He's as delicious as he is cute and is super easy to assemble.
Ingredients
For the dip:
2

8 ounce

cream cheese,

softened

3

tablespoons

diced pimentos

½

cup

mayonnaise

2

tablespoons

minced shallots

3

tablespoons

minced scallions white and green parts

1

bag (14-16 ounces)

frozen cut leaf spinach

thawed and squeezed dry

1

tablespoon

prepared ground horseradish

1

package

dry ranch dressing and dip

1

teaspoon

salt

¼

teaspoon

black pepper
For the turkey body;
1

round rustic bread loaf. I used a boule

2

whole cloves eyes

1

small carrot triangle beak
Suggestions for feathers;
long carrot sticks peeled and sliced

approximately 6"

long celery ribs cleaned and sliced

approximately 6"

pretzel rods

breadsticks

red pepper slices

green onions not shown

asparagus not shown

string cheeses not shown

string beans not shown
Instructions
To prepare the dip;
Prepare the dip by blending all the ingredients in a medium bowl. Cover and refrigerate until ready to assemble the turkey bread bowl.
To assemble the turkey;
Use a serrated knife to remove the top from the round bread loaf. Do NOT discard the top.

Hollow out the bread bowl by removing the soft bread interior and reserve those pieces for dippers, or another use altogether. Those bread pieces may be frozen if desired.

Mound the chilled dip into the bread bowl and insert the prepared tail feathers, into the dip, remembering to put the largest ones in the back and work forward with the smaller feathers.

Using a knife or scissors, fashion two wings, and one long neck and head out of the reserved top of the bread.

Use toothpicks to attach the head and wings onto the bread bowl.

Insert two cloves for eyes, and a small carrot triangle into the bread head.

Trim the toothpicks with scissors (reminding guests to be careful).

Place the turkey onto a platter and surround him with additional dippers of your choice: crackers, chips, veggies, breadsticks, pretzel rods, etc.
Notes
Tools and equipment;
serrated knife, toothpicks, chef's knife, cutting board, bowl, hand mixer, wooden spoon, scissors, serving platter
Nutrition
Serving:
0.25
cup
Calories:
147
kcal
Carbohydrates:
4
g
Protein:
0
g
Fat:
14
g
Saturated Fat:
2
g
Cholesterol:
8
mg
Sodium:
870
mg
Potassium:
37
mg
Fiber:
0
g
Sugar:
1
g
Vitamin A:
260
IU
Vitamin C:
7.8
mg
Calcium:
2
mg
Iron:
0.3
mg
I sincerely hope you've enjoyed today's Showstopper Thanksgiving Turkey Bread Bowl Appetizer as much as I've enjoyed bringing it to you!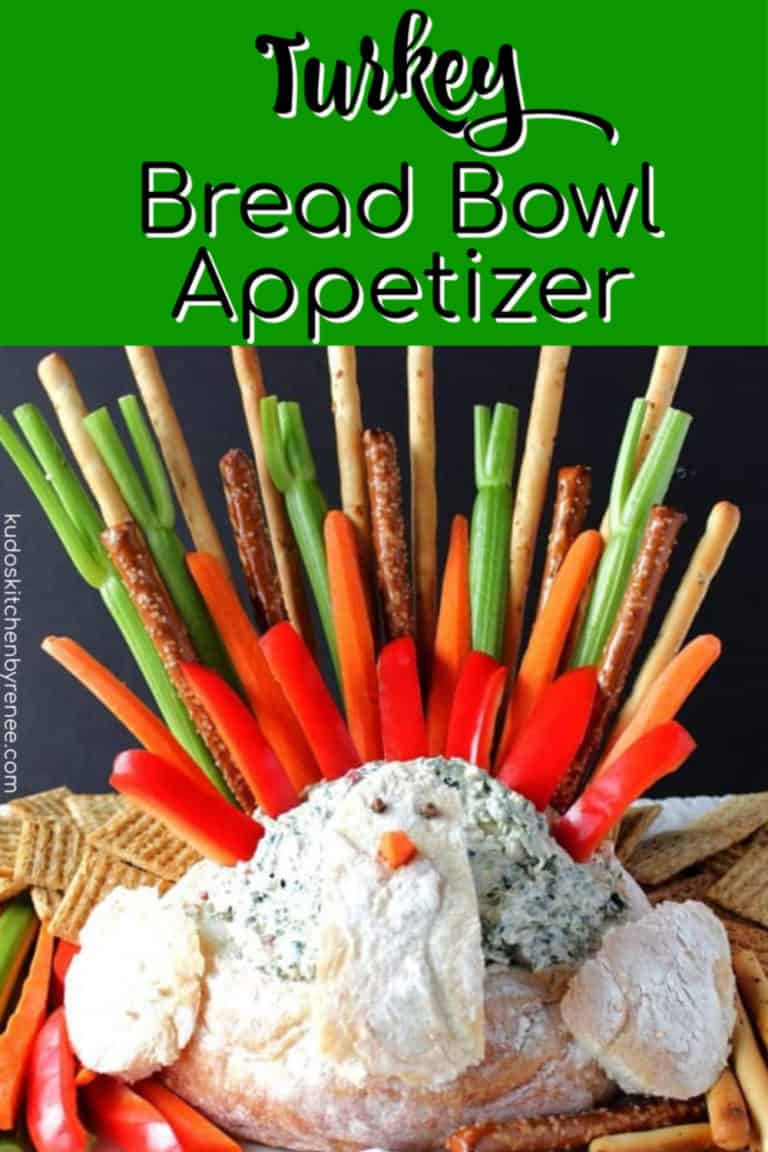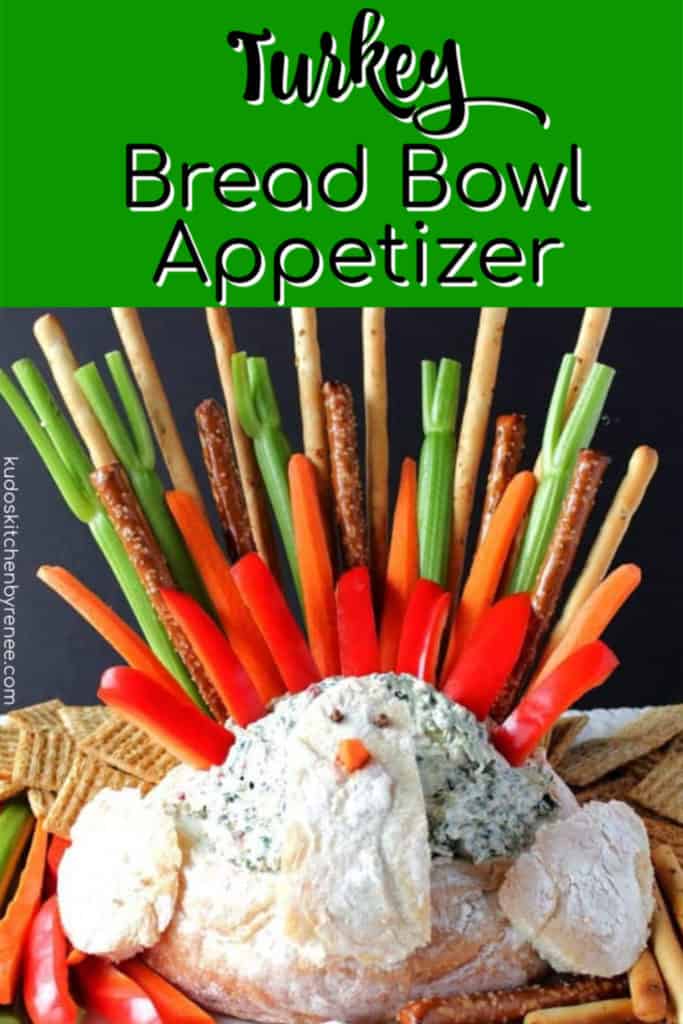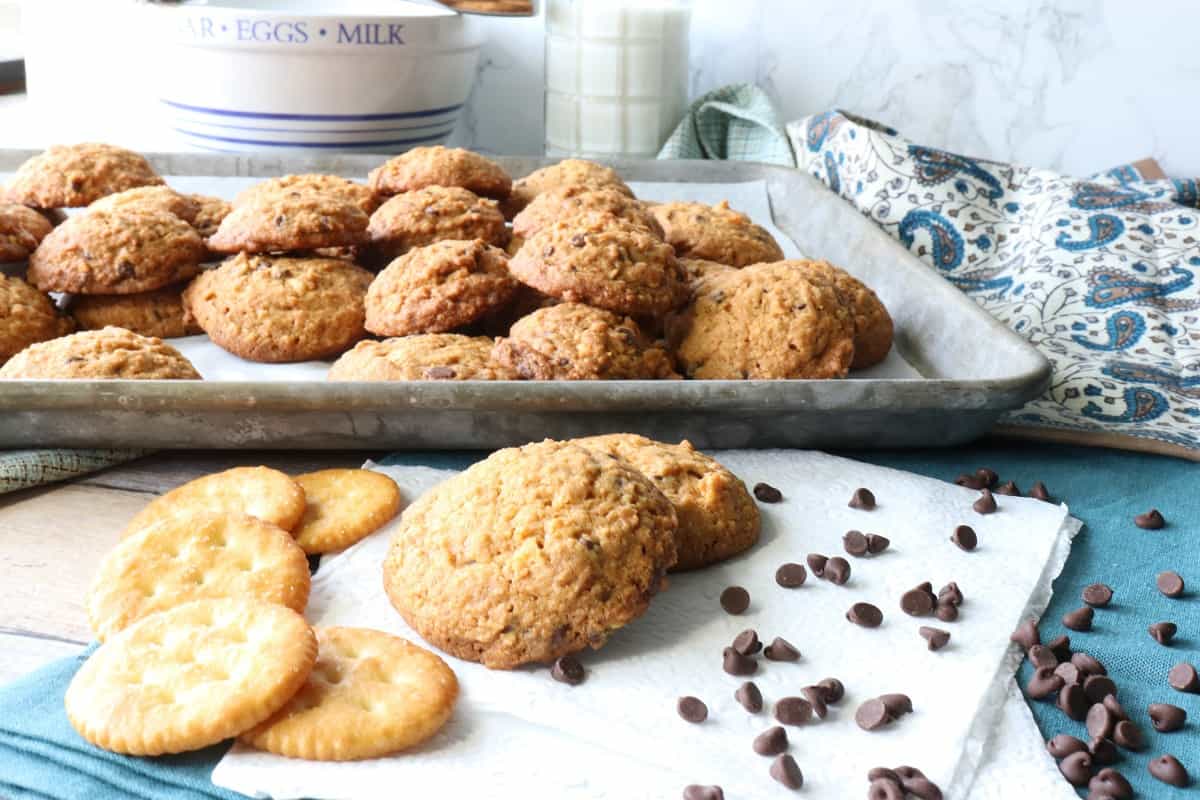 Follow me across my social media platforms and join in on the conversation: FACEBOOK, INSTAGRAM, PINTEREST, TIKTOK, AND YOUTUBE.
Thank you so much for visiting me today in my Kudos Kitchen. I hope you found something you'll love and that you'll come back and visit me often. There is always room for you around my table!
Should you have any questions or comments regarding anything you've seen here on my blog, please don't hesitate to reach out to me. It is always my distinct pleasure to respond to you just as soon as I possibly can.
Until we eat again, I hope you have a delicious day!!