Cool, refreshing and a little kicked up! This Boozy Fruit Cocktail is the perfect summer dessert or brunch starter for the 21-and-over crowd!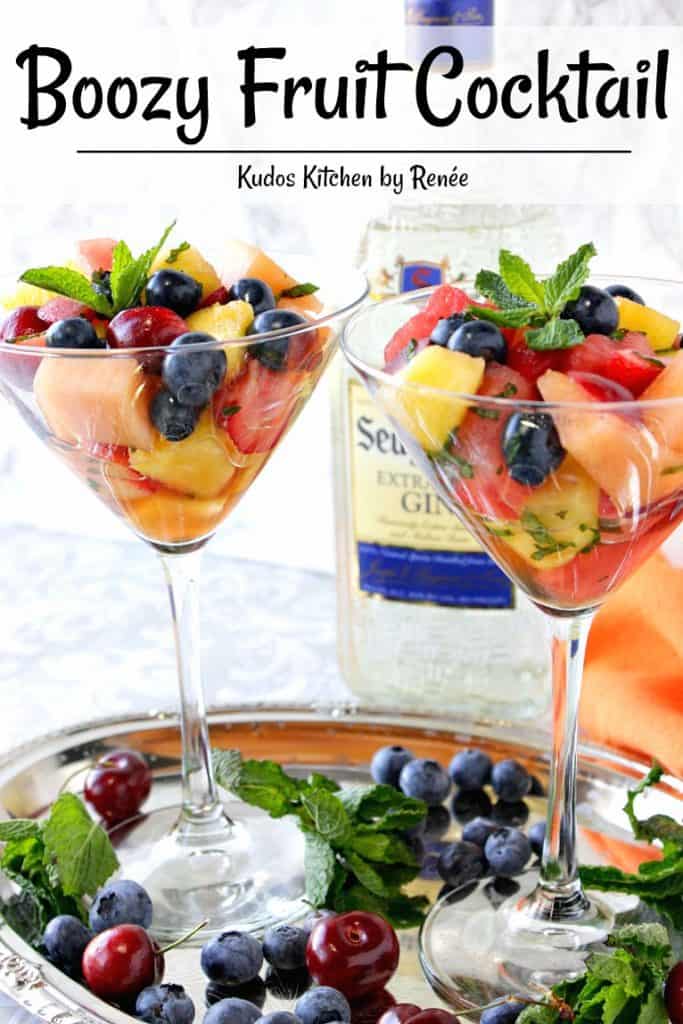 When you're looking to impress, but you don't have a lot of time to spend, you need to whip up a Boozy Fruit Cocktail, or two.
They're colorful, naturally sweet, and look very elegant when served in a few of your favorite cocktail glasses.
**Please Note – The printable recipe card with detailed instructions, complete ingredient measurements, and nutritional information for making adult fruit cocktail is available at the end of this post. OR you can hit the "jump to recipe" button (found above) to be taken directly to the recipe.
WANT TO SEE MORE FOOD VIDEOS AND FUN THINGS FROM ME? YES? GREAT!! CLICK THIS BOX TO LIKE AND SUBSCRIBE TO MY KUDOS KITCHEN CHANNEL ON YOUTUBE! I'LL SEE YOU THERE.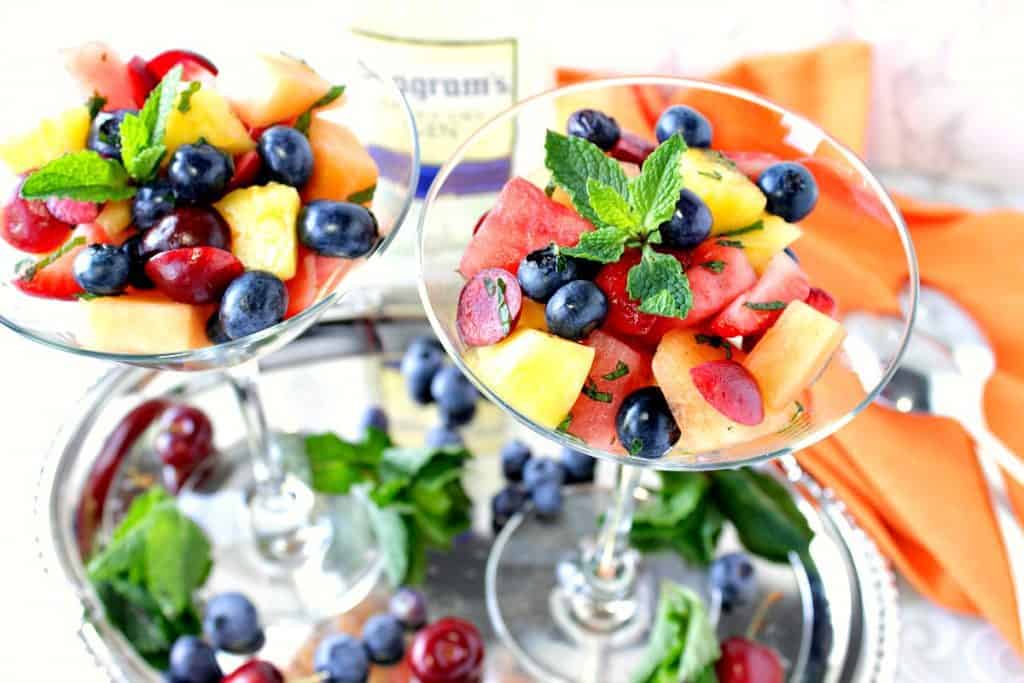 The ingredients:
The selection of fruits and berries I chose to use in my adult fruit cocktail are blueberries, cherries (pits removed and halved), watermelon, cantaloupe, pineapple, and strawberries.
But feel free to use whatever fruit is in season, or ones that are your favorites.
For each cocktail, I used roughly 1 cup of the mixed fruits and berries along with a ½ shot of gin, some fresh mint leaves, and a splash of pure vanilla extract for some extra added interest and flavor.
Eat the rainbow!
The thing that excites me the most about this Boozy Fruit Cocktail, besides the gin of course (hehe), is how colorful and visually appealing it is.
I honestly find it hard to rip my eyes away from Mother Nature's perfection when it comes to the colors she gifts us with every single day, and in every single way!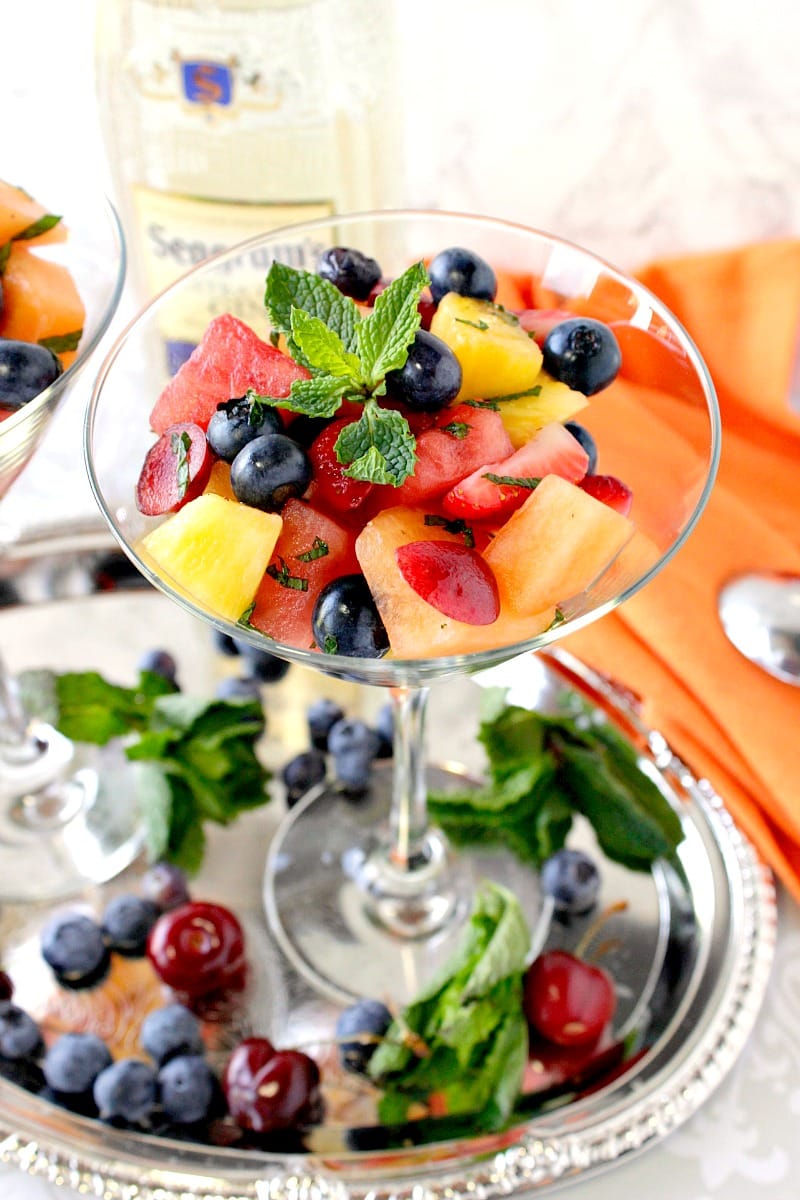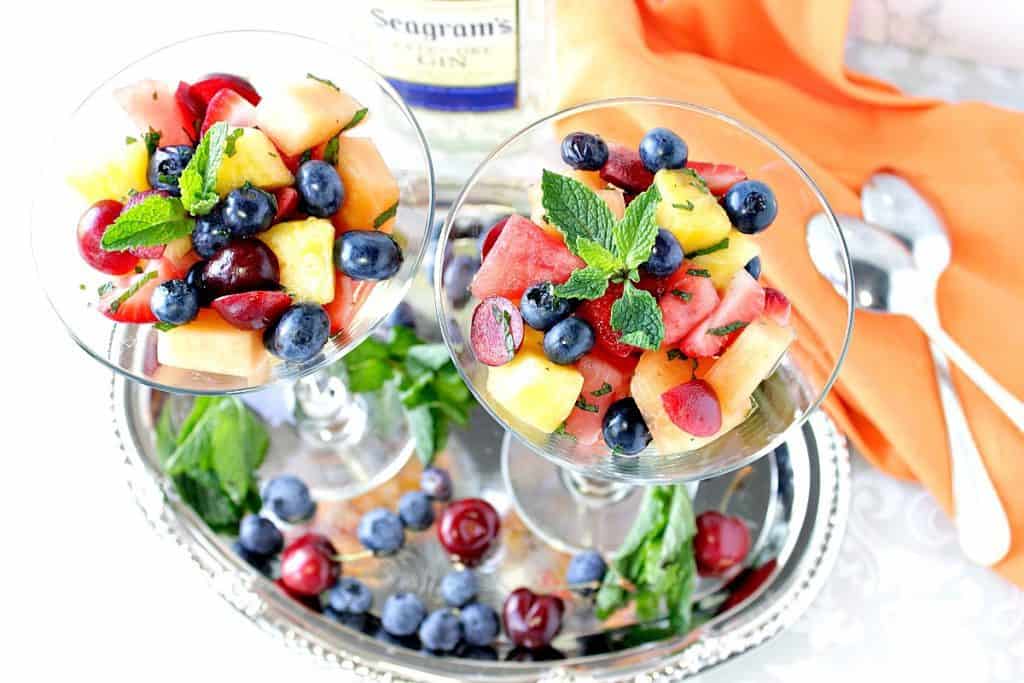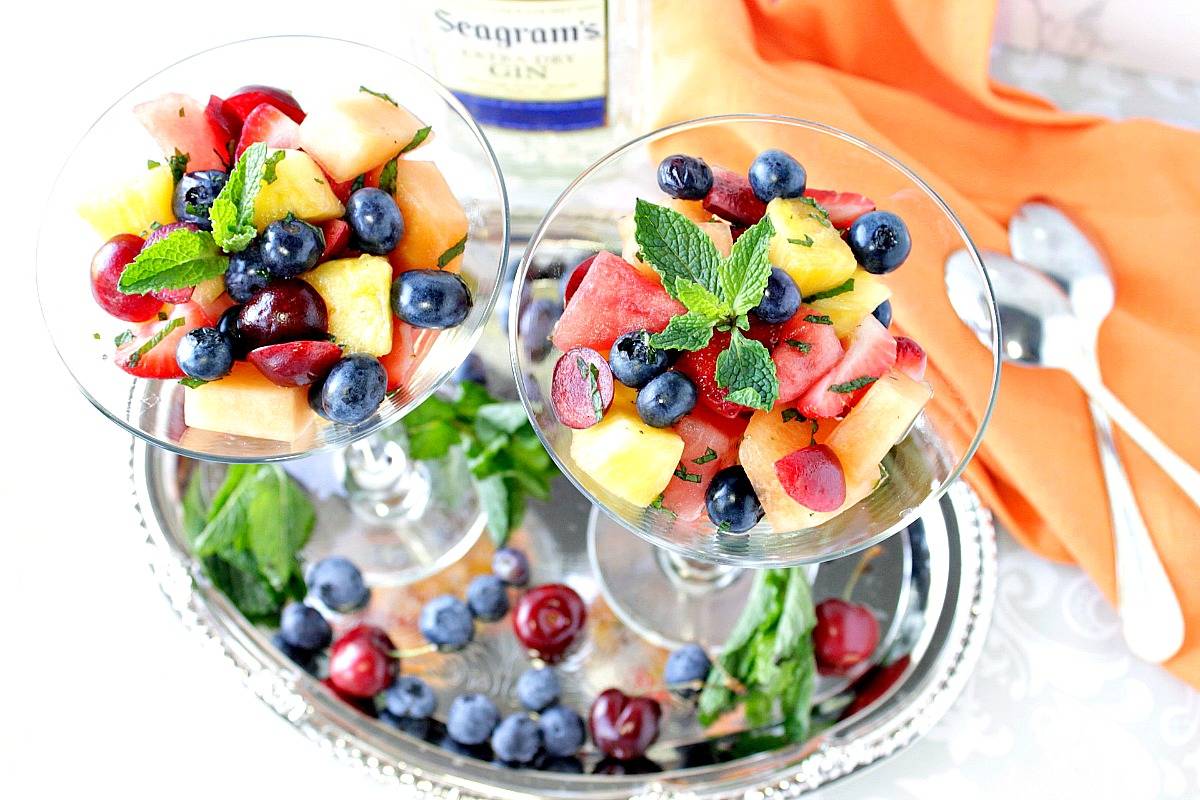 The easy presentation:
To prepare this dessert, I mixed all the fruit, alcohol, and vanilla extract in a bowl and carefully spooned the Boozy Fruit Cocktail into the martini glasses for an elegant presentation.
If you don't have martini glasses, don't fret. Wine glasses, rocks glasses, or even Margarita glasses will also look really striking.
And, if you're feeling extra adventurous, if you're using Margarita glasses, you might want to swap out tequila for the gin. Woo Hoo! That would also be delicious!
But IF you're doing that, then don't forget to lightly salt the rim of the glasses because if you've never tried fruit with a light pinch of salt, you don't know what you're missing!!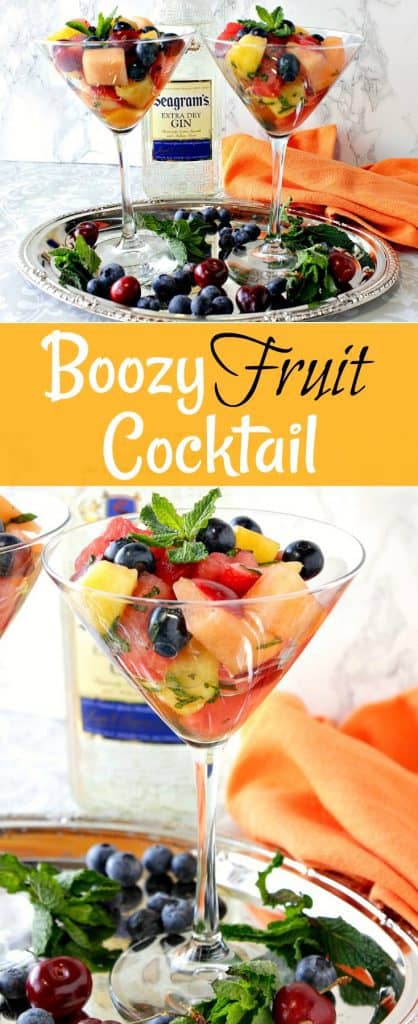 Does booze need to be added to this recipe?
Nope!
Special Note – If you're interested in making this recipe but don't want to use any booze, why not use a little ginger-ale or cream soda in place of the gin? This way anyone, of any age, can enjoy this luscious fresh fruit dessert.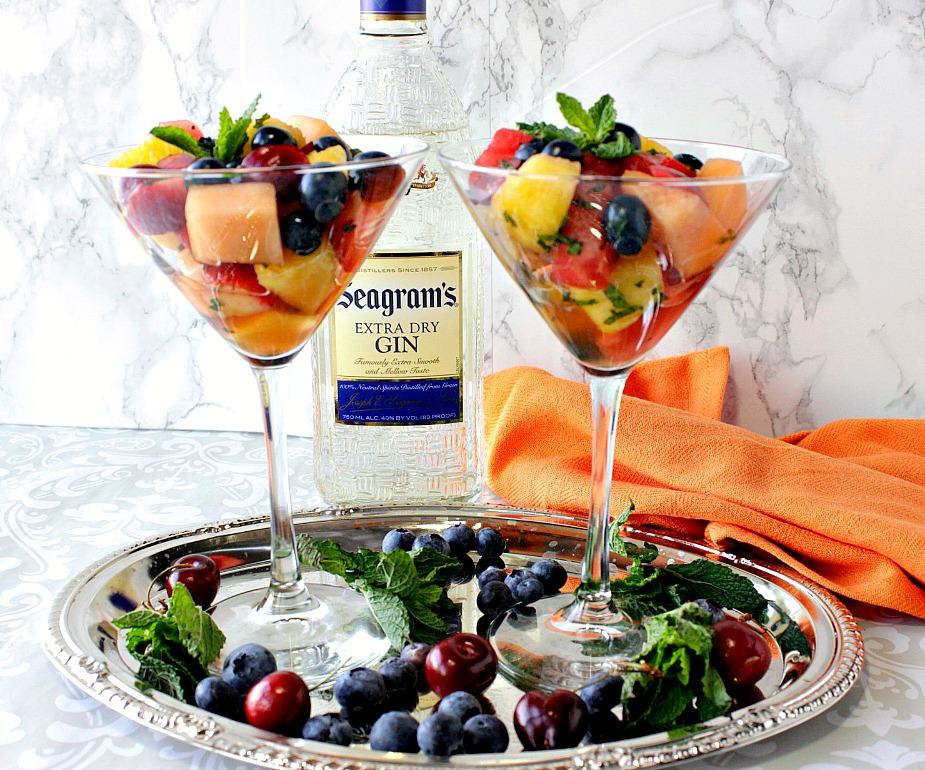 More recipes with fresh fruit:
Easy Lemon Ricotta Cake with Fresh Blueberries (pictured below)
Lemon Ricotta Cake with Blueberries is an easy cake to make. It has a creamy texture, a light lemony flavor, and it takes advantage of springtime's bounty of beautiful blueberries.
Avocado Mango Salad with Lime Poppy Seed Dressing
Strawberry Rhubarb Bread Pudding
Low Sugar Mixed Berry Sorbet (pictured below)
A delicious combination of Mother Nature's finest summer berries is pureed and then frozen, into this luscious and healthy low sugar Mixed Berry Sorbet.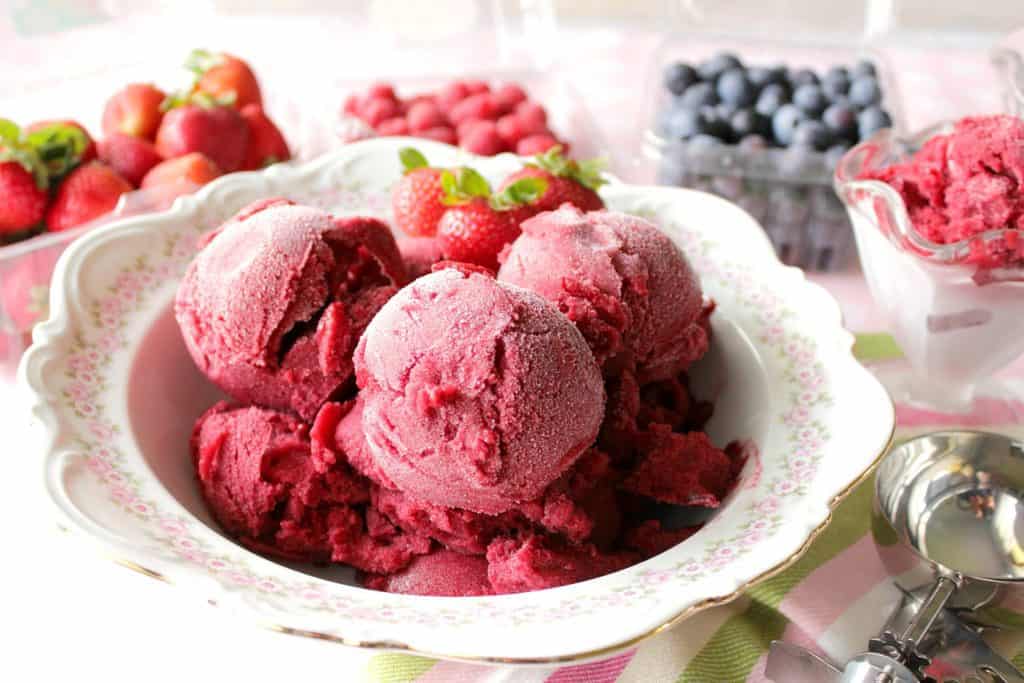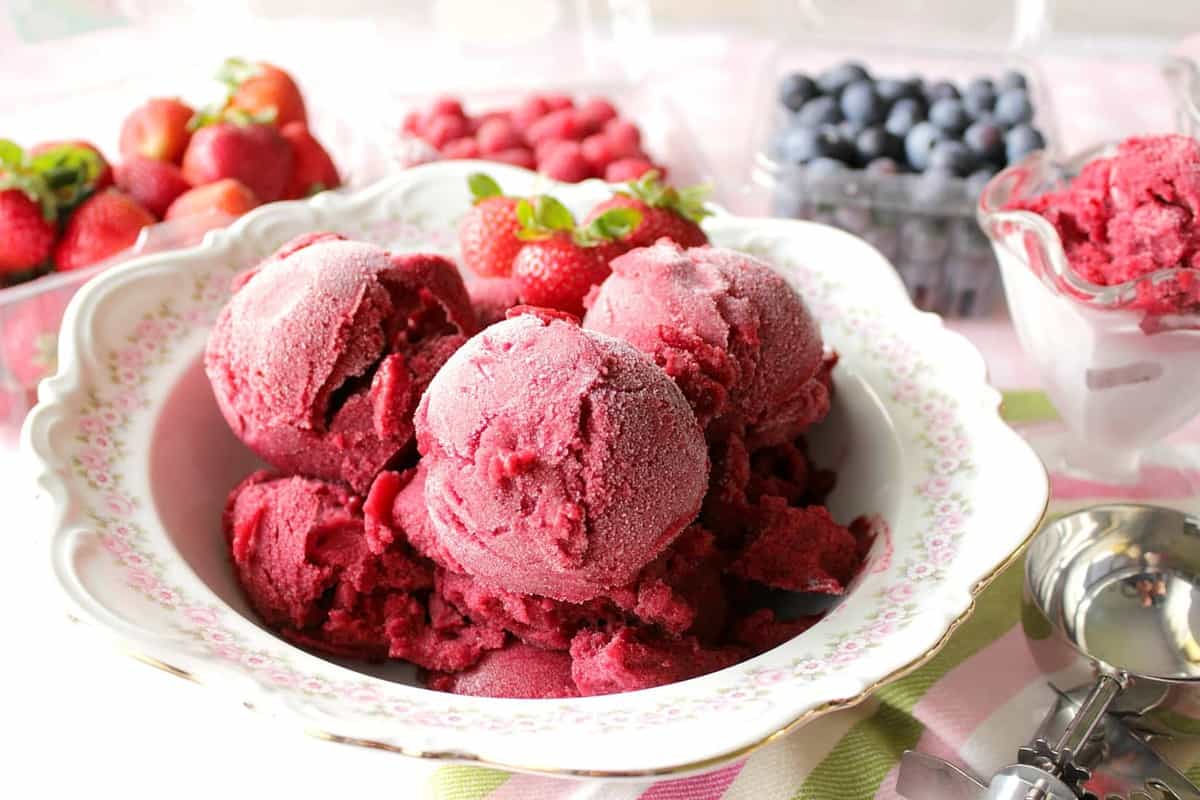 Strawberry Sun-Dried Tomato Basil Salad
Orzo Pasta Salad with Blueberries & Sweet Corn (pictured below)
Surprise Chilled Orzo Pasta Salad with Sweet Corn & Blueberries may be a little unexpected, but after your first bite, you'll keep coming back for more!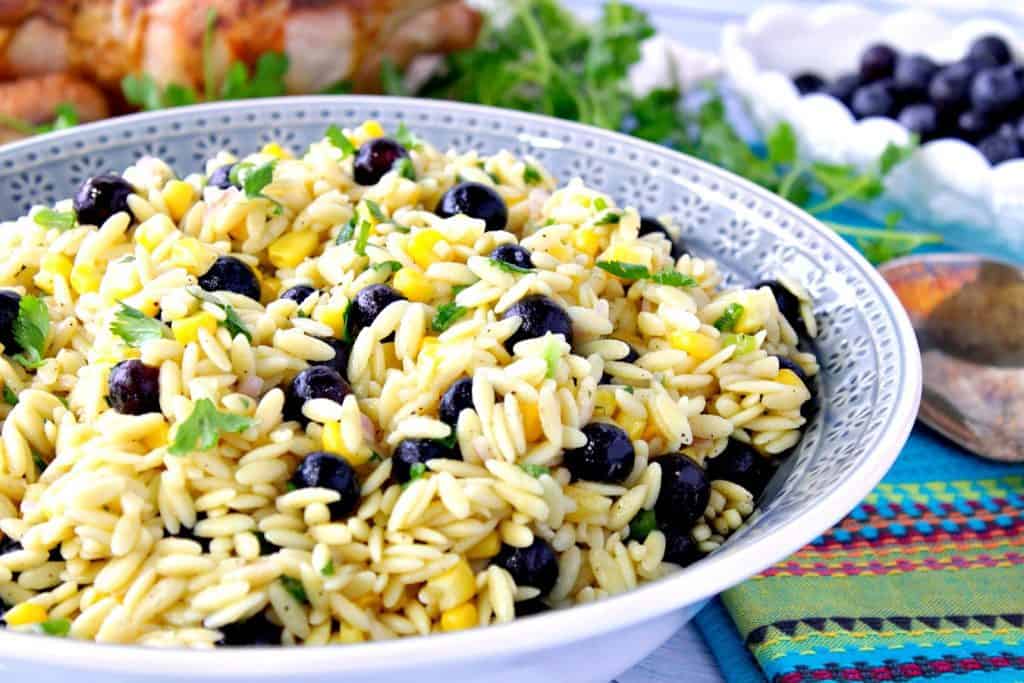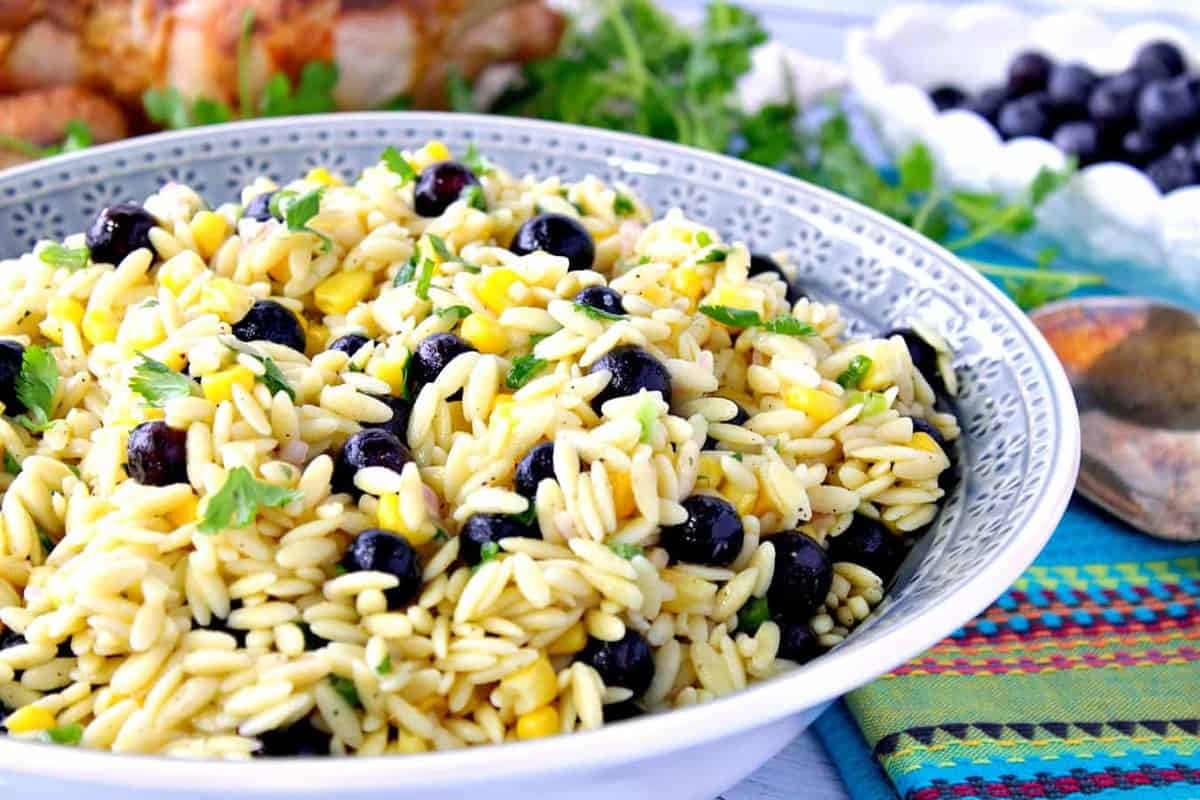 Other fabulous gin recipes:
Bon Appetite – 14 recipes with gin that aren't just gin and tonics
Serious Eats – 15 cocktails to make with gin
The Hungry Mouse – Homemade gin infusion
Want to make homemade gin?
Below are a few Amazon affiliate links below if you're interested in ordering some juniper berries, along with some links for various glassware items you may like.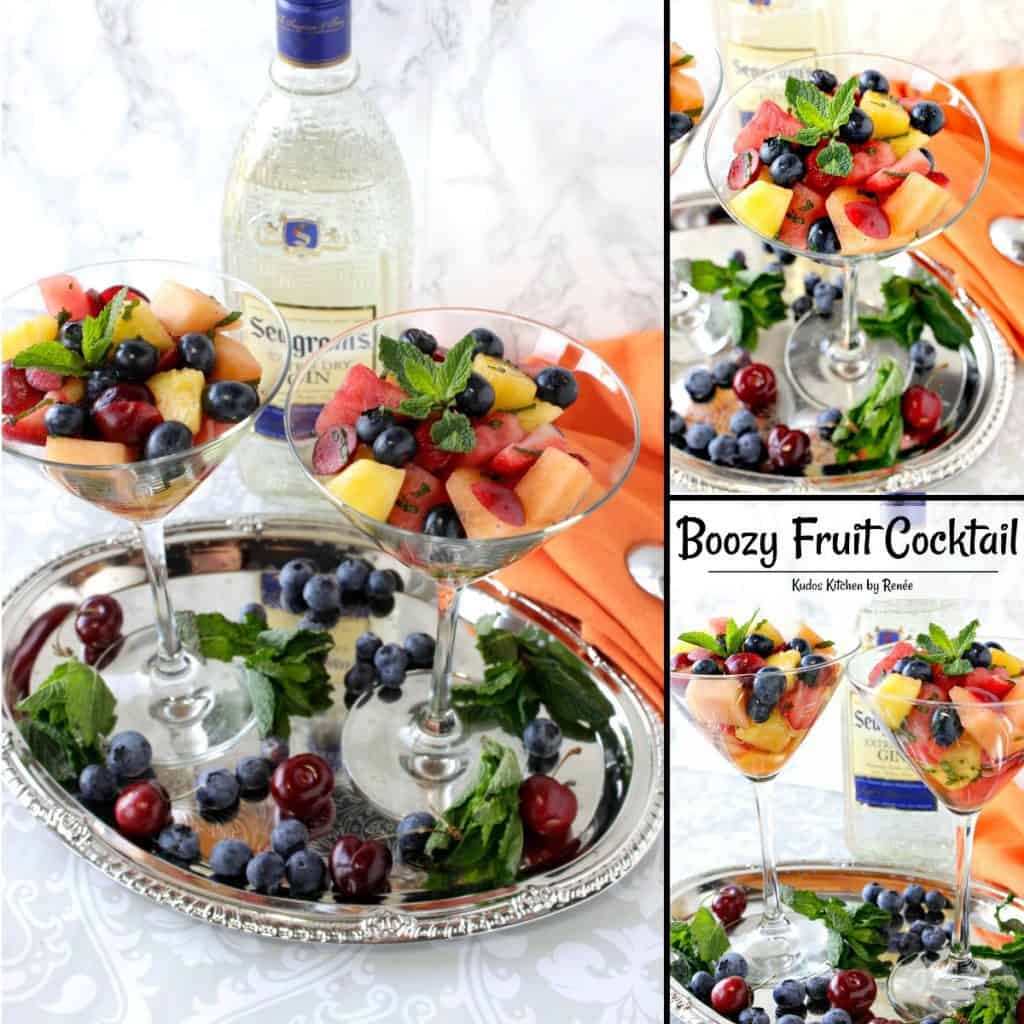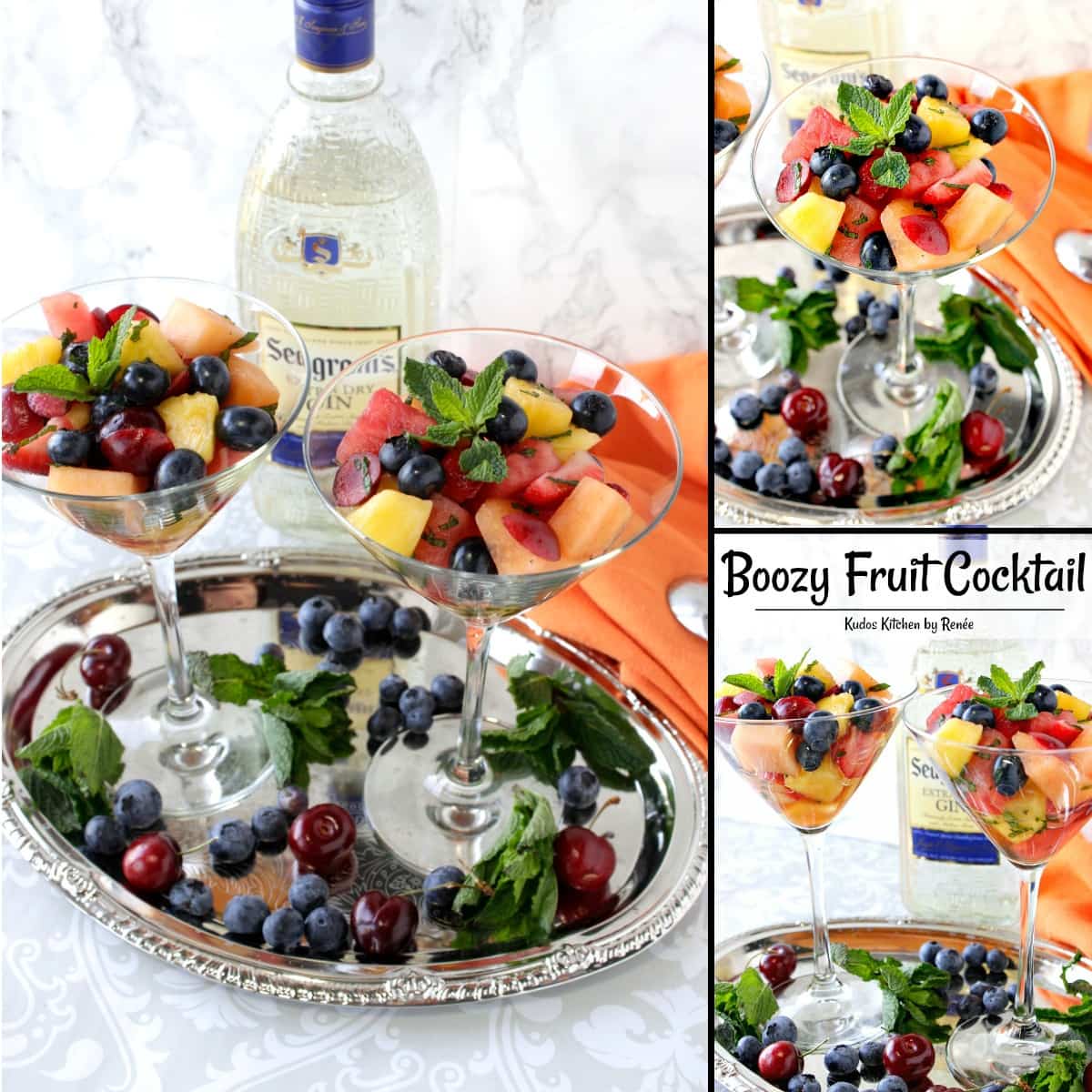 Below is the printable recipe card along with the exact ingredient measurements and nutritional information for making today's boozy fruit cocktail with gin and mint.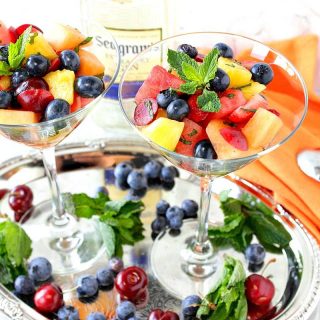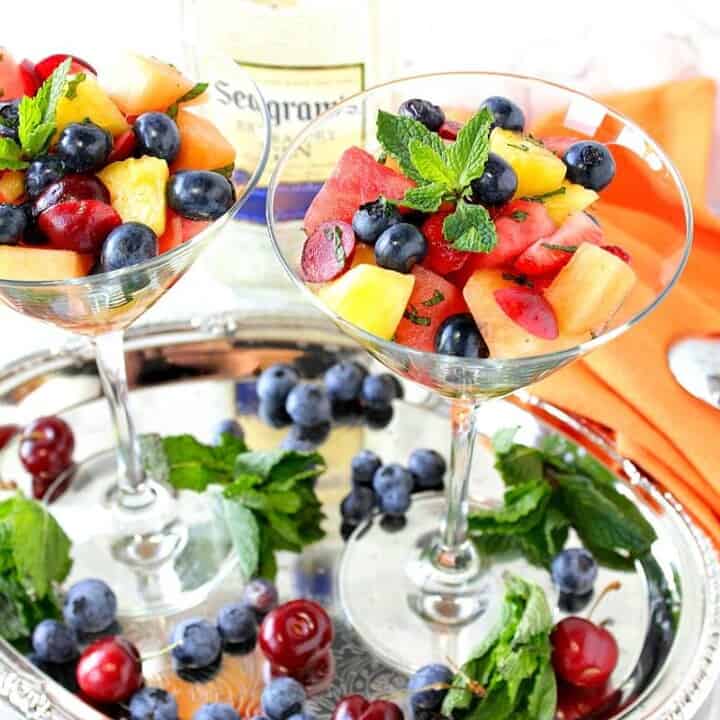 Boozy Fruit Cocktail with Gin & Mint
Cool, refreshing and a little kicked up! This Boozy Fruit Cocktail is the perfect summer dessert for the over 21 crowd!
Ingredients
¼

cup

watermelon chunks

cut into ½" pieces

¼

cup

pineapple chunks

cut into ½" pieces

¼

cup

fresh blueberries

¼

cantaloupe chunks

cut into ½" pieces

¼

cup

cherries

pitted and halved

¼

cup

halved

or quartered strawberries, hulled

1

shot gin

1

teaspoon

pure vanilla extract

½

teaspoon

fresh mint

sliced thinly, plus additional whole leaves for garnish (optional)
Instructions
Place all the ingredients in a bowl (except for garnish) and gently mix.

Spoon the fruit and liquid into 2 serving vessels of your choice.

Garnish with fresh mint leaves if desired.

Chill until ready to serve.
Notes
Special Note - To make this recipe without the alcohol, swap out ginger-ale or cream soda for the gin.
Nutrition
Thank you so much for visiting me here today in my Kudos Kitchen!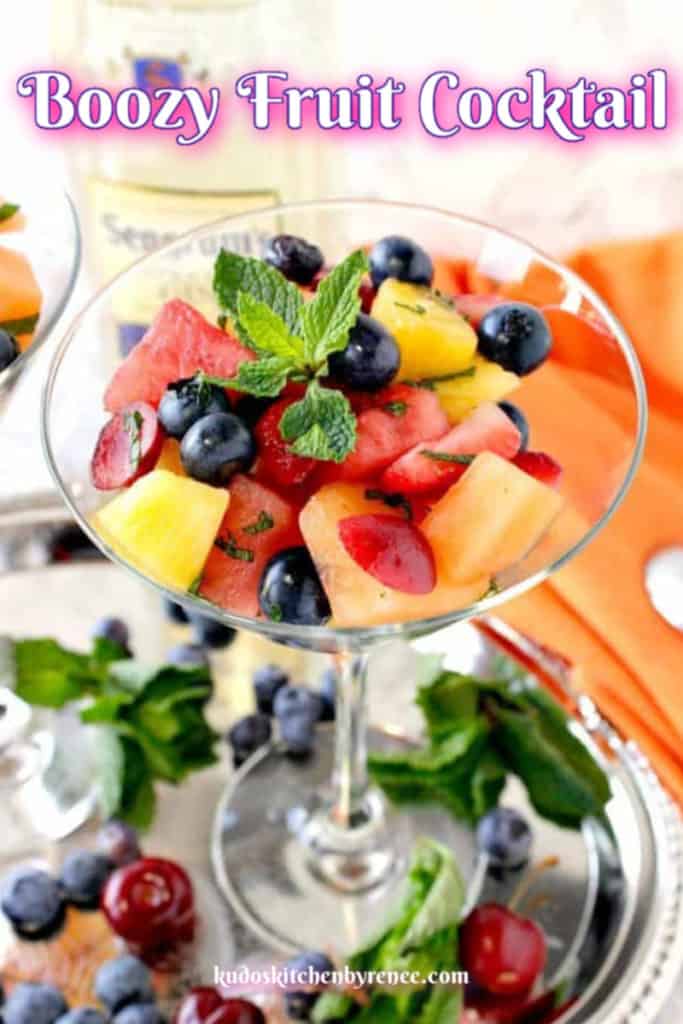 Should you have any questions or comments regarding this recipe or anything else you've seen on my site, please don't hesitate to reach out to me. It is always my distinct pleasure to get back with a reply just as soon as I possibly can!
**Note – The post above includes affiliate links. As always, I truly thank you for your support!