Sweet, savory, bourbon, and buttery. These better Bourbon Bacon Baked Sweet Potatoes are like a party for your mouth.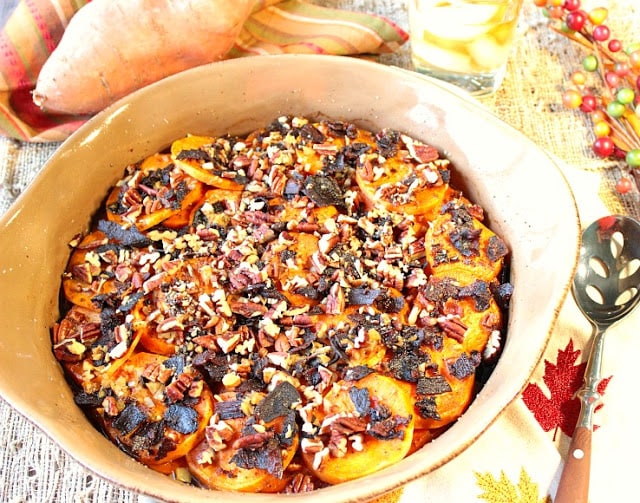 *Disclaimer - This recipe was originally published in 2015. I'm working hard to update all my older recipes with recipe cards, new photos, and additional recipe information. But, getting to all of them will take time. Please bear with me. In the meantime let me assure you that this recipe is still a winner and one I'm sure you'll be well pleased with when you make it at home.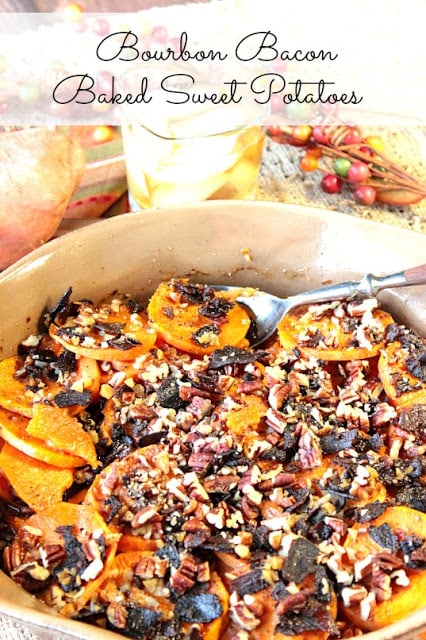 These potatoes will knock your socks off. Literally. Even if you don't think you're a fan of sweet potatoes, I urge you to try these. They're not overly sweet like some sweet potato dishes are, and they're nicely balanced between sweet and savory.
I have a confession to make. I burned my bacon (as you can see from the photos) and I didn't have any more in the house so it wasn't like I could start again. Whoops. Stuff happens. That said, I decided to use it anyway, and just consider it extra crispy.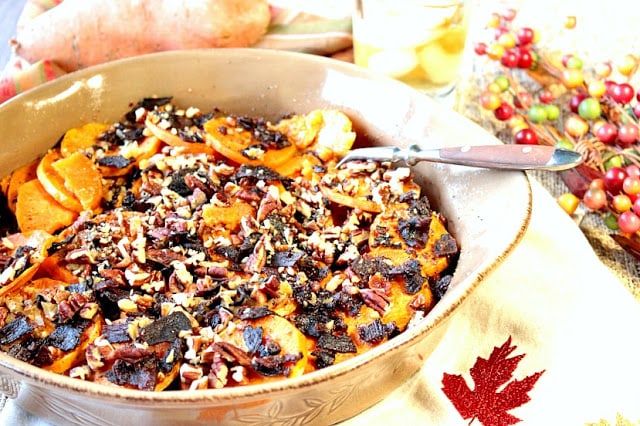 The thing is, these Bourbon Bacon Baked Sweet Potatoes are so good that even the extra crispy bacon couldn't (and didn't) detract from how good they are! So good in fact that my husband and I were oohing and aahing with every bite.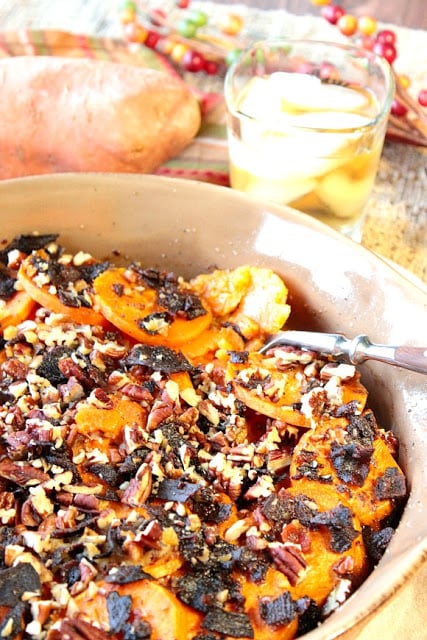 BOURBON BACON BAKED SWEET POTATOES
Serves: 6 - 8 Prep Time: 15 minutes Bake time: 45-50 minutes
3 large sweet potatoes, peeled and sliced into ¼" rounds
1 tablespoon olive oil
salt and pepper
4 tablespoons butter
3 tablespoons brown sugar
2 cloves garlic, minced
¼ cup bourbon
1 teaspoon salt
7 slices of bacon, cooked and crumbled
½ cup chopped pecans
Shallow gratin dish
-Preheat the oven to 350 degrees.
-Lay the potato slices in an overlapping pattern at the bottom of the gratin dish. Drizzle the potatoes with olive oil and season with salt and pepper. If you have additional potato slices, do a second layer just like the first.
-In a small saucepan over medium heat, melt the butter. Stir in the brown sugar and garlic. Continue stirring to dissolve the sugar. Remove from heat and stir in the bourbon, 1 teaspoon salt, and the precooked and crumbled bacon.
-Pour the bourbon sauce over evenly over the potato slices. Top with the chopped pecans. Cover the dish with foil and bake in a preheated oven for 45-50 minutes or until the potatoes are fork-tender.
-Serve hot and enjoy!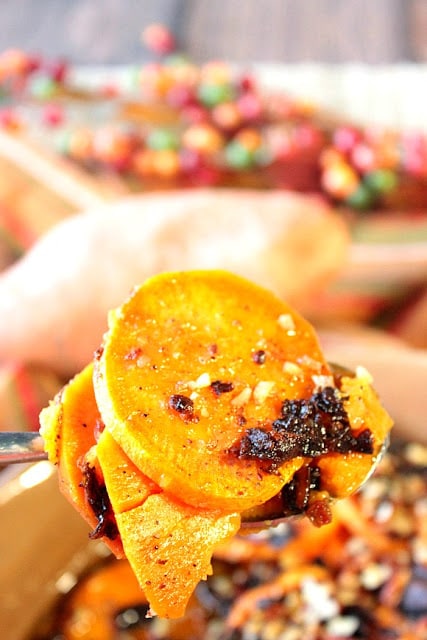 Thank you so much for visiting me today in my Kudos Kitchen. I hope you found something you'll love and that you'll come back and visit me often. There is always room for you around my table!
Should you have any questions or comments regarding anything you've seen here on my blog, please don't hesitate to reach out to me. It is always my distinct pleasure to respond to you just as soon as I possibly can.