Hawaiian Pineapple Chicken Thighs are a moist and flavorful family favorite that comes together in a snap with the help of the slow cooker.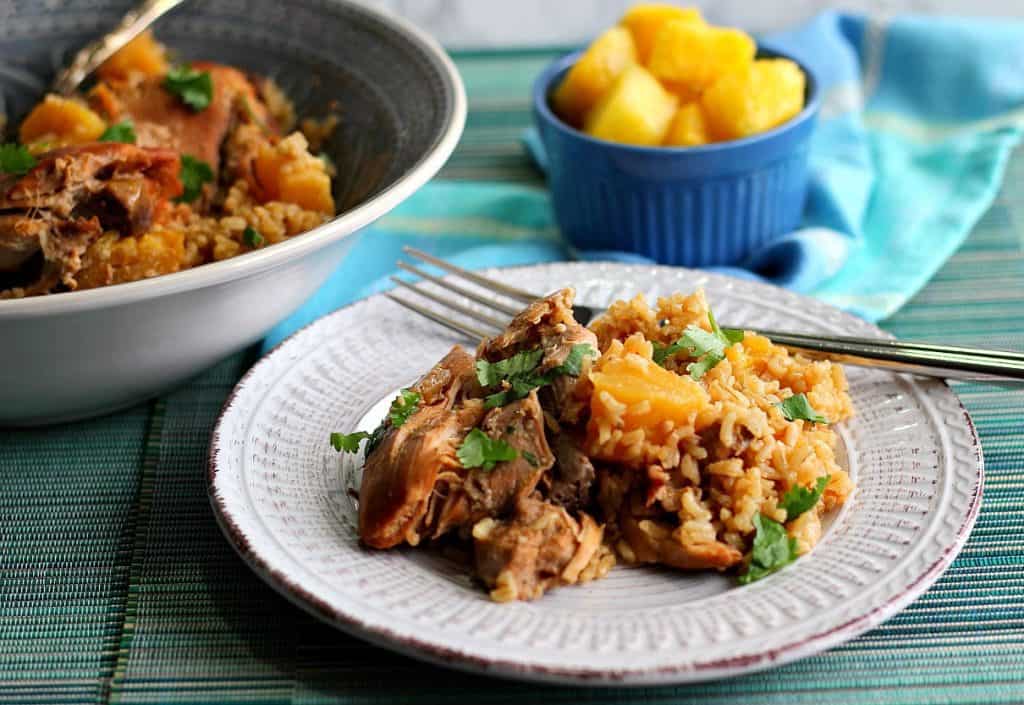 After a long and busy day, this recipe for Succulent Slow Cooker Hawaiian Pineapple Chicken Thighs will become your new best (dinnertime) friend, and will leave your family asking for "moa," which is Hawaiian for chicken!
**Please Note – The printable recipe card with detailed instructions, complete ingredient measurements, and nutritional information for making Slow Cooker Hawaiian Pineapple Chicken is available at the end of this post. OR you can hit the "jump to recipe" text (found below) to be taken directly to the recipe.
Jump to Recipe
WANT TO SEE MORE FOOD VIDEOS AND FUN THINGS FROM ME? YES? GREAT!! CLICK THIS BOX TO LIKE AND SUBSCRIBE TO MY KUDOS KITCHEN CHANNEL ON YOUTUBE! I'LL SEE YOU THERE.
*Disclaimer – This recipe was originally published in 2017. I'm working hard to update all my older recipes with recipe cards and additional recipe information, but getting to all of them will take time. Please bear with me. In the meantime let me assure you that this recipe is still a winner and one I'm sure you'll be well pleased with when you make it at home.
Boneless, skinless chicken thighs make me happy! It may sound like an overly simplistic statement, but it's true. I've always been a fan of the tender dark meat of the chicken thighs because (to me) they're the most flavorful part of the chicken.
In addition to chicken thighs being the tastiest part of the chicken, their tender dark meat always stays moist and meaty no matter how you cook them, and they never seem to dry out and become chewy as chicken breasts sometimes do. Since I like to buy boneless skinless chicken thighs when they're on sale in the market it I almost always have them on hand in my freezer.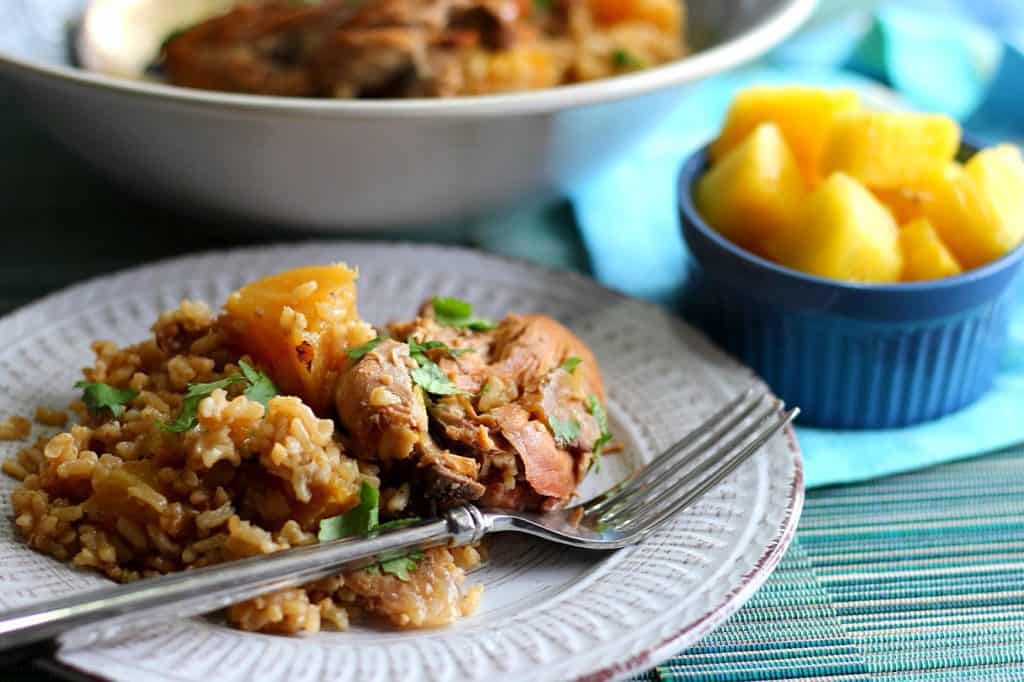 This recipe for Hawaiian Pineapple Chicken Thighs came about when I also had an abundance of pineapple juice in the fridge after making my Golden Statute Prosecco Cocktails to sip on while watching this year's Academy Awards. By the way, did you see that mix-up at the end when they announced La La Land for best picture and the award was really meant for Moonlight? That was priceless, and was (by far) my favorite part of the entire show. LOL
But I digress, back to the Hawaiian Pineapple Chicken Thighs, and how they came into being…
Since I also have a (new) thing for canned coconut milk (not sure where that one came from, but it's a versatile ingredient to have on hand), I decided to combine the pineapple juice and coconut milk. From there I added a few other simple pantry ingredients and then poured it into the slow cooker along with a family-sized package of (thawed), boneless and skinless chicken thighs.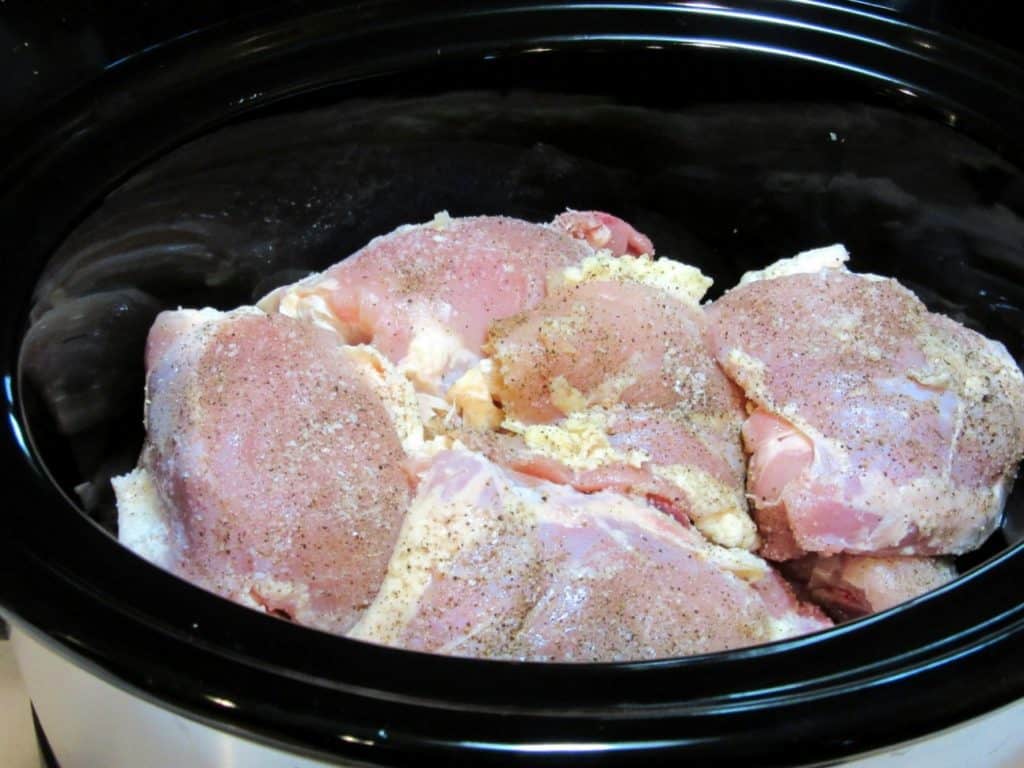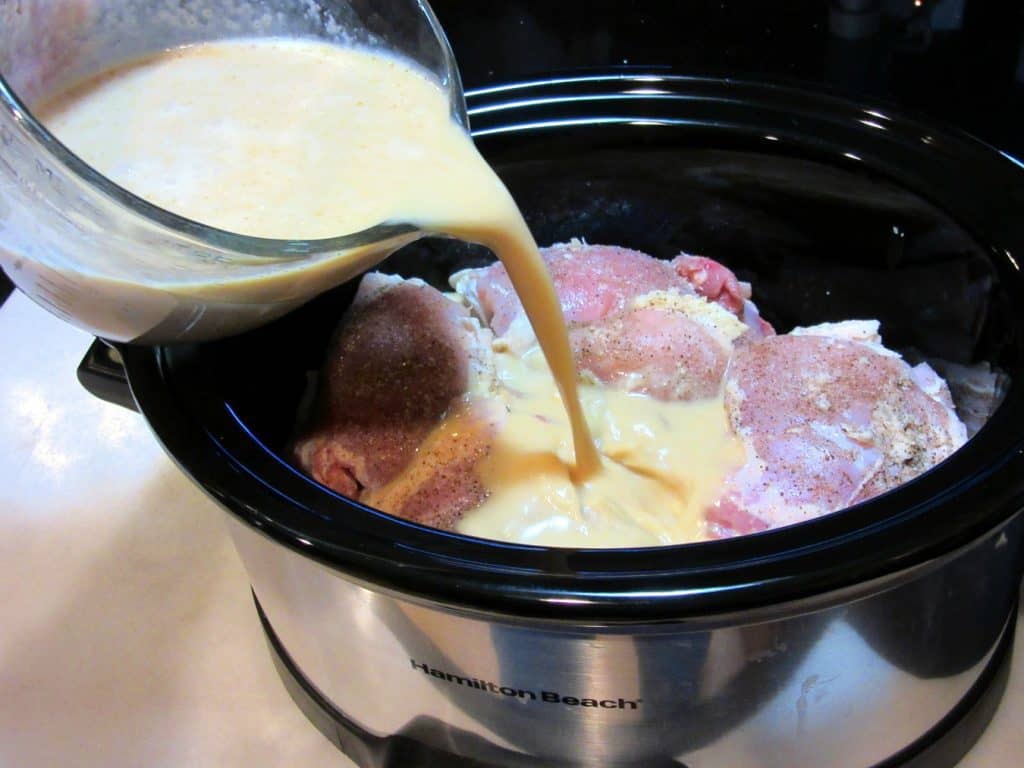 If you're wondering where the brown rice comes in, stick with me. I have a surprise for you a little later.
To the base ingredients for the sauce (the pineapple juice and coconut milk), I added a bit of teriyaki sauce, some minced garlic, and the slightest touch of sesame oil to make things interesting. It was a good call if I do say so myself!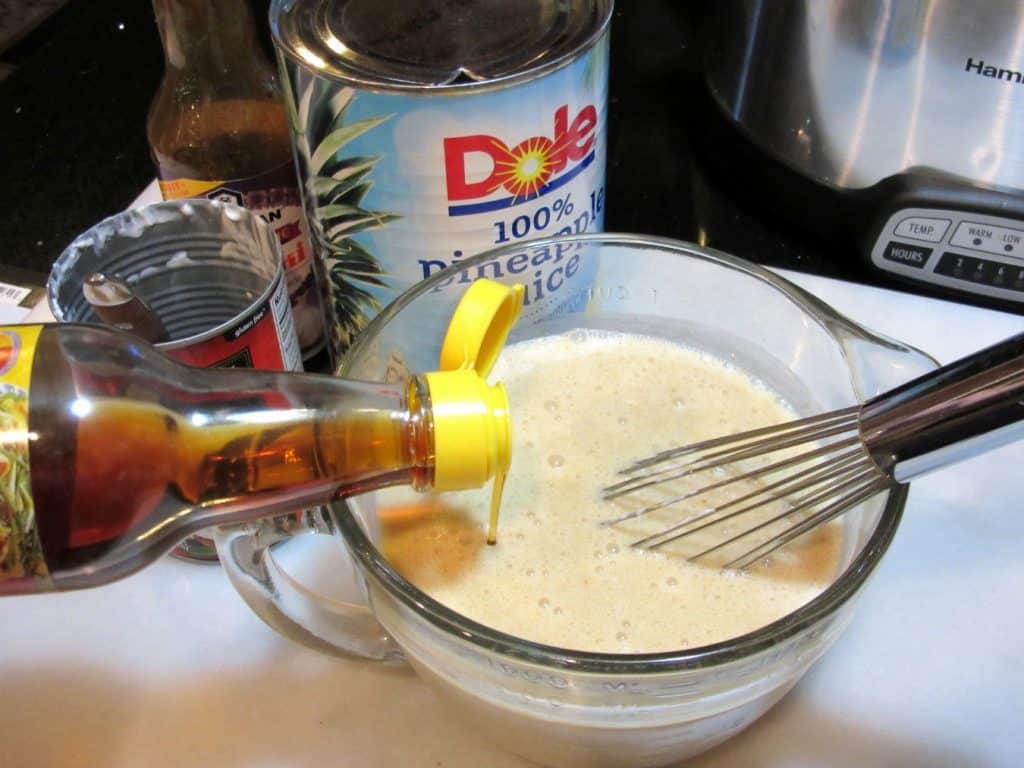 Once I added everything into the slow cooker, I tossed in some chunked pineapple, because pineapple is tasty, and because I hear that it helps melt away belly fat. So please, pay no attention to that coconut milk I added a short while ago! Ha Ha!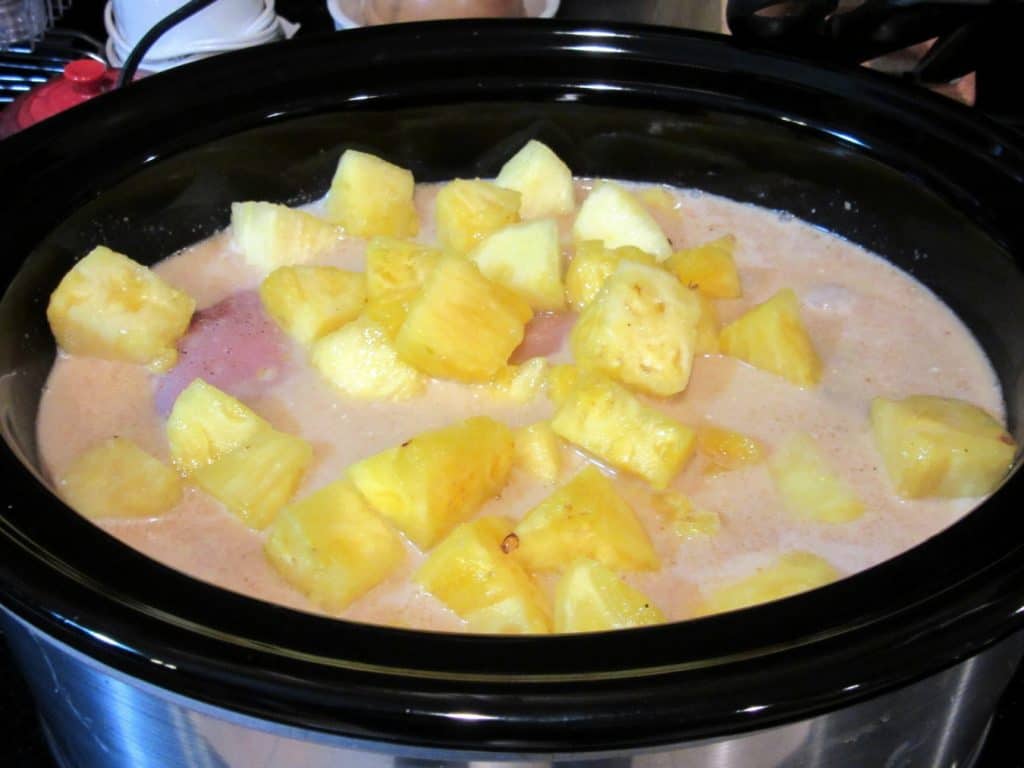 Cover the cooker and set to high for 5-6 hours. It will look like this with the chicken will being thoroughly cooked and incredibly flavorful.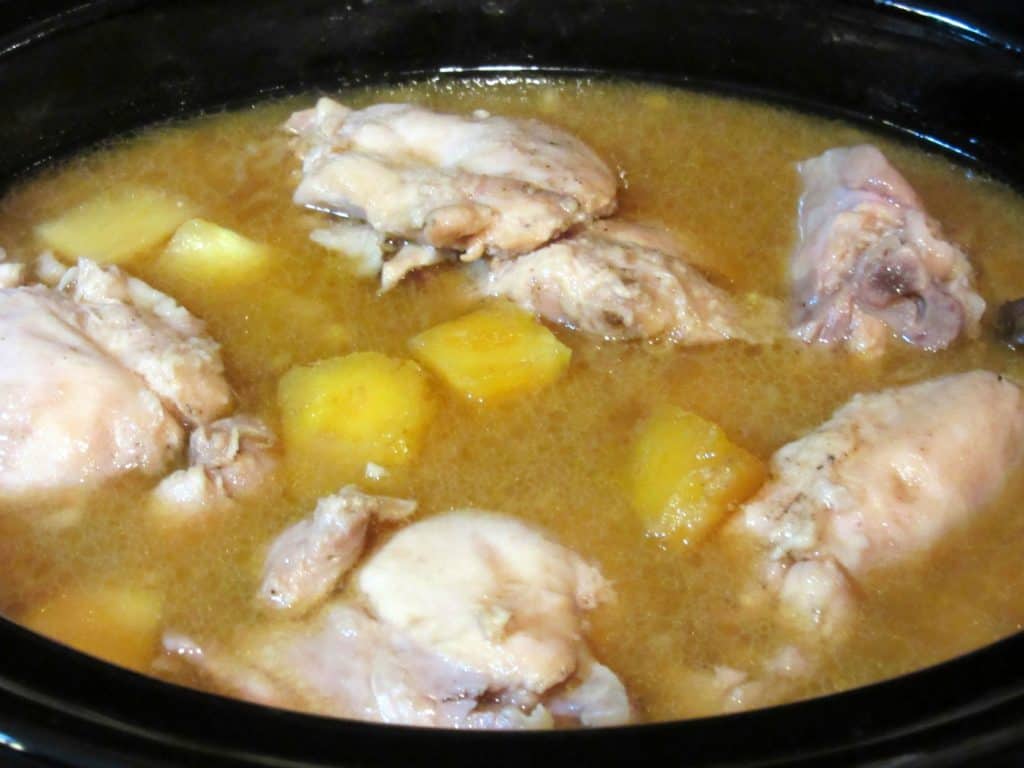 Remember that brown rice trick I was talking about earlier?
If you want to get the most flavor from your rice (I used an instant brown rice), ladle the chicken cooking liquid from the slow cooker into a saucepan, following the box instructions. Use that as a substitute for the plain water (called for on the box) when making the rice. The results will completely compliment the flavor of the Hawaiian Pineapple Chicken Thighs and will tie the flavor of chicken and rice together nicely.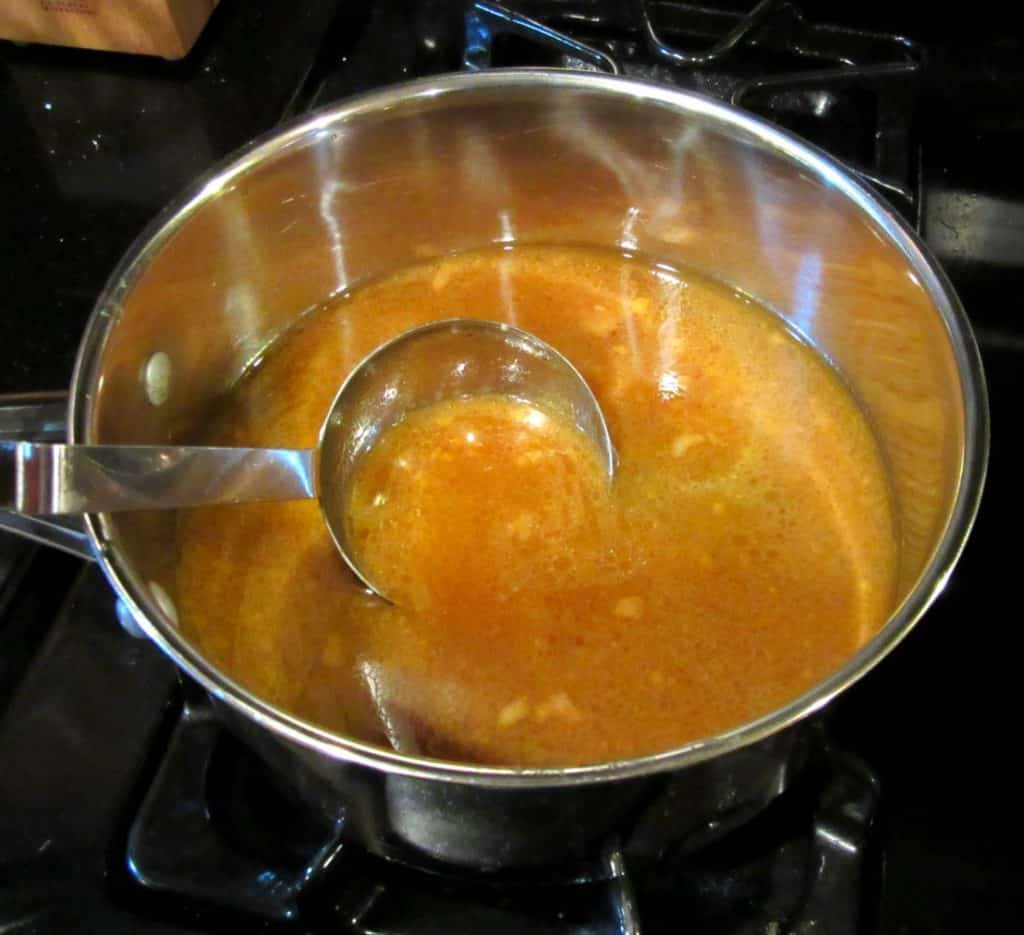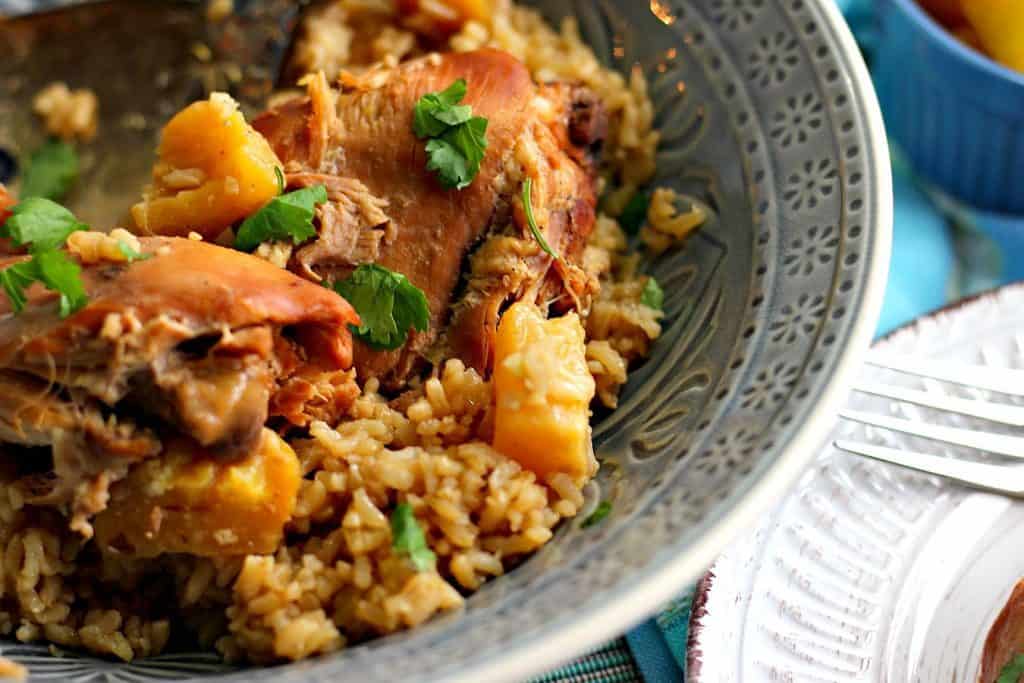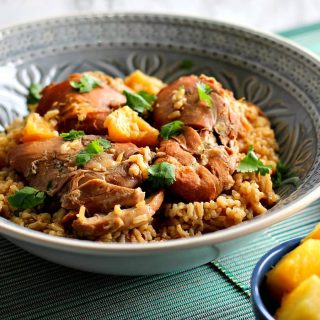 Succulent Slow Cooker Hawaiian Pineapple Chicken Thighs Over Brown Rice
After a long and busy day, this recipe for Succulent Slow Cooker Hawaiian Pineapple Chicken Thighs will become your new best (dinnertime) friend, and will leave your family asking for "moa," which is Hawaiian for chicken!
Ingredients
For the chicken:

4 -5

pounds

boneless

skinless chicken thighs seasoned with salt and pepper

1

can

13 ounces coconut milk (I used light)

1

cup

pineapple juice

3

tablespoons

teriyaki sauce

2

cloves

minced garlic

1

teaspoon

sesame oil

3

cups

chunked pineapple

cilantro for garnish

optional

For the rice:

1½

cups

cooking liquid

after the chicken is fully cooked

3

cups

instant brown rice

2

tablespoons

butter
Instructions
To make the chicken:

Add the seasoned chicken thighs to the slow cooker.

In a medium bowl whisk together the coconut milk, pineapple juice, teriyaki sauce, garlic and sesame oil. Pour the liquid over the chicken.

Add the chunked pineapple to the cooker. Cover and cook on high for 5-6 hours.

To make the rice:

Ladle the cooking liquid into a medium saucepan and add the butter.

Bring to a simmer and stir in the rice.

Cover the pan and allow to sit for 5-7 minutes. Fluff with a fork.

To serve top the rice with the chicken and pineapple and garnish with chopped cilantro if desired.
Nutrition
Serving:
0
Calories:
0
kcal
Carbohydrates:
0
g
Protein:
0
g
Fat:
0
g
Saturated Fat:
0
g
Polyunsaturated Fat:
0
g
Monounsaturated Fat:
0
g
Trans Fat:
0
g
Cholesterol:
0
mg
Sodium:
0
mg
Potassium:
0
mg
Fiber:
0
g
Sugar:
0
g
Vitamin A:
0
IU
Vitamin C:
0
mg
Calcium:
0
mg
Iron:
0
mg
Are you a lover of slow cooker recipes, or known by your family and friends as "Queen of the Crock?" If so, then this hand painted apron design of mine may be something you need in your life 🙂 This design can be personalized with any name upon request.
All of the aprons I paint on are a high quality 65/35 cotton poly blend. Each apron has extra long ties, adjustable neck straps and two large front pockets. I paint my aprons with bright vivid fabric paint that is heat set upon completion for durability and long life. Each apron is completely machine washable and dryable (no fabric softener please). Every item I ship is painted to order and unique. If there is something you'd like me to paint for you, please contact me to discuss your design, and for a price quote. Custom orders are always welcome and I will happily paint and design from any idea, description or photo you send my way.
Kudos Kitchen by Renée ~ Where food, art, and fun collide each and every day!
Until we eat again, I hope you have a delicious day!