Baked Chicken Thighs with Everything-Seasoning is a super simple and quick cooking meal. This delicious dish is also economical, tender, and oh so flavorful!
**Note - The following recipe post or category contains affiliate links (highlighted in blue) for your consideration. By clicking on a link I may earn a small commission at no additional cost to you. Thank you!
I was inspired to make these baked chicken thighs with everything seasoning when I made my quick Homemade Everything Spice Blend for, well, everything...certainly not just bagels!
Jump to:
The ingredients:
*Please note that the exact measurements along with a new "shop the recipe" feature from Instacart is available in the printable recipe card.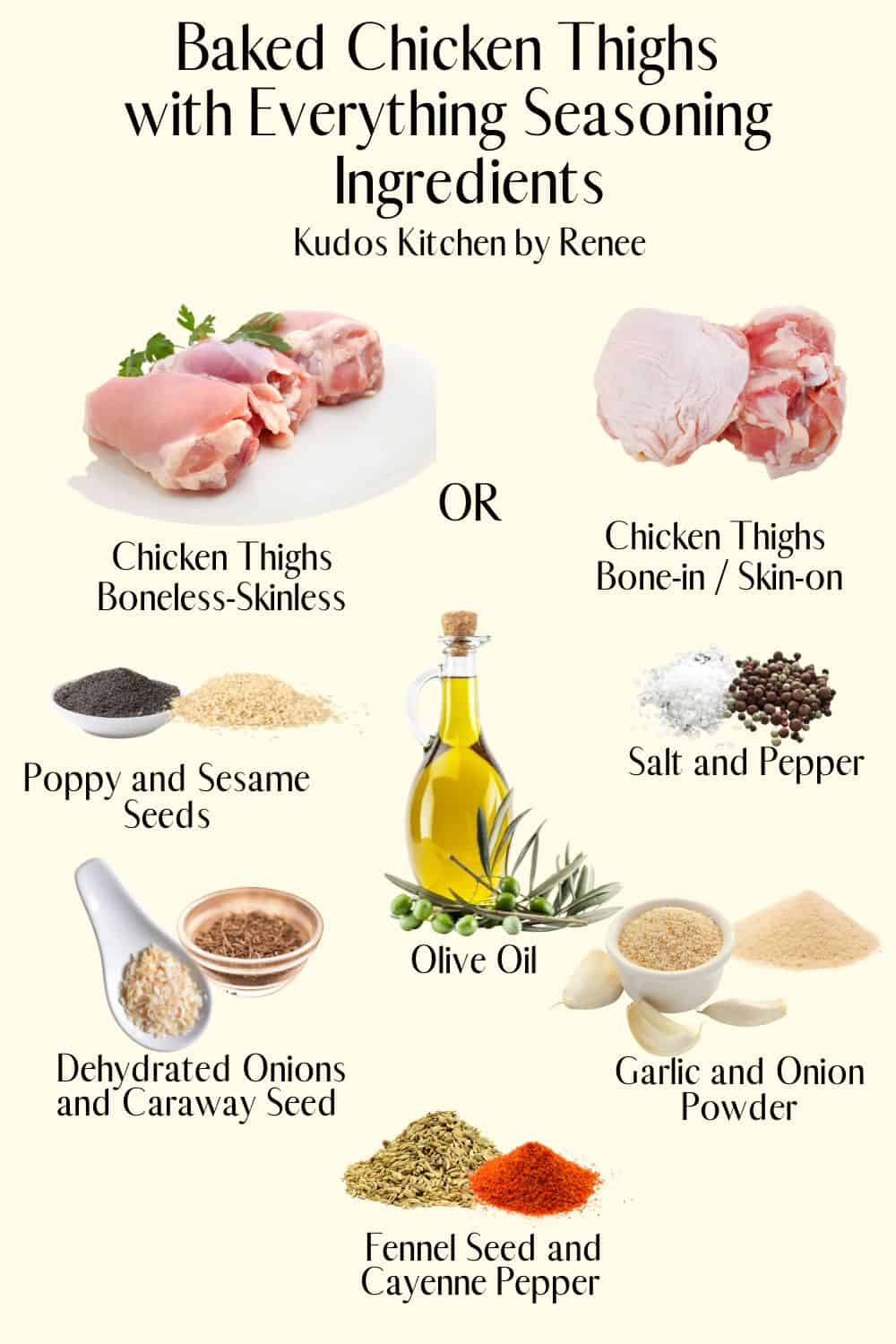 The above ingredient image was made using Canva Design. It's one of my very favorite design tools. You don't need to be a food blogger to use Canva. All you need to be is someone who loves designing graphics. Check them out if you're interested and a whole new world of artistic expression will be opened to you.
Ingredient savvy:
CHICKEN THIGHS - I think dark meat chicken thighs are the tastiest part of the chicken. I like to purchase organic chicken when choosing bone-in, skin-on chicken. However, there are few differences between organic and non-organic chicken when selecting boneless skinless chicken. Find out more in this article, "Organic Chicken, Is it more Nutritious?"
OLIVE OIL - I like using extra virgin olive oil because it's the first press of the olives. Extra virgin olive oil is never been refined, heated, or had chemicals added.
DEHYDRATED ONION - I always have this item in my pantry. It's for when you want the flavor of onion but not the hassle of chopping a fresh onion. It's also perfect for making a dry rub for meat and fish and, of course, in this seasoning mix. If you're not a fan of onion, of course, you can leave it out.
POPPY SEEDS - These are another item I always have on hand in my pantry. Poppy seeds are a spice derived from the opium plant. They have a slightly nutty flavor and are commonly used to add texture and garnish to baked goods and salad dressings. They're totally safe for human consumption as long as you don't eat ginormous quantities in a single sitting.
SESAME SEEDS - I'll bet you always have sesame seeds in your pantry. I sound like a broken record here, but I always do, too. Used most frequently in Asian cuisine, sesame seeds are an essential ingredient in a quality everything bagel seasoning. Sesame seeds also have a nutty flavor and are an excellent addition to baked goods and many savory dishes alike. Raw or toasted sesame seeds are a must in this recipe.
GARLIC POWDER - What can I say about garlic powder that you don't already know? Probably not much. This dry spice is a game-changer in almost any and every savory dish. Use garlic powder when you cannot use fresh garlic but still want delicious garlic flavor.
ONION POWDER - See garlic powder above (directly above) but swap out the word onion for garlic everywhere it appears in the paragraph. LOL
CAYENNE PEPPER - Cayenne pepper is not typically in an everything bagel seasoning, but this recipe differs from your typical everything seasoning! You can either omit the cayenne pepper or add more, depending on how much heat you like in your food. I'm usually a moderate heat-level person, so two teaspoons is a good amount for my heat-level tolerance. Remember, you won't be adding the entire contents of the seasoning blend to these chicken thighs, only a tiny portion. The remainder of this spice blend can be kept in the pantry.
FENNEL SEED - Again, not your typical ingredient for an everything spice blend, but I love the unique and mild anise flavor fennel seeds provide.
CARAWAY SEED - The same goes with caraway. Since I love caraway seeds and use them as often as possible, adding them to this everything-spice blend was a no-brainer. I'm sure you'll agree that adding fennel and caraway seeds makes this combination of seasonings a unique standout over all other bagel (or chicken) seasoning blends you may have tried.
SALT - I always like to use kosher salt for cooking and baking. Kosher salt is milder in flavor than table salt and contains no iodine, so kosher salt has no bitter aftertaste. A word of caution for using table salt instead of kosher salt; Always use half the amount of table salt if a recipe calls for kosher salt, and table salt is what you typically use.
BLACK PEPPER - Freshly grinding your own pepper is best for seasoning any savory food. Pre-ground black pepper purchased in the market will not have nearly the same taste as freshly cracked or ground pepper. A coffee or spice grinder explicitly used for grinding peppercorns works well for this specific task, as does an electric pepper grinder. I received an electric pepper grinder for Christmas and haven't looked back since. What I love about this specific kitchen gadget is that you don't have to grind the peppercorns in advance. You can grind as you go, which has been a game-changer for me!
How to make homemade everything-seasoning:
Nothing could be easier, and you probably have most (if not all) of the spices and seasonings in your cabinet or pantry already.
My Homemade Everything Seasoning Blend can and should be used on almost anything savory! Simply mix it all together, and you're good to go!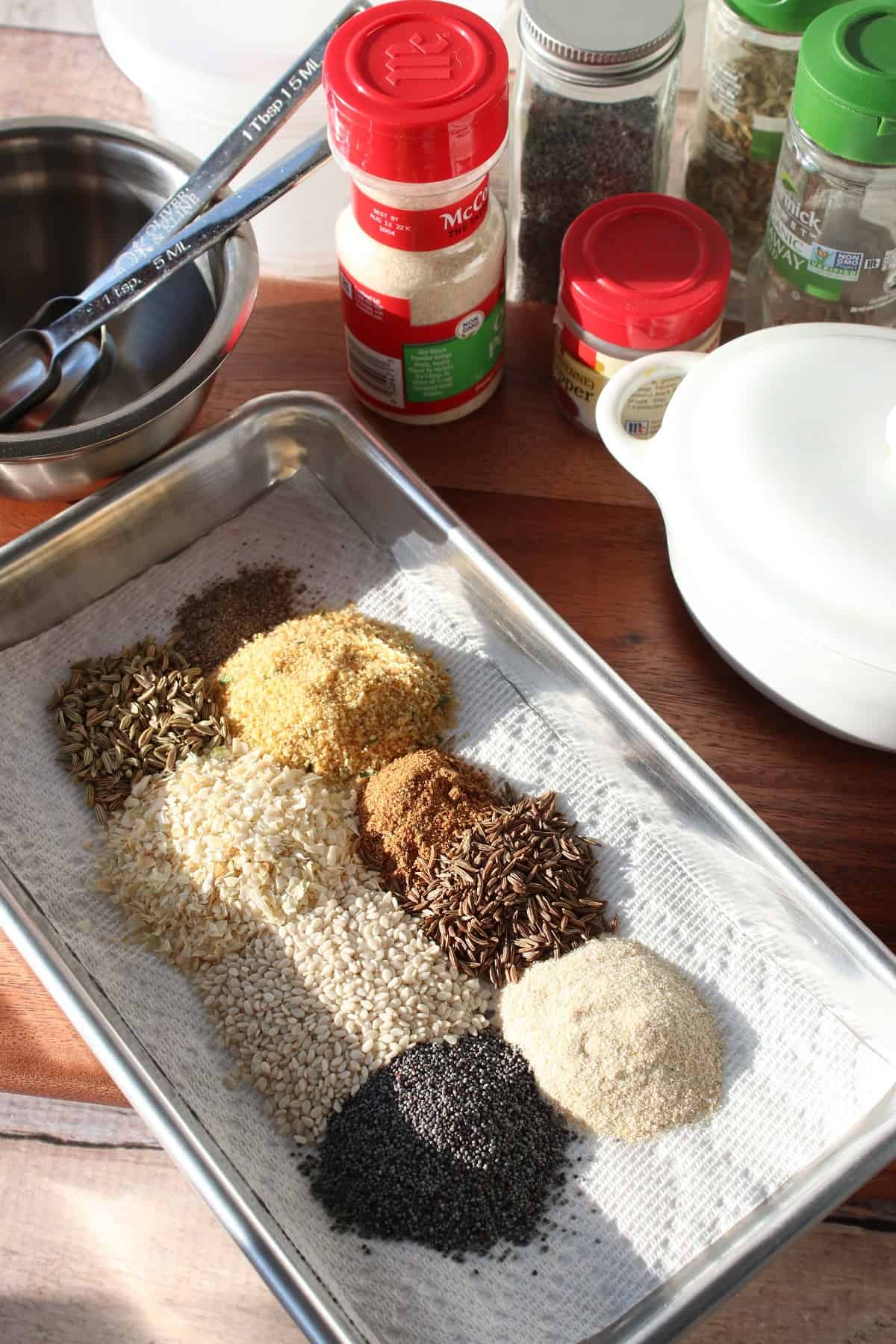 FAQs
How long will the everything seasoning keep in the pantry?
Store the homemade seasoning blend in an airtight container and it will keep in the pantry for up to 6 months.
Can store-bought everything seasoning be used to make this recipe?
Yes.
Can bone-in, skin-on chicken be used for this recipe?
You bet. Use whatever looks best and whatever is within your price range at the grocery store. The bone-in, skin-on chicken thighs will be less expensive than the boneless skinless variety. That said, remember that using bone-in and skin-on chicken will take longer to cook than the boneless variety, so please plan accordingly if using bone-in chicken thighs.
How long will this dish keep in the refrigerator?
Well wrapped or stored in an airtight container, these chicken thighs will keep for up to 5 days.
Can these seasoned chicken thighs be frozen after baking?
Yes! Cool them completely and then store them in freezer bags or in airtight freezer containers. May be frozen up to 5 months. Always mark the date and the contents of the container for easy identification. Thaw in the refrigerator and heat in an oven, microwave, or air fryer.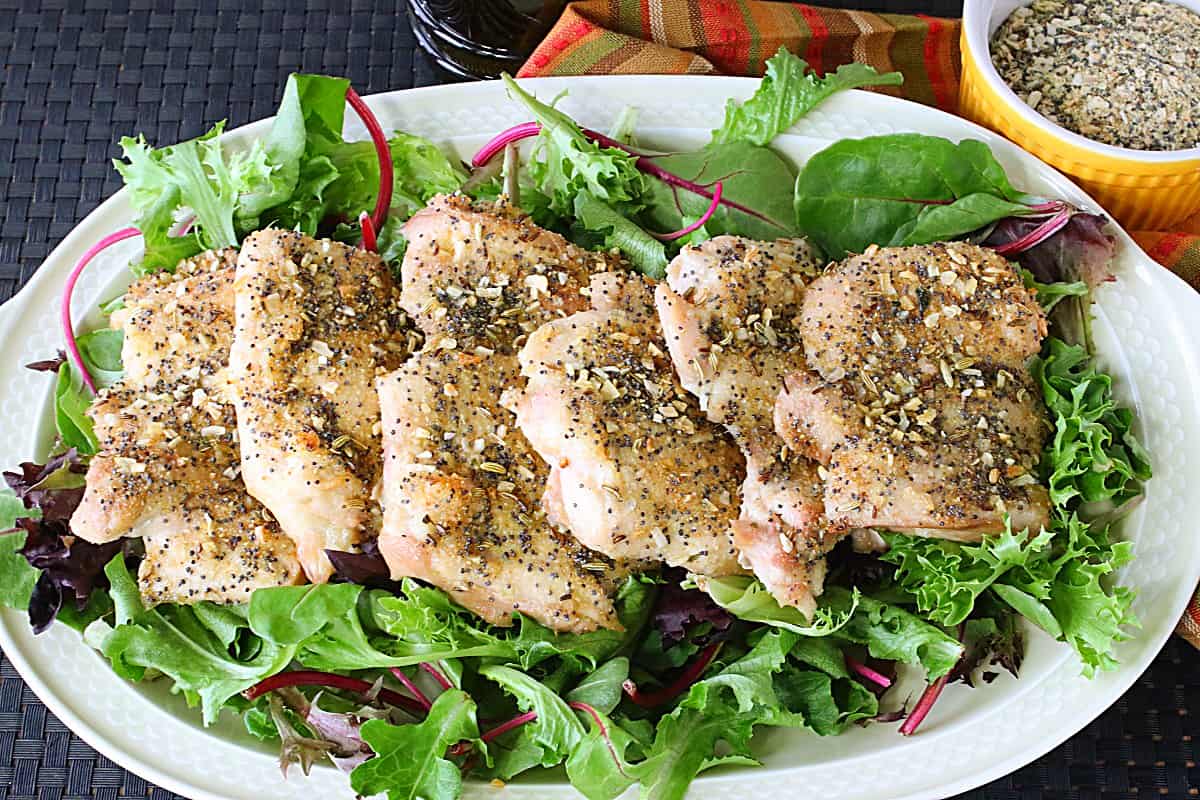 Can these chicken thighs be made in an air fryer?
You bet. Set the temperature in the air fryer at 375 degrees F and bake for 20 minutes (for boneless, skinless thighs), and bake for 30-35 minutes for bone in, skin on chicken thighs.
What is the proper internal temperature for cooked chicken thighs?
Always test the chicken for proper doneness with an instant read meat thermometer. The temperature for properly cooked dark meat chicken is 165 - 170 degrees Fahrenheit. Always allow proteins to rest (covered) for 10 minutes before serving to ensure juicy meat.
Top tip for making this recipe:
Oil the chicken thighs before adding the everything spice blend so the spices stick to the chicken. Once the spice blend has been added firmly press the seasoning blend onto the chicken.
Serving suggestions:
I served my everything seasoned chicken thighs "as is" (shown in the photos), along with a green salad.
However, these highly seasoned chicken thighs would be extra delicious between two slices of hearty bread (or maybe a pretzel roll) along with some mustard, mayo, lettuce, tomato slices, and a few pickles. *Please note that using chicken thighs with the bone included would not work well to make a sandwich.
Keeping things cleaned and trimmed:
Always wash your hands, knives, and cutting boards, frequently with soap and water when dealing with raw chicken to avoid cross-contamination.

Once you've made the spice blend for this recipe, add about three tablespoons into a small bowl and use this smaller amount specifically for this recipe. By doing so, you won't risk accidentally dipping "chicken fingers" into the entire container of the spice blend.

Use a chef's knife and cutting board to trim away any pockets of excess fat from the chicken thighs. Trimming is an important step, whether you're using boneless or bone-in, skin-on thighs.
Additional recipes featuring everything seasoning:
Beware! These Homemade Everything Bagel Chips are so crunchy and so addicting that you won't be able to step away. Please proceed with the utmost caution!
Everything English Muffin Bread is…wait for it…wait for it…EVERYTHING! No surprise there, I suppose. LOL
When you want a tasty snack, but one that's still healthy and good for you reach for the Everything Green Beans Fries and you won't be sorry!
Make it a meal:
Grandma's Asparagus with Breadcrumbs is delicious fresh asparagus made even tastier when covered with the wonderful texture of breadcrumbs lightly flavored with onion and lemon.
Crowd-Pleasing Dijon Potato Salad will be the first thing to disappear from the picnic table this summer. It's cool, creamy, and refreshing with just the right amount of tang from the Dijon, and the perfect amount of crunch to balance all that creaminess.
When dessert calls for something truly special, break out this recipe for Mom's Best Banana Cream Pie, and you won't be sorry!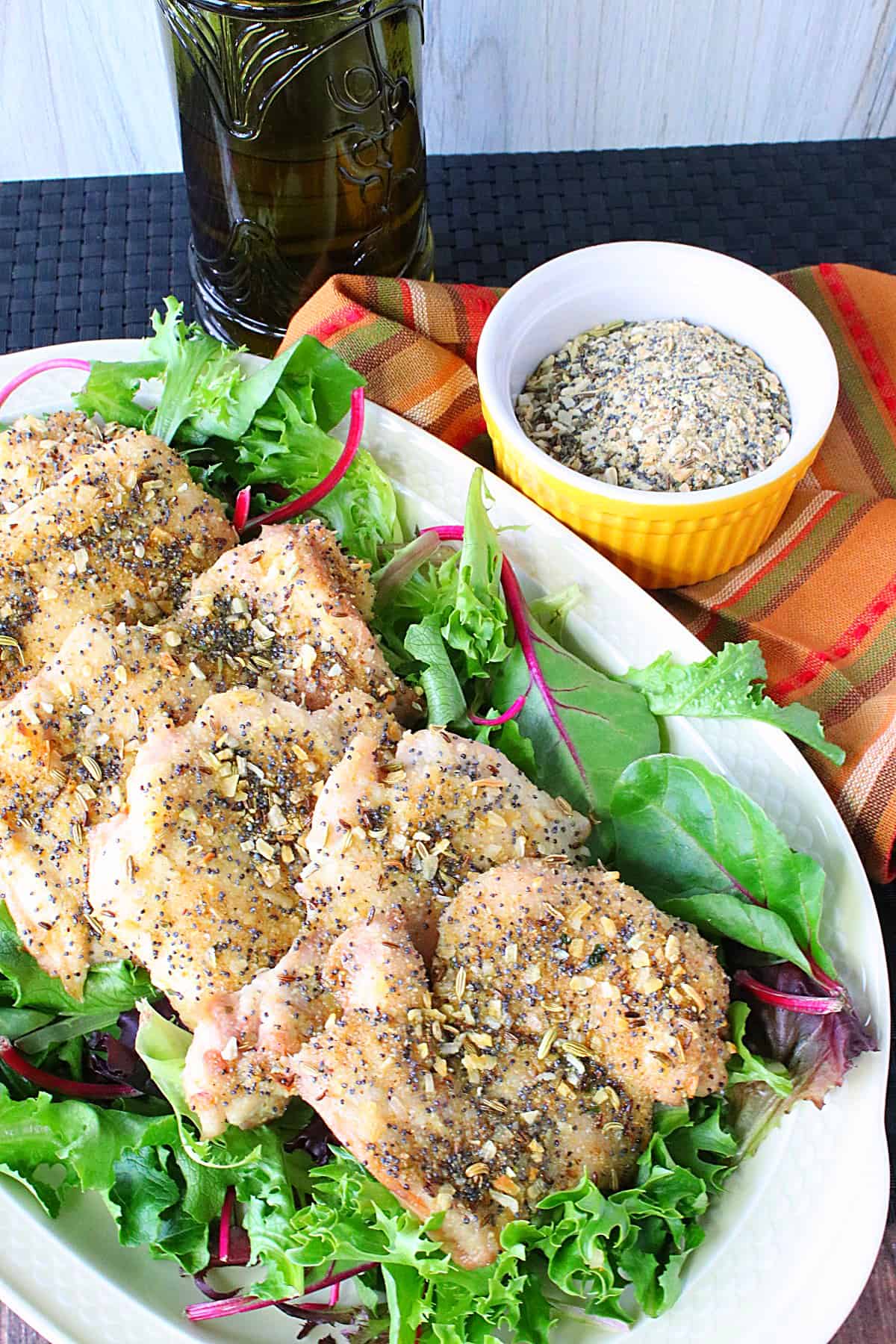 ⭐If you've made this recipe, or are excited to make this recipe, I'd appreciate it if you'd take a moment to leave it a star rating on the recipe card, along with a comment of why you rated as you did.
Google loves ratings and will show my recipes to more people if they have them. Thank you. 🙂
Printable Recipe Card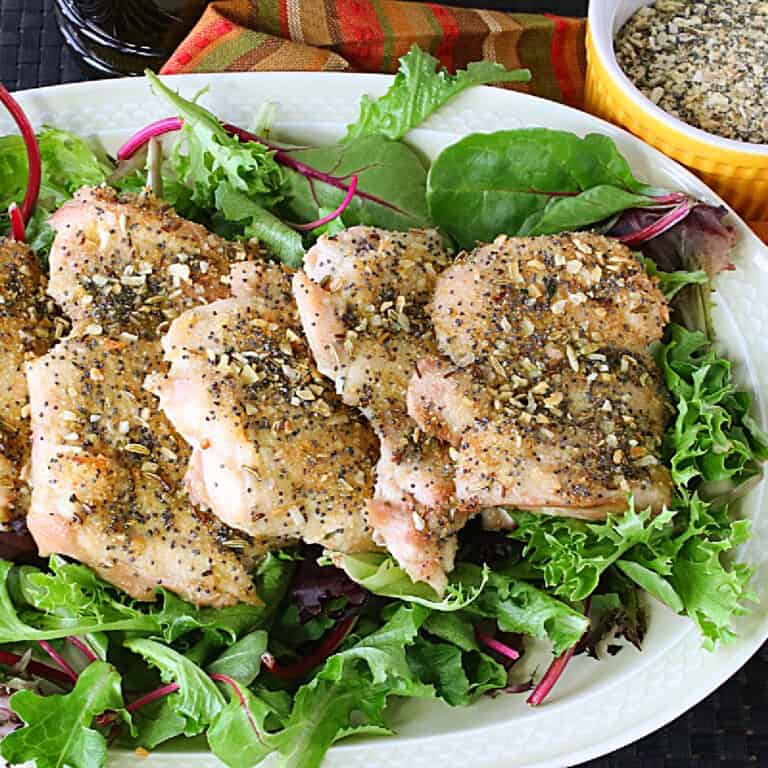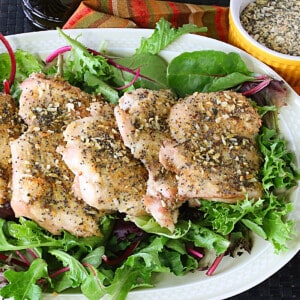 Baked Chicken Thighs with Everything Seasoning
Baked Chicken Thighs with Everything Seasoning is a super simple and quick cooking meal. This delicious dish is tender and oh-so flavorful!
Ingredients
8

boneless, skinless

chicken thighs, trimmed of excess fat (approximately 6 ounces each)

bone-in, skin on chicken thighs will also work

⅓

cup

everything seasoning

homemade or store-bought

1

tablespoon

extra virgin olive oil

½

teaspoon

kosher salt

¼

ground

black pepper
Instructions
Preheat oven to 375 degrees Fahrenheit.

Trim any excess fat pockets from the chicken thighs and pat dry them well with paper towels.

Place the thighs on a rimmed baking sheet (covered with foil, optional). Drizzle and rub each thigh with olive oil, front and back.

Sprinkle each thigh with some the everything seasoning blend and gently pat the seasoning onto the chicken.

Bake in the preheated oven for 25 minutes, or until a instant-read thermometer reads 165 degrees Fahrenheit. Cover with foil and allow the chicken to sit for 10 minutes before serving.
Video
Notes
If using bone-in, skin on chicken thighs, please note that the cooking time will take longer than written on the recipe card. Make sure to use an instant read thermometer to know exactly when the chicken is cooked through. It should read 165 degrees (or slightly higher) on a meat thermometer.
One serving = two thighs per person
May be refrigerated for up to 5 days in an airtight container.
May be frozen after cooking for up to 5 months. Store in freezer bags or an airtight freezer container. Always mark the container with contents and date before freezing.
Nutrition
Serving:
1
each
Calories:
208
kcal
Carbohydrates:
0
g
Protein:
28
g
Fat:
4
g
Saturated Fat:
0.3
g
Polyunsaturated Fat:
0.2
g
Monounsaturated Fat:
1
g
Cholesterol:
1
mg
Sodium:
802
mg
Potassium:
2
mg
Vitamin A:
0.2
IU
Calcium:
0.1
mg
Iron:
0.02
mg
Follow me across my social media platforms and join in on the conversation: FACEBOOK, INSTAGRAM, PINTEREST, TIKTOK, AND YOUTUBE.
Thank you so much for visiting me today in my Kudos Kitchen. I hope you found something you'll love and that you'll come back and visit me often. There is always room for you around my table!
Should you have any questions or comments regarding anything you've seen here on my blog, please don't hesitate to reach out to me. It is always my distinct pleasure to respond to you just as soon as I possibly can.
Until we eat again, I hope you have a delicious day!!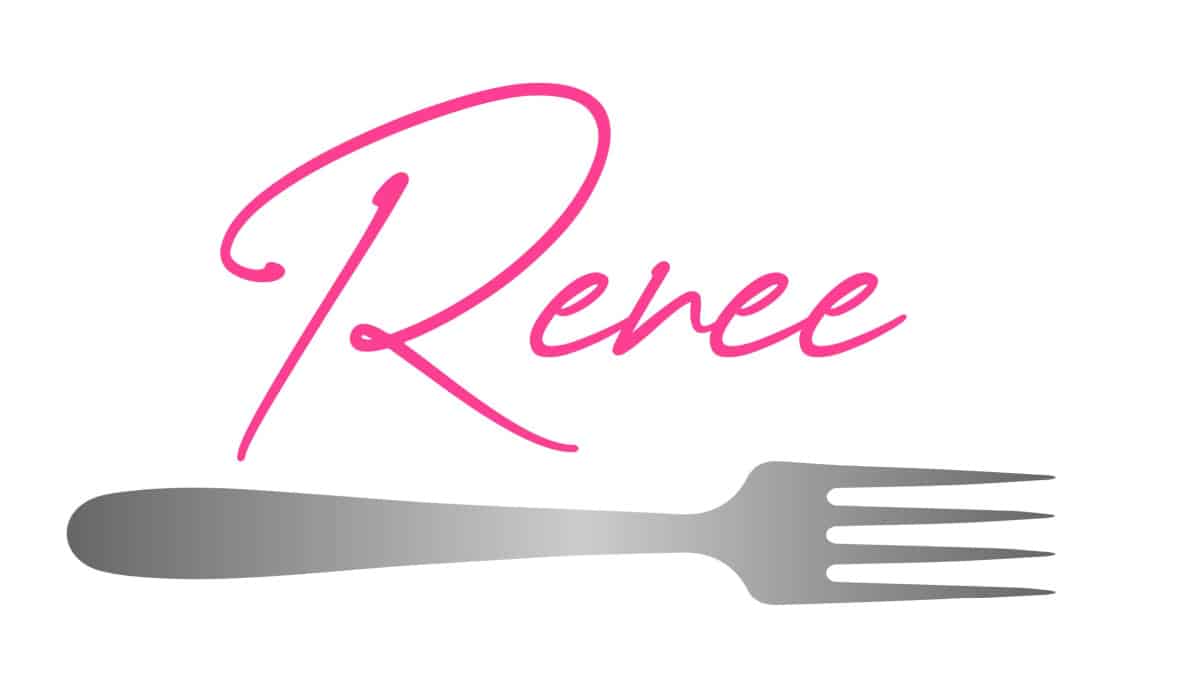 Thank you so much for visiting me today in my Kudos Kitchen. I hope you found something you'll love and that you'll come back and visit me often. There is always room for you around my table!
Should you have any questions or comments regarding anything you've seen here on my blog, please don't hesitate to reach out to me. It is always my distinct pleasure to respond to you just as soon as I possibly can.