Zesty and hearty... with a kick! Lentil Stew with Lemon and Sausage is a bowl full of love, with a kiss of heat.
*Disclaimer - This recipe was originally published in 2011. I'm working hard to update all my older recipes with recipe cards, new photos, and additional recipe information. But, getting to all of them will take time. Please bear with me. In the meantime let me assure you that this recipe is still a winner and one I'm sure you'll be well pleased with when you make it at home.
This is one of the many, many recipes I've been anxious to make from Melissa Clark's cookbook "In The Kitchen With A Good Appetite".
It's one of those page-turning books where just about every recipe you see has you mentally making your grocery list so you can be ready at a moment's notice to whip up one of her creative and well-thought-out dishes in no time.

I made a few slight variations to her original (I think Melissa would approve) in order to put my own stamp on it but for the most part, the recipe is all Melissa's and it is truly scrumptious!!!
I, unfortunately, didn't have the red lentils she called for in her recipe so I used plain brown lentils.
I say, use whatever kind of lentils you can find near you but don't let the color (or lack of particular color) stop you from making this dish.
Red or brown, eat your lentils, they're so good for you!
Spoken like a true mom!
Printable Recipe Card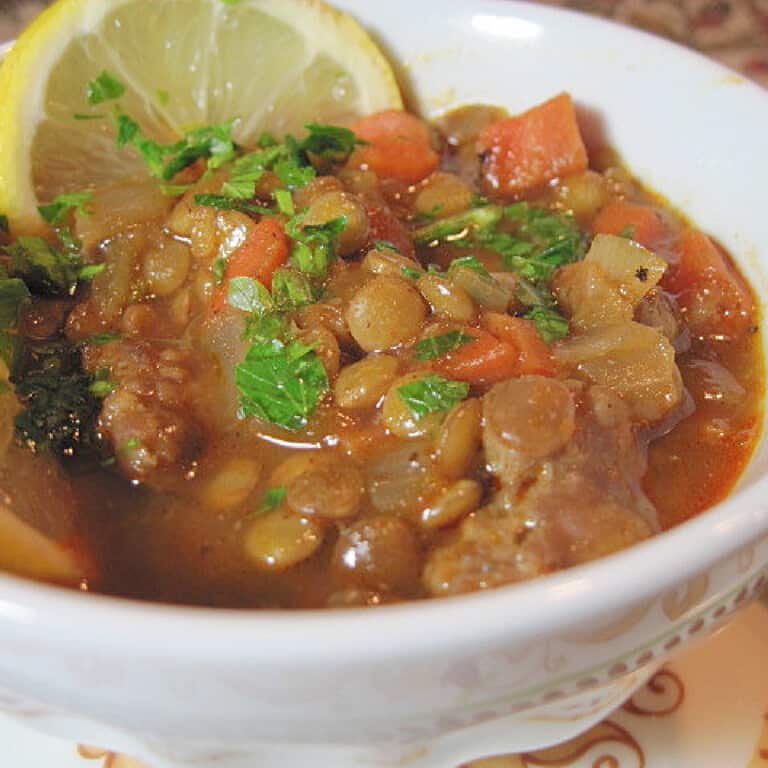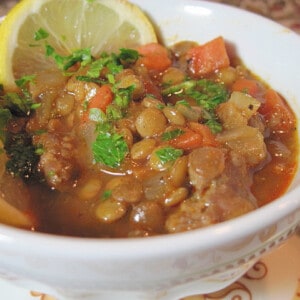 LENTIL STEW WITH LEMON AND SAUSAGE
This is a delicious and hearty stew with a wonderful roundness of flavor.
Ingredients
1

pound

Italian Sausage

4

tablespoons

olive oil

2

large

onions

chopped

4

cloves

garlic

minced

2

tablespoons

tomato paste

2

teaspoons

ground cumin

1

teaspoon

ground coriander

salt and pepper to taste

pinch

of cayenne pepper

2

quarts

of chicken stock

2

cups

lentils of any color

2

large

carrots

peeled and diced

1

tablespoon

lemon juice

⅓

cup

chopped fresh parsley
Instructions
- In a large pot, heat the oil over high heat until hot and shimmering. Add the Italian Sausage and cook until you can crumble it and it's nice and brown.

-Halfway through the cooking of your sausage, add the onions, garlic, and carrots. -Cook for approximately 10 minutes on medium heat.

-Stir in the tomato paste, cumin, coriander, salt, pepper, and cayenne and sauté for 2 minutes longer.

-Add the chicken stock, and the lentils.

-Bring to a simmer and cook until the lentils are soft, about 30 minutes.

-Right before serving, add the lemon juice and stir to combine all the flavors.

-Ladle into bowls and garnish with fresh chopped parsley.
Notes
Leftovers may be frozen in an airtight container for up to 4 months.
Store leftovers in the refrigerator for up to 5 days.
Nutrition
Serving:
1
serving
Calories:
555
kcal
Carbohydrates:
47
g
Protein:
28
g
Fat:
28
g
Saturated Fat:
8
g
Polyunsaturated Fat:
4
g
Monounsaturated Fat:
15
g
Cholesterol:
50
mg
Sodium:
809
mg
Potassium:
1078
mg
Fiber:
16
g
Sugar:
10
g
Vitamin A:
3313
IU
Vitamin C:
14
mg
Calcium:
79
mg
Iron:
6
mg
Please note that the * denotes the few changes I made to Melissa's original recipe.
Where Melissa's was once a soup, I made mine a bit thicker and stew-like.
If you would like to make yours more like a soup, you can add 2 cups of water at the time you add your chicken stock.
Melissa also suggested using an immersion blender or food processor to puree half the soup but I opted to keep the entire stew chunky and thick.
With the additional side of drop biscuits with cheddar and garlic, this was a meal that we truly all enjoyed, even my son who says he doesn't like lentils.
Everyone, even my son, just about licked our bowls clean, and I never once had to say, "Eat your lentils, they're good for you"!
They just did.
Sweet!!!
Follow me across my social media platforms and join in on the conversation: FACEBOOK, INSTAGRAM, PINTEREST, TIKTOK, AND YOUTUBE.
Thank you so much for visiting me today in my Kudos Kitchen. I hope you found something you'll love and that you'll come back and visit me often. There is always room for you around my table!
Should you have any questions or comments regarding anything you've seen here on my blog, please don't hesitate to reach out to me. It is always my distinct pleasure to respond to you just as soon as I possibly can.
Until we eat again, I hope you have a delicious day!!