Crunchy Scrambled Egg Rolls are simply the best breakfast you didn't know you needed! Be ready to have your taste buds rocked with these rolls!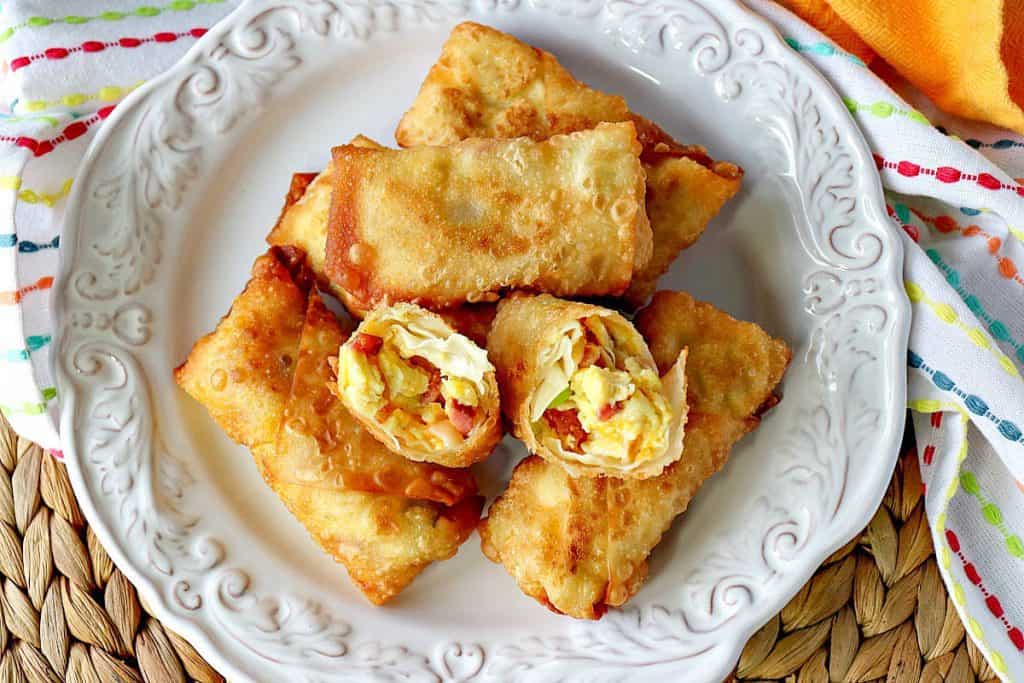 When you want to up your breakfast game and bring your family something delicious and yet something they didn't see coming, then these Crunchy Scrambled Eggs Rolls is just the ticket!
**Please Note - The printable recipe card with detailed instructions and complete ingredient measurements for making Crunchy Scrambled Egg Rolls is available near the end of this post. OR click on the "Jump to recipe" button (found above) to be taken directly to the recipe.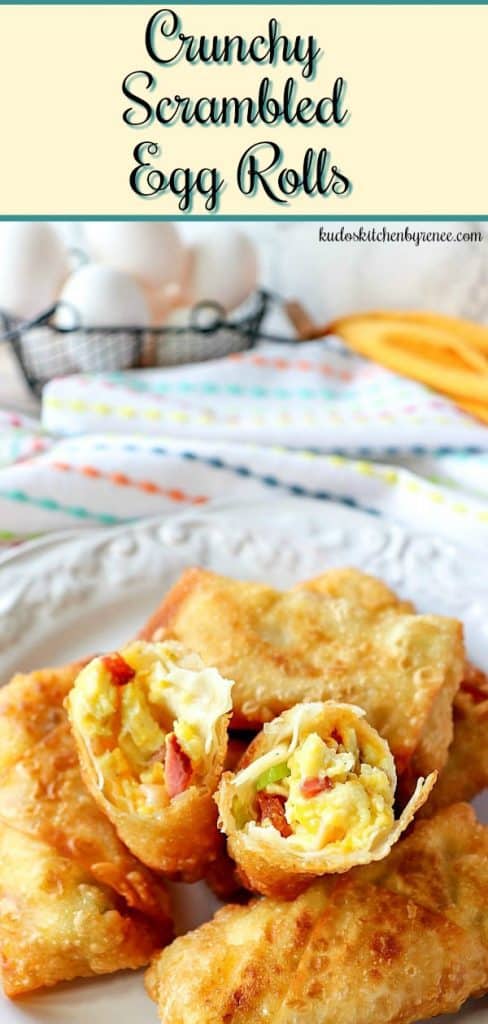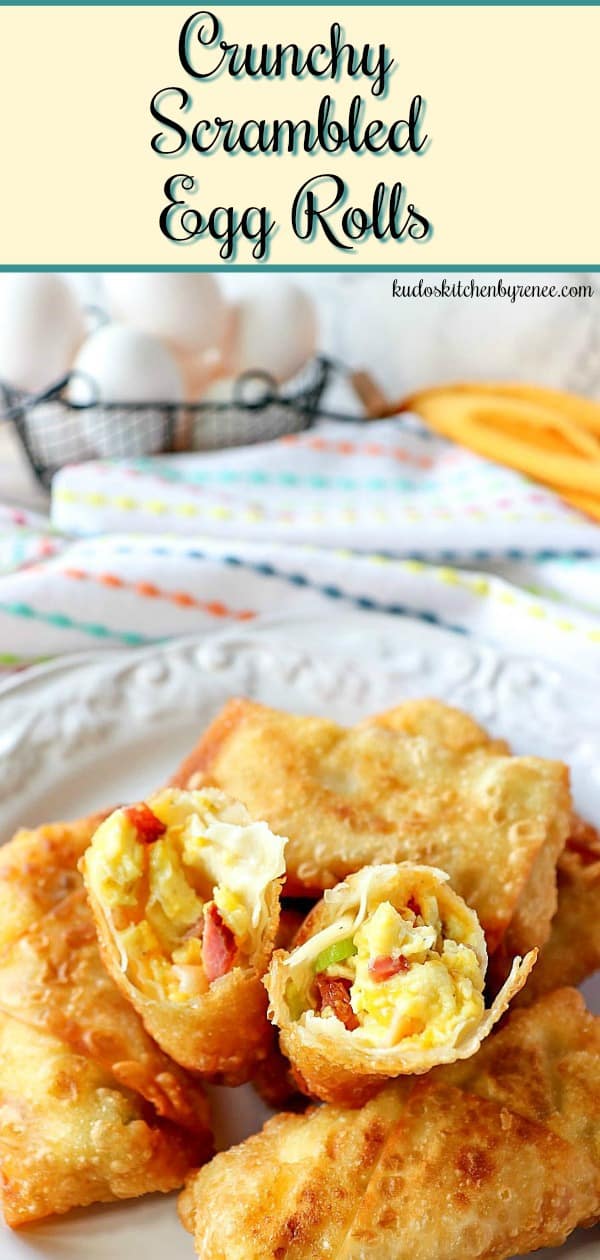 The ingredient list:
eggs

salt and pepper

milk

bacon

cheddar cheese

scallions

egg roll wrappers

peanut oil
How this recipe came to be:
These scrambled egg rolls are the brainchild of my son, Greg. He's been wanting me to make and produce this crunchy breakfast treat for a long, long time.
I don't know what took me so long to finally get these made and add them to my blog, but good things come to those who wait, and please trust me, these scrambled egg rolls are really, really good things!!!
Get creative with it:
We filled our scrambled egg rolls with shredded cheddar cheese, precooked bacon, and scallions. But, if you want to mix things up and add your favorite "egg-stras", by all means, be as creative as you like. Add mushrooms, green pepper, ham, broccoli, onion, spinach...you get the idea!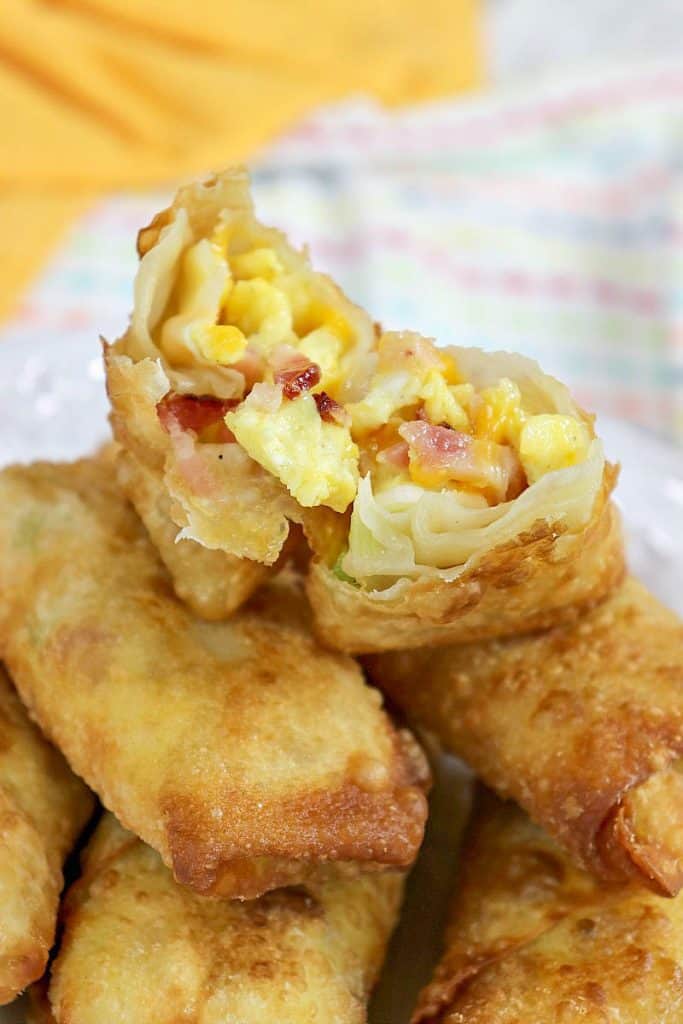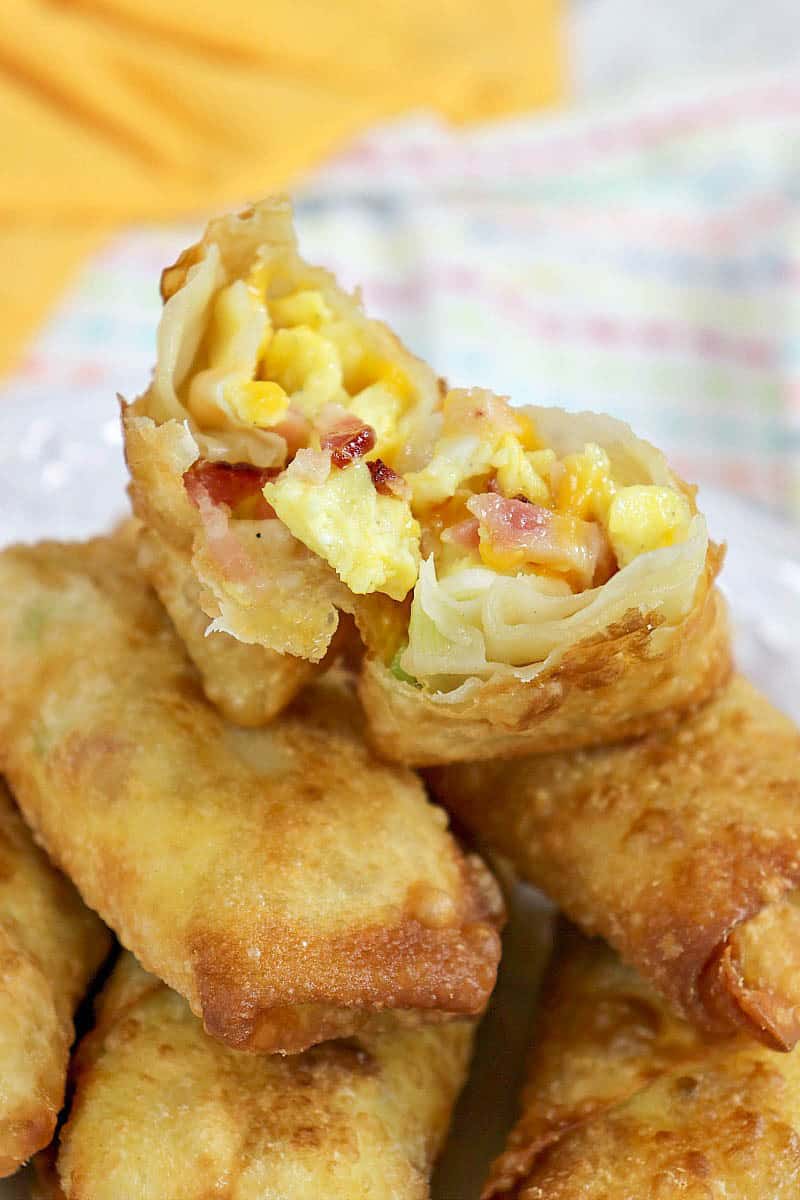 Can I use other oils for frying? Does it have to be peanut oil?
No, peanut oil does not have to be used if you or someone you love has peanut allergies. Other healthy frying oil options are as follows:
macadamia oil

coconut oil

avocado oil
The key for the best frying oil is one with a very high smoke point. If done correctly, frying foods isn't at all unhealthy. If fried foods are cooked with the right oil, at the right temperature, very little oil will leach into the food.
What is the proper oil temperature for frying foods?
For pan frying, the oil temperature should read 250-degrees F

For deep frying foods, the oil temperature should read 325 - 375 degrees F
What if I don't have a cooking thermometer? Is there any other way to judge the temperature of the oil?
A valuable tool I have used over the years for judging proper oil temperature is to stick the handle of a wooden spoon into the heated oil. If tiny bubbles immediately form and float to the surface (much like bubbles in champagne, only faster), your oil is ready to fry. If this doesn't happen immediately, wait a few more minutes. If the oil isn't hot enough to begin frying, the food will soak up the oil before the frying takes place making foods oily and unhealthy.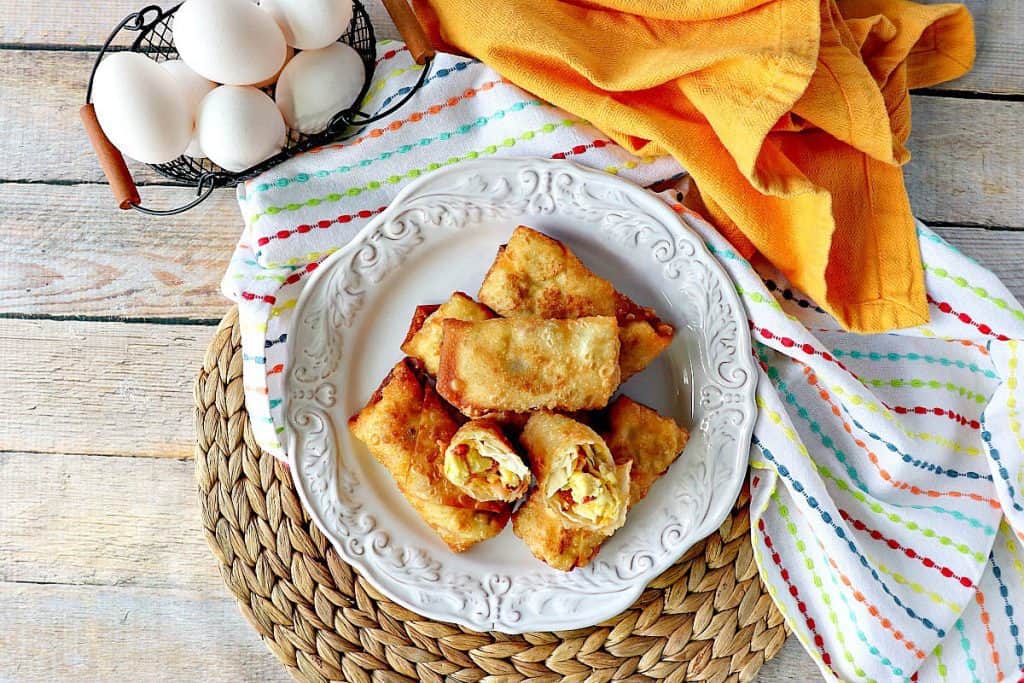 Additional breakfast and brunch recipes: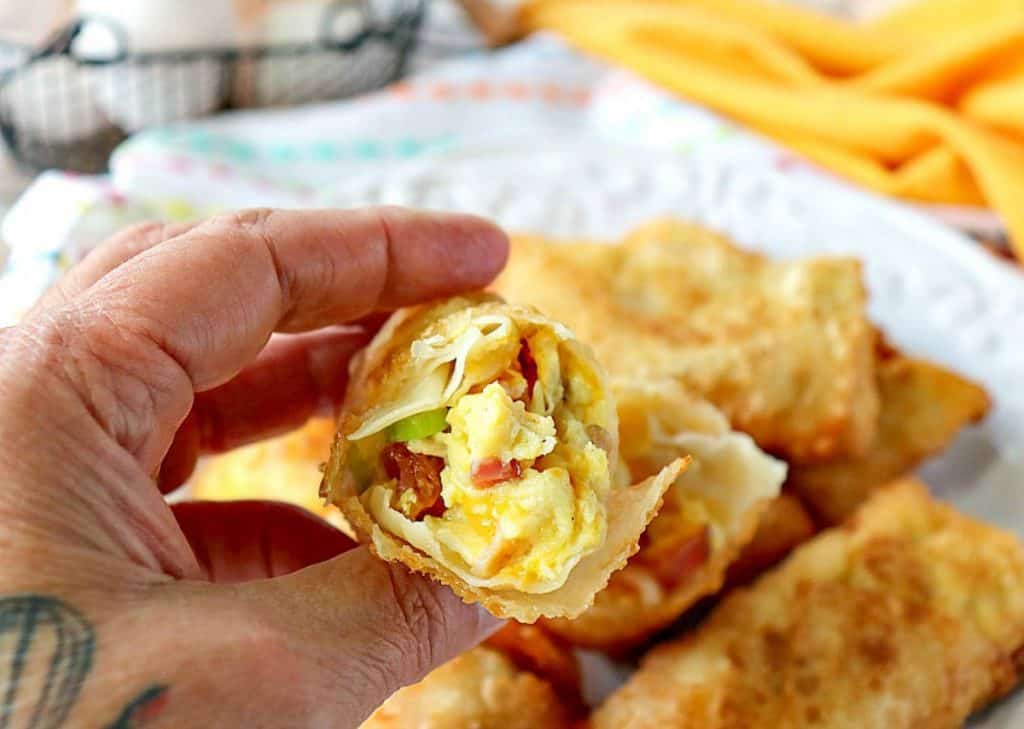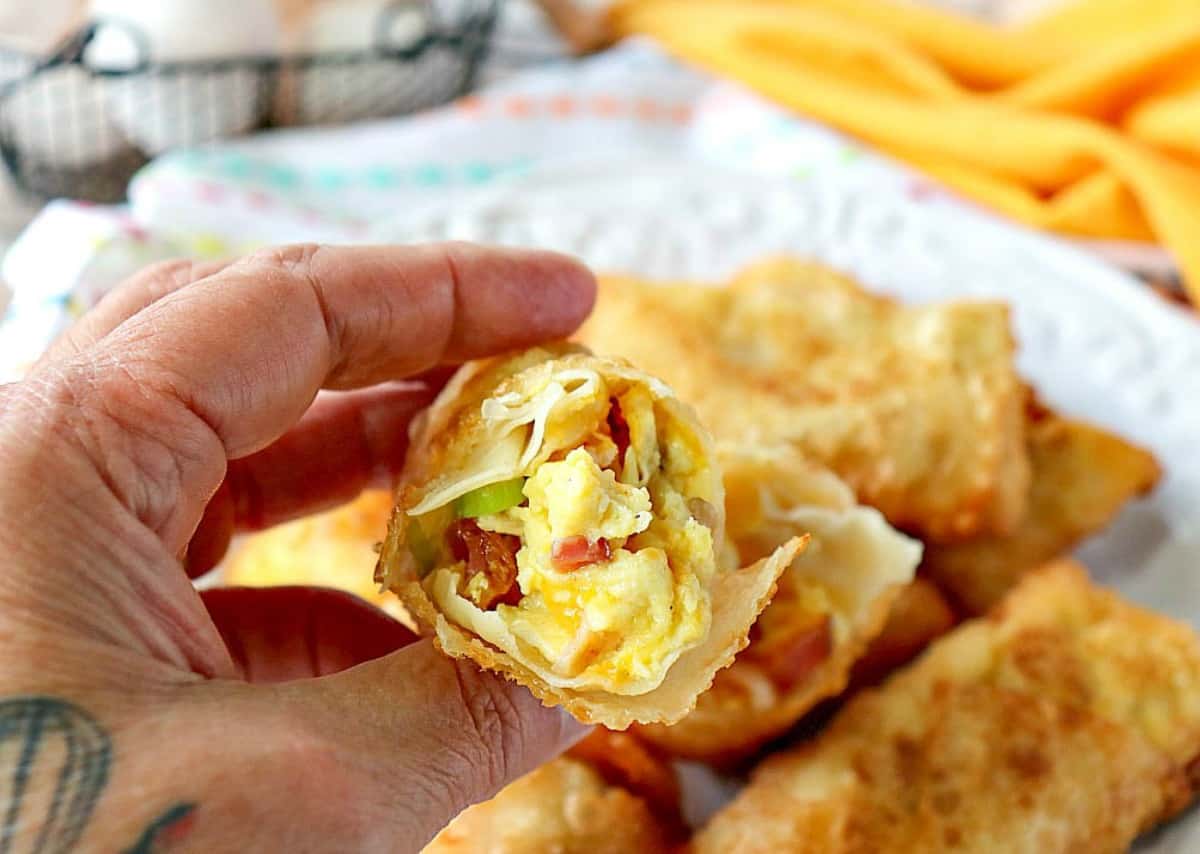 Below is the printable recipe card and nutritional information for today's Crunchy Scrambled Egg Rolls.
When you make this recipe, and I hope you do, I'd appreciate it if you'd take a moment to leave a star rating on the recipe card and briefly comment on why you rated it as you did. FYI - Google appreciates recipe ratings and, in turn, will share my recipes with more people. Thank you so much!!
Printable Recipe Card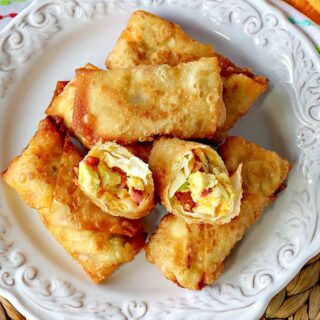 Scrambled Egg Rolls
Scrambled Egg Rolls are simply the best breakfast you didn't know you needed! Be ready to have your taste buds rocked with these rolls!
Ingredients
10

egg roll wrappers

2

cups

peanut oil

6

large eggs

¼

cup

milk

1

teaspoon

salt

½

teaspoon

pepper

½

cup

bacon

precooked and chopped

½

cup

cheddar cheese

shredded

¼

cups

scallions

chopped

2

tablespoons

avocado oil
Instructions
In a large bowl, whisk together the eggs, milk, salt, and pepper.

In a large skillet, heat the avocado oil over medium/low heat. Add the scrambled eggs and cook, stirring occasionally, to your desired doneness. Cool slightly.

Wrap approximately 2 tablespoons of the scrambled eggs, 2 teaspoons cheddar cheese, 2 teaspoons chopped bacon, and 2 teaspoons scallions into an egg roll wrapper. *Note - use a bead of water to glue the edges of the egg roll wrapper together so it stays closed. Set the scrambled egg rolls aside while the oil heats.

Heat the frying oil in a large, high sided pan to a temperature of 375-degrees.

Add the scrambled egg rolls, 4 at a time to the hot oil and fry on each side (turning carefully) for approximately 40 - 50 seconds per side.

Remove the scrambled egg rolls from the oil and drain immediately on paper towels.

Cool slightly and serve warm.
Notes
Tools and equipment;
large high-sided skillet or pan (for frying), large skillet (for making scrambled eggs), whisk, tongs, paper towels, kitchen thermometer.
Nutrition
Serving:
1
Calories:
588
kcal
Carbohydrates:
20
g
Protein:
10
g
Fat:
53
g
Saturated Fat:
10
g
Polyunsaturated Fat:
40
g
Cholesterol:
125
mg
Sodium:
545
mg
Fiber:
1
g
I sincerely hope you've enjoyed today's recipe for Crunchy Scrambled Egg Rolls as much as I've enjoyed bringing it to you!