Scrambled egg breakfast sliders make for a tasty morning treat. They're fun to eat, filling, and will please the entire family!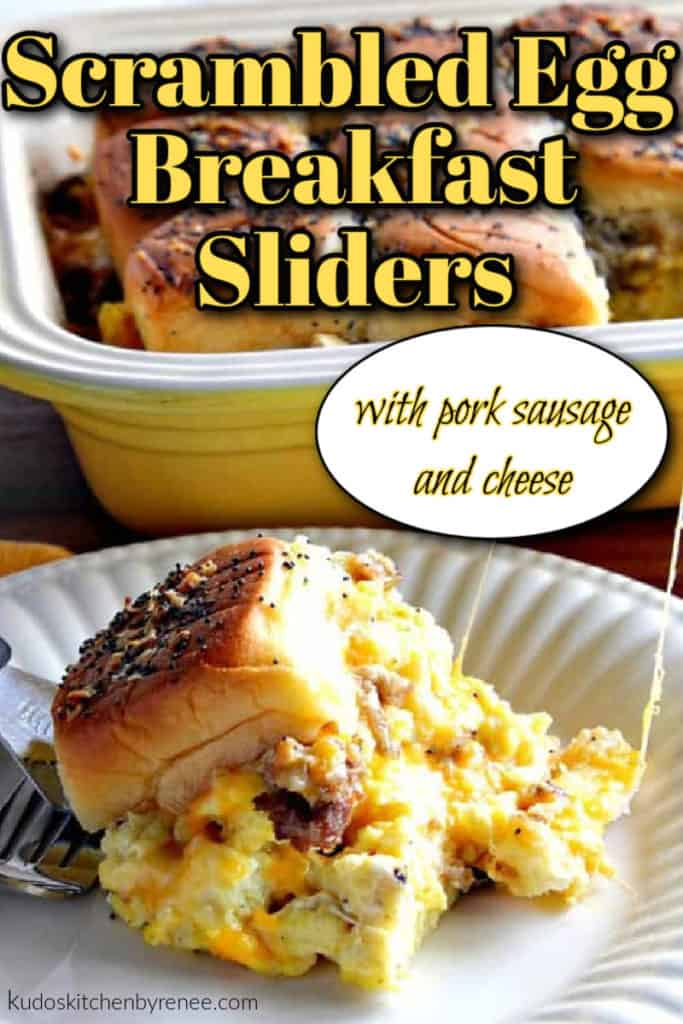 This is a fun and delicious way to feed a savory breakfast treat to family and friends, and the fact that these scrambled egg breakfast sliders can be made in advance is always a plus for busy mornings!
I've always been a savory breakfast lover. Pancakes and waffles have their place (on someone else's plate), but for me, I'll pick eggs and cheese any day of the week.
**Please Note – The printable recipe card with detailed instructions, complete ingredient measurements, and nutritional information for making scrambled egg breakfast sliders is available at the end of this post. OR you can hit the "jump to recipe" button (found above) to be taken directly to the recipe.
CLICK ON THIS BOX TO LIKE AND SUBSCRIBE TO MY KUDOS KITCHEN YOUTUBE CHANNEL. SEE YOU THERE! 🙂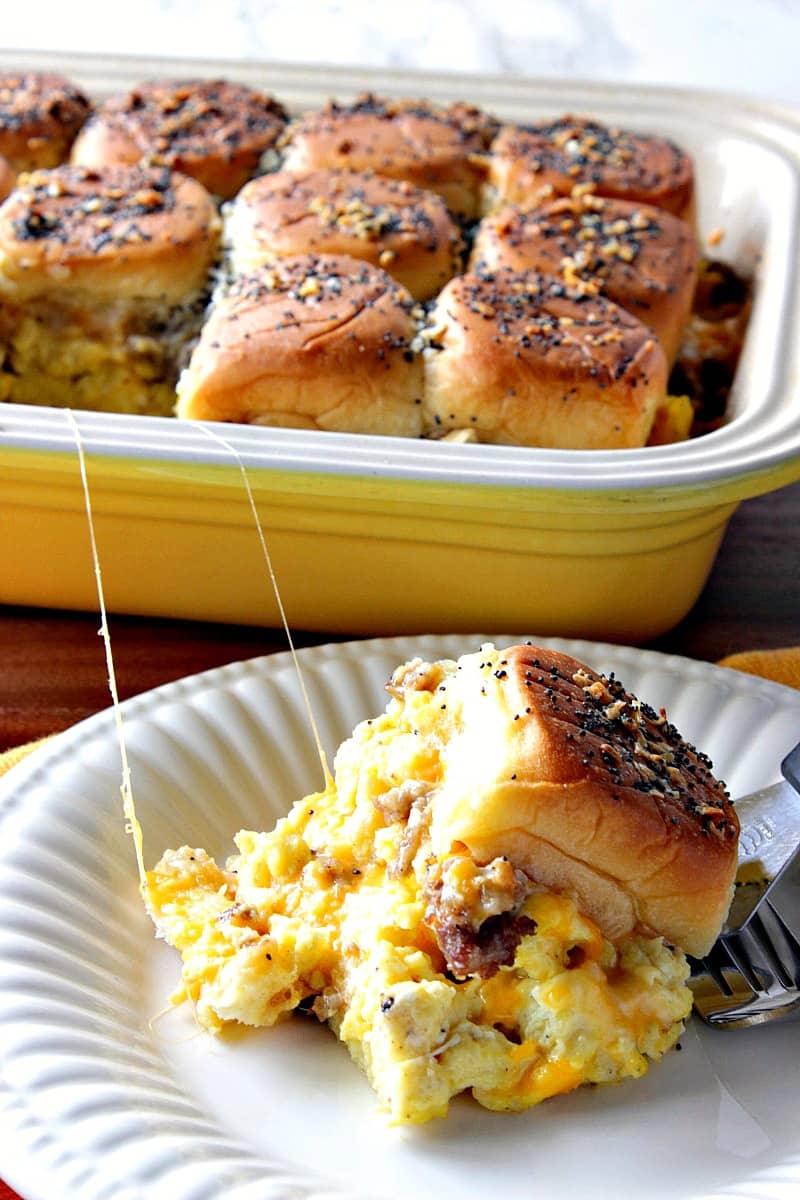 The ingredient list:
**Note – The following lists of ingredients plus kitchen tools and equipment contain affiliate links (highlighted in blue) for your consideration and shopping convenience. #CommissionsEarned
Hawaiian sweet rolls

eggs

pork breakfast sausage

cheddar cheese

, sliced

milk

butter
Kitchen tools and equipment needed:
Can breakfast sliders be made in advance?
Yes! Assemble the sliders as per the recipe instructions and store them, covered in the fridge, for up to 24 hours (if needed).
To reheat, uncover, and bake in a 350-degree oven for 20 minutes.
Can I use bacon instead of sausage in this recipe?
Yes! I love bacon too!
Just make sure to precook the bacon first, and then lay the strips over the eggs, or chop it and sprinkle it over the eggs.
Can other cheeses be used for these breakfast sliders?
Of course! Use whatever cheese is your favorite.
Can other types of biscuits be used in this recipe?
Sure thing! As long as your alternate biscuit or bun choice is prebaked.
Since all the elements of this breakfast casserole are pre-cooked (and only require reheating), the biscuits need to be pre-baked, so there is no danger of overcooking the eggs.
Additional savory breakfast recipes:
An easy to make breakfast casserole that is made ahead and refrigerated overnight. It's always a crowd-pleaser, and always delicious!
A Scotch Egg is a perfectly cooked hard-boiled egg that is surrounded by pork sausage and then pan-fried for a crunchy outside and a soft center.
How to make scrambled egg breakfast sliders:
Cook and crumble the breakfast sausage in a large skillet until no longer pink.

Remove the sausage to a bowl, and set aside.

In a large bowl, whisk together the eggs, milk, minced onion, dry mustard, salt, and pepper.

Scramble the eggs in the same large skillet as the sausage.

Remove the scrambled eggs to a bowl, and set aside.


Use a serrated knife to slice the entire package of rolls in half lengthwise.

Place the bottom half of the rolls in a casserole dish that has been sprayed with cooking spray.

Layer the sliced cheese over the bottom half of the rolls.

Layer the scrambled eggs evenly over the cheese slices.

Top the scrambled eggs with the cooked and crumbled breakfast sausage.

Layer the shredded cheese evenly over top of the cooked breakfast sausage.
Place the top half of the rolls on the shredded cheese.

In a small bowl, whisk the melted butter, remaining minced onion and poppy seeds.

Brush the seasoned butter liberally over the top of the rolls.

Bake the breakfast sliders, uncovered, in a preheated 350-degree oven for 20 minutes. Serve hot.

*Note – to make these in advance, assemble as directed above.

Cover the pan with foil and refrigerate up to 24 hours.

When ready to bake, preheat oven to 350-degrees, keep covered with the foil, and bake for 30-40 minutes or until heated through.
Below is the printable recipe card along with the exact ingredient measurements and nutritional information for making today's delicious breakfast sliders.
Yield: 12 sliders
Scrambled Egg Breakfast Sliders with Pork Sausage and Cheese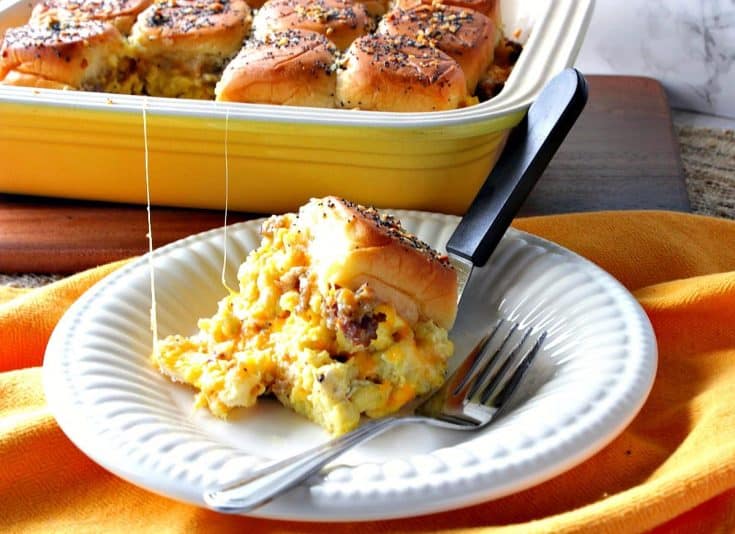 Scrambled egg breakfast sliders make for a tasty morning treat. They're fun to eat, filling, and will please the entire family!
Ingredients
1 pound pork breakfast sausage, browned
12 large eggs
½ cup milk
1 teaspoon dry mustard
1½ teaspoons coarse salt, or to taste
1 teaspoon black pepper, or to taste
1 package King's Hawaiian Rolls, sliced in half lengthwise
6 slices cheddar cheese, or your favorite sliced cheese
8 ounces shredded cheddar cheese
6 tablespoons butter, divided
1½ teaspoons poppy seeds
2 teaspoons dehydrated onion, divided
Instructions
Preheat oven to 350-degrees.
Brown the breakfast sausage and drain on paper towels if needed, set aside.
Spray a 13 x 9 baking dish with cooking spray.
Lay the bottom layer of the sliced Hawaiian rolls into the bottom of the baking dish. Set aside.
In a large bowl, whisk together the eggs, milk, salt, pepper, 1 teaspoon of the dehydrated onion, and the dry mustard.
Heat a large skillet over medium heat. Add 2 tablespoons butter.
Add the prepared eggs to the skillet and scramble to your desired doneness., Keep warm.
Lay the sliced cheese on the bottom layer of the rolls in the baking dish.
Top the cheese slices evenly with the cooked scrambled eggs.
Layer the cooked breakfast sausage evenly over the eggs.
Top the eggs and sausage with an even layer of the shredded cheese.
Place the top layer of the Hawaiian rolls onto the casserole.
In a small bowl, microwave 4 tablespoons of butter on low power to melt.
Stir in the poppy seeds and remaining dehydrated onions into the butter.
Liberally brush the butter mixture over the topped sliders.
Bake in a preheated oven for 15 minutes, or until the rolls are golden and the cheese is melted.
Serve immediately.
Thank you so much for visiting me here today in my Kudos Kitchen!
I sincerely hope you've enjoyed today's delicious and easy recipe for savory breakfast sliders as much as I've enjoyed bringing it to you!
Should you have any questions or comments regarding this recipe or anything else you've seen on my site, please don't hesitate to reach out to me. It is always my distinct pleasure to get back with a reply just as soon as I possibly can!
For more Kudos Kitchen recipe information, please follow me on my social medial channels (listed below), and don't forget to TAG me @kudoskitchen with photos so I can view all your delicious recipe creations! It's exciting for me when you share them, so don't be shy!
Instagram, Pinterest, Facebook, and YouTube
Kudos Kitchen by Renee – BRINGING YOU EASY, ECONOMICAL, AND DELICIOUS DISHES TO FEED YOUR LOVED ONES!
Until we eat again, I hope you have a delicious day!
**Note – The post above includes affiliate links. As always, I truly thank you for your support!