Show them how much you care by serving them Panettoné Bread Pudding with RumChata Caramel Sauce for this year's holidays. It's a rich and delicious treat that's absolutely perfect for special occasions.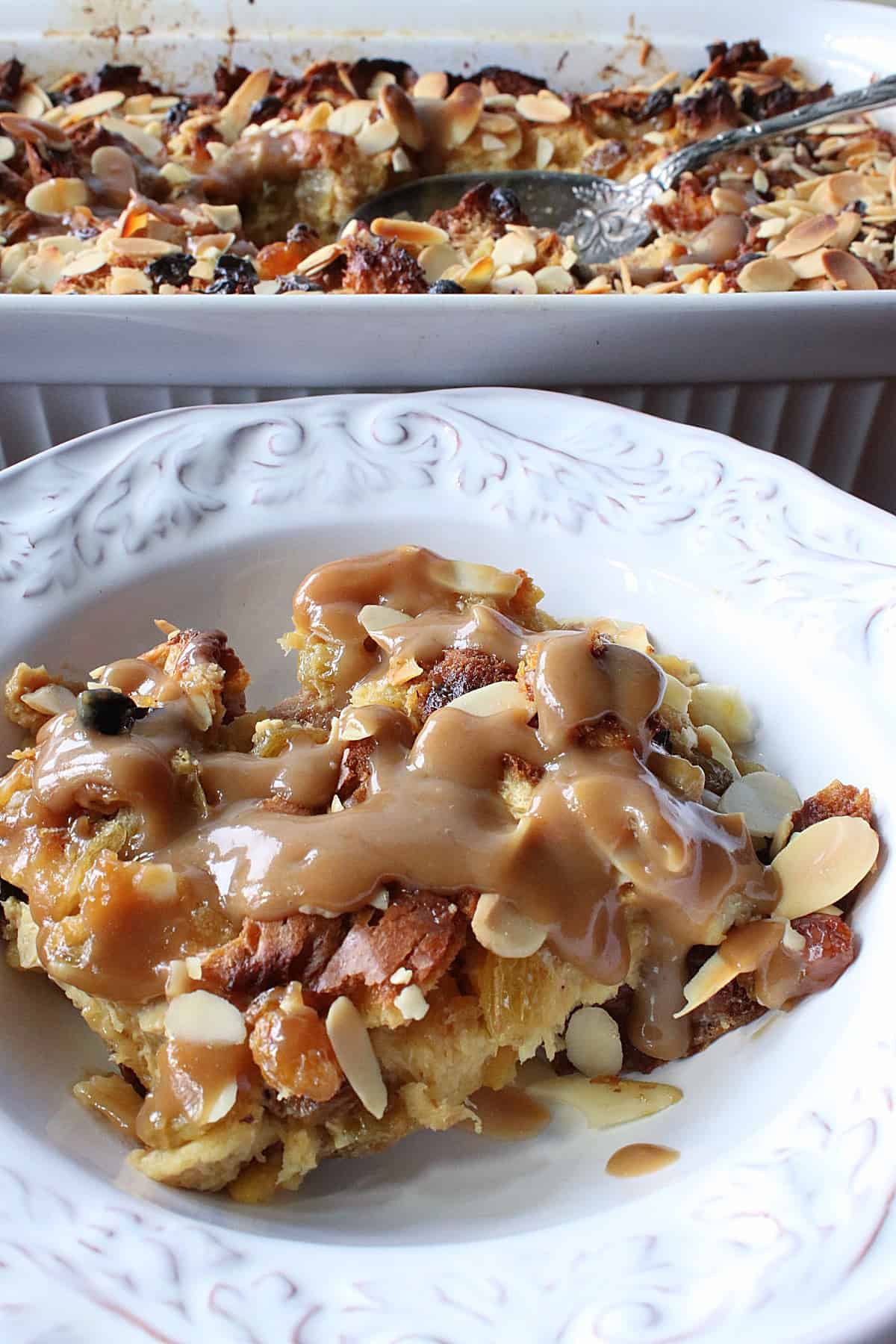 You can either brag or complain that after your first bite of this decedent bread pudding you won't be able to put your fork down!
The flavors and textures are amazing, and the rumchata caramel sauce is a deliciously sinful way to guild-the-lily for a special occasion.
Jump to:
The ingredient list:
*Please note that the exact measurements along with a new "shop the recipe" feature from Instacart is available in the printable recipe card.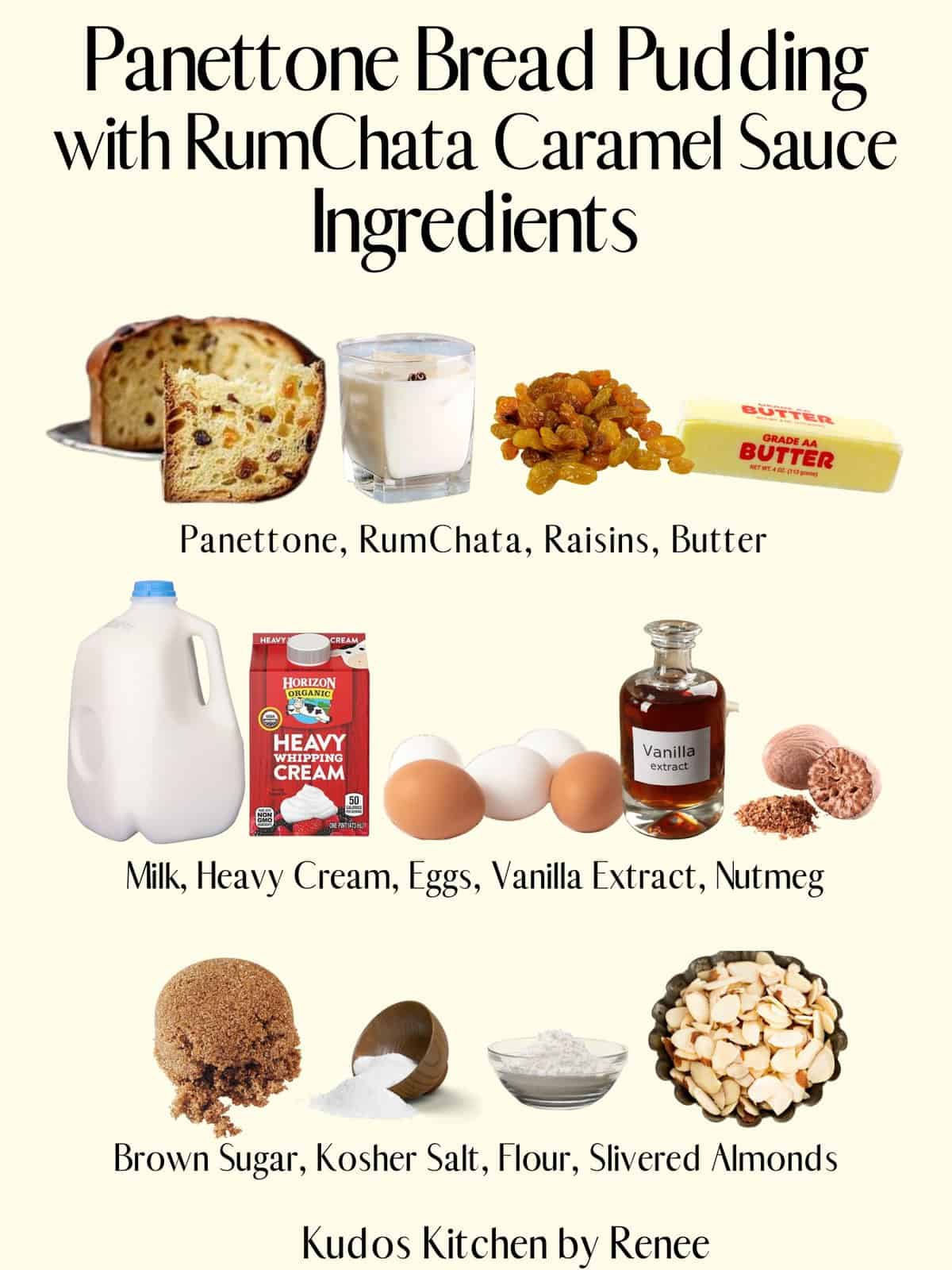 Ingredient information:
PANETTONE - A rich and deliciously dense holiday bread enriched with butter, eggs, and dried fruit.
MILK - I like to use whole milk in this recipe for extra flavor and richness.
HEAVY CREAM - Heavy cream is best for consistency, flavor, and richness. Let's not worry about the calories here...it's the holidays, after all!
EGGS - Large eggs are what is called for in this recipe. The eggs are what sets the custard base for the panettone. Extra-large eggs will also work.
RUMCHATA - This cream and rum-based liquor has a delicious cinnamon and vanilla flavor profile. RumChata is based on the popular Mexican drink, horchata.
GOLDEN RAISINS - These are my raisins of choice. You can use any raisins you like for this recipe.
PURE VANILLA EXTRACT - Always use the best pure vanilla extract you can. Imitation vanilla extract will work if you're in a tight pinch, but pure vanilla extract will give you much more flavor.
MELTED BUTTER - I use American salted butter in all my baking and cooking. If you prefer using unsalted butter for baking, by all means, use what you like and have on hand. I have never experienced anything being too salty from using American salted butter. However, if you use European salted butter, you should cut back on some of the salt called for in this recipe.
GRATED NUTMEG - I always prefer freshly grated nutmeg pods for recipes. The flavor is much cleaner and brighter than using store-bought ground nutmeg. That said, ground nutmeg will work fine if that's what you have. No worries.
BROWN SUGAR - Feel free to use light brown or dark brown sugar. Either will work. I used dark brown sugar with more molasses than its lighter-colored counterpart because it has a slightly deeper flavor. Use what you have.
KOSHER SALT - Kosher salt is my preferred salt for cooking and baking. Table salt measures differently than kosher salt because the grains of table salt are smaller. It is important to note that using table salt instead of kosher salt will lend a saltier flavor to sweet and savory dishes.
ALL-PURPOSE FLOUR - Only one tablespoon of flour is in this recipe. The flour helps to thicken the rumchata caramel sauce.
Kitchen tools and equipment needed:
13" x 9" BAKING DISH - Since you'll serve this holiday bread pudding straight from the pan, I recommend using your nicest 13" x 9" baking dish. Prepare it by spraying it liberally with non-stick baking spray for easier serving and cleaning.
3-QUART HEAVY BOTTOM SAUCEPAN - A heavy-bottom saucepan will ensure the rumchata caramel sauce won't burn as it simmers and thickens.
MEASURING CUPS AND SPOONS - Always important for proper measuring.
KITCHEN SCALE (optional) - If you like to be more precise with your measurements, then a kitchen scale is a must for weighing ingredients. You'll find that you'll get much more accurate measurements and better results using a kitchen scale than with customary American measuring cups and spoons.
MIXING BOWLS - You'll need several different sizes. A small to medium size for soaking the raisins in the rumchata; large for mixing the egg, milk, and cream for the custard; and small for adding the flour to the rumchata caramel sauce for thickening.
WHISK - This is essential for making a smooth, creamy rumchata caramel sauce.
BAKING SPRAY - I like a flour-based baking spray for easy removal of the bread pudding from the casserole dish and easier cleaning when it's time for washing up.
FINE MESH STRAINER - After adding the flour to the rumchata sauce for thickening, the strainer removes any traces of flour lumps left behind.
NUTMEG GRATER (optional) - Freshly grated nutmeg is best if you can use it. What I like about this grater is that it can hold whole nutmeg pods for storage, and you only grate what you need at a specific time.
What is panettone?
Panettone is an Italian, butter-enriched, sweet bread that is loaded with dried candied fruit and raisins. Panettone is a special treat typically served during Christmastime.
The history of bread pudding:
Bread pudding originated in the 11th century by English cooks as a way of repurposing leftover stale bread. It was commonly referred to as "poor man's pudding" because it used mainly water, sugar, spices, and stale bread.
Eggs and fat (butter or lard) started becoming a part of the ingredients in the 13th century, and the dish then started being referred to as bread-and-butter pudding.
Bread puddings can contain sweet or savory ingredients, but a savory bread pudding is typically known as a strata.
How this recipe came to be:
Every year my husband gets panettone from his Italian-based company, and every year I struggle with not knowing exactly what to do with it other than slicing it and serving it with butter and jam (not that there's anything wrong with that).

I finally used the panettone for something creative this past year and created this bread pudding recipe. The idea for the rumchata sauce came to me after I decided to play around with a rum raisin flavor profile because it helps to amplify the "special occasion" taste experience.
Additions and substitution suggestions:
Any enriched bread will work for this recipe. A lovely brioche, challah, or this Sally Lunn Batter Bread would be an excellent choice.
If you prefer not to use the rumchata in this recipe, it's perfectly fine. Feel free to substitute a flavored liquid coffee creamer (or additional heavy cream) for the rumchata called for in this recipe. It's all good.
I didn't add ground cinnamon to this panettone bread pudding, but you certainly could if you'd like. I'd suggest adding 1-2 teaspoons (whisking well) to the egg mixture before baking.
How many servings does this make?
As written this recipe makes 12 servings with each serving being roughly ¾'s cup.
Can this bread pudding be made in advance?
Sure thing.
Feel free to make this bread pudding in advance and pop it in the refrigerator overnight (covered) before baking.
Allow the refrigerated bread pudding to sit on the counter at room temperature for at least 30 minutes before baking.
Can the rumchata be left out of this recipe?
You bet! I recommend substituting a liquid coffee creamer (your favorite flavor) for the rumchata called for in this recipe.
Or if you don't mind the alcohol, but you're just not a fan of rumchata, what about substituting Bailey's Irish Cream or even Amaretto for the rumchata? I'm certain both would be delicious!!
Can panettone bread pudding be frozen after baking?
Yes! You can freeze the whole thing (just make sure it's completely cool first), or you can freeze just a portion of it if you have leftovers.
Make sure to wrap it well in foil or plastic wrap (if freezing whole) or add the leftovers into airtight containers and freeze for up to two months.
Thaw in the refrigerator overnight and reheat in the oven (covered) until hot.
When and how to serve panettone bread pudding with rumchata sauce:
Christmas Eve or Christmas Day comes to mind first since panettone is an Italian Christmas bread. However, New Year's Eve or New Year's Day would be lovely!

All that said, if you're freezing it until later, then serving it for Valentine's Day isn't out of the question either.

Feel free to serve this delicious bread pudding with rum caramel sauce for breakfast, brunch, or dessert. It would be a welcome addition to any table and for any occasion.

I like to spoon it into bowls and then top each serving with additional rumchata caramel sauce! YUM!!
How to make bread pudding using panettone and rumchata?
Assemble the ingredients.
Preheat the oven to 350-degrees and spray a 13 x 9 baking dish with baking spray.
Soak the raisins in a small bowl with the rumchata for at least 20 minutes.
Meanwhile, rip or cut the panettone into bite-sized pieces and place them in an even layer in the prepared baking dish. Set aside.
In a large bowl, whisk together the eggs, milk, heavy cream, nutmeg, brown sugar, salt, and melted butter.
continued below.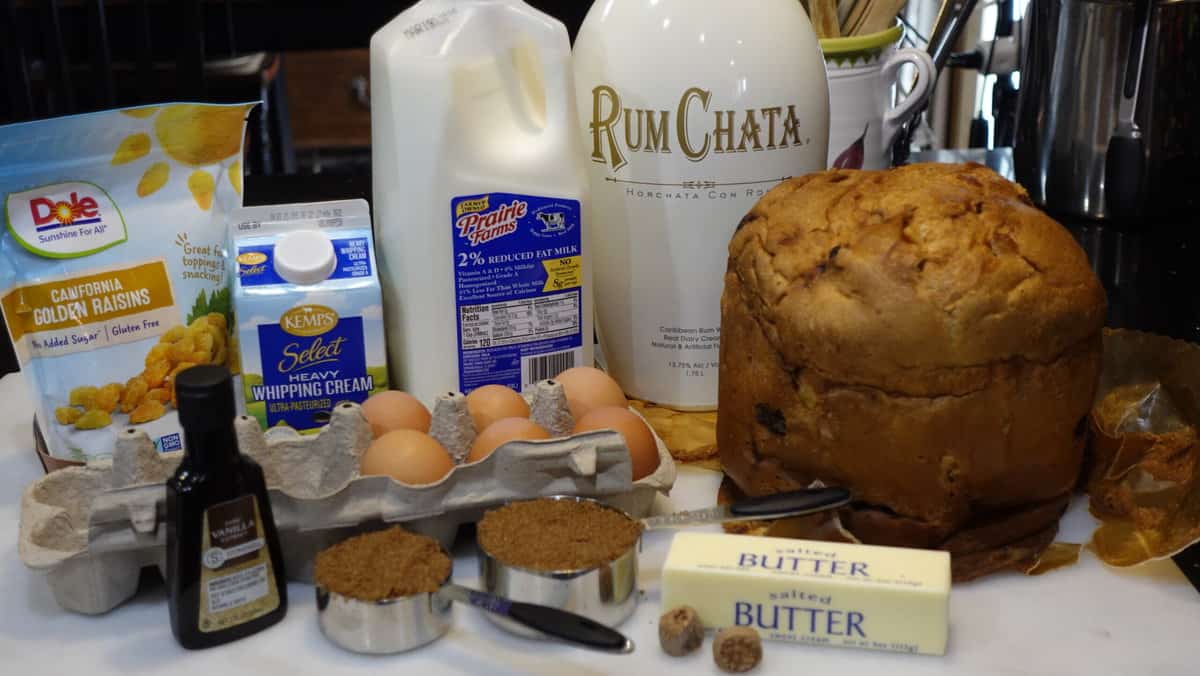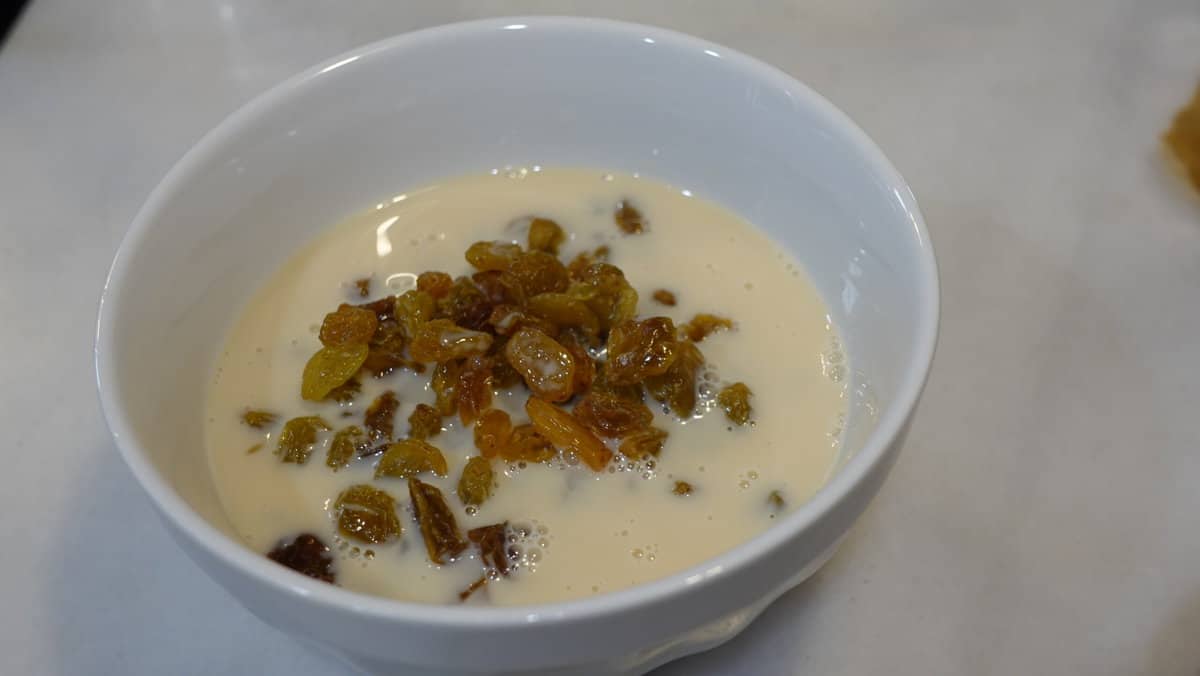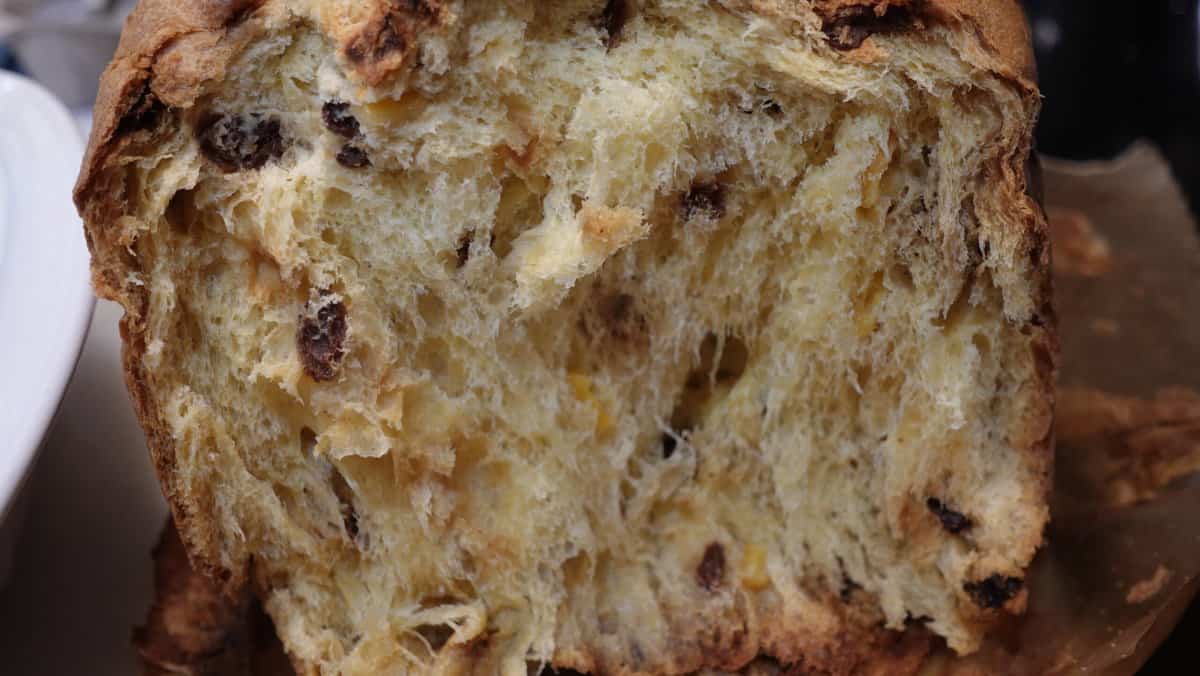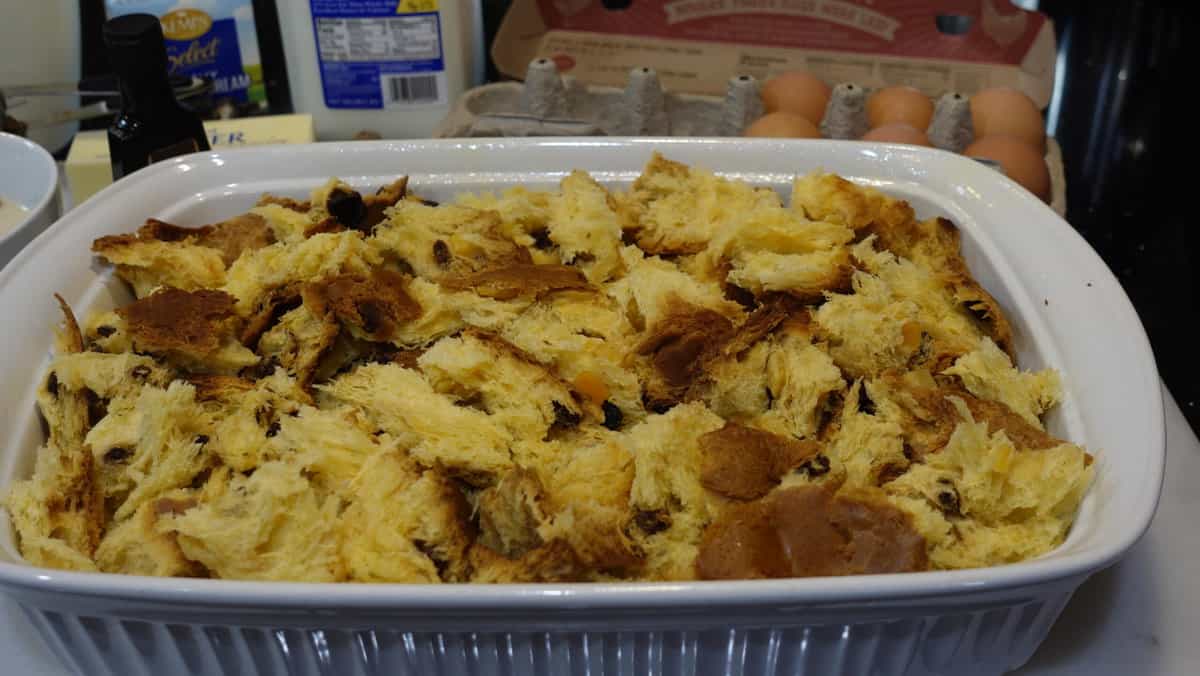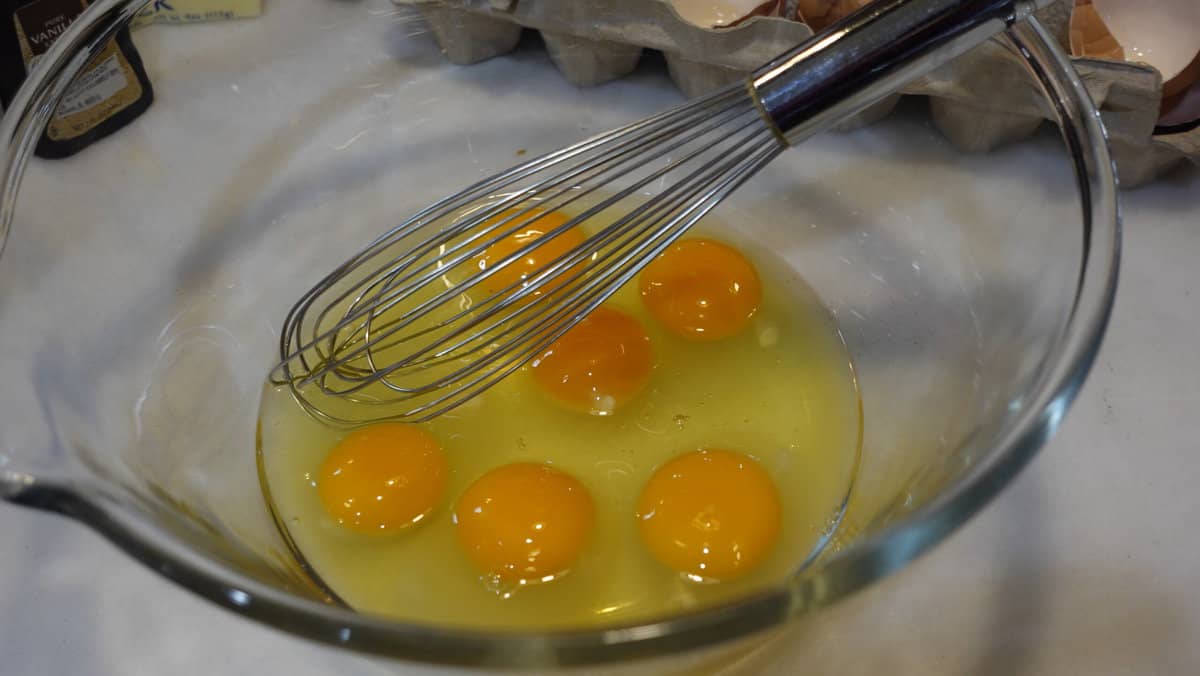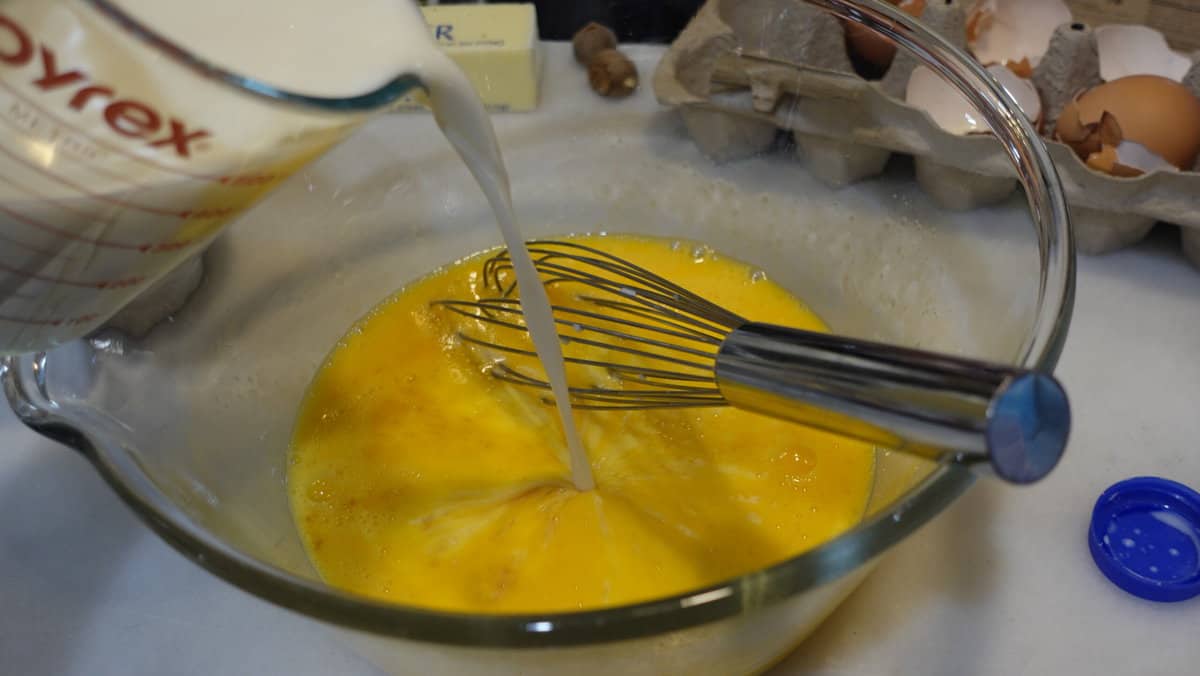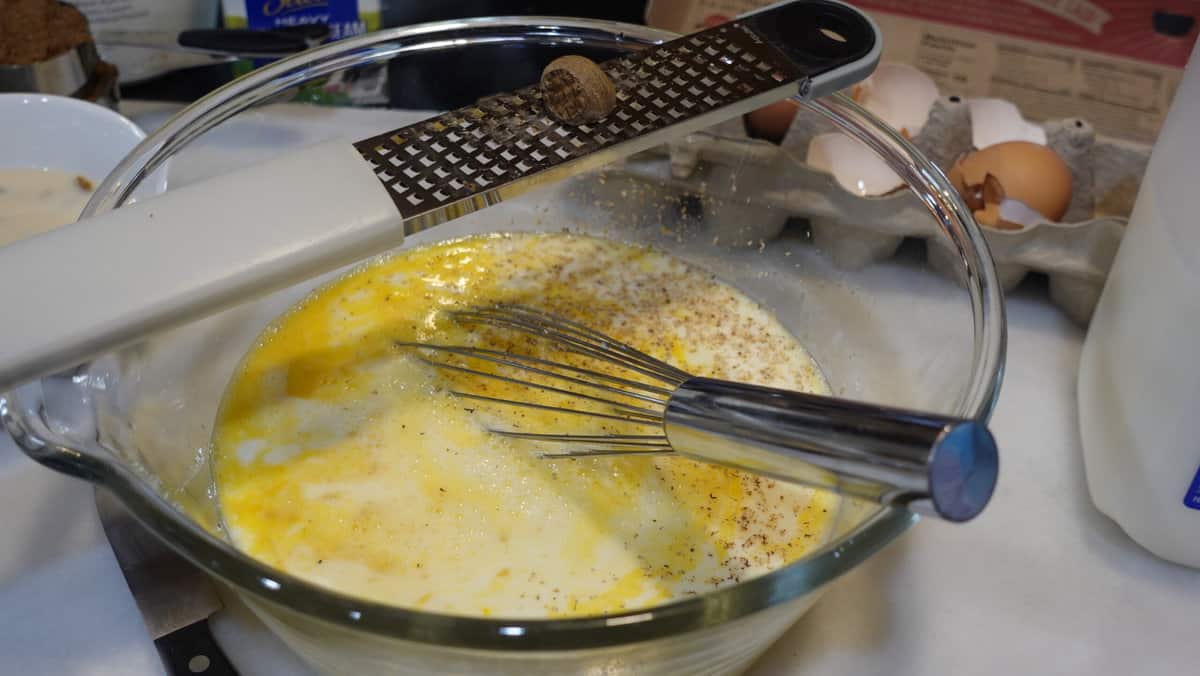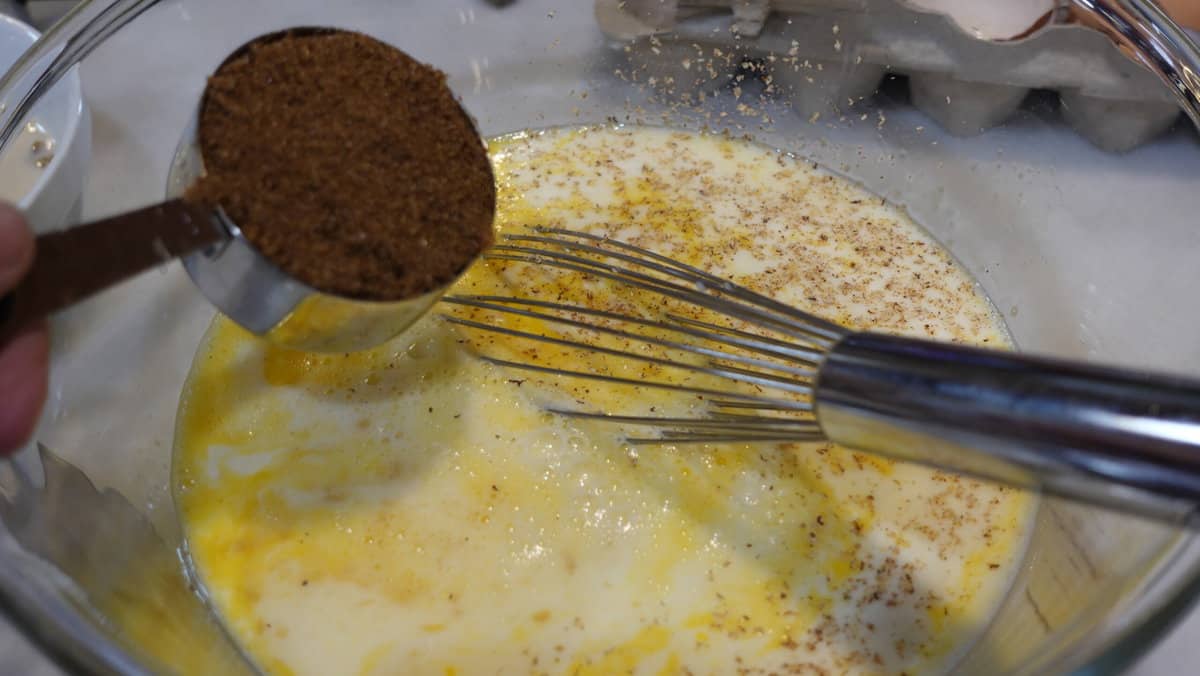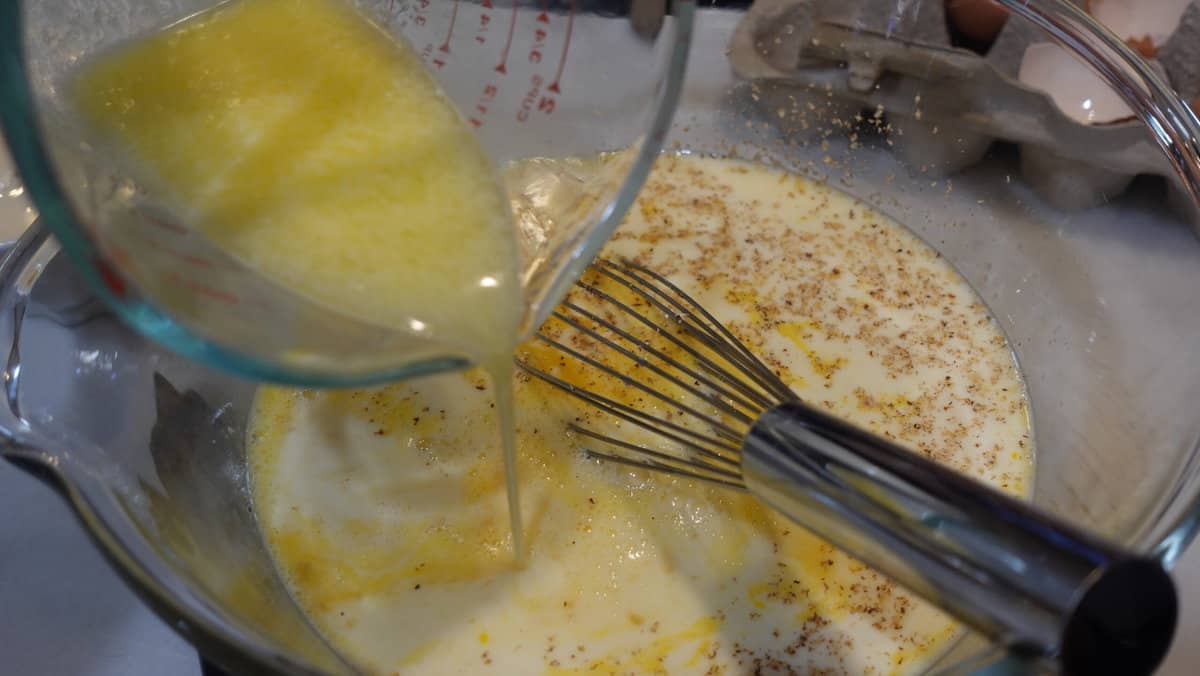 Pour the egg mixture evenly over the prepared panettone in the baking dish and gently press the bread into the egg mixture. Allow the bread and egg mixture to sit for at least 20 minutes.
Drain the raisins, making sure to reserve the rumchatta for making the caramel sauce, and sprinkle the raisins evenly over the panettone.
Top the panettone evenly with slivered almonds and bake for approximately 55-60 minutes, or until the center of the bread pudding is set and no longer shows signs of uncooked egg. *Note-if the bread is browning too much before the bread pudding is completely cooked, cover the casserole dish with foil and return to the oven to complete the baking.
Once fully cooked remove from the oven and allow to cool for at least 15 minutes on a wire rack before serving.
To make the rumchata caramel sauce, add heavy cream, brown sugar, the reserved rumchata (from the raisins), butter, salt and nutmeg to a saucepan.
Heat over medium until the sugar has dissolved and the mixture is hot and at a low boil.
Add ½ cup of the hot caramel mixture to a heat safe bowl and whisk in 1 tablespoon flour to form a paste.
Whisk the paste into the saucepan with the remaining rumchata caramel sauce and cook, stirring frequently until the sauce thickens.
Strain the sauce with a fine mesh strainer, to catch any potential lumps of flour, and to make a velvety smooth sauce.
Serve warm rumchata caramel sauce over the panettone bread pudding and enjoy!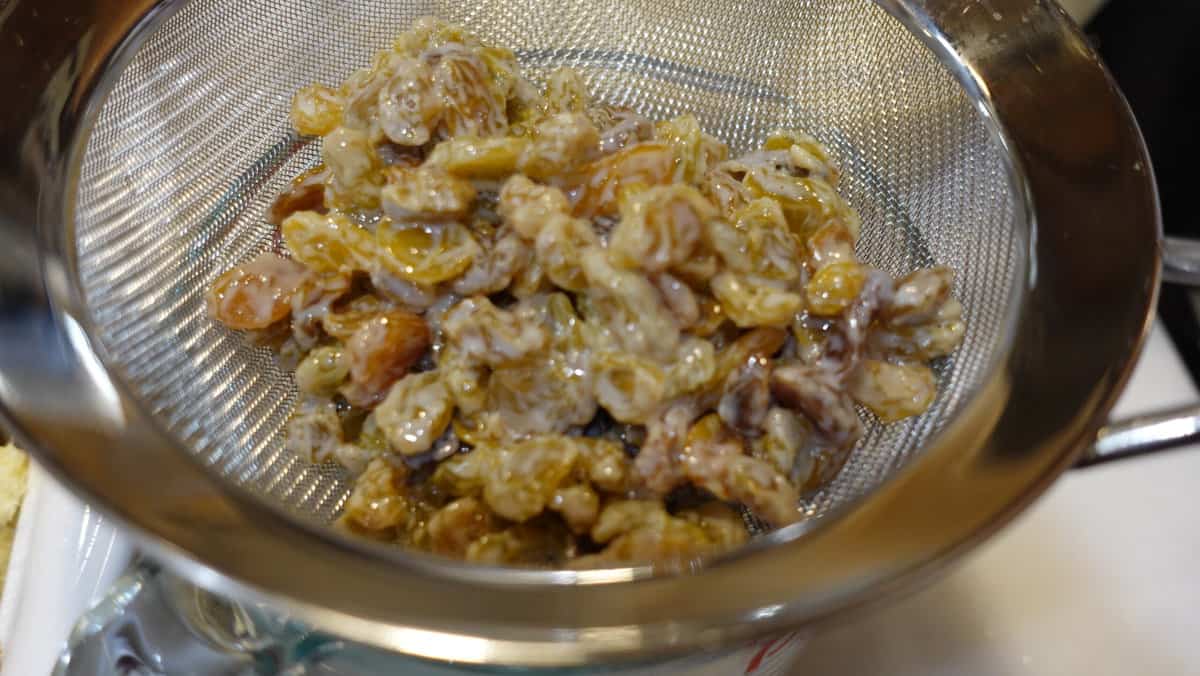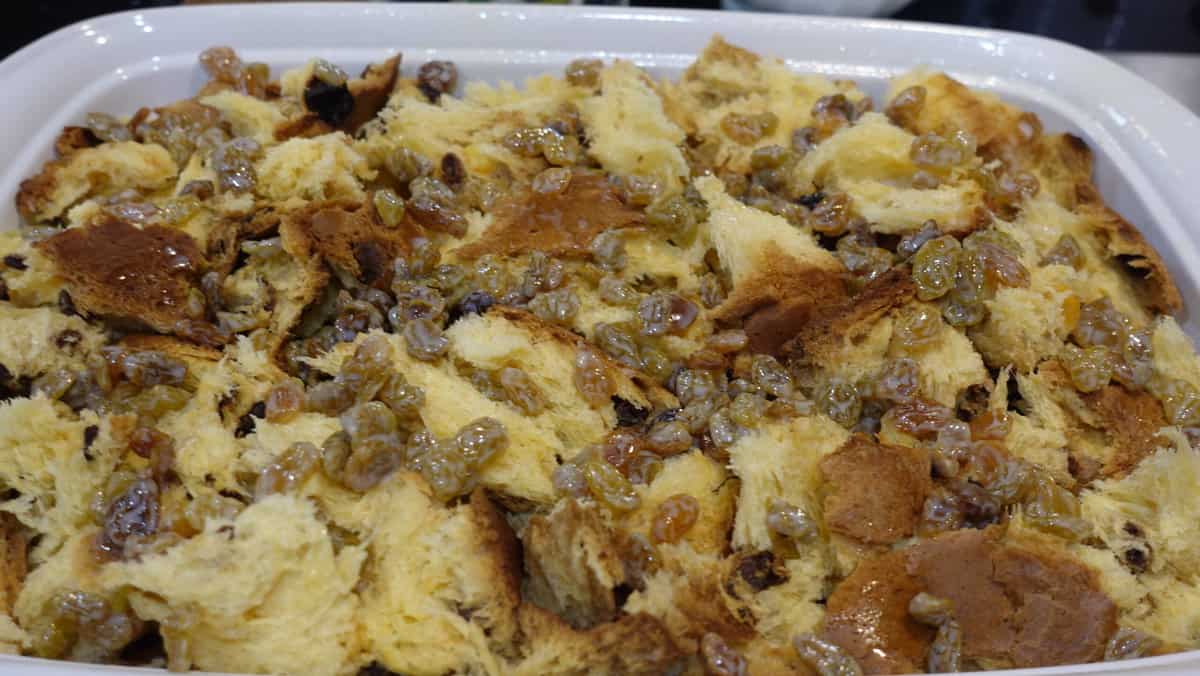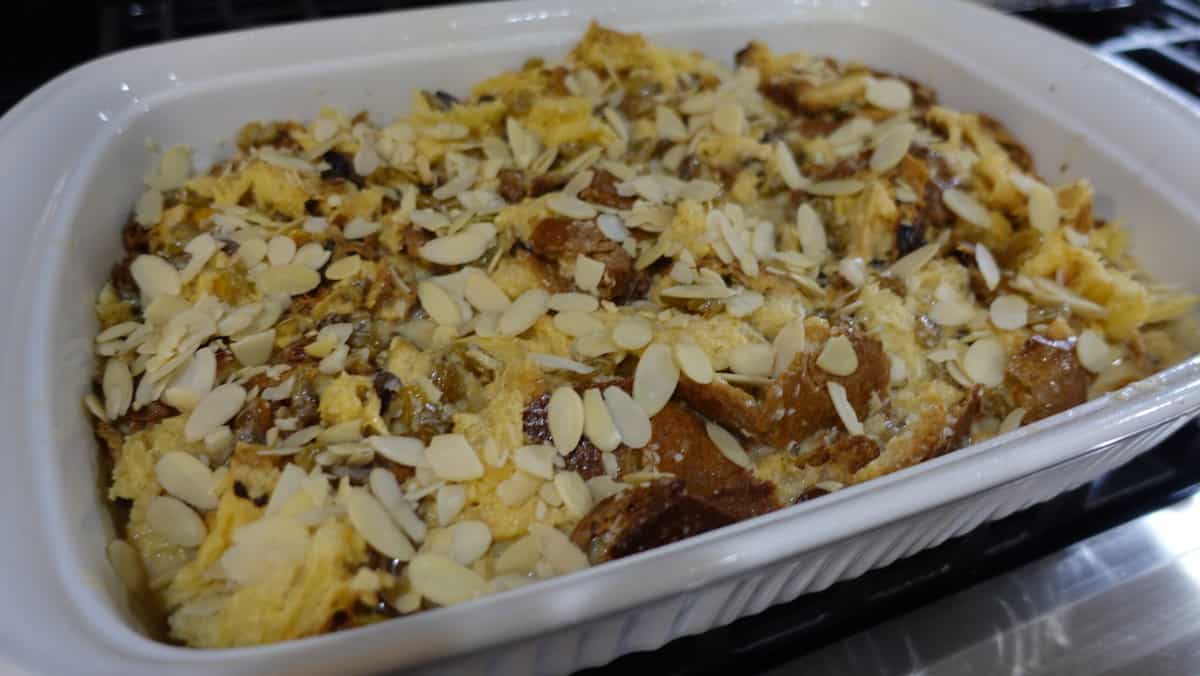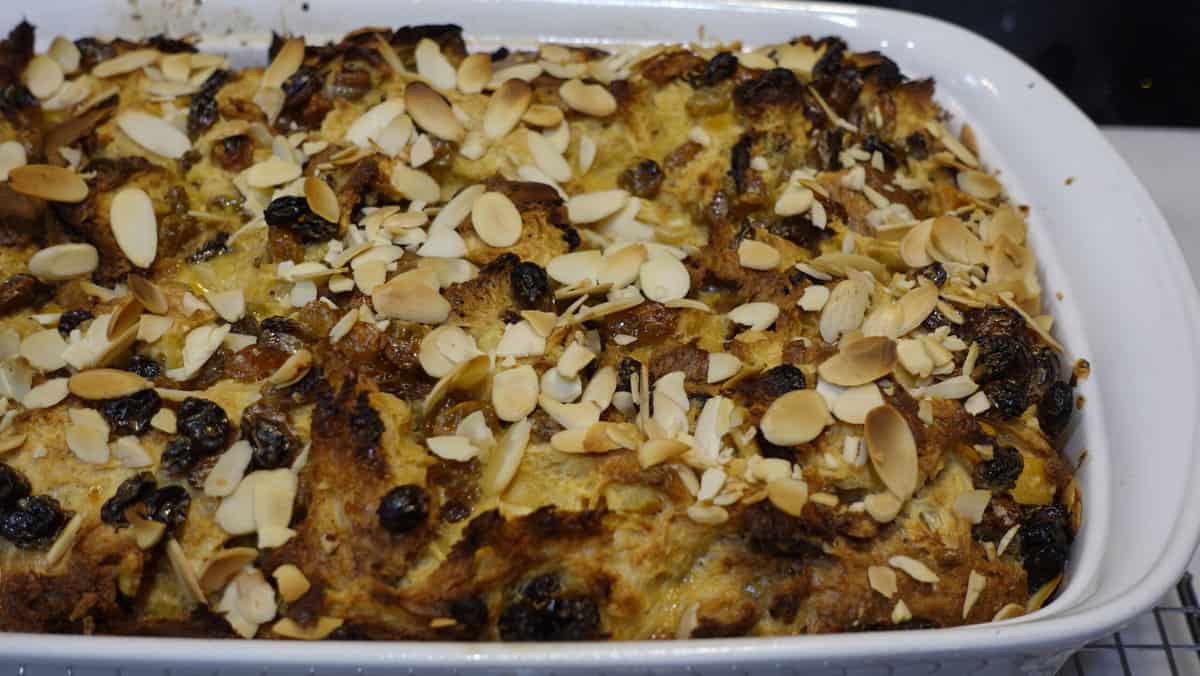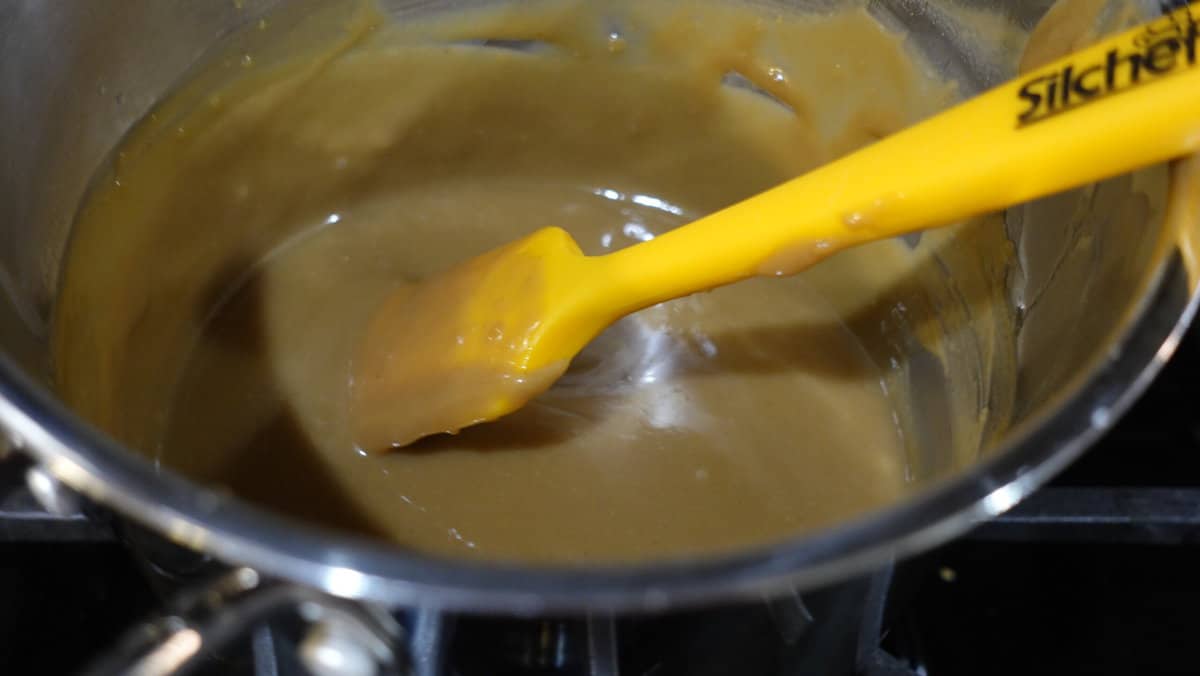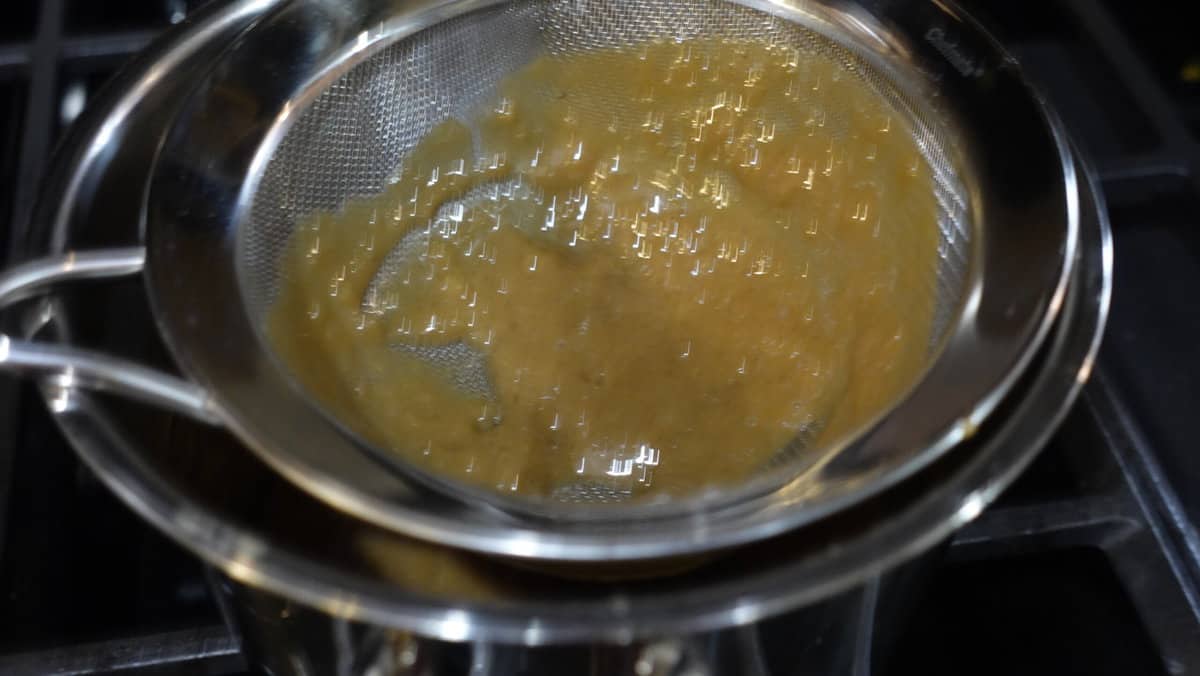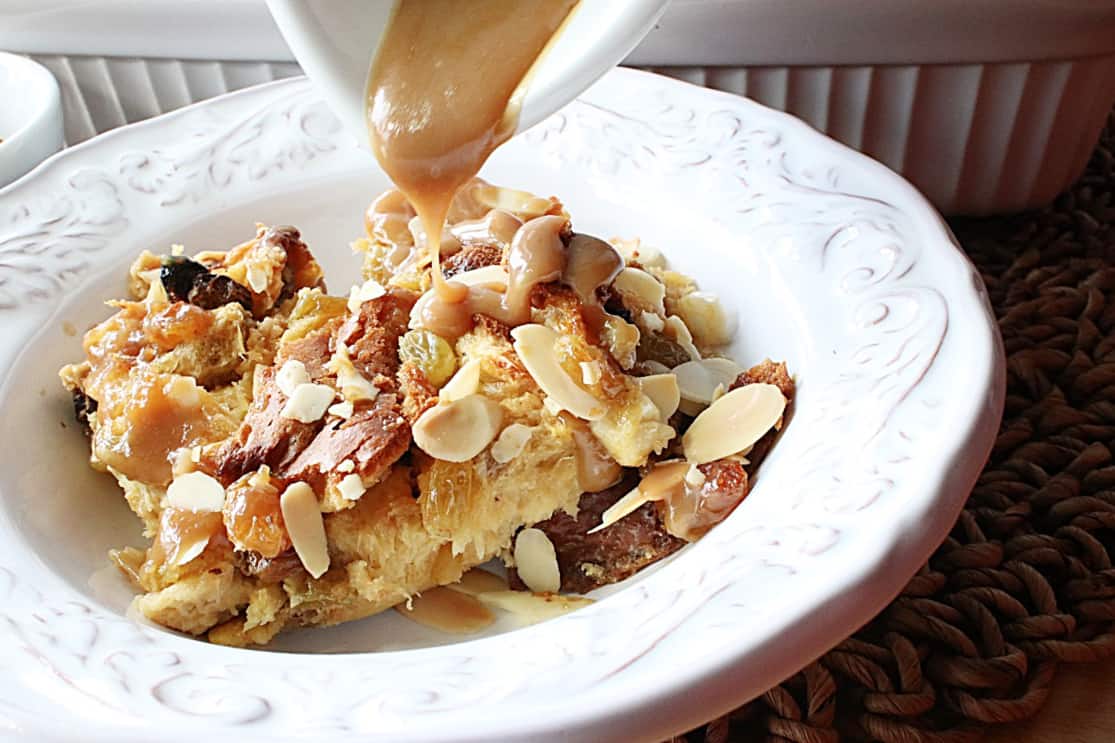 Additional special occasion breakfast/brunch recipes:
When you want to serve a treat that will knock their socks off, but also one you can make ahead of time and assemble later, this recipe for Eggnog Pastry Cream Croissants is for you!
Treat your family and friends to a breakfast gift this year with this easy make-ahead Croissant Apple Breakfast Bake. It will be a deliciously sweet start to a very wonderful day!
Coconut Caramel Crescent Ring is super simple to make and uses everybody's favorite store-bought ingredient...canned crescent rolls.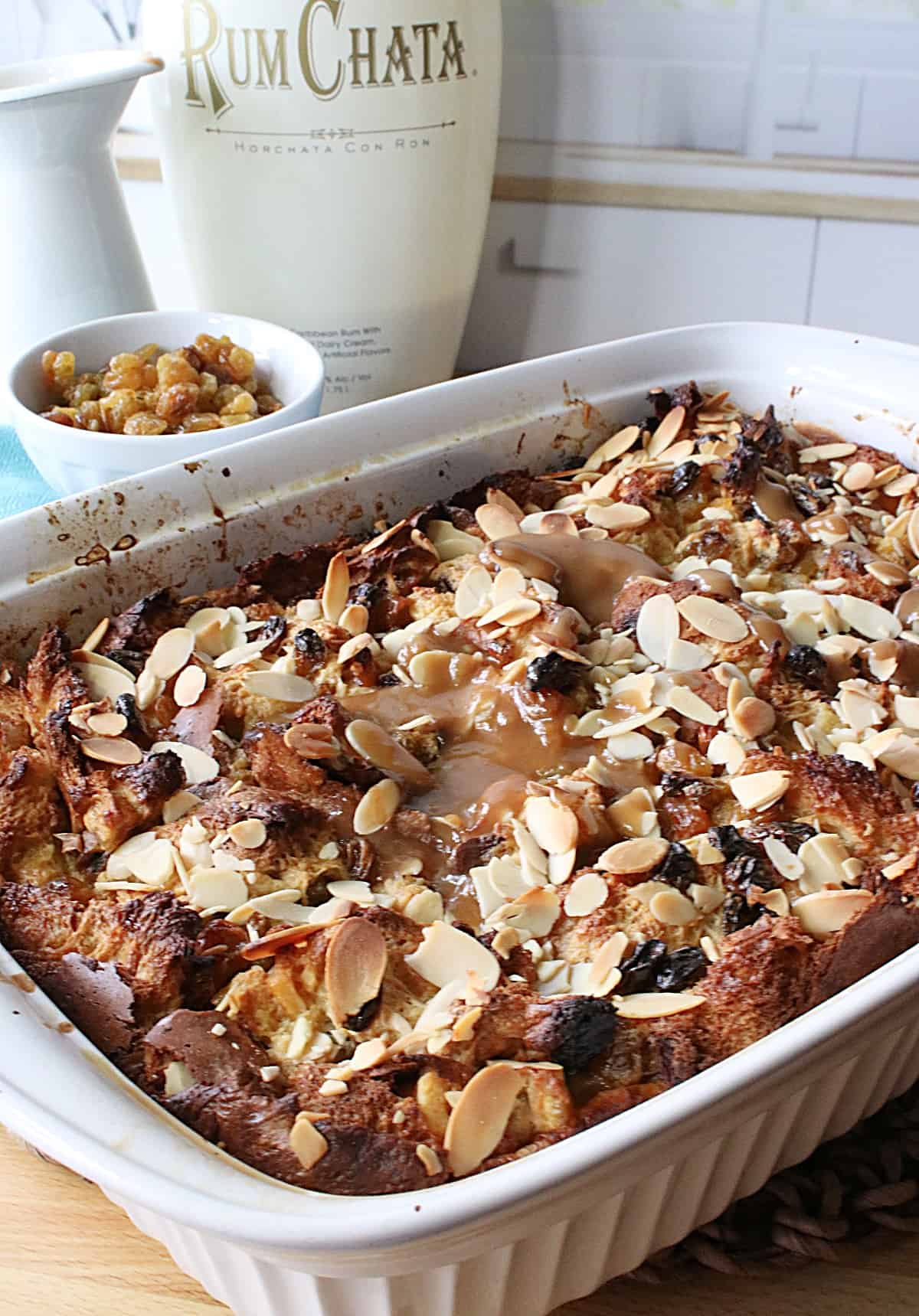 When you make this recipe, and I hope you do, I'd appreciate it if you'd take a moment to leave a star rating on the recipe card and briefly comment on why you rated it as you did. FYI - Google appreciates recipe ratings and, in turn, will share my recipes with more people. Thank you so much!!
Printable Recipe Card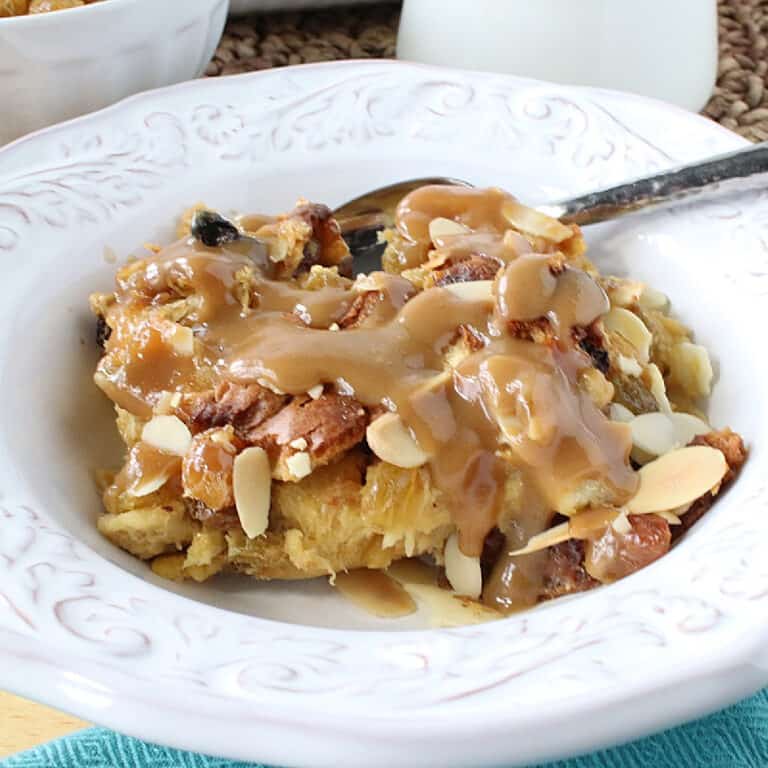 Panettoné Bread Pudding with RumChata Caramel Sauce
An indulgent, special occasion, bread pudding made with panettone and topped with a rich rumchata caramel sauce.
Ingredients
For the bread pudding:
6

cups

panettone

cut or ripped into bite-sized pieces

3

cups

whole milk

½

cup

heavy cream

6

large

eggs

¾

cup

rumchata

1

cup

golden raisins

1

teaspoon

pure vanilla extract

3

tablespoons

butter

melted

½

teaspoon

kosher salt

⅛

teaspoon

grated nutmeg

or to taste

½

sliced almonds

optional
For the rumchata caramel sauce:
1

cup

heavy cream

½

cup

brown sugar

½

cup

rumchatta

reserved from soaking the raisins

2

tablespoons

butter

¼

teaspoon

kosher salt

⅛

teaspoon

grated nutmeg

or to taste
Instructions
How to make the panettone bread pudding:
Preheat the oven to 350 degrees Fahrenheit (175 Celsius).

Add the raisins and rumchata to a small bowl and allow the raisins to soak in the rumchata for 20 minutes. After 20 minutes, strain the raisins and reserve the rumchatta for making the rumchata caramel sauce later.

Spray the baking dish liberally with baking spray and add the prepared panettone evenly into the bottom of the baking dish.

In a large bowl, thoroughly whisk together the eggs, milk, heavy cream, vanilla extract, melted butter, salt and nutmeg.

Top the panettone layer evenly with the rumchatta soaked raisins and sliced almonds. Pour the egg mixture evenly over the top of the contents in the baking dish pushing the panettone pieces gently into the egg mixture so the bread can soak up as much custard as much as possible.

Allow the bread pudding to rest for 20 minutes before baking.

Place the casserole dish on a parchment-lined baking sheet (optional), and bake in the preheated oven to 50-55 minutes, or until the custard is set and there is no runny egg mixture in the center. *Note - if the bread is browning too fast before the custard is set, cover the entire casserole dish with foil and continue baking until the custard is completely set.

Once fully set, remove the bread pudding to a wire rack to cool slightly before serving.
How to make the rumchata caramel sauce:
While the bread pudding bakes, combine the heavy cream, brown sugar, reserved rumchatta (from soaking the raisins), butter, salt, and nutmeg in a saucepan. Cook over medium heat, stirring frequently, until the sugar has thoroughly dissolved, and the mixture is fully incorporated.

Remove ½ cup of the hot cream mixture to a small bowl and whisk in the flour until a paste forms. Add the paste back into the saucepan and continue whisking (over medium heat) until the rumchatta caramel sauce thickens.

Use a fine mesh strainer to strain the thickened rumchata caramel sauce of any lumps of flour (if needed) to make a velvety smooth sauce.

Serve the panettone bread pudding in bowls with the rumchatta caramel sauce drizzled over the top of each serving.
Notes
Please be aware that the calorie count and nutritional information listed are a rough estimate for a serving of panettone bread pudding with rumchata caramel sauce.
One serving = approximately ¾ cup.
Store any leftovers in an airtight container in the refrigerator for up to 4 days.
May be made ahead (before baking) and stored in the refrigerator (covered) overnight. Allow the bread pudding to sit at room temperature for 30 minutes before baking.
May be frozen after baking. Store in airtight containers and freeze for up to 3 months.
Nutrition
Serving:
1
serving
Calories:
478
kcal
Carbohydrates:
23
g
Protein:
6
g
Fat:
20
g
Saturated Fat:
12
g
Polyunsaturated Fat:
1
g
Monounsaturated Fat:
5
g
Trans Fat:
0.2
g
Cholesterol:
146
mg
Sodium:
254
mg
Potassium:
259
mg
Fiber:
0.5
g
Sugar:
20
g
Vitamin A:
817
IU
Vitamin C:
1
mg
Calcium:
124
mg
Iron:
1
mg
I sincerely hope you've enjoyed today's Italian-inspired special occasion sweet breakfast/dessert casserole as much as I've enjoyed bringing it to you.
Follow me across my social media platforms and join in on the conversation: FACEBOOK, INSTAGRAM, PINTEREST, TIKTOK, AND YOUTUBE.
Thank you so much for visiting me today in my Kudos Kitchen. I hope you found something you'll love and that you'll come back and visit me often. There is always room for you around my table!
Should you have any questions or comments regarding anything you've seen here on my blog, please don't hesitate to reach out to me. It is always my distinct pleasure to respond to you just as soon as I possibly can.
Until we eat again, I hope you have a delicious day!!