This rich and creamy Homemade Mexican Horchata is decadent and delicious. You're going to love the combination of flavors in the authentic chilled beverage.
I originally shared this recipe in 2014. I've recently updated this post with additional information, including a recipe card complete with nutritional information, but the recipe itself has remained unchanged.
How this recipe came to be:
While paging through my copy of Taste of Home: Recipes Across America cookbook, I found this recipe for horchata. Normally, I'd pass right by this type of recipe without giving it too much thought, but this time I stopped dead in my tracks.

As it turns out, not that long ago I learned that my eldest son loves, loves, loves this Spanish sweetened rice milk beverage and that he buys it whenever he's at his favorite neighborhood Mexican restaurant.
Go figure, and no surprise… the mom is always the last to know. LOL
This particular horchata is made from long-grain rice, blanched almonds, vanilla, sugar, lime, and cinnamon.
It is then blended together and strained to make a creamy beverage that looks just like cow's milk but in fact, it has no dairy whatsoever.
How and when to serve Mexican Horchata:
Served icy cold, horchata is quite delicious with a distinct sweetness which is the reason my son loves it so much. You see, he's the sweets lover of our family so horchata is right up his alley.
While I wouldn't recommend drinking this sweetened beverage every day of the week (just as I don't recommend drinking soda pop on a daily basis), it is a fun and unique treat that makes a really nice authentic Mexican addition to any family taco or enchilada night. 🙂
Special Equipment needed:
*Note – To make homemade horchata you'll need a high-speed blender or a food processor in order to make a fine powder out of the uncooked rice. Once you've processed the rice it will need to sit, covered in hot water (and then at room temperature), for approximately 6-7 hours. Then it needs to chill in the refrigerator for at least 3 hours, Please plan accordingly depending on when you plan to serve it.
The step-by-step photo instructions: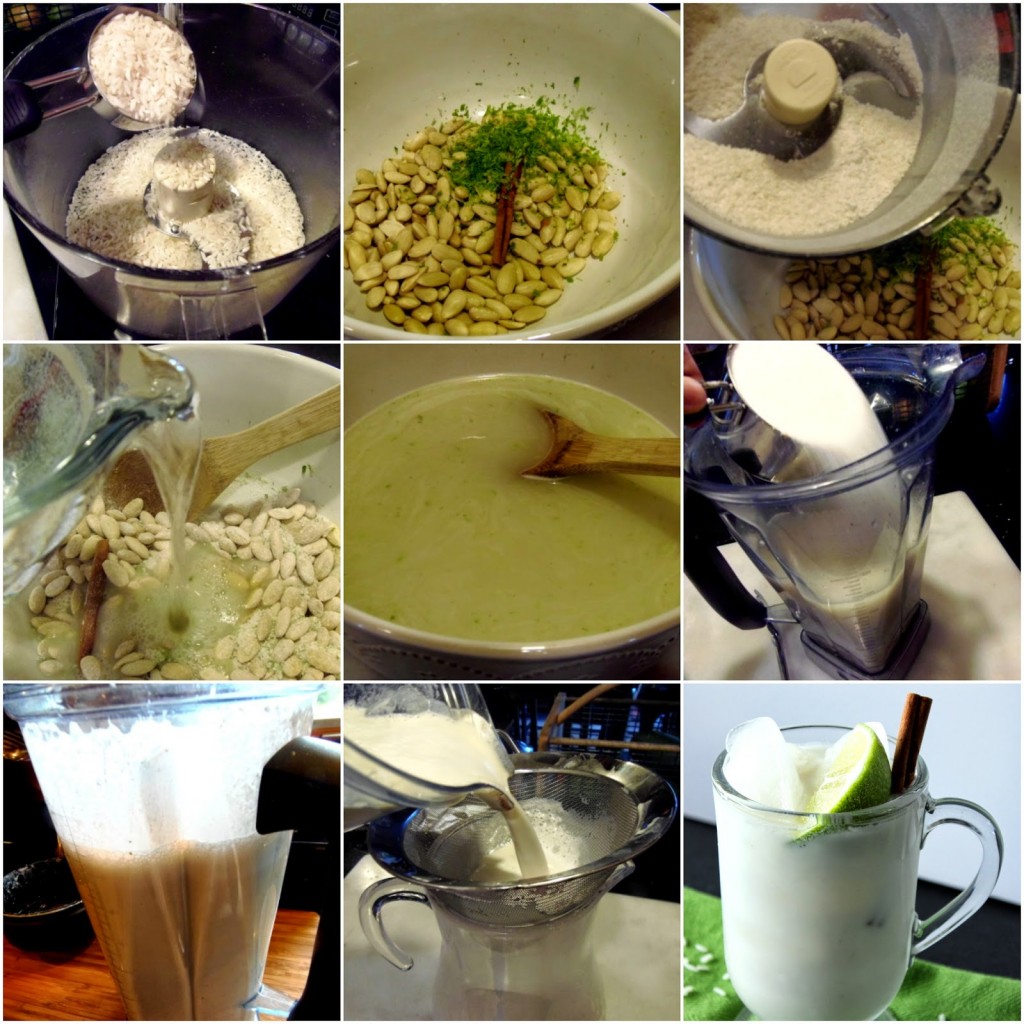 Below is the printable recipe card along with the exact ingredient measurements and nutritional information for making today's Mexican chilled rice beverage.
If you've made this recipe, or are excited to make this recipe, I'd appreciate it if you'd take a moment to leave it a star rating in the recipe card, along with a comment if you're so inclined. Thank you. 🙂
Thank you so much for visiting me here today in my Kudos Kitchen!
I sincerely hope you've enjoyed today's recipe for homemade Horchata as much as I've enjoyed bringing it to you!