This Skinny Pumpkin Spice Malted Milkshake is made in under 5 minutes, and is under 300 calories! It is a creamy and delicious blend of pumpkin purée, low-fat frozen vanilla yogurt, malt powder, vanilla extract, and spices. You'll love it from your very first sip to your last!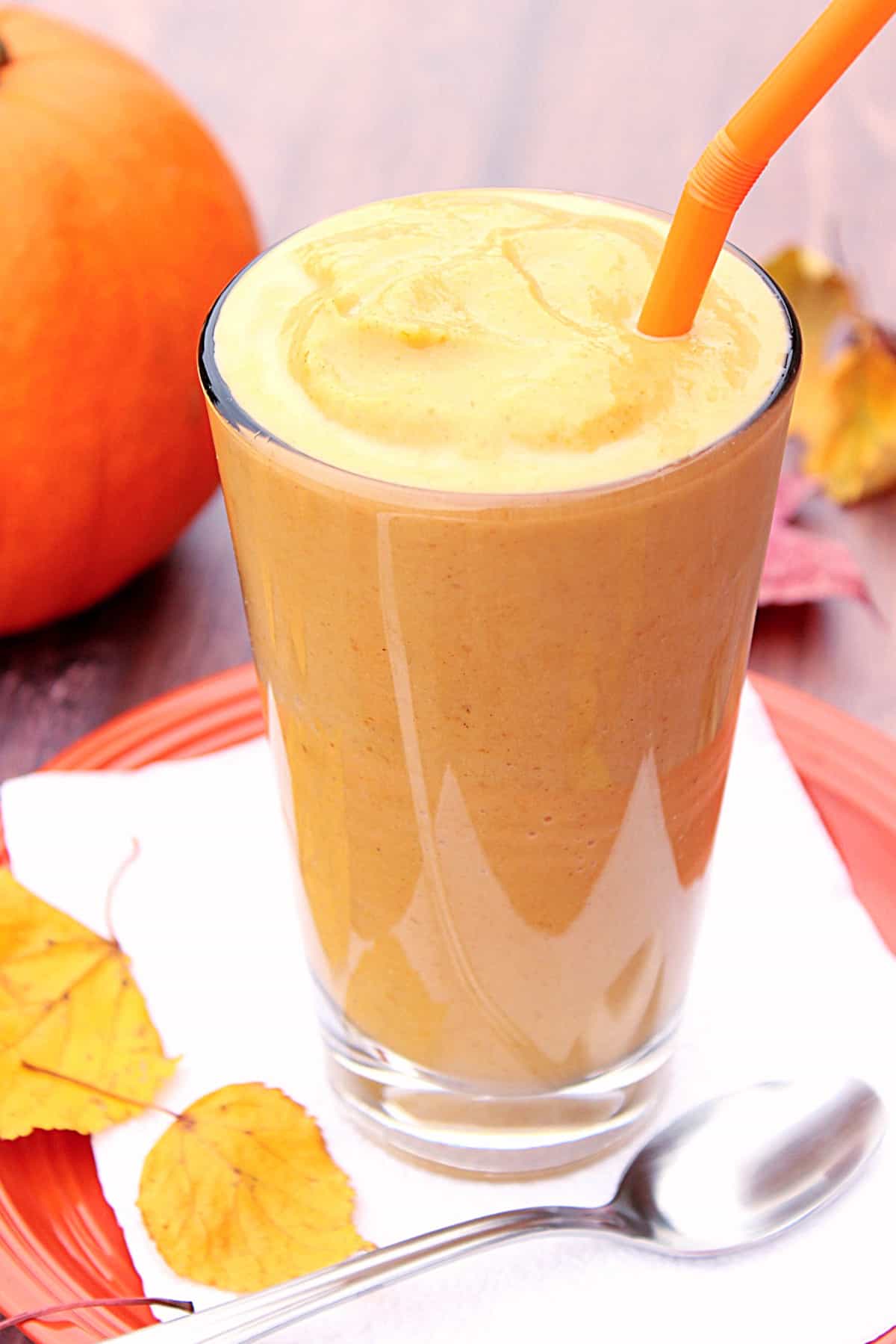 This delicious frozen pumpkin smoothie can be enjoyed throughout the year. Since it's cold and creamy, it's also refreshing to drink during the dog days of summer, not just during pumpkin season.
I originally shared this recipe in 2014. I've recently updated this post with additional information, including a recipe card, complete with nutritional information. The recipe itself, however, has remained unchanged.
Jump to:
🛒The ingredients
💡What's the difference between a shake and a malt?
Malted Milk Powder - This ingredient is what makes this particular pumpkin spice smoothie different than any others you may have found. The malted milk powder works in rounding out all the flavors and gives an updated twist to an old-fashioned classic. Of course you can leave malted milk powder out, but why would you?
A pumpkin spice milkshake won't use the malted milk powder.
🔔Why this recipe works
What's that, you say? You love pumpkin pie but not all the calories that go along with it!
My Low-Calorie Pumpkin Pie Malted has all the flavors you love in a big slice of pumpkin pie, but with only a handful of calories.
✎What is the difference between pumpkin purée and pumpkin pie filling?
Canned pumpkin purée won't include any sweetener or spices included in the ingredients. A can of pumpkin purée is a mashup of cooked winter squash of the orange variety (i.e. pumpkin, butternut, acorn).
Canned pumpkin pie filling will already have the spices and sweetener added to the mash of cooked orange winter squash making it a tad more convenient to use in baked goods if you're in a pinch.
🛑Can pumpkin pie filling be used in this recipe?
It can, however, since (as mentioned above) pumpkin pie filling already has the sweetener and spices added, the calorie count listed in the printable recipe card will increase significantly.
❓FAQ's
What is malted milk powder?
Malted milk powder is a combination of wheat flour, malted barley extracts,
powdered milk, salt, and sodium bicarbonate.
Where is malted milk powder found in the grocery store?
It is found in the baking aisle possibly close to the evaporated and sweetened condensed milk, and/or by the chocolate drink mix powder.
Is this recipe gluten free?
No. Malted milk powder contains wheat flour.
Can chocolate flavored malted milk powder be used?
Sure. In a pinch I say GO FOR IT!!
☑️Gluten-free substitutions for malted milk powder
Coconut milk powder and also Maca powder will make great gluten-free substitutions for malted milk powder if needed.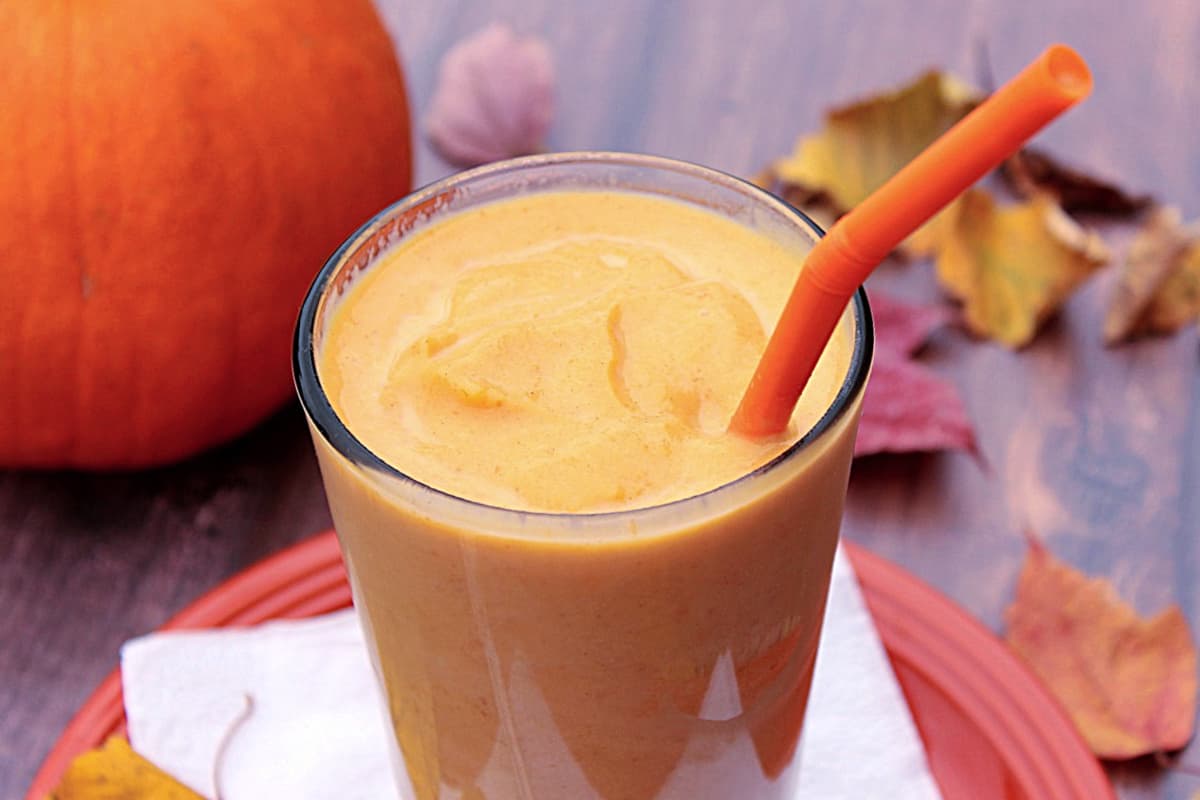 🚦Is canned pumpkin purée good for you?
Often, fresh fruits and vegetables are far better for you than their canned counterparts. However, the health benefits of fresh pumpkin puree versus canned pumpkin puree are identical.
Both choices are excellent and a source of Vitamin A, iron, potassium, and nutrients. Canned pumpkin puree is also low in sodium (somewhat unusual for a canned vegetable), packed with fiber, and low in calories.
🔑More information regarding the health benefits of canned pumpkin purée
Check out this informative article from Eat This, Not That!
📌Additional canned pumpkin purée recipes:
You'll be pleasantly pleased after your first sip of this Pumpkin Spice Martini. After your second sip, you'll be warm all over. You're welcome!! 🙂 Enjoy Responsibly!
Pumpkin Corn Chowder with Shrimp is an easy and seasonal way to upgrade a family favorite. Get ready for rave reviews when you set this thirty-minute meal on the table!
Don't serve your family and friends boring looking Pumpkin Hand Pies! Charm them first with their looks, and then dazzle them with their taste!
⭐If you've made this recipe, or are excited to make this recipe, I'd appreciate it if you'd take a moment to leave it a star rating on the recipe card, along with a comment of why you rated as you did.
Google loves ratings and will show my recipes to more people if they have them. Thank you. 🙂
Printable Recipe Card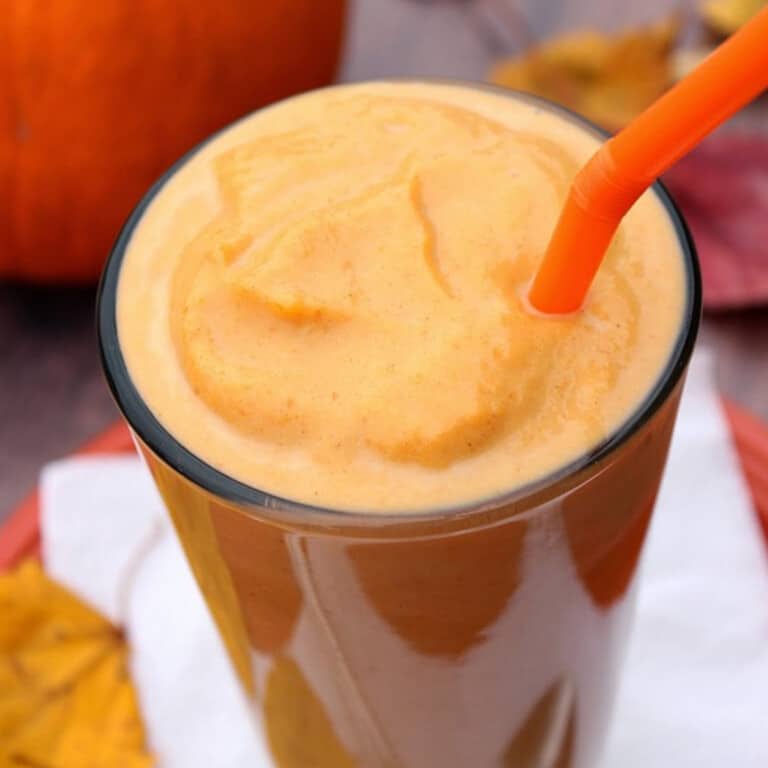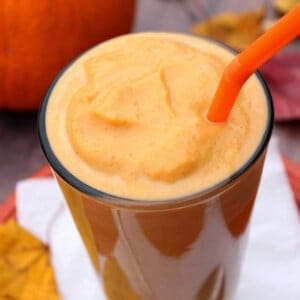 Skinny Pumpkin Spice Malted Milkshake
This Skinny Pumpkin Spice Malted Milkshake is made in under 5 minutes! It is a creamy and delicious blend of pumpkin purée, low-fat frozen vanilla yogurt, malt powder, vanilla extract, and spices. You'll love it from your very first sip to your last!
Ingredients
1

can (15 ounces)

pumpkin purée

1½

cups

low-fat, low-sugar frozen vanilla yogurt

1

cup

low-fat milk

1

tablespoon

malted milk powder (original flavor)

1

teaspoon

pure vanilla extract

1

teaspoon

ground cinnamon

⅛

teaspoon

grated nutmeg

1

cup

ice
Instructions
Place all of the ingredients into a blender and blend until smooth.
Nutrition
Serving:
1
serving
Calories:
273
kcal
Carbohydrates:
42
g
Protein:
9
g
Fat:
8
g
Saturated Fat:
5
g
Polyunsaturated Fat:
0.3
g
Monounsaturated Fat:
2
g
Cholesterol:
9
mg
Sodium:
193
mg
Potassium:
472
mg
Fiber:
1
g
Sugar:
40
g
Vitamin A:
561
IU
Vitamin C:
2
mg
Calcium:
338
mg
Iron:
1
mg
Thank you so much for visiting me today in my Kudos Kitchen. I hope you found something you'll love and that you'll come back and visit me often. There is always room for you around my table!
Should you have any questions or comments regarding anything you've seen here on my blog, please don't hesitate to reach out to me. It is always my distinct pleasure to respond to you just as soon as I possibly can.