Roasted Tomato and Vegetable Soup is an easy and hearty meal using simple, healthy ingredients. The flavor of this roasted soup is so outstanding you'll want to serve it in as many ways as possible, not just with a spoon!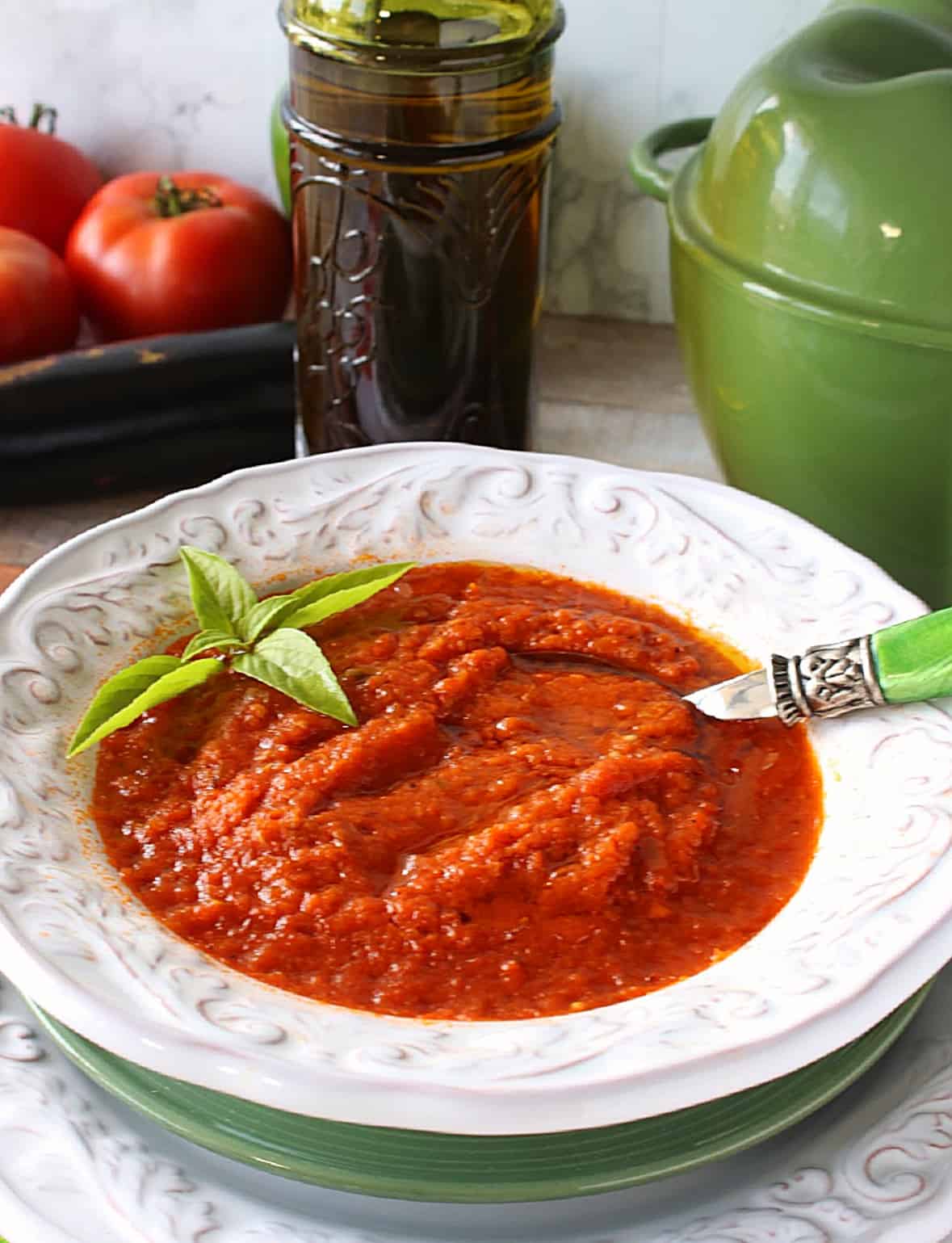 Sometimes, necessity is the mother of the best possible recipe inventions. At least, that's the case with this roasted vegetable soup. Trust me when I tell you that this is a beautifully balanced soup (or sauce) that will soon become one of your favorites!
Jump to:
The ingredients:
*Please note that the exact measurements along with a new "shop the recipe" feature from Instacart is available in the printable recipe card.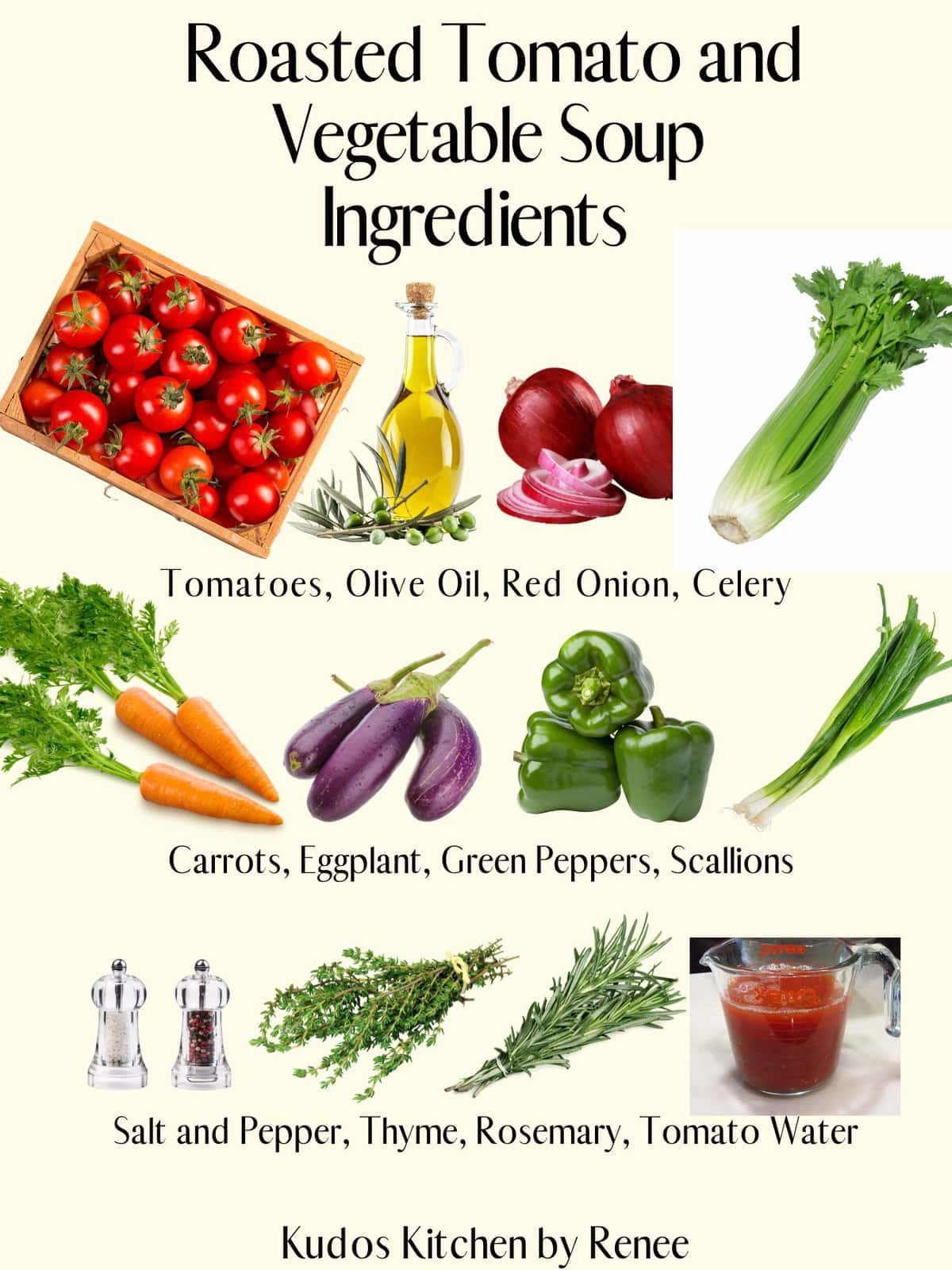 Ingredient information:
TOMATOES - Feel free to use the best-looking, most ripe tomato varieties you can find (or harvest). I used Roma (plum) tomatoes we grew in the garden and a few other types (including a few heirlooms). You'll need approximately 5 - 6 pounds of tomatoes.
EGGPLANT - Peel the skin from the eggplant to remove the bitterness and then cut the meaty interior into batons. I used the long, skinny Japanese eggplant, but any variety of eggplant will do.
GREEN BELL PEPPER - Make sure to remove the seeds and slice the peppers into pieces similar to the eggplant.
CARROTS - Peel the carrots and slice them into narrow-sized batons. The roasted carrots lend a lovely light sweetness to the completed soup you'll adore.
CELERY - What self-respecting soup (pureed or otherwise) doesn't contain celery? Even if you're not a huge fan of celery, you'll enjoy and appreciate how roasting celery mellows its flavor. I urge you to keep this ingredient in the recipe.
SCALLIONS - I added scallions to this recipe because I had some in the fridge I needed to use before they spoiled, and I sure am glad that I did. The dual onion flavor that the scallions provide in conjunction with the red onion gives this soup/sauce a unique blend of mild oniony deliciousness.
RED ONION - Feel free to use another variety of onions if that's what you have. Please don't be worried that this soup will be overly oniony. It won't. Roasting the onions will mellow their flavor and add depth and additional interest to the soup.
FRESH THYME - If you don't have fresh thyme, you can use dried thyme at the end of the blending process. Do not add dry herbs to the oven while roasting the vegetables; they will burn and become bitter.
FRESH ROSEMARY - As with the thyme, using fresh rosemary is best in this recipe. However, if you want to add dried rosemary to the finished soup after blending, do so sparingly. Dried herbs are much more potent in flavor than fresh.
TOMATO WATER - This magic ingredient will thin and give the roasted tomato soup the most incredible flavor. You'll be amazed at how much liquid comes from the salted tomatoes, so make sure to place a large bowl under the colander because you'll want to catch every last drop.
OLIVE OIL - I used regular olive oil (not extra virgin) because it can withstand the higher roasting temperature in the oven. Extra virgin olive oil isn't well suited for high-temperature cooking. You may also use avocado, grapeseed, or even canola or vegetable oil.
SALT AND PEPPER - The salt is vital in this recipe for removing the excess liquid from the tomatoes, so they'll roast better in the oven. The salt's tomato water is excellent for flavor and for thinning the soup while blending. I always use kosher salt and freshly cracked black peppercorns. *Important - If using table salt, please use half of what the recipe calls for.
How to slice veggies into batons:
Recommended kitchen equipment:
HIGH-SPEED BLENDER - I used my Vitamix to blend the roasted vegetables quickly. I worked in two batches and then married the two batches together into one finished product.
IMMERSION BLENDER (STICK BLENDER) - To use an immersion blender, add roasted vegetables to a large soup pot and some tomato water. Use the stick blender to blend the ingredients to your desired consistency, adding more tomato water as needed. *Caution - Do not lift the stick blender out of the ingredients while still running, or it will look like a crime scene in your kitchen. Not that I'd know anything about that, mind you! *wink*
EXTRA-LARGE CUTTING BOARD - This is the newest and my favorite piece of kitchen equipment I own to date. The extra-large size of this bamboo cutting board is perfect for chopping many vegetables, and the vegetables stay on the board as I'm working. You'll see this board in all my upcoming videos (today's included).
Why this recipe works?
It uses an abundance of garden-fresh produce which is perfect for late summer gardeners.
The oven and the blender do most of the work so it's a super simple way to get dinner on the table without much hassle or fuss.
It's a truly delicious and versatile recipe.
Ingredient add-in suggestions:
I'd suggest adding some chopped zucchini to the roasting pans, along with some jalapenos slices if you like things hot and spicy.

To garnish, why top the finished dish with a drizzle of olive oil, some freshly grated Parmesan cheese, croutons, and some fresh basil?
Is this a healthy recipe?
It sure is! Plus, it's low in calories, and high in fiber!
Renee's top tips for recipe success:
When chopping the vegetables, keep them all relatively the same size so they'll cook at the same rate. Since all the vegetables except for the carrots are soft, cutting the carrots into smaller pieces is a smart idea but not a necessity.
Save the water that the tomatoes give off after salting. This liquid is gold and will add an abundance of flavor to the finished product, in addition to thinning the soup to your desired consistency.
Can this soup be frozen?
100% yes!!
Add the cooled soup to an airtight freezer container and freeze for up to 6 months. Thaw in the refrigerator and reheat (covered) in a microwave-safe bowl or a saucepan on the stovetop.
Additional serving suggestions:
You can use this flavorful roasted tomato soup as a sauce for pasta, chicken, sausage, or meatballs.
Or how about as a base for chili or as a dip for nacho chips? The possibilities are endless so don't be afraid to use your imagination.
More recipes using eggplant:
You'll never miss the noodles in this Eggplant and Zucchini Lasagna! Plus, it's super easy to put together and can feed a hungry crowd! It can be made with or with or without sausage, but either way it's a very substantial and hearty meal.
These delicate and Crispy Baked Eggplant Chips are packed with flavor thanks to a light brushing of homemade basil-infused olive oil, and grated Parmesan cheese.
When you want to kick up your hummus game, making this Eggplant and Chickpea Hummus is the healthy and delicious recipe you need.
Additional soup recipes:
When you don't have much time but want a comforting soup with a lot of flavor and on the table in a hurry, this 15-Minute Creamy Turkey Potato Soup recipe is your answer!
Delicious bread to dip into your soup:
When you make this recipe, and I hope you do, I'd appreciate it if you'd take a moment to leave a star rating on the recipe card and briefly comment on why you rated it as you did. FYI - Google appreciates recipe ratings and, in turn, will share my recipes with more people. Thank you so much!!
Printable Recipe Card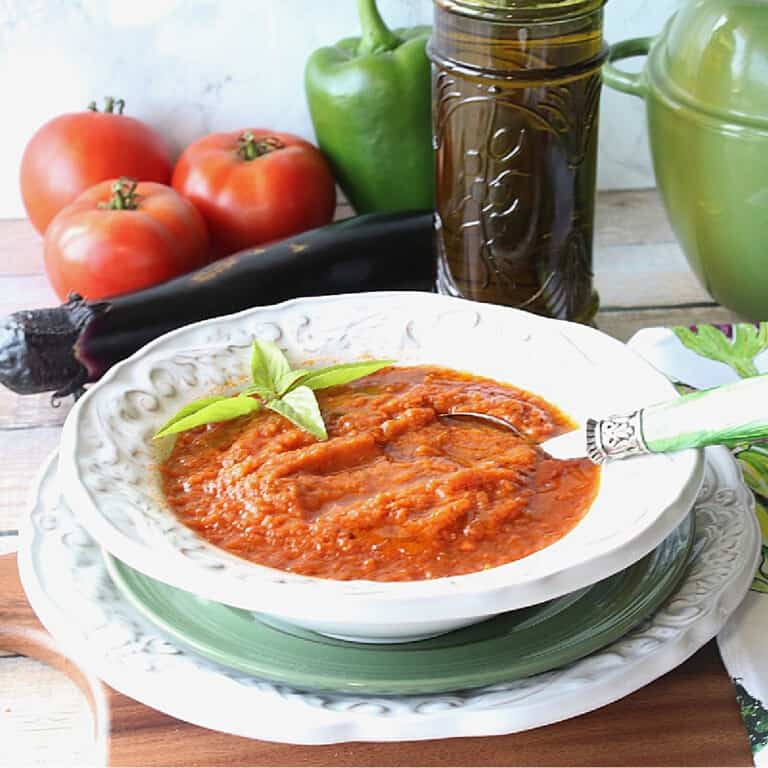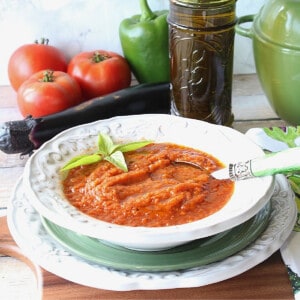 Roasted Tomato and Vegetable Soup
Roasted Tomato and Vegetable Soup is an easy and hearty meal using simple, healthy ingredients. The flavor of this roasted soup is so outstanding you'll want to serve it in as many ways as possible, not just with a spoon!
Ingredients
4

tablespoons

olive oil

divided

3

pounds

Roma tomatoes

cored and quartered

2

pounds

vine ripened tomatoes

cored and quartered

1

large

red onion

roughly sliced

2

medium

green bell peppers

seeds removed and sliced

2

large

carrots

peeled and sliced into batons

4

ribs

celery

medium sliced

6

scallions

roughly chopped

1

medium bunch

fresh thyme

3

sprigs

fresh rosemary

reserved tomato water (as needed)

from salting and draining the tomatoes.

salt and pepper

to taste
Instructions
Preheat oven to 435-degrees Fahrenheit (220 degrees Celsius).
To make the tomato water:
After the tomatoes have been chopped, add them to a colander along with approximately 2 teaspoons of kosher salt and toss well. Set the colander over a bowl to catch the juices that come from the tomatoes. Allow the tomatoes to sit for approximately 30 minutes.

After 30 minutes time, gently press the tomatoes in the colander to release as much water as possible. Reserve the tomato water for later.
To roast the vegetables:
While the tomatoes are draining, prepare the eggplant, bell pepper. carrots, celery, scallions, red onion, and the fresh herbs.

Lay all of the chopped and prepared vegetables (tomatoes also) in an even layer, onto oiled baking sheets (2-3 baking sheets). Drizzle the vegetables with the remaining olive oil and season each sheet with salt and pepper (approximately ½ teaspoon of salt (per sheet) and ¼ teaspoon pepper (per sheet) or to taste).

Add the baking sheets into the preheated oven and roast for 30-40 minutes, rotating the racks halfway through the roasting process. You'll know their done when they're slightly charred, and they have shrunk considerably in size.

Remove the vegetables from the oven and place them all in a large bowl (juices and all) to cool. Remove the spent herb stems and discard.
To blend the soup:
Once the vegetables are cool (working in two batches) add them to a high-speed blender and blend until creamy. Add the reserved tomato liquid to thin the soup to your desired consistency. *Note - if you run out of tomato liquid before you get to your desired consistency, use water or vegetable broth as a replacement.

*Note - directions for using an immersion blender are below.

Add the puréed soup to a large soup pot to heat and eat immediately, or store in the refrigerator until ready to reheat and eat.

Garnish the soup with a drizzle of olive oil on top of each serving along with some fresh basil leaves if desired.
Notes
*Note - If using an immersion blender, add the roasted vegetables and their juices to a soup pot along with half of reserved tomato water. Blend with the stick blender adding additional tomato water, or vegetable broth until you reach your desired consistency.
Refrigerate in an airtight container for up to 5 days.
Reheat in a soup pot until hot.
May be frozen in an airtight freezer container for up to 4 months. Thaw in the refrigerator and reheat in a soup pot until hot.
Nutrition
Serving:
1
serving
Calories:
138
kcal
Carbohydrates:
17
g
Protein:
3
g
Fat:
8
g
Saturated Fat:
1
g
Polyunsaturated Fat:
1
g
Monounsaturated Fat:
5
g
Sodium:
46
mg
Potassium:
882
mg
Fiber:
5
g
Sugar:
10
g
Vitamin A:
5683
IU
Vitamin C:
68
mg
Calcium:
57
mg
Iron:
1
mg
I sincerely hope you'll enjoy making and eating this healthy and hearty roasted vegetable and tomato soup as much as I've enjoyed bringing it to you!
Follow me across my social media platforms and join in on the conversation: FACEBOOK, INSTAGRAM, PINTEREST, TIKTOK, AND YOUTUBE.
Thank you so much for visiting me today in my Kudos Kitchen. I hope you found something you'll love and that you'll come back and visit me often. There is always room for you around my table!
Should you have any questions or comments regarding anything you've seen here on my blog, please don't hesitate to reach out to me. It is always my distinct pleasure to respond to you just as soon as I possibly can.
Until we eat again, I hope you have a delicious day!!