Joe Biden Vinegar Pie was made just for fun. It's not a political statement (don't get me started). It's just a delicious pie with a humorous, colorful, character crust - nothing more; but yummy none the less.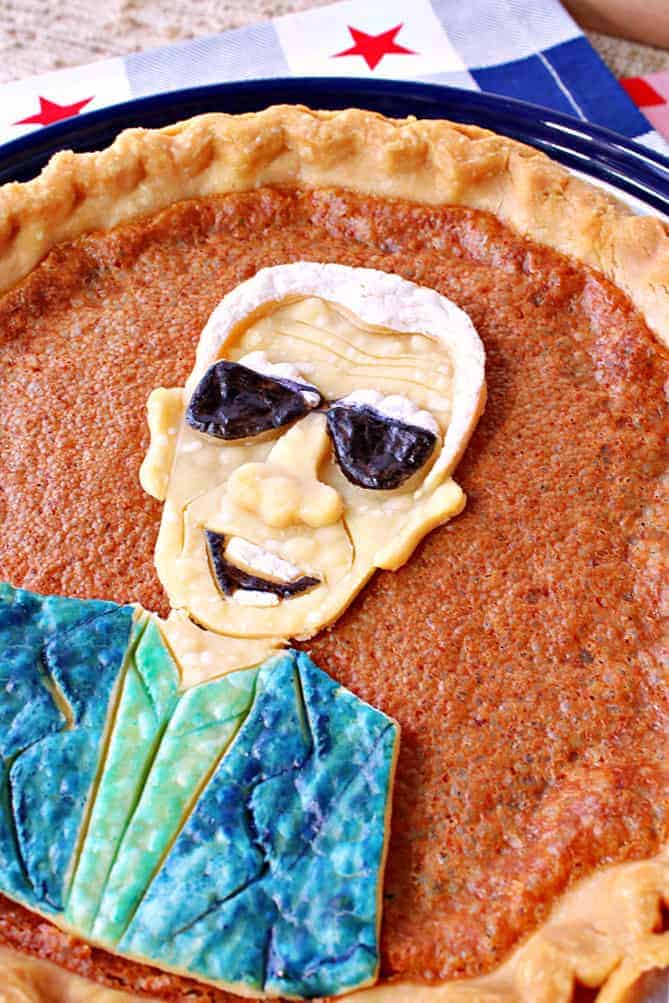 Joe Biden Vinegar Pie is sweet, tasty, and completely unexpected. Whether you agree or disagree with his politics, at least you'll agree with how yummy he is!
I like to call him Joe PIE-den!
**Please Note - The printable recipe card with detailed instructions, complete ingredient measurements, and nutritional information for making Joe Biden Vinegar Pie is available at the end of this post. OR you can hit the "jump to recipe" button (found above) to be taken directly to the recipe.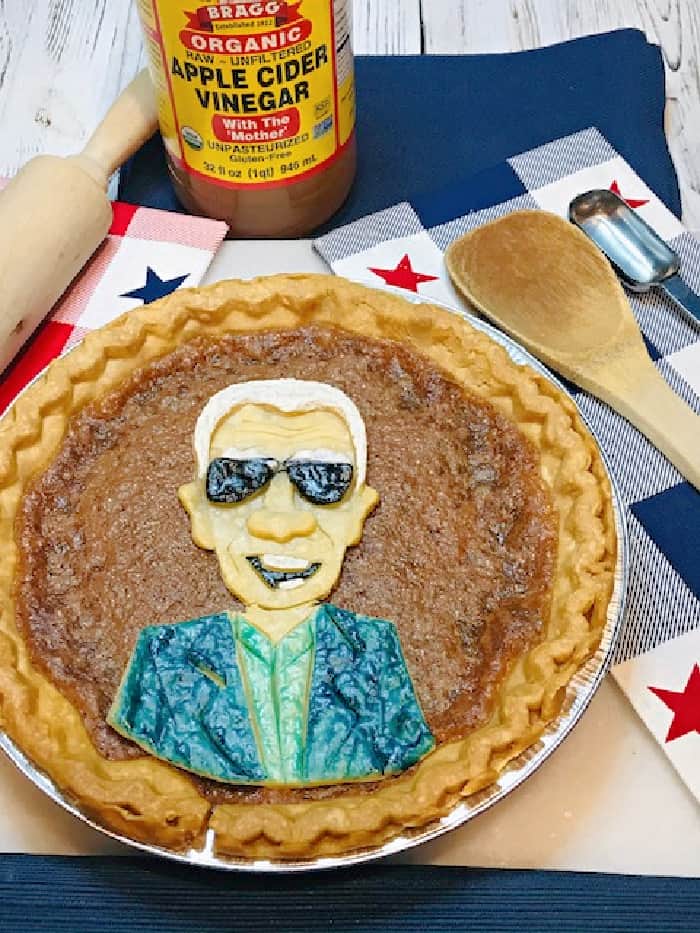 The ingredient list:
**Note - The following lists of ingredients plus kitchen tools and equipment contain affiliate links (highlighted in blue) for your consideration and shopping convenience. #CommissionsEarned
1 pre-made deep dish pie crust (homemade or store-bought)
1 premade 9" round pie dough (homemade or store-bought)
eggs
brown sugar
granulated sugar
salt
butter
Kitchen tools and equipment needed:
Biden character image (check the internet)
scissors (to cut out image)
paintbrush
mini prep cups (or paper cups)
pie weights (optional)
spatula
How this recipe came to be:
The actual recipe I used for this Vinegar Pie comes from my sweet friend, Jenni of Pastry Chef Online.
I had to adapt Jenni's recipe slightly.
Because I only had half a cup of brown sugar in my pantry, I substituted half a cup of granulated sugar to bring the total sugar amount up to 1 cup.
And I also used orange marmalade on the bottom crust in place of the egg wash (for the moisture barrier) to prevent a soggy bottom.
The PIE-den design idea truthfully came from my son, who thought it would be funny to challenge his mom into making something he's not seen anywhere else on the internet.
Here you go, Greg! How do you like me now? LOL
What does vinegar pie taste like?
It's deliciously sweet, and not at all vinegary tasting.
If you like the creamy center of a pecan pie, but without the nuts, then you'll go crazy for the flavor of a vinegar pie!
Why add vinegar at all?
It prevents the pie from being cloyingly sweet by balancing all the sugar in the recipe with the acid from the vinegar.
You can learn much more about the history of old-fashioned vinegar pie by visiting Jenni.
How to store Joe Biden Vinegar Pie?
Cover Joe loosely with plastic wrap or foil and keep him at room temperature for up to 3 days.
Can Joe Pie-den be frozen after baking?
Yes!
Wrap Joe Biden Vinegar Pie well with plastic wrap and store it in the freezer for up to two months.
Additional pie and tart recipes:
*Easter Bunny Pie (shown below)
With the help of store-bought pie dough, you can easily recreate this whimsically delicious Easter Bunny Pie in the shake of a cottontail…so you'd better hop to it!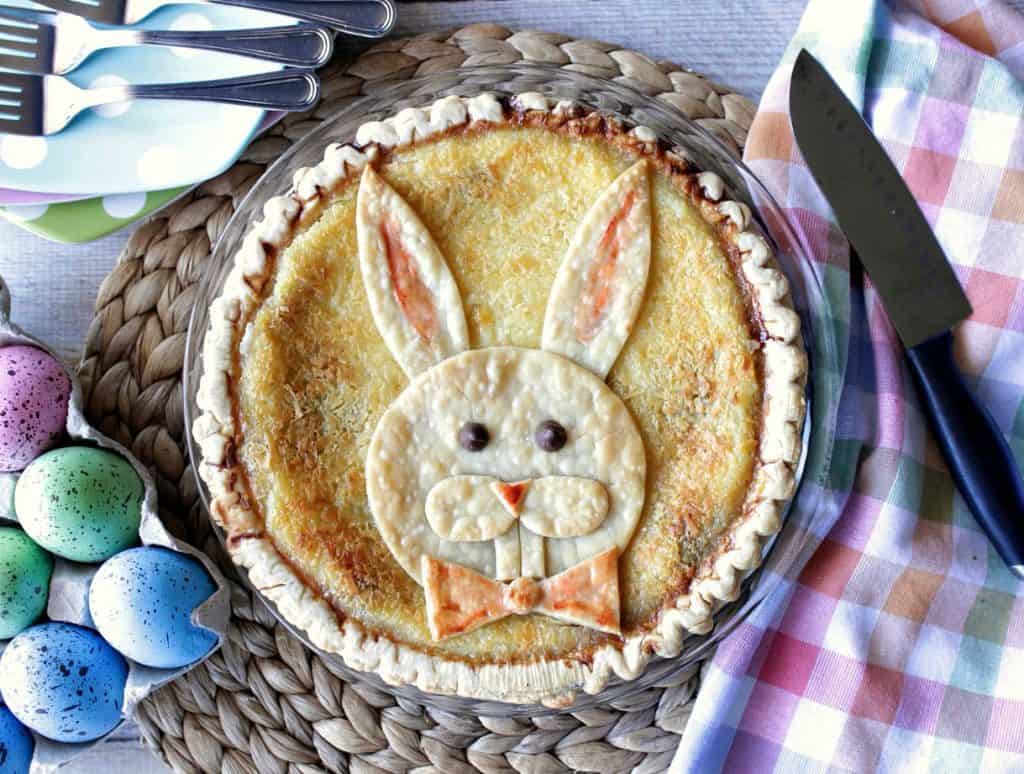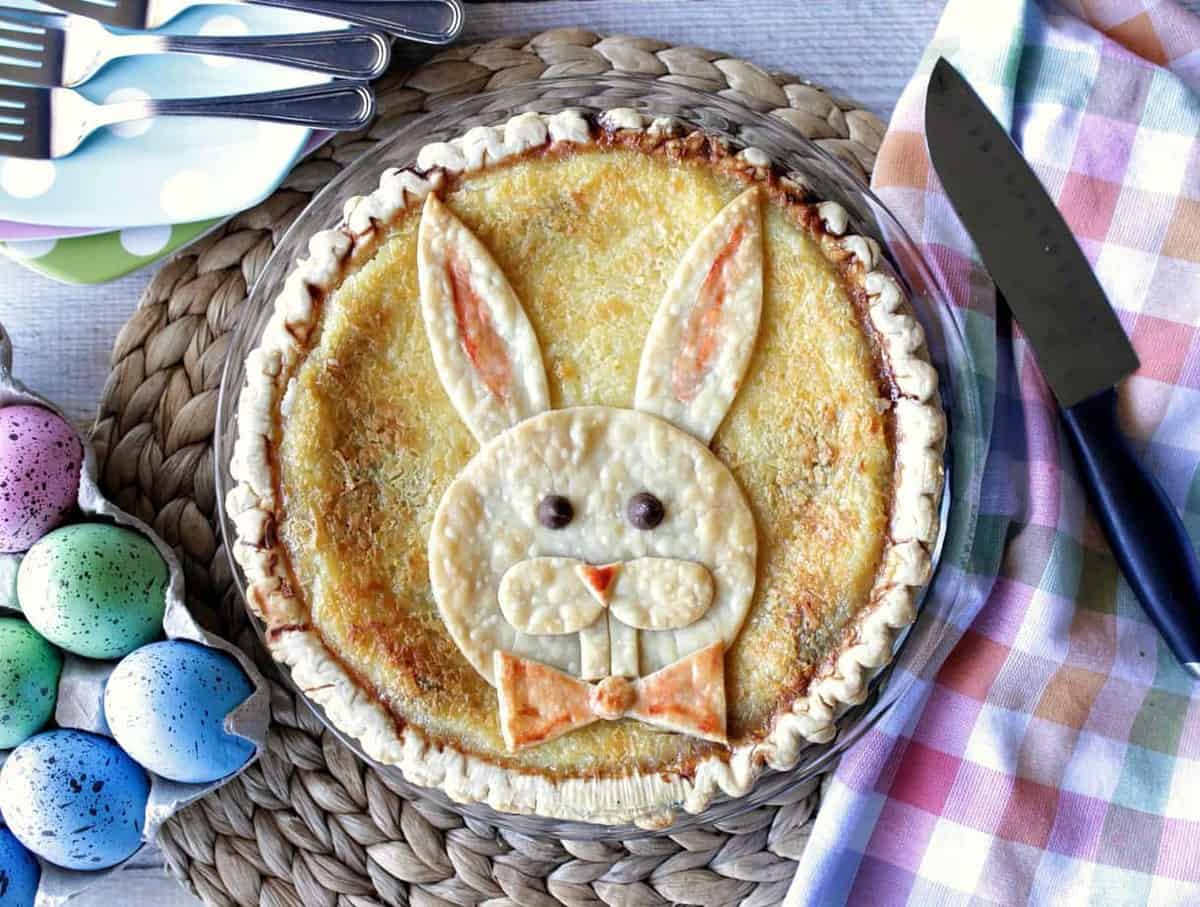 *Apple Pie Wedges (shown below)
You're going to love how easy and delicious these apple pie wedges are to make…and eat. With store-bought or homemade pie crust, apple pie wedges are utterly delicious!!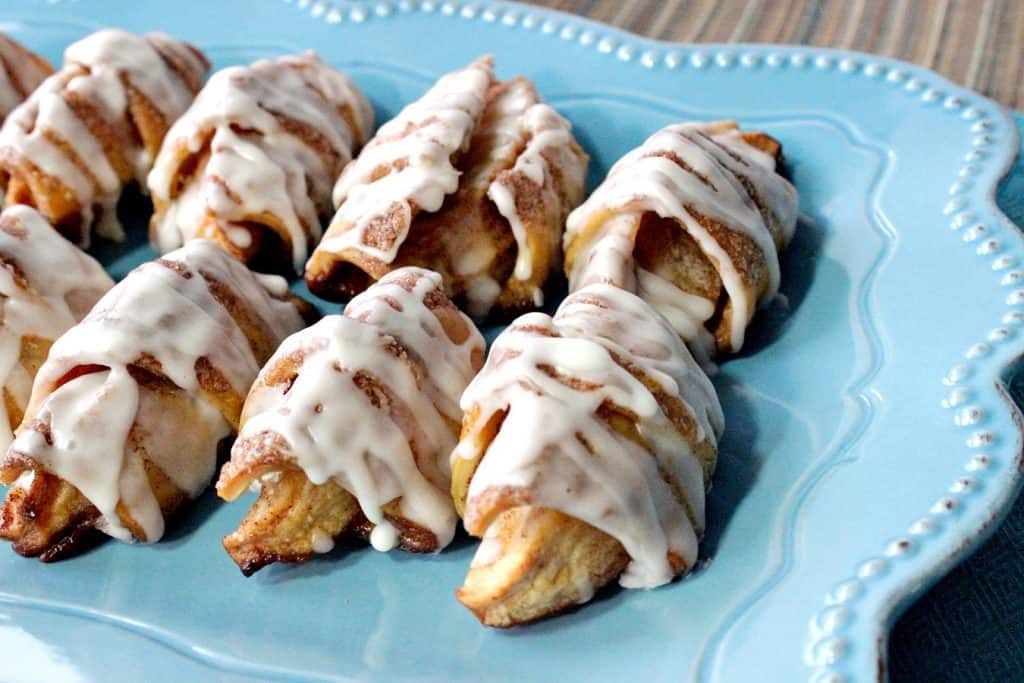 *Autumn Leaves Apple Pie (shown below)
This delightfully colorful autumn leaves apple pie may look like it's difficult to make but with my tips and tricks, you too can make this adorable (and delicious) show-stopping apple pie!
*Joe Biden Vinegar Pie (shown below) THIS IS THE PLACE!!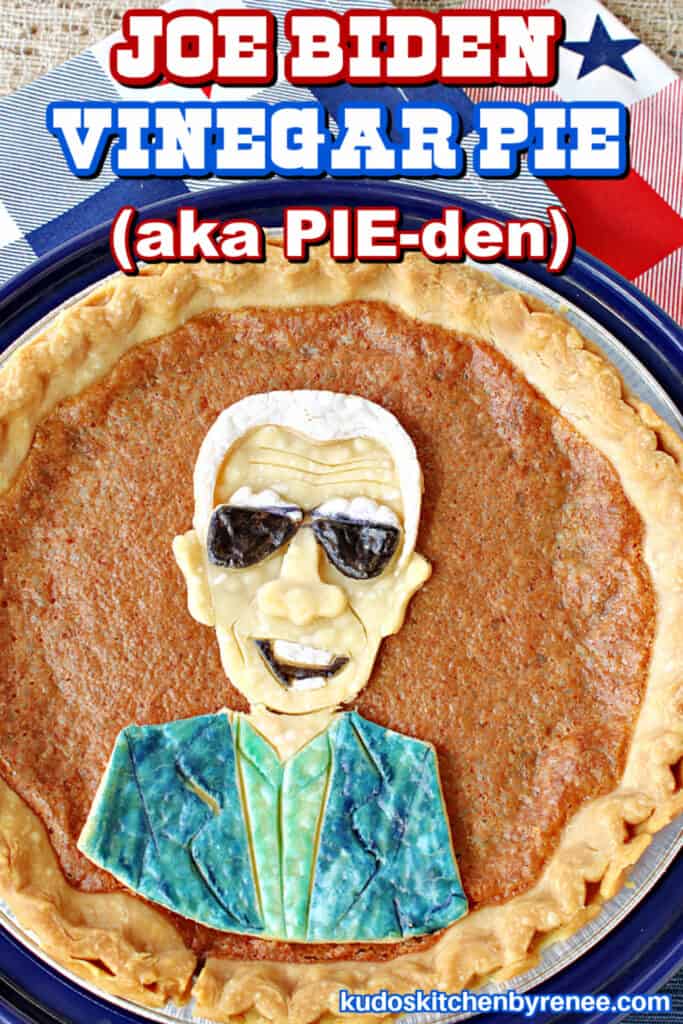 Below is the printable recipe card along with the exact ingredient measurements and nutritional information for making today's decorated crust vinegar pie.
If you've made this recipe, or are excited to make this recipe, I'd appreciate it if you'd take a moment to leave it a star rating in the recipe card, along with a comment if you're so inclined. Thank you. 🙂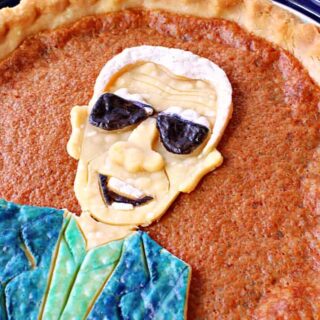 Joe Biden Vinegar Pie
Joe Biden Vinegar Pie is sweet, tasty, and completely unexpected. Whether you agree or disagree with his politics, at least you'll agree with how yummy he is!
Ingredients
To make the vinegar pie:

1

deep dish pie shell

store-bought or homemade

1 9

" round pie crust

store-bought or homemade

4

eggs

(plus 1 for the egg wash)

½

cup

brown sugar

½

cup

granulated sugar

½

teaspoon

salt

6

tablespoons

butter

melted

2

tablespoons

apple cider vinegar

1

tablespoon

orange marmalade

or your favorite flavor
Instructions
Preheat oven to 350-degrees.

Place the deep-dish pie shell on a parchment-lined baking sheet.

If using pie weights, line the unbaked pie shell with a piece of parchment paper, and add pie weights to the shell. *Note - if not using pie weights, dock the bottom of the pie crust with the tines of a fork to prevent air pockets from forming under the crust as it bakes.

Pre-bake the pie shell in the preheated oven for 15 minutes.

Take the prebaked pie shell from the oven and remove the parchment paper and pie weights (if using).

Use a pastry brush to brush the bottom of the prebaked pie shell with the orange marmalade, and return the pie shell to the oven for an additional 10 minutes. Set aside to cool.

Meanwhile, in a large bowl, whisk together four eggs, brown sugar, granulated sugar, and salt.

Next, whisk in the melted (and cooled) butter, along with the apple cider vinegar until completely incorporated.

Carefully pour the vinegar pie filling into the prepared and prebaked pie shell.

Bake for 25-30 minutes at 350-degrees.

Meanwhile, use a paring knife to cut out Joe Pie-den's facial feathers and suit from the 9" round pie dough.

Assemble Joe Pie-dens features from the cutout shapes using water to adhere the pieces together. (see video)

Use an egg wash (1 egg mixed together with 1 tablespoon water) and divide the egg wash into 4 small prep-bowls (or paper cups).

Add a few drops of gel food color (white, black, light blue, and dark blue) to each egg wash cup and mix well with a paintbrush.

Paint as shown in the video, or as desired.

Transfer Joe Pie-den to a parchment-lined baking sheet and bake for 10-15 minutes.

After 25-30 minutes remove the vinegar pie from the oven, as well as Joe Pie-den.

Use a spatula to carefully transfer the partially baked Joe Pie-den character to the top of the baked vinegar pie using a light touch of water to adhere (see video).

Bake Joe Biden Vinegar Pie for an additional 10 minutes, keeping a close eye so it doesn't get too brown.

Remove, and cool completely before serving.
Nutrition
Serving:
1
Calories:
144
kcal
Carbohydrates:
17
g
Protein:
2
g
Fat:
8
g
Saturated Fat:
3
g
Polyunsaturated Fat:
4
g
Cholesterol:
15
mg
Sodium:
135
mg
Fiber:
1
g
Sugar:
4
g
I sincerely hope you've enjoyed today's fun and whimsical decorative pie recipe as much as I've enjoyed bringing it to you!