Some call it liquid gold, but I think Homemade Garlic Ghee is more like liquid sunshine. It makes me so happy and takes only minutes to make! Fill me up buttercup!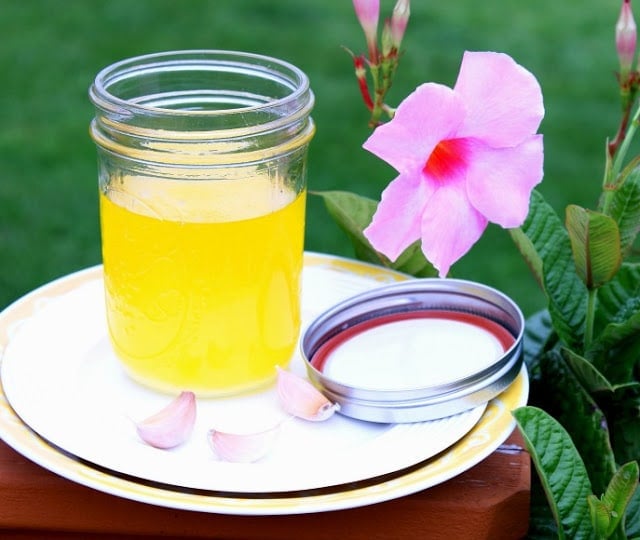 If you've never heard of ghee before, it's actually as simple as making clarified butter.
What is so special about that you ask? Let me count the ways...
Jump to: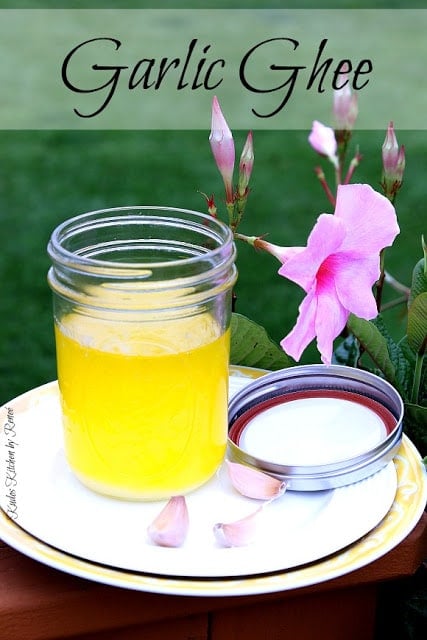 What are the ingredients and kitchen equipment needed for making Homemade Garlic Ghee?
butter

garlic cloves

cheesecloth

saucepan

strainer

glass jar with a lid
What is ghee?
Ghee is traditionally the major fat source of Indian cooking.
What makes it different than plain clarified butter is that it's cooked longer in its milk solids which gives ghee its distinct and more intense buttery flavor.
Ultimately the milk solids are strained away leaving nothing but the pure amber, liquid gold.
Because ghee's milk solids are separated from the fat during the cooking process and then strained off ghee is far superior for people who have trouble digesting dairy.
Why cooking with homemade ghee is beneficial:
Homemade Garlic Ghee is perfect for those people who are following a keto (ketogenic) diet in which your daily caloric intake is mainly from healthy fats.
Ghee is rich in medium-chain fatty acids that are absorbed directly to the liver (like carbs) and burnt as energy. Ghee is also rich in oil-soluble vitamins A and E, and it stimulates the secretion of gastric acid, thus aiding in the digestive process.
Because ghee has had the milk solids, water, and impurities removed during the cooking process, it's perfect for cooking and frying due to its high smoking point. Ghee won't break down into free radicals as some other cooking oils do.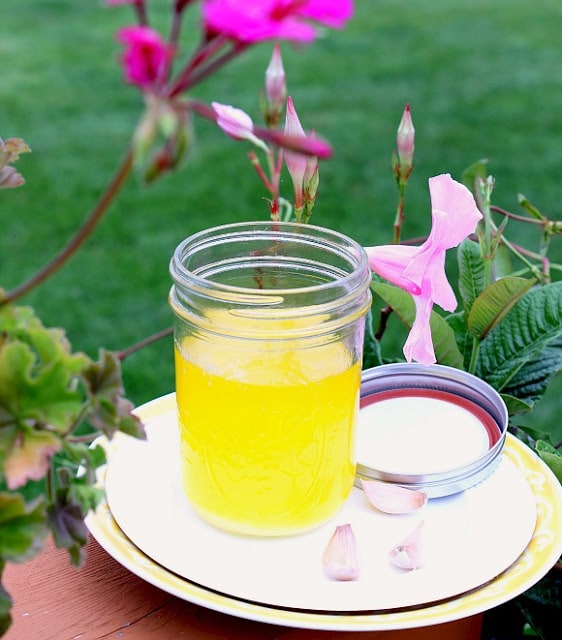 How to store homemade ghee:
Homemade Garlic Ghee doesn't require refrigeration and will last up to 3 months (not that you'll have it that long) when stored in a dark place.
Once it cools ghee will turn into a semi-solid and will turn a pale yellow color.
Ghee liquefies immediately upon being heated and the flavor it imparts to foods is unlike any other.
I urge you to make some today.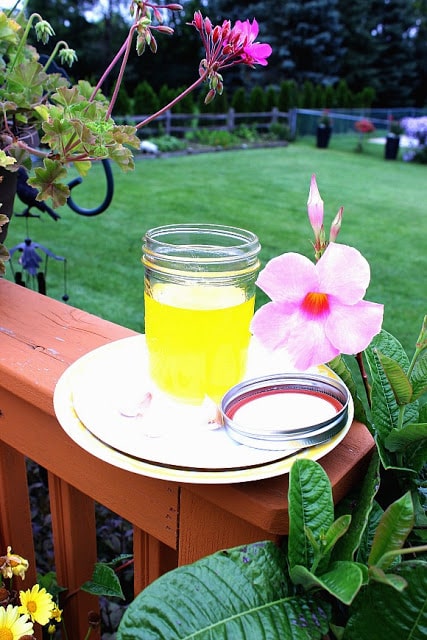 The easy steps for making Homemade Garlic Ghee:
Add butter into a saucepan along with smashed garlic cloves. Stir well.

Melt butter over medium-low heat.

Raise the heat to medium-high allowing the butter to come to a low boil. Boil for 1 minute.

Reduce the heat to low and simmer for 4-5 minutes. You'll notice the milk fat on the bottom of the saucepan.

Place the cheesecloth in the strainer and strain the clear garlic ghee into a glass jar and discard the solids.

Cool the ghee before adding the lid to the jar.
Is making homemade ghee more economical?
YES!
Ghee can be purchased in many markets and specialty stores (i.e., Trader Joes and Whole Foods) but it's very costly if you're going to purchase it already made.
Making your own ghee is highly rewarding, takes only minutes to make, and will save you money too. Ghee whiz...what's not to love?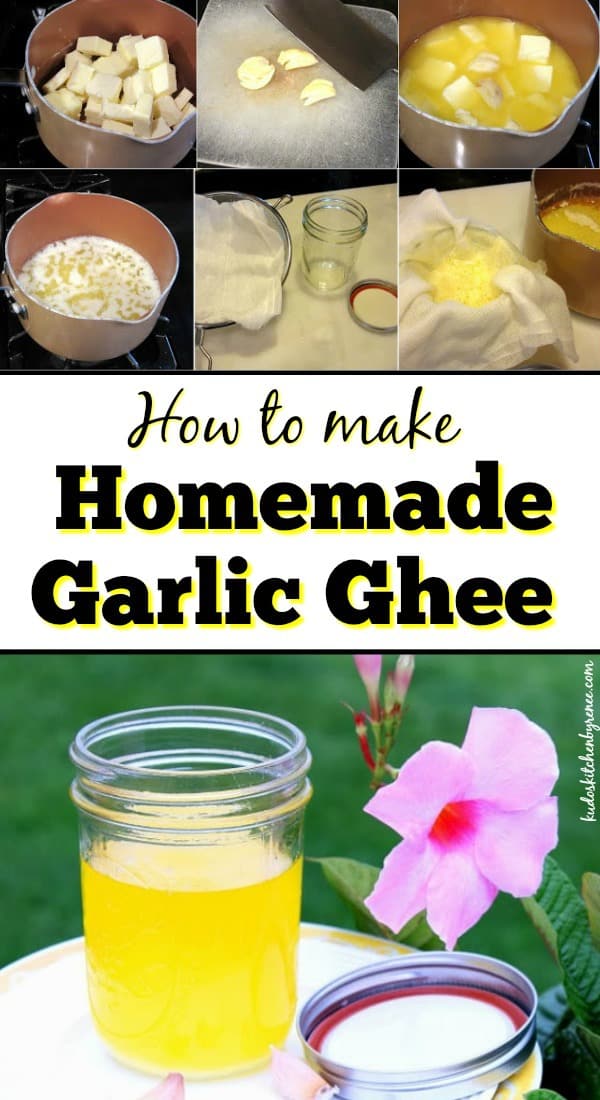 More recipes for garlic lovers:
Garlic Lovers Pork Chops have a mildly sweet and fragrant garlic flavor that doesn't overpower or overwhelm the taste buds. Trust me when I tell you that they will be some of the best pork chops you've ever eaten!
If you're a garlic lover then you MUST try this Garlic Lover's Pizza! The crust is super simple to make and is the perfect thickness to hold all the garlicy, cheesy goodness this pizza possesses!
With only a few ingredients, this amazing Roasted Garlic Dip comes together in a flash and is ready to serve in minutes.
Roasted Garlic Compound Butter with Herbs takes only minutes to make and will liven up any savory dish with big, bold flavor! Make some today and keep it handy for everyday cooking, and also for special occasions!
When you make this recipe, and I hope you do, I'd appreciate it if you'd take a moment to leave a star rating on the recipe card and briefly comment on why you rated it as you did. FYI - Google appreciates recipe ratings and, in turn, will share my recipes with more people. Thank you so much!!
Printable Recipe Card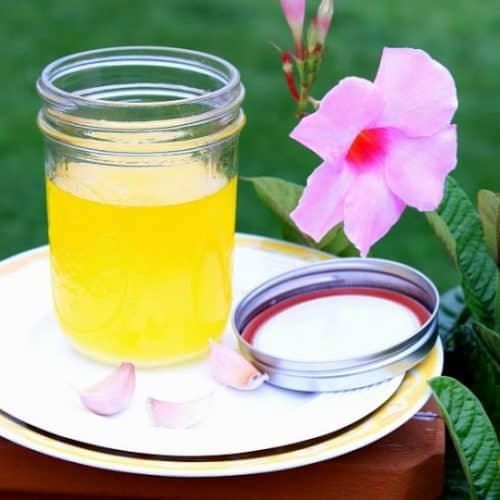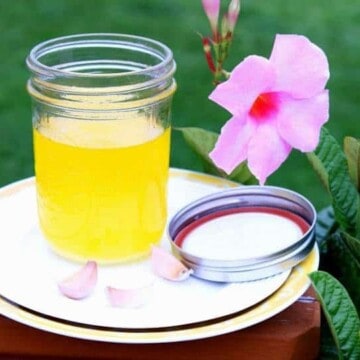 Homemade Garlic Ghee
Ingredients
1

pound

butter

4

cloves

garlic

smashed
Instructions
In a medium saucepan over medium/low heat, melt the butter. Add the garlic and stir.

Increase the heat to medium/high and allow the butter to come to a boil. Boil for approximately 1 minute.

Reduce the heat to low and simmer lightly for 4-5 minutes. You'll notice the milk fats have settled on the bottom of the pan and the clarified butter is on top.

Use the strainer and cheesecloth to strain the ghee into a glass jar and discard the milkfat.

Allow the ghee to cool and place the lid on the jar.

Store in a cool, dark place for up to 3 months. Use as you would regular butter and also to saute and pan-fry foods.
Notes
Tools and equipment;
saucepan, strainer, cheesecloth, glass jar with lid
Nutrition
Serving:
1
ounce
Calories:
204
kcal
Carbohydrates:
0
g
Protein:
0
g
Fat:
22
g
Saturated Fat:
14
g
Cholesterol:
60
mg
Sodium:
202
mg
Potassium:
9
mg
Fiber:
0
g
Sugar:
0
g
Vitamin A:
710
IU
Vitamin C:
0.2
mg
Calcium:
8
mg
Iron:
0
mg
I sincerely hope you've enjoyed today's recipe for Homemade Garlic Ghee as much as I've enjoyed bringing it to you!
I have only scratched the surface regarding the benefits of ghee and why it's so important to have on hand for your cooking, and for your health.
If you're curious to find out more, the internet has a wealth of information about ghee that I just know you'll find fascinating.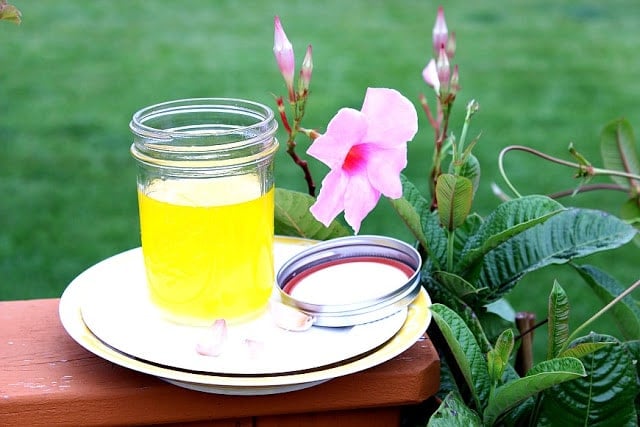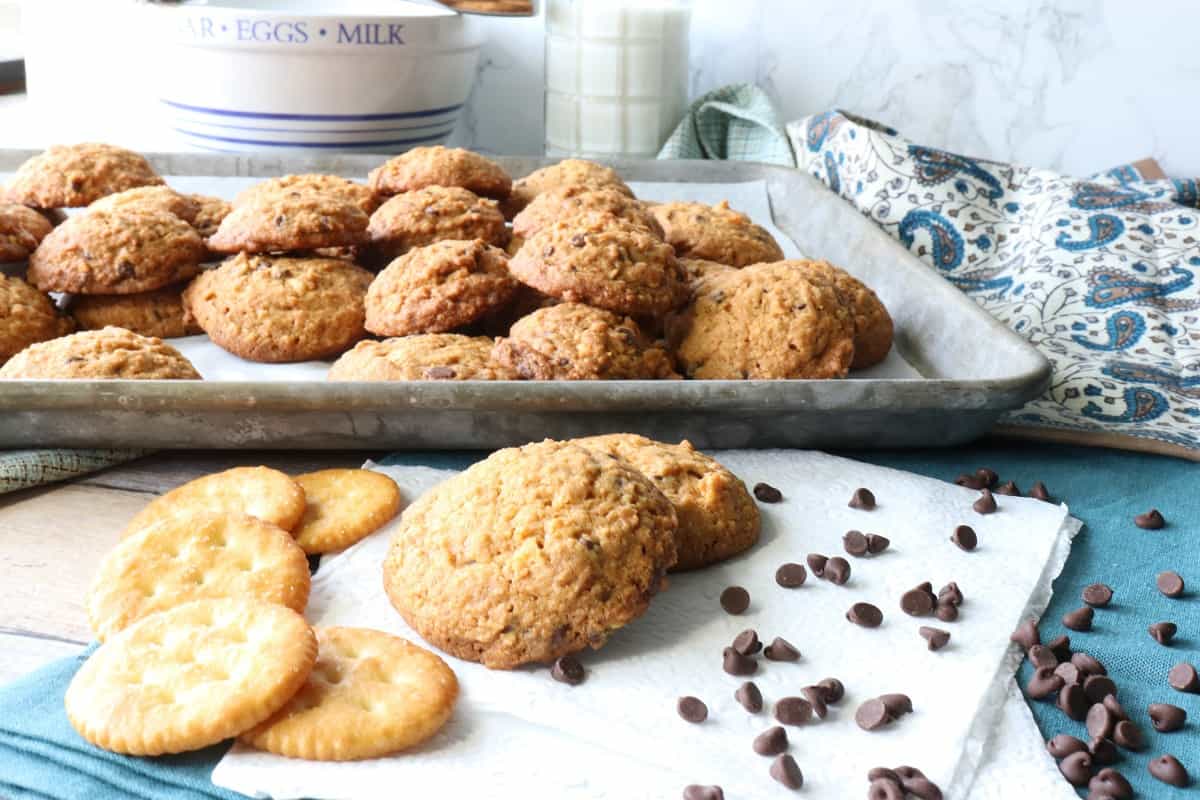 Follow me across my social media platforms and join in on the conversation: FACEBOOK, INSTAGRAM, PINTEREST, TIKTOK, AND YOUTUBE.
Thank you so much for visiting me today in my Kudos Kitchen. I hope you found something you'll love and that you'll come back and visit me often. There is always room for you around my table!
Should you have any questions or comments regarding anything you've seen here on my blog, please don't hesitate to reach out to me. It is always my distinct pleasure to respond to you just as soon as I possibly can.
Until we eat again, I hope you have a delicious day!!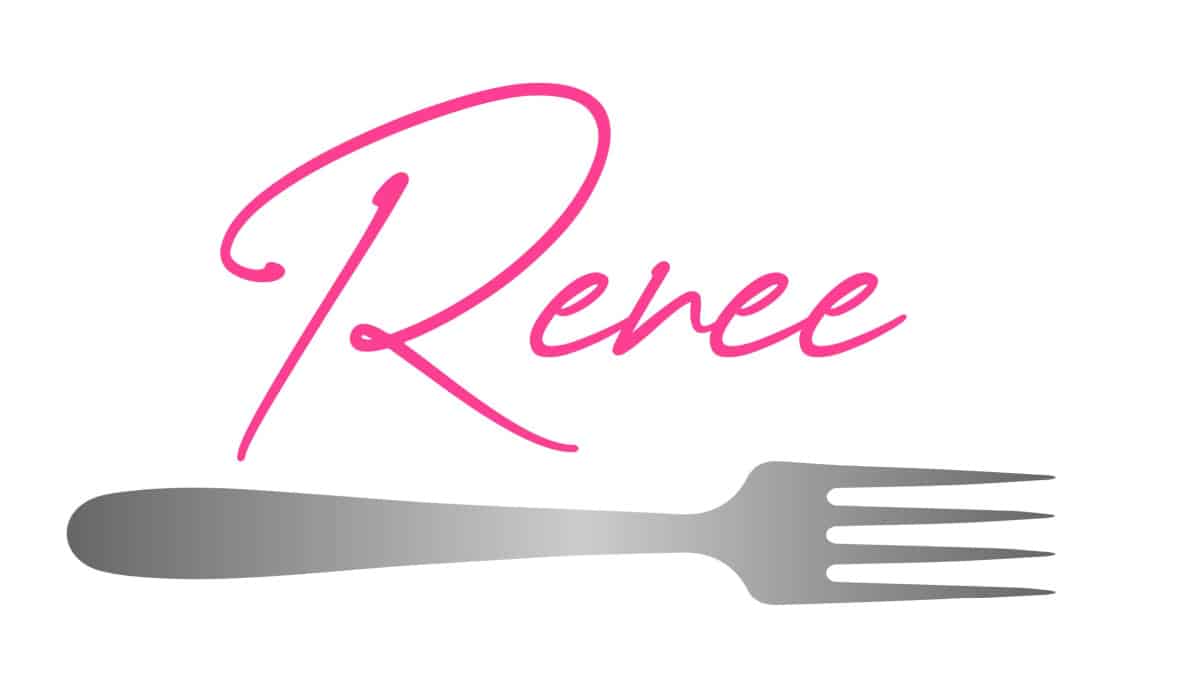 Kudos Kitchen by Renee – Where I joyously bring you easy, economical, and delicious comfort food dishes to feed the people you love!
Until we eat again, I hope you have a delicious day!