Creamy Mushrooms and Spinach can be served as a side dish, a healthy and hearty vegetarian main course, or as a sauce to spoon over a baked potato, noodles, or even steak. It only takes about 15 minutes to make so it's perfect for anytime you want to dress up a dinnerplate with something extra special!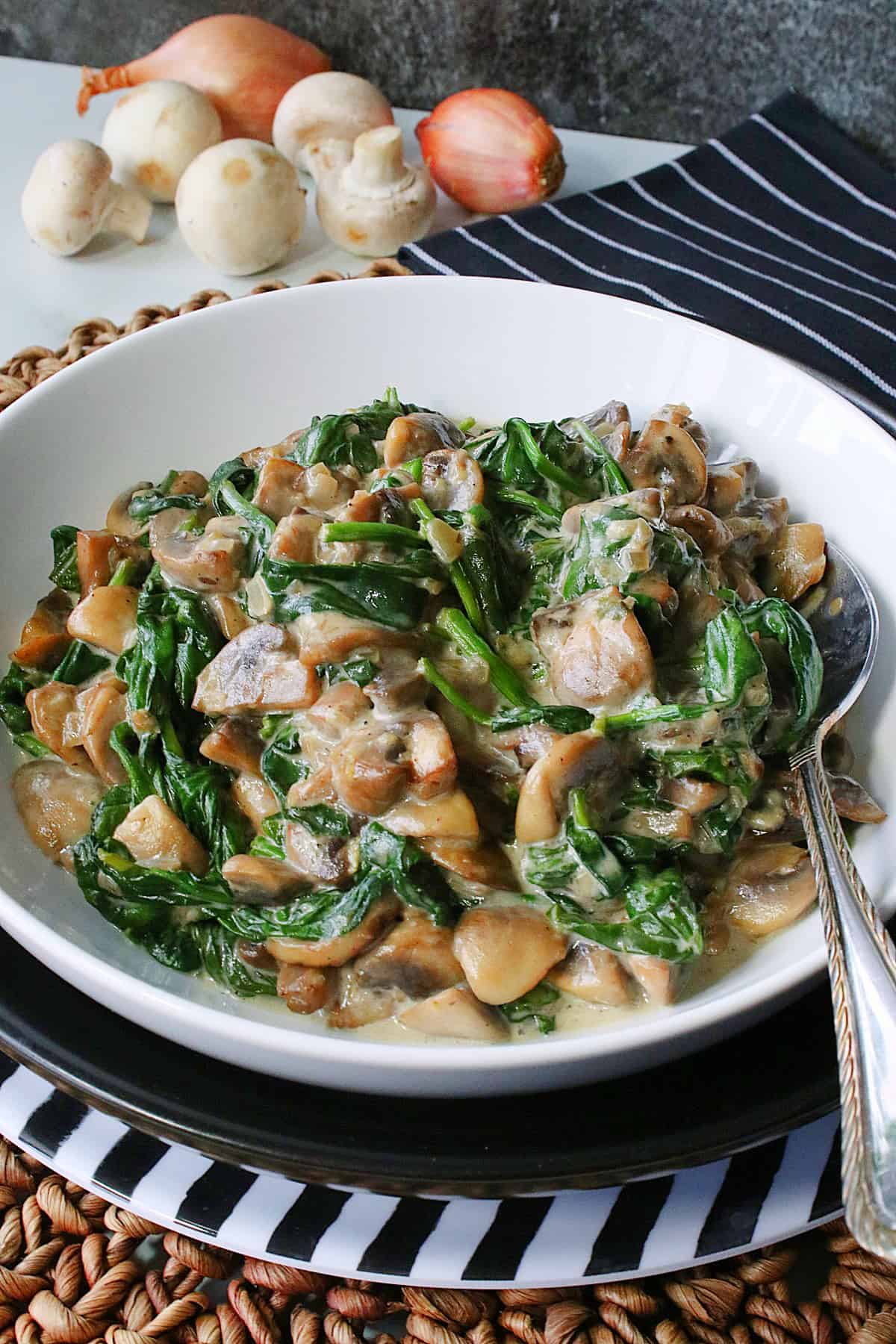 The possibilities of using this healthy and delicious low-carb vegetable dish are endless. You'd better make it right away so you can find your own unique ways to serve and enjoy it.
Jump to:
The ingredient list:
*Please note that the exact measurements along with a new "shop the recipe" feature from Instacart is available in the printable recipe card.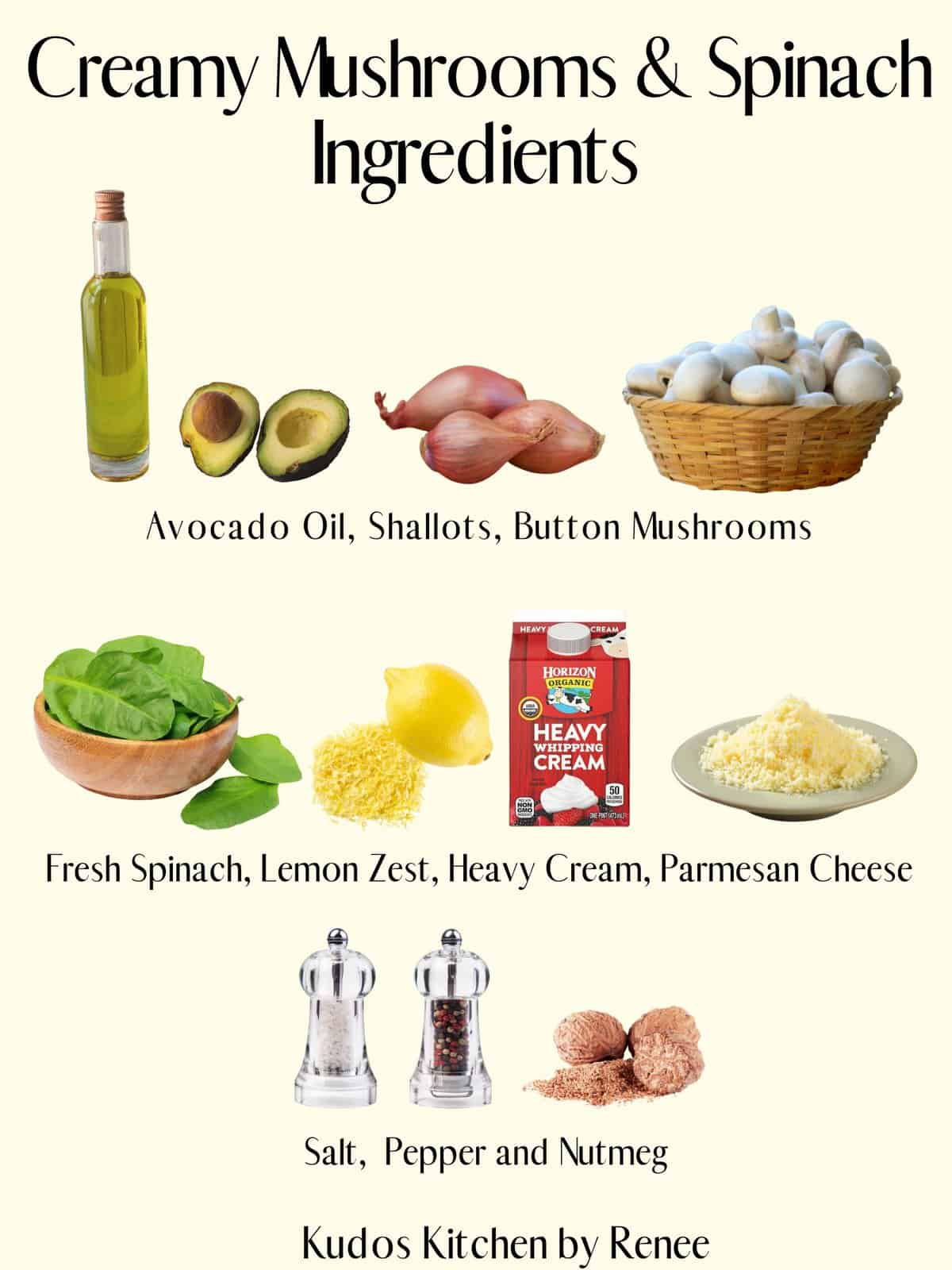 Ingredient information:
AVOCADO OIL - I like to switch between using avocado oil and extra virgin olive oil. You can use either. The choice is yours. They're both healthy oils, but avocado oil has a slightly higher smoke point than extra virgin olive oil.
SHALLOTS - The flavor of shallots (to me) is a milder and more delicate form of an onion, but they also bring a light flavor infusion of garlic. I've always felt cooking with shallots was fancier than cooking with onions and garlic, so I use them often for dishes that I want to be extraordinary!
BUTTON MUSHROOMS - I don't typically use button mushrooms in my recipes (I usually use cremini), but button mushrooms were on sale, so I decided to go with them for this recipe. Feel free to use cremini or a mixture of your favorite shrooms for a kick of meaty mushroom flavor.
SALT AND PEPPER - Kosher salt and freshly cracked black peppercorns are always my seasonings of choice for cooking.
BABY SPINACH LEAVES - I like to use tender baby spinach leaves for this dish. They're slightly sweeter than the larger, more mature spinach leaves and tend to wilt and cook down faster.
GRATED NUTMEG - I always use a small pinch of grated nutmeg with my dark green veggie dishes. This simple ingredient elevates the creamed spinach and mushrooms to something extra special without being overpowering with an in-your-face flavor.
LEMON ZEST - This ingredient helps balance and brighten the completed dish and cut through the richness of the cream and cheese.
HEAVY CREAM - The slight touch of heavy cream goes a long way in turning this delicious mushroom dish into something rich and decadent.
GRATED PARMESAN CHEESE - The grated Parmesan thickens the sauce and adds a slightly nutty note that lingers on the tongue. Use the highest quality Parmesan cheese for the best taste and flavor experience.
Recipe add-in and substitution suggestions:
I'd never tell you not to add garlic to anything, and it would be a nice add-in OR substitution for the shallots. Finely minced onions (your favorite variety) will also work in this recipe in addition to, or as a substitute for the shallots.
Feel free to substitute half and half for the heavy cream or even a splash of buttermilk if you have it. However, I recommend forgoing the lemon zest altogether if you use buttermilk.

If you like things spicy, adding a pinch (or two) of red pepper flakes is an excellent addition. I suggest that you add them at the same time as the Parmesan cheese.

As mentioned above, any mushrooms can be substituted for the button mushrooms called for in this recipe. A combination of various types of mushrooms would also be a nice touch and a heightened flavor experience for true mushroom lovers.
Renee's tips for recipe success:
To get the most color and flavor from the mushrooms, make sure to sauté them in the skillet first, without salt. Since salt draws out moisture if the mushrooms are seasoned too soon, they'll steam in their own juices as opposed to browning.
Add a pinch of warm and spicy nutmeg when cooking dark green veggies. The earthy flavor it provides will go a long way in elevating the flavor experience.
The health benefits of mushrooms:
Mushrooms are full of B vitamins which helps promote heart health, red blood cells, a good digestive system and healthy skin.
The health benefits of spinach:
Spinach is low in calories and rich in fiber. Spinach also contains high levels of nitrates which have been shown to help keep blood pressure levels moderate and also decrease the risk of heart disease.
Serving suggestions for creamy mushrooms and spinach:
In the opening few paragraphs, I was brainstorming about how I'd love to eat (and serve) this amazing creamy mushroom dish (i.e., over potatoes, noodles, steak, on its own).
Below are a few other suggestions for using creamy mushrooms and spinach, with and on, that I think you'll also enjoy…
stirred into cooked pasta
stirred into scrambled eggs
spooned onto toast or an English muffin
spooned into an avocado half
on top of white or wild rice
stirred into soup
on top of cooked chicken or pork
topped with a fried egg
on top of a cheeseburger
stirred in mashed potatoes
added on top of garlic bread
added into a quiche
Can frozen spinach be used in this recipe?
Yes.
Thaw it thoroughly and then squeeze out as much excess liquid as possible. Add the thawed and dried spinach to the sauteed mushrooms, stir well, and continue with the recipe.
Special side note regarding using frozen spinach:
Because frozen spinach is already cooked, you get a lot of big bang for your buck in a package of frozen spinach. Even after removing the water, the condensed amount of spinach leaves in a package is more than this recipe calls for.
Use your judgment as to how much spinach you want to add depending on your preference for spinach. And please remember to add the nutmeg.
Storing leftovers:
Add any leftovers to an airtight container and store them in the refrigerator for up to 5 days.
How to freeze:
Add to an airtight freezer container or an airtight freezer bag and freeze for up to 3 months.
How long does this recipe take to prepare?
This recipe is quick and will take no longer than 15 minutes before you're ready to dig in.
Additional recipes using spinach and/or mushrooms:
Even if you're not a huge mushroom fan, I'll bet you're going to flip over these Beer Batter Fried Mushrooms!
Cheesy Spinach and Artichoke Quiche is packed with flavor and color! If you're a fan of the hot dip, this quiche is for you!!
This recipe for Chicken Parmesan Stuffed Portobellos is my fast and speedy riff on a traditional chicken Parmesan...with a twist!
Creamed Cabbage and Spinach is a delicious side dish complemented by the flavor of bacon and a touch of lemon for brightness and balance.
When you make this recipe, and I hope you do, I'd appreciate it if you'd take a moment to leave a star rating on the recipe card and briefly comment on why you rated it as you did. FYI - Google appreciates recipe ratings and, in turn, will share my recipes with more people. Thank you so much!!
Printable Recipe Card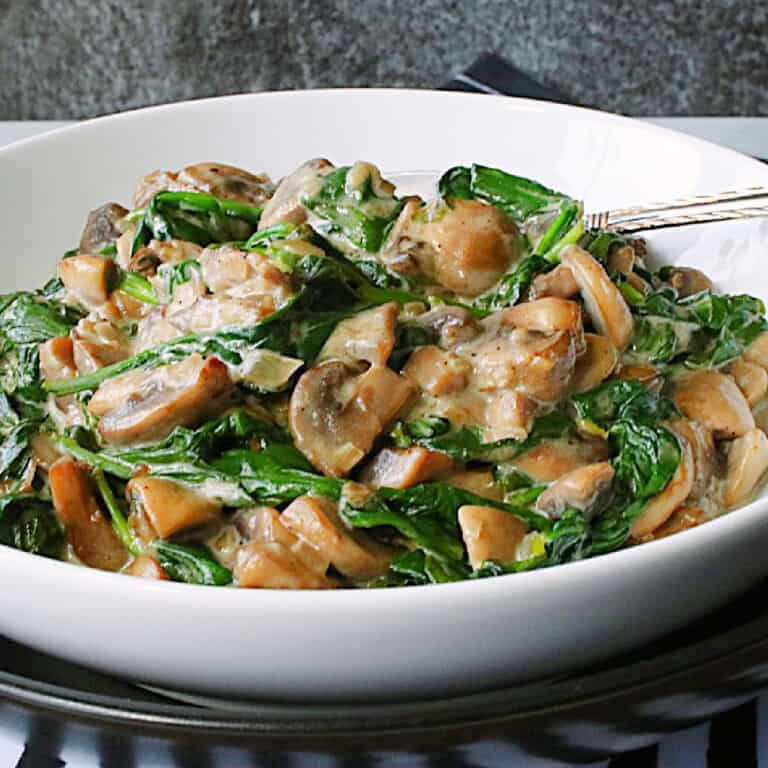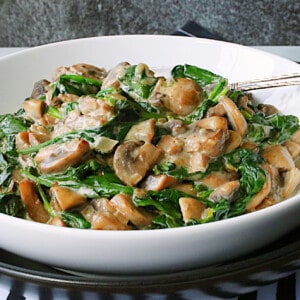 Creamy Mushrooms and Spinach
Creamy Mushrooms and Spinach can be served as a side dish, a healthy and hearty vegetarian main course, or as a sauce to spoon over a baked potato, noodles, or even steak. Use your imagination!
Ingredients
2

tablespoons

avocado oil

¼

cup

minced shallots

16

ounces

button mushrooms

cleaned and cut into ½" slices and chunks

6

ounces

baby spinach leaves

washed and dried

1

teaspoon

fresh lemon zest

¼

cup

heavy cream

¼

cup

grated Parmesan cheese
Instructions
Heat the oil in the skillet over medium high heat.

Add the mushrooms to the skillet and cook, stirring occasionally, until the mushrooms wilt down and take on a golden color (approximately 5-6 minutes).

After the mushrooms have browned add the salt, pepper, spinach leaves, nutmeg, and lemon zest. Stir well, and then cover until the spinach has wilted down (approximately 2-3 minutes).

Remove the cover, reduce the heat to low and stir in the heavy cream and Parmesan cheese. Cook an additional 2-3 minutes until the cheese has melted and the sauce is creamy.

Serve hot.
Video
Notes
Store any leftovers in an airtight container in the refrigerator for up to 5 days.
May be frozen in an airtight freezer container (or freezer bag) for up to 3 months.
Serve hot by itself, or on top of potatoes, rice, noodles, or meat.
Nutrition
Serving:
1
serving
Calories:
184
kcal
Carbohydrates:
9
g
Protein:
7
g
Fat:
15
g
Saturated Fat:
5
g
Polyunsaturated Fat:
2
g
Monounsaturated Fat:
7
g
Cholesterol:
22
mg
Sodium:
154
mg
Potassium:
674
mg
Fiber:
3
g
Sugar:
4
g
Vitamin A:
4261
IU
Vitamin C:
16
mg
Calcium:
117
mg
Iron:
2
mg
I sincerely hope that you've enjoyed today's low-carb mushroom and spinach dish as much as I've enjoyed bringing it to you!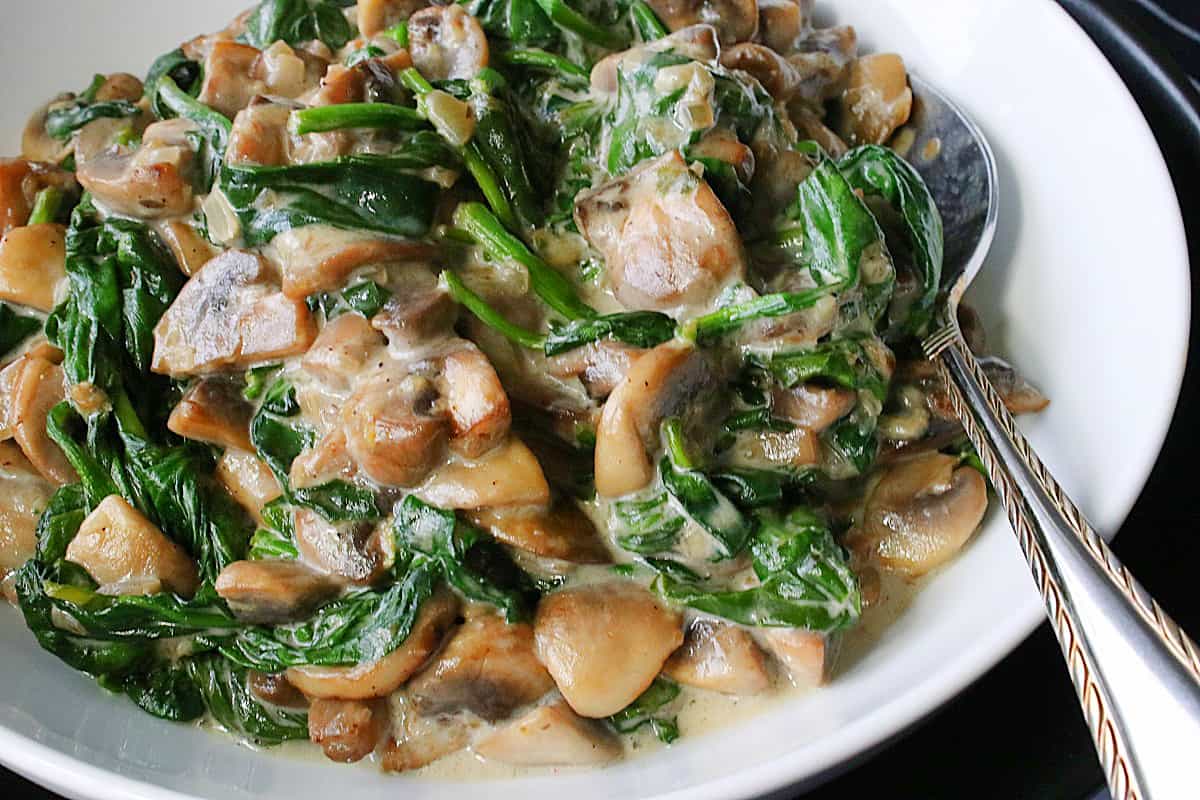 Follow me across my social media platforms and join in on the conversation: FACEBOOK, INSTAGRAM, PINTEREST, TIKTOK, AND YOUTUBE.
Thank you so much for visiting me today in my Kudos Kitchen. I hope you found something you'll love and that you'll come back and visit me often. There is always room for you around my table!
Should you have any questions or comments regarding anything you've seen here on my blog, please don't hesitate to reach out to me. It is always my distinct pleasure to respond to you just as soon as I possibly can.
Until we eat again, I hope you have a delicious day!!