Here's a super simple way to make delicious fish at home. Air Fryer Potato Crusted Cod is light and flavorful and will be on the dinner table in 20 minutes.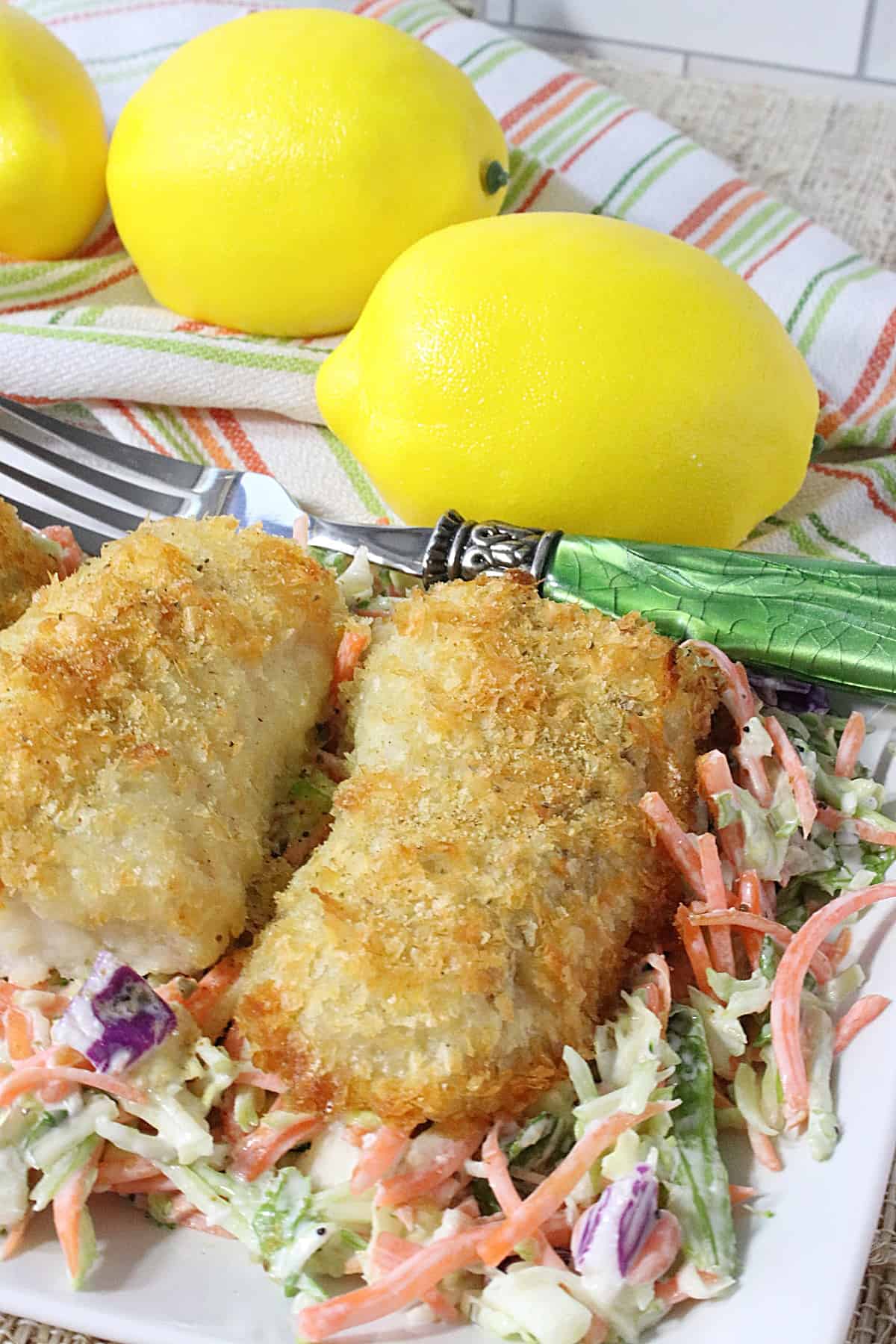 This easy-to-make cod fish dinner can also be cooked in a conventional oven, so don't fret if you don't have an air fryer. They'll still turn our light, flaky, and super flavorful!
My Homemade Fried Tilapia recipe inspired this air-fried cod. I love the tilapia recipe very much, but I don't always want to go to the trouble of deep frying fish, and I certainly don't always want those extra unwanted calories.
**Note - The following recipe post or category contains affiliate links (highlighted in blue) for your consideration. By clicking on a link I may earn a small commission at no additional cost to you. Thank you!
Jump to:
The easy ingredient list:
*Please note that the exact measurements along with a new "shop the recipe" feature from Instacart is available in the printable recipe card.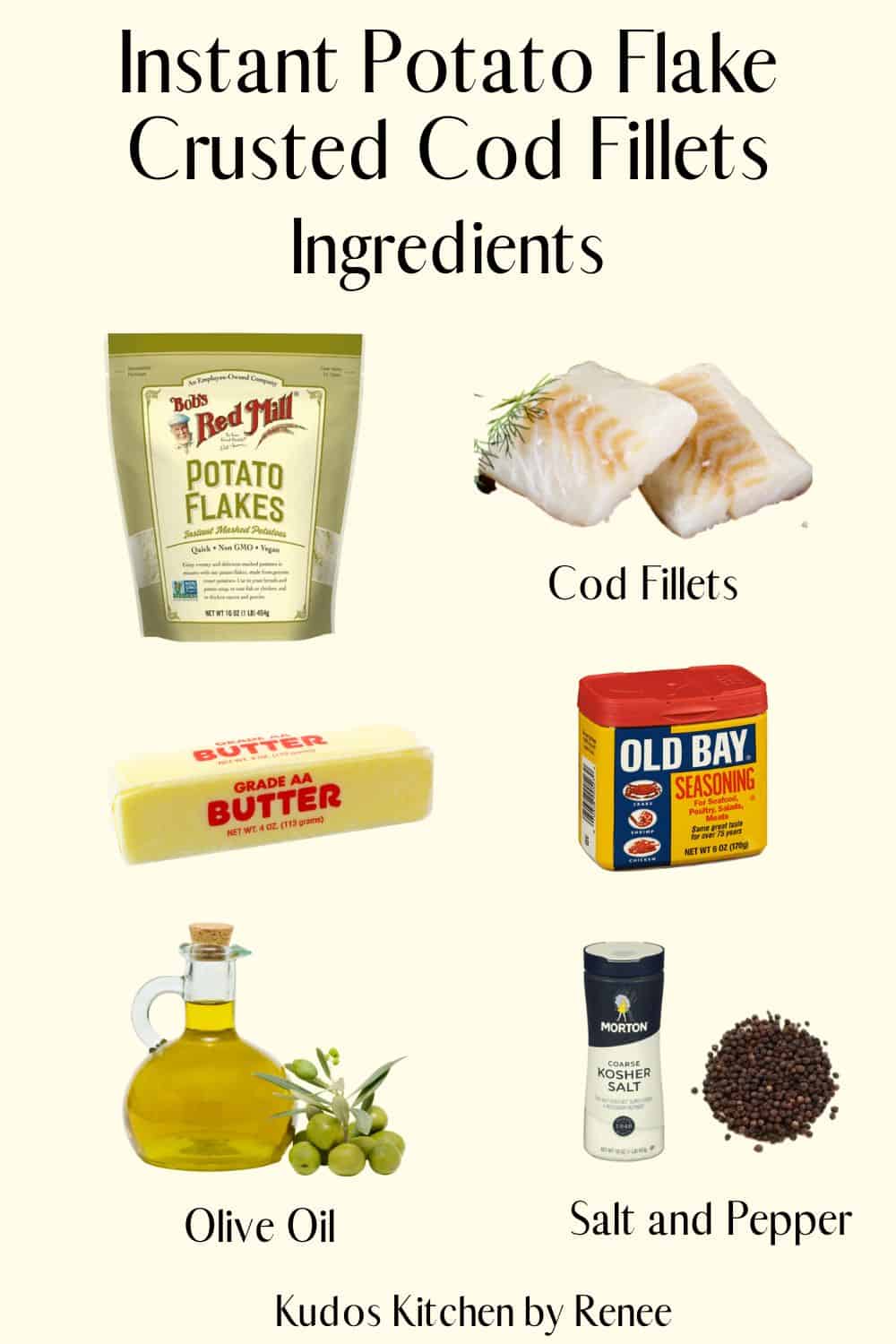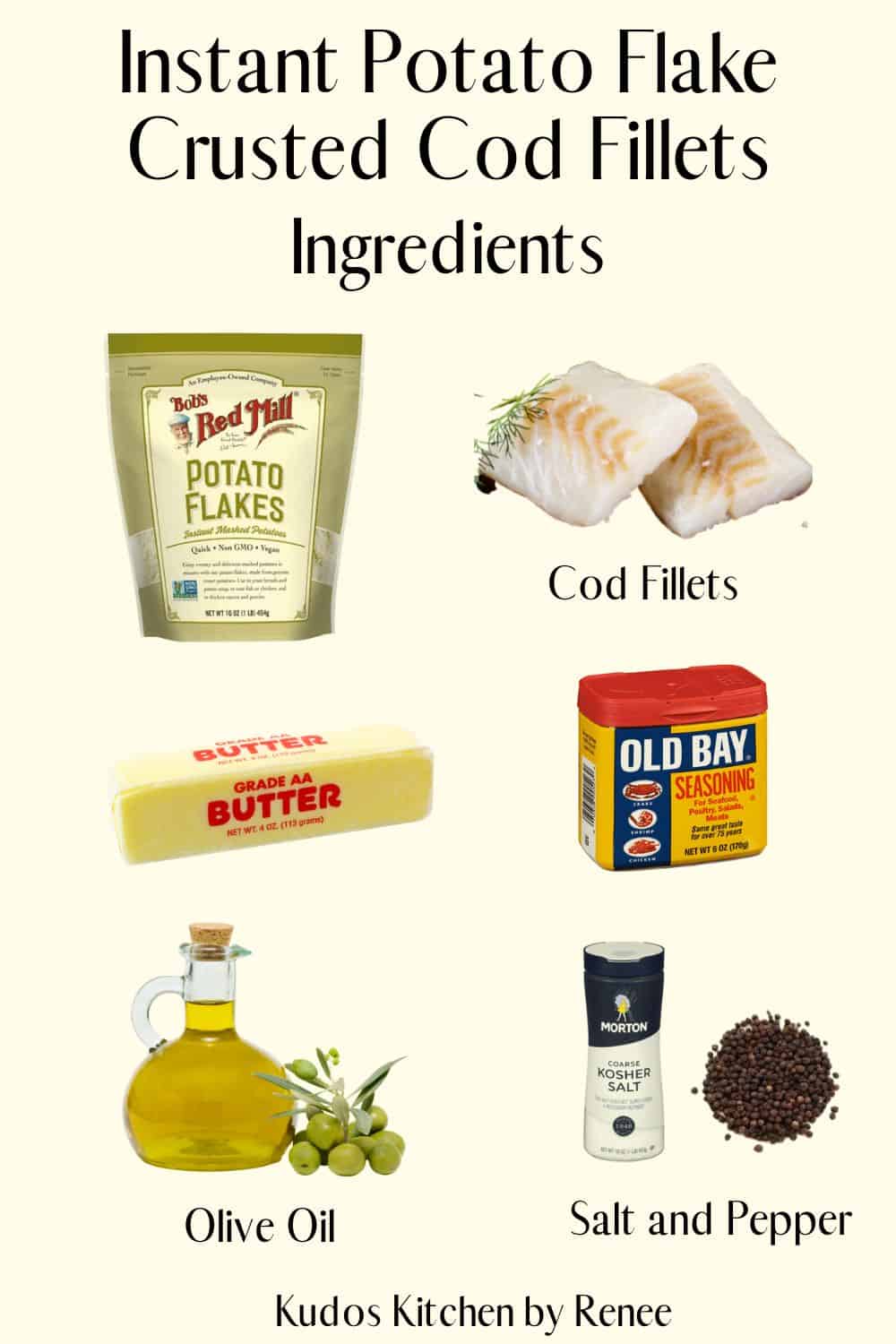 The above ingredient image was made using Canva Design. It's one of my very favorite design tools. You don't need to be a food blogger to use Canva. All you need to be is someone who loves designing graphics. Check them out if you're interested and a whole new world of artistic expression will be opened to you.
Ingredient savvy:
Cod fish fillets - I'm jealous if you're lucky enough to find fresh cod fish. If you can, get it (if it fits your budget). I used a frozen variety that I found at our local market. The frozen ones inside the bags (I used two bags) ranged in size from what I estimated were 3 - 4 ounce fillets. I thawed them completely in the refrigerator for 24 hours before working with them for this recipe.
Instant Potato Flakes - I don't use this convenience store item too frequently. Still, I like to keep it in my pantry for those lightbulb moments of recipe inspiration or when I'm in a pinch and need a quick side dish. In this recipe, the instant potato flakes give the cod a light, flaky coating that bakes into a delicately crispy golden brown crust.
Butter - I used a salted variety because that's what I always have on hand and because what doesn't taste better with butter? In this case, I melted the butter and used it as the "glue" that would adhere the potato flake coating onto the fillets. However, if you're using a European-style butter (they're saltier in flavor than American butter), you'll want to cut back or omit the additional salt called for in this recipe.
Old Bay Seafood Seasoning - This ingredient will take these potato-crusted cod fillets from so-so-good to OM Goodness...these are DELICIOUS!! The seafood seasoning will not overpower the light taste of the cod or potatoes but will enhance the cod's flavor in the best possible sea-foody way.
Extra Virgin Olive Oil or Olive Oil Spray - I like to use a non-aerosol olive oil spray whenever possible. However, a drizzle of good extra virgin olive oil over the top of the potato-coated fillets (before baking) will work equally as well.
Salt and Pepper - I like to use coarse kosher salt for all my cooking and baking and I also love used fresh cracked black peppercorns. No savory dish is complete without them (in my honest opinion).
Essential kitchen equipment:
As stated above, a conventional will also cook this breaded cod fish wonderfully. However, it will take a few minutes longer than cooking in an air fryer.
Whether you're cooking in an oven or an air fryer, a wire rack is essential so the fish fillets won't be soggy on the bottom. It will help keep the entire fish fillet crispy during cooking because the air can circulate freely around the whole fillet.
In a conventional oven a baking sheet fitted with a wire rack will work perfectly, and in an air fryer use the air frying rack that comes with your unit.
Paper towels are also essential for drying the fish fillets thoroughly, especially if they've been previously frozen.
Other valuable but not essential items are two shallow dishes to be used as a makeshift breading station. The first one will be for the melted butter, and the other is for the potato flakes and seasoning.
A fish turner (slotted spatula) is probably my most treasured kitchen tool. It works like a charm to easily transfer delicate fish fillets to plates and platters for serving. I use it nearly every day for a myriad of cooking tasks.
The easy step-by-step photo instructions:
1.Place butter in a shallow baking dish and melt it in the microwave, oven, or air fryer.
2.Use paper towels to dry the cod fillets thoroughly on all sides.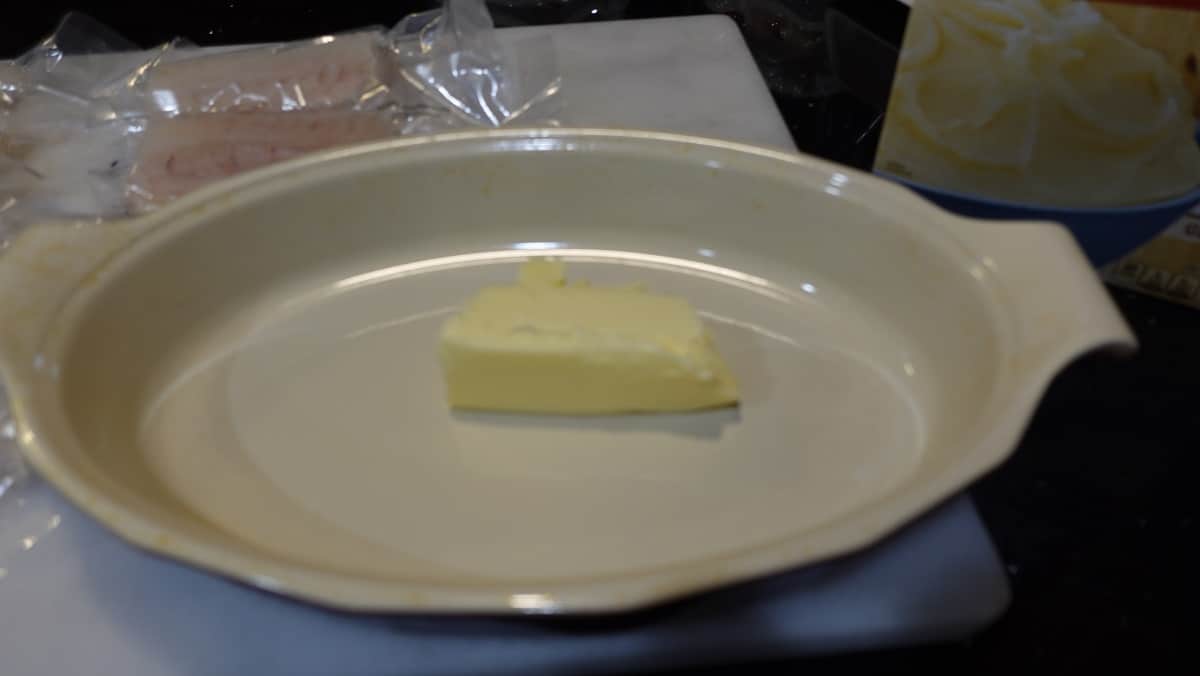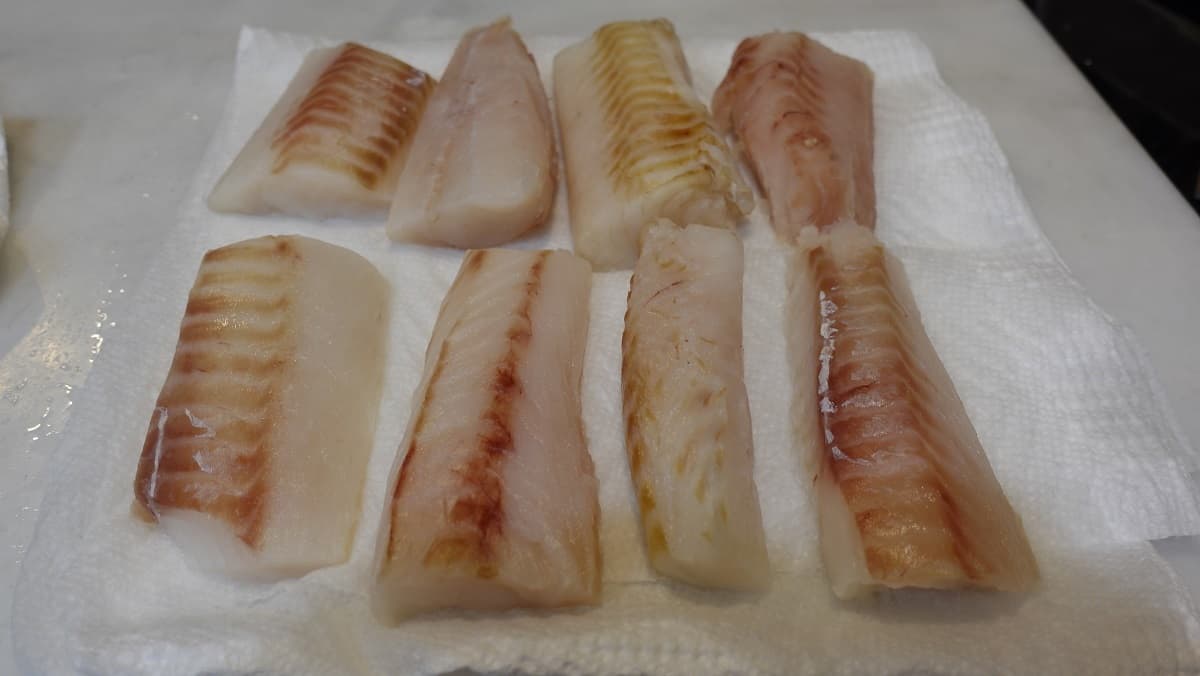 3.Set up a breading station with the fillets, melted butter, and potato flakes.
4.Add salt, pepper, and Old Bay Seafood seasoning to the melted butter.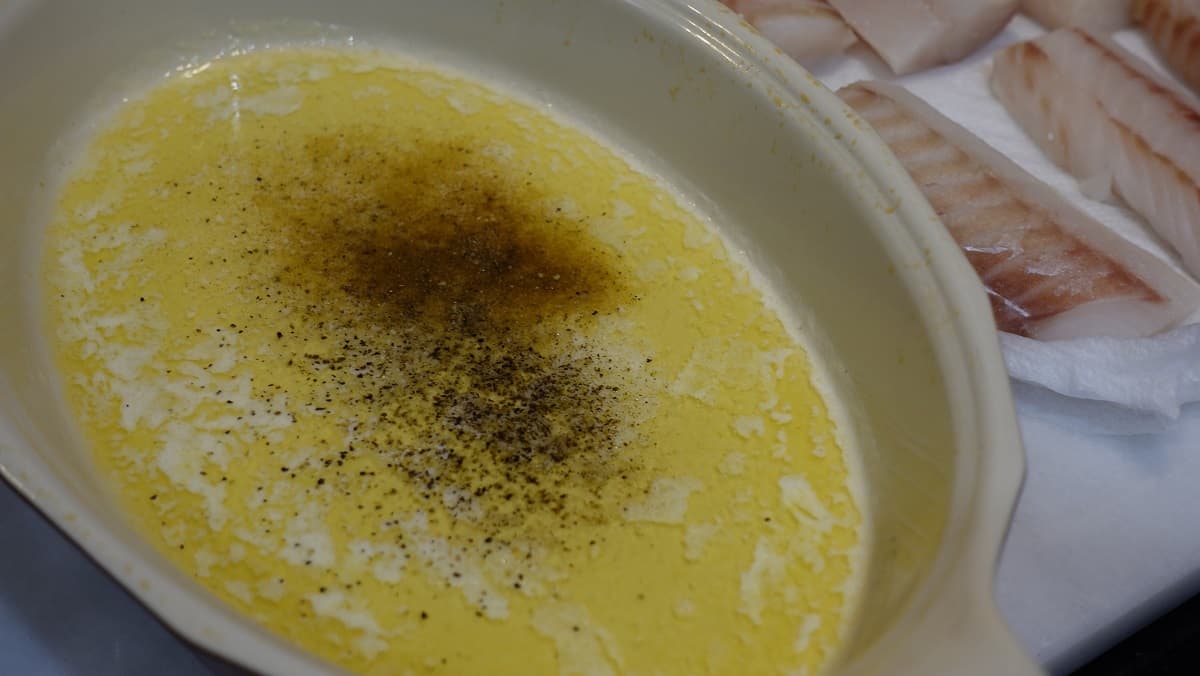 5.Use a fork or whisk to incorporate the seasonings into the melted butter.
6.In a second shallow dish, measure out 2 cups of instant mashed potato flakes and add additional Old Bay Seasoning to the flakes. Stir well to combine.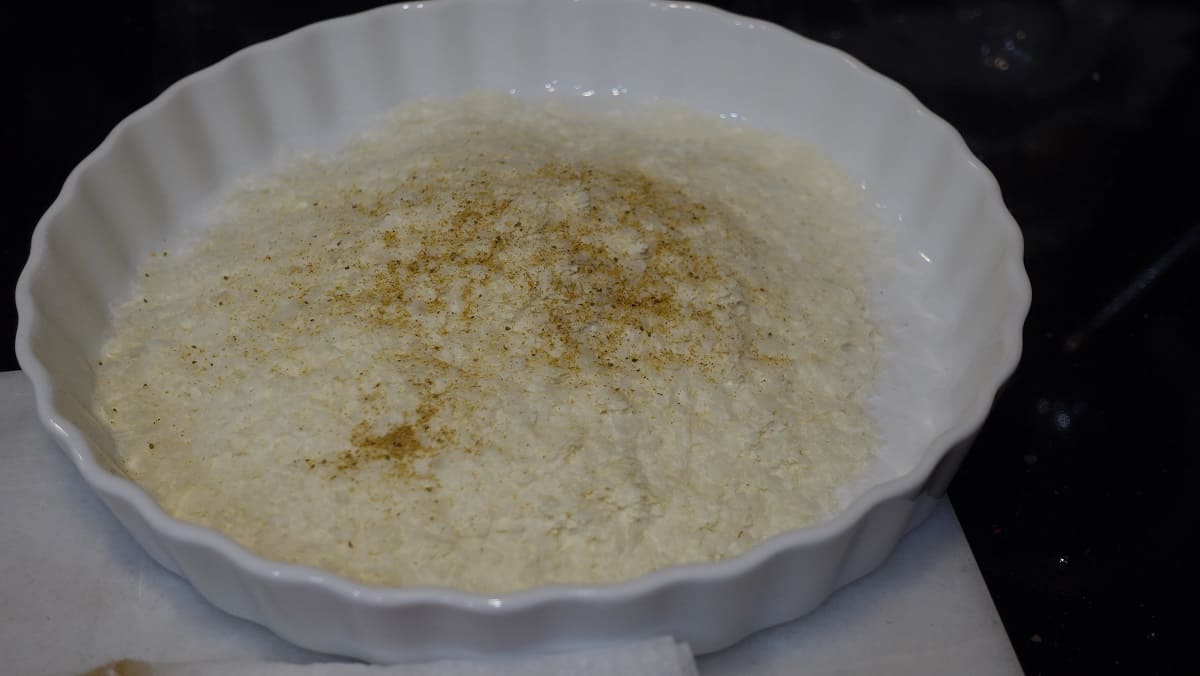 7.Dip the dried cod fillets into the melted butter making sure to coat it on all sides.
8.Once buttered, place the fillets into the potato flakes, and press the flakes firmly onto all sides of the fillets.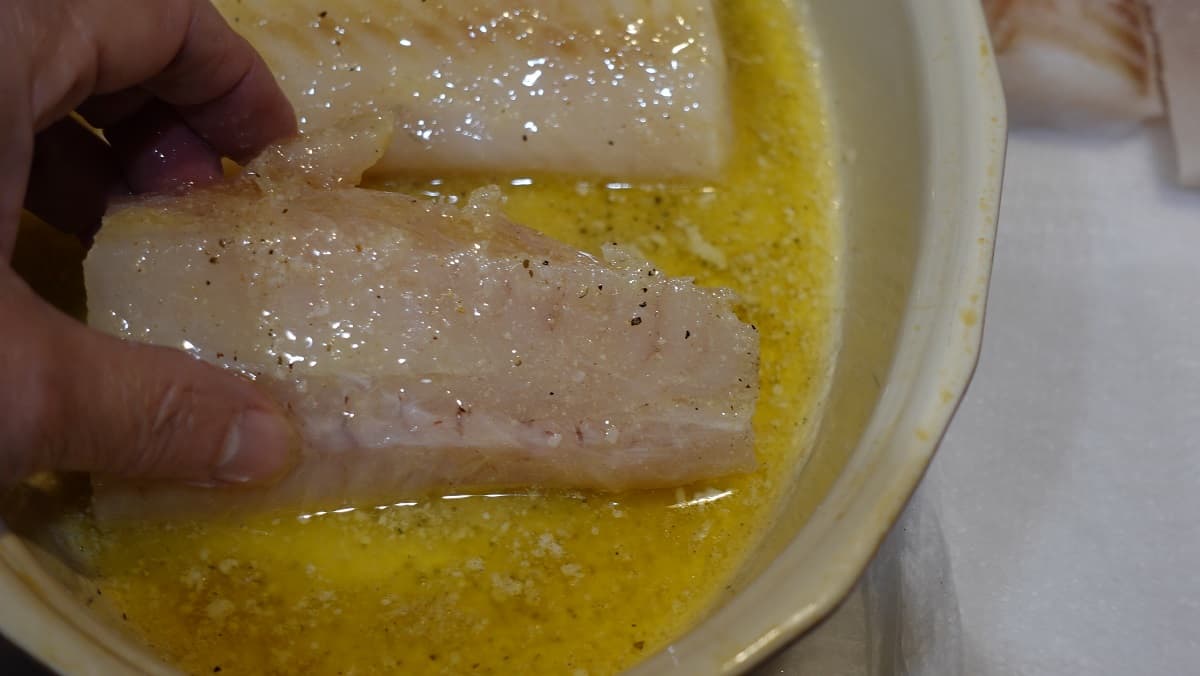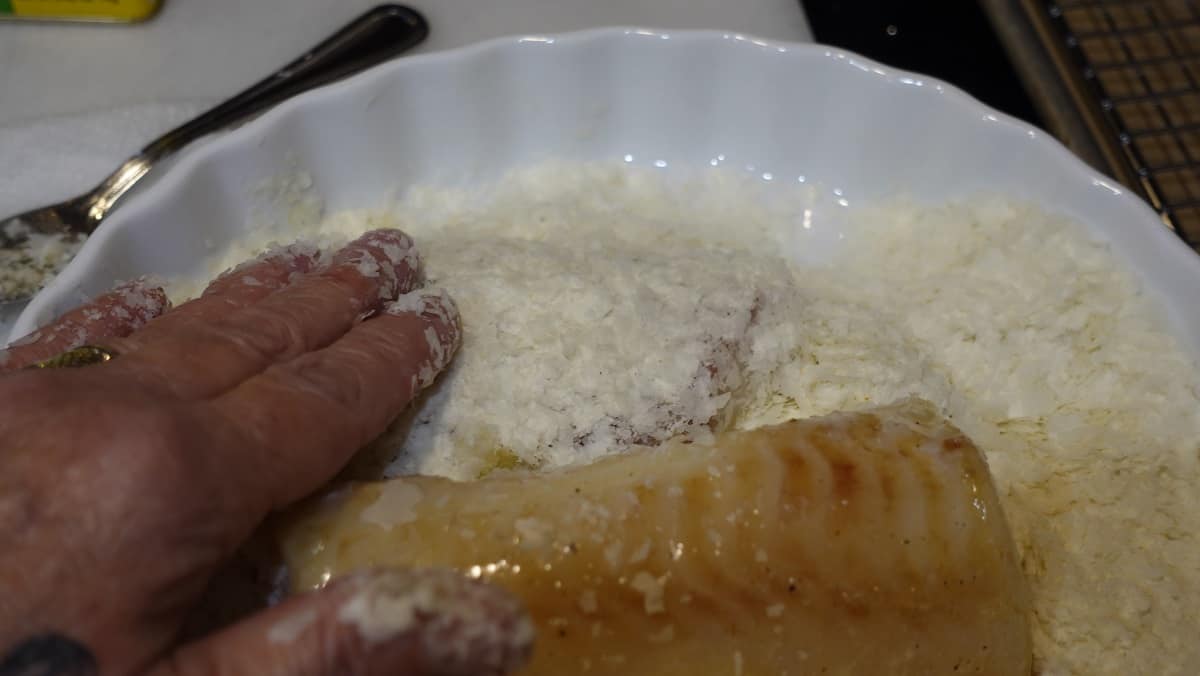 9.Place the potato crusted cod fillets on a wire rack leaving about an inch in between each fillet.
10.Spray or drizzle extra virgin olive oil on each coated fillet.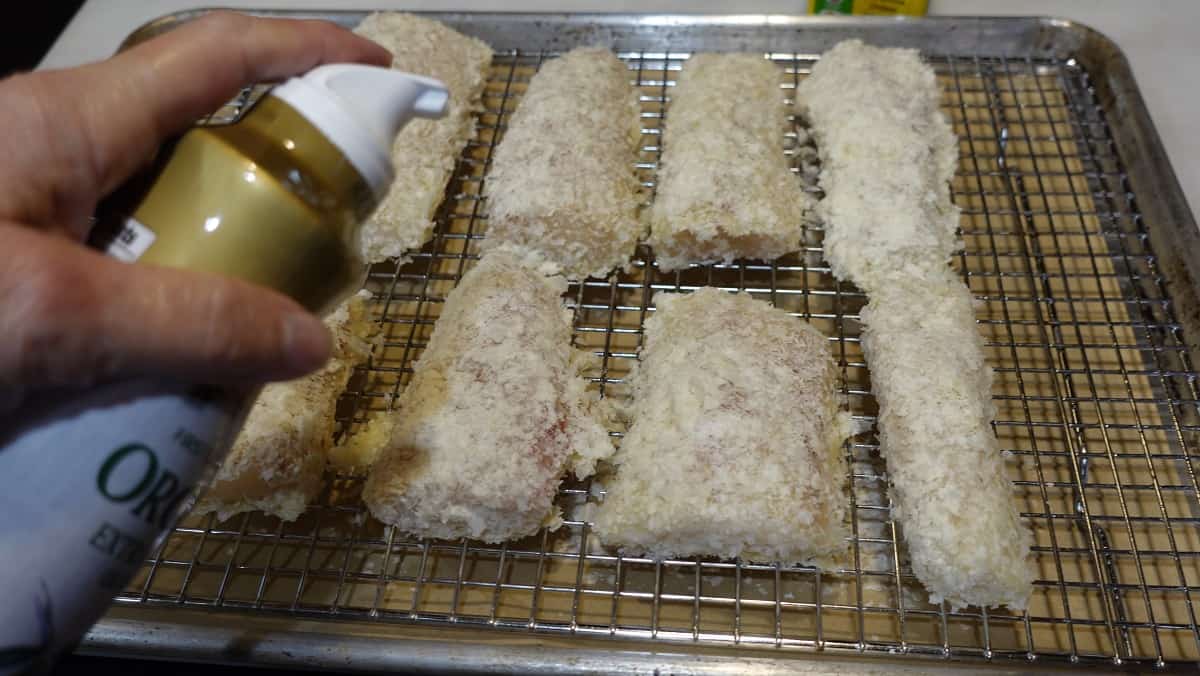 11.Press remaining potato flakes onto each fillet, if desired.
12.Bake in a preheated 400 degree air fryer for 8-10 minutes. Rotate the baking sheet and air fry again for an additional 3-4 minutes more.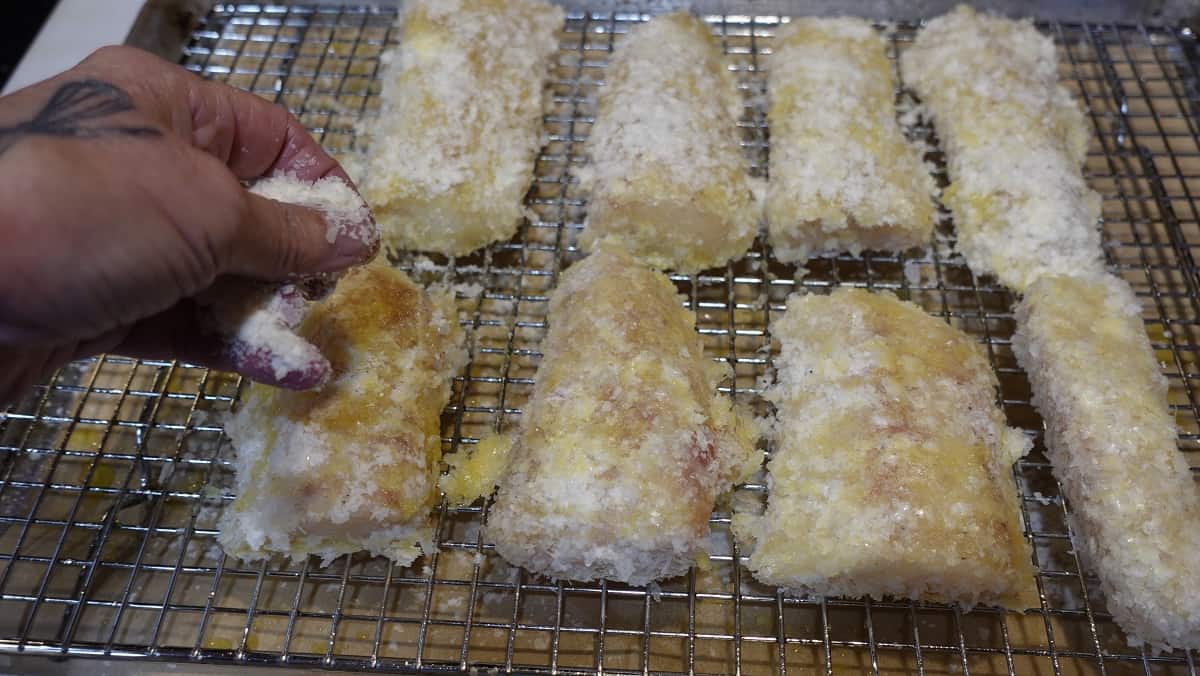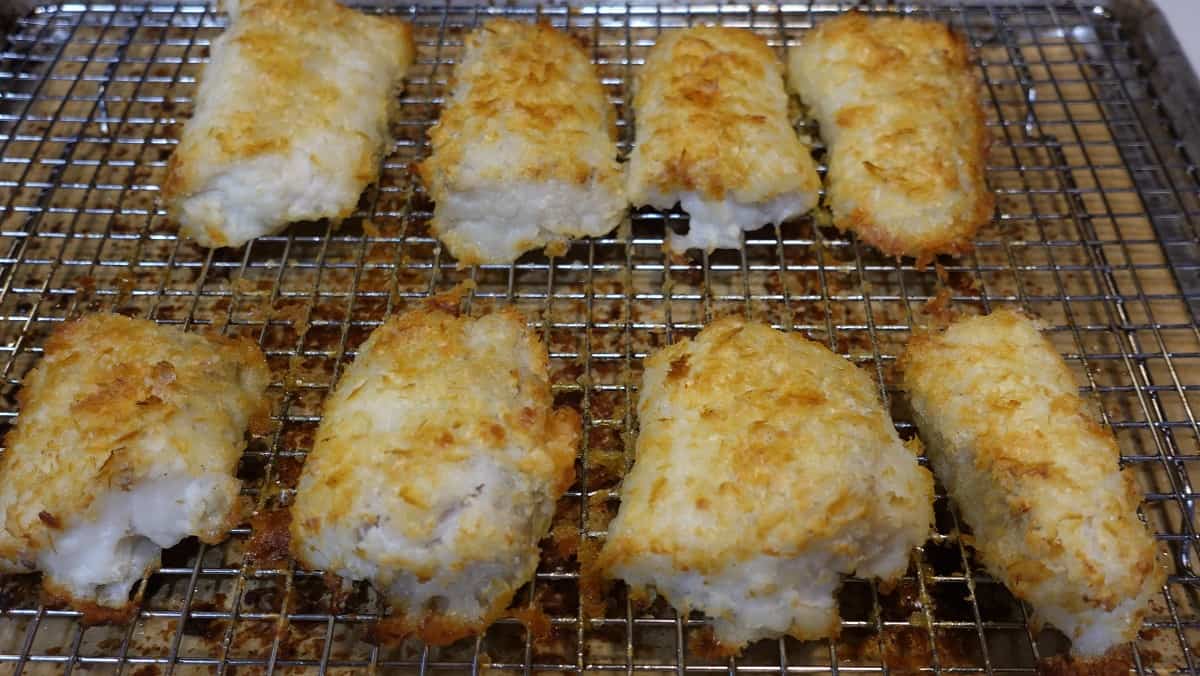 *Note - My oven happens to have an air fryer setting which is why I also have the cod fillets on a baking sheet fitted with a rack. I did cook these on the air fryer setting.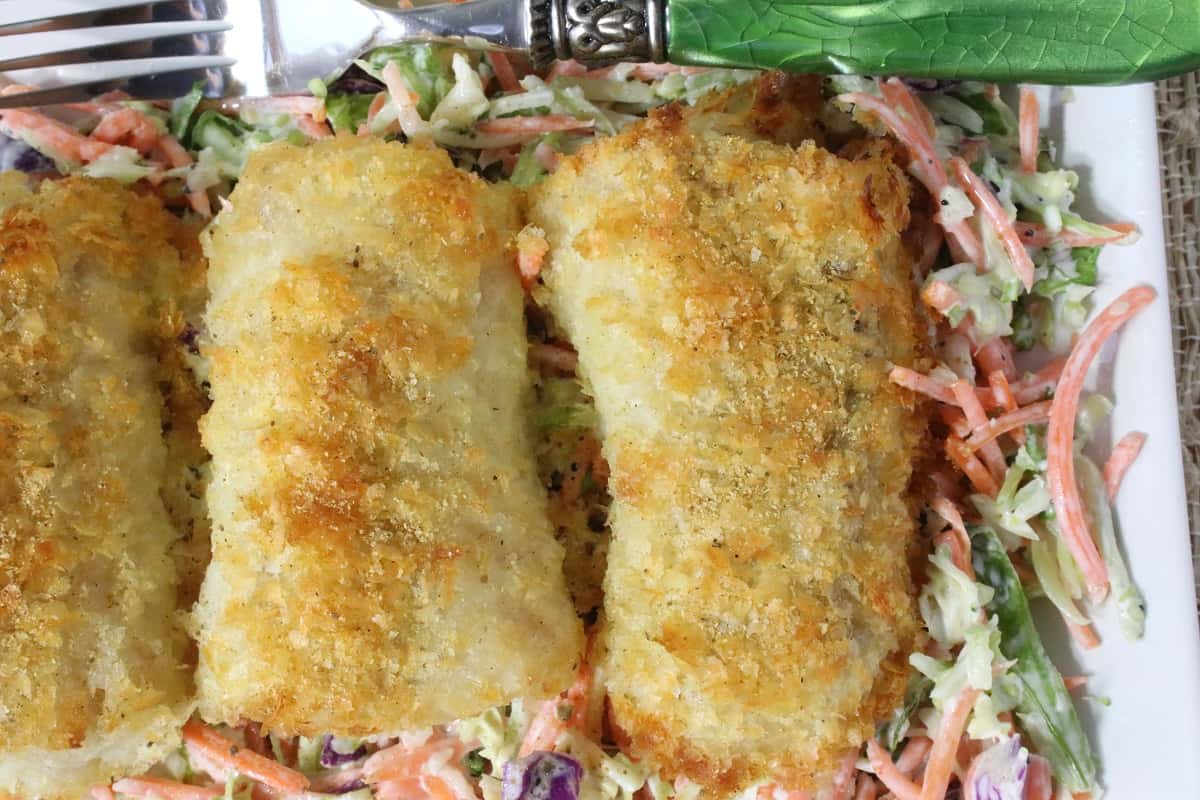 How to cook potato crusted fish fillets in a conventional oven:
Follow the exact same steps as listed above to prepare the fillets. Preheat the oven to 400 degrees Fahrenheit and cook in the center of the oven for 12 minutes. Rotate the baking sheet and continue cooking for an additional 3-4 minutes. Exact same steps, but the time increases a tiny bit. Please rely on an instant read thermometer for the best results (see FAQs below for the proper temperature for cooked fish).
FAQs:
What is the internal temperature for properly cooked cod fillets?
An instant read thermometer should read 145 degrees Fahrenheit when inserted into the thickest part of the fillet.
What is a good substitute for cod fillets?
If cod is unavailable some good substitutions are tilapia, haddock, pollack, or white sea bass.
Is 145 degrees Fahrenheit the proper internal temperature for all types of cooked fish?
Yes. Always check for doneness in the thickest part of the fish on an instant read thermometer.
Can this recipe be cut down in size if needed?
Sure thing. I used 2 pounds of cod fillets but you can easily divide the recipe in half and use 1 pound of fillets instead.
Can potato breaded cod fish be frozen once cooked?
Yes. Wrap the cooked and well cooled fillets very well in plastic wrap and freeze for up to 4 weeks. Thaw completely in the refrigerator before reheating. Unwrap the fillets and reheat on a wire rack in the oven or air fryer for maximum crispness. Approximately 5 minutes at 400 degrees.
How long will these breaded cod fillets keep in the refrigerator?
Store them in an airtight refrigerator container and they'll keep in the refrigerator for up to 4 days. Reheat on a wire rack in an air fryer or conventional oven for maximum crispness. 400 degrees for approximately 5 minutes.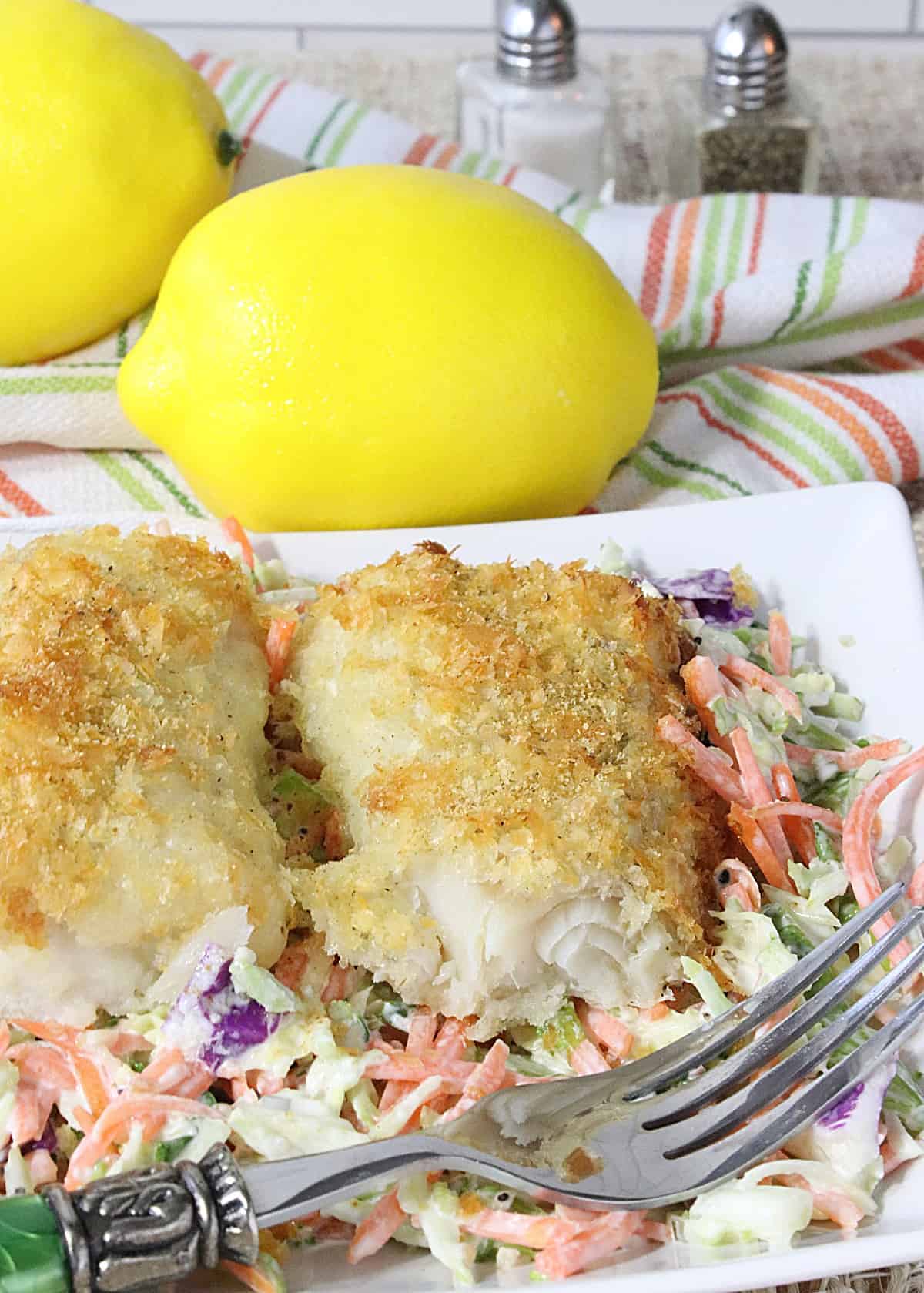 Make it a complete meal:
When you're looking for an easy and delicious potato side dish with a crispy exterior, creamy interior, and a fresh, bright flavor, look no further than these Air Fryer Baby Potatoes with lemon and thyme!
Crunchy, healthy, and completely addictive. This Sunflower Crunch Kale and Cabbage Salad has it ALL going on!! Dig in! You're going to love this colorful salad!
Additional quick and easy fish recipes you'll also enjoy:
Baked Salmon Salad is so versatile you can use it as an appetizer spread with crackers or you can use it as a spread for sandwiches. It's just plain delicious no matter how you serve it!
With a name like Jammin Salmon, you know it HAS to be good! No seriously. This is one of the easiest, most delicious salmon recipes I've ever eaten! AND it can be on the dinner table in less than 30 minutes. Impressive!
Tropical Seared Mahi-Mahi with Pineapple, Grape & Avocado Salsa is lightly sweet from the natural sweetness of the fish, and from the tropical flavors of the fresh fruit and avocado salsa.
This recipe for Pan-Seared Seared Coconut Crusted Tuna Steaks was inspired by coconut shrimp dish I'd had recently while out to dinner. You're going to love the crispy coconut crust on a delicious tuna steak!
⭐If you've made this recipe, or are excited to make this recipe, I'd appreciate it if you'd take a moment to leave it a star rating on the recipe card, along with a comment of why you rated as you did.
Google loves ratings and will show my recipes to more people if they have them. Thank you. 🙂
Printable Recipe Card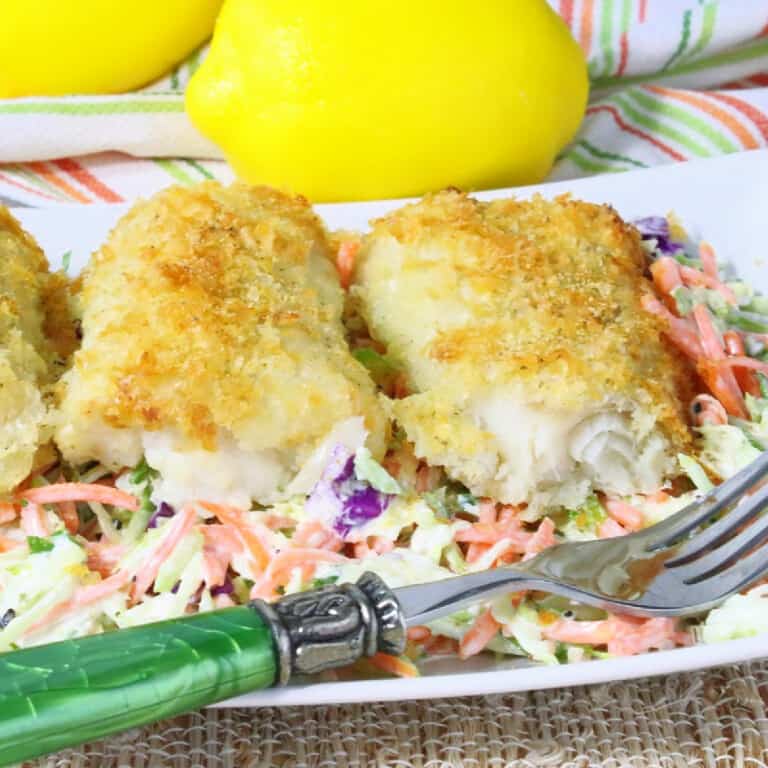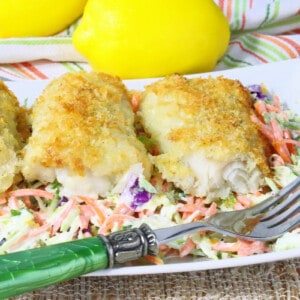 Air Fryer Potato Crusted Cod / Including Conventional Oven Instructions
Here's a super simple way to make delicious fish at home. Air Fryer Potato Crusted Cod is light and flavorful and will be on the dinner table in 20 minutes.
Ingredients
8

4 ounce

cod fish fillets

thawed (if previously frozen), and dried well with paper towels.

6

tablespoons

butter

melted

2

cups

instant potato flakes

¼

teaspoon (divided)

Old Bay Seafood Seasoning

or your favorite brand

1

teaspoon (divided)

kosher salt

½

teaspoon

black pepper

1

tablespoon

olive oil

or olive oil spray
Instructions
Preheat an air fryer or oven to 400 degrees Fahrenheit.

Add the melted butter, ½ teaspoon salt, ¼ teaspoon pepper, and and ⅛ teaspoon of seafood seasoning to a shallow dish. Stir well to combine.

Add the potato flakes, and the remaining salt, pepper, and seafood seasoning to a second shallow dish and stir well to combine.

Dip each dried fillet into the melted butter mixture (all sides), and then into the potato flake mixture. Press the flakes firmly onto the butter coated fish.

Place the potato crusted fillets into the air fryer basket, or baking sheet fitted with a wire rack.

Spray the coated fillets with a drizzle (or an even spray) of olive oil. If desired sprinkle the remaining potato flakes onto the fillets before baking.

Bake in an AIR FRYER for 8-10 minutes and then rotate the sheet and return to the air fryer for an additional 3-4 minutes.ORBake in a CONVENTIONAL OVEN for 12 minutes, rotate the sheet and return it to the oven for an additional 3-4 minutes.
Notes
The proper internal temperature for cooked fish is 145 degrees Fahrenheit.
Insert an instant read thermometer into the thickest part of the fish.
Store in an airtight container for up to 5 days in the refrigerator.
Nutrition
Serving:
1
serving
Calories:
145
kcal
Carbohydrates:
12
g
Protein:
2
g
Fat:
10
g
Saturated Fat:
6
g
Polyunsaturated Fat:
1
g
Monounsaturated Fat:
3
g
Trans Fat:
0.3
g
Cholesterol:
23
mg
Sodium:
323
mg
Potassium:
174
mg
Fiber:
1
g
Sugar:
1
g
Vitamin A:
269
IU
Vitamin C:
12
mg
Calcium:
9
mg
Iron:
0.3
mg
Thank you so much for visiting me today in my Kudos Kitchen. I hope you found something you'll love and that you'll come back and visit me often. There is always room for you around my table!
Should you have any questions or comments regarding anything you've seen here on my blog, please don't hesitate to reach out to me. It is always my distinct pleasure to respond to you just as soon as I possibly can.