Creepy, gory, full of guts, and yet delicious! How's that for a Halloween dinner idea? Rat Loaf Meatloaf is sure to turn your stomach, and yet leave you hungry for more!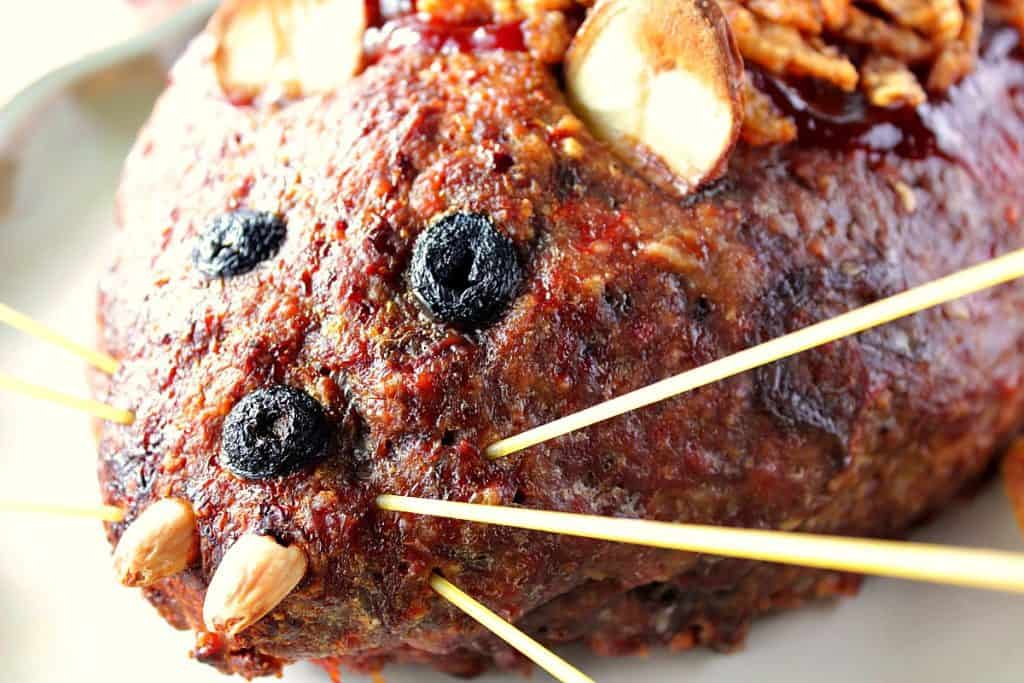 So the other day I faced my fears (Halloween humor) and went on Facebook to make my Rat Loaf Meatloaf LIVE, from my Kudos Kitchen.
The experience was frightening, and yet fun.
And the result was this creepy and gory Rat Loat Meatloaf that will turn your stomach, and make you hungry all at the same time. LOL.
I promise!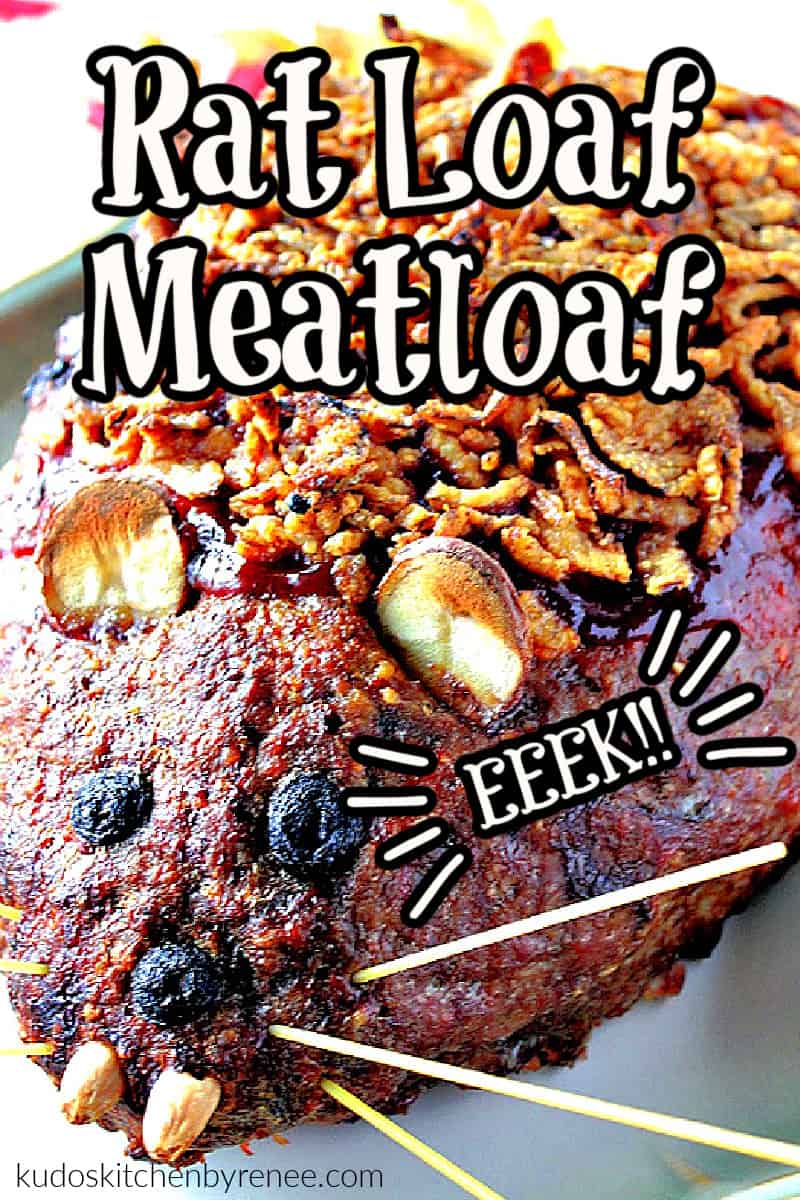 The making of rat loaf meatloaf:
Unfortunately, FB live was very temperamental and kept freezing up and turning off on me while I was making the video.
So instead of this being one long video (you can find the full-length video on my YouTube channel) from start to finish, it's cut up into 6 smaller, separate videos.
Thanks, Facebook! Not. 😉
However, this may have proven to be a blessing in disguise when it comes to adding these videos to my blog.
Since the clips are short and more manageable, I can speak to what's in each clip and give you a little play by play, making each clip smaller in size, and not so scary!
This live video and my original idea for Rat Loaf Meatloaf is actually a recipe redo from the one I posted to my blog back in October of 2013.
Now you may wonder what a nice girl like me is doing making a grotesque Halloween dinner like this.
Sadly, I have no answer for you that makes any sense except for the fact that I found it funny when I first made him, and I find it just as funny now. Hence the Rat Loaf Meatloaf Live video I shared on my Facebook page.
I had a blast making this video even though I was really nervous going live.
Luckily for me, I had my husband close by to help lend me the moral support I needed, and so I felt more comfortable in front of the camera.
As you can tell from this first clip, I was still pretty nervous. If the volume doesn't work for you, don't forget to hit the volume level in the bottom right-hand corner of each video clip.
The props:
Another thing I really loved about making this Rat Loaf Meatloaf Live video is that I got to stage my Kudos Kitchen with all sorts of fun and spooky Halloween props.
I knew having these items would add to the ambiance of the video, as well as keep my nerves down a touch. The one thing that didn't help keep my nerves down was the video continually stopping and cutting out on me.
Each time it did, it felt like I was starting from scratch and I worried I was losing my live viewers on the other end. Luckily, that didn't seem to happen.
Even though I've made a monster size rat loaf meatloaf, please feel free to make your rat loaf smaller if needed.
Also, you can use whatever family favorite meatloaf recipe you have.
It was so nice to have my husband close by so I could say hello to all my Facebook friends who stopped in to say hello as I was live.
It meant a great deal to me!!
The recipe for rat loaf meatloaf:
If you'd like the recipe I used on my original rat loaf post, please click HERE.
A family production:
HaHaHa! Look at that face. I'm not quite sure what was happening in this next video, but it sure is appropriate!
Another thing I loved about making this Rat Loaf Meatloaf Live on Facebook video is that I got to introduce our three dogs during filming.
It was so much fun for me to show them (as well as my husband) off on camera!
The devil is in the detail:
As with everything, it's the final touches that take a project (food or otherwise) over the top and special.
With black olive eyes and a nose, almond teeth, potato ears, and spaghetti whiskers this Rat Loaf Meatloaf is ready to go into the oven.
On Halloween, it's all about the ooze!
Even though the insides of my Rat Loaf Meatloaf Live Facebook video didn't ooze like I had hoped he was going to, YOURS WILL!
After all, what good is a grotesque Halloween dinner if you're not able to creep out your family and friends?!!
Thanks for watching!!

I sincerely hope you've enjoyed this recipe for Rat Loaf Meatloaf as much as I've enjoyed bringing it to you.
Should you have any questions or comments for me about this, or anything else you see on my blog, please don't hesitate to contact me directly or leave me a comment in the comment section down below.
It is always my pleasure to answer any questions you may have as soon as possible.