Creepy, gory, full of guts, and yet delicious! How's that for a Halloween dinner idea? Rat Loaf Meatloaf is sure to turn your stomach, and yet leave you hungry for more!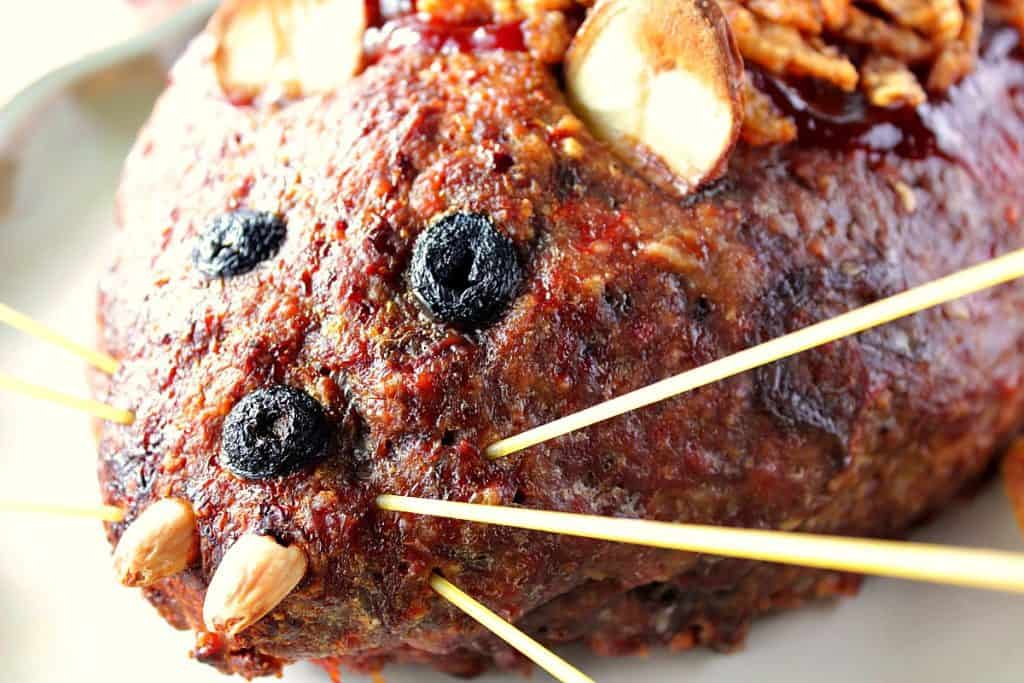 So the other day I faced my fears (Halloween humor) and went on Facebook to make my Rat Loaf Meatloaf LIVE, from my Kudos Kitchen.
The experience was frightening, and yet fun.
And the result was this creepy and gory Rat Loat Meatloaf that will turn your stomach, and make you hungry all at the same time. LOL.
I promise!
I originally shared this recipe in 2017. I've recently updated this post with additional information, including a recipe card (complete with nutritional information), and a video of how this Halloween meatloaf shaped like a rat is made, but the recipe itself has remained unchanged.
Jump to: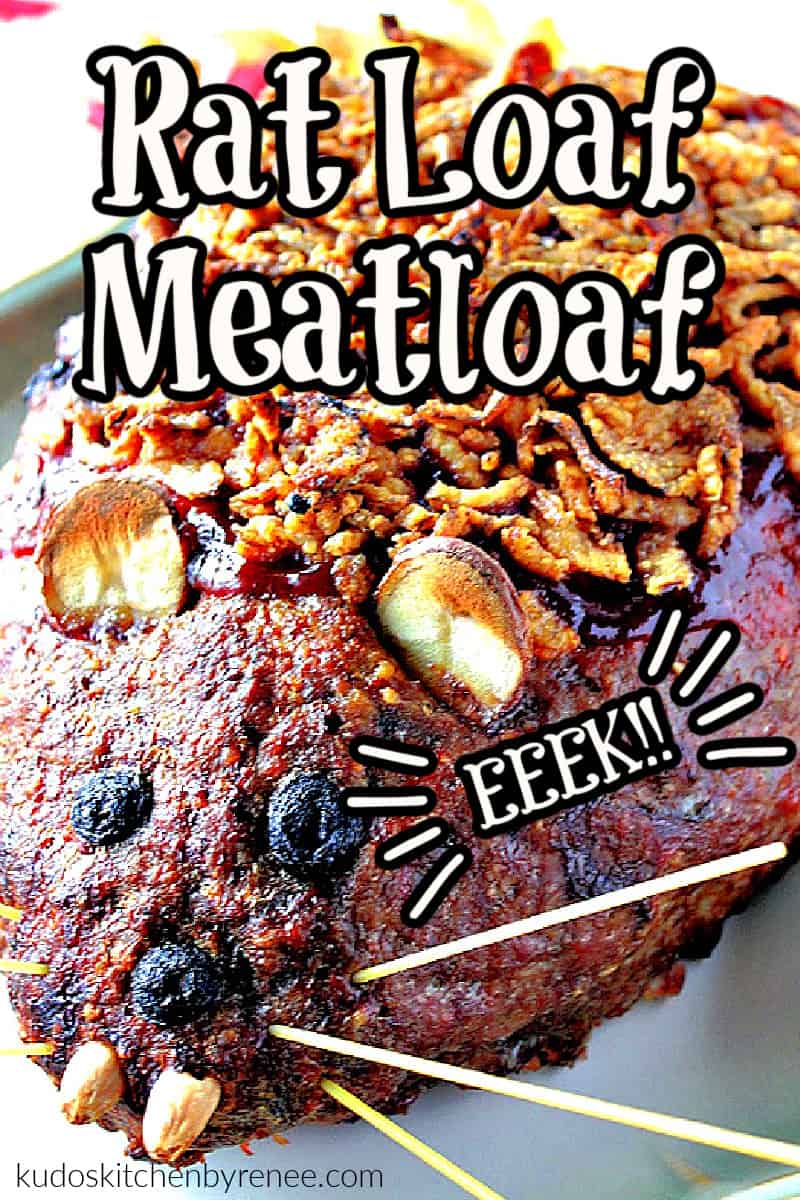 The recipe for rat loaf meatloaf:
You can use your favorite meatloaf recipe or here is my favorite meatloaf recipe for making this unusual Halloween dinner, minus the spaghetti stuffing, of course.
You'll also need BBQ sauce, string cheese, French fried onions, small new potato slices, black olives, uncooked spaghetti, canned bread sticks, salt and pepper.
The devil is in the details:
As with everything, it's the final touches that take a project (food or otherwise) over the top and special.
With black olive eyes and a nose, almond teeth, potato ears, and spaghetti whiskers this Rat Loaf Meatloaf is ready to go into the oven.
On Halloween, it's all about the ooze!
Even though the insides of my Rat Loaf Meatloaf Live Facebook video didn't ooze like I had hoped he was going to, YOURS WILL!
After all, what good is a grotesque Halloween dinner if you're not able to creep out your family and friends?!!
My live video for the making of this rat loaf meatloaf
Thanks for watching!!
When you make this recipe, and I hope you do, I'd appreciate it if you'd take a moment to leave a star rating on the recipe card and briefly comment on why you rated it as you did. FYI - Google appreciates recipe ratings and, in turn, will share my recipes with more people. Thank you so much!!
*Please note that the exact measurements along with a new "shop the recipe" feature from Instacart is available in the printable recipe card.
Printable Recipe Card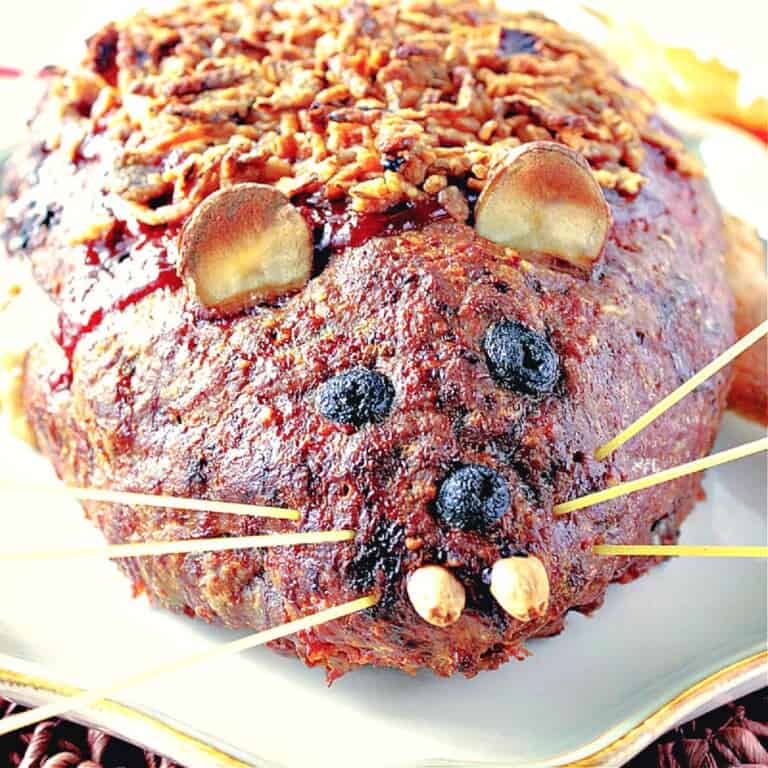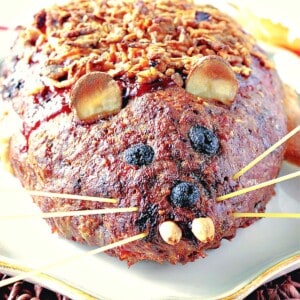 Rat Loaf Meatloaf
Do you have the "guts" to serve this gory meatloaf for dinner. Well, you've come this far, and now there's no turning back!
Ingredients
6

pounds

meatloaf mix

your favorite recipe

1

cup

BBQ sauce

your favorite variety

8

pieces

string cheese

any variety

2

cups

French fried onions

divided

2

uncooked

breadsticks

the tube variety

3

each

black olives

for the eyes and nose

2

thin slices

baby red potatoes

for the ears

6

each

uncooked spaghetti noodles

for the whiskers

2

each

raw whole almonds

preferably without the skin
Instructions
Preheat oven to 350 degrees Fahrenheit.

Working on an a sheet of parchment paper, pat out half of the meatloaf mixture to form a tapered oval shape, making sure one end is kind of pointy in shape.

Spread half of the BBQ sauce evenly over the meatloaf, making sure to leave about a 1 ½ inch border around the entire rat.

Place the string cheese pieces over the BBQ sauce and top with half of the French fried onions.

Working on another piece of parchment paper make another tapered oval shape, similar in size to the first one, with the remainder of the meatloaf mixture.

Working carefully, flip the second meatloaf out onto the guts of the bottom layer of meatloaf doing your best to align the two.

Press the two halves of the meatloaf together so he is properly sealed.

Carefully lift the rat onto an aluminum foil baking sheet that has been fitted with a rack. It is perfectly acceptable to take the parchment paper along at this point. *Note - you may need an extra pair of hands to help you accomplish this.

Place 1-2 of the bread sticks coming out from the back end of the rat and work them into place so they look like a tail. Cover the tail with aluminum foil.

Make three indentations with your knuckle where his eyes and nose will be, and then press the olives into the indentations, and poke the potato slices for ears into place on top of the rats head, and press the two almond teeth into place under the nose.

Bake the rat loaf in the preheated oven for approximately 60-90 minutes (depending on how big of a rat you've made) until he's cooked through. The internal temperature for a properly cooked meatloaf is 160 degrees Fahrenheit on an instant read thermometer.

About 45 minutes before your rat is cooked thoroughly, remove the aluminum foil from the tail to allow the bread stick tail to brown. Top the rat with the remaining half of the BBQ sauce and the remaining French fried onions. Continue to bake until he's completely cooked through. The internal temperature for a properly cooked meatloaf is 160 degrees Fahrenheit on an instant read thermometer.

Remove him from the oven and add his spaghetti whiskers. *Note - I added the spaghetti whiskers in early just for photography purposes. If you bake them along with the rat, they'll burn.

Allow him to sit for about 10-15 minutes (covered loosely with foil) before slicing, serving and grossing out your family and friends!!!
Notes
The internal temperature for a properly cooked meatloaf is 160 degrees Fahrenheit on an instant read thermometer.
Nutrition
Serving:
1
serving
Calories:
565
kcal
Carbohydrates:
14
g
Protein:
50
g
Fat:
39
g
Saturated Fat:
13
g
Polyunsaturated Fat:
0.03
g
Monounsaturated Fat:
0.05
g
Cholesterol:
159
mg
Sodium:
493
mg
Potassium:
55
mg
Fiber:
0.2
g
Sugar:
8
g
Vitamin A:
54
IU
Vitamin C:
0.1
mg
Calcium:
8
mg
Iron:
5
mg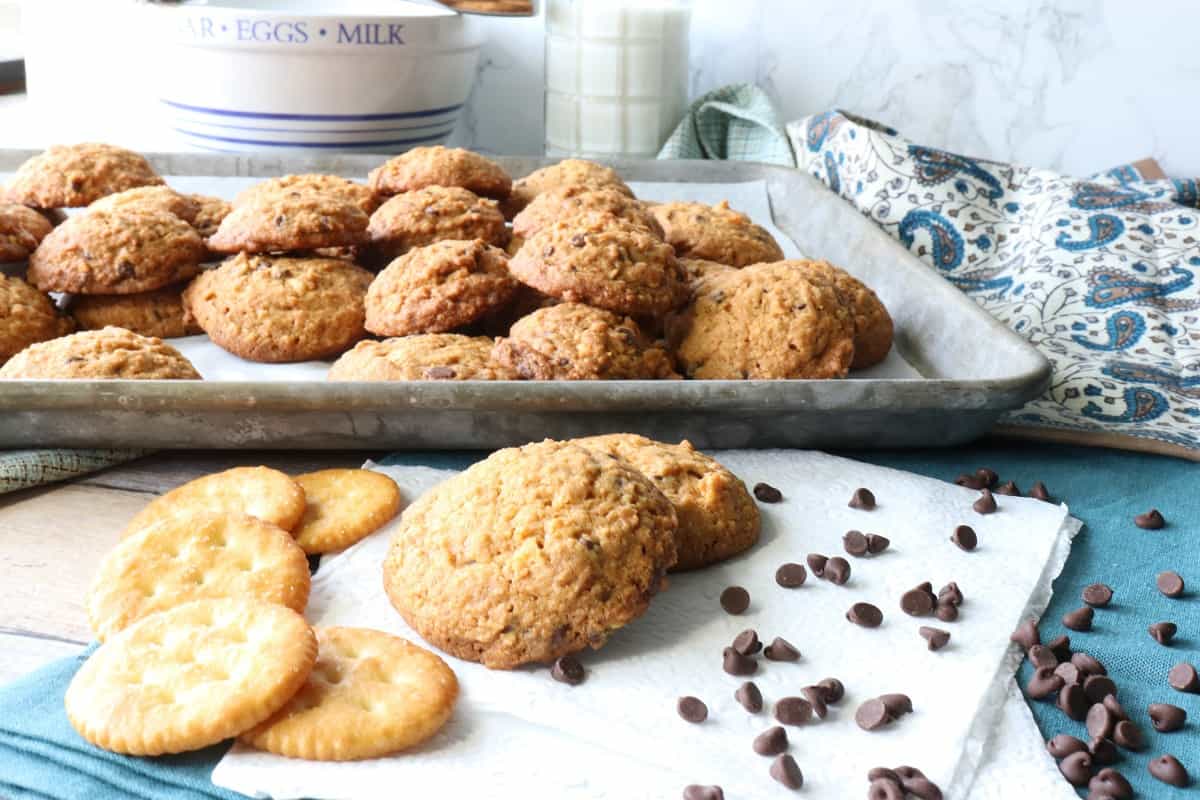 Follow me across my social media platforms and join in on the conversation: FACEBOOK, INSTAGRAM, PINTEREST, TIKTOK, AND YOUTUBE.
Thank you so much for visiting me today in my Kudos Kitchen. I hope you found something you'll love and that you'll come back and visit me often. There is always room for you around my table!
Should you have any questions or comments regarding anything you've seen here on my blog, please don't hesitate to reach out to me. It is always my distinct pleasure to respond to you just as soon as I possibly can.
Until we eat again, I hope you have a delicious day!!