If you're not a fan of drinking plain water because it doesn't have any pizzazz or flavor, I urge you to treat yourself to a pitcher or two of this Cucumber, Lime and Mint Fitness Water. It does a body good!
With the warm weather right around the corner, it's more important than ever to keep your body hydrated so you can feel your best and to perform at optimal levels when you're exercising and keeping active.
I don't have a problem with drinking water without flavoring, but from time to time I like to shake things up a little bit. After a big workout, it especially feels like I'm treating myself for a job well done if my water can give me a kick of flavor along with the fluid replenishment that is so very important after a big sweat and to a healthy body.
For the past few months, it has been my intention to get in at least 4-5 days of good cardio/strength training workouts, and I'm happy to report that I haven't strayed from that plan. Even on days when exercise is the last thing I want to do, or when I feel I'm too busy to fit it in, I still make sure that I get in at least 30 minutes. It's on those days that I feel my best and feel the proudest of myself. After all, I can't take care of anyone else if I'm not taking care of myself first, and with everything going on with my family, keeping healthy and active as I age is first and foremost in my mind.
Weight loss is also important to me, and I'm noticing that as I age it's SO much harder to take it off than it was when I was younger. I've resigned myself to the fact that the process is going to be slow-going and that I shouldn't get discouraged as I have in the past and then fall off my eating and exercise plan. So far, so good and even though I don't know the number of the pounds I've lost (I haven't yet weighed myself), I've noticed a big difference in how my clothes are fitting, and I'm feeling so much stronger, and can last so much longer during strenuous workouts. Yay!
If you're looking for a fitness and strength training program that doesn't have you heading out to a public gym (public exercise is not my thing), the Leslie Sansone Walk At Home program is one of the best home exercise programs I've ever used. Her workouts are fun and super easy to follow, and she has a wide variety of workouts so you never get bored. I own many, many of her DVD's and also some of her VHS tapes from back in the day, but you can also find her workouts on Youtube which will cost you nothing to get your body moving. Her most recent DVD workout is called the Miracle Miles system that incorporates fat-burning cardio along with some great full body strength training. And, let me tell you, if you think you can't get a good workout at home in front of a TV, you've got another thing coming! *Note – This post is in no way compensated by Leslie Sansone or her Walk at Home programs. I just feel very strongly about it being a great fitness program for any personal activity level, and one that I wanted to share with you because I hope you'll benefit from it as much as I am.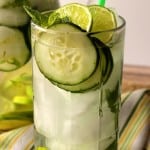 Cucumber, Lime, and Mint Fitness Water
Rehydrate your body with this delicious and nutritious Cucumber, Lime, and Mint Fitness Water
Ingredients
1

cucumber

cut into rounds

3

limes

sliced

½

cup

chopped mint

2

quarts

filtered water
Instructions
Place all ingredients into a pitcher and allow to sit for 30 minutes.

Add ice and enjoy.
Recipe Notes
Feel free to add other citrus fruit and berries if desired.
And, not that you'd know this, but I just put my money where my mouth is and when I finished with the recipe card portion of this post (shown above), I got in my 4-mile Miracle Miles walk which is 60 minutes of pure high intensity cardio, and strength training, sweat. I almost talked myself out of it after the morning got away from me, and with my to-do list for the day being very long. Thankfully I stuck to my guns and got it in. Now I can move through the rest of my day and instinctively make better food choices because of the pride I'm feeling in myself and the difference I'm seeing in my body! WOOT!
I've chosen to coordinate this healthy Cucumber, Lime, and Mint Fitness Water with some fruit and vegetable smoothie glasses I painted awhile ago per a customer request. They're cute and whimsical and a great way to add a little fun into your health and fitness routine.
Kudos Kitchen by Renée ~ Where food, art, and fun collide each and every day!
Until we eat again, I hope you have a delicious day!