Almond Meringue Cookies taste like a toasted marshmallow but with a crispy exterior! They're as light as air with a sweet crunch you won't be able to stop eating.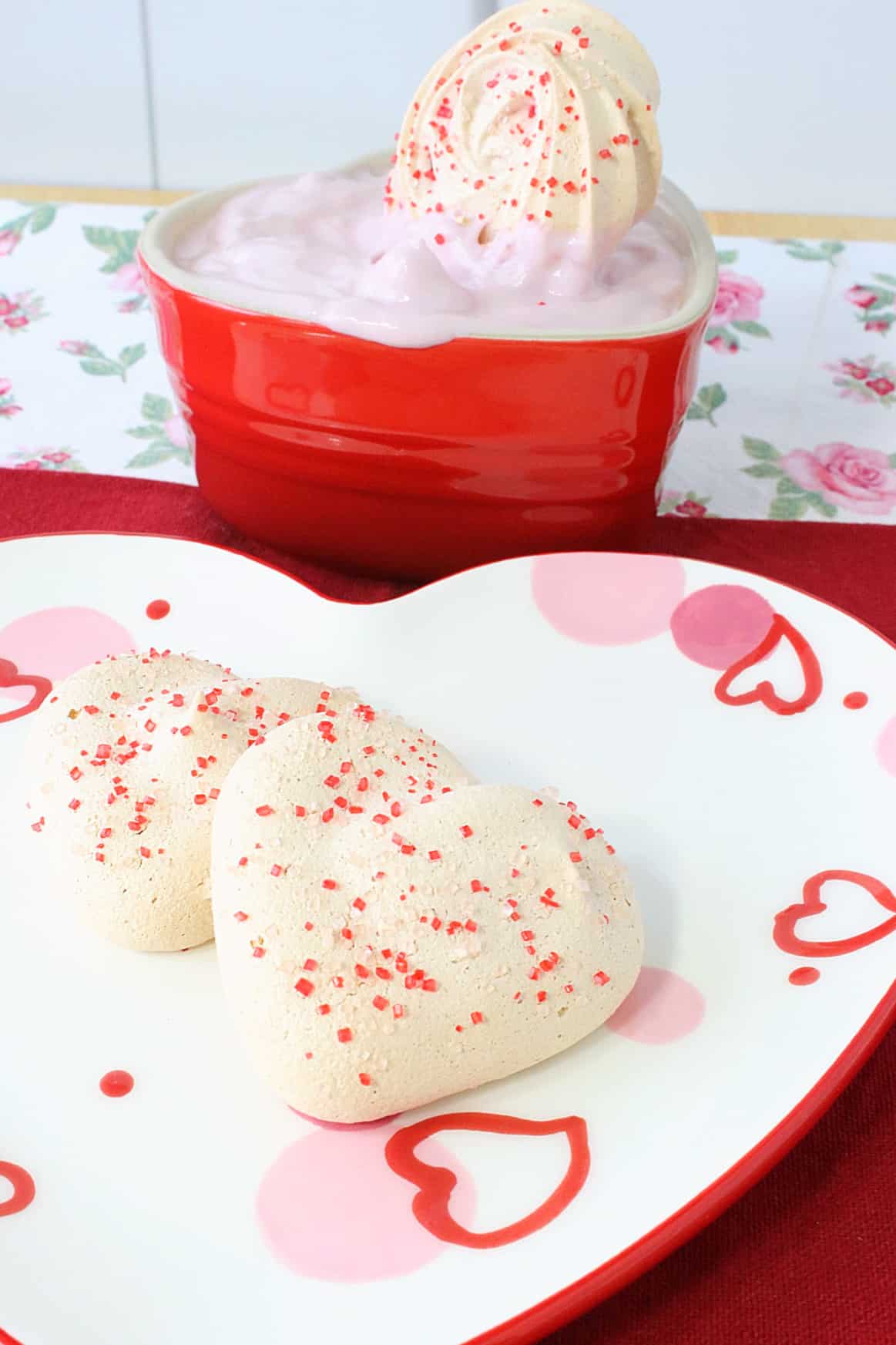 **Note - The following recipe post or category contains affiliate links (highlighted in blue) for your consideration. By clicking on a link I may earn a small commission at no additional cost to you. Thank you!
I was inspired to make these sweet little meringue cookies by other Valentine's Day recipes on my site. However, these cookies don't have to be specifically for that occasion.
Keep them in mind for weddings, bridal showers, or any other special event when a little touch of sweetness and light is appropriate.
Jump to:
The ingredient list:
*Please note that the exact measurements along with a new "shop the recipe" feature from Instacart is available in the printable recipe card.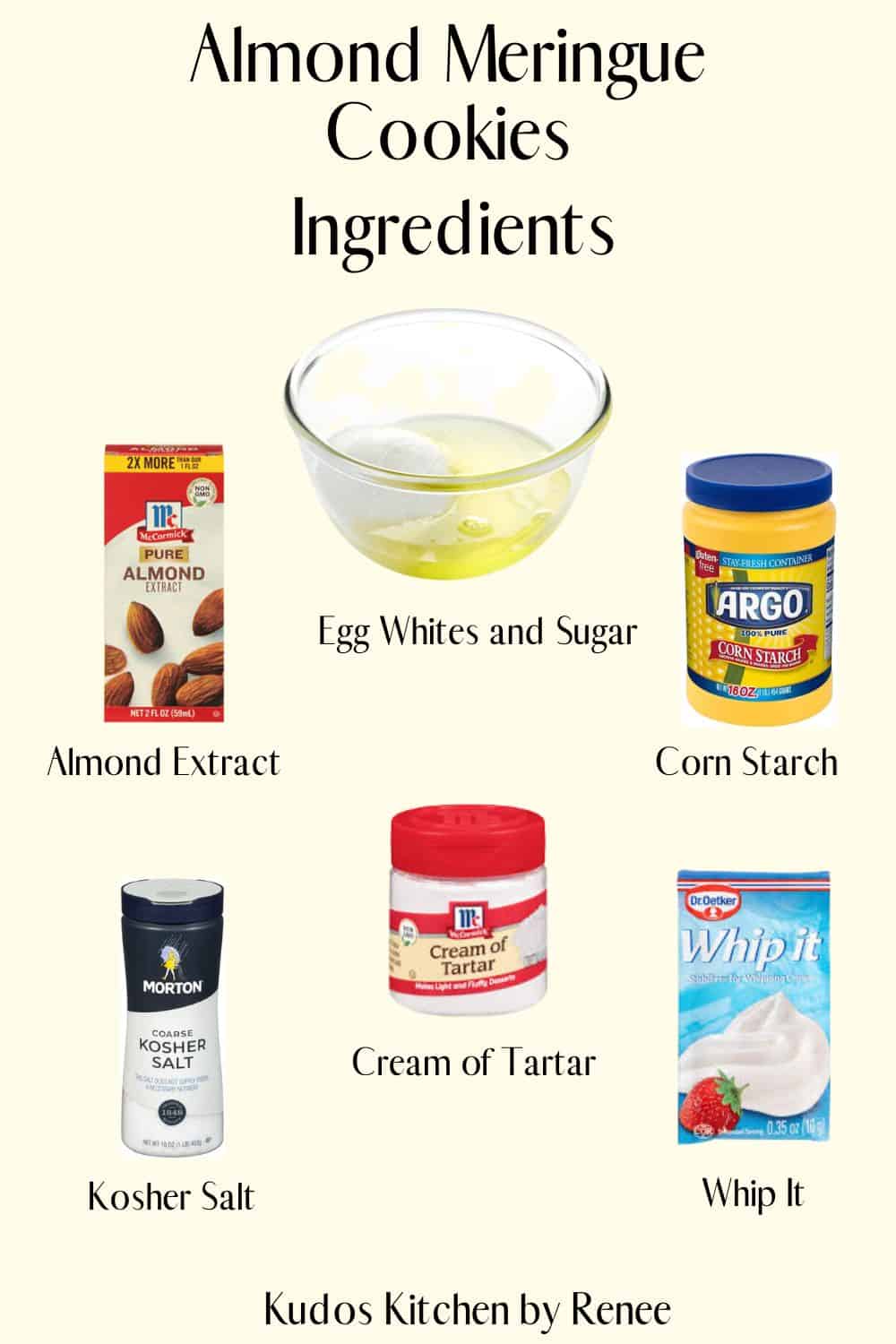 The above ingredient image was made using Canva Design. It's one of my very favorite design tools. You don't need to be a food blogger to use Canva. All you need to be is someone who loves designing graphics. Check them out if you're interested and a whole new world of artistic expression will be opened to you.
Ingredient savvy for making French meringue cookies:
EGG WHITES - It is easiest to separate the egg white from the yolks when the eggs are cold. Before whipping the egg whites, allow them to sit at room temperature for at least 30 minutes to get the most volume from your meringue. Make sure to reserve the yolks in a bowl (covered) for another use.
SUPERFINE SUGAR or GRANULATED SUGAR - Using either sugar is fine for making French meringue. Still, superfine sugar is a great way to ensure that the sugar will dissolve completely in the beaten egg whites. This way, you'll achieve a smoother, non-grainy texture. However, the taste will still be the same with either sugar you use. Superfine sugar can easily be made using a food processor (see below under chicken tools and equipment).
CORNSTARCH - This ingredient will keep the meringue cookies from taking on moisture after baking. Using cornstarch will keep the cookies crisp without any moisture drops (weeping) forming on the outside of the cookies.
CREAM OF TARTAR - This ingredient helps speed up the whipping egg whites and to help stabilize the whipped whites so they'll become voluminous and glossy.
DR. OETKER WHIP-IT STABILIZER (optional) - I like to use this ingredient as a safety net when I make a French meringue or homemade whipped cream. This ingredient won't change the meringue's flavor but ensures a longer-lasting, fluffy, and highly stabilized consistency. Even though it seems like overkill, I like to ere on the side of caution.
ALMOND EXTRACT - You can also use vanilla extract, but I enjoy the lightly nutty flavor of almond extract in these cookies. It's a personal preference so use what you like best.
GEL FOOD COLOR (optional) - I did not use food color in these cookies, but you can if you'd like to turn them pink for Valentine's day. Use a tiny amount of gel color at first, then increase the amount, whipping the mixture continually until you achieve your desired color.
KOSHER SALT - A tiny pinch will go a long way in bringing the flavor of these almond meringue cookies to life. Salt enhances flavor, so please don't leave it out.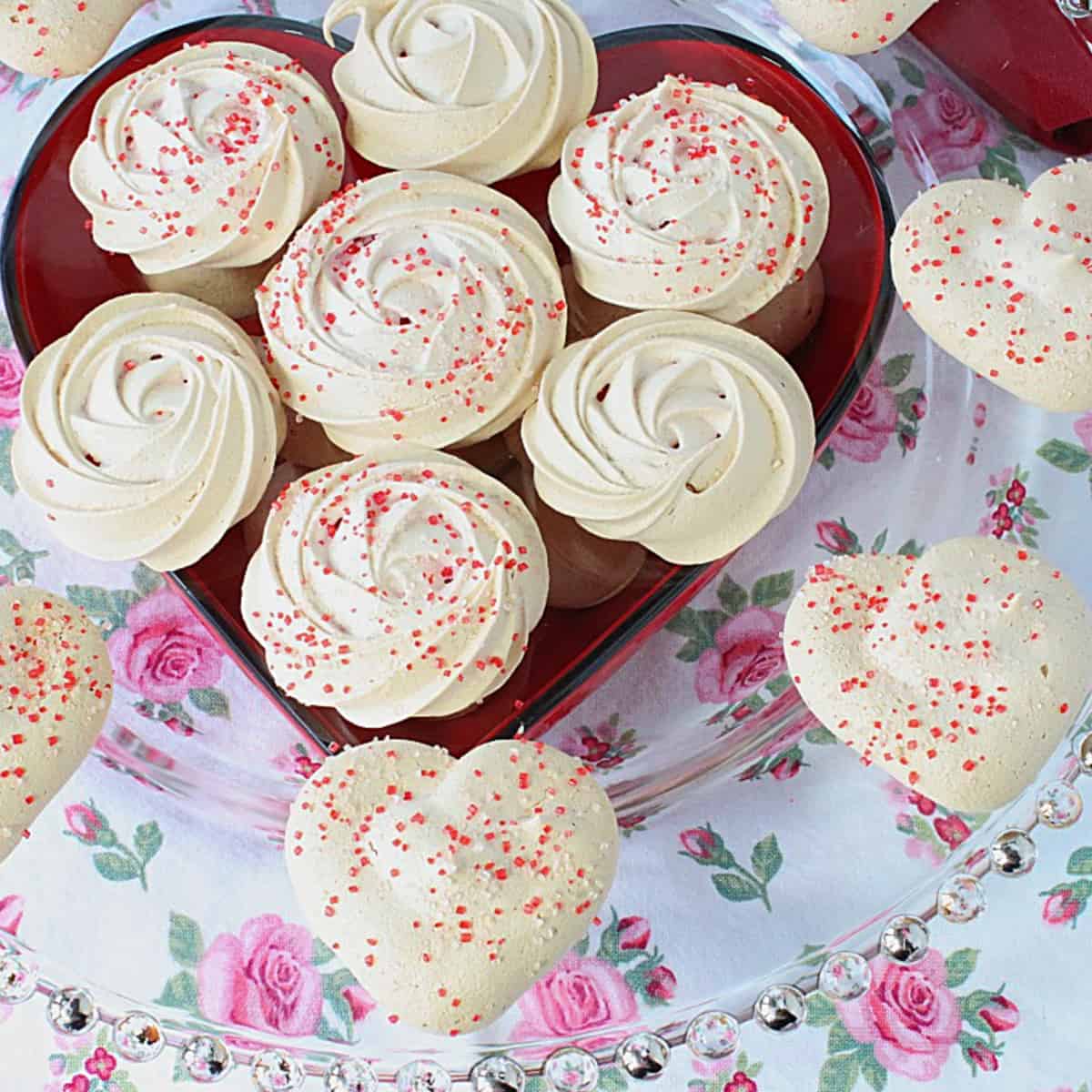 Necessary kitchen tools and equipment:
STAND MIXER with WHIP ATTACHMENT or GLASS BOWL with WHISK - No matter if you're whipping the egg whites by hand or using a stand mixer, ALWAYS make sure that your bowl and whisk are impeccably clean. Any grease or debris inside the bowl or whisk will prevent the egg whites from whipping properly.
FOOD PROCESSOR - If you don't have superfine sugar in your cabinet, you can easily make it in a food processor. Add the amount of sugar called for in the recipe to the food processor and process the sugar until finer sugar granules form. Making superfine sugar is easy but will take several pulses, so don't rush the process.
MEASURING CUPS AND SPOONS - Basic kitchen tools are very important, especially for baking. However, a DIGITAL KITCHEN SCALE is an exceptional tool to use in place of measuring cups and spoons because you'll get a much more accurate measure. Many people will tell you they're also more convenient and neater than cups and spoons. Learn more about the importance of using a kitchen scale.
Full disclosure - Using a kitchen scale is something I need to do much more of going forward. Join me, won't you?
LARGE PIPING BAG - When piping meringue, you'll want a large bag to hold as much of the meringue as possible without making the bag hard to control. The meringue is quite sticky, so it's best to get quite a bit in the bag right from the start to avoid any unnecessary mess.
PIPING TIPS - You can use any tips you prefer, but I like ones with a large opening for making the hearts and swirls you see here. These are the LARGE ROUND, and the LARGE STAR tips I used.
Please see the video below for more information on using piping bags and their tips.
PARCHMENT PAPER - I almost always use parchment paper sheets when cooking and baking. Parchment paper sheets make cleanup a breeze, and as a bonus, the meringue cookies won't stick to the paper once they've been baked and cooled.
LARGE SILICONE SPATULA - This essential kitchen tool is extremely beneficial when filling a piping bag with sticky meringue.
A KITCHEN TIMER - Meringue cookies are in the oven for a significant amount of time. The cookies go into the oven at 300 degrees F and bake for 30 minutes. Once the 30 minutes are up, turn off the oven and allow the cookies to sit in the oven for 60 additional minutes to finish baking. I don't know about you, but for me personally, using a kitchen timer helps keep me on track without having to rely solely on my faulty memory.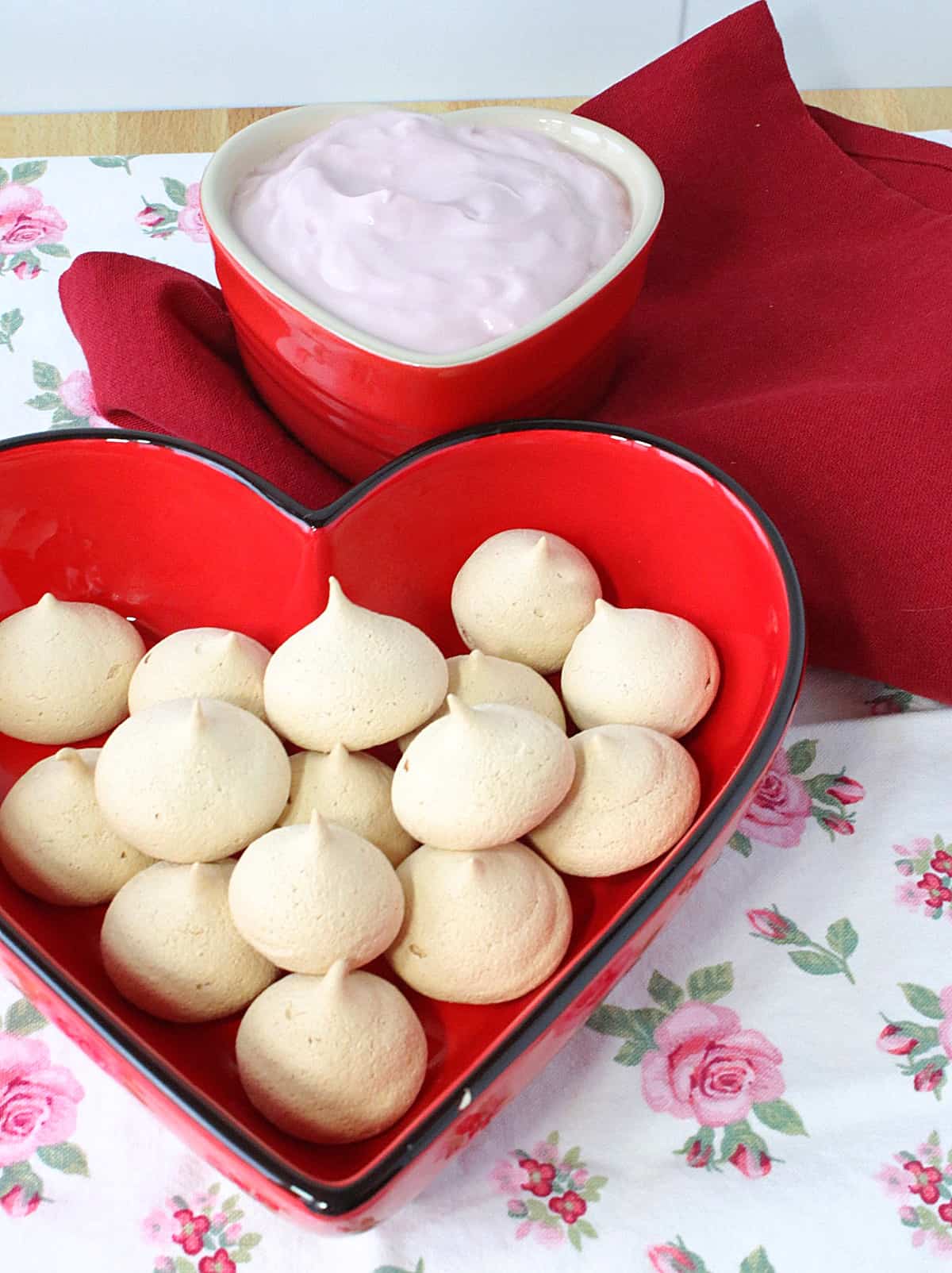 How to make superfine sugar:
Add the amount of sugar called for in this recipe to a food processor. Process the sugar (using the chopping blade) for several minutes (or pulse many times) until the sugar granules become very fine and super tiny.
The quick and easy way to fill a piping bag, and how to use piping tips:
FAQs
How many meringues will this recipe yield?
That really all depends on what size cookies you make. If you make approximately 2" meringues, the yield will be approximately 32 cookies. Of course if you make smaller cookies you'll have a larger yield.
How to store baked Almond Meringue Cookies?
If you store them lightly packed in an airtight container at room temperature they'll last up to 7 days.
Can baked meringue cookies be frozen?
Yes. Store them loosely packed in airtight freezer containers for up to 3 months.
Can this recipe be easily doubled or tripled?
You bet. You can even cut the recipe easily in half if needed.
What is a good substitution for cream of tartar in this recipe?
If you don't have cream of tartar, using 2 teaspoons of fresh lemon juice (for this particular recipe) is a fine replacement for the 1 teaspoon of cream of tartar.
Essential tips for success when making almond French meringue cookies:
Always add the sugar to the whipped egg whites slowly! You want the sugar to disperse and dissolve into the egg whites slowly. Adding the sugar in 1-tablespoon increments is ideal.
Meringue whips are best if using room-temperature egg whites.
ALWAYS use an impeccably clean glass or metal bowl for whipping egg whites.
Allow the cookies to cool and come to room temperature inside the oven (for at least an hour) after the initial 30-minute bake time. This ensures crispy, fully baked cookies, inside and out.
Can the egg whites be whipped by hand instead of a stand or hand mixer?
You bet, but I hope you have plenty of stamina. Continue whipping until the meringue forms glossy soft peaks. It will take a lot of prolonged wrist and forearm action, but it certainly can be done. If you can do it without fainting from exhaustion, I applaud you.
Serving suggestions for almond meringue cookies:
You'll notice a dish of Greek cherry yogurt in some of the photos. I like to dip the almond meringue cookies into yogurt because I love the juxtaposition of tartness to balance the sweetness of the cookies. Any flavor of Greek yogurt will work.
A lovely lemon or orange curd would also work as a dip for these meringue cookies, and I sure wouldn't say no to melted semi-sweet chocolate.
Of course, you don't need to dip these deliciously sweet cookies into anything at all because they're perfectly wonderful, just as they are. Just sayin'!
Additional sweet treats for Valentines Day:
Treat your honey to a deliciously charming individual Baked Alaska for Two this Valentine's Day, and you'll both be falling in love all over again!
When your heart desires adorable cookies, look no further than this easy yet delicious Polka Dot Heart Sugar Cookies recipe! They're perfect for Valentine's day...and beyond!
Deconstructed Strawberry Pie with cinnamon whipped cream and chocolate ganache may look difficult to make, but they only take moments with the help of store-bought pie crust.
Conventional Oven vs Fan Oven (Convection Oven) temperatures:
If cooking or baking within a fan oven (convection oven) as opposed to a conventional oven, always reduce the temperature in the written recipe by 20 degrees. That is, however, unless a recipe specifies that it was explicitly written for convection oven cooking/baking.
⭐If you've made this recipe, or are excited to make this recipe, I'd appreciate it if you'd take a moment to leave it a star rating on the recipe card, along with a comment of why you rated as you did.
Google loves ratings and will show my recipes to more people if they have them. Thank you. 🙂
Follow me across my social media platforms and join in on the conversation: FACEBOOK, INSTAGRAM, PINTEREST, TIKTOK, AND YOUTUBE.
Thank you so much for visiting me today in my Kudos Kitchen. I hope you found something you'll love and that you'll come back and visit me often. There is always room for you around my table!
Should you have any questions or comments regarding anything you've seen here on my blog, please don't hesitate to reach out to me. It is always my distinct pleasure to respond to you just as soon as I possibly can.
Until we eat again, I hope you have a delicious day!!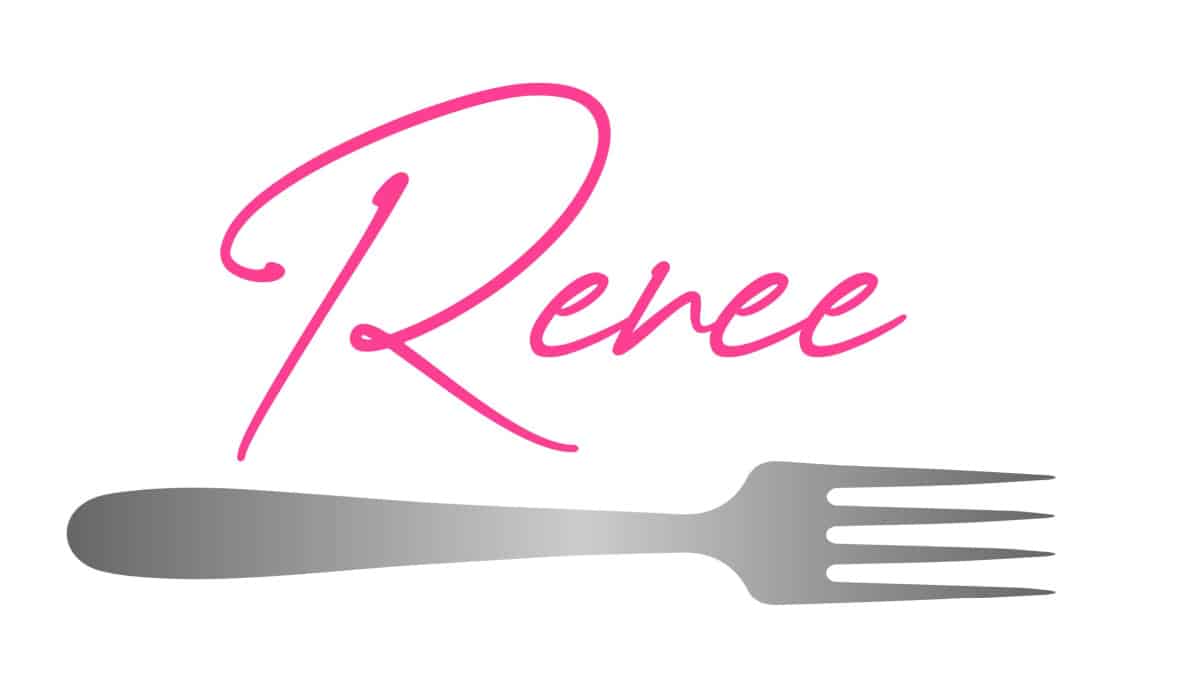 Printable Recipe Card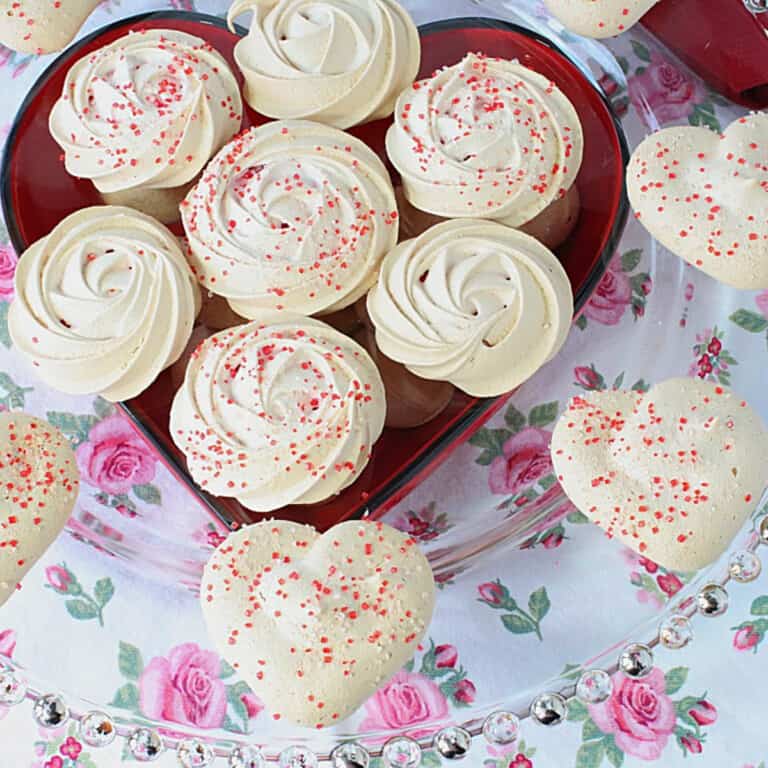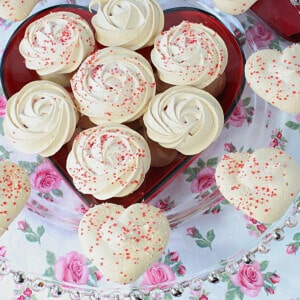 Crispy Almond Meringue Cookies
Almond Meringue Cookies taste like a toasted marshmallow but with a crispy exterior! They're as light as air with a sweet crunch you won't be able to stop eating.
Ingredients
5

large

egg whites

save the yolks for another use

1½

cups

superfine sugar

granulated sugar will also work

2

teaspoons

corn starch

1

teaspoon

cream of tartar

1

teaspoon

pure almond extract

1

package (.35 ounces)

"Whip It" (whipped cream stabilizer)

optional

colored sanding sugar

optional
Instructions
Preheat the oven to 350 degrees Fahrenheit (330 degrees Fan, or 175 degrees Celsius) while preparing the egg whites.

Using two small bowls, separate the egg whites from the yolks while the eggs are cold. Cover the yolks and refrigerate them to reserve them for another purpose.

Allow the egg whites to warm to room temperature for 30 minutes before whipping.

Place the room temperature egg whites in an exceptionally clean glass or stainless bowl and whip the whites, slowly at first, and increasing the speed as the egg whites increase in volume.

As the egg whites are whipping, add the sugar, 1 tablespoon at a time, to the whipping egg whites, beating after each addition. Continue this process until all the sugar has been beaten into the whites, and the meringue has achieved a glossy white appearance and soft peaks form when the whip is lifted from the bowl.

Add the corn starch, cream of tartar, "whip it" (if using), and the almond extract to the bowl and whip again until fully incorporated, scraping down the sides of the bowl as needed.

Use a spatula to transfer the meringue to a large piping bag fit with a large piping tip of your choice. Gently squeeze the meringue mixture into the piping tip of the bag, and gently twist the top of the bag closed.

Pipe the meringue onto parchment lined baking sheets in the a design of your choosing. *Note - the meringue will not spread as it bakes, but do allow about 1" or space between each cookie. Sprinkle the meringues with colored sugar after piping, if desired.

Before adding the meringues to the oven, reduce the heat in the oven to 300 degrees Fahrenheit (280 degrees Fan, or 130 degrees Celsius) and place the baking sheets into the oven on the middle and top racks Bake the meringues for 30 minutes.

After 30 minutes, turn the heat of the oven off and allow the meringues to stay inside the oven for an additional 60 minutes until they are fully baked and cool.

Remove the almond meringue cookies from the oven and gently lift them from the parchment paper. Arrange the cookies on a platter for serving and enjoy!

Serve alone or with a fruit-flavored Greek yogurt for dipping if desired.
Notes
Cookies may be stored at room temperature in an airtight container for up to 7 days.
Cookies may be frozen in an airtight freezer container for up to 4 months.
Nutrition
Serving:
1
serving
Calories:
43
kcal
Carbohydrates:
10
g
Protein:
1
g
Fat:
0.04
g
Sodium:
9
mg
Potassium:
26
mg
Fiber:
0.002
g
Sugar:
10
g
Calcium:
1
mg
Iron:
0.01
mg
Thank you so much for visiting me today in my Kudos Kitchen. I hope you found something you'll love and that you'll come back and visit me often. There is always room for you around my table!
Should you have any questions or comments regarding anything you've seen here on my blog, please don't hesitate to reach out to me. It is always my distinct pleasure to respond to you just as soon as I possibly can.