When your heart desires adorable cookies, look no further than this easy yet delicious Polka Dot Heart Sugar Cookies recipe! They're perfect for Valentine's day...and beyond!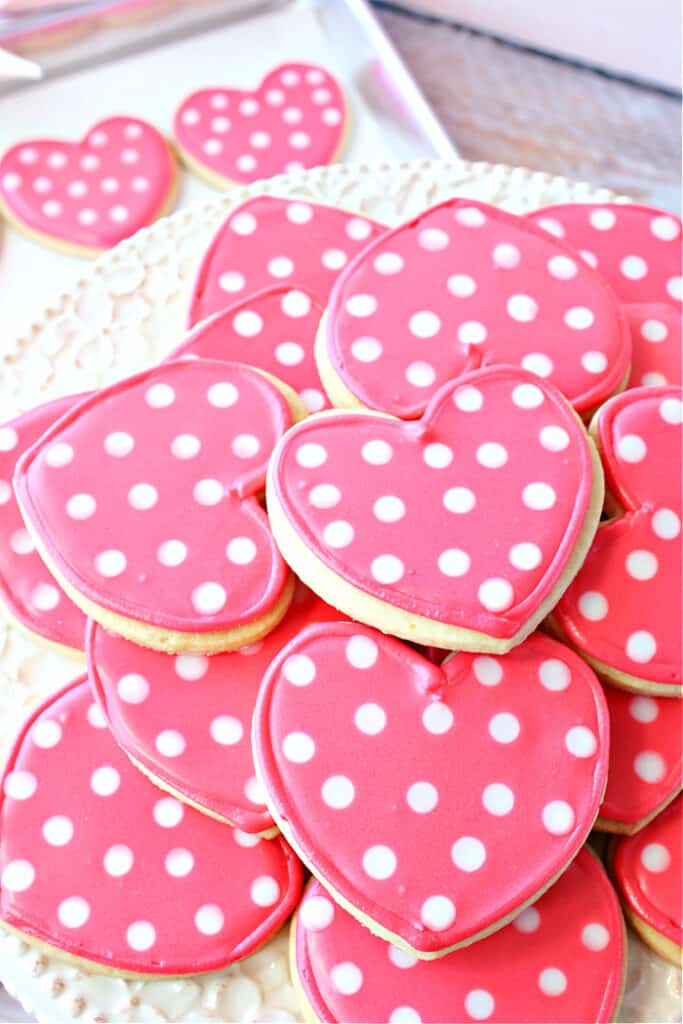 Trust me when I tell you that these cute polka dot heart cookies will win your heart, time and time again!!
**Please Note - The printable recipe card with detailed instructions, complete ingredient measurements, and nutritional information for making Polka Dot Decorated Heart Sugar Cookies is available at the end of this post. OR you can hit the "jump to recipe" button (found above) to be taken directly to the recipe.
To view the full video of the making of these Polka Dot Heart Sugar Cookies, check it out my YouTube channel.
The ingredients for the dough:
**Note - The following lists of ingredients plus kitchen tools and equipment contain affiliate links (highlighted in blue) for your consideration and shopping convenience. #CommissionsEarned
softened butter, (I always use salted)
egg
heavy cream
lemon zest
all-purpose flour baking powder
Ingredients for the royal icing:
confectioners sugar
warm water
Kitchen tools and equipment needed: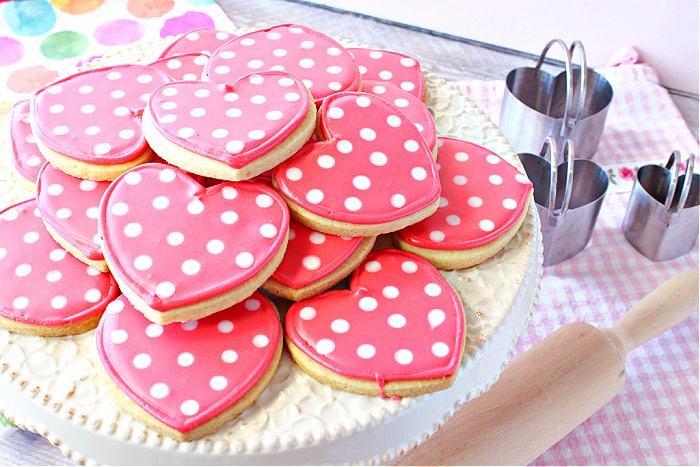 Why this cut-out cookie dough recipe works:
When you start with a sugar cookie dough that tastes like shortbread (yet isn't), that's a really, really good start!
This amazing sugar cookie dough holds its shape perfectly while baking which is what you want (and need) when making decorated cookies.
You have my word on it!
I can firmly and unequivocally state that these are, by far, the best-tasting decorated sugar cookie I have ever had (and I'm not just saying that because it's my recipe)!
After you try them for yourself, I double-dog dare you to tell me you don't agree.
Check out these cute decorated American flag heart sugar cookies for all your patriotic snacking needs.
Can the dough be frozen?
Most definitely!
Divide each batch of dough in half, wrap well in plastic wrap, and freeze for up to 4 months.
Can the baked cookie be frozen?
Yes, but I recommend freezing the baked cookies BEFORE they're decorated.
Stack the same-shaped cookies into stacks of 8-10, wrap each stack well with plastic wrap, and freeze for up to 4 months.
When ready to decorate, unwrap the cookies and allow them to thaw and decorate as usual.
How to store royal icing?
I like to store mine in an air-tight container at room temperature. Since this recipe calls for meringue powder, there is no need for refrigeration.
You can store the royal icing at room-temp for up to 4 weeks, if needed.
How to thin royal icing to a flooding consistency:
Add a light touch of warm water and stir well.
If a thinner consistency is needed add warm water, a little at a time until you reach your desired consistency.
For a great guide regarding royal icing consistency, check out the following video from my friend, Hani:
Can vanilla extract be substituted for the almond extract in the icing?
Yes, but I urge you to use the almond extract it you have it.
The light almond flavor of the icing pairs perfectly with the subtle lemon flavor of the cookies.
Additional special occasion recipes you'll love:
*Steak and Lobster Linguine (shown below)
Steak and lobster linguine is tender pieces of seared steak along with sweet buttery lobster combined with an al dente pasta for a special occasion meal you'll fall in love with!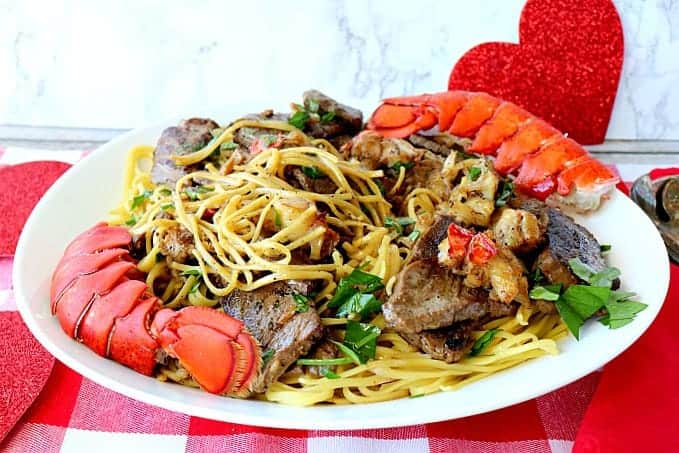 *Chicken Oscar (shown below)
Chicken Oscar (Kudos Kitchen Style) is tender and juicy breaded chicken breasts topped with mounds of sweet crabmeat, fresh seasonal asparagus, Swiss cheese, and a white wine mustard sauce that completes the dish perfectly!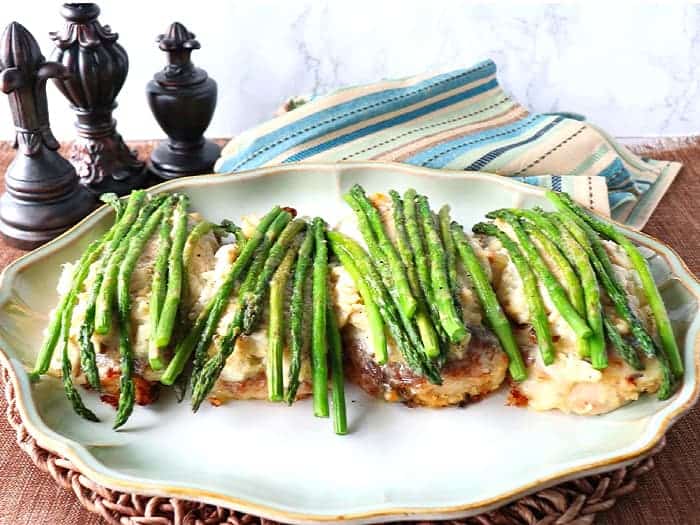 *Cream Cheese Cookies with Cheesecake Topping (shown below)
What makes these Cream Cheese Cookies doubly delicious is the creamy cheesecake dollop on top! When you can't decide between cookies or cheesecake, this is the treat for you!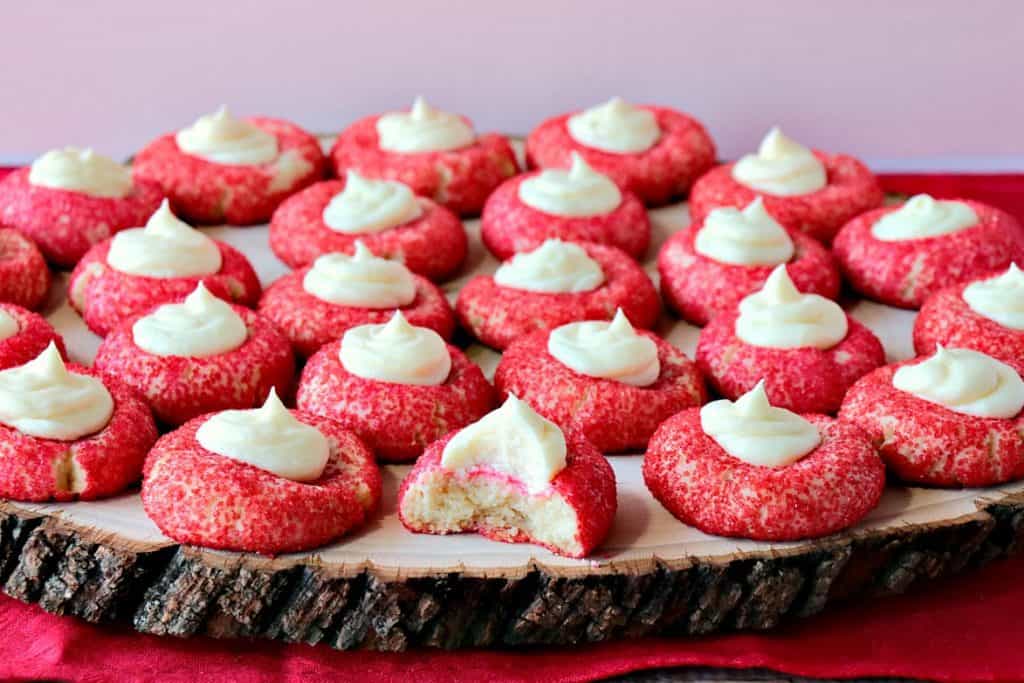 *Valentine's Day Dinner Recipes Roundup (not shown)
You're going to fall in love with this Valentine's Dinner Recipe Roundup. If you're the one doing the cooking, or if you're lucky enough to have someone cooking for you, I know you'll enjoy this collection of romantic recipes!!
*Polka Dot Heart Sugar Cookies (shown below) THIS IS THE PLACE!!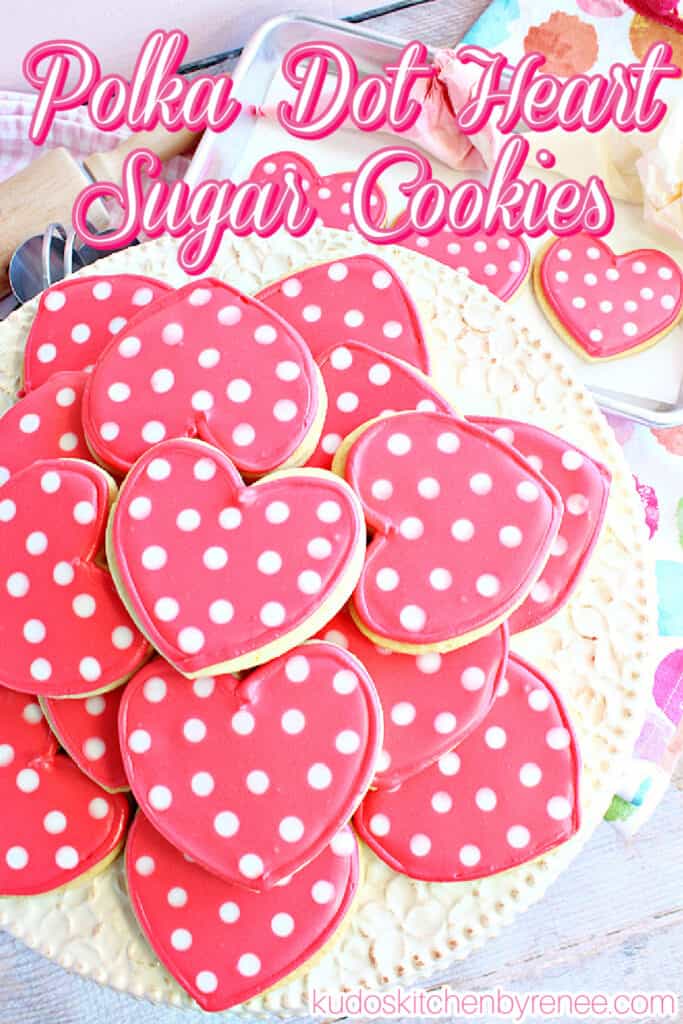 Below is the printable recipe card along with the exact ingredient measurements and nutritional information for making today's delicious cut-out sugar cookie recipe.
If you've made this recipe, or are excited to make this recipe, I'd appreciate it if you'd take a moment to leave it a star rating on the recipe card, along with a comment if you're so inclined. Thank you. 🙂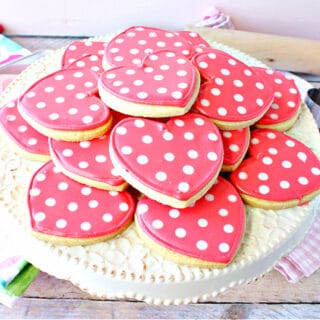 Polka Dot Heart Sugar Cookies
When your heart desires adorable cookies, look no further than this easy yet delicious Polka Dot Heart Sugar Cookies recipe! They're perfect for Valentine's day...and beyond!
Ingredients
For the sugar cookies:

1

cup

2 sticks butter, softened

1

cup

granulated sugar

1

egg

at room temperature

3

tablespoons

heavy cream

1

teaspoon

pure vanilla extract

2

teaspoons

fresh lemon zest

3

cups

all-purpose flour

plus additional for rolling.

1

teaspoon

baking powder

1

teaspoon

salt

For the royal icing:

4

cups

comfectioners sugar

3

tablespoons

meringue powder

¼

cup

light corn syrup

½

teaspoon

almond extract

warm water

added depending on the consistency needed for piping and flooding.
Instructions
To make the cookies:
In a large bowl, cream together the butter and sugar until light and fluffy (approximately 2 minutes).

Add the egg, cream, vanilla, and lemon zest and blend until combined.

In a separate bowl, whisk the flour, baking powder, and salt.

Gradually at the flour mixture to the creamed butter mixture in increments, and blend just until the dough comes together, scraping down the sides of the bowl as needed.

Turn the cookie dough out onto a lightly floured surface and gently bring it together to form a round disc.

Divide the dough in half and wrap each half with plastic wrap.

Chill the dough for at least 30 minutes (but longer is better).

Preheat oven to 350-degrees.

Once thoroughly chilled, evenly roll one of the dough portions out on a lightly floured surface to ¼" thickness, keeping the second dough chilled until ready to roll.

Use a 2½" heart-shaped cookie cutter to cut out as many cookies as you can from the first roll and place them (spaced slightly) on a parchment-lined baking sheet.

Reroll the scraps of dough from the first cutting, and proceed to cut as many additional cookies as possible.

Bake the cookies in the preheated oven for 20-22 minutes, rotating the cookie sheets halfway through baking. The cookies should be very lightly browned.

Completely cool on a wire rack before decorating.

Continue with the remaining refrigerated dough using the same steps.
To make the royal icing:
Add the confectioner's sugar, meringue powder, almond extract, and corn syrup to a large bowl.

Start by adding a small amount of warm water until you reach the desired piping consistency (thick, but not too thick to be difficult to pipe). A good rule of thumb is when the icing can be drizzled back upon itself and you'll still see the ribbon in the icing for 4-5 seconds before disappearing.

Divide the piping icing into two bowls (making sure to leave some of the icing white) and use the gel food color to color the piping icing your preferred color (I colored mine dark pink).

*IMPORTANT - Make sure to cover any icing not being used at the time with plastic wrap to prevent it from drying out.

Add the colored piping icing to a prepared piping bag and pipe a border around each heart cookie. Cover the icing with plastic wrap when not in use.

Add additional warm water to the piping icing to make a flooding consistency. A good rule of thumb is when the icing is drizzled back into the bowl and almost immediately disappears into an icing puddle.

Add the flooding icing to a piping bag (or a squeeze bottle works great) and add a dollop into the center of the piped cookie.

Working somewhat quickly, use a clean paintbrush (shown in the video) or a toothpick to help the flooding icing evenly cover the surface of the cookies.

Thin the plain white royal icing to a flooding consistency, and add it to a piping bag (or zip-top bag with a small portion of the corner snipped), and quickly but carefully add small polka dots to the flooded heart cookies while the pink icing is still wet.

Continue the same process with all the cookies and allow them to dry completely (in a single layer) for at least 24 hours. After that time, stacking the cookies is no longer an issue.

Serve and enjoy!
Nutrition
Serving:
1
Calories:
163
kcal
Carbohydrates:
39
g
Protein:
1
g
Fat:
1
g
Cholesterol:
7
mg
Sodium:
77
mg
Sugar:
31
g
Thank you so much for visiting me here today in my Kudos Kitchen!
I sincerely hope you've enjoyed today's easy decorated sugar cookie recipe for Polka Dot Hearts as much as I've enjoyed bringing it to you!