Sweet Caramelized Seared Scallops are what dreams are made of. Especially when served with linguine, asparagus, and tossed with buttered breadcrumbs! *sigh*
This dish of caramelized seared scallops comes together quickly and with only a small handful of ingredients including one of my all time favorite spring veggie…ASPARAGUS!
The key to getting deeply caramelized seared scallops is in making sure the scallops are completely dry before adding them to the saute pan. Paper towels work wonderfully well for drying scallops.
After the scallops have been added to the hot pan season them with salt and pepper. Allow them to cook for at least 3 minutes (over medium/high heat) before trying to flip them. If you get antsy (as I always do) and want to flip them too early, the scallops will notify you that you're "jumping the gun" by not releasing themselves easily from the bottom of the pan. It's like they're holding on to the pan saying "NO! We're not ready!" "Come back in a little while."
I still sometimes struggle with being too anxious for the flip. It has always been a problem of mine, and I admit it. However, I find if I have other things to do during the caramelization process (a quick game on my phone, a partial episode on Netflix, checking in on my emails…you get the gist), I'm much better off than starring into the pan, waiting for the flip. But, a word of CAUTION…set a TIMER if you do decide to step away for a few minutes. Because, as we all know, phone games, Netflix and anything else related to technology can be a virtual time warp, and it only takes a few minutes to go from beautifully caramelized to burnt, charred, and nasty!
This recipe came about because I was trying to figure out a way to use a half a bag of frozen scallops that I'd had in my freezer. Since I'm a sucker for springtime asparagus, it seemed only fitting to add to the linguine I already had in in the cabinet. And, with a wink and a nod to my grandma and dad, from the recipe I posted several years ago for Grandma's Springtime Asparagus with Seasoned Breadcrumbs, the addition of the buttered breadcrumbs just seemed fitting.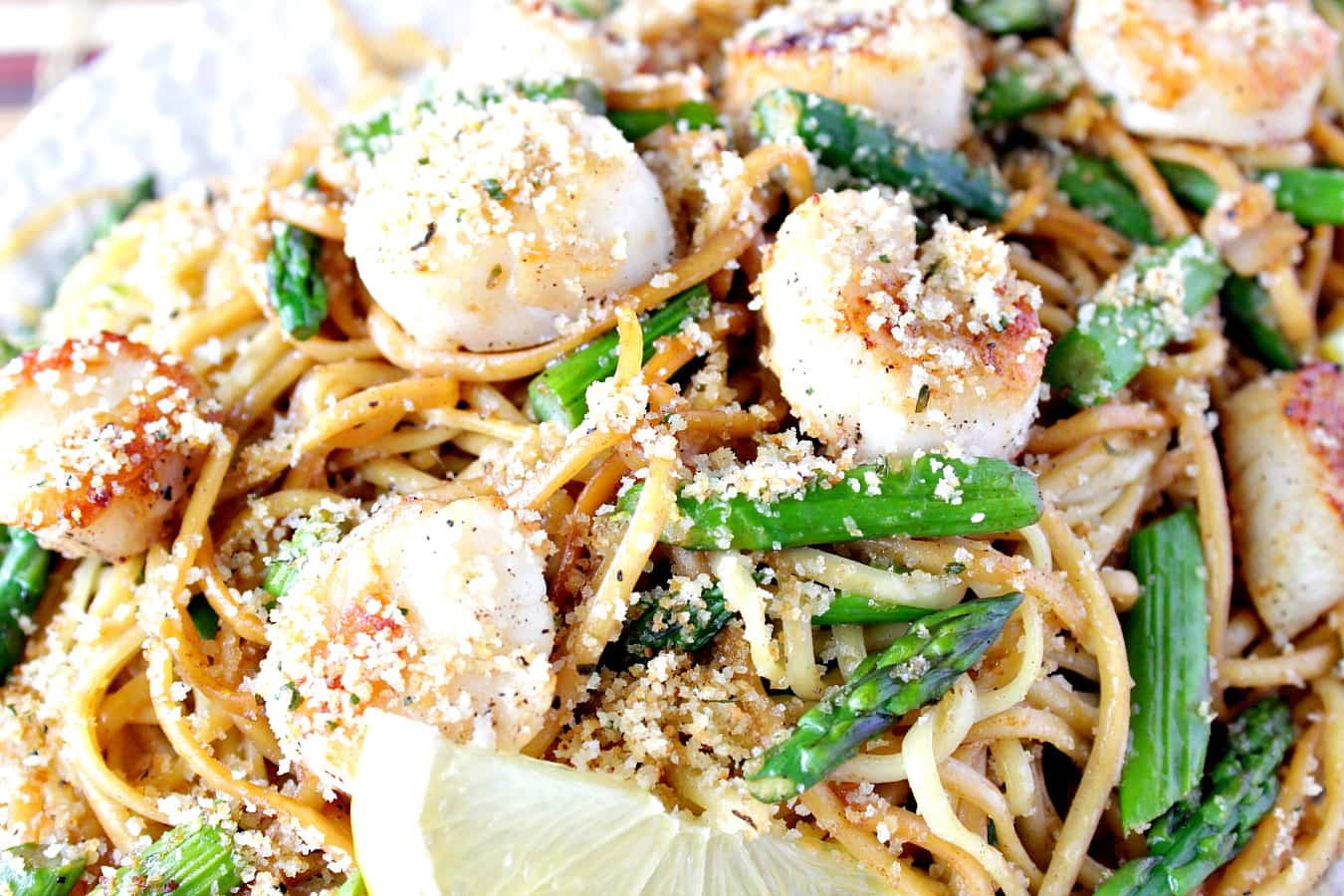 The following Amazon.com items are some suggested products I've chosen that will aid you in the making (and serving) of this recipe for Caramelized Seared Scallops with Linguine, Asparagus and Buttered Breadcrumbs, if needed. By clicking on the item, you'll be taken directly to Amazon.com if you're interested in purchasing any of these products. You are in no way required to do so, and you will not be charged in any way unless you decide to purchase a product through Amazon.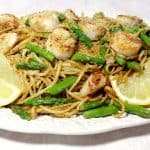 Sweet Caramelized Seared Scallops with Linguine, Asparagus & Buttered Breadcrumbs
Sweet Caramelized Seared Scallops are what dreams are made of. Especially when served with linguine, asparagus and tossed with buttered breadcrumbs!
Cuisine:
Seafood and Pasta
Ingredients
1/2

pound

scallops

thawed (if frozen) and dried with paper towel. Season the scallops with salt and pepper.

1

pound

dried linguine

½

pound

fresh asparagus

cut into 2" pieces

½

teaspoon

black pepper

2½

tablespoons

butter

divided

2½

tablespoons

olive oil

divided

½

cup

breadcrumbs

pinch

red pepper flakes

more if desired

½

tablespoon

fresh lemon zest

1

cup

chicken broth

1

tablespoon

fresh lemon juice

1

tablespoon

canola oil
Instructions
Cook the linguine in boiling salted water for 8-9 minutes. Add the asparagus pieces in with the pasta and cook for an additional 3 minutes. Drain. Stir in 1½ tablespoons butter, 1½ tablespoons olive oil and black pepper. Remove to a bowl, cover to keep warm.

Wipe out the skillet with paper towels.

Melt 1 tablespoons butter over medium heat. Stir in the breadcrumbs, red pepper flakes, lemon zest, and the remaining 1 tablespoons olive oil. Continue to stir the breadcrumbs until they become golden in color. Remove the breadcrumbs to a bowl. Set aside.

Wipe out the skillet with paper towels.

Heat the canola oil to the skillet over medium/high heat. Add the scallops and cook until golden (2-3 minutes) before flipping. Flip the scallops and caramelize on the other side until golden brown. Remove the scallops from the pan and keep warm.

Deglaze the skillet (removing all the dark brown bits that are stuck to the bottom of the pan) with chicken broth and lemon juice. Make sure to scrape up all the browned bits from the bottom of the pan.

Pour the sauce into the bowl with the cooked pasta and asparagus. Stir in most of the buttered breadcrumbs.

Plate the pasta and top with the caramelized scallops and the remaining breadcrumbs.

Serve hot and enjoy!
Recipe Notes
Tools and equipment:
1 large, high sided saute pan
1 large skillet
bowls
tongs
wooden spoon
chefs knife
cutting board
paper towels
strainer
Since I love asparagus, and hopefully you do too, I have a whole bunch of recipes on my blog that features my favorite springtime spear. Here are just a few to whet your appetite…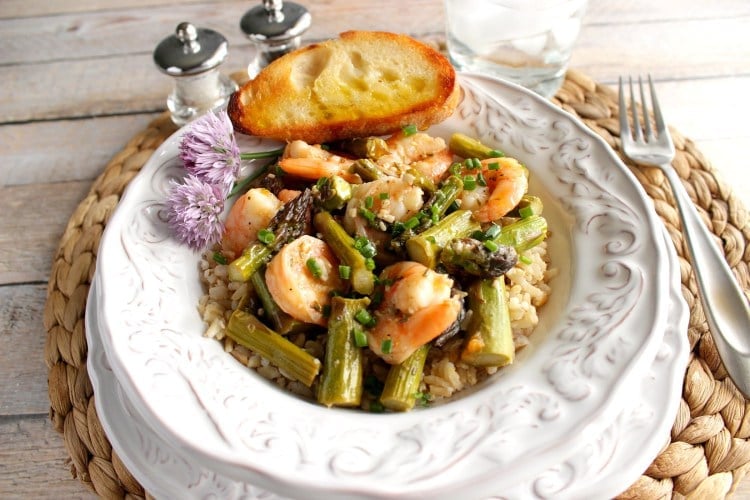 Low Calorie Egg White Omelet with Asparagus –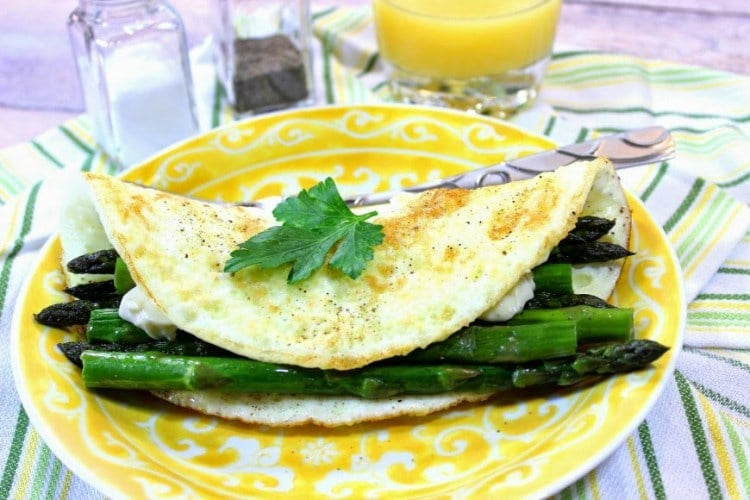 Couscous with Feta and Asparagus –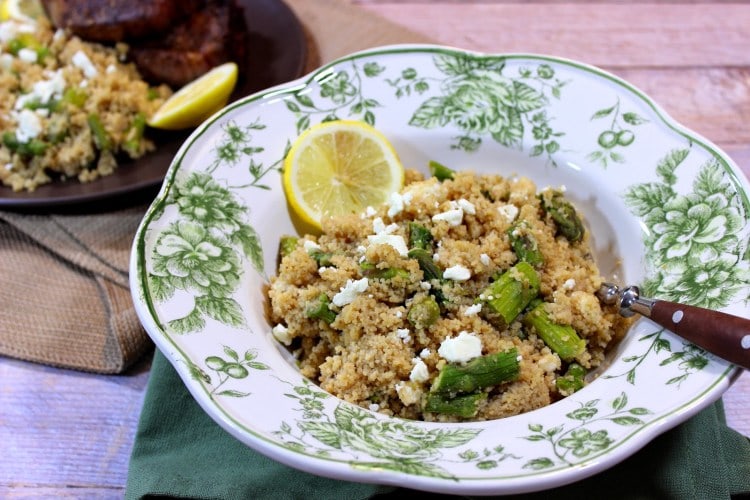 The following design is one of the most popular hand painted aprons I offer. If you're interested in ordering one for yourself (or someone you know), please don't hesitate to contact me. All of my hand painted aprons are machine washable and tumble dryable. I paint each apron with high quality fabric paint and then heat set them for durability and long wear.
The aprons I paint on are a comfortable 65/35 cotton poly blend. They're manufactured by ChefWorks. Each apron has an adjustable neck strap, extra long ties, and two large front pockets. White and black are available. If there is ever anything I can paint for you, from fabrics or glassware items, please contact me or visit my shop. Custom orders are always welcome and I will happily paint and design from any photo, idea or description you send my way.
Kudos Kitchen by Renée ~ Where food, art, and fun collide each and every day!
Until we eat again, I hope you have a delicious day!
The post above includes affiliate links. When I find a great product or service, I like to share it with my readers. Sometimes I use affiliate links so I can earn commission for my recommendations. As always, I thank you for your support!