Sriracha Firecracker Snackers pack a whole lot of punch into an itty-bitty cracker. BAM!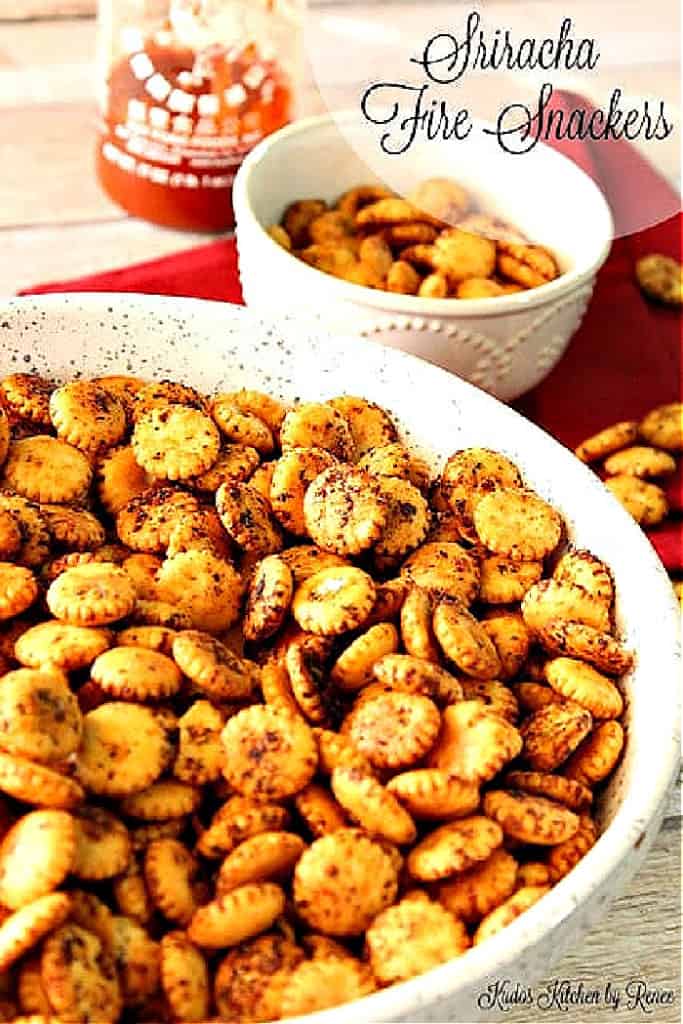 These hot and sweet Sriracha firecracker snackers will be a hit at your next tailgating event or your next party.
They're incredibly easy to make and take only a handful of ingredients that you probably already have in your pantry and fridge.
**Please Note – The printable recipe card with detailed instructions, complete ingredient measurements, and nutritional information for making Sriracha Firecracker Snackers is available near the end of this post. OR click on the "jump to recipe" button found above to be taken directly to the recipe.
CLICK ON THIS BOX TO LIKE AND SUBSCRIBE TO MY KUDOS KITCHEN YOUTUBE CHANNEL. SEE YOU THERE! 🙂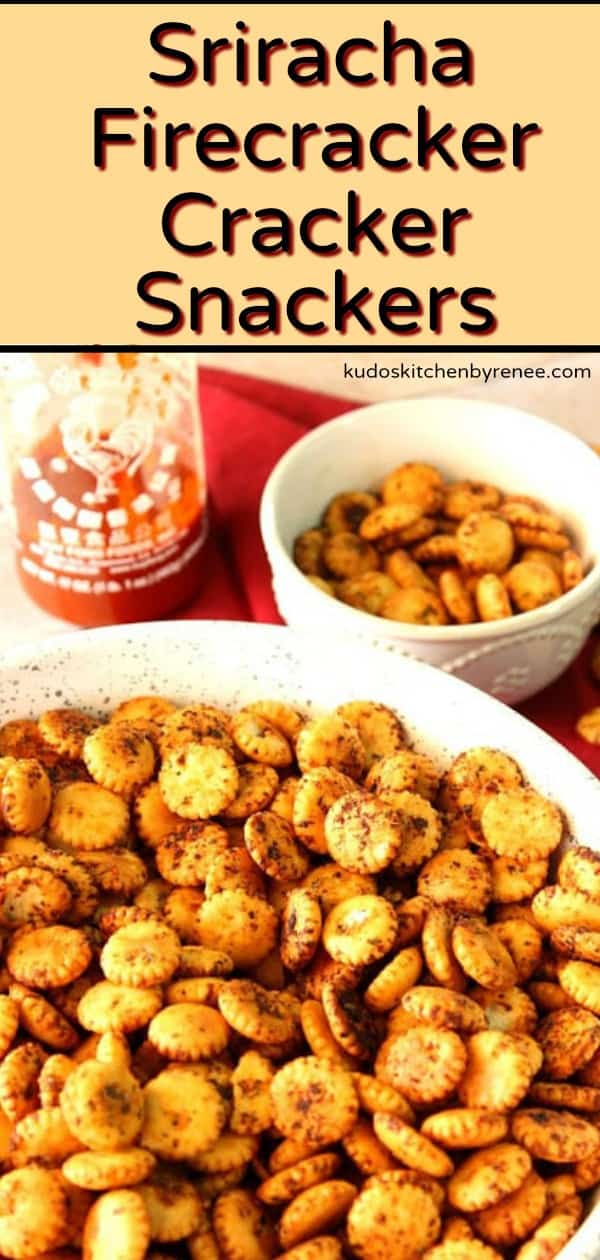 After he gets home from work, my husband likes a little something crunchy to munch on to take the edge off before dinner. I made these Sriracha Firecracker Cracker Snackers with him in mind, and he absolutely loves them.
The ingredient list:
Oyster Crackers

Sriracha

Butter

Olive Oil

Honey

Dried Basil

Dried Oregano

Garlic Powder

Parmesan Cheese
Because these snacker crackers have a bit of sweet (thanks to the honey) along with the heat (hello sriracha), these little cruncher munchers are completely addicting making them the perfect accompaniment for some nice cold beer (or two) while watching your favorite team. Winning!!
The easy instructions:
Preheat oven to 400-degrees.

Mix together the butter, olive oil, sriracha, and honey.

Heat to melt the butter and whisk to combine.

Pour the heated butter mixture over the oyster crackers in a very large bowl.
Stir or toss well to coat.

Add the garlic powder, basil, and oregano.

Stir well to coat.
Add the freshly grated Parmesan cheese to the crackers and stir well to coat.

Spread the cracker out onto two baking sheets and bake for 7 – 10 minutes, stirring once.

Cool and serve.
How can one little cracker pack so much punch? You'll have to make these Sriracha Firecracker Snackers and find out for yourself…Go on…make them now…I wait. It will only take you 20 minutes.
For other crunchy snack recipes:
Below is the printable recipe card along with the nutritional information for today's Sriracha Firecracker Cracker Snackers.
Yield: 12
Sriracha Firecracker Cracker Snackers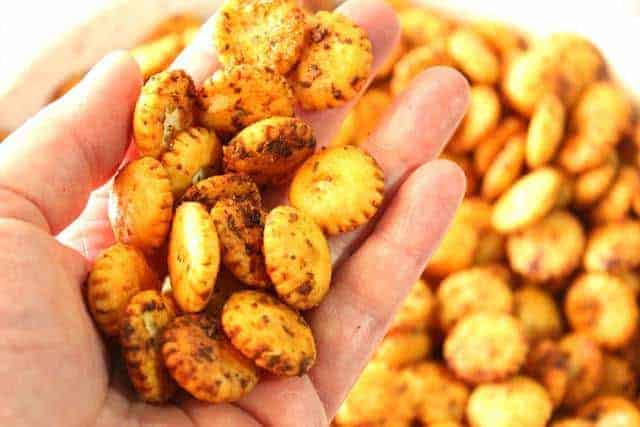 Sriracha Firecracker Cracker Snackers pack a whole lot of punch into an itty-bitty cracker. BAM!
Ingredients
2 bags oyster crackers
3 tablespoons butter
¼ cup olive oil
1 tablespoon sriracha, more if desired
2½ tablespoons honey
1 teaspoon dried basil
1 teaspoon dried oregano
2 teaspoons garlic powder
¼ cup grated Parmesan cheese
Instructions
Preheat oven to 400-degrees.
In a small microwave-safe bowl, heat the butter, oil, sriracha, and honey. Whisk to combine.
Add the oyster crackers to a large bowl and pour the butter mixture over the top of the crackers. Stir well or toss to coat.
Add the basil, oregano, garlic powder, and Parmesan cheese to the crackers and stir well (or toss) to evenly coat.
Divide and spread the crackers onto two baking sheets and bake in a preheated oven for 7 - 10 minutes, stirring once.
Remove the crackers and cool completely.
Store in a covered dish for up to 2 weeks.
Notes
These would be great to serve along with a bowl of soup or chili.
Nutrition Information
Yield
12
Serving Size
1 grams
Amount Per Serving
Calories

90
Total Fat

7g
Saturated Fat

2g
Unsaturated Fat

0g
Cholesterol

9mg
Sodium

87mg
Carbohydrates

4g
Sugar

3g
Thank you so much for visiting me here today in my Kudos Kitchen!
I sincerely hope you've enjoyed today's recipe for Sriracha Firecracker Snackers as much as I've enjoyed bringing it to you! I just know you're going to love them as much as we do!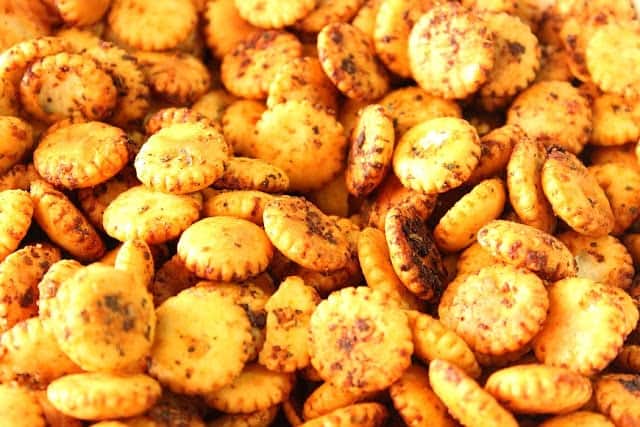 I have one other suggestion for you regarding these crackers; they're also perfect as a topping for chili or soup so don't forget to set a few aside for that purpose…that is, if you can stop munching on them long enough to remember that! 😉
Should you have any questions or comments regarding this recipe or anything else you've seen on my site, please don't hesitate to reach out to me. It is always my distinct pleasure to get back with a reply just as soon as I possibly can!
For more Kudos Kitchen recipe information, please follow me on my social medial channels (listed below), and don't forget to TAG me @kudoskitchen with photos so I can view all your delicious recipe creations! It's exciting for me when you share them, so don't be shy!
Instagram, Pinterest, Facebook, and YouTube
Kudos Kitchen by Renee – BRINGING YOU EASY, ECONOMICAL, AND DELICIOUS DISHES TO FEED YOUR LOVED ONES!
Until we eat again, I hope you have a delicious day!