Beware! These homemade Everything Bagel Chips are and crunchy snack recipe, and so addicting that you can't step away. Please proceed with the utmost caution! 😉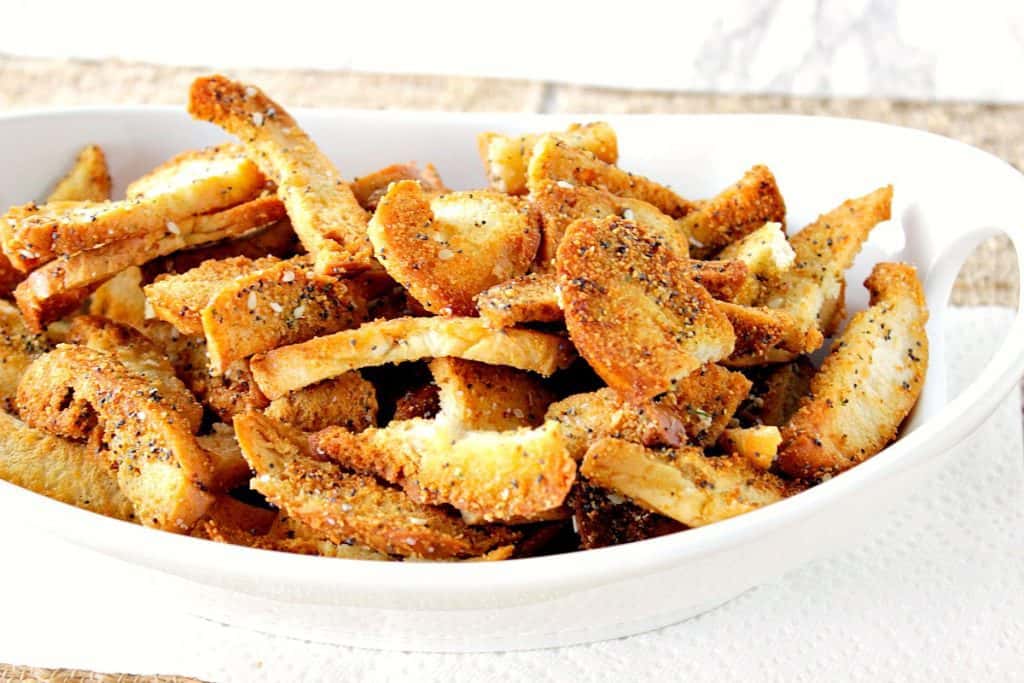 Are you like me? Do you like snacks that are packed with flavor and have a satisfying, savory crunch?
If so, then these Homemade Crispy Crunchy Everything Bagel Chips need to happen in your kitchen ASAP!
**Please Note – The printable recipe card with detailed instructions, complete ingredient measurements, and nutritional information for making Everything Bagel Chips is available near the end of this post.
Subscribe to my Kudos Kitchen channel on YouTube!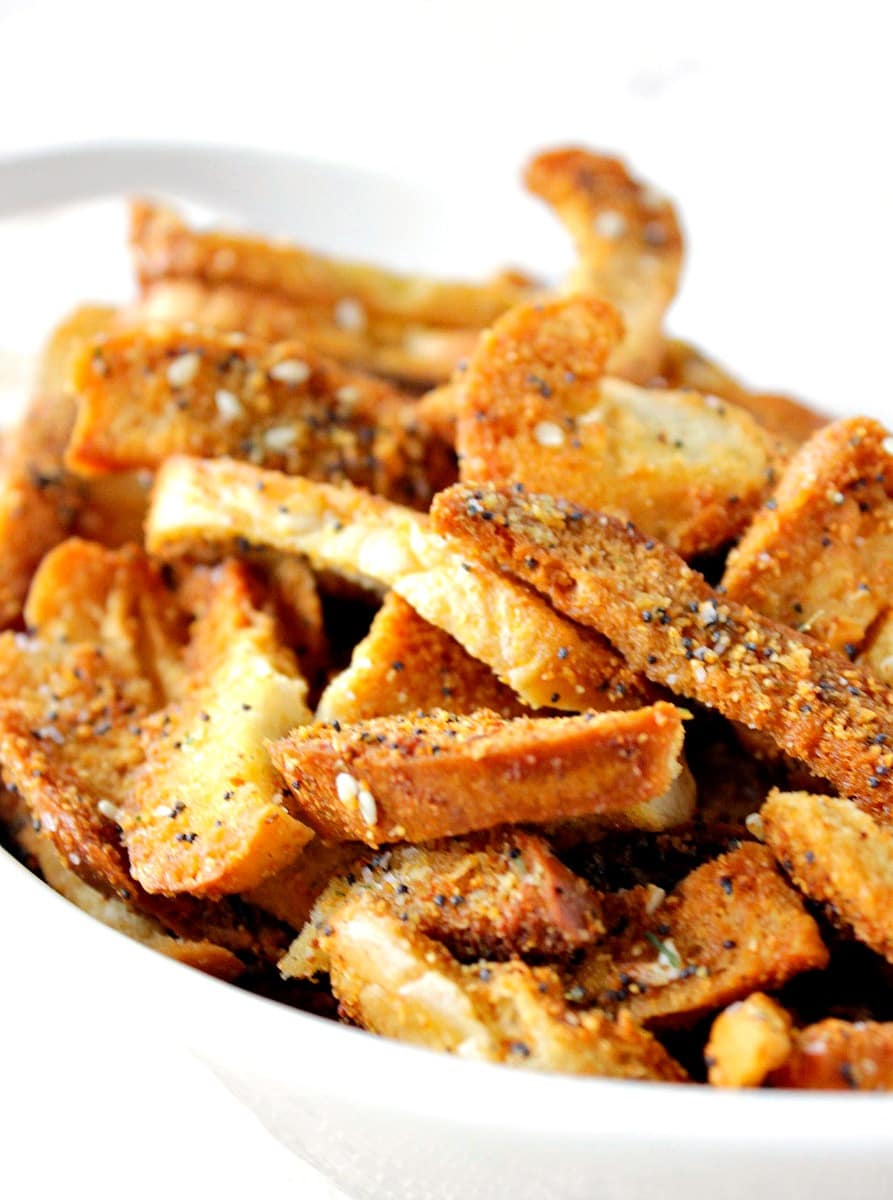 The ingredient list for making Everything Bagel Chips;
Mini Bagels

Olive Oil

Poppy Seeds

Dehydrated Minced Onion

Sesame Seeds

Garlic Powder

Onion Powder

Salt and Pepper
Truth? I made these everything bagel chips for the upcoming Memorial Day holiday because we're having guests. After I'd taken the everything bagel chips out of the oven, I had to continue to slap away the hands of my husband and son because these things are SO addicting!!
I eventually had to hide the chips with the promise to my family that I'd make them again very, very soon. OR, (as I told them) you can make them yourselves. I wouldn't mind that one bit…and while you're at it, please bring me a cold beverage. LOL. Yeah, Like THAT'S going to happen!
These everything bagel chips are so good to eat on their own that they don't need any dip at all. Of course, you can still dip them in whatever strikes your fancy (if you feel the need), but it's certainly not necessary because they're so packed with flavor just the way they are!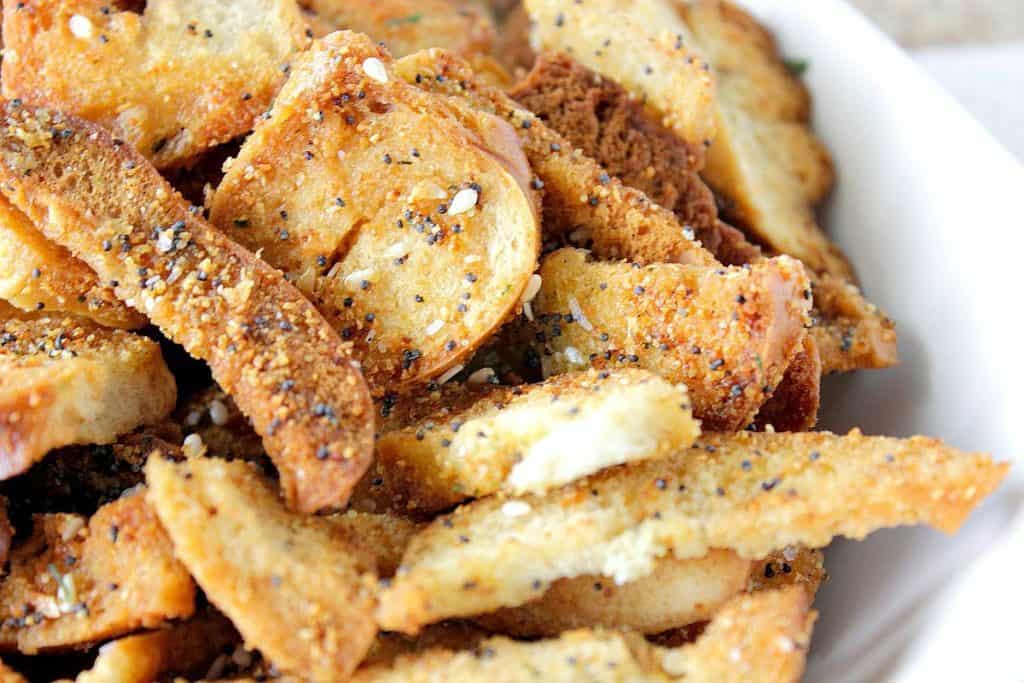 Up until the other day I had never made homemade bagel chips before and had always purchased them at the store.
Don't get me wrong, while the bagel chips from the store are still good, these homemade everything bagel chips are SO MUCH BETTER! And, they're made without preservatives or weird ingredients!
Since I wanted these chips to be as crispy as possible, I decided that the best thing to do was bake the bagel slices twice before adding the oil and seasonings.
I was afraid that if I added the oil to the sliced bagels before baking them, the oil would get completely absorbed into the slices and not be distributed evenly throughout the entire batch of chips.
This method worked like a charm, and the result is a chip with all the crunch your ears can handle!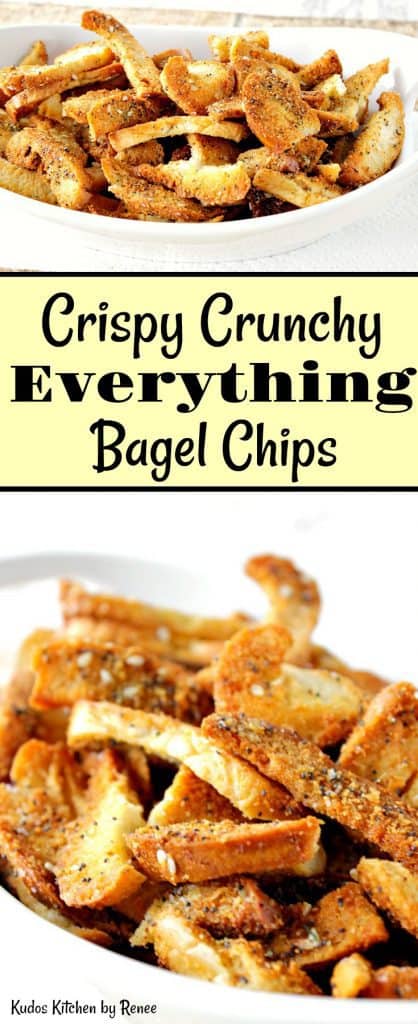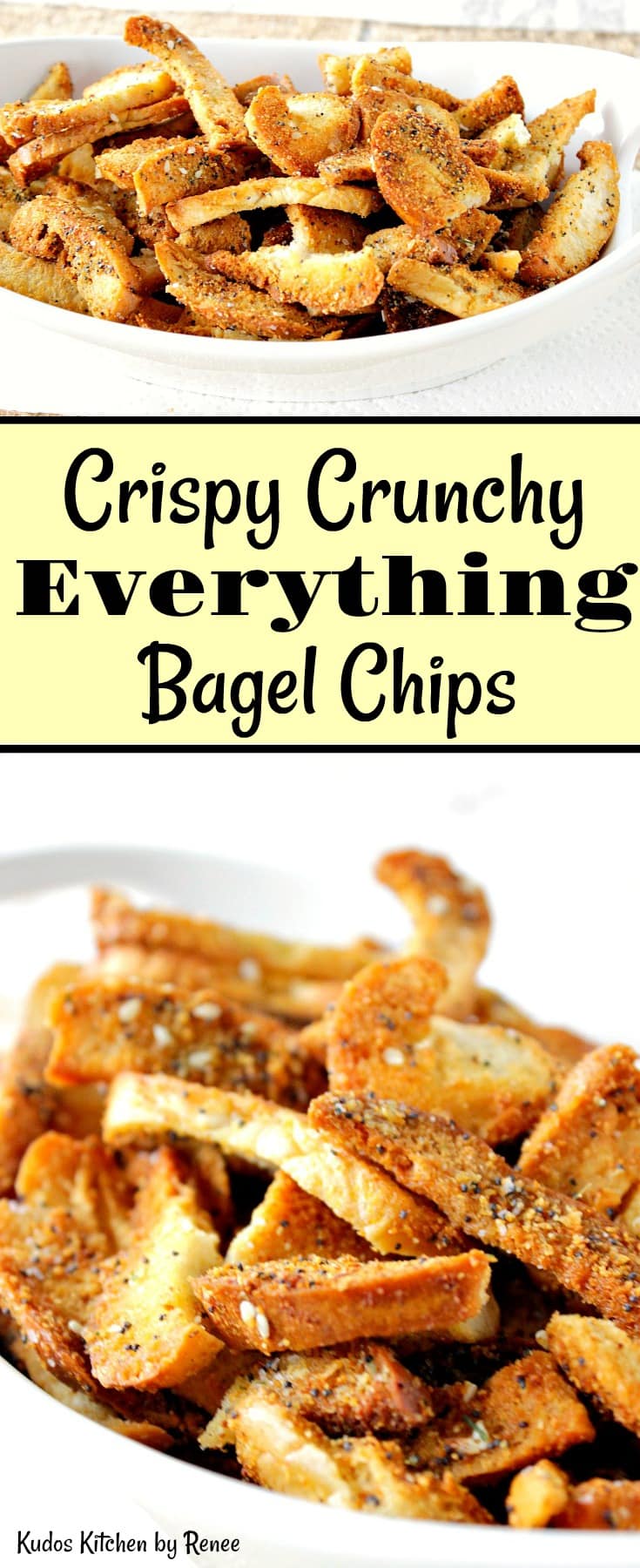 If you're wondering about storing your everything bagel chips (if you have any left to store, that is) so they remain crispy, I recommend placing them in a brown paper bag. A lunch-size bag is a perfect fit. The breathability of the brown paper bag is just the thing these chips require for retaining their maximum crunch factor!
For additional crunchy snack recipes, please click on the following titles for;
**The following affiliate links are some suggested products I've chosen that will aid you in the making and serving of this recipe for Homemade Bagel Chips if desired.
By clicking on the item photo, you'll be taken directly to Amazon.com if you're interested in purchasing any of these products. You are in no way required to do so, and you will not be charged in any way unless you decide to purchase one of these products through Amazon.com. As an Amazon Associate, I earn from qualifying purchases. For additional information please view my privacy policy.
Below is the printable recipe card for today's Everything Bagel Chips.
If you've enjoyed this recipe and look forward to making it (or have already made it), I'd appreciate if you'd take a moment to give it some feedback by way of stars near the comment section at the end of this post. Thank you so much!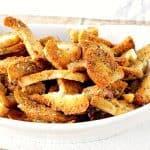 Crispy Crunchy Totally Addicting Everything Bagel Chips
Beware! These homemade Crispy Crunchy Everything Bagel Chips are so addicting that you can't step away. Please proceed with the utmost caution!
Course:
appetizers, Snacks and Munchies
Keyword:
Everything Bagel Chips, Homemade Bagel Chips
Ingredients
1

bag (approximately 10)

mini bagels

plain

2

tablespoons

garlic powder

1

tablespoon

onion powder

1

tablespoon

minced dehydrated onion

1

tablespoon

sesame seeds

1

tablespoon

poppy seeds

½

teaspoon

black pepper

1

teaspoon

kosher salt

3/4

cup

olive oil

or canola, coconut, grapeseed
Instructions
Preheat oven to 400 degrees

Using a serrated knife, slice the bagels into ¼" pieces

Place the sliced bagels on a baking sheet and bake in a preheated oven for 15 minutes.

Remove the bagels and flip them on the baking sheet.

Return the bagel chips to the oven for an additional 10 minutes.

Meanwhile, mix together the dry ingredients in a medium bowl.

Remove the bagel chips from the oven and place them in a large bowl.

Add half of the oil to the chips along with half of the spices. Stir well.

Add the remaining oil to the chips along the with remaining spices. Stir well.

Return the seasoned chips to a baking sheet, in an even layer.

Reduce the oven heat to 350 degrees and bake the chips for an additional 10 minutes.

Remove and cool before serving.
Recipe Notes
Tools and equipment:
baking sheet, cutting board,  serrated knife, medium bowl, large bowl, spatula
These everything bagel chips are best stored in a paper bag at room temperature for up to 5 days.
Nutrition Facts
Crispy Crunchy Totally Addicting Everything Bagel Chips
Amount Per Serving (1 g)
Calories 135
Calories from Fat 126
% Daily Value*
Fat 14g22%
Sodium 196mg9%
Potassium 36mg1%
Carbohydrates 2g1%
Vitamin C 0.4mg0%
Calcium 22mg2%
Iron 0.3mg2%
* Percent Daily Values are based on a 2000 calorie diet.
I sincerely hope you've enjoyed today's recipe for Homemade Crispy Crunchy Everything Bagel Chips as much as I've enjoyed bringing it to you.
I've decided to pair this recipe post along with my fun and whimsical hand painted set of CLUE character drink glasses. After all, if you're having a party (maybe a game night) and serving these homemade everything bagel chips, then you also want to serve your guests a delicious beverage in something unique and completely unexpected.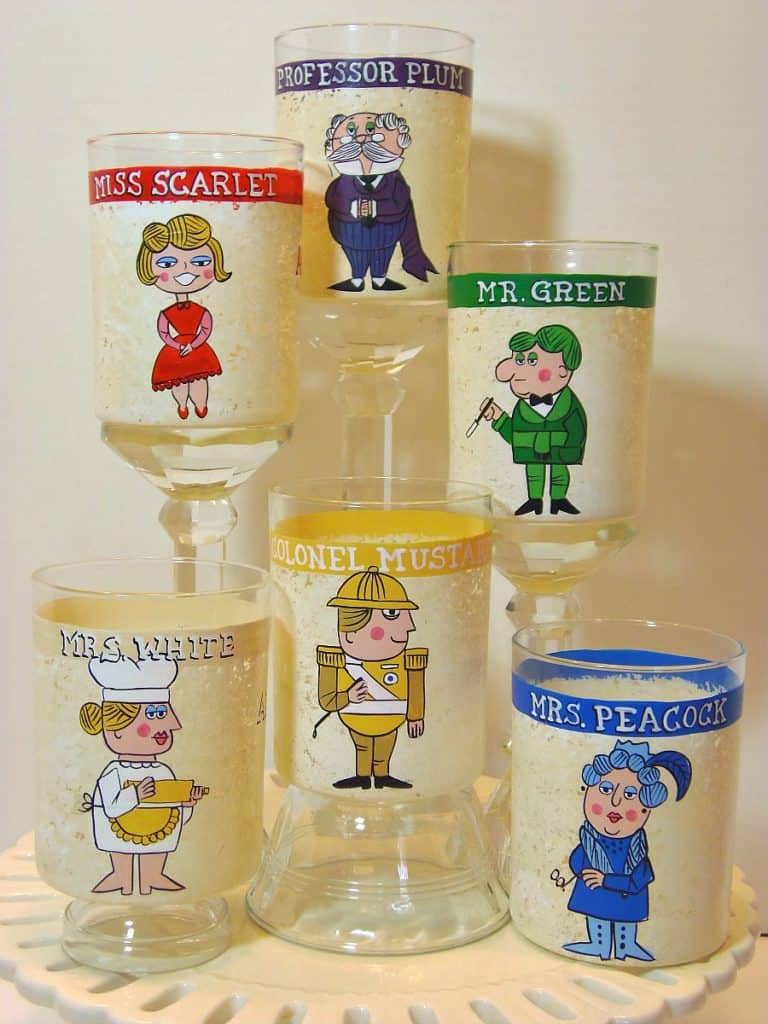 I have a quick little story to tell of these Clue character drinks glasses. Last Christmas, Delta Burke (of Designing Woman Fame), ordered this set of glasses from me to give to her husband (Gerald McRaney) for when they host game-night in their home.
It was one of the most exciting things that has ever happened (yes, my life is rather boring)! I adore the thought of them both drinking out of these glasses that I painted specifically for them! Priceless!!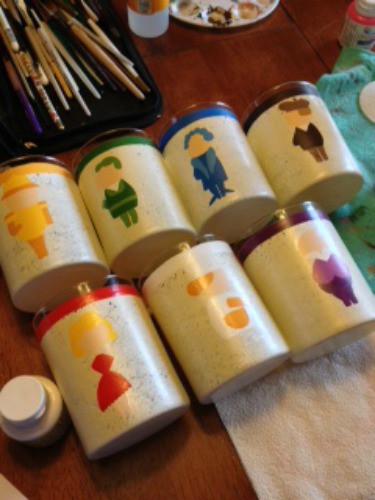 Should you have any questions or comments regarding this recipe for Everything Bagel Chips or anything else you've seen on my site, please don't hesitate to contact me directly or leave me a comment in the comment section below. It is always my distinct pleasure to get back to you with a reply just as soon as I possibly can!
For additional information regarding my Kudos Kitchen recipes, and/or my hand painted glassware or fabric items, please follow me on;
FACEBOOK, PINTEREST, INSTAGRAM, TWITTER, and YOUTUBE
Kudos Kitchen by Renée ~ Cooking up artistically delicious family-friendly dishes from my Kudos Kitchen to yours!
Until we eat again, I hope you have a delicious day!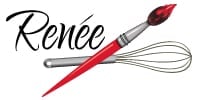 **Note – The post above includes affiliate links. When I find a great product or service, I like to share it with my readers. Sometimes I use affiliate links so I can earn a commission for my recommendations. As always, I thank you for your support!