While these adorable red, white, and blue sugar cookies do take a little extra time to prepare, American Flag Heart Sugar Cookies are definitely worth the effort! They're sure to be a hit at your next patriotic party or event.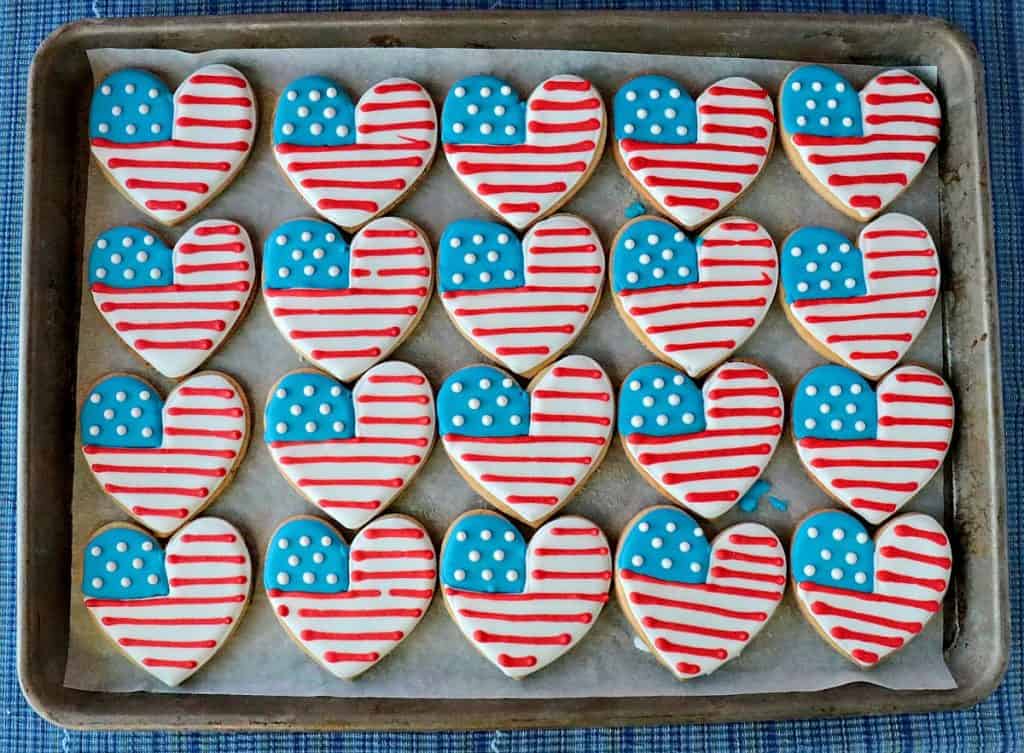 For me, Memorial Day and the 4th of July are just the types of special occasions that call for patriotic cookies. Especially when they're these sweet heart American Flag Sugar Cookies.
Jump to: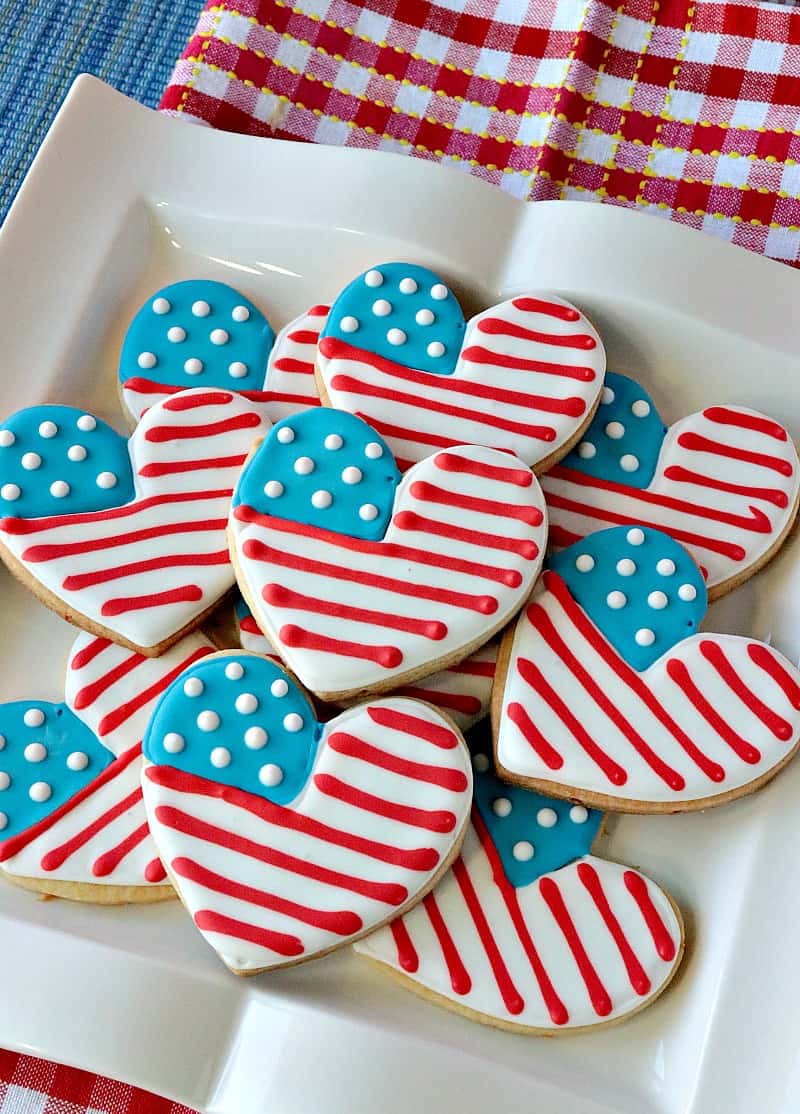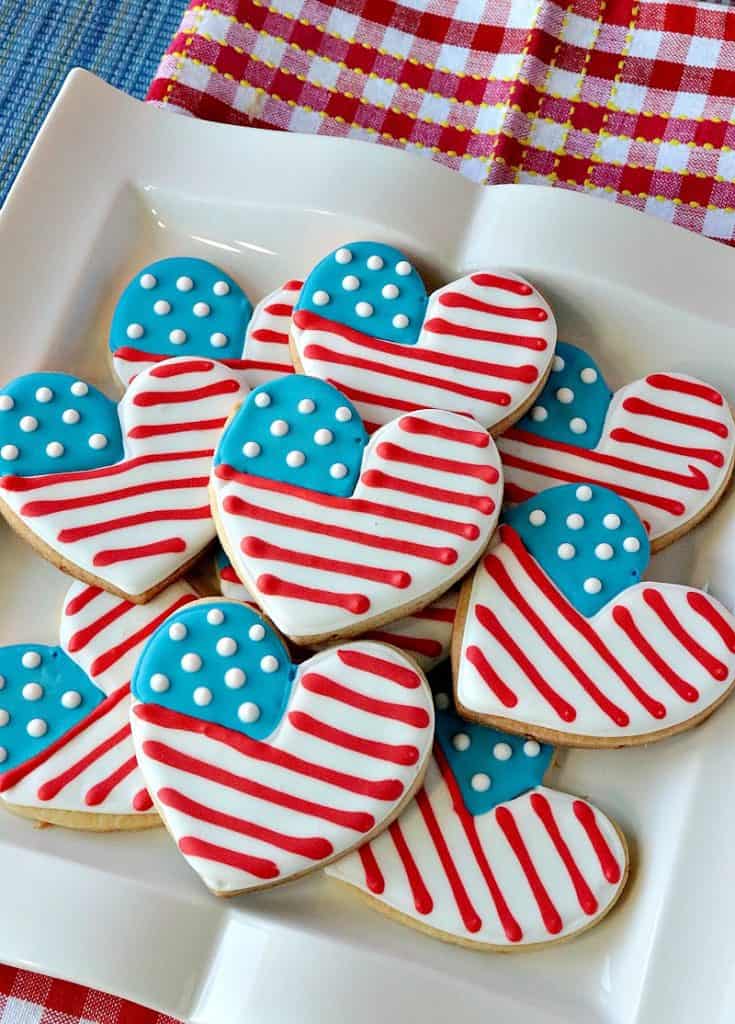 In my honest opinion, it's simply the best sugar cookie recipe around because it's delicious with a light lemon flavor, and because the dough holds its shape during baking which is so very important!
The ingredient list for the cookie dough:
**Note - The following lists of ingredients plus kitchen tools and equipment contain affiliate links (highlighted in blue) for your consideration and shopping convenience. #CommissionsEarned
Butter

Sugar

Egg

Heavy Cream

All-Purpose Flour

Baking Soda

Salt
The ingredients for the royal icing:
confectioners sugar

warm water

light corn syrup
Can the cookie dough be made in advance and frozen?
YES!! I do it ALL THE TIME!
Mix up as many batches of cookie dough as you'll need (depending on how many cookies you're making), and then divide the dough in half.
Wrap each half well with plastic wrap (I like to wrap them twice) and store in the freezer for up to three months.
Can the sugar cookies be baked and then frozen?
YES!! I used to do that ALL THE TIME as well!
Make the dough, cut and bake the cookies, cool completely, and then wrap a stack of cookies (maybe 5 or 6 of the same shape) well with plastic wrap.
DO NOT decorate the cookies and then freeze as the freezing and thawing of the iced cookies will spoil the icing design and potentially make the icing weep.
Store the undecorated, baked cookies (wrapped well) in the freezer for up to 2 months.
Can I leave out the lemon zest as an ingredient in the sugar cookies?
Yes, you can, but I beg you not to.
The lemon zest adds only a light lemon flavor (not at all overpowering) and gives the cookies a brightness in flavor, which makes this THE BEST sugar cookie dough you'll find! Please trust me on this.
How many cookies can be made with one batch of sugar cookie dough?
Well, that really depends on what size cookie cutter you're using.
A smaller cookie cutter will yield more cookies per batch of dough, and a larger cutter will yield less.
For this particular design (with the cookie-cutter being 3½"), I got approximately 12 cookies per batch of dough.
Can the cookie dough be re-rolled?
Most definitely!!
Once you've cut cookies, take the scraps and re-roll the dough until there is no longer enough dough to cut additional cookies.
Can the royal icing me made in advance?
YES!
For this recipe, because I've used a meringue powder, as long as it is stored well in an air-tight container, this royal icing will last (unrefrigerated) for up to 2 weeks.
What is the best method for applying royal icing to cookies?
I learned how to apply royal icing by using parchment triangles (to make piping bags), and then by snipping off the tip of the bag to form either a very small opening (for thin lines), or a larger opening (for thicker lines, or flooding).
However, premade piping bags with decorating tips can also be used as they may give you a little more control and accuracy.
That said, zip-top sandwich bags will also work in a pinch, again using the above "snipping method" to make larger or smaller piping capabilities.
If I'm a beginner, can I still be successful at making these decorated sugar cookies?
I believe so, yes!
Follow these simple tips and tricks and you'll be decorating in no time:
Icing for piping borders needs to be the thickest, so the flooding icing stays in place.

Make sure to have plenty of bowls and spoons for mixing icing and coloring the royal icing.

Warm water works best for thinning the icing as needed.

Use the warm water sparingly until the desired consistency is achieved.

Pipe borders for each color; the blue section for the stars, and the white section for the stripes.

Make enough colored icing for both piping and flooding.

Leave enough of the plain icing (white) for flooding the majority of the cookie.

Allow the flooded areas of the cookie to dry slightly (about 30 minutes) before piping the red stripes, and the white dots for stars.

Allow the decorated cookies to dry overnight before stacking or adding to cellophane bags for presentation.
How to make royal icing;
Place 4 cups of confectioners sugar into a large bowl along with ¼ cup meringue powder.

Add 1 teaspoon pure almond extract, 2 tablespoons corn syrup, and warm water (start with 2-3 tablespoons, adding more as needed) until you achieve your desired consistency.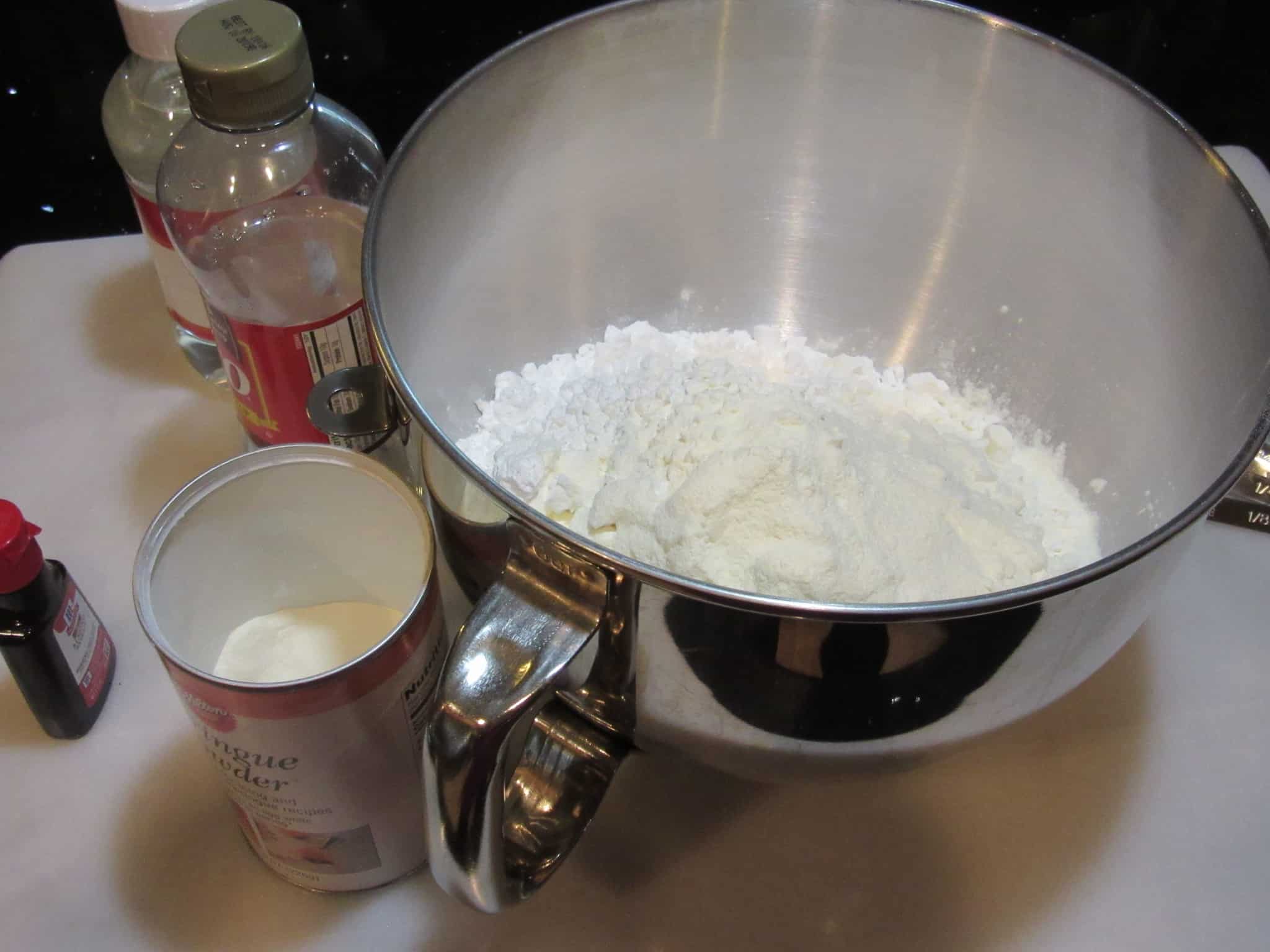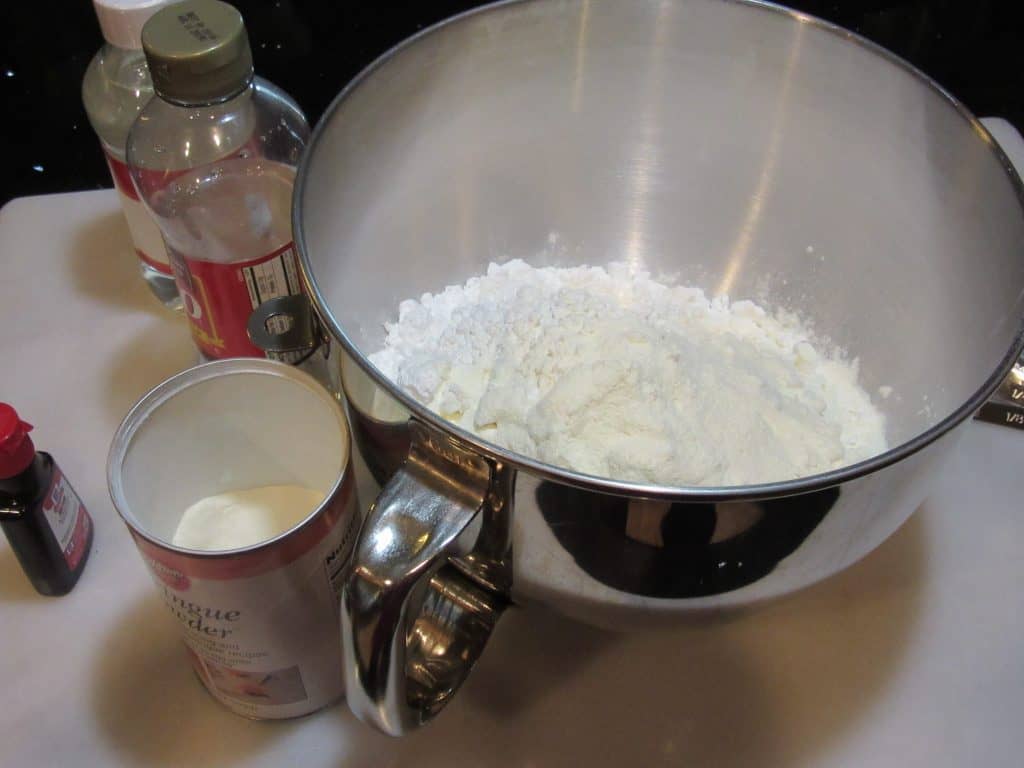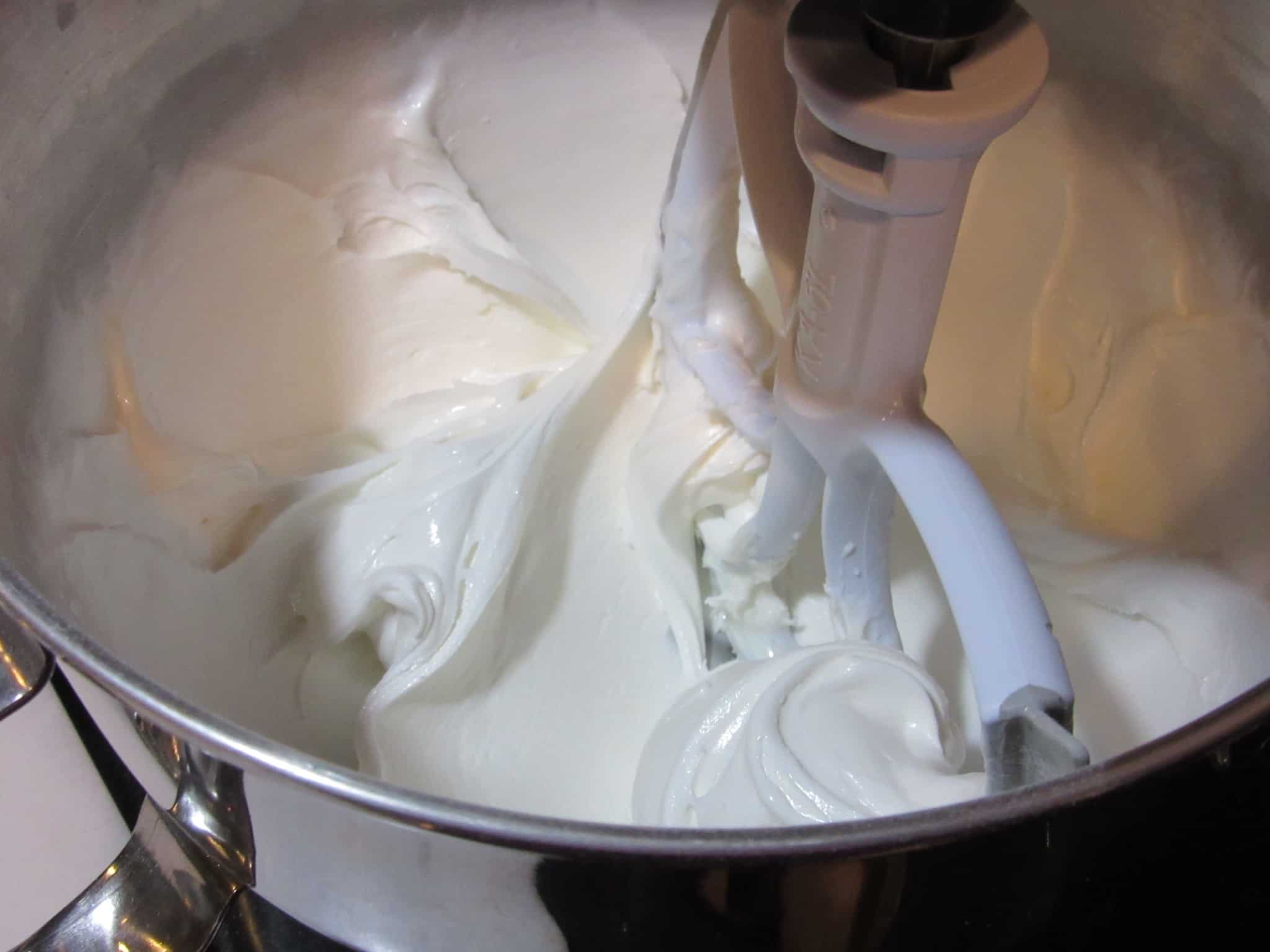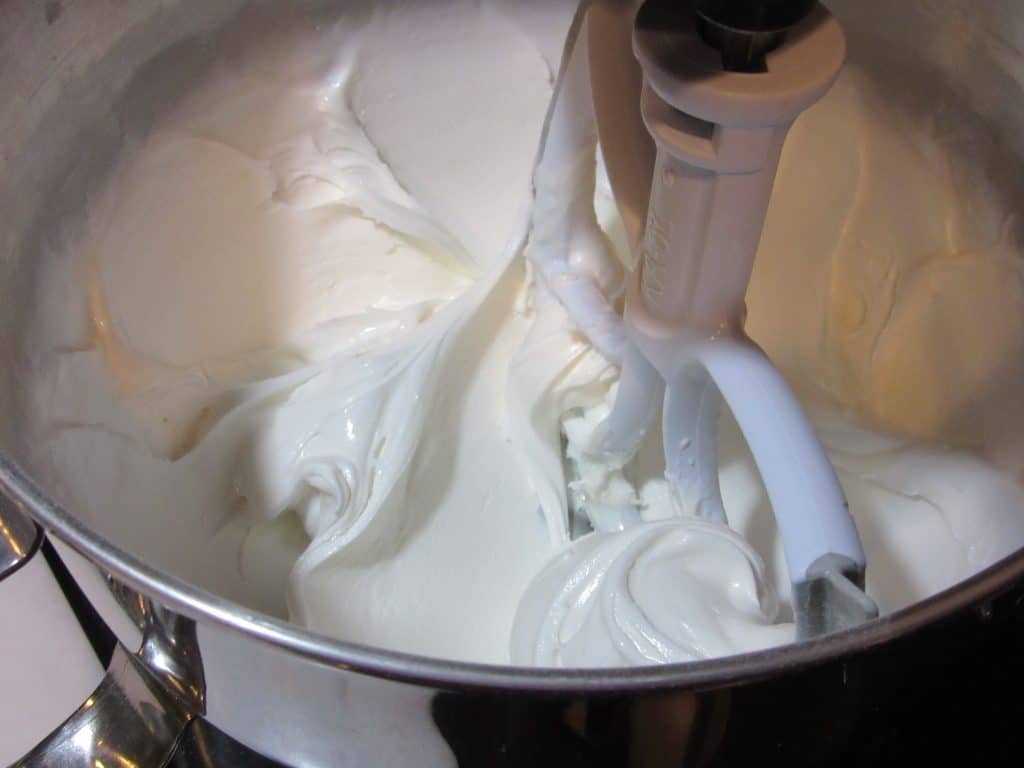 **NOTE - For a thicker, outline icing, start by adding a little water. To make a thinner, flooding icing, use more water a little at a time until you reach your desired consistency.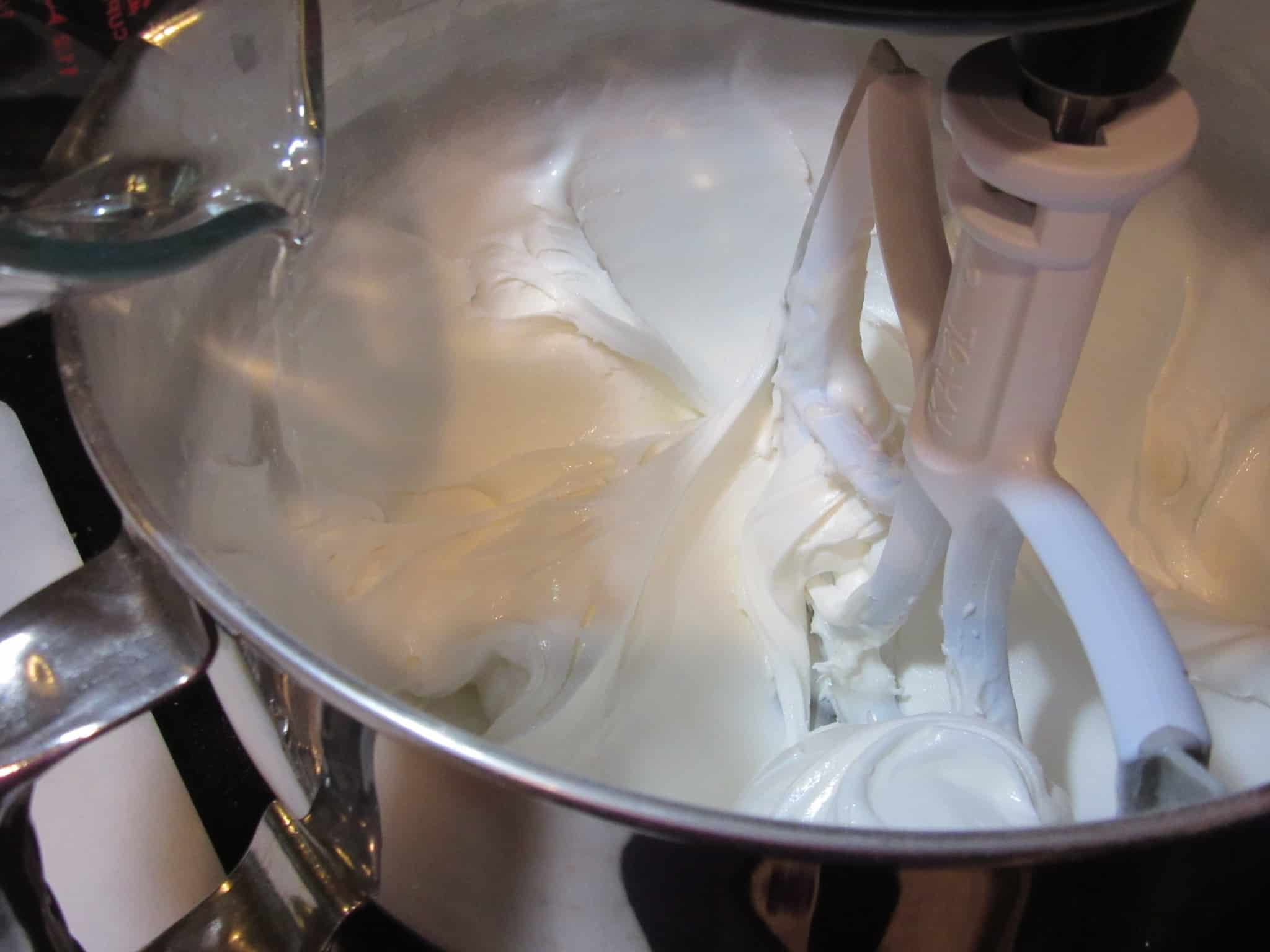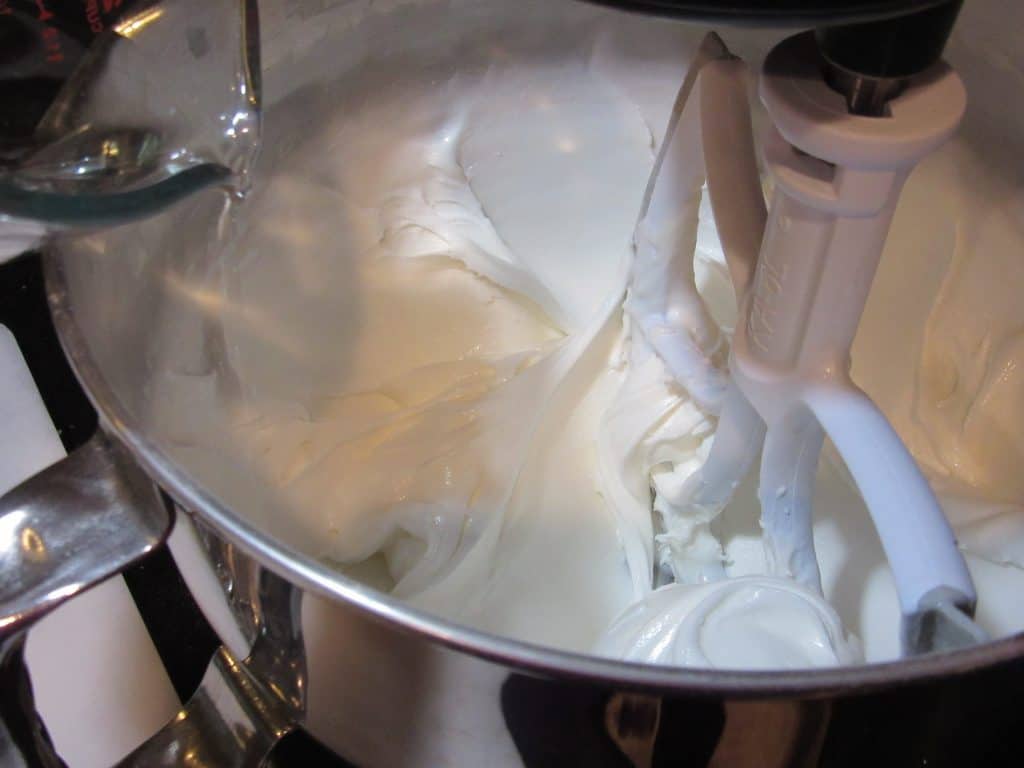 To store, add the royal icing to a large bowl with a tight-fitting lid.

No need to refrigerate.

When you're ready to add color, spoon a selected amount of white royal icing to a bowl or dish, add the gel color along with a bit of water and stir well until the color is uniform.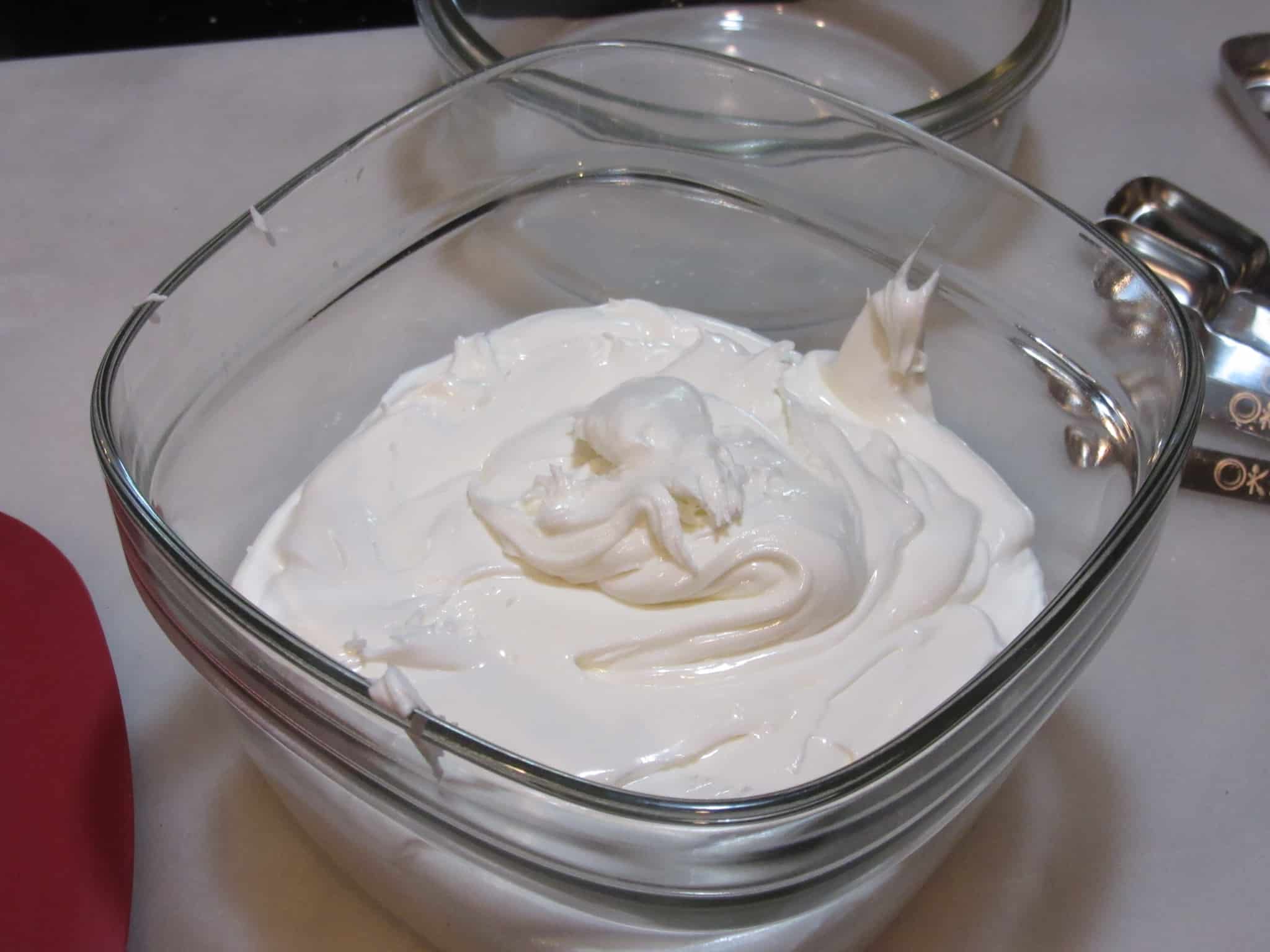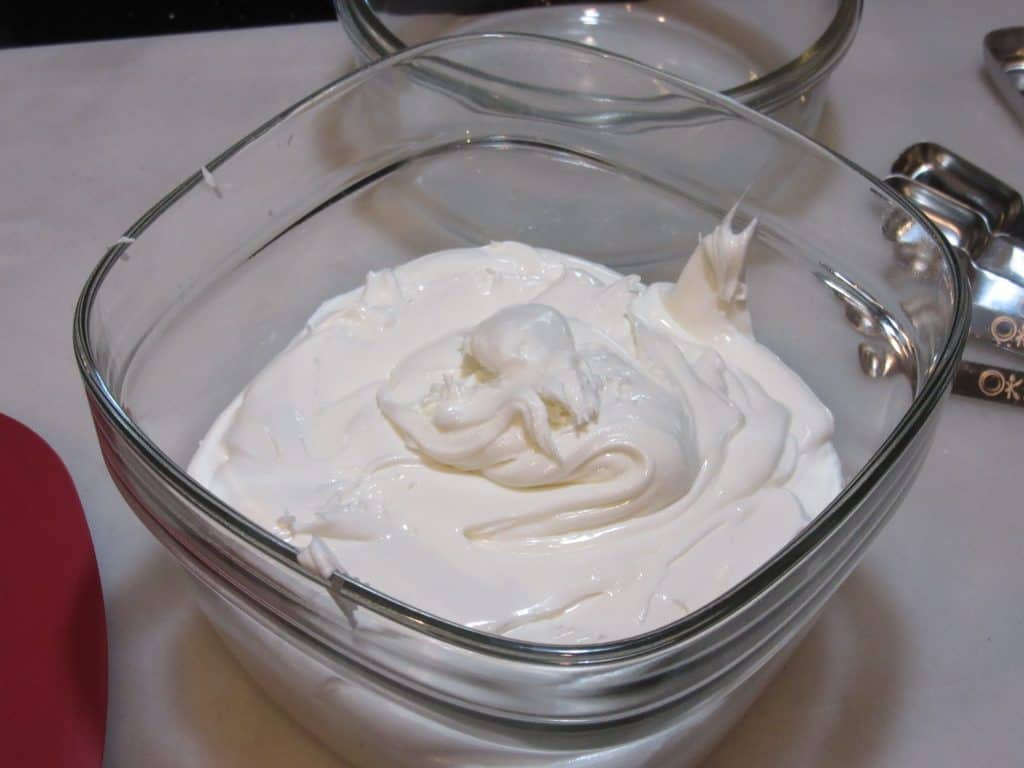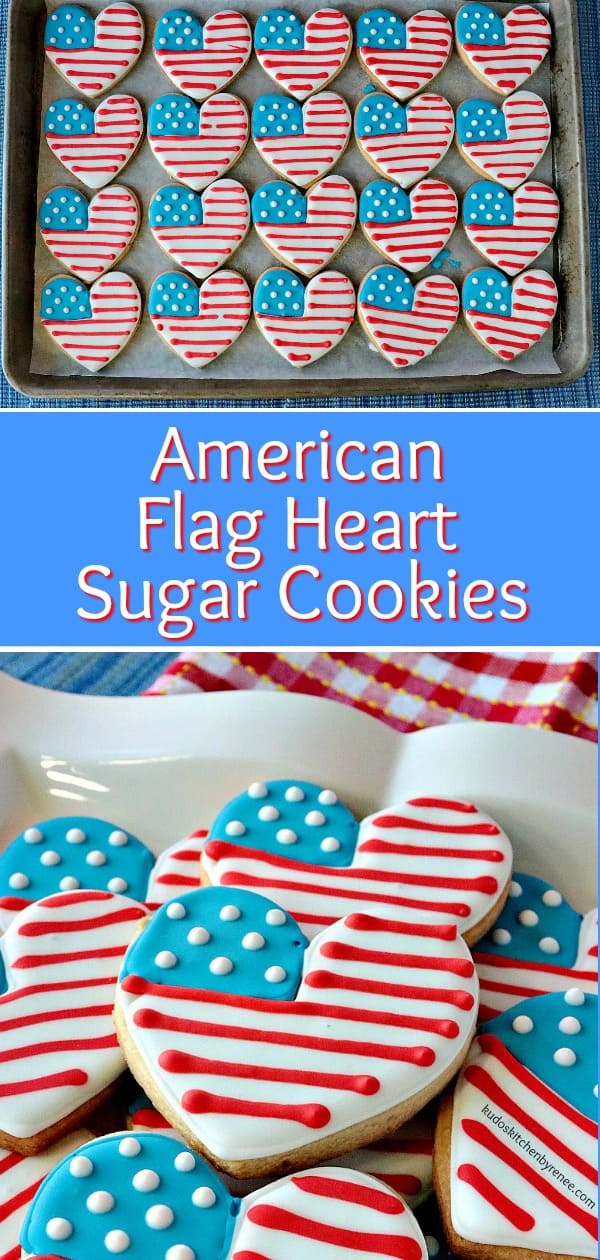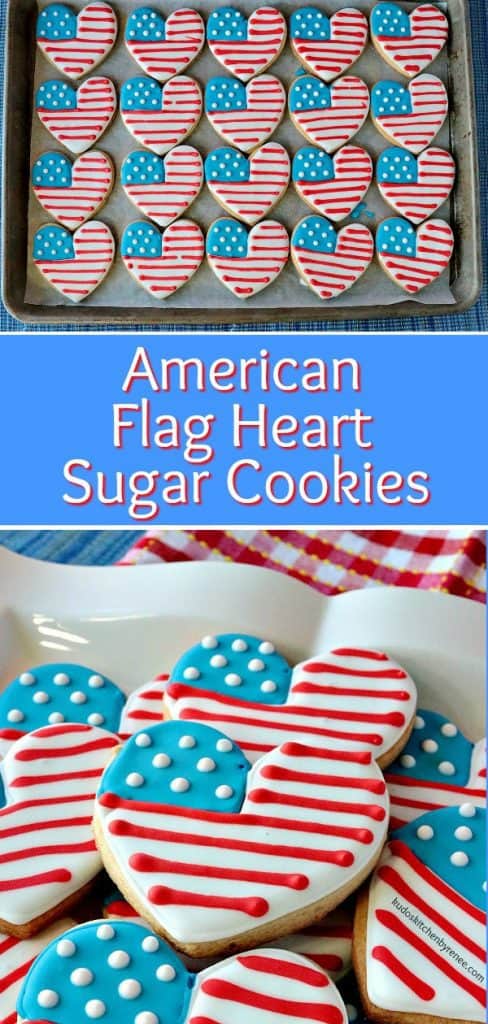 For more red, white, and blue patriotic recipes: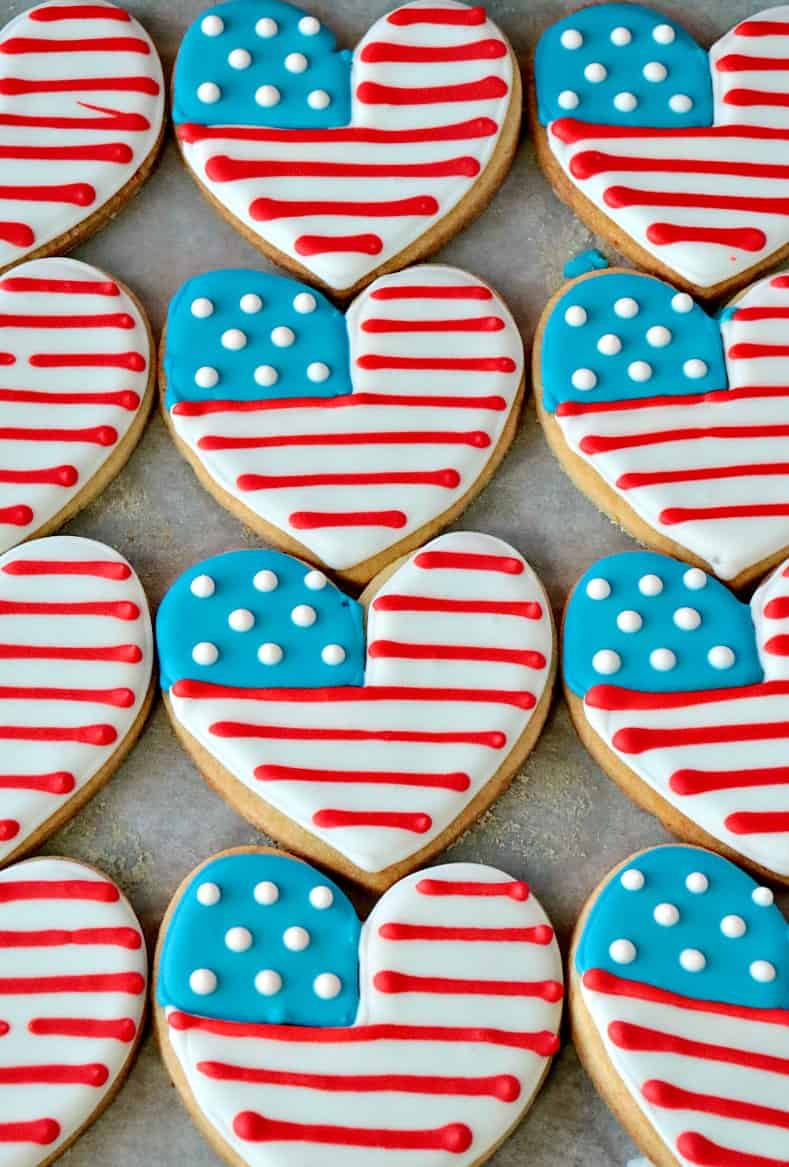 When you make this recipe, and I hope you do, I'd appreciate it if you'd take a moment to leave a star rating on the recipe card and briefly comment on why you rated it as you did. FYI - Google appreciates recipe ratings and, in turn, will share my recipes with more people. Thank you so much!!
Printable Recipe Card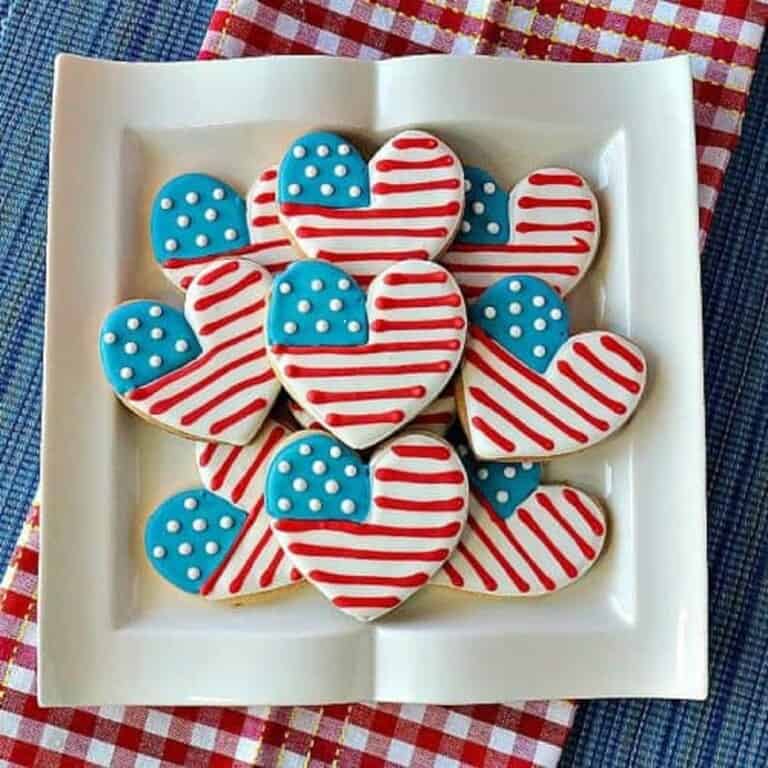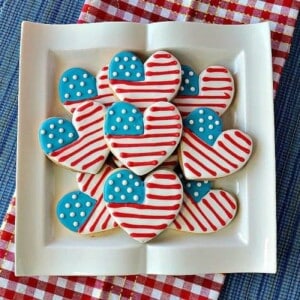 Royal Icing for Decorating American Flag Heart Sugar Cookies
This royal icing is not too sweet with a light almond flavor. Once dry, it doesn't become rock hard which makes it perfect for cookie decorating.
Ingredients
2

pounds

confectioners sugar

¼

cup

meringue powder

2

tablespoons

light corn syrup

1½

teaspoon

pure almond extract

warm water

gel food color,

red and blue
Instructions
Add the sugar, meringue powder, corn syrup, and almond extract into a large bowl.

Slowly add warm water to the sugar mixture and blend on low speed until you've reached your desired consistency. Adding more water will make it thinner and less water will keep it thicker.

Place the royal icing in an airtight container with a tight-fitting lid. No need to refrigerate.
Video
Notes
Notes-
For the outlining and details, a thicker consistency icing is required.
For flooding, a thinner consistency icing is required.
I always like to keep a thicker AND thinner icing (in premixed colors) handy. Then, as needed I can thin the thicker icing should I need additional flooding icing.
Nutrition
Serving:
0.5
cup
Calories:
151
kcal
Carbohydrates:
39
g
Protein:
0
g
Fat:
0
g
Saturated Fat:
0
g
Cholesterol:
0
mg
Sodium:
1
mg
Sugar:
38
g
Iron:
0
mg
I sincerely hope you've enjoyed today's recipe and video instructions for making these decorated sugar cookies as much as I've enjoyed bringing them to you!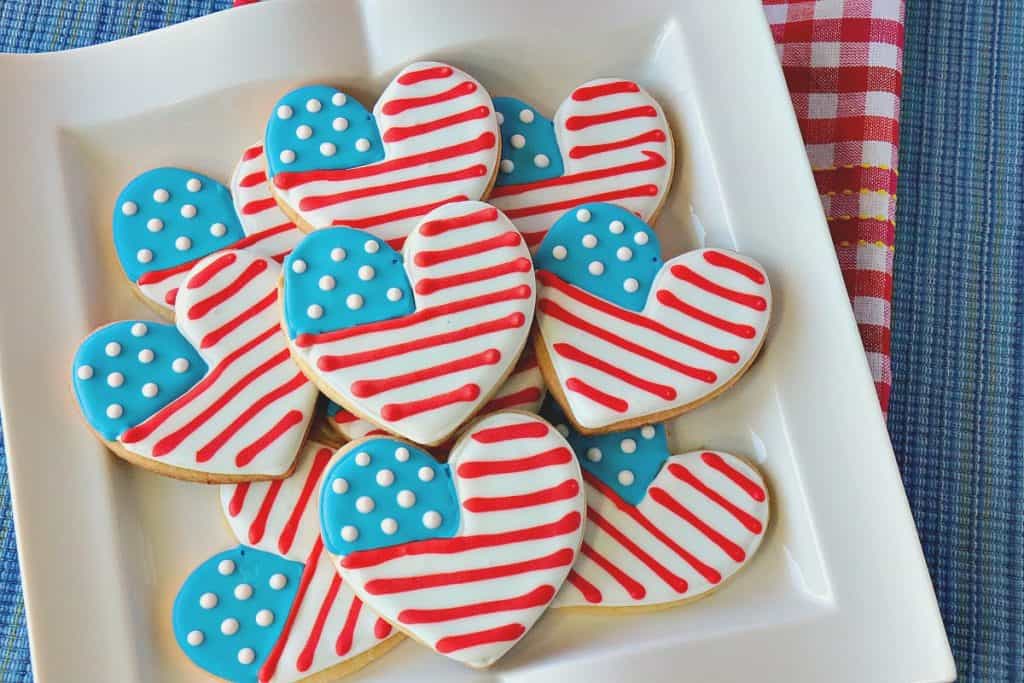 Follow me across my social media platforms and join in on the conversation: FACEBOOK, INSTAGRAM, PINTEREST, TIKTOK, AND YOUTUBE.
Thank you so much for visiting me today in my Kudos Kitchen. I hope you found something you'll love and that you'll come back and visit me often. There is always room for you around my table!
Should you have any questions or comments regarding anything you've seen here on my blog, please don't hesitate to reach out to me. It is always my distinct pleasure to respond to you just as soon as I possibly can.
Until we eat again, I hope you have a delicious day!!