Think you can't make scrambled eggs in an air fryer? Think again. I've done the testing on temperature and time, and the results are fluffy and delicious.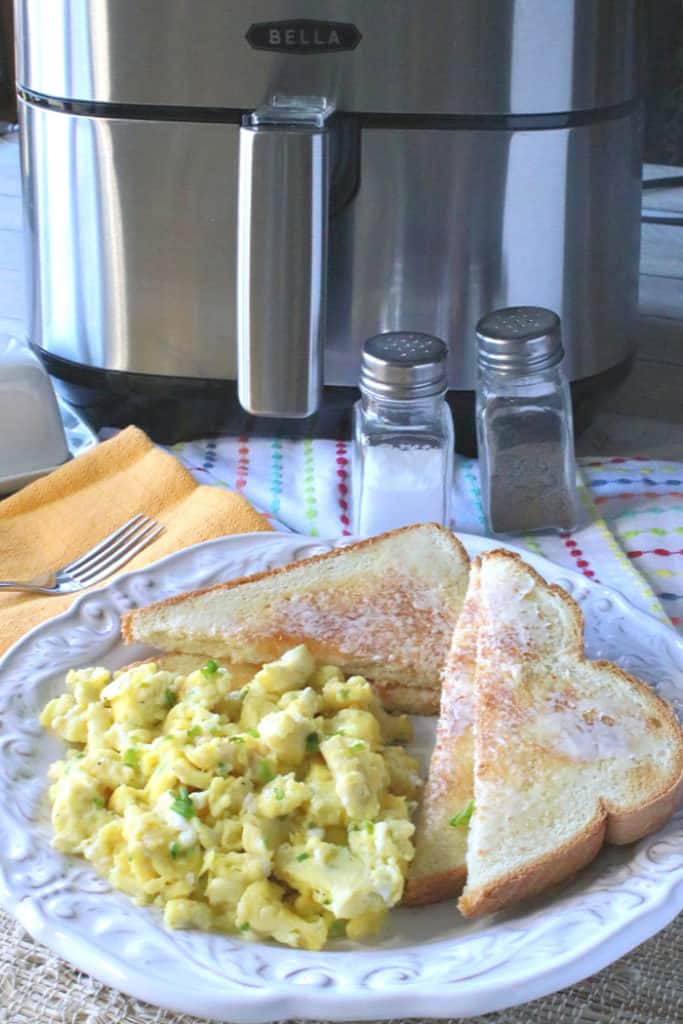 If you have an air fryer in your kitchen, then you're probably looking for all kinds of different ways to use it. I know I am.
While air fryer scrambled eggs may seem a little odd at first, once you get the hang of scrambling eggs in an air fryer, you may never go back to the stovetop method again.
**Please Note – The printable recipe card with detailed instructions, complete ingredient measurements, and nutritional information for making scrambled eggs in an air fryer is available at the end of this post. OR click on the "jump to recipe" button (found above) to be taken directly to the recipe.
CLICK ON THIS BOX TO LIKE AND SUBSCRIBE TO MY KUDOS KITCHEN YOUTUBE CHANNEL. SEE YOU THERE! 🙂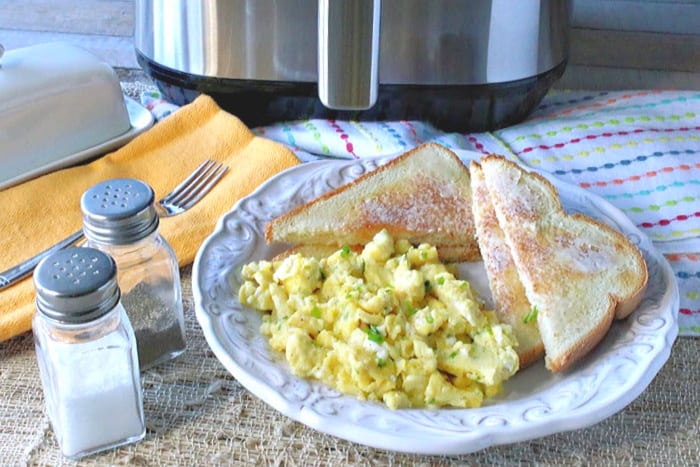 The easy ingredient list:
**Note – The following lists of ingredients plus kitchen tools and equipment contain affiliate links (highlighted in blue) for your consideration and shopping convenience. #CommissionsEarned
Large Eggs
Milk
Minced Chives (optional)
Kitchen tools and equipment needed:
What is the benefit of making scrambled eggs in an air fryer?
In my mind, there are several.
Since they're not made on the stovetop with an open flame, they're safer for the kids (or even very elderly people) to make without worry.
Making eggs in an air fryer will keep the kitchen cool, especially during those very hot days of summer.
It's fun and different!
Air fryer cooking is one of the easiest cooking methods there is, so it's far less intimidating for those people who aren't quite comfortable in the kitchen….yet.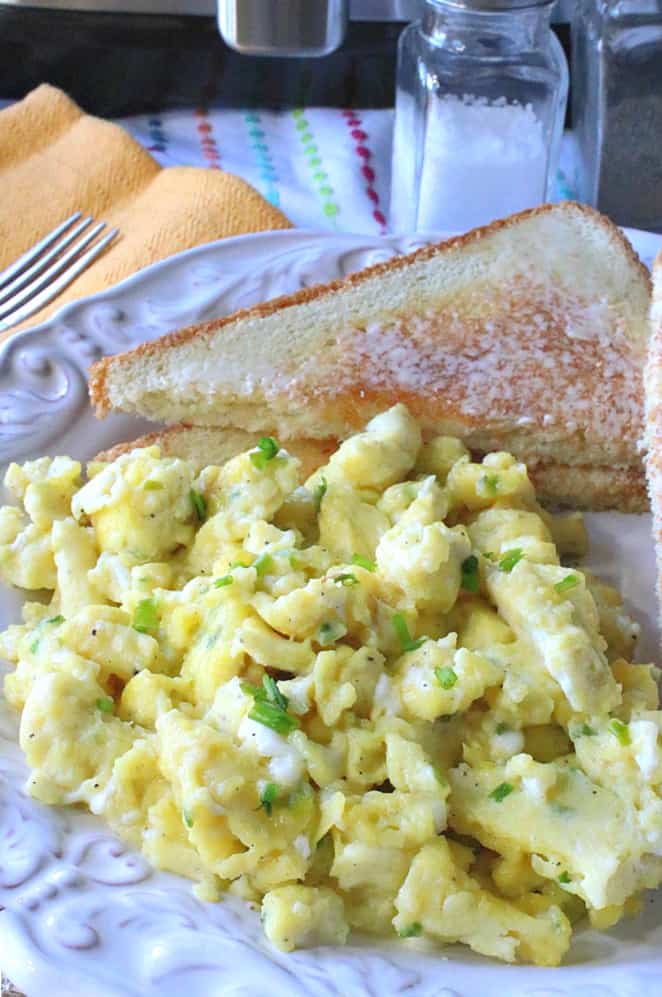 What are the most important things to know about making scrambled eggs in an air fryer?
Each air fryer will be different. Just like every oven, in every household is different.
It is important not to cook eggs at too high a temperature right from the start. Low and slow is always the best bet for cooking eggs whether in an air fryer or on the stovetop.
Check on the eggs frequently, and stir as needed. If you like larger curds, stir less frequently. If you prefer smaller curds, stir more often.
Do not walk away from the air fryer while cooking scrambled eggs. Devote your time in the kitchen preparing the toast or juice while the eggs are cooking, but don't be tempted to leave the room and get involved elsewhere. The eggs require your attention.
Setting a kitchen timer may prove to be invaluable in preparing the air fryer scrambled eggs. Setting the timer for 2-3 minute intervals while the eggs are cooking may be important for the first few times you're making air fryer eggs.
What is the best temperature for cooking eggs in an air fryer?
This is something I learned by trial and error (as you'll see in my YouTube video).
While I didn't want to cook the eggs on too high a temperature at first, I learned (slowly) that cooking them on too low a temperature isn't a smart way to go either. After all, if it takes forever to cook scrambled eggs in an air fryer, what's the point?
I found that the best temperature for cooking scrambled eggs, in my particular air fryer, was at 300-degrees for approximately 5-7 minutes, stirring frequently.
Here I am making my scrambled eggs in the air fryer. I hope you'll enjoy the video:
Additional air fryer recipes:
"Sometimes necessity is the mother of great recipe inventions. Such is the case with this Ultimate Air Fryer Grilled Cheese Sandwich. Turkey deli meat, smoked cheddar cheese, red bell pepper, and caramelized onions come together in an air fryer grilled cheese sandwich like no other. If you're anything like me, you are going to love it!!"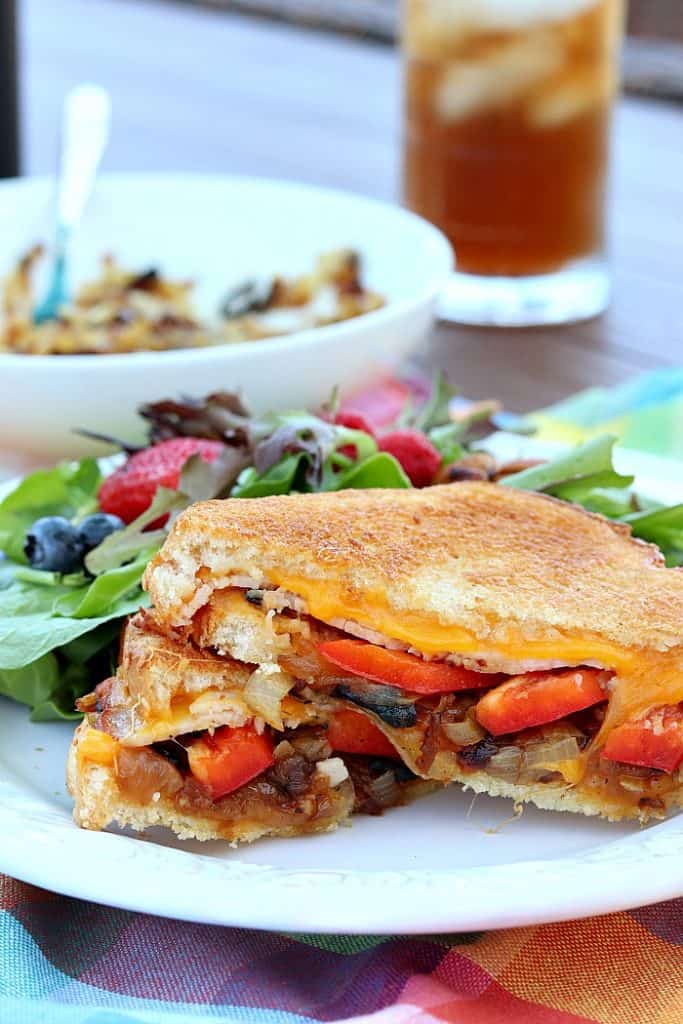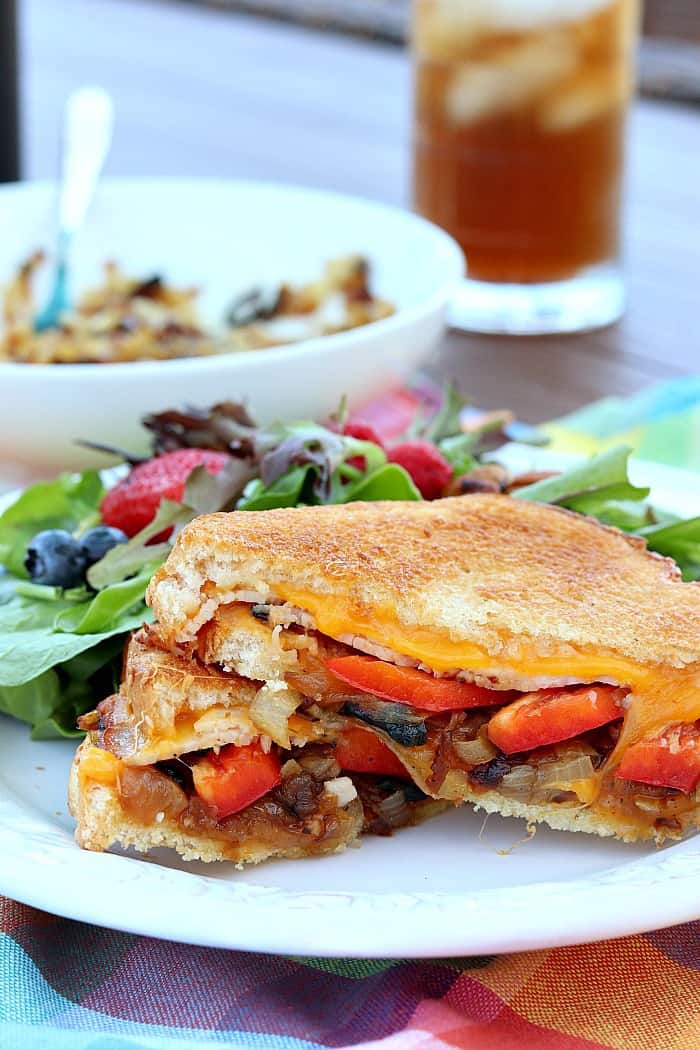 "Yep! You heard me correctly. Pizza Nachos. Make them in an air fryer, or traditional oven. Please. Thank you. You're welcome!"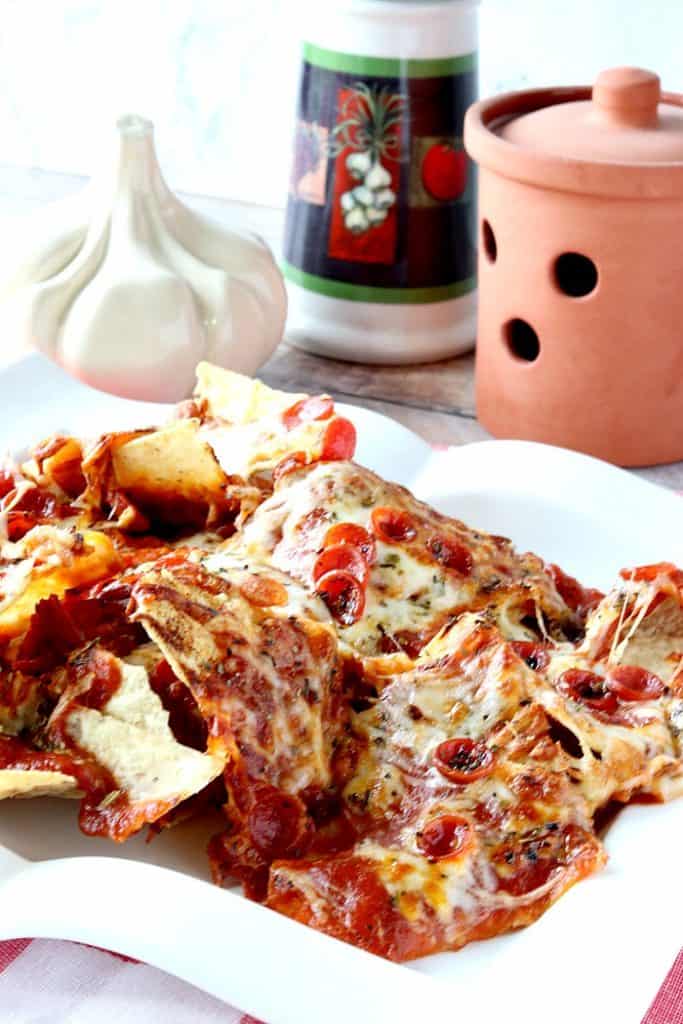 "Dinnertime just got a whole lot easier! Air Fryer Chicken Drumsticks are coated with cornflake crumbs and seasonings. Then they're air fried to crispy, crunchy, perfection! In less than 30 minutes you'll be sitting down to a delicious meal! "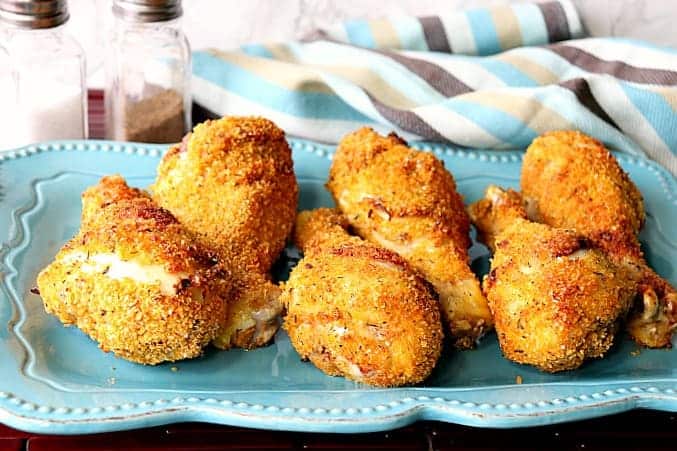 Air Fryer Scrambled Eggs (pictured below) This is the place!!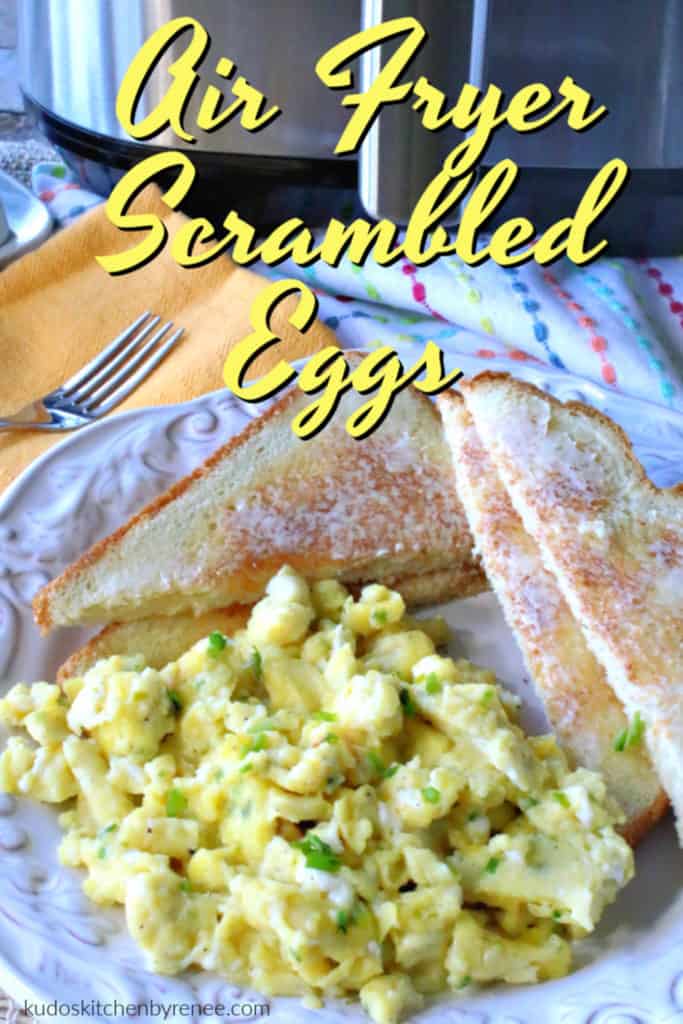 Whether you're working on a blue screen device, or in the kitchen, the following affiliate products are ones I can highly recommend to save your eyesight and your sanity.
Below is a photo of my blue blocker computer glasses in action! I swear by them! I work at the computer for what feels like all-day, every-day, and these glasses have relieved a great deal of eye-stress and migraine problems for me.
A neurologist was the one who recommended I get myself some, and it was the best thing he could have told me to do, so now I pass that information on to you!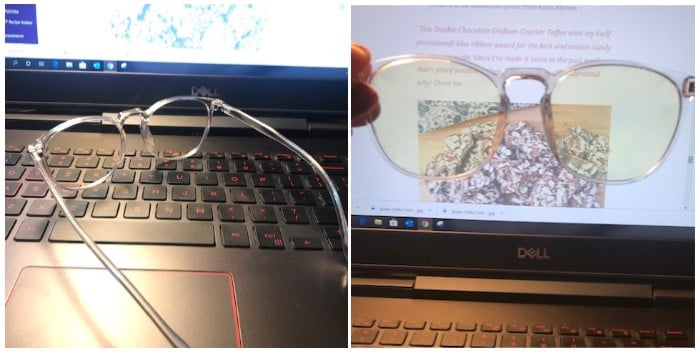 Below is the printable recipe card along with the exact ingredient measurements and nutritional information for making today's air fryer recipe for scrambled eggs.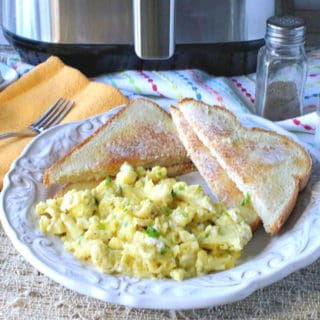 Air Fryer Scrambled Eggs
Think you can't make scrambled eggs in an air fryer? Think again. I've done the testing on temperature and time, and the results are fluffy and delicious.
Ingredients
3

large eggs

2

tablespoons

butter

½

cup

milk

½

teaspoon

salt

1/4

teaspoon

black pepper

1

teaspoon

minced chives

optional
Instructions
Add an aluminum tray that fits snugly into the bottom of your air fryer.

Add the butter to the try and set the air fryer temperature to 350-degrees.

Melt the butter in the fryer (approximately 1 minute). Swirl the melted butter to cover the bottom of the tray.

In a medium bowl, whisk together the eggs, milk, salt, pepper, and chives.

Pour the eggs into the tray in the air fryer.

Cook at 350-degrees, stopping to check and stir the eggs every few minutes until they reach your desired doneness (approximately 5-6 minutes).
Notes
For larger scrambled egg curds, stir less frequently.
For smaller scrambled egg curds, stir more frequently.
Every air fryer will differ with temperature and cooking times. Please be aware that your fryer may take longer, or not as long, as what is written in this recipe.
Nutrition
Thank you so much for visiting me here today in my Kudos Kitchen!
I sincerely hope you've enjoyed today's easy air fryer breakfast recipe as much as I've enjoyed bringing it to you!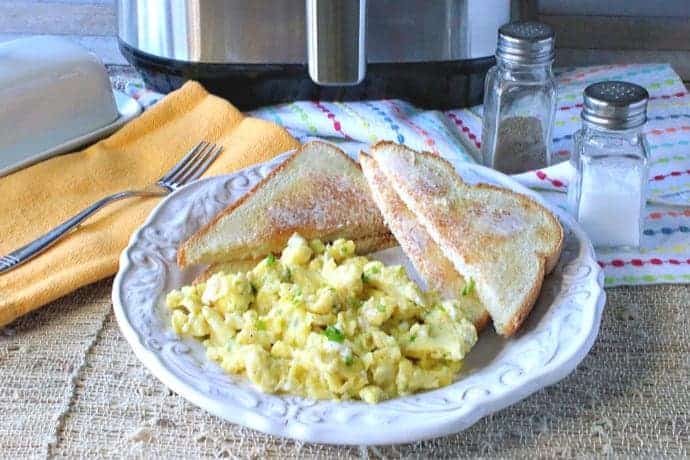 Should you have any questions or comments regarding this recipe or anything else you've seen on my site, please don't hesitate to reach out to me. It is always my distinct pleasure to get back with a reply just as soon as I possibly can!
For more Kudos Kitchen recipe information, please follow me on my social medial channels (listed below), and don't forget to TAG me @kudoskitchen with photos so I can view all your delicious recipe creations! It's exciting for me when you share them, so don't be shy!
Instagram, Pinterest, Facebook, and YouTube
Instagram, Pinterest, Facebook, and YouTube
Kudos Kitchen by Renee – BRINGING YOU EASY, ECONOMICAL, AND DELICIOUS DISHES TO FEED YOUR LOVED ONES!
Until we eat again, I hope you have a delicious day!
**Note – The post above includes affiliate links. As always, I truly thank you for your support!
As an Amazon Associate, I earn from qualifying purchases. When I find a great product or service I like to share it with my readers. For additional information please view my privacy policy.