Don't let the title mislead you. While I'm calling these air fryer soft boiled eggs, they aren't boiled at all. They're cooked in the air fryer, and they couldn't be easier to make, or more perfect! Look...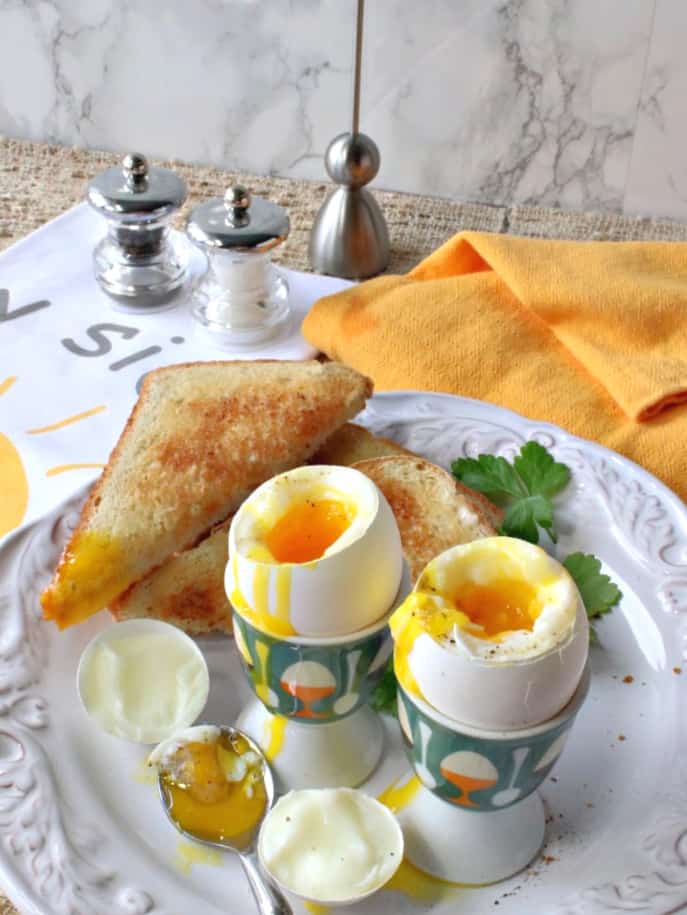 If you're a fan of a soft runny yolk surrounded with a perfectly cooked white frame, then cooking soft boiled eggs in an air fryer is an easy method you simply must try!!
**Please Note - The printable recipe card with detailed instructions, complete ingredient measurements, and nutritional information for making air fryer soft boiled eggs is available at the end of this post. OR you can hit the "jump to recipe" button (found above) to be taken directly to the recipe.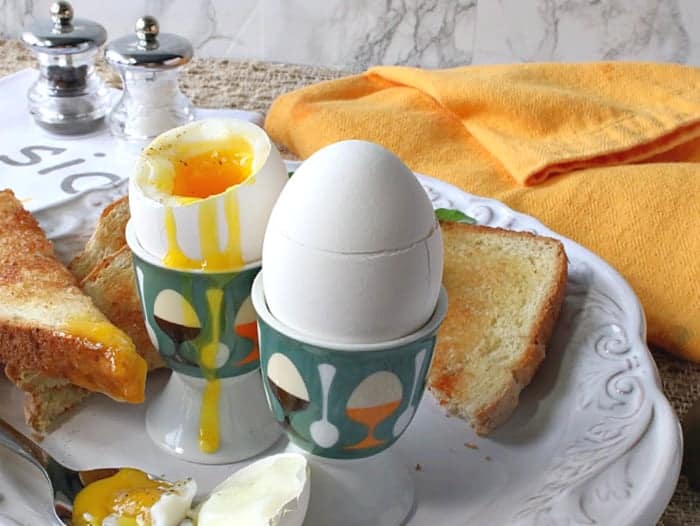 The ingredient list:
2 eggs (per serving)
salt and pepper
bread or toast
Kitchen tools and equipment needed:
**Note - The following lists of kitchen tools and equipment contain affiliate links (highlighted in blue) for your consideration and shopping convenience. #CommissionsEarned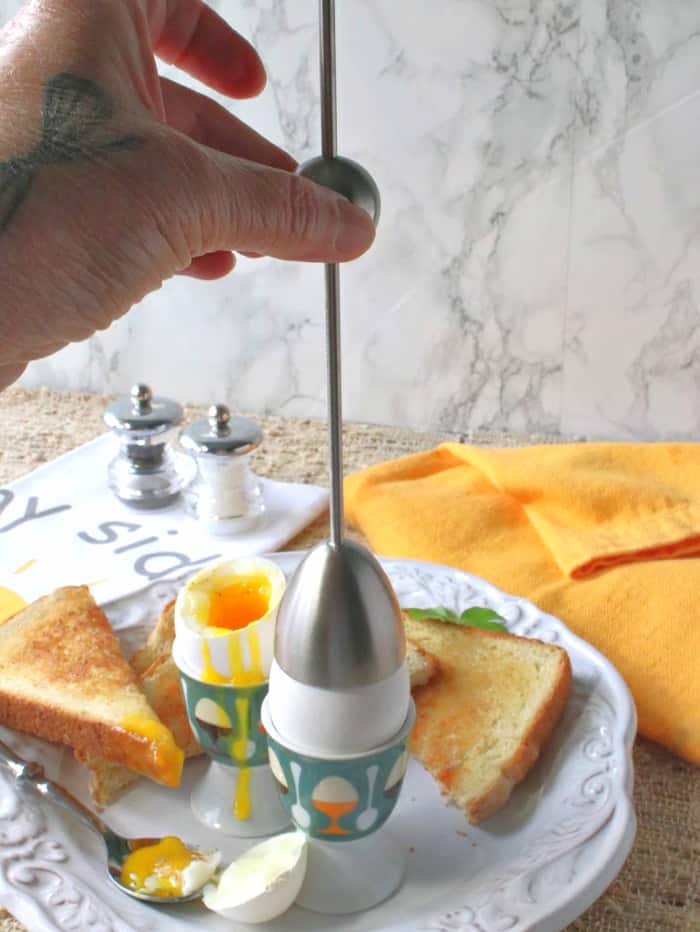 Why this dish is also known as "eggs and soldiers?"
It's a British thing, and I love it!
I've read some say that the name goes back to the children's rhyme Humpty Dumpty.
Remember it? It goes like this;
Humpty Dumpty sat on a wall. Humpty Dumpty had a great fall. All the king's horses, and all the king's men (the "soldiers," a.k.a "men" are toast or bread strips), couldn't put Humpty together again.
Sad, for Humpty. But tasty none the less.
Or, this more straightforward explanation...Maybe not as fun, but it is still just as scrummy;
Dippy-eggs wait patiently in their stand-up-straight egg cups for thin strips of toast or bread (the "soldiers") to eagerly dive in and be devoured.
For more about British foods, American's love, check out this article from The Daily Meal.
Savor the flavor of air fryer soft-boiled eggs:
Soft-cooked eggs are meant to be eaten slowly, with every dip and every bite being deliberately savored and enjoyed.
Like you never want the experience to end!
So, slow down and take your time! Your day will still be waiting for you when you're finished, but at least you'll have had a few moments of pure bliss to look back on the rest of the day!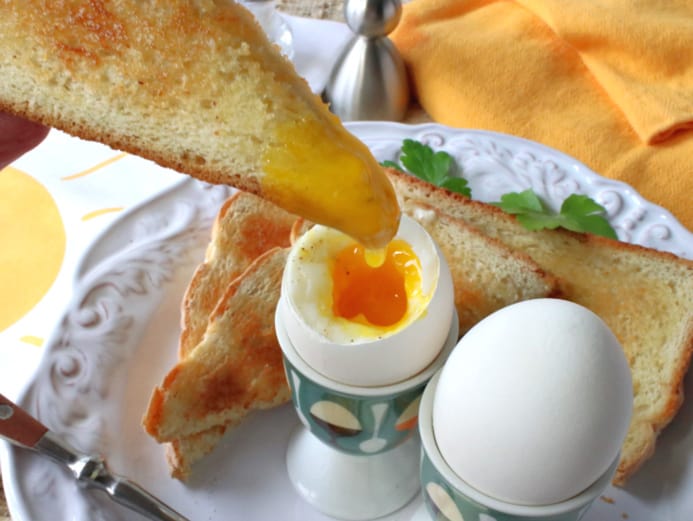 For the love of a runny yolk:
You either love a runny yolk, or you're simply not a fan.
Personally, it took a long time for me to truly appreciate the silky rich goodness that only a runny yolk can provide.
Today, I can proudly boast that I fully understand, appreciate, and enjoy just how delicious the golden gravy of the gods truly is!
And now, with this quick and easy method for making soft boiled eggs in the air fryer, you can bet I'll be indulging in my new found love for the dippy yolk a tremendous amount going forward, and hopefully, you will too.
How to lop off the top of a soft boiled egg?
You can either use a spoon to gently tap around the top portion of the shell to crack and gently remove the "lid" from the soft boiled egg.
Or, you can use and egg cracker topper (as I did, and you'll see in the photos and video).
By using the egg cracker topper you'll get a clean-cut rim which makes removing the "lid" easy and effortless.
Tips for making the BEST air fryer soft boiled eggs:
Bring eggs to room temperature before air-frying. 30 minutes on the counter before cooking should be sufficient.
After cooking, use tongs (caution eggs will be hot), to place the eggs into a bowl of cold water for 1 - 2 minutes.
Dry the eggs with paper towels before placing them into the egg cups.
If you like your yolks cooked slightly harder than shown, cook them for an additional 60-90 seconds.
Extra-large eggs will require a slightly longer cooking time.
Since all air fryers can vary slightly (just as regular ovens), you may need to experiment with your brand of air fryer and cooking times to come up with the perfect soft boiled egg consistency to suit your preferences.
Want more air fryer egg recipes?
*Air Fryer Scrambled Eggs (pictured below)
"Think you can't make scrambled eggs in an air fryer? Think again. I've done the testing on temperature and time, and the results are fluffy and delicious."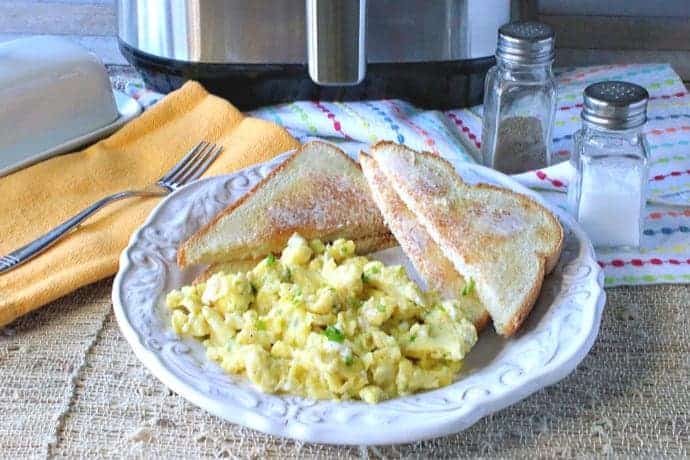 *Air Fryer Fried Eggs (pictured below)
"Follow along as I show you my easy method for how to fry eggs in an air fryer. Step away from the stovetop with this fast and cool cooking method."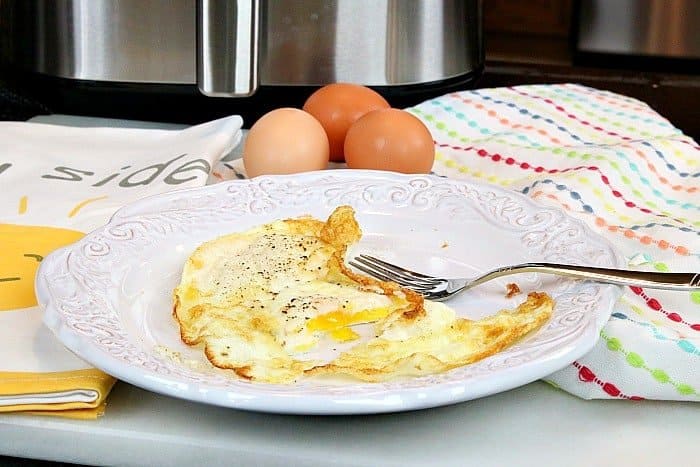 *Air Fryer Soft Boiled Eggs (pictured below) THIS IS THE PLACE!!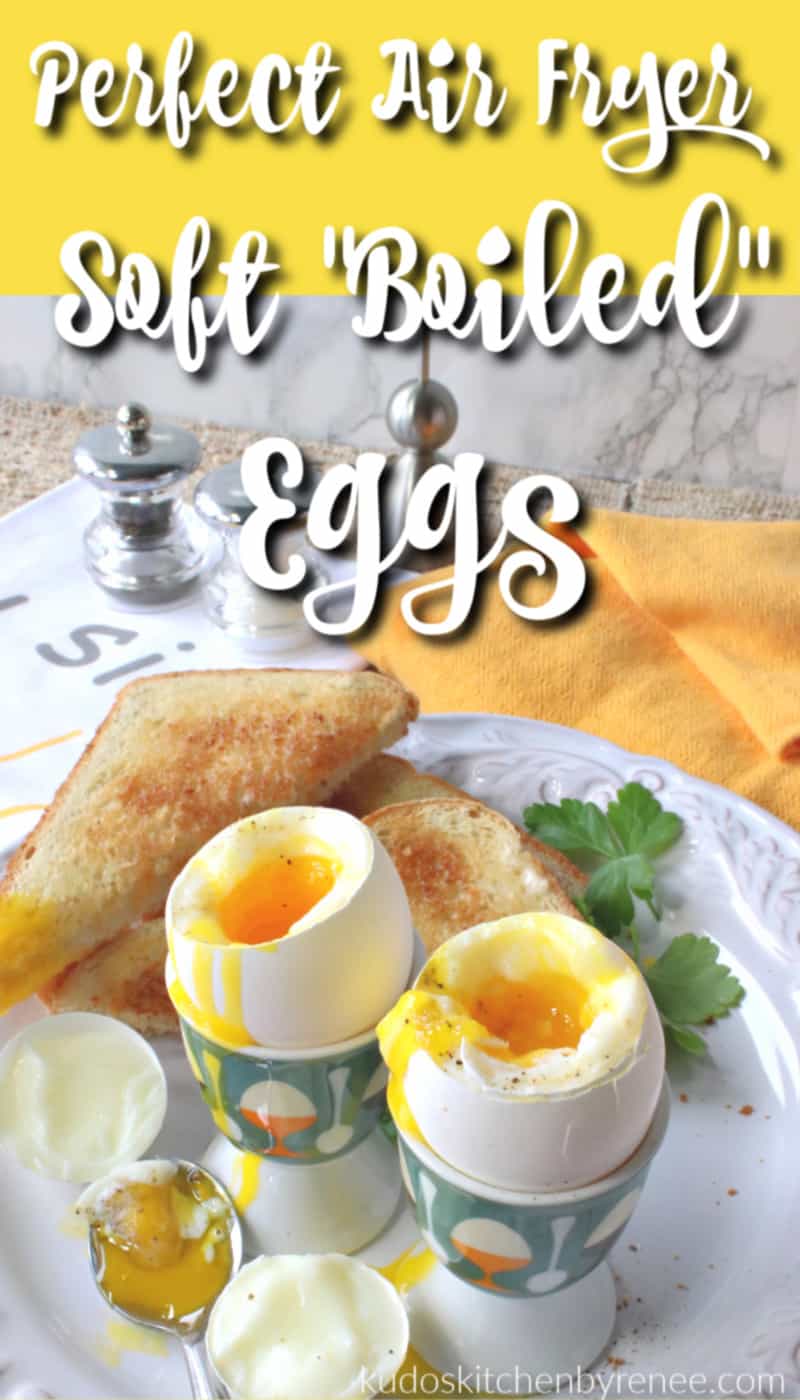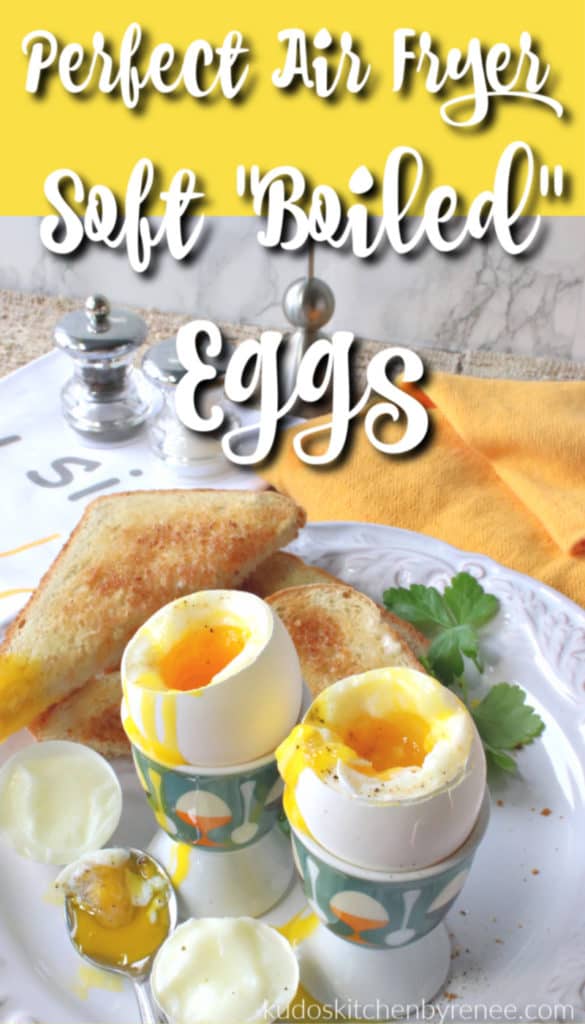 The perfect soft boiled eggs aren't boiled at all…they're air fried!
Below is the printable recipe card along with the exact ingredient measurements and nutritional information for making today's easy air fryer egg recipe.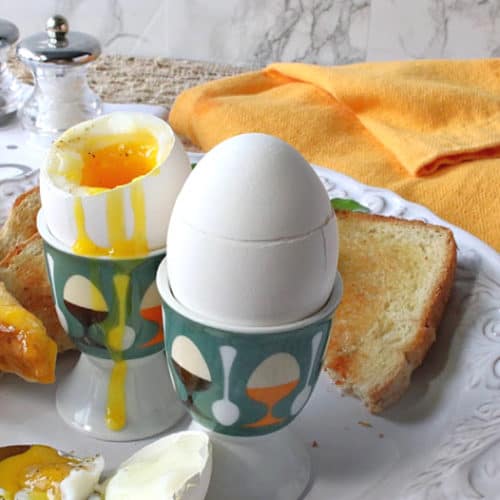 Air Fryer Soft Boiled Eggs
The perfect soft boiled eggs aren't boiled at all...they're air-fried!!
Ingredients
2

large eggs

room temperature

salt

pepper

2

slices

bread

toasted
Instructions
Gently place the room temperature eggs in the basket of an air fryer.

Set the temperature to 250-degrees Fahrenheit and the timer for 8 minutes.

Start the air fryer.

Once cooked, use tongs to immediately add the eggs to a bowl of cold water for 1-2 minutes.

Dry the eggs with a paper towel and place the soft-cooked eggs in egg cups.

Gently lop off the eggshell "lid" (using your preferred method), and season the egg with salt and pepper to taste.

Dip toast into the egg (if desired) and enjoy!
Nutrition
Serving:
2
eggs
Calories:
276
kcal
Carbohydrates:
26
g
Protein:
17
g
Fat:
11
g
Saturated Fat:
4
g
Polyunsaturated Fat:
7
g
Cholesterol:
372
mg
Sodium:
960
mg
Fiber:
2
g
Sugar:
3
g
I sincerely hope you've enjoyed today's air fryer egg recipe as much as I've enjoyed bringing it to you!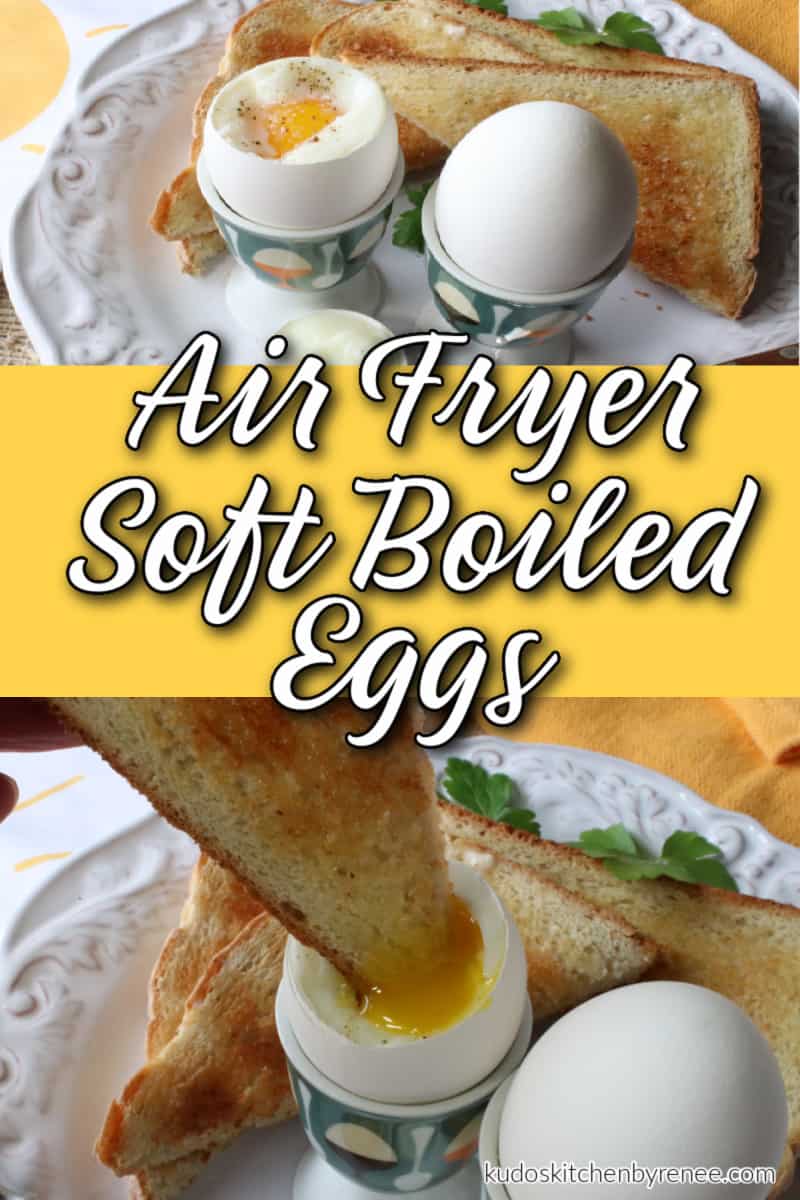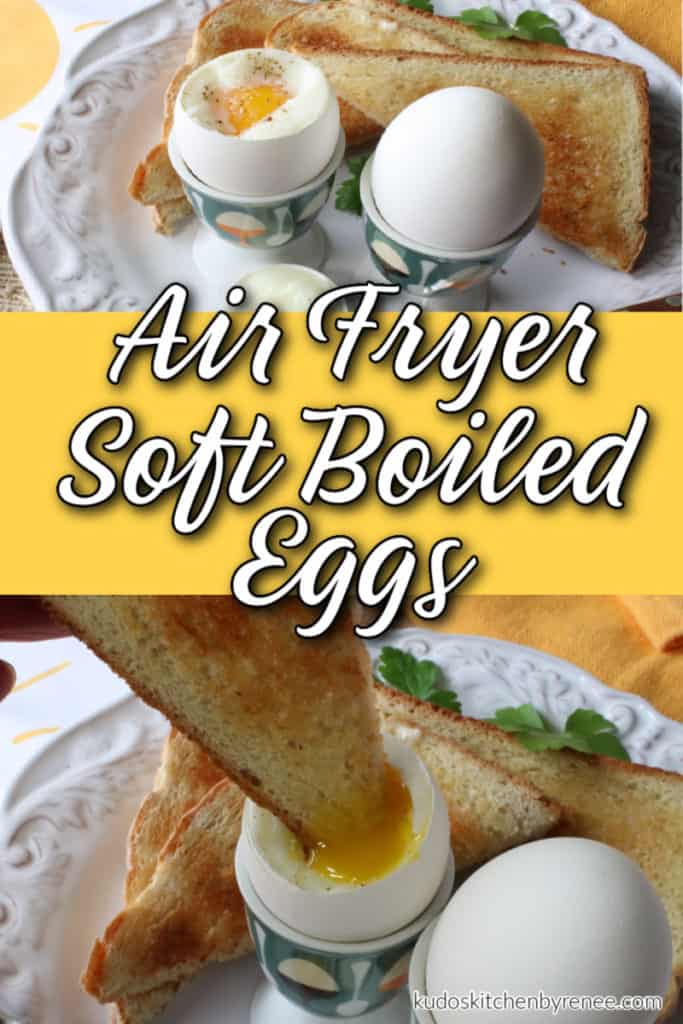 This post may contain affiliate links which won't change your price but will share some commission.
As an Amazon Associate, I earn from qualifying purchases. When I find a great product or service I like to share it with my readers. For additional information please view my privacy policy.