If you think that delicious sushi rolls are only made by professionals, then I have a surprise for you.
With the help of a few Uncommon Goods products, Homemade Avocado Shrimp Sushi Rolls come together in a snap and tastes every bit as good as what you get in a restaurant.
Not long ago I went out to dinner with some girlfriends, and we ate avocado rolls as our appetizer. They were absolutely delicious, but they also looked far too delicate and intricate for anything I could (or would) possibly attempt making in my own kitchen.
Not so, and I'm here to show you how to make these Homemade Avocado Shrimp Sushi Rolls and to take away some of your fears.
**Please Note - The printable recipe card with detailed instructions, complete ingredient measurements, and nutritional information for making Homemade Avocado Shrimp Sushi is available near the end of this post.

The ingredient list for making homemade shrimp and avocado sushi;
Arborio Rice

Cooked Shrimp

Avocado

Rice Wine Vinegar

Sesame Seeds

Nori Sheets

Sugar

Water

Fish Sauce (optional)

Wasabi Powder (optional)
**This post is made available from products supplied to me by Uncommon Goods. The thoughts and opinions I share on these products are uniquely my own.
Ironically enough, a few days after my dinner out, I was contacted by a representative from Uncommon Goods asking if I'd be willing to choose a product or two from their vast line of unique gifts (not limited to the kitchen), and speak about them on my blog.
Since I'd already been a fan of their online shop, I quickly and excitedly paged through their catalog of items.
When I spotted the sushi making kit in their wide selection of fun wine-and-dine cooking gifts, I knew that sushi making would soon be in my immediate future.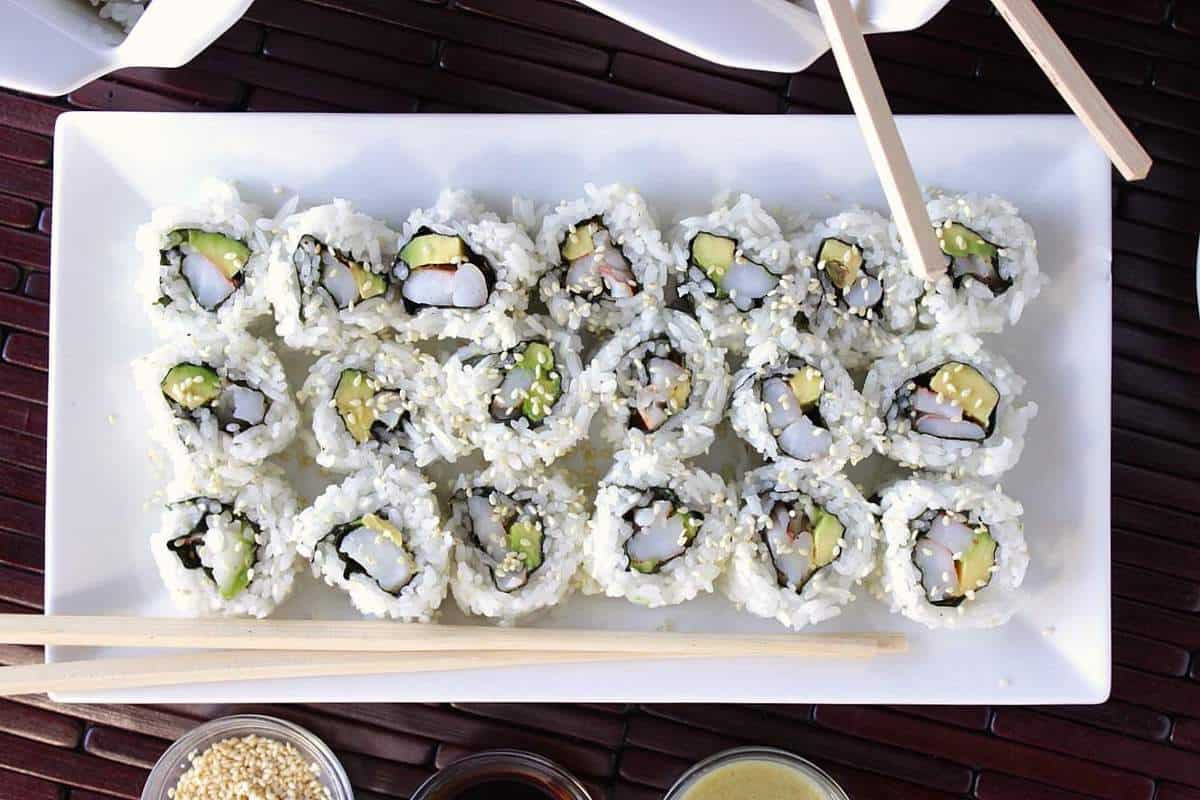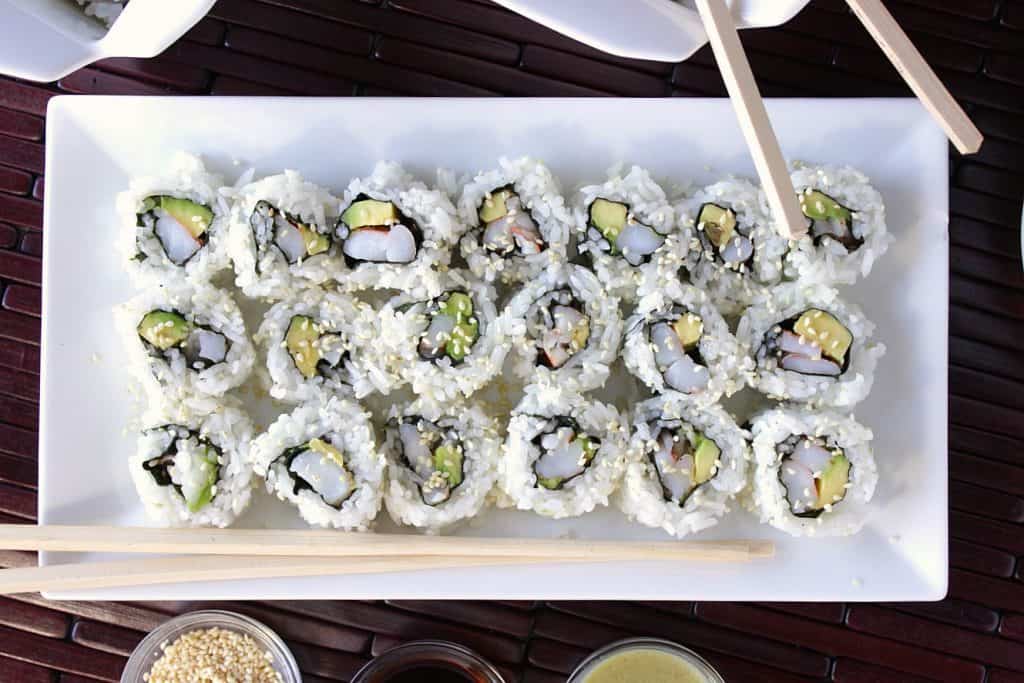 And in thinking ahead, I decide to also select these fun ceramic takeout containers (from the same wine-and-dine section) so I could use them in the styling of these Homemade Avocado Shrimp Sushi Rolls.
See how cute they are?
With everything at my disposal from the sushi making kit (except for my choice of fillings) I received, I soon found out that making homemade sushi was a lot easier than I ever imagined it would be.
With only a small learning curve and a few valuable tips I'll be sharing below, before long I was rolling out sushi logs with the best of them (*cough, cough*).
And, when I served them to my family for dinner that night, they were completely impressed with the flavor, and presentation, of my Uncommonly Good Homemade Avocado Shrimp Sushi Rolls! Nice!
What I especially love about this sushi making kit is that it comes with everything you need (minus the avocado and shrimp) to make roughly 30 pieces of sushi.
From the sushi mat, sticky rice, nori (seaweed) sheets, rice wine vinegar, sesame seeds, fish sauce (I didn't use that), and the wasabi powder. Everything is marked clearly as to what it is, and the full easy-to-follow instructions for making the sushi rolls (from making the rice, to stuffing and making the rolls) are on the back of the package.
What are the best tips for making sushi at home?
The two best tips I can give you while making your own sushi is to wrap the sushi mat in plastic wrap and to keep your hands wet with water to prevent the rice from sticking to you. It took me a bit of frustrated effort to figure the water part out (guess I missed that part in the instructions), but once I did, the rest was easy.

Wrapping the plastic wrap around the sushi mat will also make the rolling easier, as well as the cleanup, and who doesn't want that?
Want to learn how to easy it is to make Uncommonly Good Homemade Avocado Shrimp Sushi Rolls? Great! Let's get started!
Make the rice (arborio) in a saucepan by bringing 3 cups of water to a boil, and adding 1½ cups rice that has been rinsed several times under running water.

Cover the pan and simmer the rice on low until the water is gone, and the rice is tender (approximately 15 minutes).

Spread the rice in a single layer on a baking sheet to cool.
In a small bowl, mix together the rice wine vinegar, sugar, and salt.

Pour it over the rice on the baking sheet.

Stir lightly and spread the rice again to cool while preparing the filling.

Set aside.
Peel, pit and cut one ripe avocado into small slices.

Peel, devein, and cut cooked shrimp into small slices.

Wrap the sushi mat in plastic wrap.
Place one of the nori sheets on the sushi mat making sure the sheet fits on the mat with the ribs of the mat running width wise.

Wet hands liberally with water and spread a generous amount of sticky rice on top of the nori sheet.

Carefully flip the nori (and rice) sheet by gently grabbing two corners of the nori sheet so that it is now rice side down.
Lay the filling lengthwise across the nori sheet.

Sprinkle with sesame seeds.

Use the sushi mat to roll the rice, nori, and filling tightly until the rice completely surrounds the filling.
Continue the same process with the remainder of the ingredients.

Use a sharp knife to slice the sushi into 1" pieces.

Sprinkle the cut sushi with additional sesame seeds.

Mix the wasabi powder with water and serve the sushi along with soy sauce, wasabi, and teriyaki sauce (if desired).
**The following Amazon.com items are some suggested products I've chosen that will aid you in the making (and serving) of this recipe if needed.
By clicking on the item, you'll be taken directly to Amazon.com if you're interested in purchasing any of these products. You are in no way required to do so, and you will not be charged in any way unless you decide to purchase a product through Amazon.
For additional recipes calling for avocado and shrimp (not necessarily in the same recipe), please click on the following titles for;
Below is the printable recipe card for today's Homemade Shrimp and Avocado Sushi Rolls.
If you've enjoyed this recipe and look forward to making it (or have already made it), I'd appreciate if you'd take a moment to give it some feedback by way of stars near the comment section at the end of this post. Thank you so much!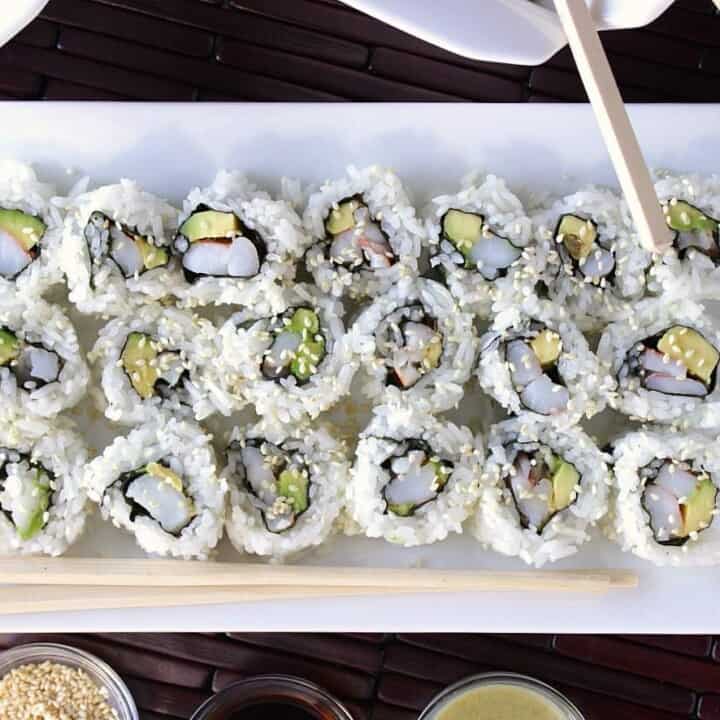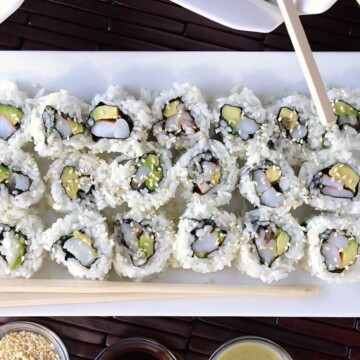 Homemade Avocado Shrimp Sushi Rolls
If you think that sushi rolls are only made by professionals, then I have a surprise for you.
Ingredients
1½

cups

arborio rice

3

cups

water

pinch

salt

2

tablespoons

rice wine vinegar

2

teaspoons

sugar

1

medium

avocado

peeled, pitted, and sliced thinly

10

large

cooked shrimp

peeled, deveined, and sliced thinly

nori sheets

2

tablespoons

sesame seeds

bowl of water to keep the rice from sticking to hands
Instructions
Place the water in a medium saucepan and bring to a rolling boil.

While the water boils, rinse the rice several times in a fine mesh colander under running water until the water runs clear.

Once the water is boiling, add the rinsed rice to the saucepan, lower the heat to low, cover and simmer the rice (approximately 15 minutes), or until the water is gone and the rice is tender.

Once the rice is cooked turn the rice out onto a baking sheet and spread it out over the baking sheet to cool.

In a small bowl, whisk together the rice vinegar and sugar. Pour the vinegar over the cooling rice. Stir to combine, and continue cooling the rice while preparing the filling.

Prepare a sushi mat by covering with plastic wrap.

Lay a nori sheet, width-wise across the sushi mat.

Wet hands with plenty of water, and place at least ½ cup of the cooled rice onto the nori sheet, spreading it across the entire sheet.

Gently grab two corners of the nori sheet and flip the rice and nori sheet upside down so that now the rice is on the bottom.

Place the sliced avocado and shrimp width-wise across the nori sheet.

Sprinkle with sesame seeds.

Use the mat to tightly roll the sushi, (adjusting the mat as needed) until only the rice is visible after rolling.

Set the roll aside and continue the same process with the remaining ingredients.

Use a sharp knife to carefully slice the rolls into 1" pieces.

Refrigerate until ready to serve.

Serve cold with teriyaki sauce, wasabi, and soy sauce if desired.
Notes
Tools and equipment:
sushi mat, plastic wrap, fine mesh colander, cutting board, chef's knife, baking sheet, saucepan, wooden spoon, small bowls, a bowl of water to prevent rice from sticking to hands
Nutrition
Serving:
1
Calories:
52
kcal
Carbohydrates:
8
g
Protein:
1
g
Fat:
1
g
Saturated Fat:
0
g
Cholesterol:
5
mg
Sodium:
17
mg
Potassium:
44
mg
Fiber:
0
g
Sugar:
0
g
Vitamin A:
10
IU
Vitamin C:
0.7
mg
Calcium:
10
mg
Iron:
0.6
mg
I was completely impressed with the products I received from Uncommon Goods, as well as the extremely safe way they arrived at my door. Opening the package was a little like trying to break money out of Fort Knox, but that's a good thing.
If you've not visited (or heard) of Uncommon Goods before, I can't urge you strongly enough to go and have a look around. I promise that you'll find some of the most unique gift items for everyone and anyone on your gift giving list!
I sincerely hope you've enjoyed today's recipe for making homemade sushi at home as much as I've enjoyed bringing it to you!
So now that you know how to make sushi, I think it's only appropriate that you have a glass of wine while you're busy in the kitchen. And what could be better than a sushi lovers wine glass to go along with your sushi making kit?
Should you have any questions or comments regarding this recipe or anything else you've seen on my site, please don't hesitate to contact me directly or leave me a comment in the comment section below. It is always my distinct pleasure to get back to you with a reply just as soon as I possibly can!
For additional information regarding my Kudos Kitchen recipes, and/or my hand painted glassware or fabric items, please follow me on;
FACEBOOK, PINTEREST, INSTAGRAM, TWITTER, and YOUTUBE
Kudos Kitchen by Renée ~ Cooking up artistically delicious family-friendly dishes from my Kudos Kitchen to yours!
Until we eat again, I hope you have a delicious day!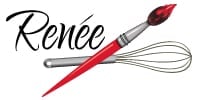 This post may contain affiliate links which won't change your price but will share some commission.