Irresistible Browned Butter Sweet Smoky Roasted Nuts are just that. Irresistible!
If you're looking for a snack that is sure fire hit for a party or gathering, then these easy to make sweet and smoky roasted nuts have your name written all over them!
Since the nuts will roast in the oven, I started with raw cashews and almonds (easily found in the produce department of any major supermarket) and shelled pistachios. In using raw nuts I was able to control the sodium, so they didn't get too salty, and I was able to roast them to my desired preference.
Since raw nuts are usually sold in larger size bags (3 or more cups), you'll most likely have leftovers from what's called for in this recipe. Storing the leftover nuts in the freezer is the best way to make sure they'll stay fresh for a nice, long time, and so you'll have them on hand for many other uses.
Can I tell you a little secret? I'm the girl who rifles through the mixed nuts to pick out all the cashews before anyone else can get to them. I know, it's not my best quality, but I just can't seem to help myself. So, the moral of the story is: If you like the cashews best, you'd better get to the Browned Butter Sweet Smoky Roasted Nuts before I do! LOL
Making Browned Butter Sweet smoky Roasted Nuts are super simple to make. Let me show you how:
Melt and brown butter in a large skillet watching closely so it doesn't burn. Add raw cashews, almonds and shelled pistachios to the browned butter.
Stir in honey, hot sauce, salt, pepper and smoked paprika.
Spread the nuts on a baking sheet and bake in a preheated 350 degree oven for 25 minutes. Remove, cool, and enjoy!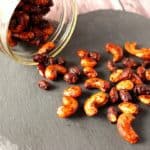 Browned Butter Sweet Smoky Roasted Nuts
Irresistible Browned Butter Sweet Smoky Roasted Nuts are just that. Irresistible!
Ingredients
3

tablespoons

butter

1½

cup

raw cashews

1½

cup

raw almonds

2

cups

shelled pistachios

1½

teaspoons

kosher salt

2

tablespoons

honey

1

teaspoon

smoked paprika

hot sauce to taste
Tools and equipment
baking sheet

parchment paper

optional

large skillet

wooden spoon
Instructions
Preheat oven to 350 degrees.

Melt and brown the butter in a large skillet over medium heat, being careful not to burn the butter.

Add the nuts to the browned butter and stir well to combine.

Add the salt, honey, smoked paprika and hot sauce (to taste) to the skillet. Stir well.

Spread the nuts evenly onto a baking sheet and roast in a preheated oven for 25 minutes.

Remove the nuts from the oven.

Cool, and serve.
Recipe Notes
Store the roasted nuts in an airtight container for up to 2 weeks.
AMAZON tools and equipment for your consideration:
As I mentioned earlier, my love for cashews knows no boundaries. Because of this, I have many other cashew recipes that I've shared over the years. Here are a few that I think you're really going to love…
HEALTHY HONEY CASHEW PEANUT BUTTER:
NO BAKE OATMEAL CASHEW COCONUT BARS:
OVEN ROASTED BROCCOLI, CARROTS, SHALLOTS AND CASHEWS:
When it comes to cashews, I'm like a dog with a bone. HaHa! Please forgive me for the awkward segue from cashews to a dog bath apron, but I'd appreciate a few points for creativity! 😉
Some of you may recognize that the dogs shown in the apron above are my own dogs, from left to right: Ivy, Nellie, and Nutmeg. However, if you'd like me to paint an apron with your dog/dogs in the tub, I'd be more than happy to do that for you. The aprons I paint on are a 65/35 cotton poly blend. They have adjustable neck straps, extra long ties, and two large front pockets. They completely machine washable and dryable (no fabric softener, please), and they're perfect for keeping you dry while bathing your dog. Aprons are available in white or black.
If there is ever anything I can paint for you, from fabrics (aprons, book bags, tea towels), to glassware items, please don't hesitate to contact me or visit one of my shops: Etsy, Wazala, or Kudos Kitchen Paints. Custom orders are always welcome, and I will happily paint and design from any photo, idea, or description you send my way.
Kudos Kitchen by Renée ~ Where food, art, and fun collide each and every day!
Until we eat again, I hope you have a delicious day!