What do you get when you combine two culinary favorites into one fantastically fun family dinner? Spaghetti Stuffed Garlic Cheese Bread, that's what! Or, as I like to call it, a spaghetti sandwich!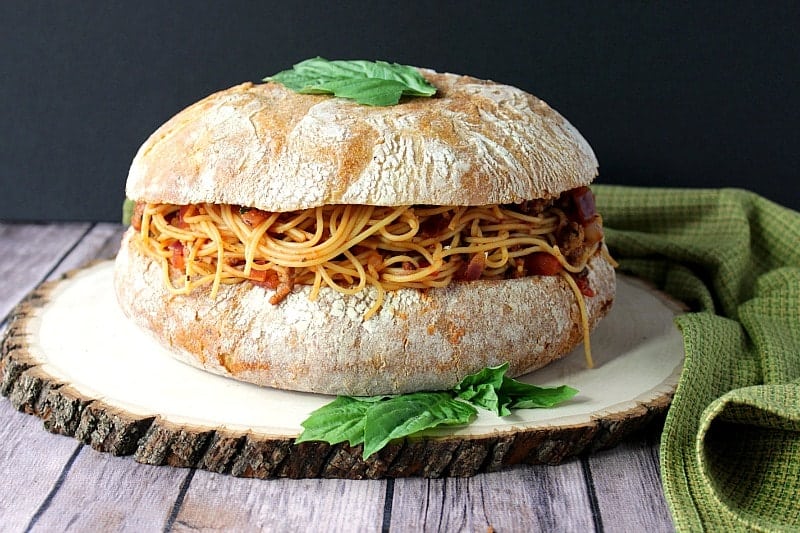 This Spaghetti Stuffed Garlic Cheese Bread is also a fantastic dish to serve when you're having company because one; they'll never expect it, and two; it will serve a crowd! So, you might as well get busy planning that party!
When I make spaghetti, I almost always make garlic bread. The two just go hand-in-hand, like old friends. This time, however, I decided to think outside the box (and inside the bread) with this new twist on serving spaghetti. Needless to say, my family's eyeballs nearly popped out of their heads when I brought this Spaghetti Stuffed Garlic Cheese Bread to the table. Score one for mom!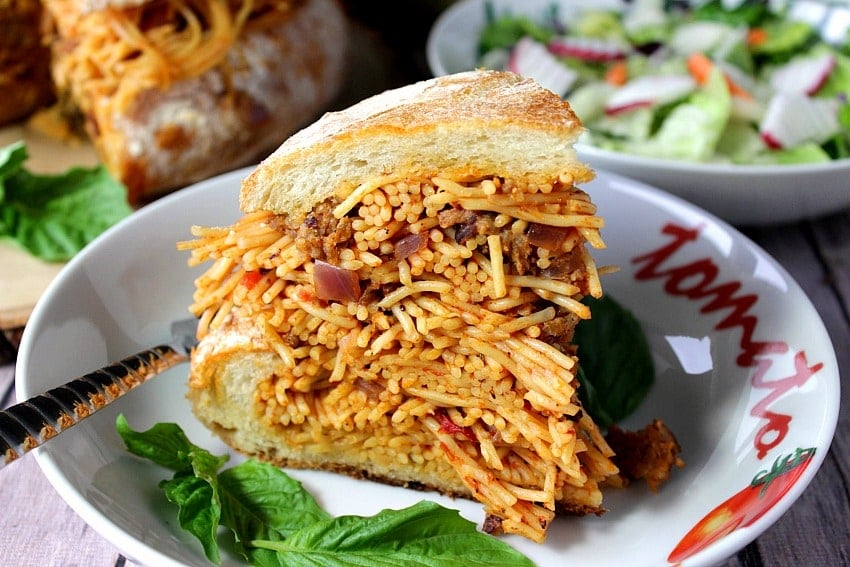 The bread I used for this recipe is a rustic country boulé (French for "ball") I purchased in the bakery section of the grocery store. Or, if you're feeling super ambitious you can make a homemade rustic boulé. That said, if you choose to use a different type of bread, just make sure it's a crusty loaf that will remain sturdy once you slice it open, pull out some of the interior, and pile in the spaghetti.
If you're looking for a quick and easy homemade marinara sauce, I have a good one you can use HERE if you'd like to change things up a little from what I'm sharing today. And, although I've used Italian sausage in this recipe, feel free to omit it if you're looking to make something meat free and vegetarian. Either way you make it, with or without meat, it will be filling, delicious and a nice change of pace from your typical spaghetti and garlic bread dinner.
Let's get busy cooking. Ready?
In a large skillet brown one pound of Italian sausage and 1 chopped onion. Add minced garlic, dried basil and oregano, fire roasted tomatoes and tomato sauce.

Simmer the sauce while the pasta cooks. Meanwhile, slice the top off the bread and pick out the inner crumb from the top and bottom portions of the bread (reserve that for another use).

Drain the cooked spaghetti and toss with the sauce in the skillet. Place the bread (top and bottom portion) on a baking sheet and spread liberally with softened butter. Sprinkle both sides with plenty of garlic powder and lots of Parmesan cheese.

Fill the hallowed out bread with the spaghetti and top place the top of the bread on top of the spaghetti, pressing lightly. You can either serve this immediately…
…OR wrap the spaghetti sandwich in aluminum foil, refrigerate, and bake at 425 for 40 minutes, when needed. *Note – A serrated knife works best for slicing this Spaghetti Stuffed Garlic Cheese Bread into pieces for serving. Serves 8-10.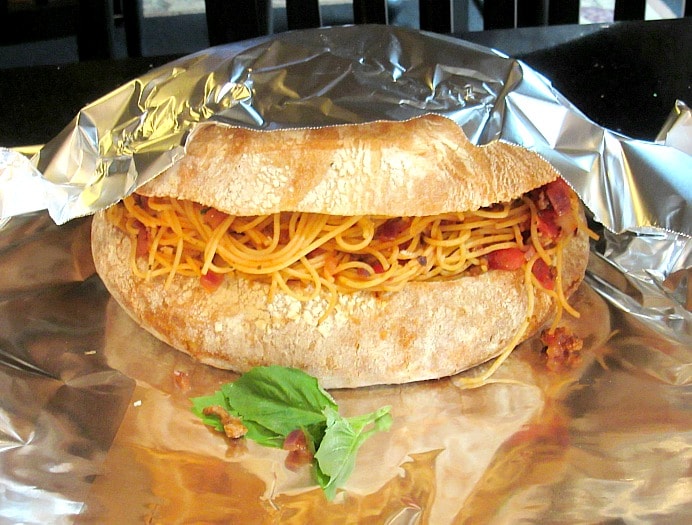 The following Amazon.com items are some suggested products I've chosen that will aid you in the making (and serving) of this Spaghetti Stuffed Garlic Cheese Bread recipe, if needed. By clicking on the item, you'll be taken directly to Amazon.com if you're interested in purchasing any of these products. You are in no way required to do so, and you will not be charged in any way unless you decide to purchase a product through Amazon.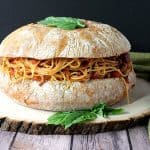 Crazy Good Spaghetti Stuffed Garlic Cheese Bread aka Spaghetti Sandwich
What do you get when you combine two tasty family favorites into one fantastically fun dinner? Spaghetti Stuffed Garlic Cheese Bread, that's what!
Ingredients
1

lb.

Italian sausage

1

medium onion

chopped

2

cloves

garlic

minced

1

teaspoon

dried basil

1

teaspoon

dried oregano

1

teaspoon

salt

½

teaspoon

pepper

1

can

15.5 ounces fire roasted tomatoes, including their liquid

1

can

15 ounces tomato sauce

1

pound

spaghetti

cooked and drained

1

loaf crusty artisinal bread

I used a boulé

6

tablespoons

butter

softened

1½

tablespoon

garlic powder

¼

cup

grated Parmesan cheese

Fresh basil leaves for garnish

optional
Instructions
Cook the sausage and onions in a large skillet over medium/high heat, breaking up the sausage as it cooks.

Stir in the garlic, basil, oregano, salt, pepper, tomatoes and tomato sauce. Simmer for 10 minutes.

Turn off the heat and stir the cooked and drained spaghetti into the skillet and toss with the sauce to coat.

Use a serrated knife to cut the top off the crusty bread. Use your fingers, hallow out the top and bottom of the bread to form a bowl, making sure to leave enough of the outer crust to keep the bread sturdy. (Reserve the bread insides for another use. They may be frozen if needed)

Slather the softened butter on the inside of both the top and bottom of the bread bowl, and sprinkle both sides with the garlic powder and the grated Parmesan cheese.

Use tongs to pile the spaghetti high inside the bread bowl. Place the top of the bread on the pile of spaghetti and press gently.

Wrap the spaghetti sandwich in aluminum foil and either refrigerate until ready to bake, or bake immediately in a preheated 425 degree oven for 40 minutes.

*Note - if baking after refrigeration, allow the spaghetti sandwich to come to room temperature (approximately 30 minutes) before baking, and bake for 40 minutes in a preheated 425 degree oven.

Unwrap the sandwich and slice using a serrated knife.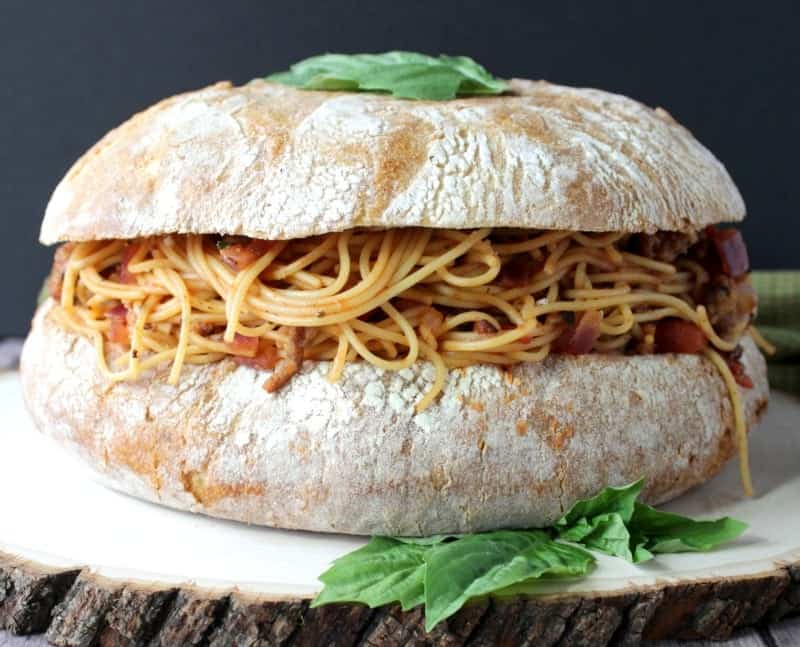 If Italian cuisine is one of your favorites, I invite you to check out these other recipes I've shared here on Kudos Kitchen: Italian Shell Pasta Salad, Pan Fried Mozzarella Cheese Stuffed Rice Balls (arancini di riso), Italian Layer Zucchini Parmesan, and Italian Sausage Pizza Burgers.
Since earlier I mentioned that spaghetti and garlic bread go hand-in-hand like old friends, I thought that my hand painted super hero wine glasses of Batman and Wonder Woman would be the perfect compliment to this dish. I hope you agree 🙂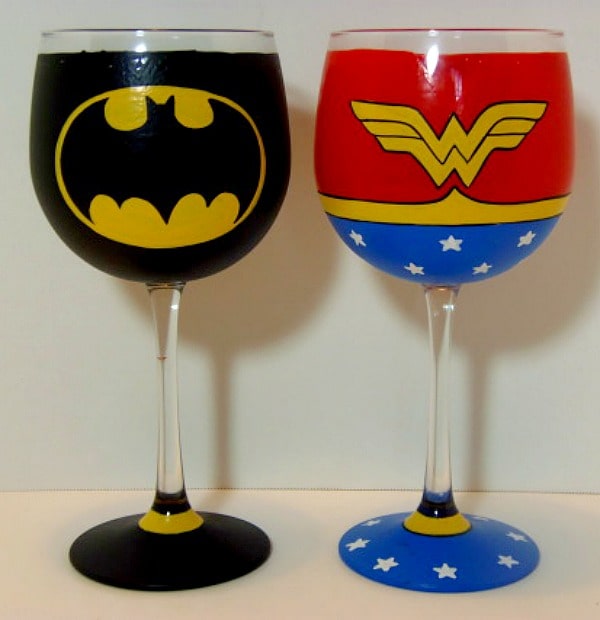 If there is anything I can paint for you, from glassware items to fabrics, please don't hesitate to contact me or visit my SHOP. Custom orders are always welcome and I will happily paint and design a custom one-of-a-kind item you won't find anywhere else. What can I paint for you?
Kudos Kitchen by Renée ~ Where food, art, and fun collide each and every day!
Until we eat again, I hope you have a delicious day!
The post above includes affiliate links. When I find a great product or service, I like to share it with my readers. Sometimes I use affiliate links so I can earn commission for my recommendations. As always, I thank you for your support!