Layered Zucchini Parmesan has all the flavors you love about pizza or lasagna but without all those annoying carbs to weigh you down.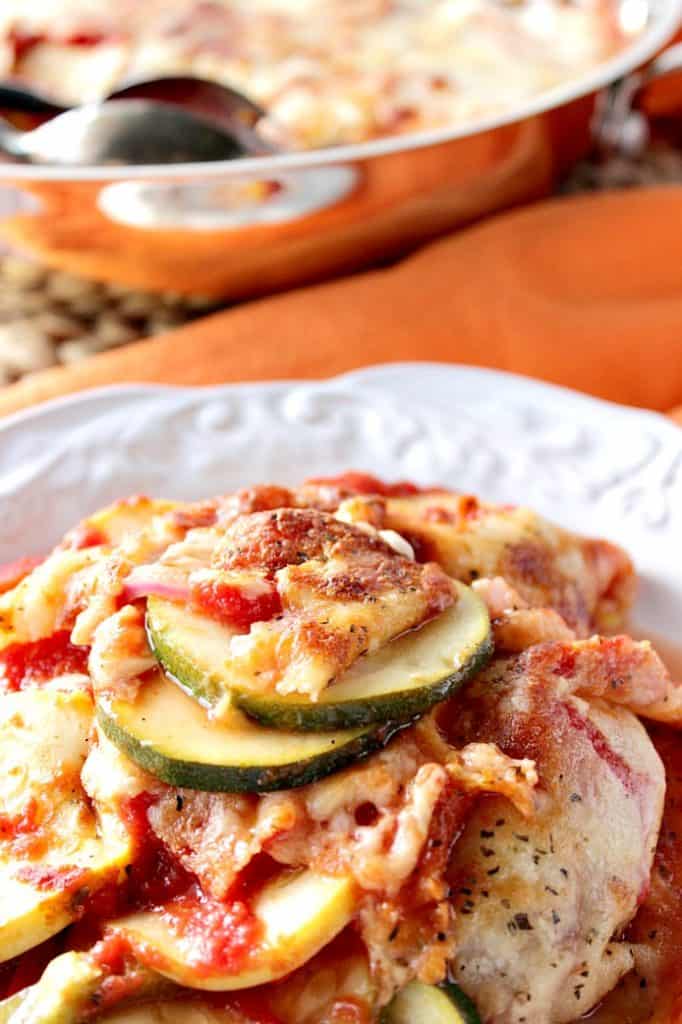 Zucchini is one of those awesome ingredients that takes on the flavors of whatever it's cooked with.
In the case of this Italian Zucchini Parmesan, it's the sauce and the cheese!
Much like a pizza or lasagna, this recipe hits a bulls-eye for flavor and it's super simple to make!
**Please Note – The printable recipe card with detailed instructions, complete ingredient measurements, and nutritional information for making this easy vegetable side dish is available at the end of this post. OR Click on the "jump to recipe" button (found above) to be taken directly to the recipe.
CLICK ON THIS BOX TO LIKE AND SUBSCRIBE TO MY KUDOS KITCHEN YOUTUBE CHANNEL. SEE YOU THERE! 🙂
The ingredient list;
zucchini
yellow squash
olive oil
onion
green bell pepper
red bell pepper
tomato sauce
Parmesan cheese
mozzarella cheese
dried basil
dried oregano
Kitchen tools and equipment needed:
Why this recipe works:
With zucchini and summer squash being so prevalent in the grocery store, home gardens, and farmer's markets, I wanted to come up with a recipe that marries the idea of eggplant Parmesan and pizza but using summer squash and zucchini instead.
I think I hit the nail right on the head with this recipe for Italian Layered Zucchini Parmesan!
Try it, and you be the judge!
If you or your kids love pizza and/or lasagna, you're going to adore this easy to prepare zucchini recipe!
It's a great way to get your kids to happily eat their veggies without any fuss.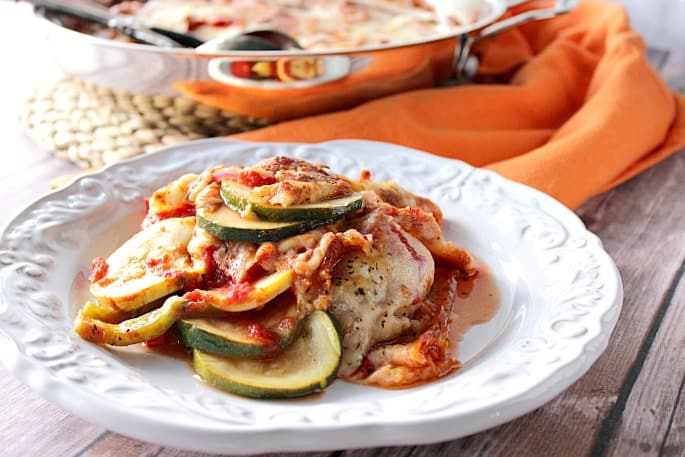 Additional add-in suggestions:
mushrooms
pepperoni
cooked ground beef
cooked Italian sausage
cooked bacon
eggplant
fresh basil, for garnish
What are some of your ideas?
Layers of flavor!
This recipe is a lot like a lasagna in that it's layered before baking. But in place of the pasta, the summer squash and veggies are the stars of this show.
Unless of course, you're more a fan of the bubbly brown layer of cheese…but then, who can blame you?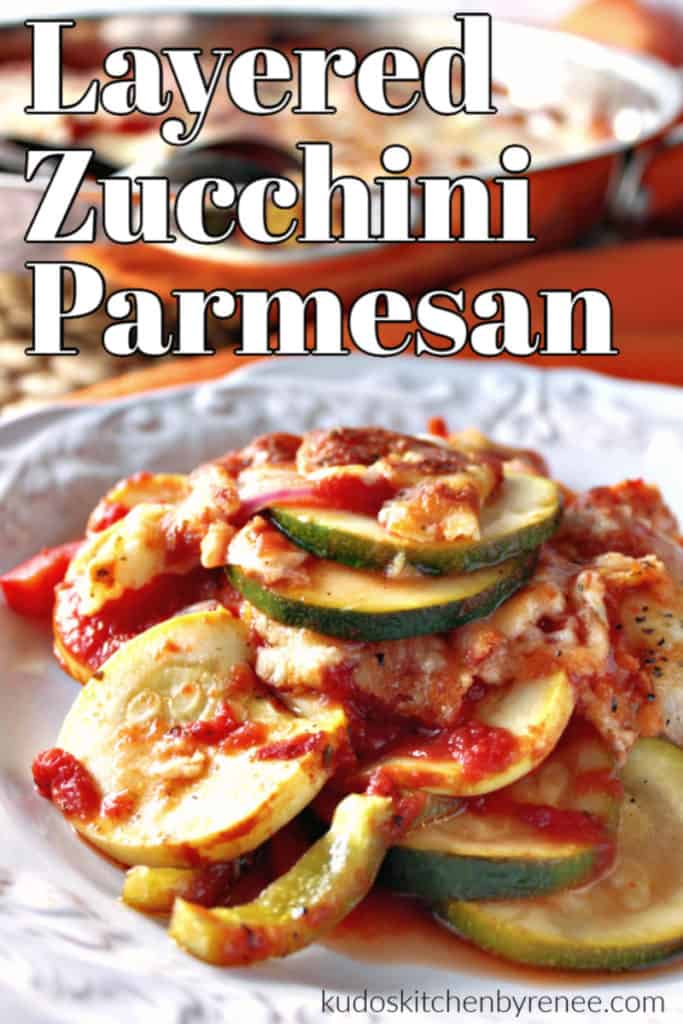 Want more delicious side dish recipes?
*Best Ever BBQ Side Dish Recipe Round-Up (pictured below)
"For me, a BBQ is just as much about the side dishes as it is about the main course. With the help of this BBQ side dishes recipe round-up, your BBQ menu will keep your family and friends very full, and extremely happy!"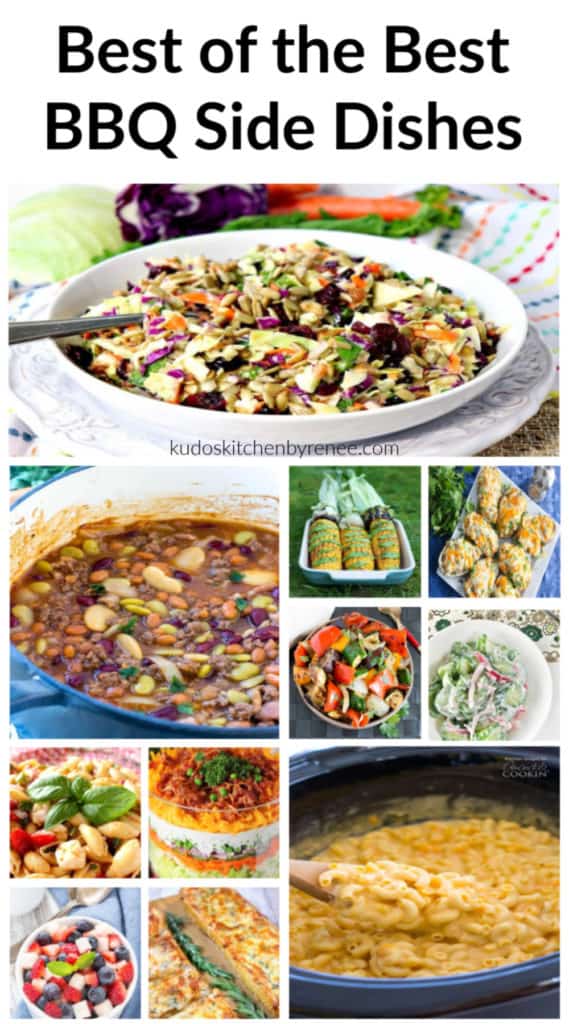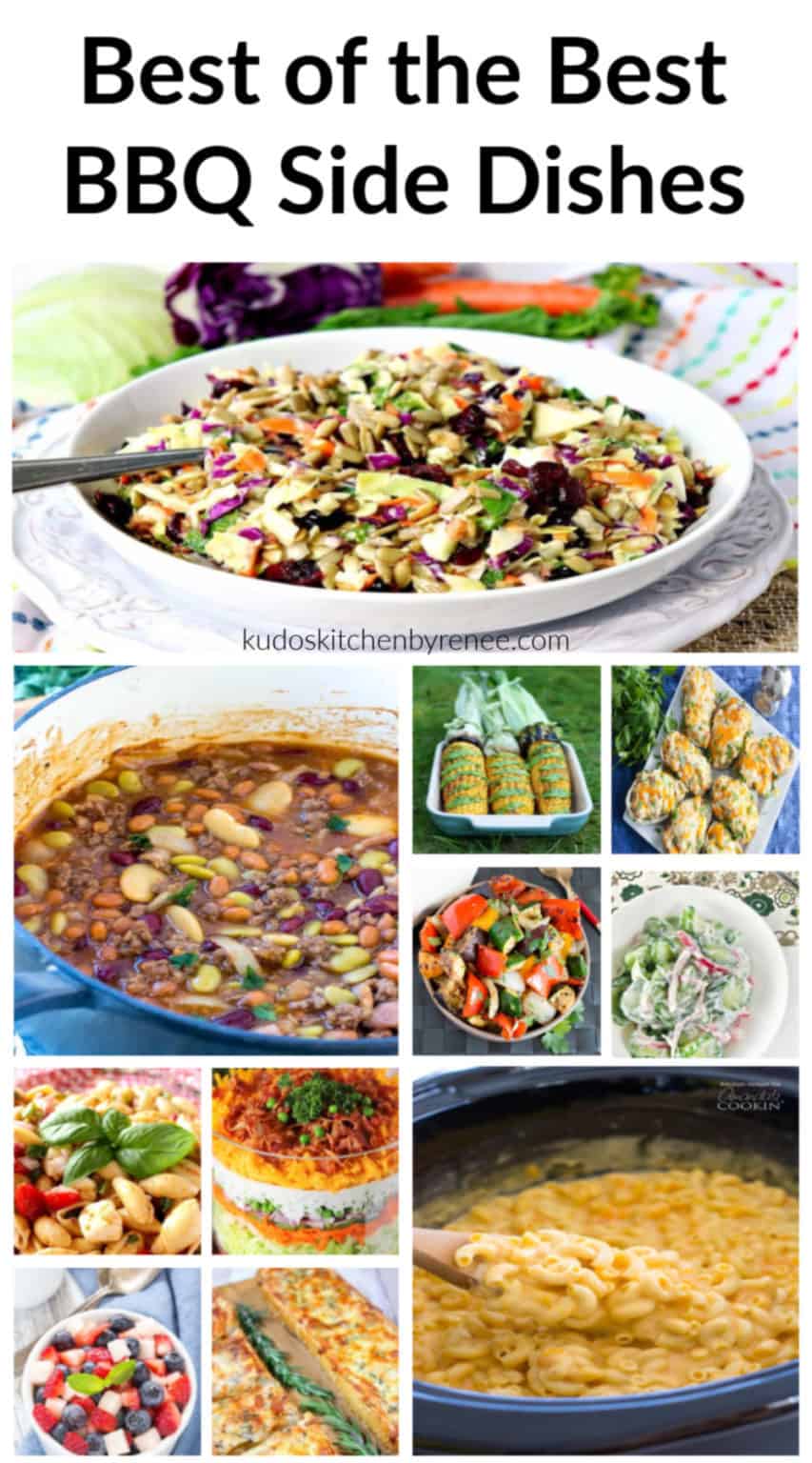 The easy step-by-step instructions for making layered zucchini Parmesan:
Layer 1 large sliced zucchini, 1 sliced and seeded green bell pepper, 1 sliced and seeded red bell pepper, 1 sliced small red onion, and 3 sliced small yellow summer squash in a large, ovenproof skillet.
Season the layers with salt and pepper to taste as you go.
Pour two cans of your favorite canned tomato sauce over top of the veggies in the skillet.
Place the skillet in a preheated 425-degree oven for 20 minutes.
Remove the skillet from the oven and top with shredded mozzarella cheese, grated Parmesan cheese.
Sprinkle with dried basil and oregano.
Return the skillet back into the oven until the cheese is bubbly, brown, and melted.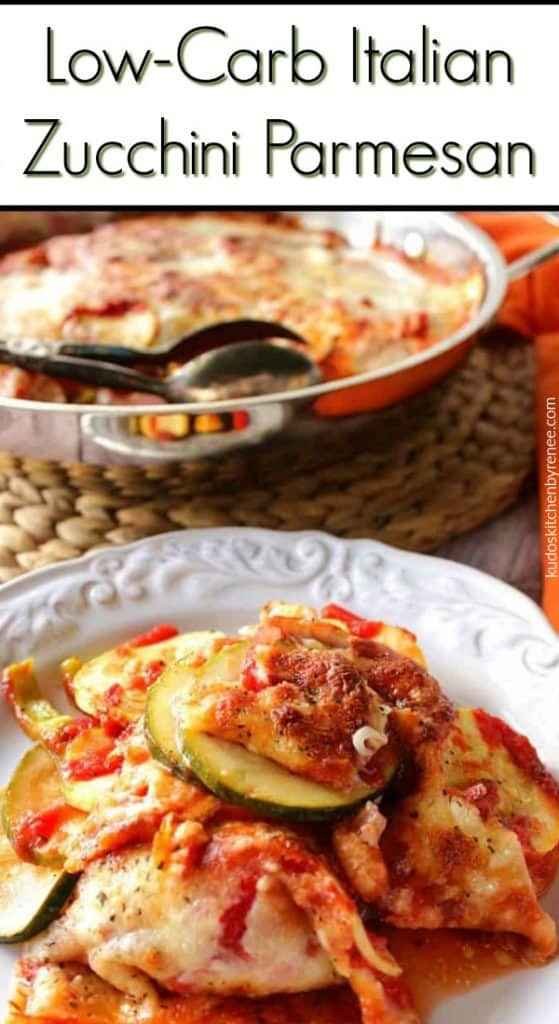 Additional Savory Zucchini Recipes:
Baked Cheesy Zucchini Bites – Mel's Kitchen Cafe
Cheesy Zucchini Breadsticks – Smile Sandwich
Zucchini Cake with Cream Cheese Frosting – Chocolate with Grace
Corn and Zucchini Chowder – Little Broken
Crispy Parmesan Garlic Chicken with Zucchini – The Recipe Critic
Chocolate Lovers Zucchini Cake – Great Grub and Delicious Treats
Zucchini Stuffed Shells with Italian Sausage – Yellow Bliss Road
Yum, right? I hope you've visited all those delicious recipe posts, and pinned some of them too. I know I have!
Below is the printable recipe card along with the nutritional information for today's easy vegetable side dish.
Thank you so much for visiting me here today in my Kudos Kitchen!
I sincerely hope you've enjoyed today's zucchini recipe for skillet Italian Zucchini Parmesan as much as I've enjoyed bringing it to you!
Should you have any comments or questions regarding this recipe or anything else you've seen on my site, please don't hesitate to contact me directly or leave me a comment in the comment section below. It is always my distinct pleasure to get back to you with a reply just as soon as I possibly can!
For additional information regarding my Kudos Kitchen recipes, please follow me on;
FACEBOOK, PINTEREST, INSTAGRAM, TWITTER, and YOUTUBE
Kudos Kitchen by Renee – BRINGING YOU EASY, ECONOMICAL, AND DELICIOUS DISHES TO FEED YOUR LOVED ONES!
Until we eat again, I hope you have a delicious day!
**Note – The post above includes affiliate links. As always, I truly thank you for your support!