French Onion and Pasta Soup finally brings everyone's favorite starter to a complete meal status with the simple addition of ditalini pasta. Kudos!!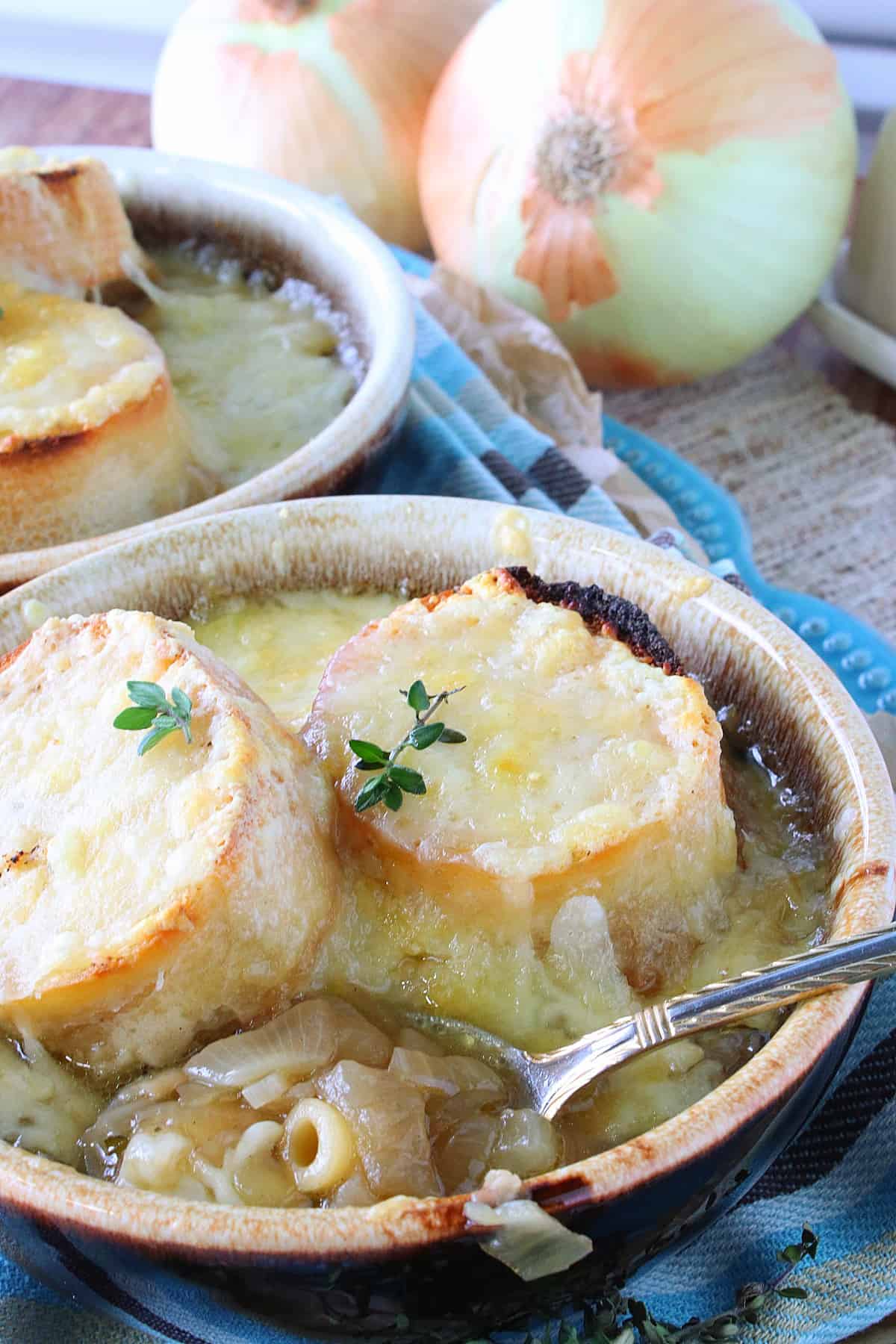 My plan was to make a traditional, baked French onion soup, but as a last-minute decision, I added ditalini pasta to the pot to make it more of a complete meal. It was a very tasty decision indeed.
This recipe post and its contents may include affiliate links for your consideration. I may earn a commission from qualifying purchases, but your prices are never increased as a result. Thank you.
Jump to:
The ingredient list:
*Please note that the exact measurements along with a new "shop the recipe" feature from Instacart is available in the printable recipe card.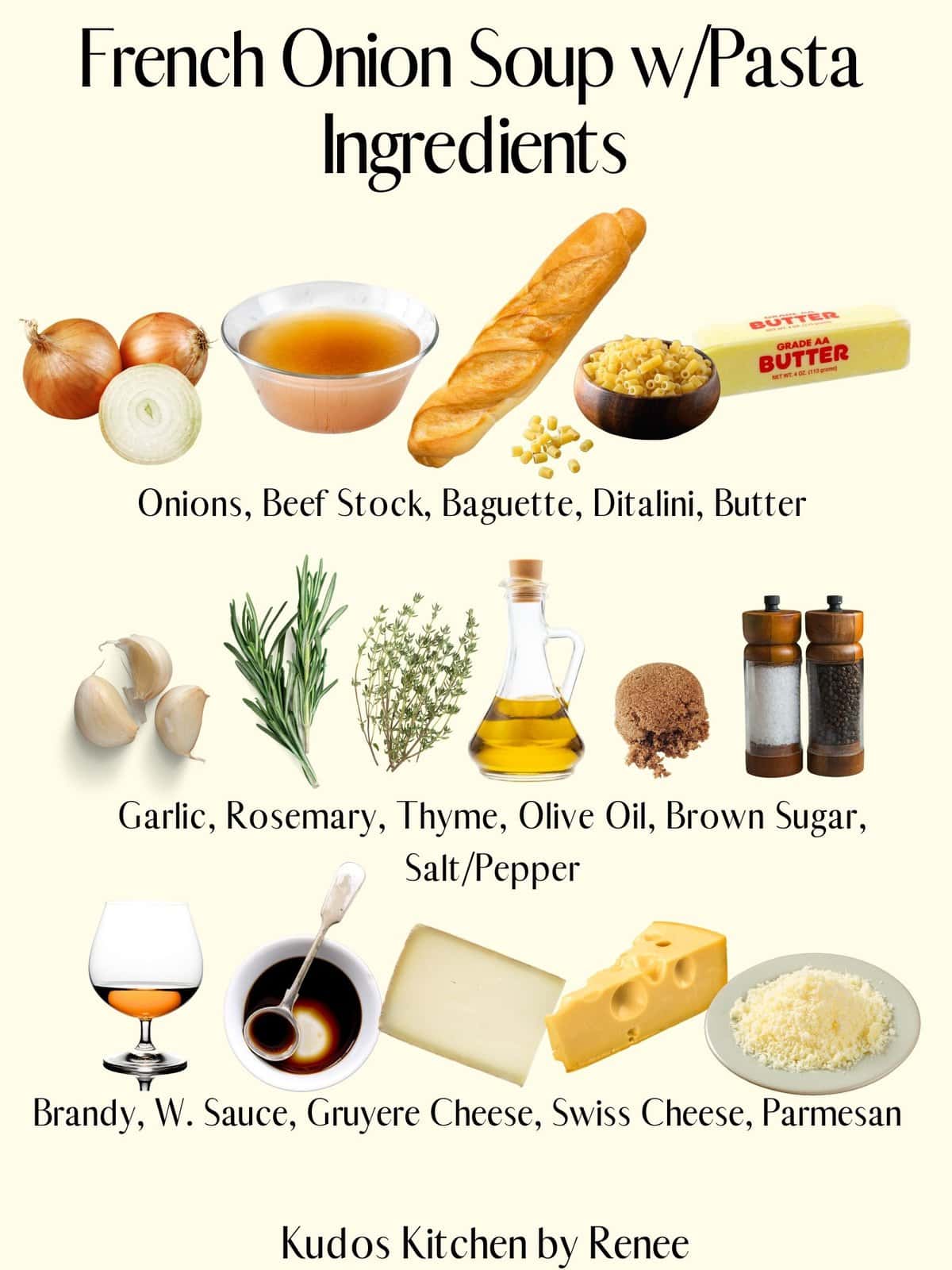 Ingredient information:
SWEET ONIONS - I like to use sweet onions. Vidalia are excellent for this recipe but can sometimes be expensive and not as easily found as a Wala Wala or Maui onion. See below for the best onions to use in French onion soup. Learn more about Vidalia and sweet onions.
BEEF STOCK - I used my homemade beef stock in the freezer for this recipe, but store-bought varieties work well. Watch the sodium content when using store-bought because some are really high in sodium and can significantly affect the flavor of your finished soup.
BAGUETTE - A baguette seems appropriate when making a French onion soup, but feel free to use any variety of hearty crusty bread that will fit on top of your soup bowl. It's important to toast whatever kind of bread you're using, however, because it will give the bread extra body to stand up to the soup and give it "tooth" when it's time to rub it with a garlic clove.
DITALINI PASTA - I chose this small pasta because it fits nicely on the spoon for convenient eating. Feel free to change your pasta shape, but remember that you don't want to be having a hard time keeping your pasta on the spoon.
GARLIC CLOVES - Yes, cloves. Depending on how much you like garlic, you'll need 3-4 cloves. Save one clove for gently rubbing on the toasted bread to accentuate this delicious soup crouton's cheesy garlic bread flavor. *Note - if that's a concern, store-bought peeled garlic cloves can save you the hassle of peeling sticky, papery garlic cloves.
PARMESAN CHEESE - I used grated Parmesan to sprinkle lightly on top of the garlic toast. Feel free to omit if desired, but who doesn't want more cheese on top of their French onion soup? Not me!
OLIVE OIL - I reached for the standard olive oil for this recipe, but feel free to use extra virgin olive oil if you prefer. You can also use avocado, grapeseed, canola, or neutral-flavored coconut oil. The choice is yours.
BUTTER - I used the butter (salted butter) at the beginning of this recipe to help caramelize the onions and again at the end to help add richness and to help the flavor of this delicious soup linger on your tongue.
BROWN SUGAR - I chose brown sugar for an added depth of flavor. Light brown or dark brown sugar doesn't matter, but dark brown sugar will have more molasses in it than light brown sugar and, therefore, a deeper flavor.
FRESH THYME and ROSEMARY - I add the fresh thyme and rosemary with the onions as they caramelize in the skillet and after the stock has been added for a fresh, bright flavor. Fresh is best for this recipe as you can pluck the stems out after the leaves have done their job to perfume the flavor of the base of the soup.
BAY LEAVES - Adding the bay leaves to the pot for the final simmer gives the completed soup a long-simmered flavor, even though it wasn't.
BRANDY - The brandy gives a complexity to the finished soup that you likely won't detect but would most likely miss if it wasn't there.
WORCESTERSHIRE SAUCE - Another ingredient that adds depth of flavor and that umami touch, which speaks to both the sweet and savory taste buds and rounds out all the flavors into one cohesive dish.
GRUYERE CHEESE - Nutty, rich, and complex. Gruyere cheese melts like a dream and is a French onion soup's most notable finishing ingredient.
SWISS CHEESE - Milder in flavor than Gruyere, Swiss also melts wonderfully well and has a similar nutty flavor and richness. Swiss is typically less expensive than Gruyere, so mixing the two can be more cost-effective in the long run.
Suggested kitchen tools and equipment:
I like to use my 7-quart covered Dutch oven to make this soup. It's terrific for caramelizing the onions AND for simmering the soup before adding it to individual crocks for serving. I don't own a fancy, expensive one, but the one I own does the job and does it well.
To quickly grate all the cheese, I like to use my rotary cheese shredder/ slicer. It's like a hot knife slicing through butter.
My very favorite tool kitchen tool that I grab nearly every day to make cooking tasks like caramelizing onions easier is a stainless steel slotted spatula. It works like a dream when it comes time to deglaze the pan after caramelizing all those onions.
And lastly, but certainly not least, are oven-safe soup crocks and a small kitchen torch that will give those iconic finishing touches to your new and unique French Onion and Pasta Soup.
Why this recipe works:
Besides being deliciously balanced with loads of caramelized onions and perfectly cooked ditalini pasta, it has the flavor of a simmered all-day soup. Still, it will be ready in less than an hour.
How to slice onions for baked French onion soup?
I like to use a very sharp santoku or chef's knife for this job. I tend to cut the onions into thin slices, and because I personally don't care for the long, stringy style of French onion soup, I cut the thin slices into quarters or thirds to make for easier eating with a spoon.
Substitution ideas and suggestions:
Feel free to use a tiny apple juice or cider splash instead of the brandy. Or, if brandy isn't available, a light splash of buttery bourbon would be a delicious alternative to the brandy.
I used brown sugar, which has molasses added for flavor and color. Granulated sugar will work as a replacement if preferred.
Chicken stock will work wonderfully well as a replacement for the beef stock. Homemade stock (or broth) is always best, but a store-bought lower-sodium variety is a suitable alternative.
While Gruyere cheese is the traditional cheese for French onion soup, don't let that stop you from experimenting with other melty cheeses. Cheddar, fontina, provolone, mozzarella, and, yes, even American cheese would be fun and delicious to experiment with should you be in the mood to eat off the beaten path.
I suggest orzo, orecchiette, or tiny shells as a substitution for the ditalini pasta.
How long will this soup take from start to finish?
All told, about 60 minutes.
The thing that will take the longest is the caramelizing of the onions (about 30 minutes), but you can even do that a few days in advance and store them in the fridge if that makes life easier.
After that, it's just a matter of adding the stock and pasta to the pot and simmering only briefly while the pasta cooks.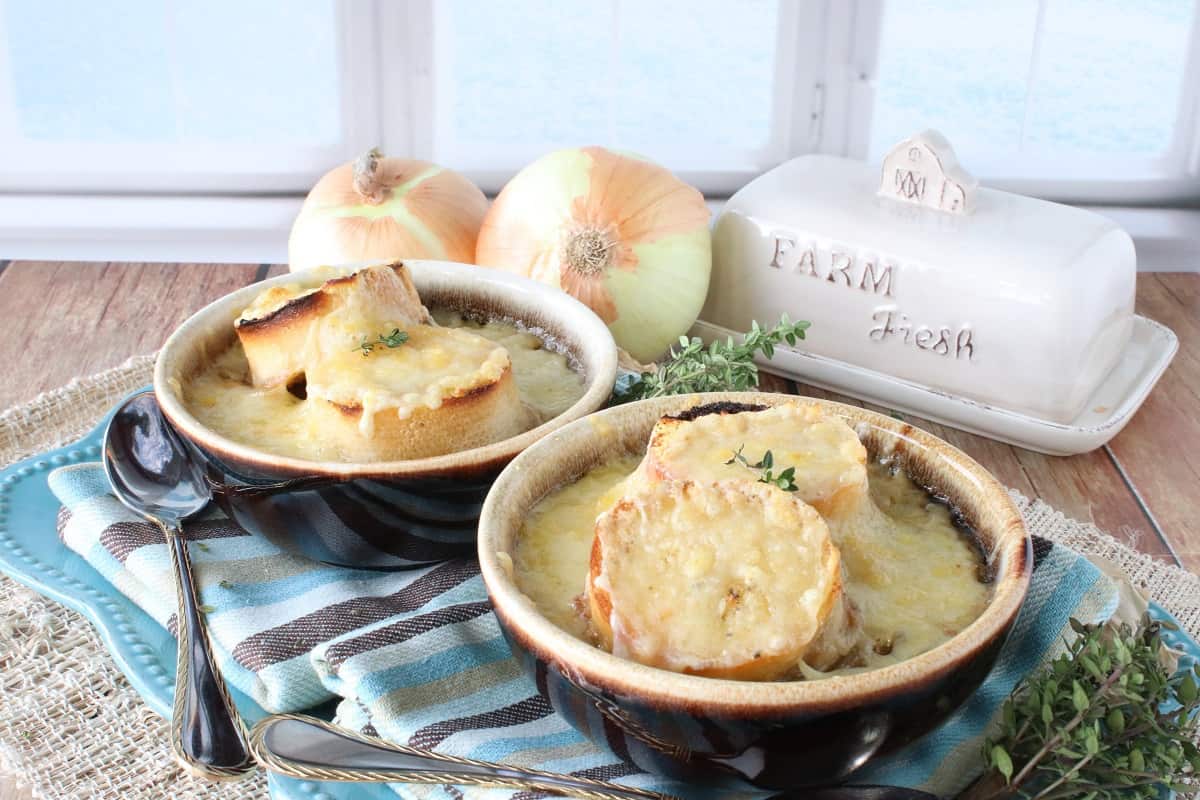 Can the bread and cheese be skipped if needed?
Of course. This is your recipe now; you can serve it however you like.
The toasted baguette with melted cheese is the traditional way to serve French onion soup, but no one here will tell you that you have to stand on any kind of tradition.
What are the best onions to use for French onion soup?
I like to use sweet onions (Vidalia are my favorites) but use what you have on hand or the onions that are your favorites.
Heck, red onions will even work, as will yellow or white.
Since you'll add a slight touch of sugar to the onions as they caramelize, you don't have to worry about the onions being too intense or overpowering in flavor.
As the onions cook down, they'll mellow in flavor, and their sweetness will intensify, making them incredibly hard to resist, even for people who don't particularly like onions.
Can the pasta be omitted from this recipe?
Sure. I don't mind at all.
However, if you leave the pasta in, I know you'll be well pleased with the texture, body, and quality-satiation-satisfaction the pasta provides (QSS for short). lol
Can the brandy be omitted from this recipe?
Yes. That was my wink and nod to France. I would have used cognac, but I don't typically have it in the house, so brandy it was.
Brandy is made from fermented fruit juices, so adding it will lend an extra layer of complexity to the completed soup.
Can this soup be frozen?
It sure can, but I suggest freezing the soup alone without the bread croutons and cheese.
When you're ready to reheat, add the toasted garlic bread and the shredded cheese and pop it into the oven to finish.
Make it a complete meal:
This Kale Salad with Fresh Berries is a deliciously healthy side dish that takes only minutes to prepare. It's chock full of Mother Nature's healthiest ingredients and then topped with a homemade vinaigrette which has just the right amount of tang to complement the hearty kale.
The texture and taste of this homemade Whole Wheat Honey Ricotta Bread is outstanding! And wait until you smell it baking in the oven!
When dessert calls for something truly special, break out this recipe for Mom's Best Banana Cream Pie, and you won't be sorry!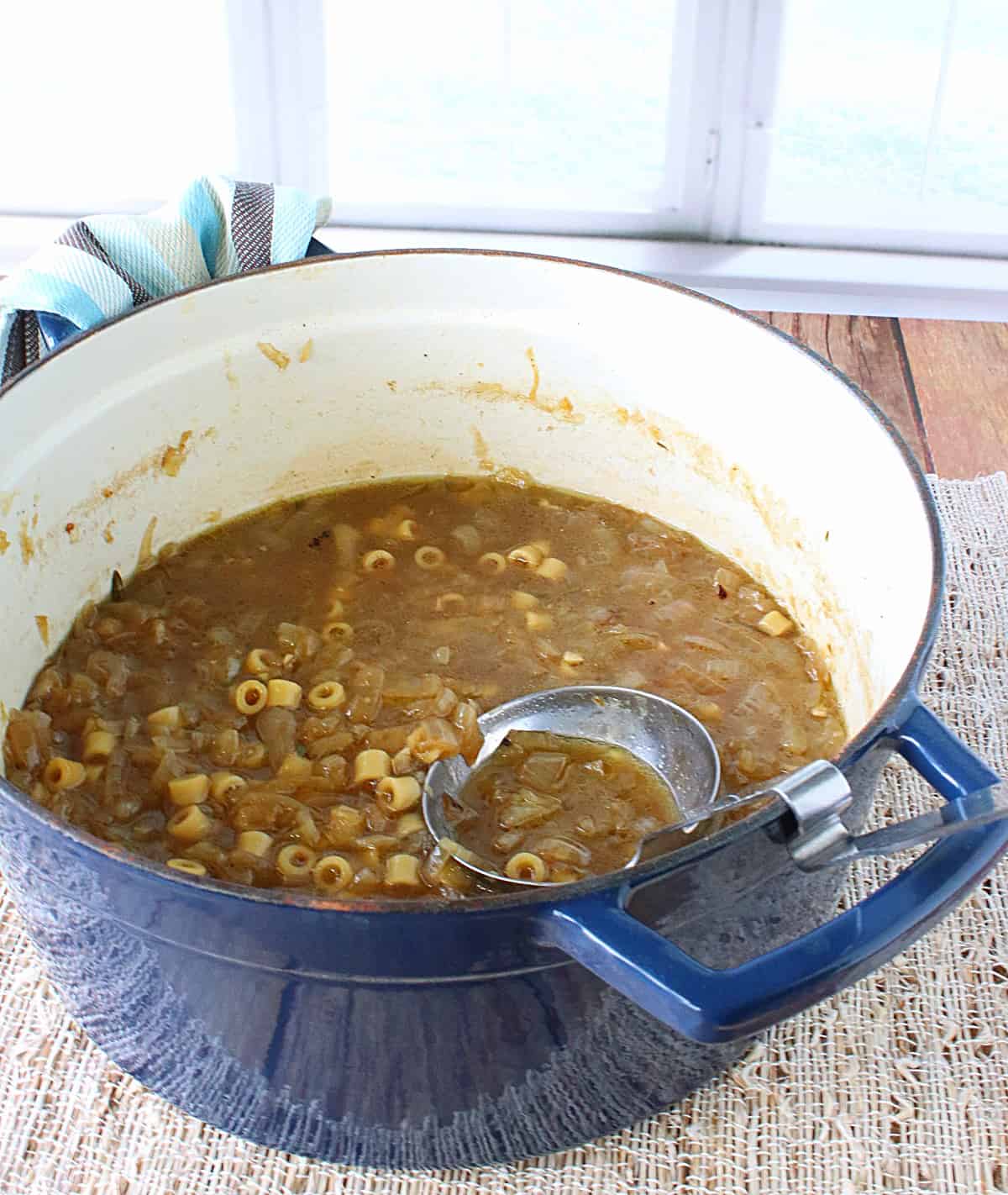 When you make this recipe, and I hope you do, I'd appreciate it if you'd take a moment to leave a star rating on the recipe card and briefly comment on why you rated it as you did. FYI - Google appreciates recipe ratings and, in turn, will share my recipes with more people. Thank you so much!!
Printable Recipe Card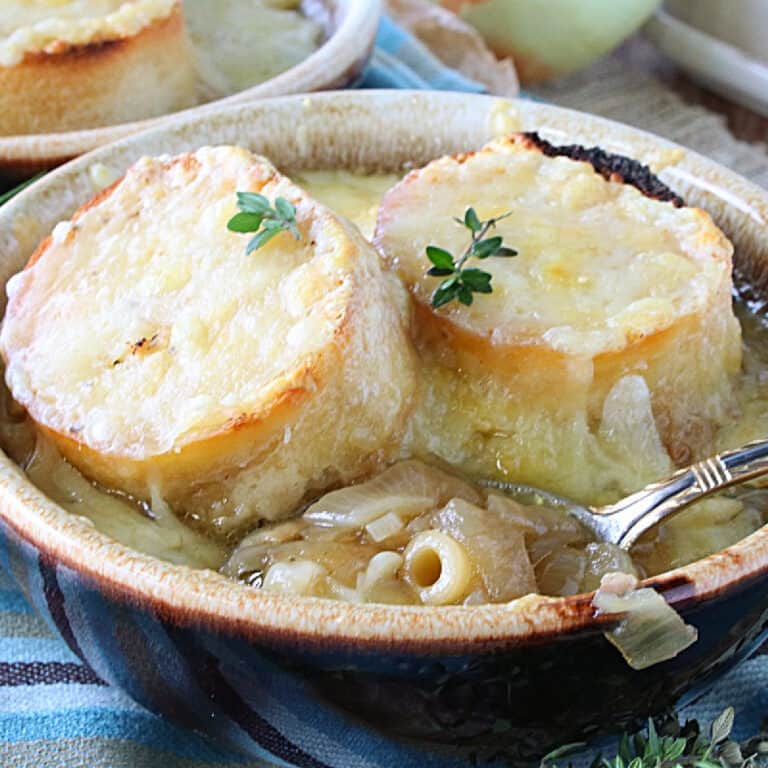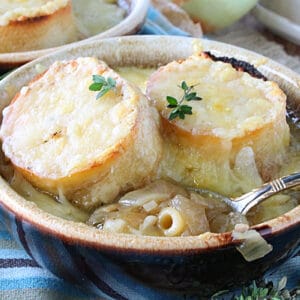 French Onion and Pasta Soup
French Onion Soup with Pasta finally brings everyone's favorite starter to a complete meal status with the simple addition of ditalini pasta. Kudos!!
Ingredients
For the garlic cheese croutons and melted cheese topping:
16

slices

baguette

cut into ½" thickness

2

tablespoons

butter

softened

black pepper to taste

1

clove

garlic

2

tablespoons

grated Parmesan cheese

6

ounces

Gruyere cheese

shredded

3

ounces

Swiss cheese

shredded
To caramelize the onions:
5

large

sweet onions

thinly sliced into bite-sized pieces

2

tablespoons

olive oil

2

tablespoons

butter

1

tablespoon

brown sugar

2

sprigs

fresh thyme

1

sprig

fresh rosemary

3

cloves

garlic

minced

1

teaspoon

kosher salt

½

teaspoon

black pepper
For the soup:
10

cups

Beef Stock or broth

1

tablespoon

Worcestershire sauce

⅓

cup

brandy

1¼

cup

ditalini pasta

2

sprigs

fresh thyme

1

sprig

fresh rosemary

2

large

bay leaves
Instructions
Preheat the oven to 375-degrees F
To make the garlic cheese baguette slices:
Place the baguette slices on a parchment lined baking sheet and spread each slice with butter and a light sprinkling of black pepper (optional).

Toast the bread slices in the preheated oven until lightly golden (5-7 minutes). Remove from the oven and cool. Once cool, rub the toast slices with a clove of garlic and sprinkle lightly with grated Parmesan cheese. Return the toast back into the oven for the cheese to melt (about 2-3 minutes). Remove from the oven and set aside.
To caramelize the onions (this can be done a day or two in advance):
Add the sliced onions to a Dutch oven along with olive oil and butter. Stir well to coat the onions. Cook over medium/high heat (with minimal stirring) for 5-7 minutes.

Add the brown sugar, thyme and rosemary sprigs to the onions and stir to combine. Continue cooking (stirring only occasionally) for an additional 7-10 minutes. You will notice the onions turning a golden color and will have shrunk considerably in volume.

Recued the heat under the pot to medium and add the salt, pepper, and minced garlic. Stir well to combine and cook for an additional 10-12 minutes, stirring only occasionally. Remove the thyme and rosemary stems.
To complete the soup:
Slowly add the beef stock, Worcestershire sauce, brandy, fresh thyme, rosemary, and the bay leaves to the pot with the onions and stir well. Bring the soup to a low simmer and simmer for 5-7 minutes.

Add the dried pasta to the pot, stir well, and cover the pot. Simmer on low for an additional 7 minutes, or until the pasta is cooked through.

Remove the herb stems and bay leaves from the soup.

Ladle the soup into oven-safe soup crocks and top each with two slices of garlic cheese toasts and a handful of shredded cheese. Place the crocks into the hot (375-degree F) oven and bake until the cheese is melted and golden. *Note - this is easiest if the crocks are on a baking sheet.

If desired, use a kitchen torch after the crocks come out of the oven to add a bit more color to the melted cheese, and garnish with thyme leaves.
Video
Notes
The caramelized onions can be made up to two days in advance and stored in an airtight container in the refrigerator.
Store any leftovers in an airtight container in the fridge for up to 5 days.
This soup may be frozen. Store in an airtight freezer container and freeze for up to 4 months. Thaw overnight in the refrigerator and reheat in a microwave, or in a saucepan on the stovetop.
Nutrition
Serving:
1
serving
Calories:
460
kcal
Carbohydrates:
43
g
Protein:
21
g
Fat:
21
g
Saturated Fat:
10
g
Polyunsaturated Fat:
1
g
Monounsaturated Fat:
7
g
Trans Fat:
0.2
g
Cholesterol:
49
mg
Sodium:
889
mg
Potassium:
917
mg
Fiber:
3
g
Sugar:
15
g
Vitamin A:
505
IU
Vitamin C:
11
mg
Calcium:
402
mg
Iron:
2
mg
I sincerely hope you've enjoyed today's hearty baked French onion and pasta soup as much as I've enjoyed bringing it to you!
Follow me across my social media platforms and join in on the conversation: FACEBOOK, INSTAGRAM, PINTEREST, TIKTOK, AND YOUTUBE.
Thank you so much for visiting me today in my Kudos Kitchen. I hope you found something you'll love and that you'll come back and visit me often. There is always room for you around my table!
Should you have any questions or comments regarding anything you've seen here on my blog, please don't hesitate to reach out to me. It is always my distinct pleasure to respond to you just as soon as I possibly can.
Until we eat again, I hope you have a delicious day!!