Looking for a holiday dessert that you can make in 20 minutes or less, is no bake, is charming and festive, and one that you know everyone will love? This Rice Krispies Christmas Wreath ticks all the boxes!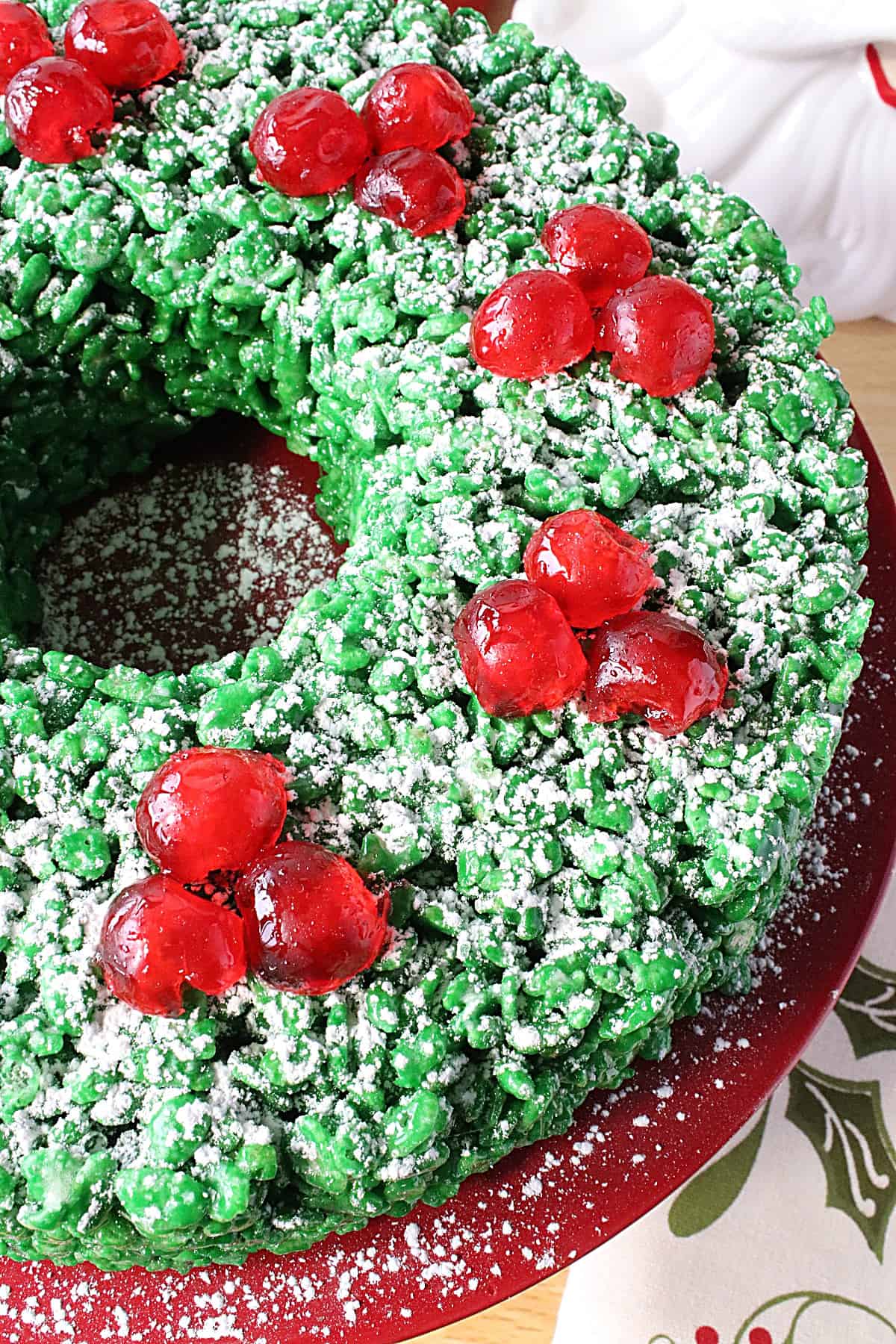 **Note - The following recipe post or category contains affiliate links (highlighted in blue) for your consideration. By clicking on a link I may earn a small commission at no additional cost to you. Thank you!
The kids will love helping to make this Rice Krispies Christmas Wreath, but not as much as they'll enjoy eating it! Wait until you see their faces light up when you set it on the table. Talk about holiday magic!!
Jump to:
The ingredient list
*Please note that the exact measurements along with a new "shop the recipe" feature from Instacart is available in the printable recipe card.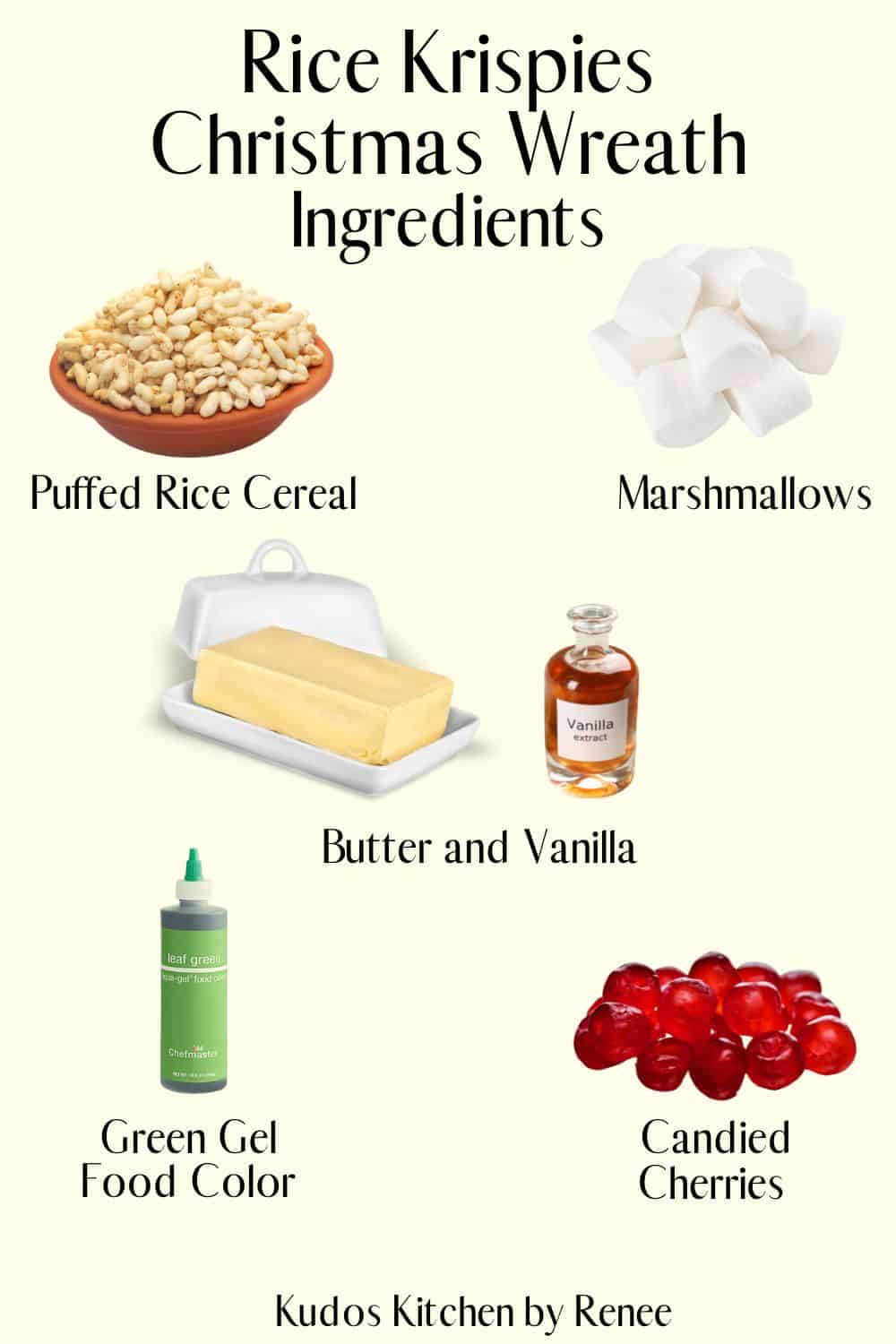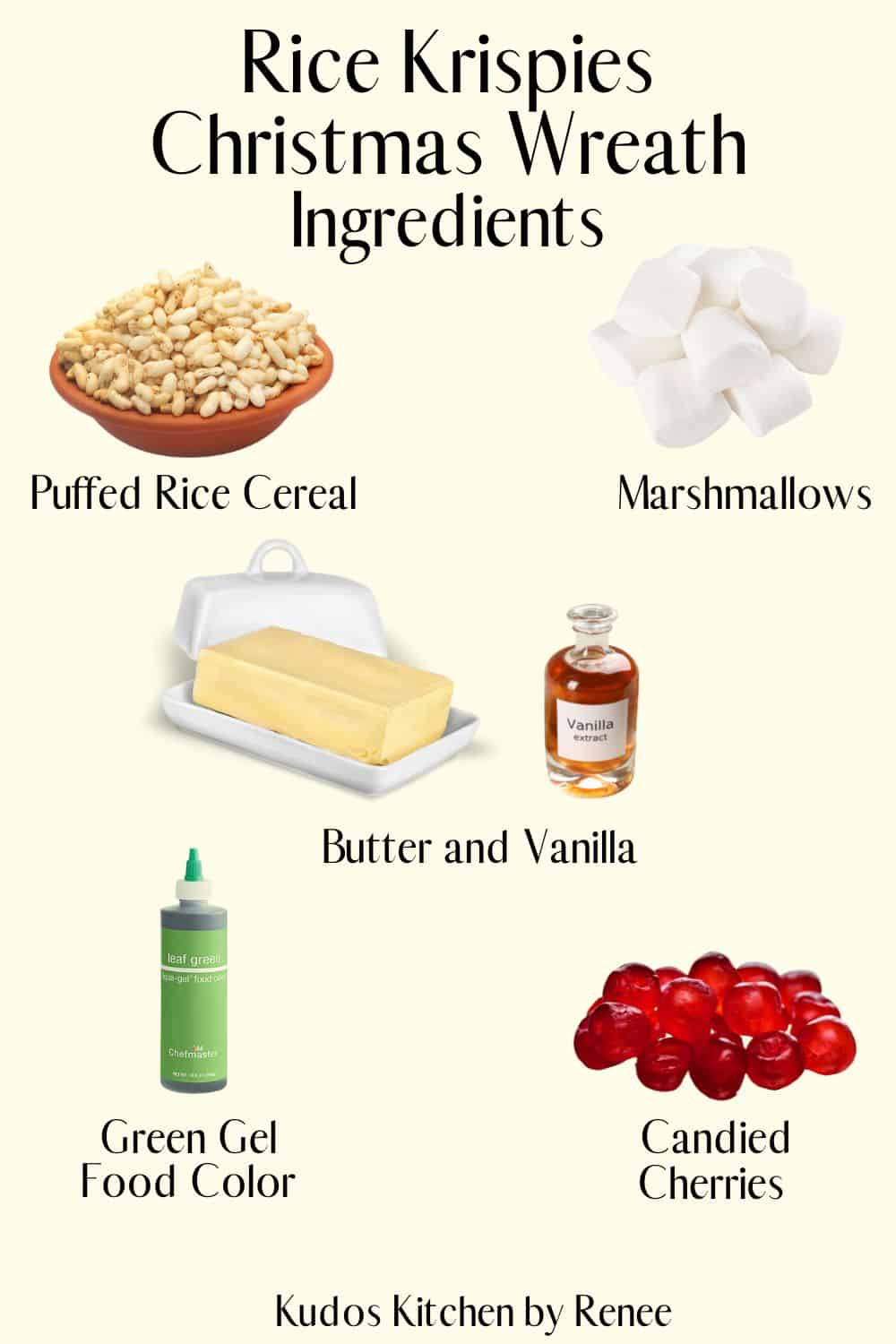 The above ingredient image was made using Canva Design. It's one of my very favorite design tools. You don't need to be a food blogger to use Canva. All you need to be is someone who loves designing graphics. Check them out if you're interested and a whole new world of artistic expression will be opened to you.
Ingredient savvy
Rice Krispies aren't something I have in the cupboard often, but when I had the idea for this wreath, I bought a HUGE box because I have other ideas for future fun food projects. Of course, you can use a generic puffed rice cereal because...why not, right? Times are tough, and food prices are through the roof. You'll need about 4 cups for this recipe.
I used a generic brand of Marshmallows and the larger size, not the minis. You can use the minis if you wish or a jar of marshmallow fluff in place of the whole marshmallows if you have that on hand. Once melted, I'm guessing the amount of marshmallow goop is roughly 2 cups, and yes, 'goop" is an advanced cooking term. *wink*
As I've discussed before in other recipe posts, I always use salted butter in my baking (or non-baking, as it were). Feel free to use unsalted if that's what you have on hand because I also add a small pinch of salt to the melted marshmallows to balance out all the sweetness.
Green Gel Food Coloring (I used leaf green) is an important component in this no-bake Christmas treat. The gel coloring won't water down the marshmallow mixture as a liquid food color would, and the gel color always brings the best vivid colors.
However, if all you have is the liquid food color, do your best to mix the blue and yellow together until you get a green you're happy with and then add it to the melted marshmallows and stir until you're satisfied with the shade of green. It's best to add the color to the melted marshmallows before adding the cereal for a more uniform color, plus it's so much easier this way.
I know that adding Pure Vanilla Extract isn't always something people add when making puffed rice cereal treats, but it's a touch I like to add to bring more flavor to the finished product.
You can forgo adding the vanilla extract if you wish, but I urge you to add it. You can also swap pure almond extract for an unexpected pop of flavor or peppermint extract (a little goes a long way, so use the peppermint extract sparingly) for that extra festive holiday touch.
Confectioners sugar is a charming detail to sift over the top of the wreath for additional interest and a wintery look. You won't need much. Probably 1½ tablespoons.
Glacé Cherries (candied cherries) are found in the produce department during the holidays. Of course, these are a completely optional ingredient, but I think they're a super festive Christmas touch and one that makes this rice Krispie Christmas wreath a true showstopper!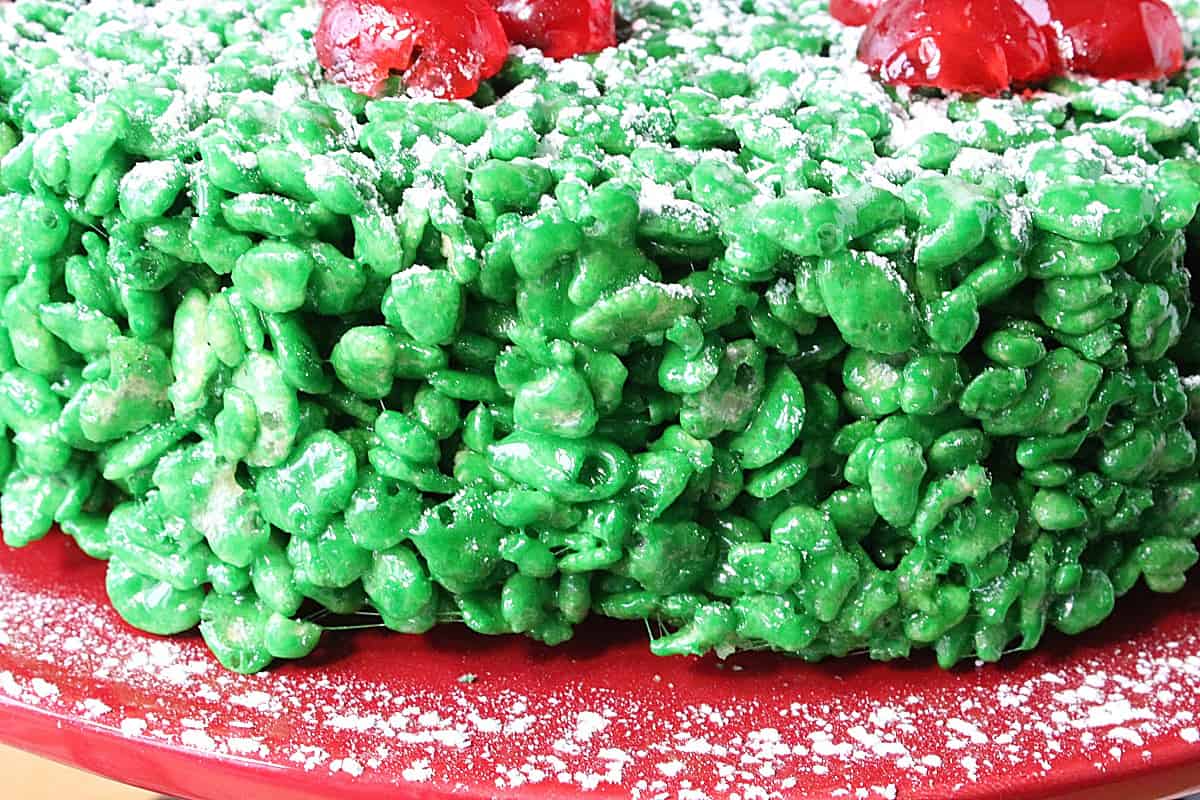 How to store this puffed rice Christmas wreath
Good question! I wondered the same thing when I thought of adding a plastic wrap to the top of this wreath once completed. The idea of having the cling wrap stick to the whole thing and ruin it before I had a chance to serve it wasn't something I was prepared to have happen.

That's when I had a lightbulb moment and decided to use the outer ring of the angel food pan as a protective cover adding a layer of cling wrap over that instead. It worked like a charm! (see below)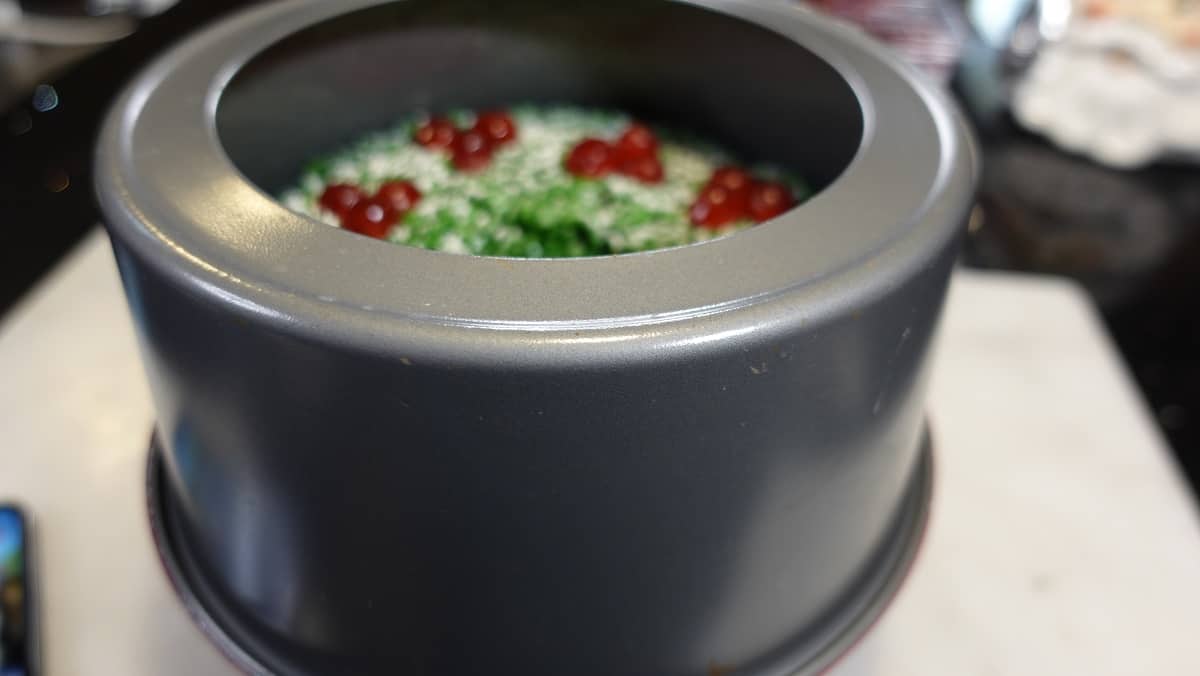 FAQ's
CAN THIS MARSHMALLOW AND CEREAL TREAT CHRISTMAS WREATH BE FROZEN?
Yes, I suggest flash freezing it first (on a baking sheet) for 30 - 40 minutes to harden. Once hardened, wrap it well with plastic wrap and freeze for up to 4 months.
Unwrap it before thawing, and thaw it at room temperature.
HOW MANY PEOPLE WILL THIS SWEET TREAT SERVE?
It really all depends on how you slice it, but I would suggest slicing it into at least 16 slices.
WHAT IF I DON'T HAVE AN ANGEL FOOD CAKE PAN?
No worries. You can still make this really cute marshmallow and rice cereal wreath by using a Bundt pan in place of the angel food pan.
HOW LONG WILL THIS STAY FRESH?
This sweet and sticky cereal wreath will stay fresh for up to 1 week at room temperature. You can cut any leftovers into slices and store the slices in airtight containers or zip top bags.
Top tips for success
Make sure to use plenty of baking spray inside the pan (especially if using a Bundt pan) and also on hands and spoons when dealing with the sticky rice cereal mixture.
Once the Krispie treat is pressed firmly into the pan, allow the mixture to cool completely before unmolding to make sure it retains its shape.
The best tool for slicing and serving is a serrated knife.
Additional fun Christmas treats you'll enjoy
The simple white royal icing design for these Gingerbread Trees and Snowflake Cookies really stand out against the brown of the gingerbread. They're stunning AND delicious!!
With a few simple ingredients and some easy instructions, you can warm the hearts of your family and friends with this gloriously easy to make realistic looking Grinch Guacamole.
This delicious holiday pastry that I've named Kringle Kuchen is delicious to serve any time of the year and with any filling you choose. I always make it for the holidays, hence the name Kringle Kuchen.
Give your homemade bread baking skills a whimsical twist by making this Whole Wheat Rudolph the Bread-Nosed Reindeer. Or, you can use store-bought frozen bread dough and follow the instructions for forming and shaping.
"He cleaned out that icebox as quick as a flash, why the Grinch even stole their last can of Who Hash!" - Dr. Seuss - Now that you have the secret recipe, make sure you're never out of this favorite savory holiday breakfast treat!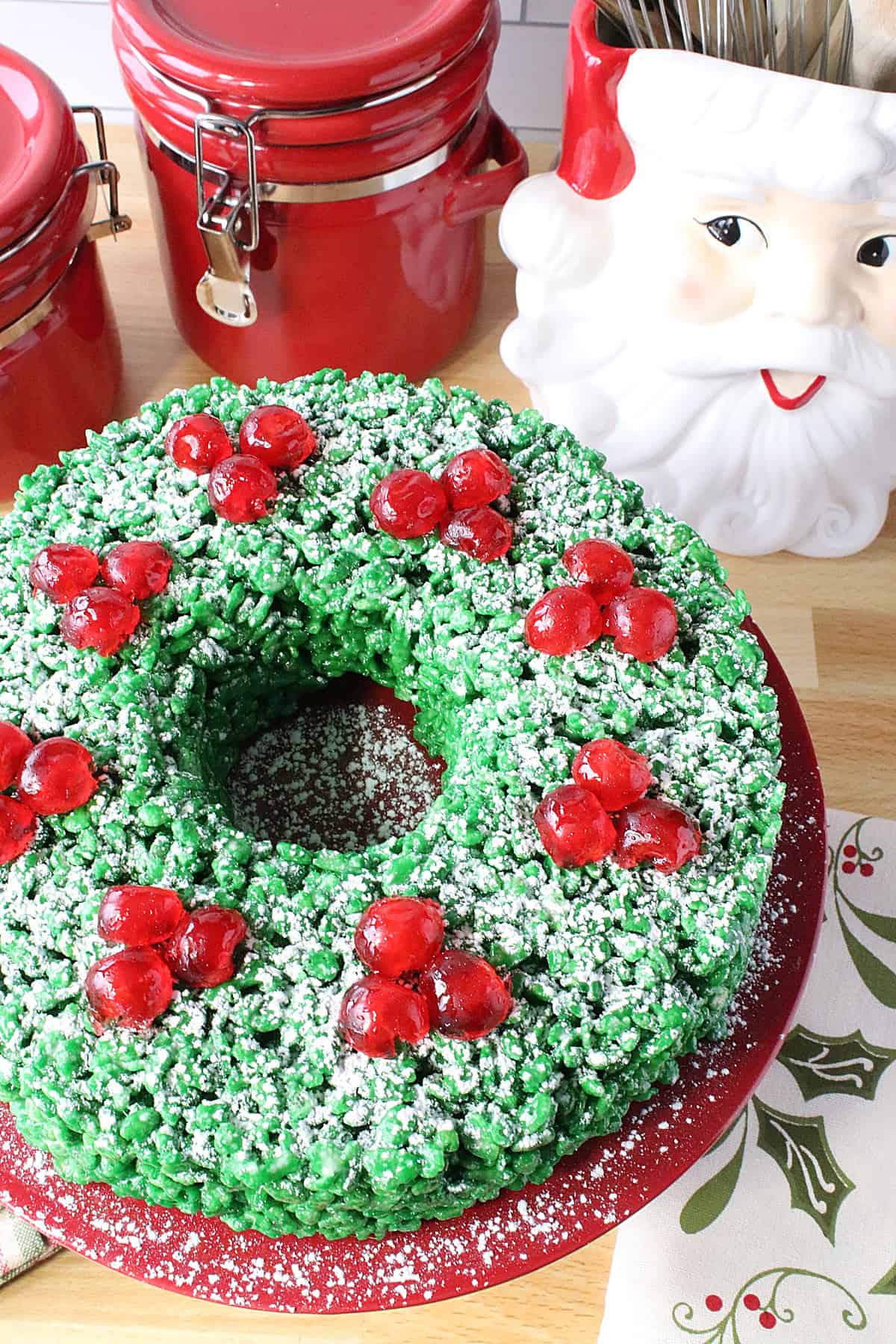 ⭐If you've made this recipe, or are excited to make this recipe, I'd appreciate it if you'd take a moment to leave it a star rating on the recipe card, along with a comment if you're so inclined. Thank you. 🙂
Printable Recipe Card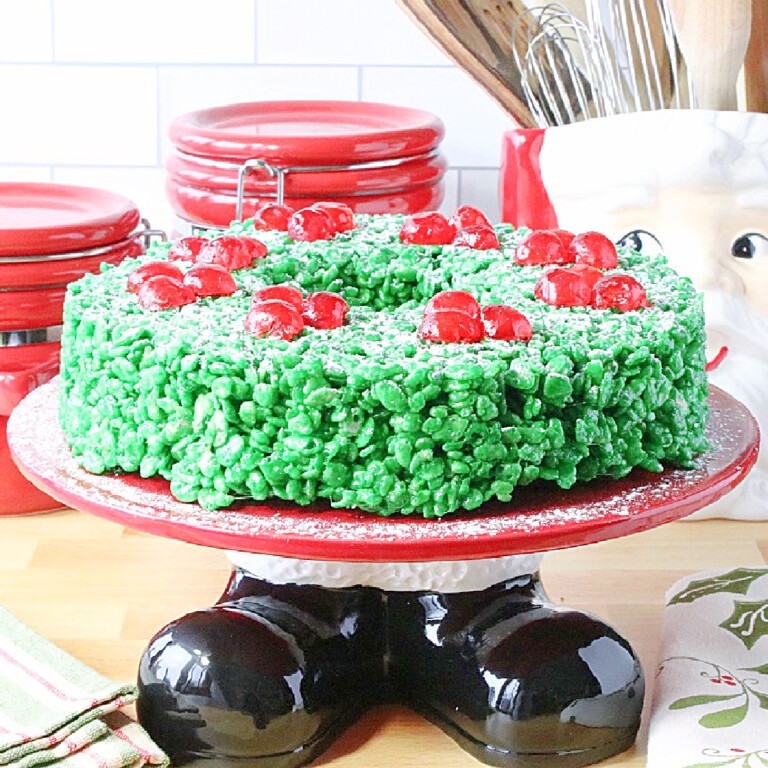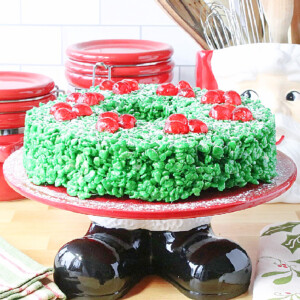 Rice Krispies Christmas Wreath
Looking for a holiday dessert that you can make in 20 minutes or less, is no bake, is charming and festive, and one that you know everyone will love? This Rice Krispies Christmas Wreath ticks all the boxes!
Ingredients
1

bag (10 ounces)

marshmallows

4

tablespoons

butter

salted or unsalted will work

1

teaspoon

leaf green gel food coloring

1

teaspoon

pure vanilla extract

4

cups

puffed rice cereal

1½

tablespoons

confectioners sugar

or to taste

12

each

candied cherries

cut in half
Instructions
Melt the butter over medium/low heat in the large soup pot. Add the marshmallows, stirring frequently until completely melted.

Reduce the heat to low and add the green gel color, vanilla extract, and salt. Stir well to thoroughly combine, and so no white streaks remain.

Add the rice cereal to the pot and stir well until all the cereal is coated with the green marshmallow mixture.

Spray the inside of the angel food cake pan (a Bundt pan will also work) liberally with baking spray.

Spoon the green puffed rice evenly into the prepared pan. Once all the rice mixture is in the pan spray fingertips lightly with baking spray (to prevent sticking) and gently press the cereal treat mixture evenly into the pan.

Allow the mixture to cool for at least 45 minutes before unmolding (or place in the refrigerator for 10-15 minutes).

Once completely cool turn place a serving platter on top of the baking pan. Grip the pan and platter firmly with both hands. Quickly flip the two together and the rice Krispie wreath will release from the pan and out onto the serving platter.

Sprinkle the top of the wreath with the confectioners sugar and garnish with the candied cherries to resemble holly berries.

Slice and serve at room temperature.
Notes
May be stored at room temperature (loosely wrapped) for up to 7 days.
May be frozen for up to 2 months. Cut into wedges, flash freeze for 30 minutes, and then wrap the wedges in plastic wrap or zip top bags.
Thaw at room temperature.
Nutrition
Serving:
1
serving
Calories:
49
kcal
Carbohydrates:
5
g
Protein:
0.4
g
Fat:
3
g
Saturated Fat:
2
g
Polyunsaturated Fat:
0.1
g
Monounsaturated Fat:
1
g
Trans Fat:
0.1
g
Cholesterol:
8
mg
Sodium:
23
mg
Potassium:
7
mg
Fiber:
0.1
g
Sugar:
1
g
Vitamin A:
87
IU
Calcium:
1
mg
Iron:
0.1
mg
Thank you so much for visiting me today in my Kudos Kitchen. I hope you found something you'll love and that you'll come back and visit me often. There is always room for you around my table!
Should you have any questions or comments regarding anything you've seen here on my blog, please don't hesitate to reach out to me. It is always my distinct pleasure to respond to you just as soon as I possibly can.