I fondly refer to these Cherry Kuchen Bars as Kringle Kuchen because I always make them for the holidays. However, they'd be delicious to serve anytime of the year and with any filling you choose.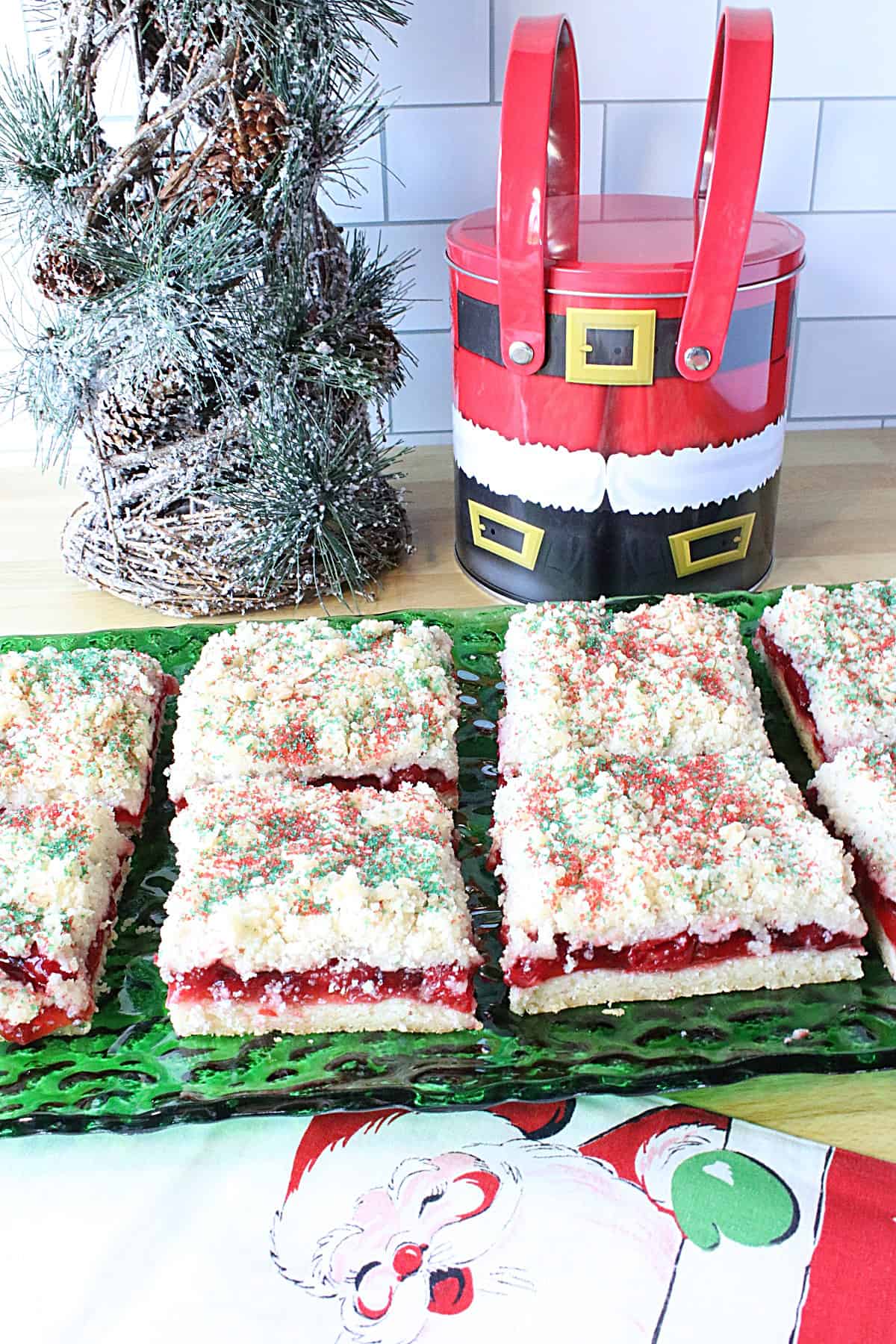 **Note - The following recipe post or category contains affiliate links (highlighted in blue) for your consideration. By clicking on a link I may earn a small commission at no additional cost to you. Thank you!
Kringle Kuchen has a buttery cookie crust, a luscious pie filling center, and a sugary crumble topping. Serving this fruit kuchen will win you rave reviews, so you'll want to add this to your baking list ASAP.
Jump to:
The ingredient list
*Please note that the exact measurements along with a new "shop the recipe" feature from Instacart is available in the printable recipe card.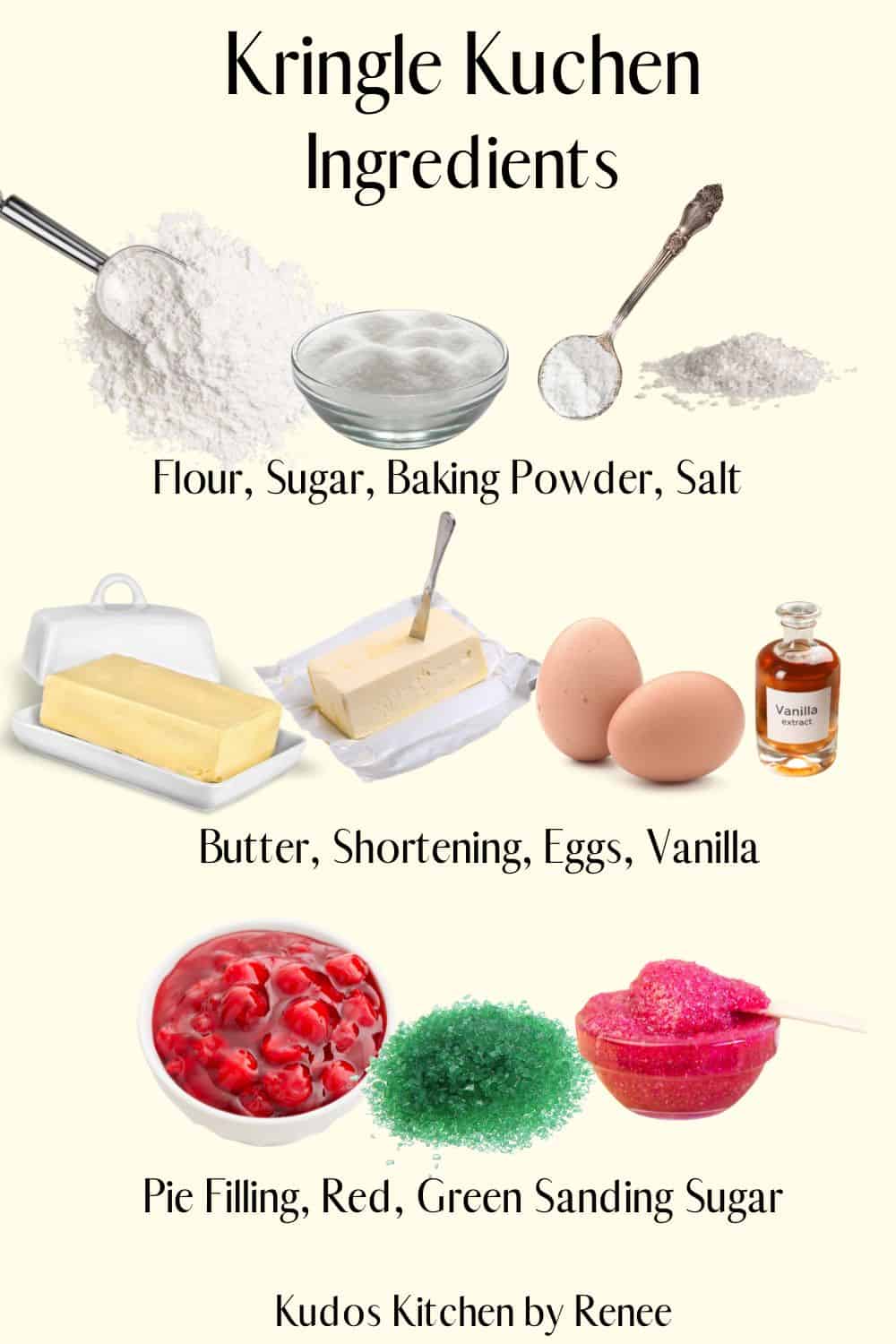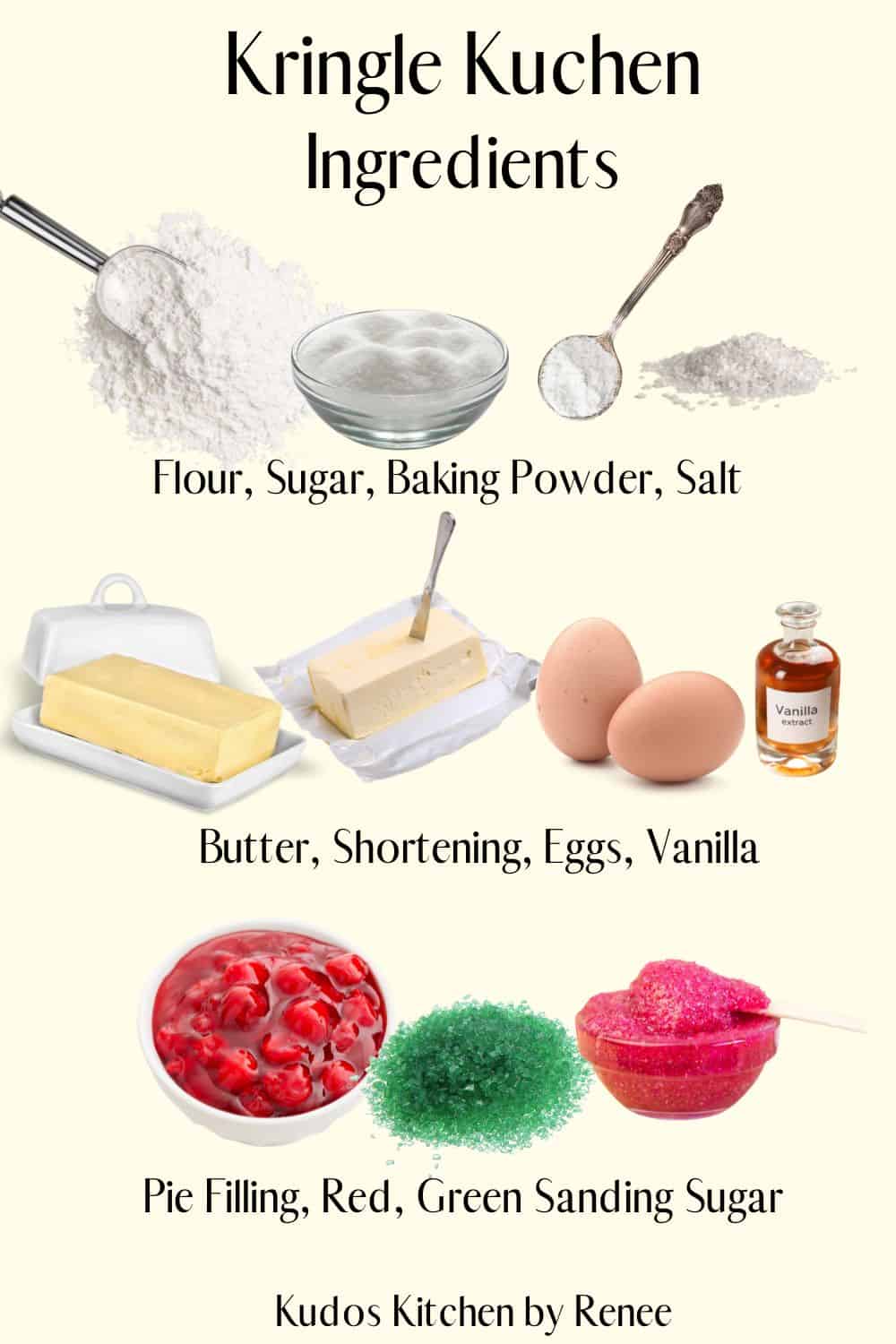 Ingredient savvy
All-Purpose Flour - I always use unbleached flour instead of bleached flour. Bleached flour is treated with chemical additives that keeps the flour white and also speeds up the aging process to improve the flour's baking quality.
Unbleached flour is slightly less white and is aged naturally with no chemicals.
The texture of unbleached flour versus bleached flour is very similar, but bleached has a finer grain and softer texture, and unbleached flour has a slightly heavier grain and tougher texture.
Granulated Sugar is also known as white table sugar. Granulated sugar is a refined sugar with little or no nutritional value.
Limiting your intake of refined sugar treats is best for your overall health. However, an occasional sweet treat from time to time is a fair practice, especially around the holidays!
Butter - This is where I differ from what most bakers will tell you. I always use salted butter in my baking. Unless I know that a particular brand of butter is overly salty in flavor, I don't feel the amount of sodium in butter will cause any baked good to taste too salty. Controversial, I know. I'm a rebel that way.
Shortening - Here's another controversial ingredient, but I use it in this recipe because I always have, and I've always had complete success. However, feel free to substitute two tablespoons of butter for the two tablespoons of shortening if you prefer. Please note that your kuchen crust may have slightly less rise and a harder crust texture than it would if using the shortening. FYI, I use butter flavor, Crisco.
Eggs - Always use large eggs, and always bring them to room temperature before baking.
Pie Filling - This is solely a personal preference. In the past, I've used blueberry filling, apple pie filling, strawberry pie filling, and (as shown here) cherry pie filling for Christmas. Of course, I wouldn't want to discourage you from making homemade pie filling because that would be lovely. Be aware that you'll need between 6 and 7 cups of fruit filling (approximately three cans).
Vanilla Extract - For the best results, always use one that states pure vanilla extract and never one that uses the words "imitation" or "flavoring" on the packaging.
Baking Powder - This rising agent will give the crust an ever-so-slight tang of flavor and a little extra lift when baking. Baking soda is not the same thing as baking powder, so these two ingredients are not interchangeable.
Salt - I use kosher salt in all my recipes. Yes, even in baked goods. Salt is always needed to balance the flavors in baked goods because, without it, flavors fall flat and taste boring.
Red and Green Sanding Sugar - These are optional for this fruit dessert bars recipe but add a festive touch to Kringle Kuchen for Christmas. In addition, they also give the crumb topping a little added crunch and texture, which is enjoyable.
Getting creative with this recipe
I encourage you to get creative and make this recipe your own!
Feel free to switch the colors of sanding sugar if you decide to serve this fruit kuchen for different occasions. Red and blue would be exceptionally fitting during the summer months (along with an apple filling), and orange and black would be appropriate for Halloween and a blackberry filling would fun.
What is difference between butter and shortening for baking
Who better to answer this question than the good folks over at LandOLakes
Find out the differences between baking powder and baking soda
The Food Network covers this subject in depth. Take a look.
The easy step-by-step instructions
Whisk the flour, granulated sugar, and baking powder in a large bowl.
Cut one stick of butter into tablespoons.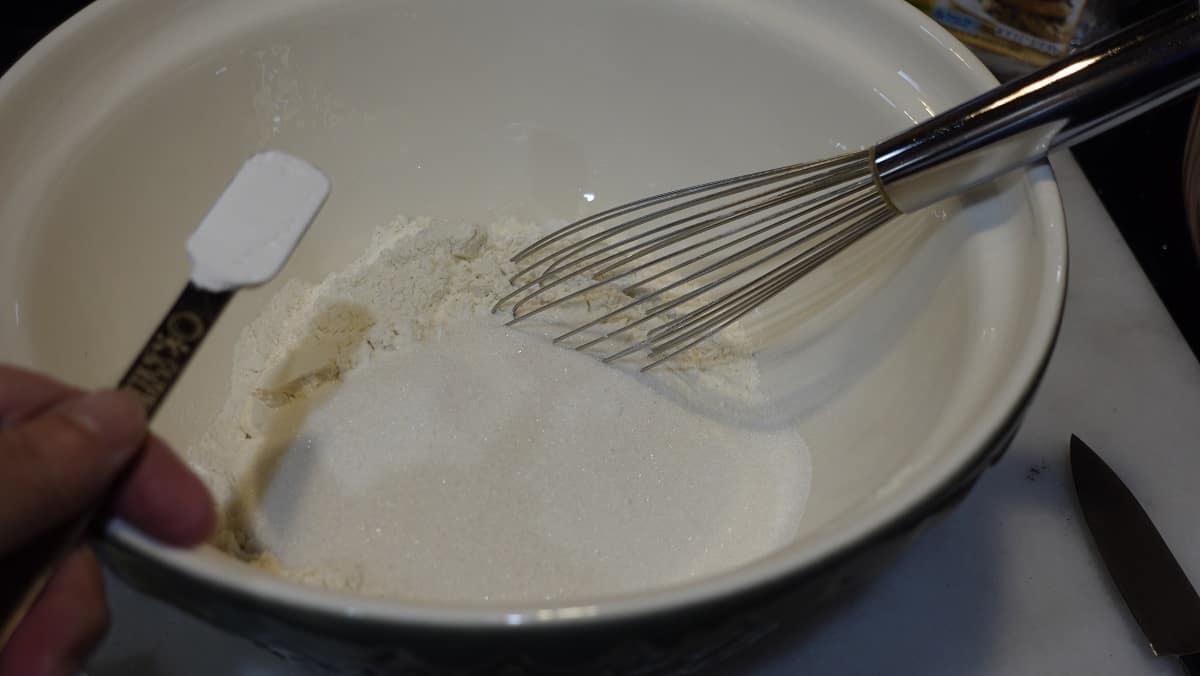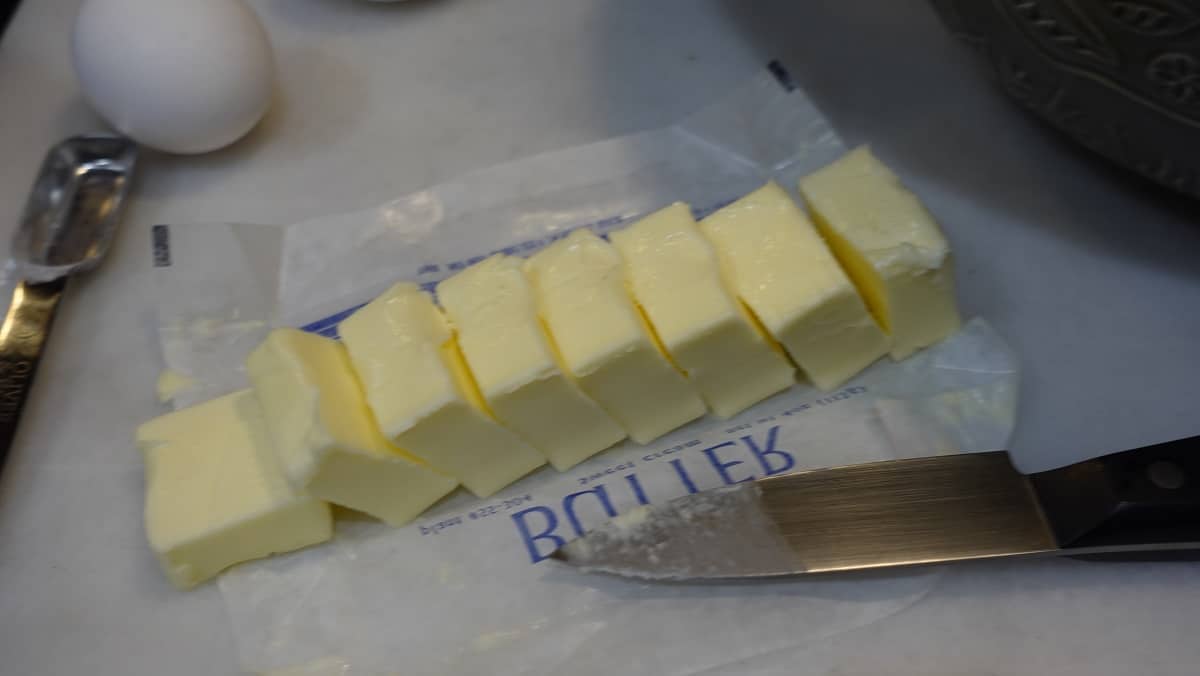 Measure out two tablespoons of shortening.
Add the cut up butter and the shortening to the bowl with the flour and sugar.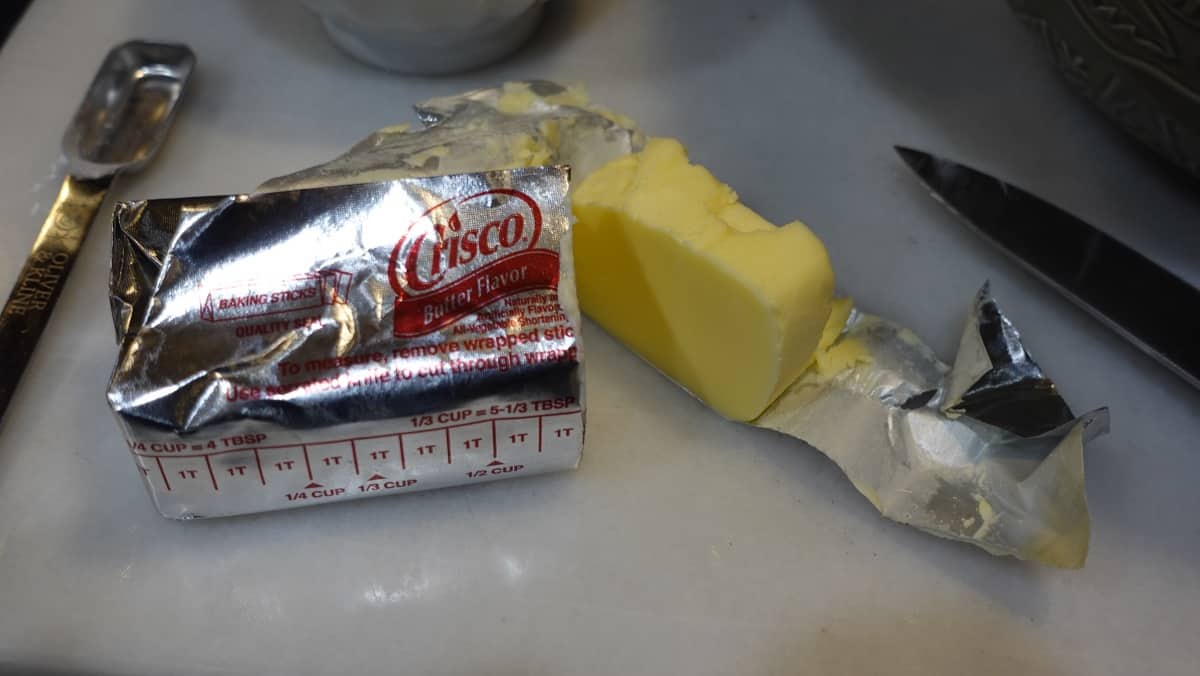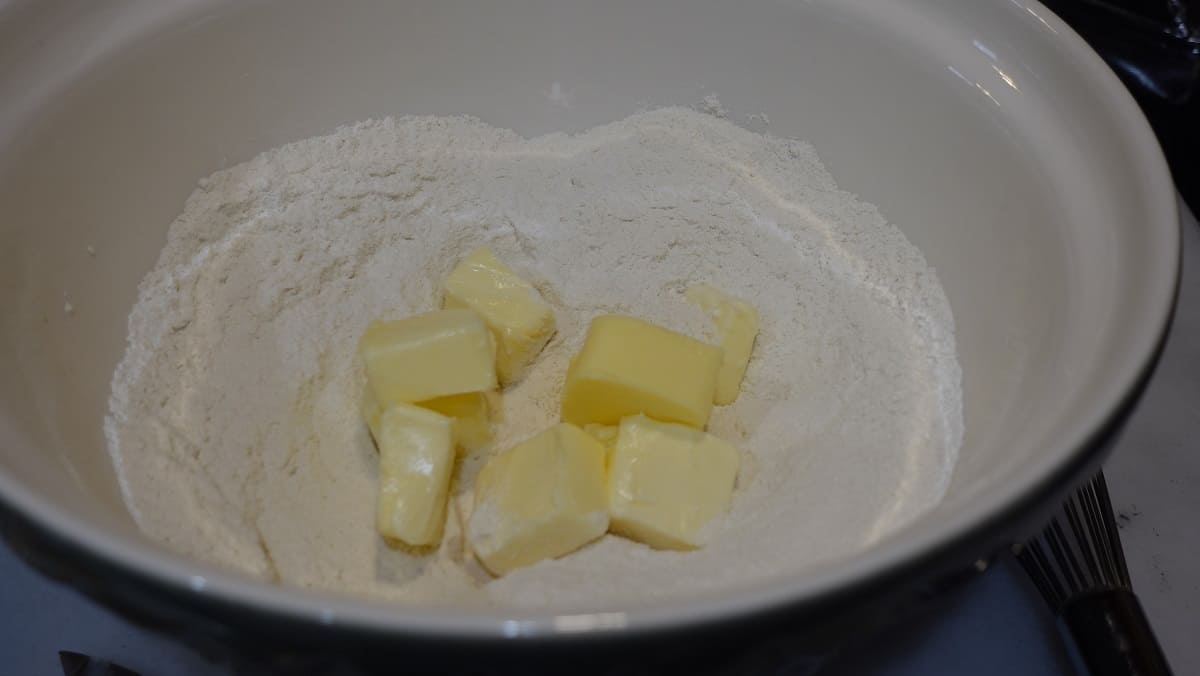 In a small bowl add the vanilla extract to two cracked whole eggs.
Add the eggs and vanilla to the large bowl with the butter, shortening, and flour mixture.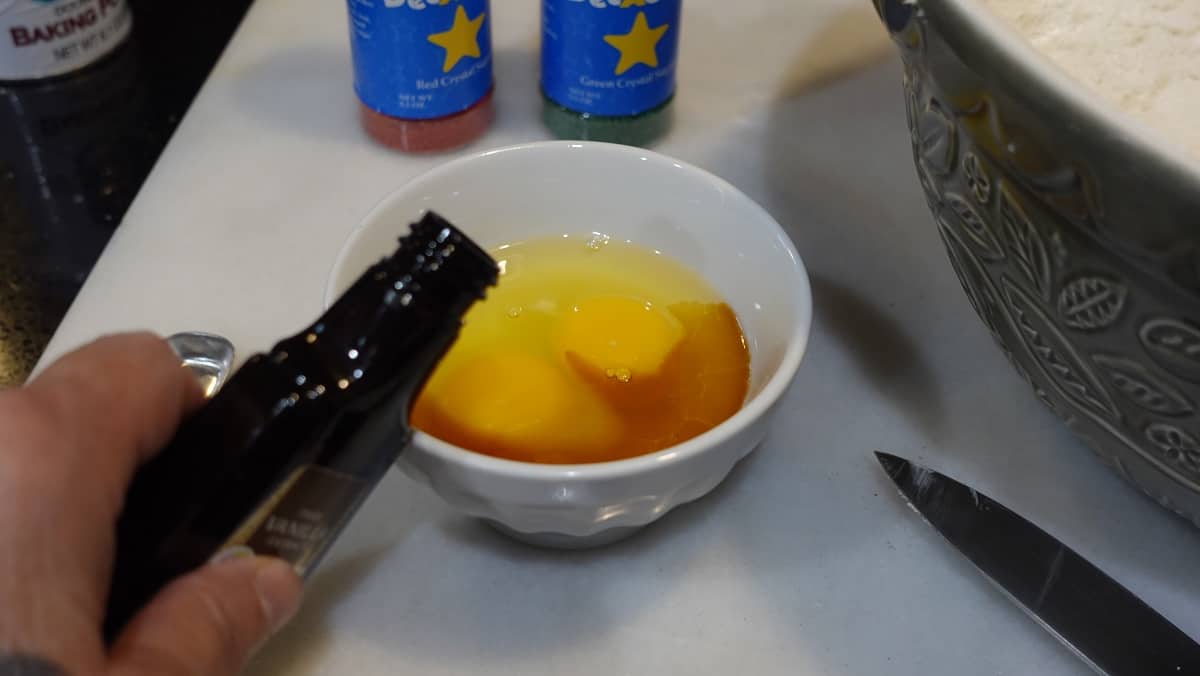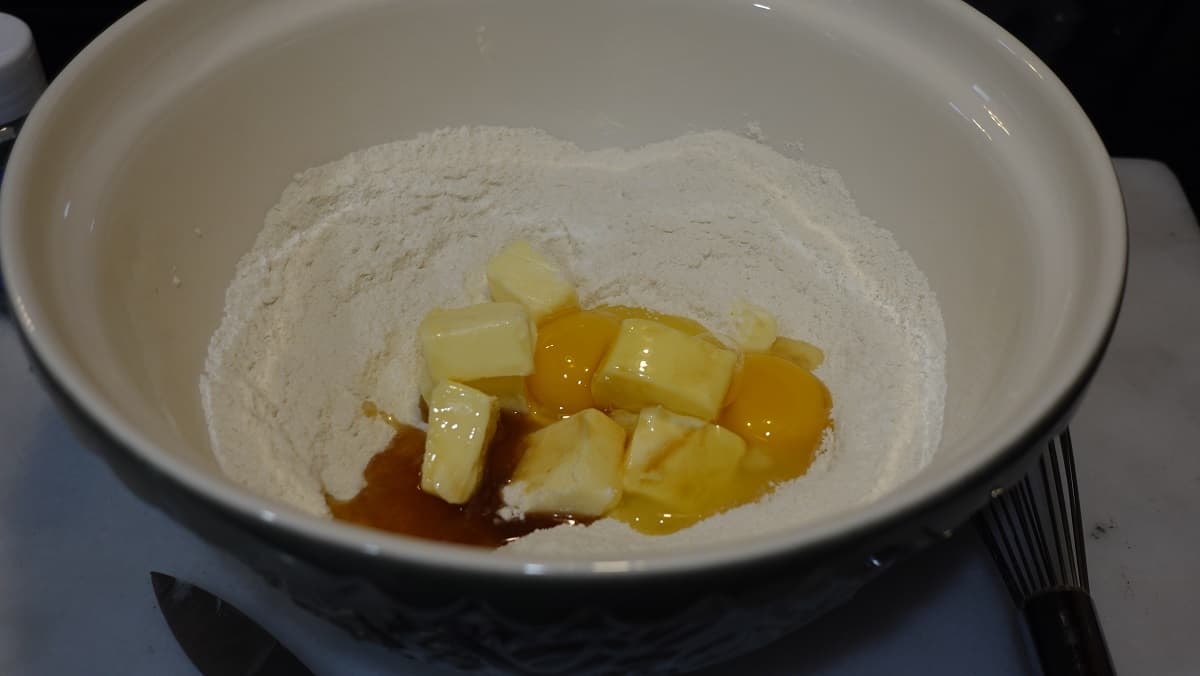 Using your hands, to bring the mixture together into a soft dough by kneading and squeezing.
Like this. It will take a few minutes for this to happen, but it will happen.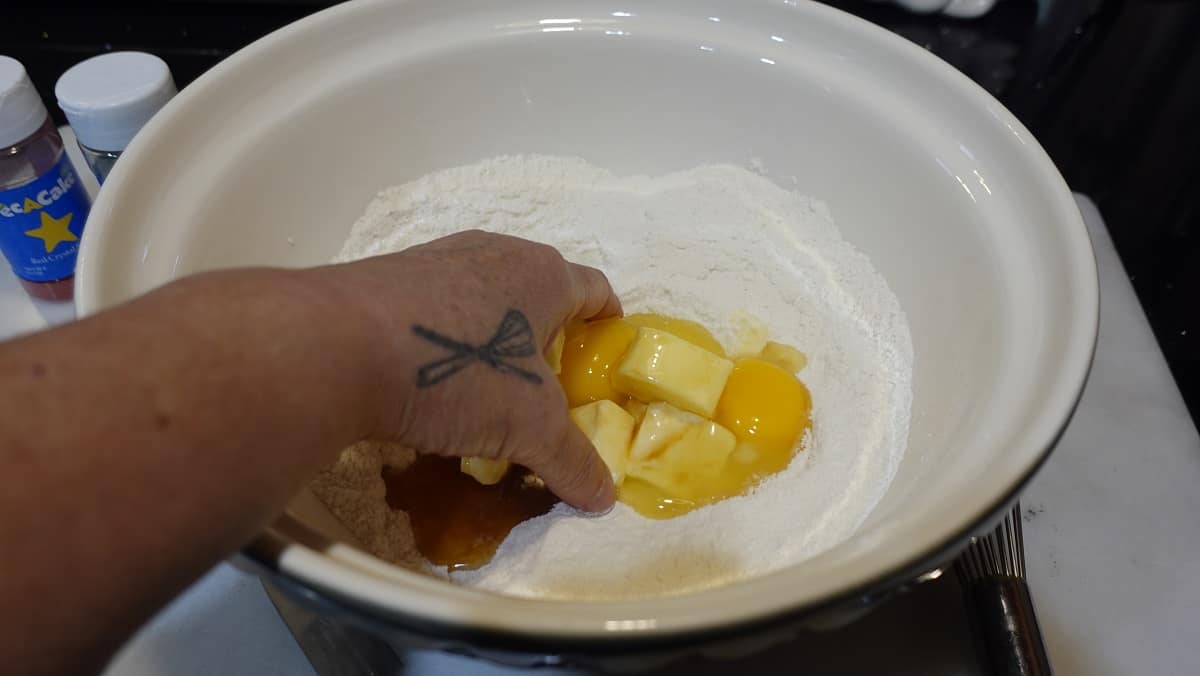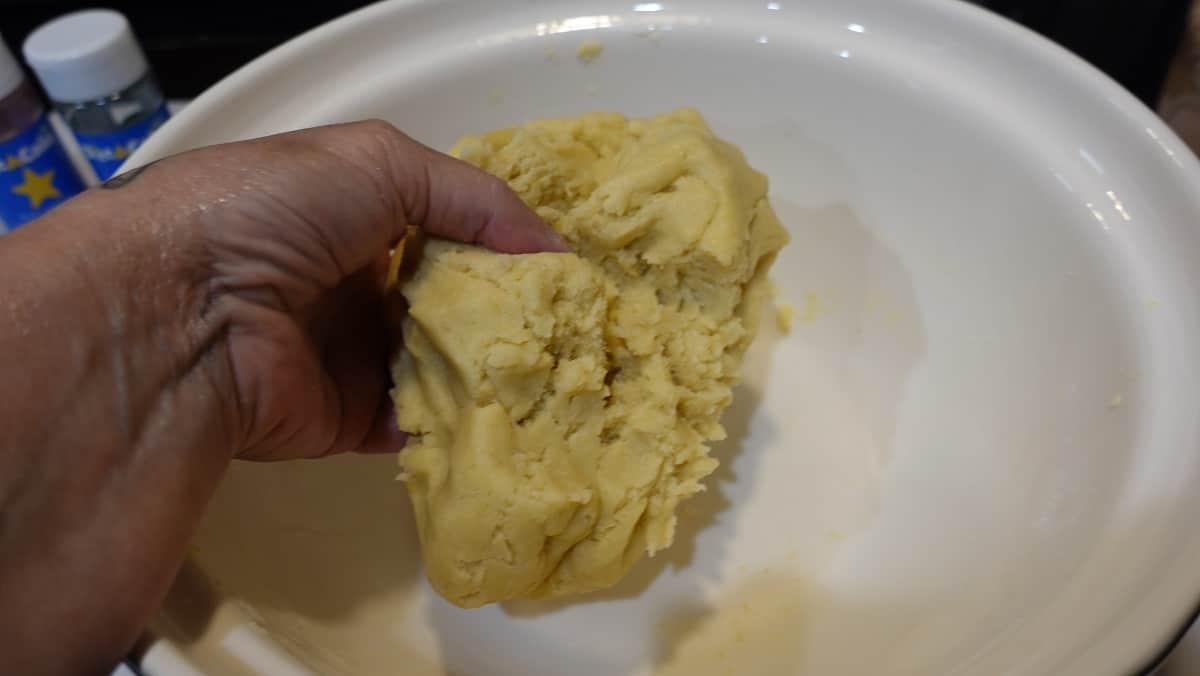 Press the soft dough out into a sided sheet pan. There is no need to grease the pan because of all the butter in the dough.
This will also take a few minutes of pressing and flattening the dough to get it to evenly cover the entire bottom of the pan. Be patient and keep pressing. It will happen. Set aside.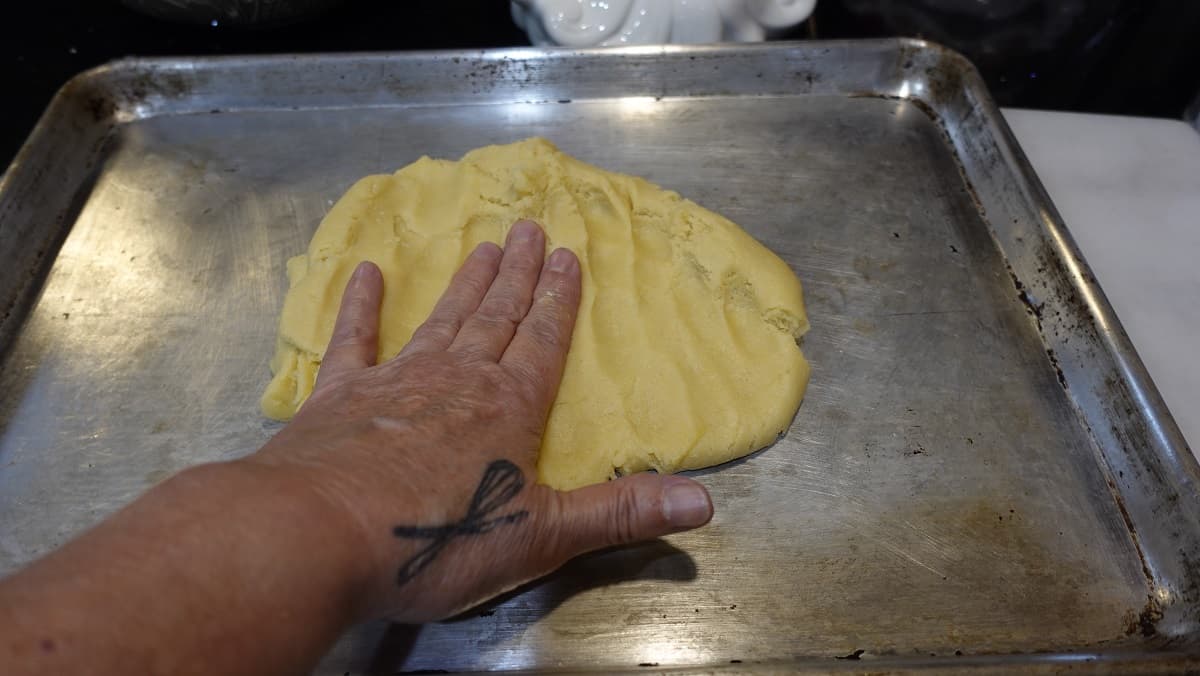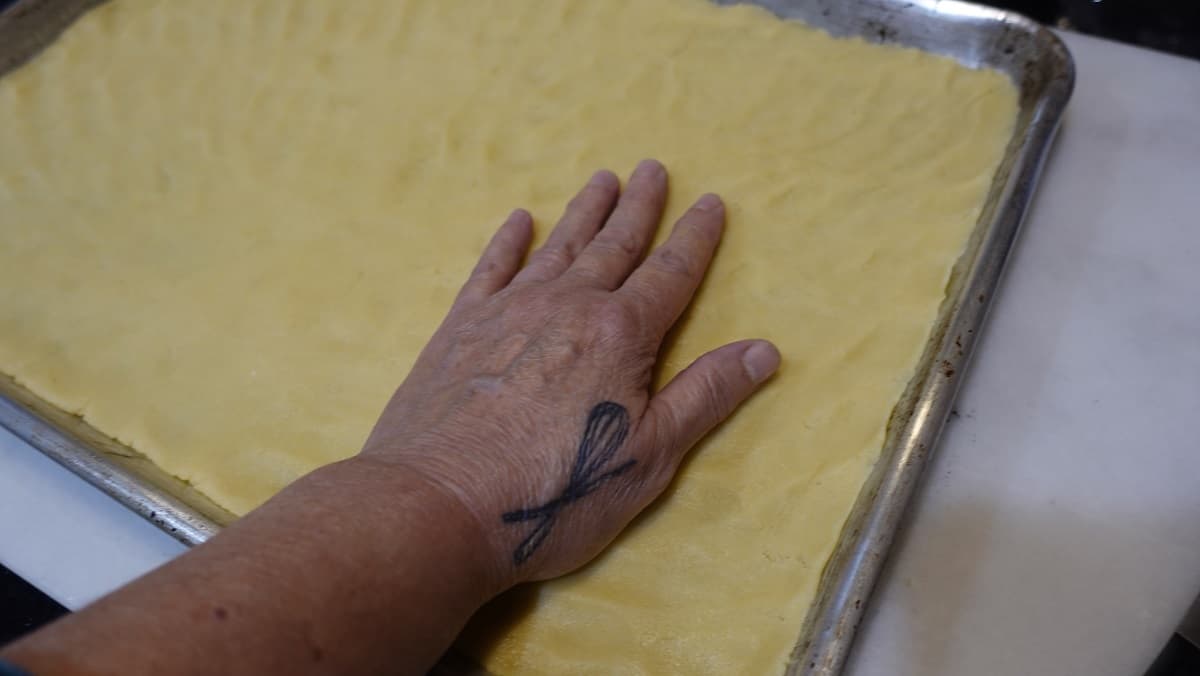 You'll need three cans, or roughly 6 cups, of pie filling. You can use whatever flavor you like best.
Add the pie filling to a medium bowl and stir in 1 teaspoon of almond extract.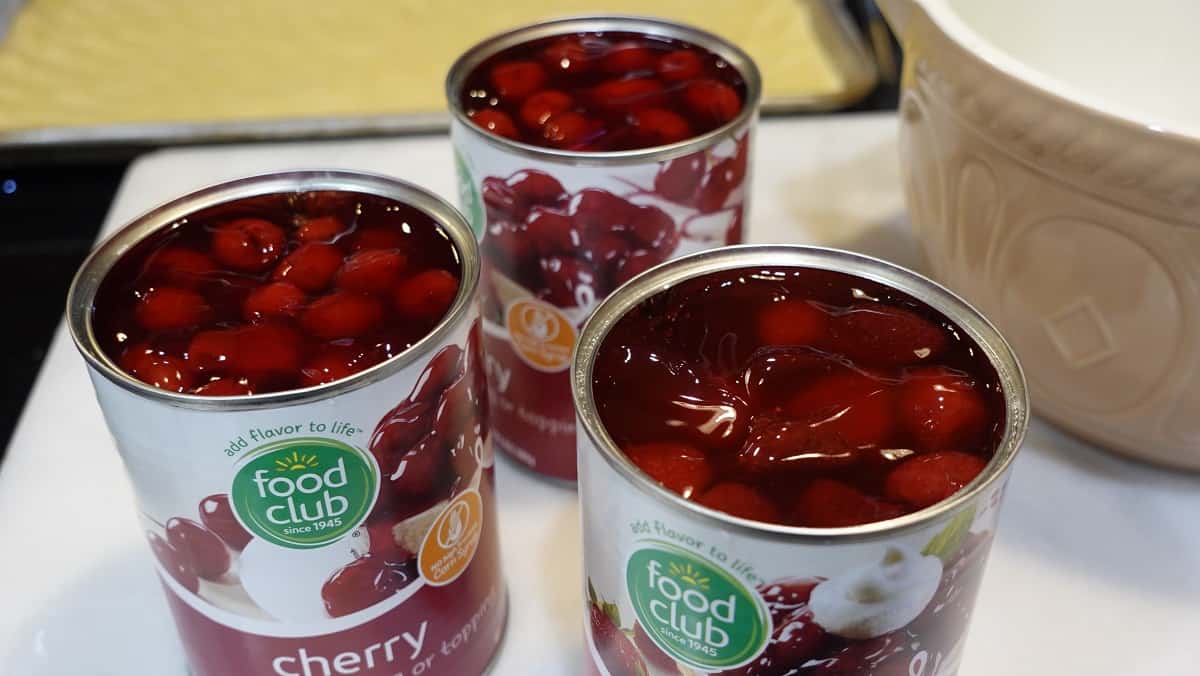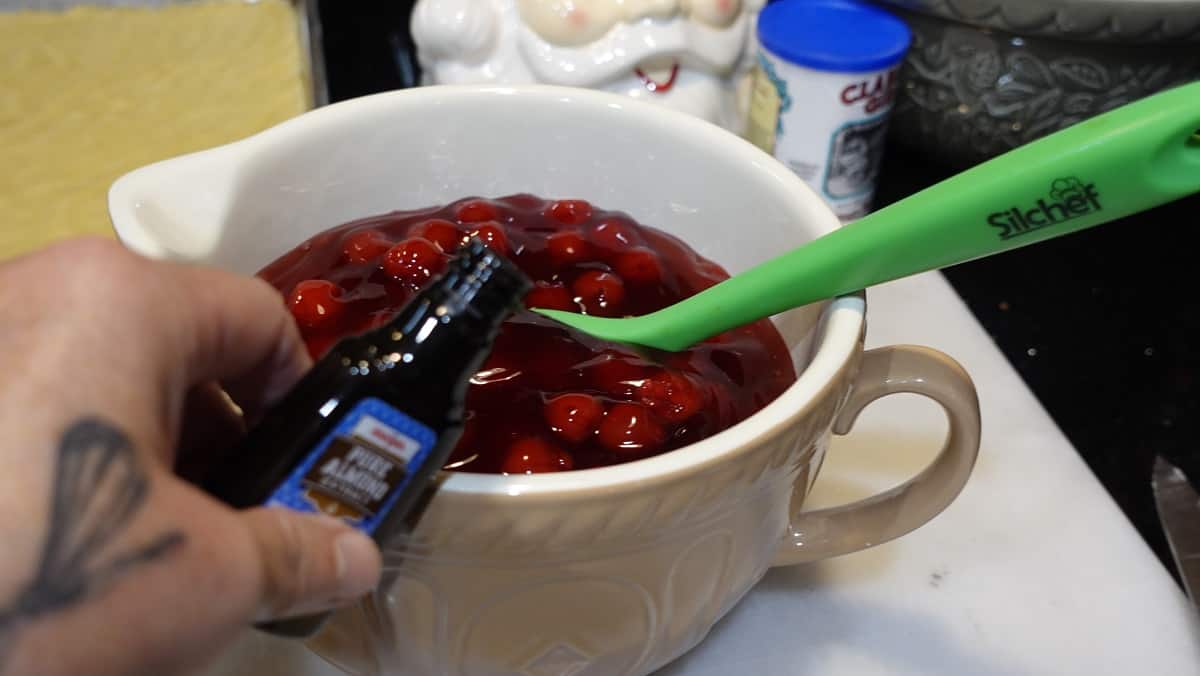 Spread the pie filling evenly over the entire surface of the dough in the sheet pan.
Like this. Set aside while you make the crumb topping.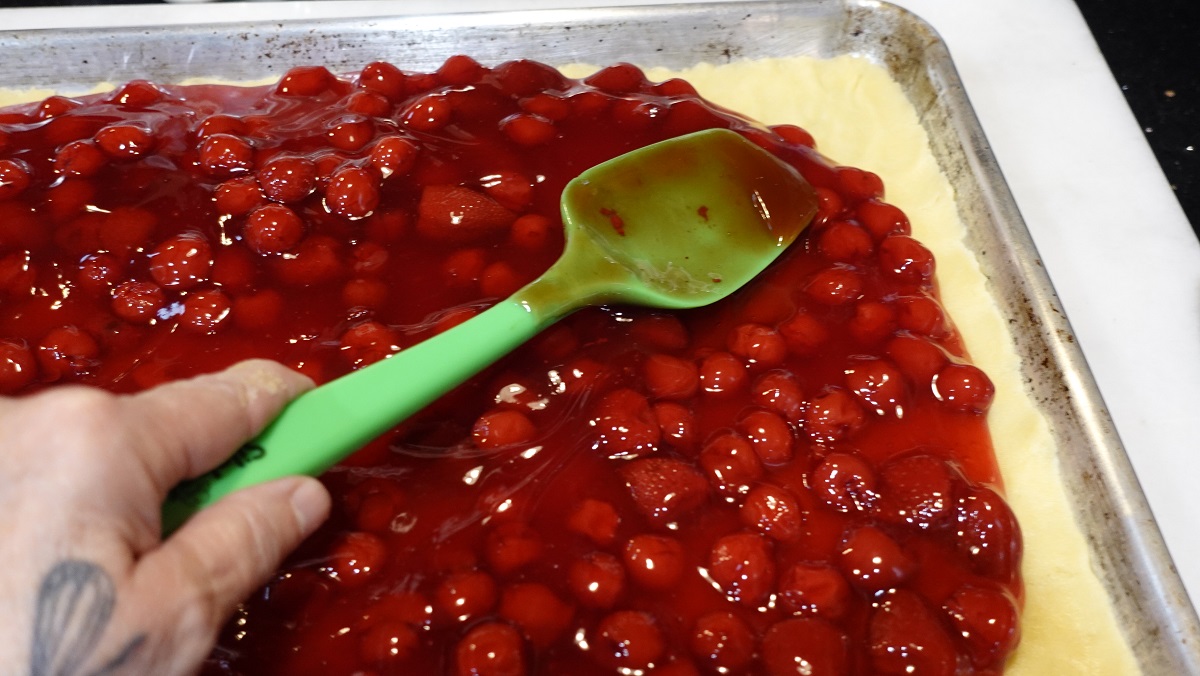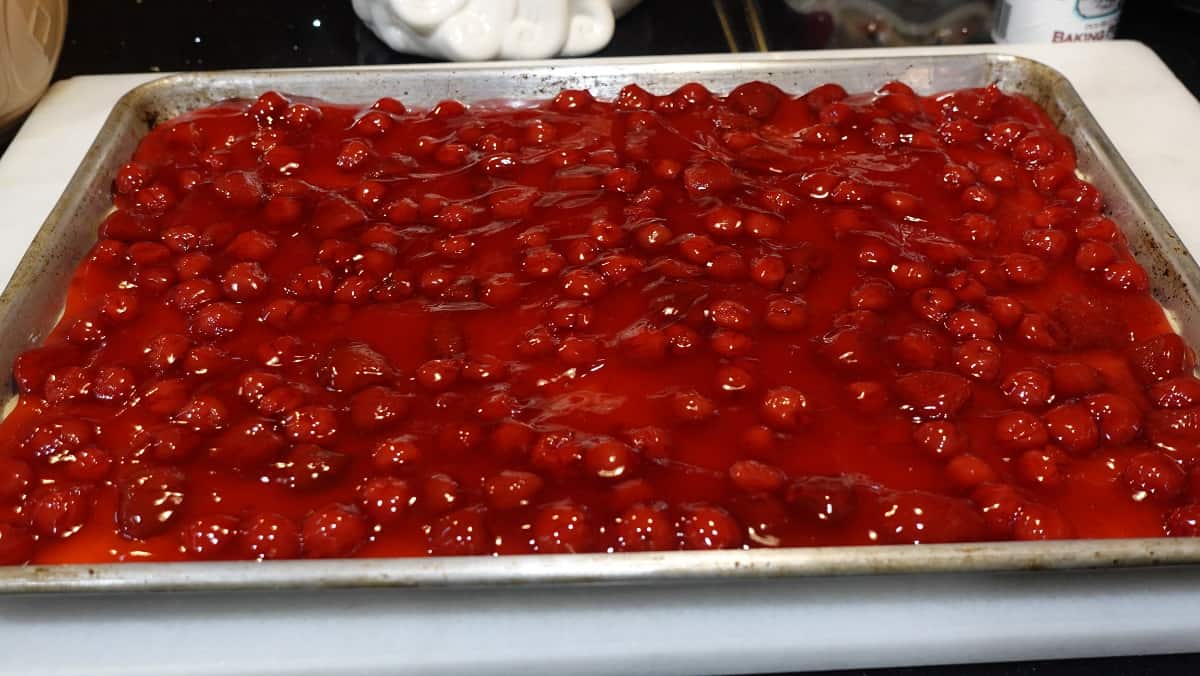 Using the same large bowl as used for the dough, add additional flour, sugar, and a small pinch of salt. Whisk to combine.
Add 1½ sticks of butter (12 tablespoons), cut into tablespoons to the flour mixture.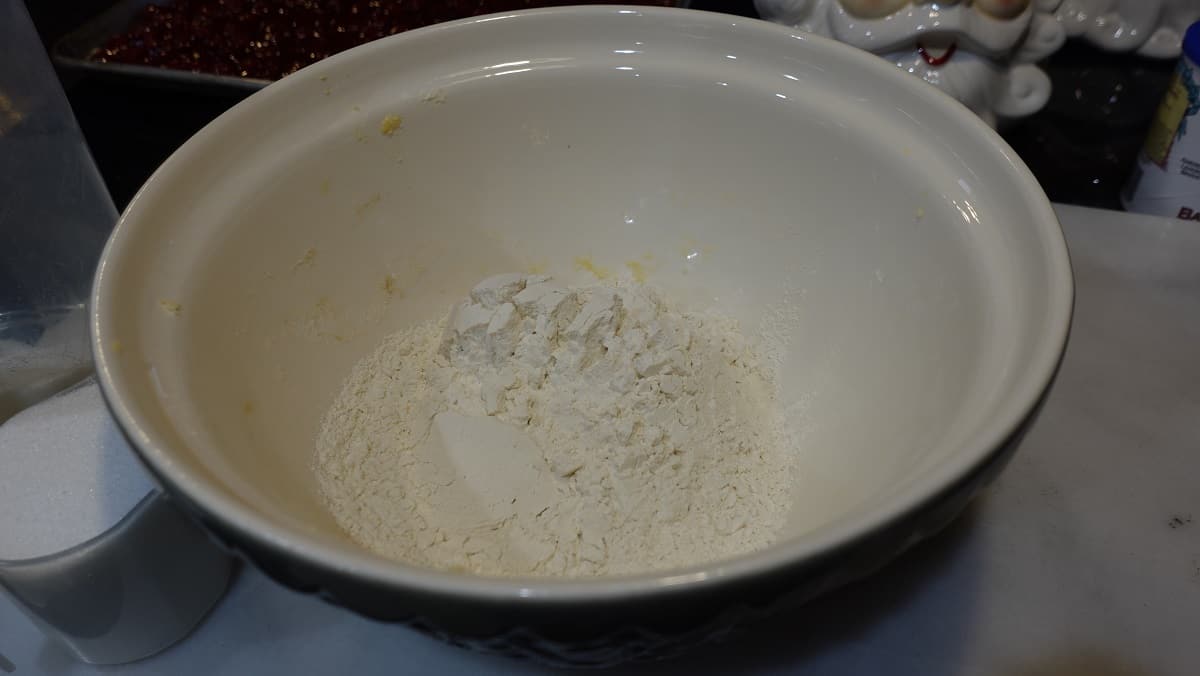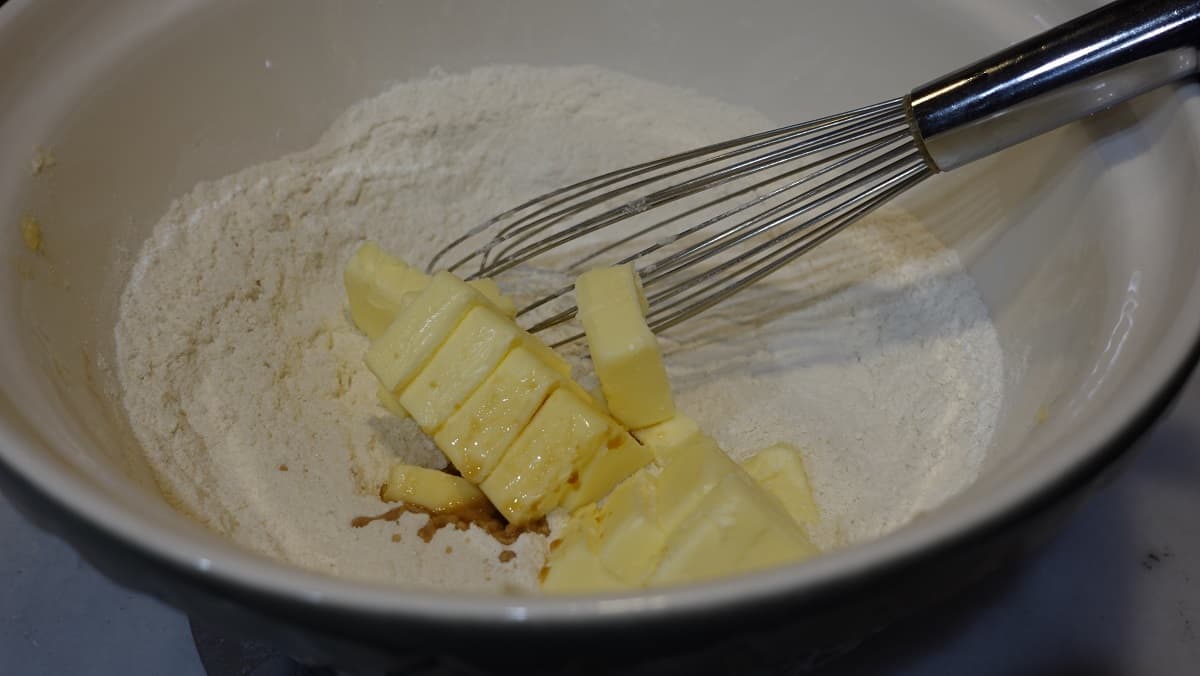 Using a pastry blender or your hands work the butter and flour mixture until the mixture resembles coarse crumbs. This will take a minute or two so don't hurry the process. You want a light crumbly topping.
Once the topping is finished, sprinkle it evenly over the top of the pie filling layer of the kuchen.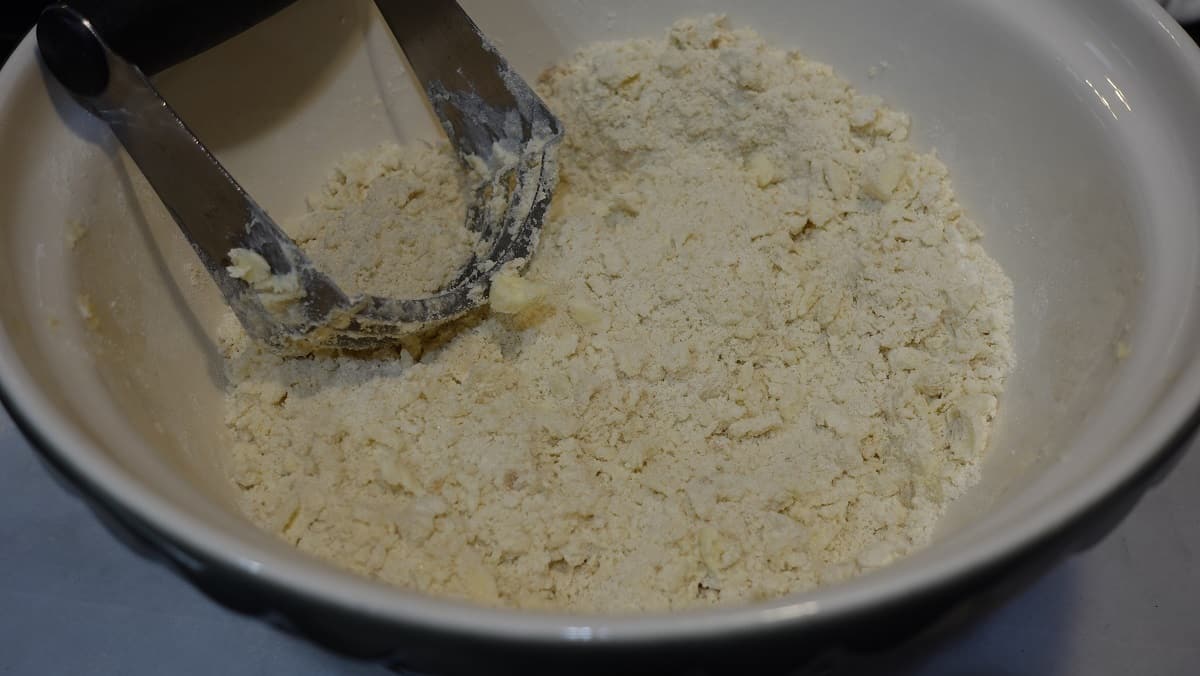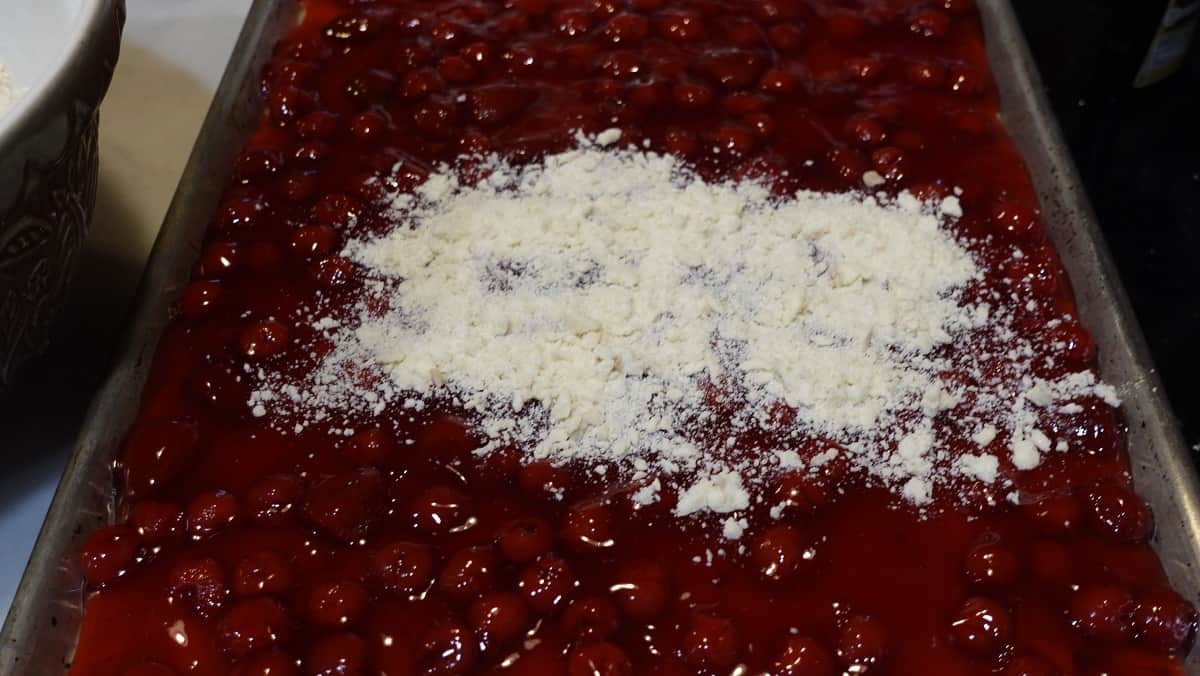 Once the topping is in place sprinkle the top evenly with the red and green sanding sugars, if desired.
Like this. Bake the Kringle Kuchen in a preheated 350 degree F oven for 60 minutes, or until the top is lightly golden brown and the fruit filling is slightly bubbling around the sides.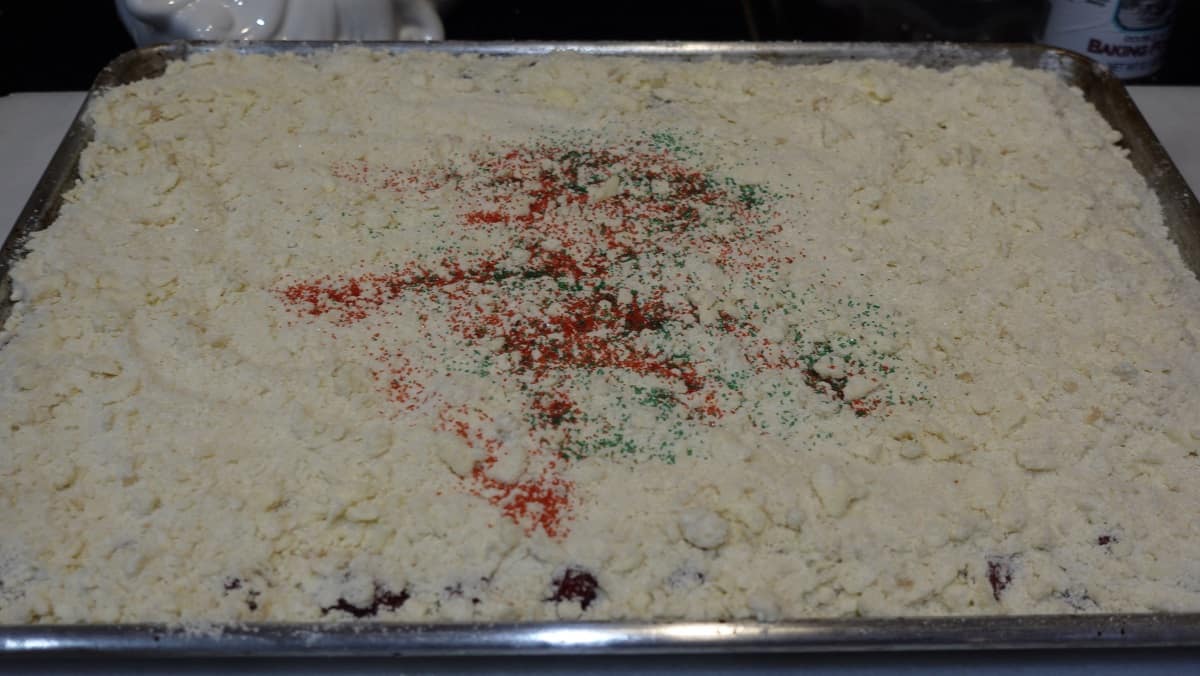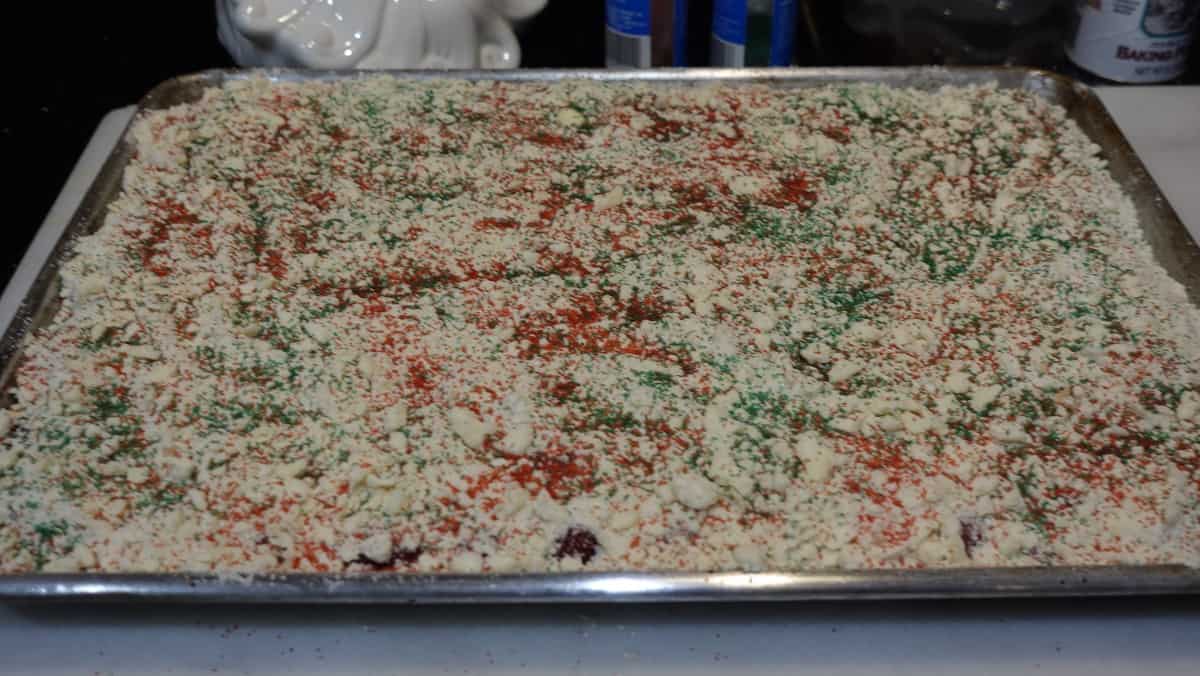 Remove the kuchen from the oven and allow it to cool completely on a wire rack before cutting into squares and serving.
Enjoy!
Required kitchen equipment for making this recipe
As written this recipe requires very few pieces of kitchen equipment. That said, there are a few necessary items you'll need before you start -
A half-sheet pan (aka jelly roll pan) is a must for this recipe. Sided half-sheet pans are a true workhorse in the kitchen and can be used for any number of cooking and baking tasks. I must have at least 15 of them, and I use at least two or three of them every single day.
A pastry blender is a very handy tool for making things like pie crust or a crumble topping (as in this recipe). A pastry blender will prevent butter from melting as it frequently does when mixing with hands. Two forks will also work, but using a pasty blender will make quick work of a tedious task.
The rest of the equipment you'll need are very standard items that I'm sure you already have in your kitchen cupboards. Things like mixing bowls, measuring cups and spoons, a can opener, a spatula, a whisk, and a cooling rack.
FAQ's
Can this fruit kuchen be frozen?
Yes! It freezes beautifully. As a matter of fact I have some in my freezer now that I'm saving for Christmas dinner.
I suggest cutting the baked and cooled kuchen into squares before freezing and then freeze the squares in a single layer in a airtight containers.
They can be frozen for up to 2 months.
How to store fruit kuchen?
It can be stored in the refrigerator, covered, for up to 5 days.
Can Kringle Kuchen be served warm?
Of course.
I suggest warming it (pre-cut) in a low oven (300 degrees F) for 5 or so minutes.
A microwave will also work. Cover lightly with a paper towel and heat on medium power for 40 seconds.
Can the kuchen be served chilled?
Yes. That's the way I like it best.
You can all serve it at room temperature.
Can nuts be added to the topping?
I would never say no to nuts.
I would suggest adding chopped almonds, but chopped pecans would also be delicious!
Serving suggestions for Kringle Kuchen
Personally I don't find this delicious fruit pastry needs any additional toppings but should you feel the need, vanilla ice cream or whipped cream would be an excellent choice.
A light drizzle of eggnog would also make a delicious addition if you'd really like to gild the lily.
Kringle Kuchen would also make a delicious breakfast as a substitution for coffeecake. It would be simply grand with a hot cup of coffee, tea, or chocolate.
Additional sweet treats for the Christmas holidays
Two classic holiday desserts combined into one delicious treat in these Gingerbread Pecan Pie Tarts. You're going to love them!
A slightly crispy outside and an ever so slightly chewy center with a colorful sugar coating is what makes Santa's Favorite Sugar Cookies so enticing.
When you want to serve a treat that will knock their socks off, but also one you can make ahead of time and assemble later, this recipe for Eggnog Pastry Cream Croissants is for you!
Part of the fun of eating a Fried Rosette Snowflake Cookie is the dusting of confectioners sugar that will inevitably snow down the front of your shirt as you crunch into these crispy little holiday treats. There's no way around it, so just give in and let it snow!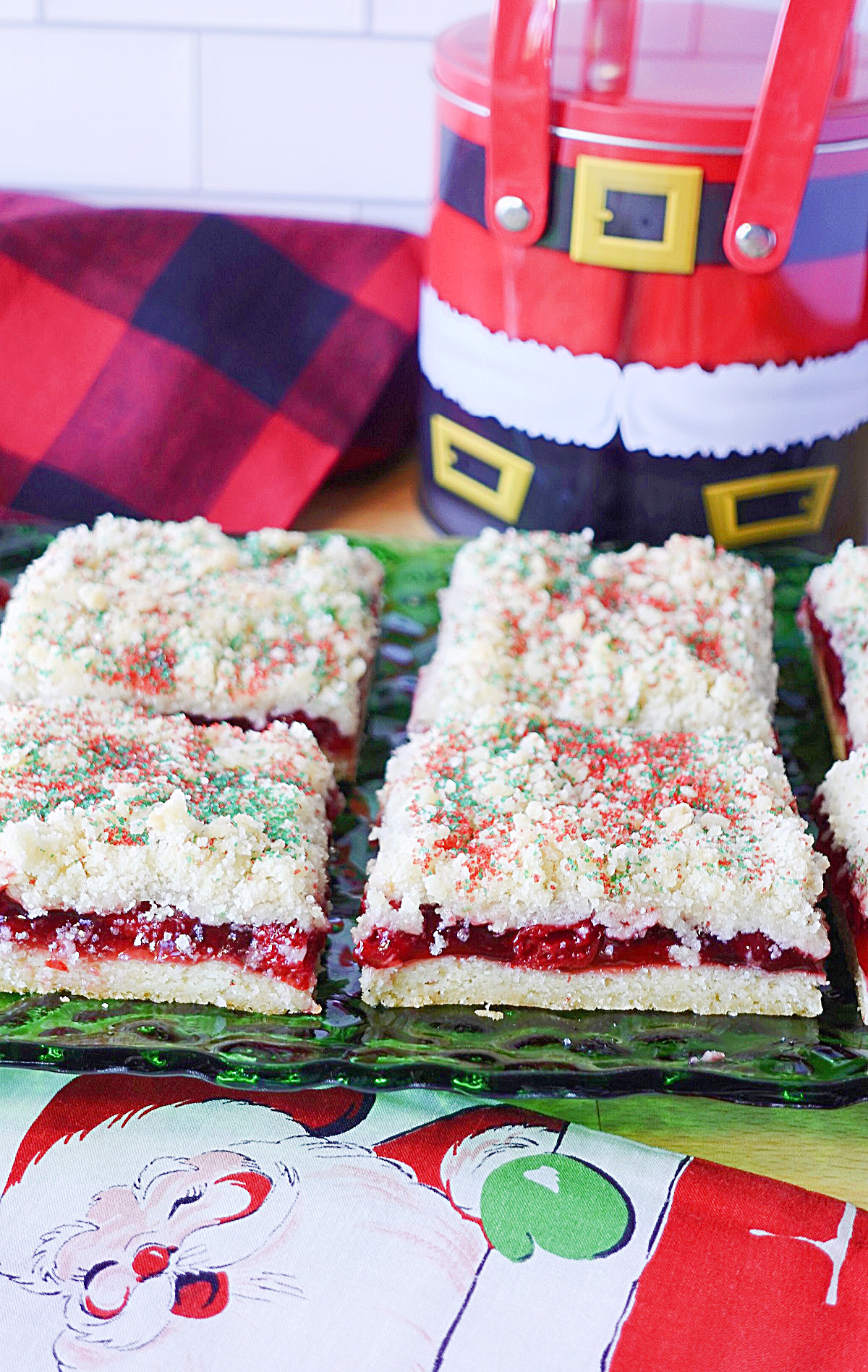 When you make this recipe, and I hope you do, I'd appreciate it if you'd take a moment to leave a star rating on the recipe card and briefly comment on why you rated it as you did. FYI - Google appreciates recipe ratings and, in turn, will share my recipes with more people. Thank you so much!!
Printable Recipe Card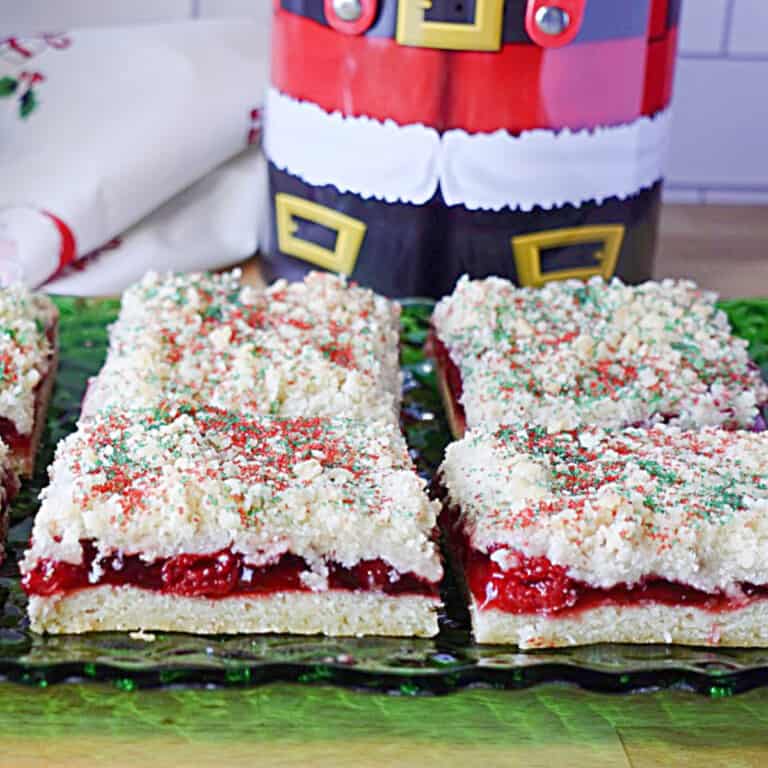 Cherry Kuchen Bars (Kringle Kuchen)
A buttery pastry crust with a luscious fruit filling and light crumble topping.
Ingredients
For the crust:
2

cups

all-purpose flour

1

cup

granulated sugar

1

teaspoon

baking powder

⅛

teaspoon

kosher salt

1

teaspoon

pure vanilla extract

8

tablespoons

butter

cut into 8 pieces

2

tablespoons

shortening

2

eggs
For the filling:
3

cans

pie filling

your choice of flavors

1

teaspoon

pure almond extract
For the crumble topping:
2

cups

all-purpose flour

1

cup

granulated sugar

⅛

teaspoon

kosher salt

1

teaspoon

pure vanilla extract

1½

sticks (12 tablespoons)

butter

cut into 12 pieces

3

tablespoons (each)

red and green sanding sugar
Instructions
Preheat the oven to 350 degrees Fahrenheit
To make the crust:
In a large bowl, whisk together the flour, sugar, salt, and baking powder.

Add the cut butter and shortening to the bowl with the flour and sugar.

In a small bowl, add the vanilla extract to the eggs. Add the eggs and vanilla to the large bowl with the flour, butter, and sugar. Mix this mixture with your hands by squeezing and pressing until it comes together into a soft dough with no dry spots.

Press the dough into an even layer that covers the entire the bottom of the half-sheet pan. This will take a few minutes of pressing and flattening. It will happen. Set aside.
To make the filling:
In a medium bowl, stir together the pie filling and almond extract. Use a spatula to spread the pie filling evenly over the entire crust end to end. Set aside.
To make the topping:
In the same large bowl used to make the crust, whisk together the flour, sugar, and salt. Add the 12 pieces of cut butter along with the vanilla extract to the bowl. Use a pastry blender to work the butter into the flour and sugar forming a light crumble. This will take several minutes, but it will happen.

Sprinkle the crumb topping evenly over the entire surface of the fruit kuchen and then sprinkle generously with the red and green sugars, if desired.
To bake:
Place the Kringle Kuchen into the center of the preheated oven and bake for 60 minutes, or until the topping is lightly golden in color and the fruit filling is bubbling around the sides.

Remove the kuchen to a wire rack to cool completely before cutting into squares and serving.
Video
Notes
Squares may be frozen after baking. Wrap well and freeze up to two months.
Keep refrigerated after baking. Keeps for up to 5 days in the refrigerator.
Serve cold, warm, or at room temperature.
Nutrition
Serving:
1
serving
Calories:
272
kcal
Carbohydrates:
54
g
Protein:
3
g
Fat:
6
g
Saturated Fat:
3
g
Polyunsaturated Fat:
1
g
Monounsaturated Fat:
2
g
Trans Fat:
0.3
g
Cholesterol:
24
mg
Sodium:
95
mg
Potassium:
80
mg
Fiber:
1
g
Sugar:
29
g
Vitamin A:
156
IU
Vitamin C:
1
mg
Calcium:
17
mg
Iron:
1
mg
I sincerely hope you've enjoyed today's cherry kuchen bars recipe as much as I've enjoyed bringing it to you.
Follow me across my social media platforms and join in on the conversation: FACEBOOK, INSTAGRAM, PINTEREST, TIKTOK, AND YOUTUBE.
Thank you so much for visiting me today in my Kudos Kitchen. I hope you found something you'll love and that you'll come back and visit me often. There is always room for you around my table!
Should you have any questions or comments regarding anything you've seen here on my blog, please don't hesitate to reach out to me. It is always my distinct pleasure to respond to you just as soon as I possibly can.
Until we eat again, I hope you have a delicious day!!