The simple white royal icing design for these Gingerbread Trees and Snowflake cookies really stands out against the brown of the gingerbread. They're stunning AND delicious!!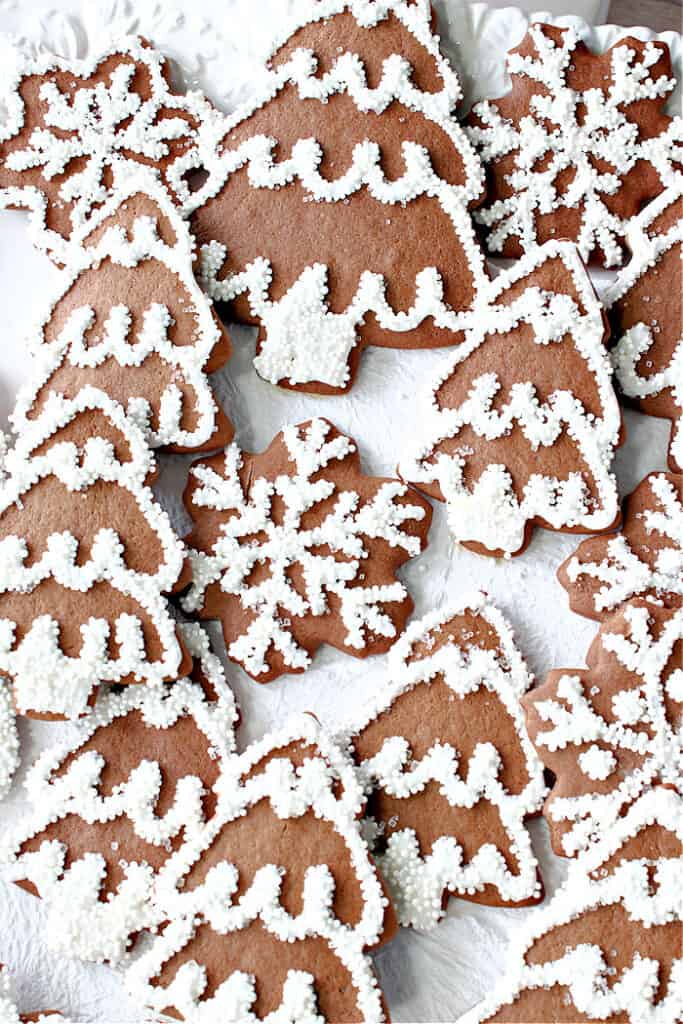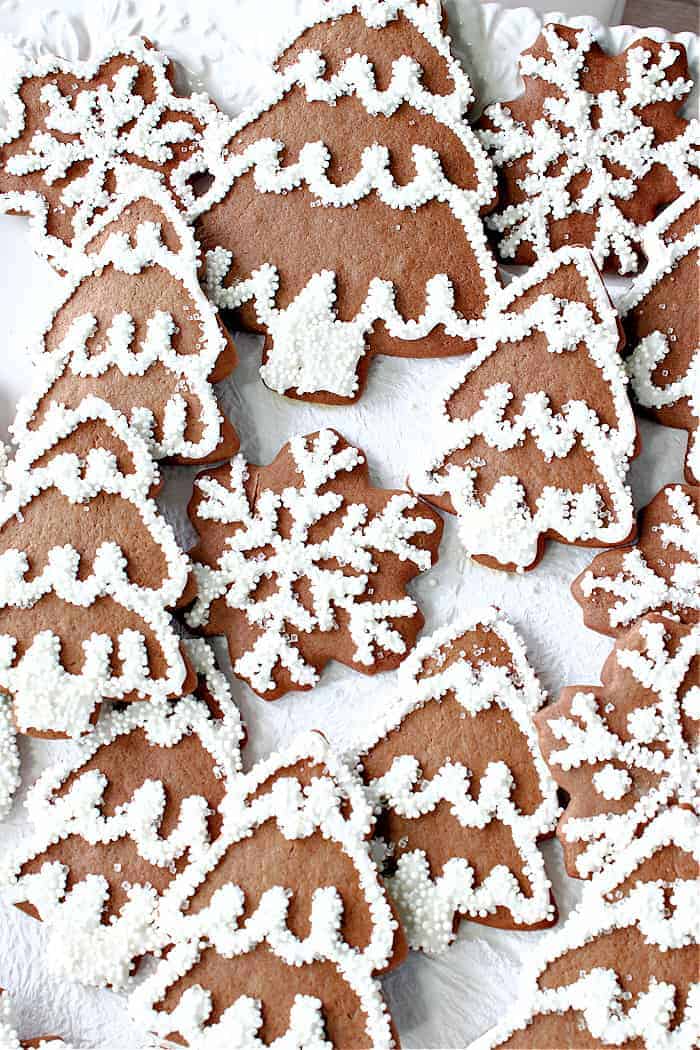 This classic gingerbread recipe is one of the most flavorful and easy doughs I've ever worked with.
I do hope you'll try this recipe as it will become one of your favorites to make year after year.
**Please Note – The printable recipe card with detailed instructions, complete ingredient measurements, and nutritional information for making Iced Gingerbread Trees and Snowflake Cookies is available at the end of this post. OR you can hit the "jump to recipe" button (found above) to be taken directly to the recipe.
CLICK ON THIS BOX TO LIKE AND SUBSCRIBE TO MY KUDOS KITCHEN YOUTUBE CHANNEL. SEE YOU THERE! 🙂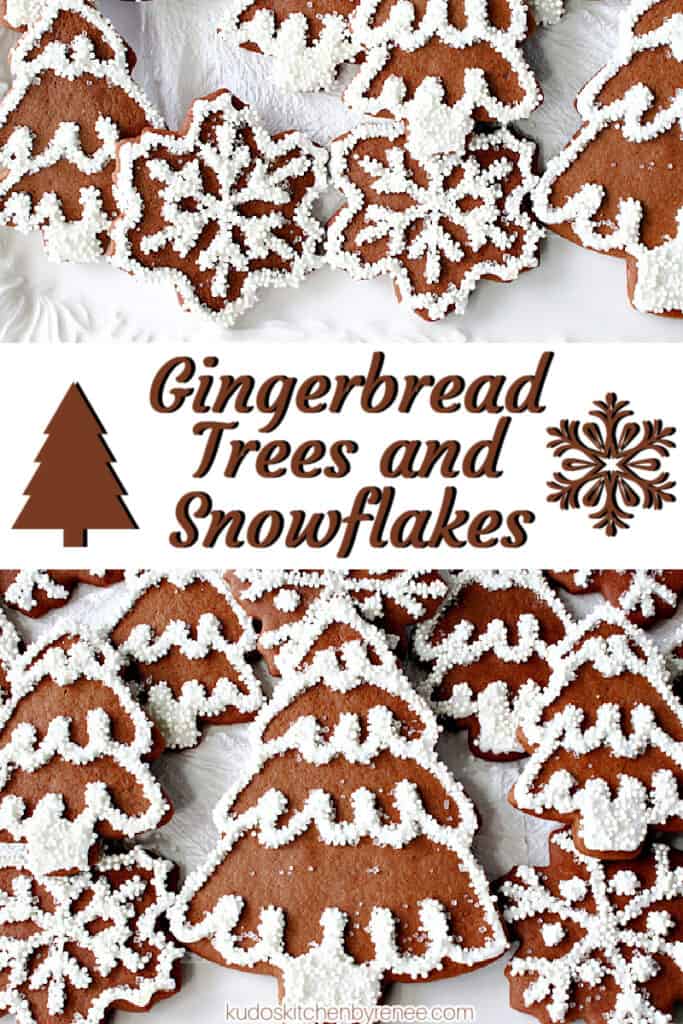 The ingredient list for the gingerbread:
**Note – The following lists of ingredients plus kitchen tools and equipment contain affiliate links (highlighted in blue) for your consideration and shopping convenience. #CommissionsEarned
granulated sugar
butter (I use salted)
egg
all-purpose flour
baking soda
Ingredient list for the royal icing decorations:
Kitchen tools and equipment needed: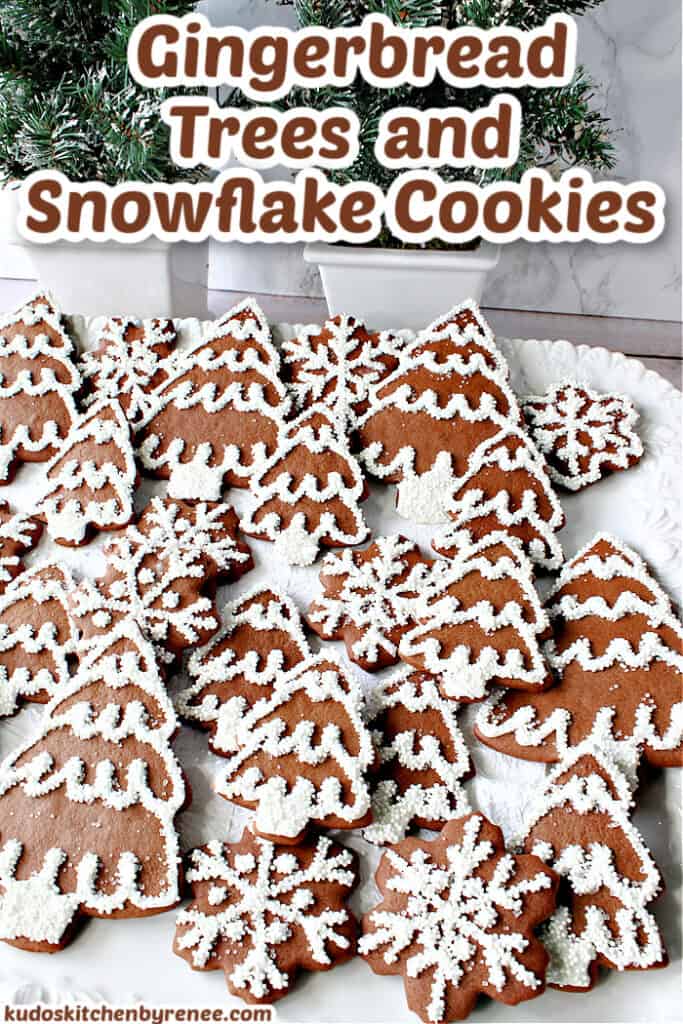 Can this gingerbread dough be made in advance?
Yes!
It's actually BEST to make the dough in advance and then keep it well wrapped (in plastic wrap) either in the freezer, or refrigerator.
How long will this dough keep in the refrigerator?
Well wrapped, this chilled dough will keep in the refrigerator for up to 7 days.
How long with this gingerbread dough keep in the freezer?
Well wrapped, this gingerbread dough will keep in the freezer for up to 6 months.
Can baked gingerbread cookies be frozen?
Yes, although you'd be wise to save the royal icing and decorating for after the cookies have been thawed.
How long will baked gingerbread cookies keep in the freezer?
If wrapped well (with plastic wrap), undecorated cookies can be stacked and kept in the freezer for up to 4 months.
How to store royal icing:
I like to store mine in an air-tight container at room temperature. It will keep for up to two weeks.
When ready to use, stir well and add additional warm water depending on the icing consistency you're looking for.
More water = flooding consistency
Less water = border consistency, and detail work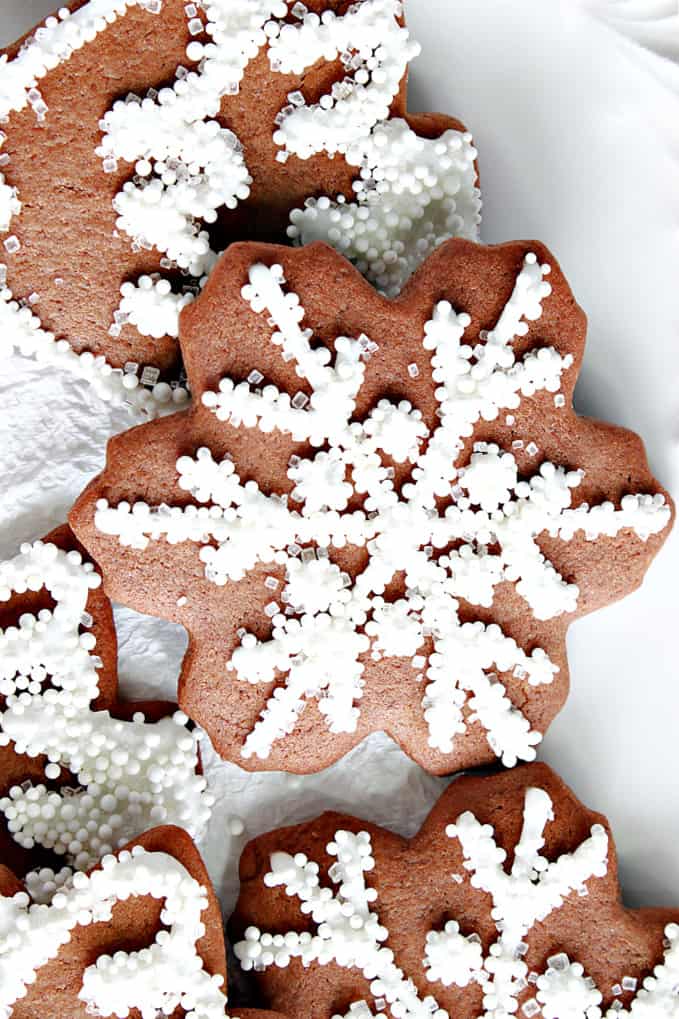 Can other colors of sanding sugar or nonpareils be used?
Sure thing!
These are your cookies. Have fun and get creative!!
How many cookies will the recipe make?
As you can imagine, that all depends on the size cookie cutters you'll be using.
I used a combination of large trees (approximately 6″), small trees (approximately 3″), and small snowflakes (approximately 3″), and I got about 30 cookies from one batch of dough.
Please plan accordingly and make more dough if you're cookie cutters are large and you want to make many cookies.
Would these gingerbread cookies make good gifts?
You bet!!
Box them or bag them (using appropriately sized products for your particular cookies) for a cute presentation, and you're all set to give the gift of home-baked love this holiday season!
Would this gingerbread dough work well for making a gingerbread house?
Funny you should ask. LOL
We (my mom and I) did just that a few years back.
Here's the full tutorial for our first ever homemade gingerbread house (shown below)
This Gingerbread House Recipe and Tutorial is a comprehensive instruction along with tips and tricks so you can learn from our successes, as well as our mistakes.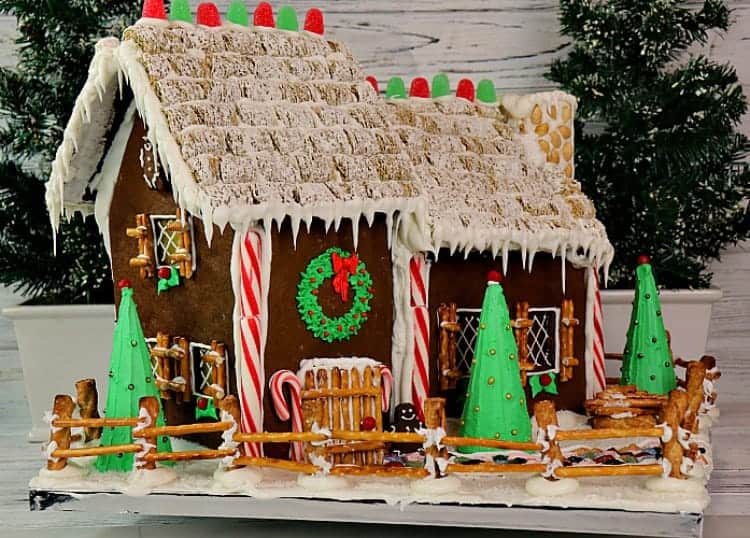 Additional cookie recipes you'll also love for Christmas…and beyond:
*Santa's Favorite Sugar Cookies (not shown)
A slightly crispy outside and an ever so slightly chewy center with a colorful sugar coating is what makes Santa's Favorite Sugar Cookies so enticing.
*Snowball Cookies with Pistachios and Cranberries (shown below)
Snowball Cookies with Pistachios and Cranberries are a must-make cookie for the holidays. They're light, softly crunchy, and buttery sweet. You can't go wrong with something described as buttery sweet!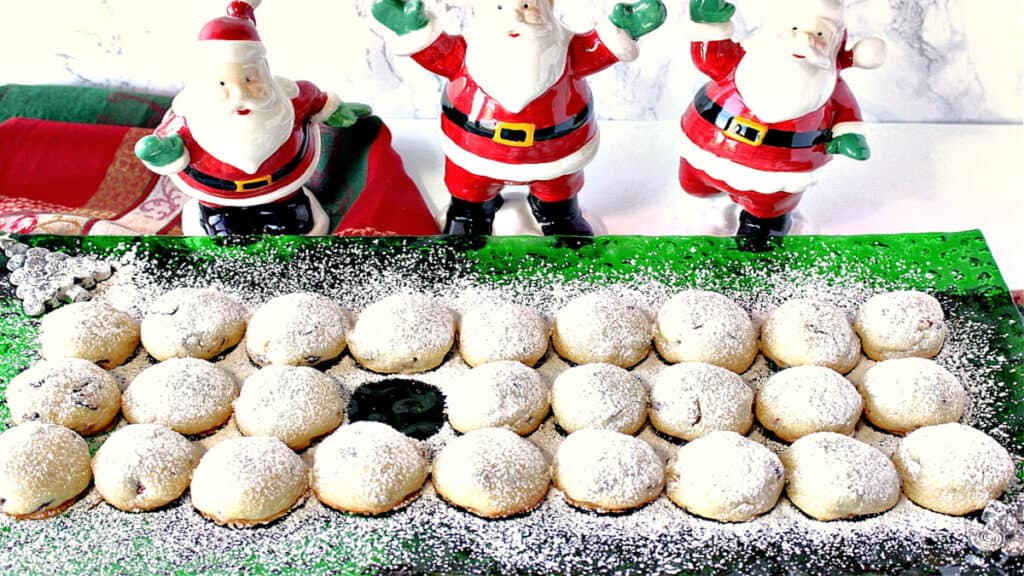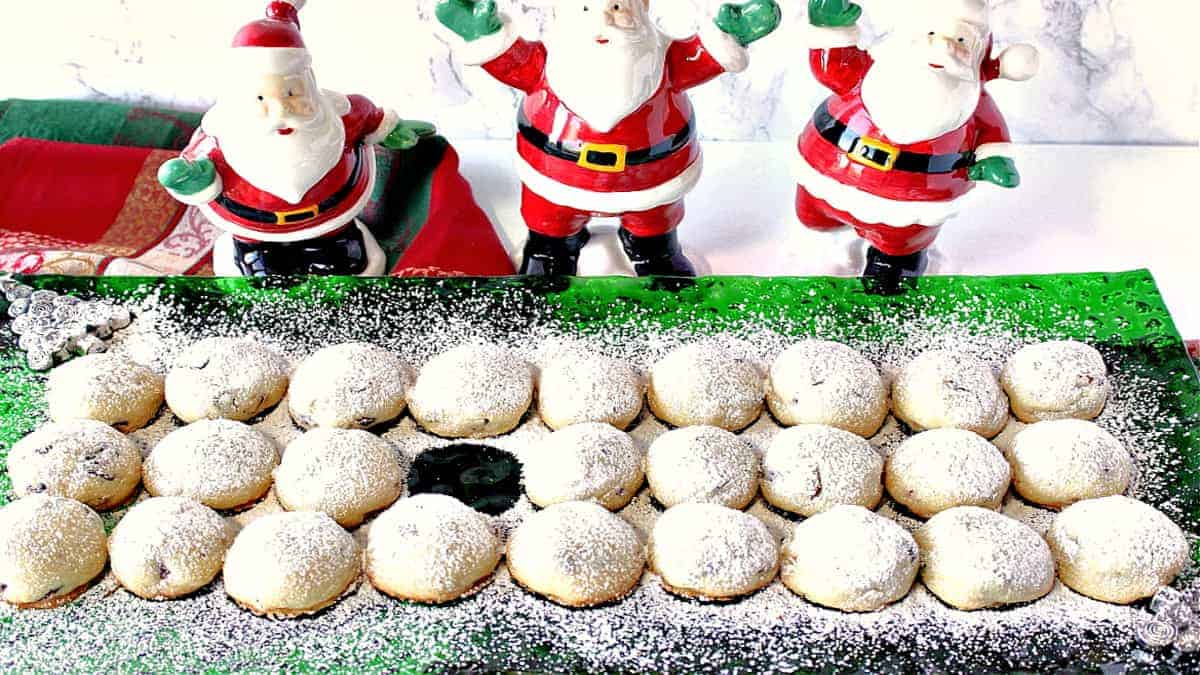 *No-Bake Peppermint Buttercream Wafer Cookies (not shown)
No-Bake Peppermint Buttercream Wafer Cookies are the perfect holiday cookie. Homemade peppermint buttercream is sandwiched between two crispy wafer sheets, sliced, and then dipped into white chocolate and festive sprinkles.
*Cream Cheese Sprinkle Cookies (shown below)
Christmas Cream Cheese Sprinkle Cookies are tender on the inside and crunchy on the outside thanks to the fun and colorful sprinkles.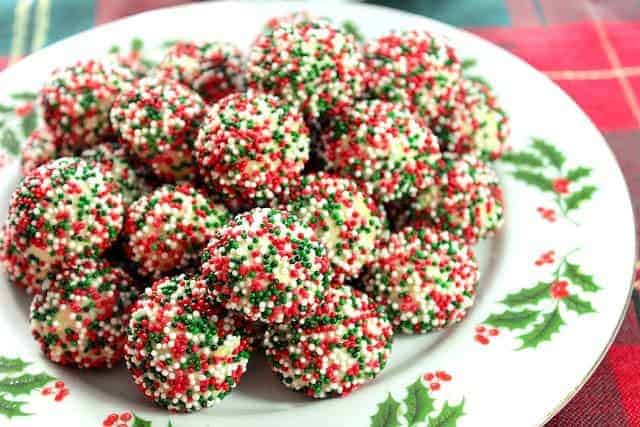 *Fried Rosette Snowflakes (not shown)
Part of the fun of eating a Fried Rosette Snowflake Cookie is the dusting of confectioners sugar that will inevitably snow down the front of your shirt as you crunch into these crispy little holiday treats. There's no way around it, so just give in and let it snow!
*Iced Gingerbread Trees and Snowflake Cookies (shown below) THIS IS THE PLACE!!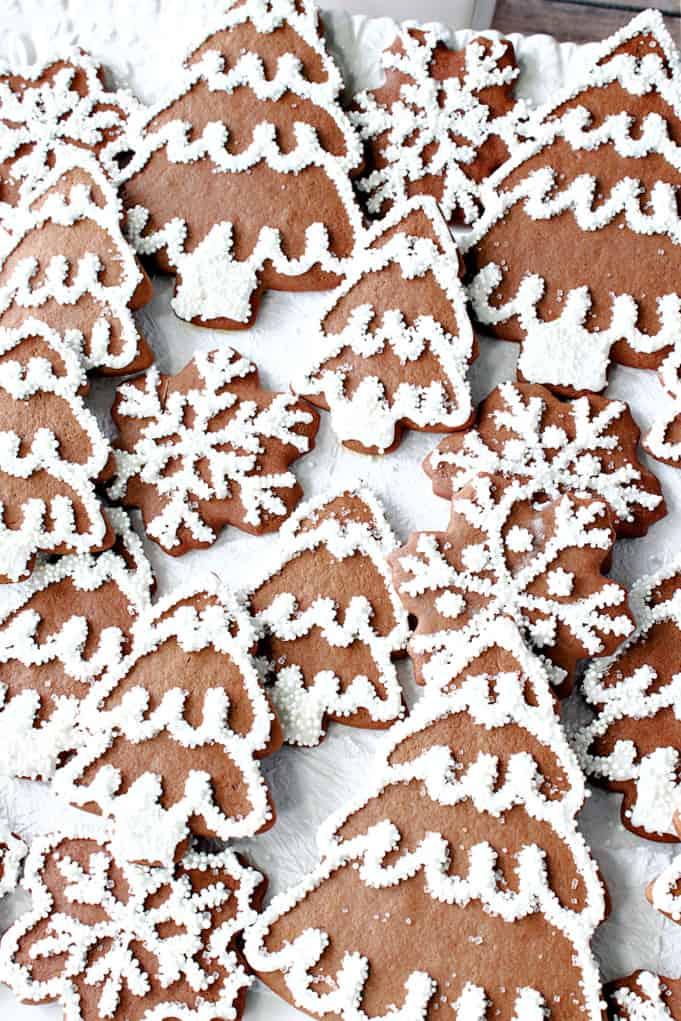 Below is the printable recipe card along with the exact ingredient measurements and nutritional information for making today's fanciful (yet easy) Christmas cookie recipe Gingerbread Trees and Snowflake Cookies with Royal Icing Decorations.
If you've made this recipe, or are excited to make this recipe, I'd appreciate it if you'd take a moment to leave it a star rating in the recipe card, along with a comment if you're so inclined. Thank you. 🙂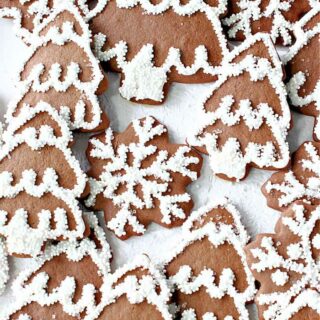 Gingerbread Trees and Snowflake Cookies
Renee – Kudos Kitchen
These Gingerbread Trees and Snowflake Cookies are simple and stunning in their design, not to mention totally delicious and easy to make!
Ingredients
FOR THE GINGERBREAD DOUGH:

½

cup

granulated sugar

½

cup

dark molasses

½

cup

butter

softened

1

egg

1

teaspoon

pure vanilla extract

2½

cups

all-purpose flour

1½

teaspoons

ground ginger

1

teaspoon

allspice

½

teaspoon

ground cloves

1

teaspoon

ground cinnamon

1½

teaspoons

baking soda

1/8

teaspoon

kosher salt

FOR THE ROYAL ICING:

3

cups

confectioners sugar

½

teaspoon

almond extract

1½

tablespoons

meringue powder

2

tablespoons

light corn syrup

¼ – ½

cup

warm water

depending on consistency needed

White Nonpareils

approximately ½ cup

White Sanding Sugar

approximately ¼ cup
Instructions
TO MAKE THE GINGERBREAD DOUGH:
Cream the butter, sugar together until light and fluffy (approximately 3-4 minutes)

Add the molasses, egg, and vanilla and blend until combined.

In a large bowl, whisk together the flour, ginger, allspice, ground cloves, ground cinnamon, baking soda, and salt.

Add half of the flour mixture to the butter and sugar mixture and blend, scraping down the sides of the bowl, as needed.

Add the remaining flour mixture and blend until a soft dough forms.

Divide the dough in half and wrap each half with plastic wrap.

Chill for at least 1 hour in the refrigerator.

Preheat oven to 350-degrees.

When ready to bake, unwrap the chilled dough and divide each in half.

Lightly flour a work surface and roll the gingerbread dough to an even ¼" thickness.

Use cookie cutters to cut out shapes, rerolling the remaining dough to make additional cookies.

Place the cut cookies on to parchment-lined baking sheets.

Bake in preheated oven for 20-25 minutes (conventional oven), rotating the baking sheets halfway through the baking process.

Cool the cookies completely on wire racks.
TO MAKE THE ROYAL ICING:
Blend all the ingredients (starting with ¼ cup warm water) on low speed.

If needing a thinner consistency, add a touch more warm water at a time until desired consistency.

Store the royal icing in air-tight containers at room temperature.

Once the cookies are completely cooled, add the royal icing to a piping bag (or zip-top bag with a small snip in the corner), and pipe the icing onto the cookies (see video).

While the icing is wet, sprinkle the nonpareils and sanding sugar liberally onto the wet icing.

Allow the cookies to sit and dry for at least one hour before turning the cookies over and allowing the excess decorations to fall away.

Allow the cookies to dry an additional 4 hours before stacking for gifting.
Nutrition
Serving:
1
Calories:
154
kcal
Carbohydrates:
30
g
Protein:
1
g
Fat:
4
g
Saturated Fat:
2
g
Polyunsaturated Fat:
1
g
Cholesterol:
15
mg
Sodium:
109
mg
Sugar:
21
g
Keyword
Christmas Cookies, gingerbread cookies, gingerbread dough, gingerbread trees and snowflake cookies
Thank you so much for visiting me here today in my Kudos Kitchen!
I sincerely hope you've enjoyed today's Christmas recipe and video presentation for Gingerbread Trees and Snowflake Cookies as much as I've enjoyed bringing it to you!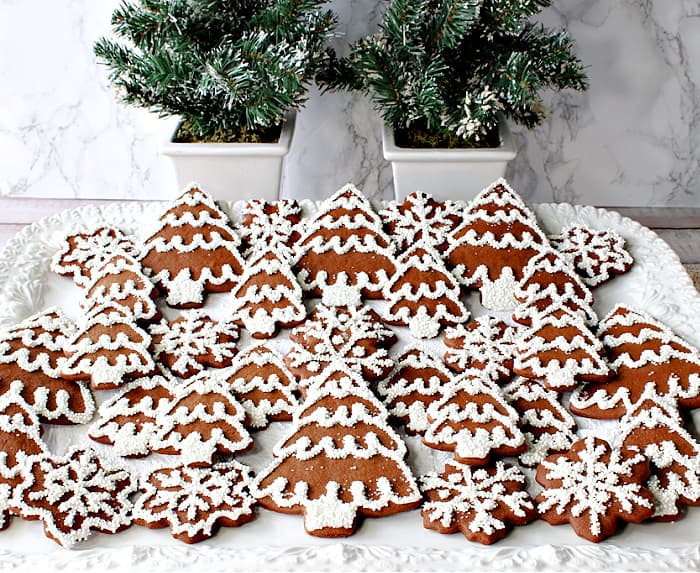 Should you have any questions or comments regarding this recipe or anything else you've seen on my site, please don't hesitate to reach out to me. It is always my distinct pleasure to get back with a reply just as soon as I possibly can!
For more Kudos Kitchen recipe information, please follow me on my social medial channels (listed below), and don't forget to TAG me @kudoskitchen with photos so I can view all your delicious recipe creations! It's exciting for me when you share them, so don't be shy!
Instagram, Pinterest, Facebook, and YouTube
Kudos Kitchen by Renee – BRINGING YOU EASY, ECONOMICAL, AND DELICIOUS DISHES TO FEED YOUR LOVED ONES!
Until we eat again, I hope you have a delicious day!
**Note – The post above includes affiliate links. As always, I truly thank you for your support!
When I find a great product or service I like to share it with my readers. For additional information please view my privacy policy.