Chicken Oscar (Kudos Kitchen Style) is tender and juicy breaded chicken breasts topped with mounds of sweet crabmeat, fresh seasonal asparagus, Swiss cheese, and a white wine mustard sauce that completes the dish perfectly!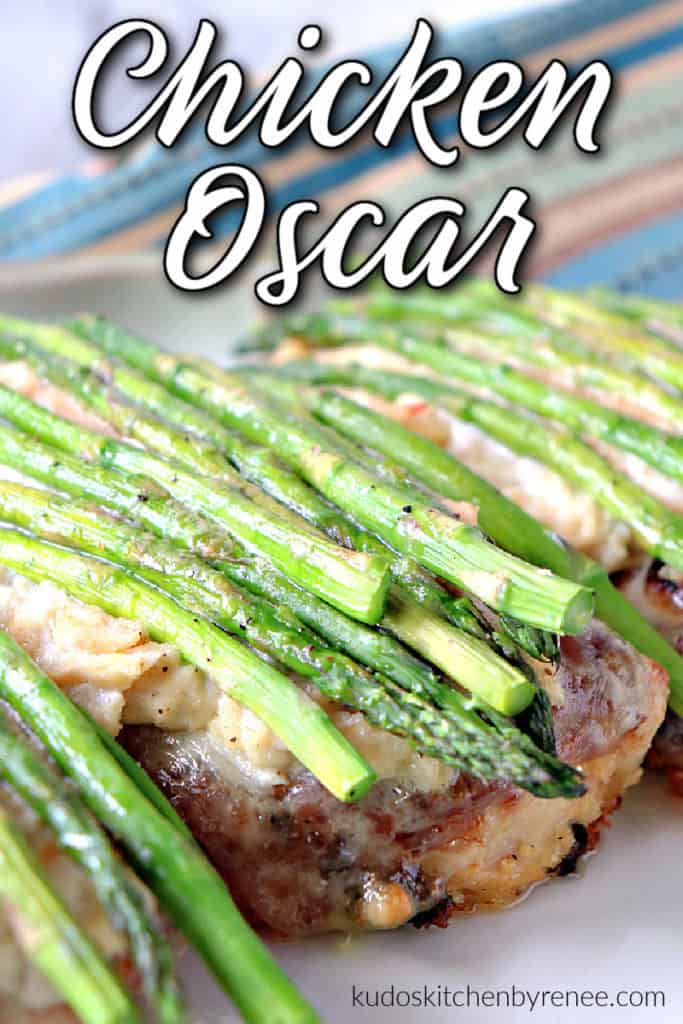 Chicken Oscar is the perfect recipe for a special occasion, or for any meal where you want to make a lasting impression.
While this dish may look challenging to make, the steps are simple, and the instructions are easy to follow. Let me show you!
**Please Note - The printable recipe card with detailed instructions, complete ingredient measurements, and nutritional information for making Chicken Oscar is available near the end of this post. OR Click on the "Jump to recipe" button (found above) to be taken directly to the recipe.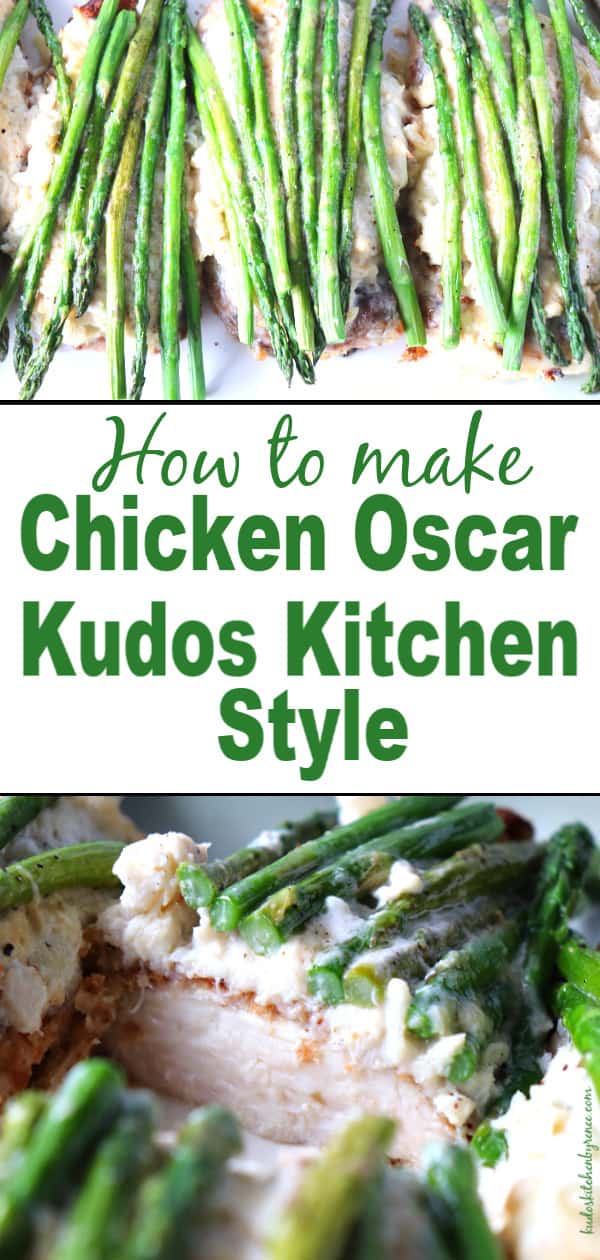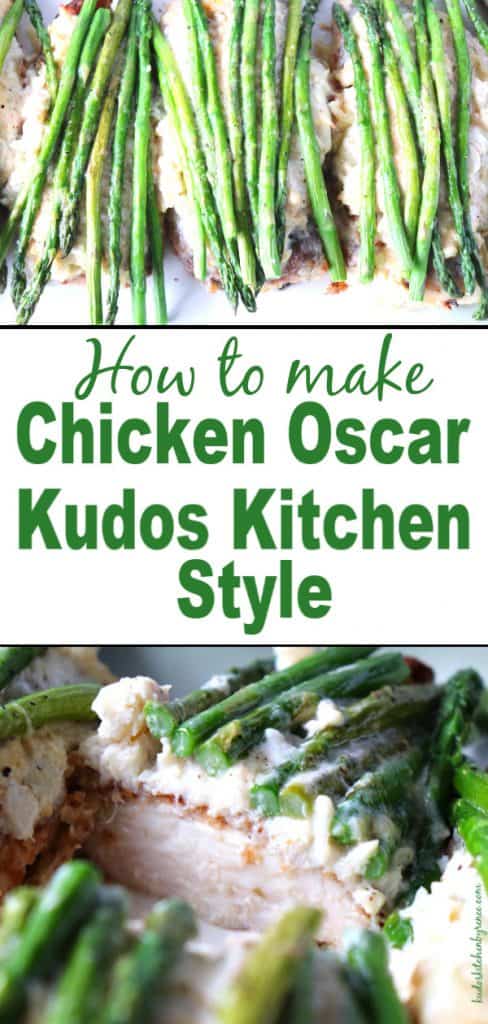 The ingredient list for making Chicken Oscar:
Chicken Breast

Crab Meat

Fresh Asparagus

White Wine

Dijon Mustard

Panko Crumbs

Bread Crumbs

Salt and Pepper

Mayonnaise

Seafood Seasoning

Butter

Olive oil

Chicken Stock or Broth

Swiss Cheese Slices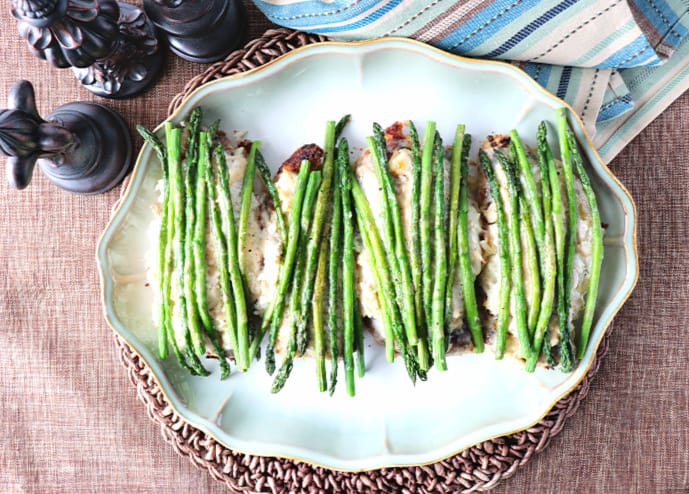 **This post is being updated from the original publication in 2014. The recipe has remained completely unchanged from the original post with only the photos being updated. This article now also includes a video presentation along with a printable recipe card including nutritional information.
This is what I wrote about Chicken Oscar in 2014;
My take on Chicken Oscar (Kudos Kitchen Style) was inspired by a local trip that my husband and I recently took with some friends to go zip lining in beautiful Ottawa, Illinois, which is a couple of hours Southwest of where we live.
If you're wondering how in the world this recipe could have possibly been inspired by a zip lining adventure, that's a good question. It wasn't actually the zip lining that inspired it, but our celebratory "We did it!" dinner afterward at Hank's Farm Restaurant in Ottawa, Illinois that inspired it.
I knew after my plate had arrived, and I'd taken my first bite, that this would be a recipe I wanted to recreate in my own kitchen. Here's the picture of Hank's Chicken Oscar that I took on my phone that night at dinner.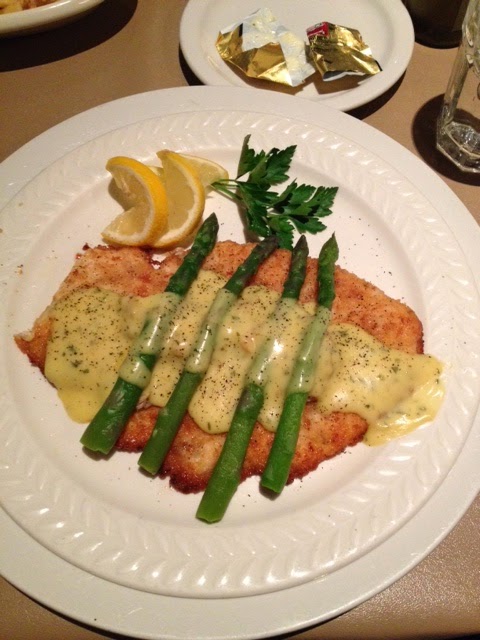 Below is my original Kudos Kitchen Style Chicken Oscar photo from 2014:
More recollections from 2014;
Before I go any further with my Chicken Oscar recipe recreation, let me take a moment to share a little more about our zip lining adventure. It was a BLAST!
Have you ever felt like you were in a rut and that you needed to do something to break out of your comfort zone, and do something to make your heart race a little?
Yeah, that's how I was feeling too, so my husband surprised me by booking a "zip trip" with Zip Chicago, "Chicago's New Canopy Zipline Tour."
We went the Friday before Memorial Day and the weather couldn't have been better. Our good friends P and J came with us on our excursion, and we laughed the entire way there in the car. Who would have guessed that one day we'd all be zipping through the trees, hundreds of feet off the ground? That's a lot to laugh about!
Once we got to Zip Chicago, they gave us pretty extensive instructions on how to put on all the safety gear (i.e. harnesses, cables, helmets) and went through the thorough list of what to do, and what not to do while zipping. We were all pretty nervous at that point and I remember thinking "I can hardly believe we're doing this!"
That first run was pretty scary but as the day wore on we all were truly enjoying each and every run (8 total), and at the end of the day, I'm happy to report that we all felt pretty confident as zip lining aficionados and that we would all definitely do it again another time, another place!
Here's a video I took of my husband, Mark on the longest run that day. The sound you hear is the cable as he comes zipping down the line at about 45 mph. Keep your eye on the top, in the middle part of the screen and you'll eventually see a red speck coming toward you. That's him! LOL!! Hard to imagine!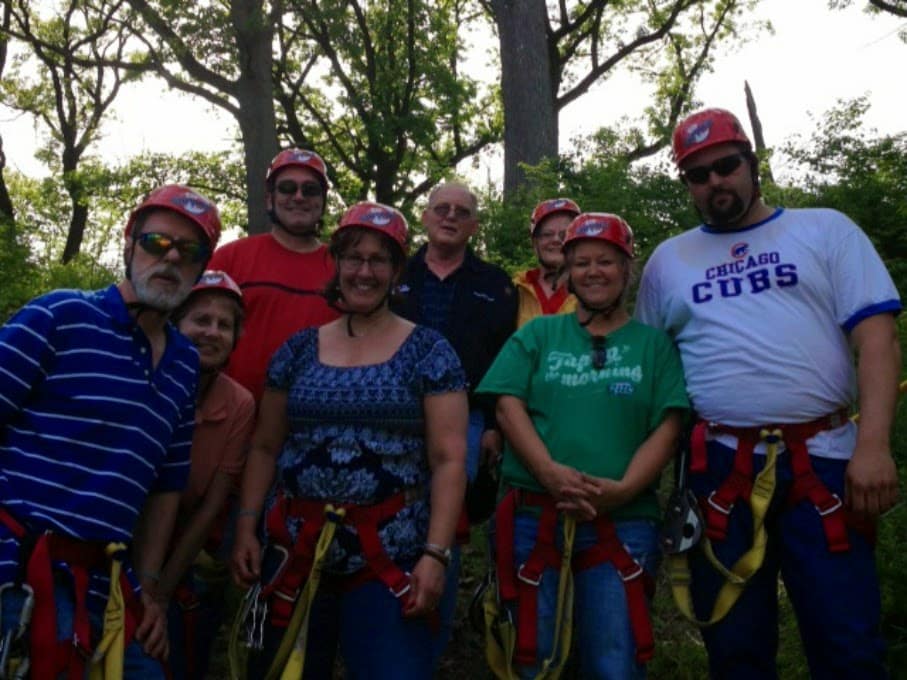 That was a fun time, and some great memories...but now it's time to get back to the recipe...
The instructions for making Chicken Oscar:
Whisk together the white wine and Dijon Mustard.

Pour it over the chicken breasts and allow them to marinate at least 20 minutes.

Meanwhile, stir together the crabmeat, mayonnaise, white wine, seafood seasoning, salt, and pepper.

Set aside the crabmeat mixture.

In a shallow dish, combine the panko, breadcrumbs, salt, and pepper.

Remove the chicken breasts from the marinade (discard the marinade) and coat the chicken in the prepared breading on both sides.

Brown the chicken breasts on both sides in a skillet over medium/high heat in melted butter (approximately 4-5 minutes per side).

Remove the browned chicken from the skillet and onto a baking sheet.
Top the chicken with Swiss cheese slices and mounds of the prepared crabmeat.

In a medium skillet, simmer butter, white wine, Dijon mustard, and chicken stock until it reduces.

Top the crabmeat with plenty of fresh asparagus which has been steamed to just tender (the microwave works well for this).

Pour the butter and white wine sauce over the chicken oscar and bake in a preheated 350-degree oven until the chicken is cooked through (approximately 30 minutes).

Serve and enjoy!

Whew, I know that seems like an awful lot of steps and a lot of instructions but I guarantee you that they're all worth it!
I do hope you'll try my recipe and will let me know what you think of it when you do.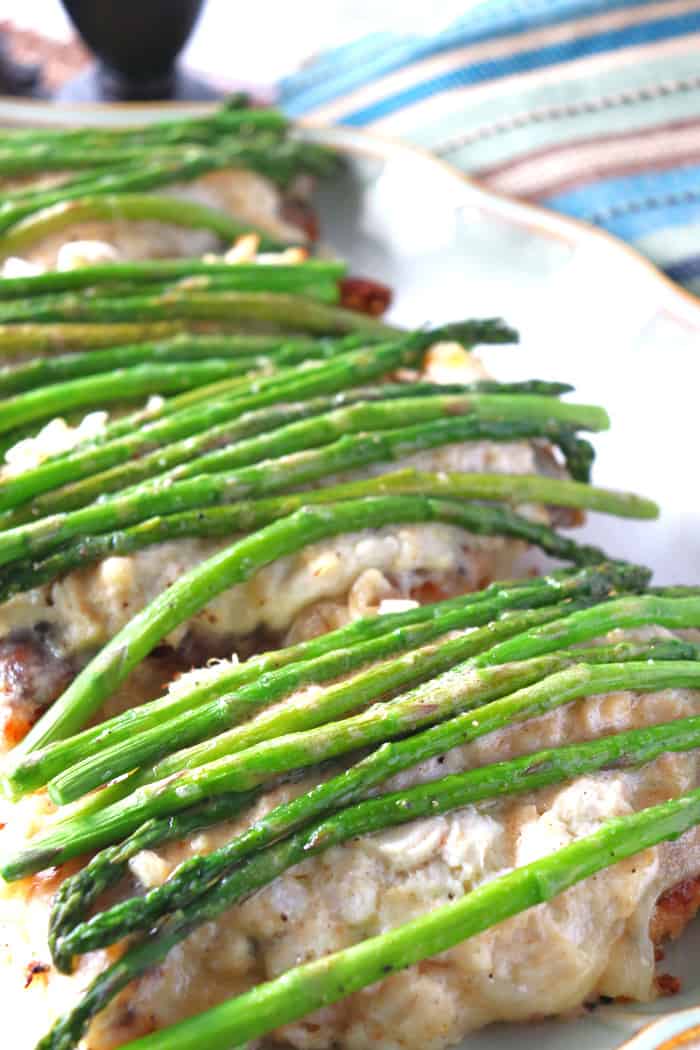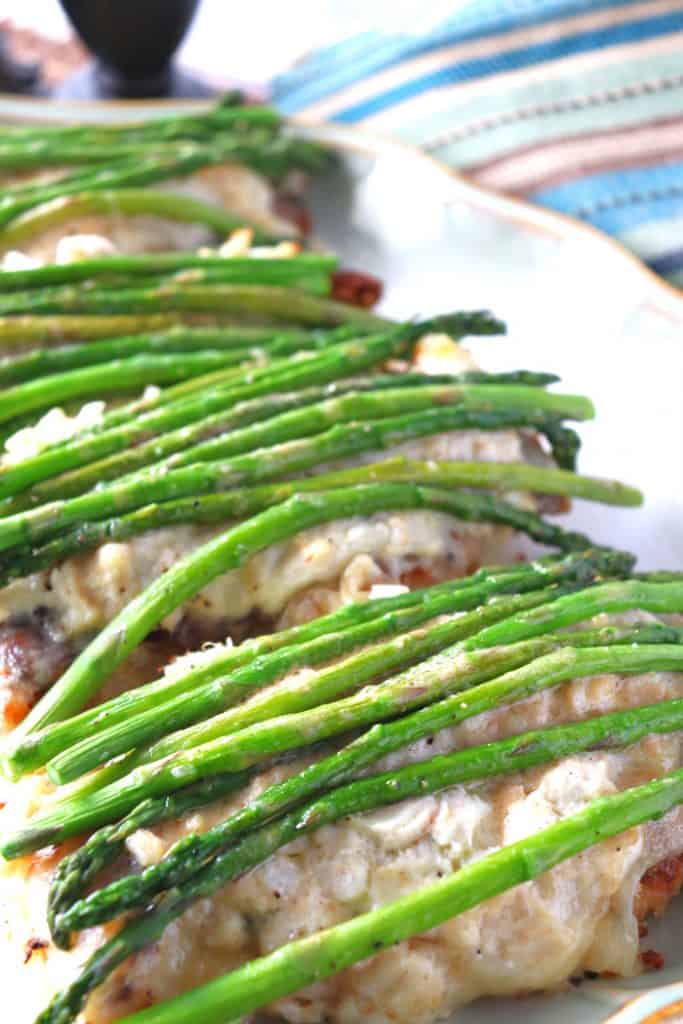 Additional chicken recipes:
Skillet Blueberry BBQ Sauce Chicken is beautifully browned chicken breast which simmers to a tender finish in an easy to make zippy blueberry-chile BBQ sauce.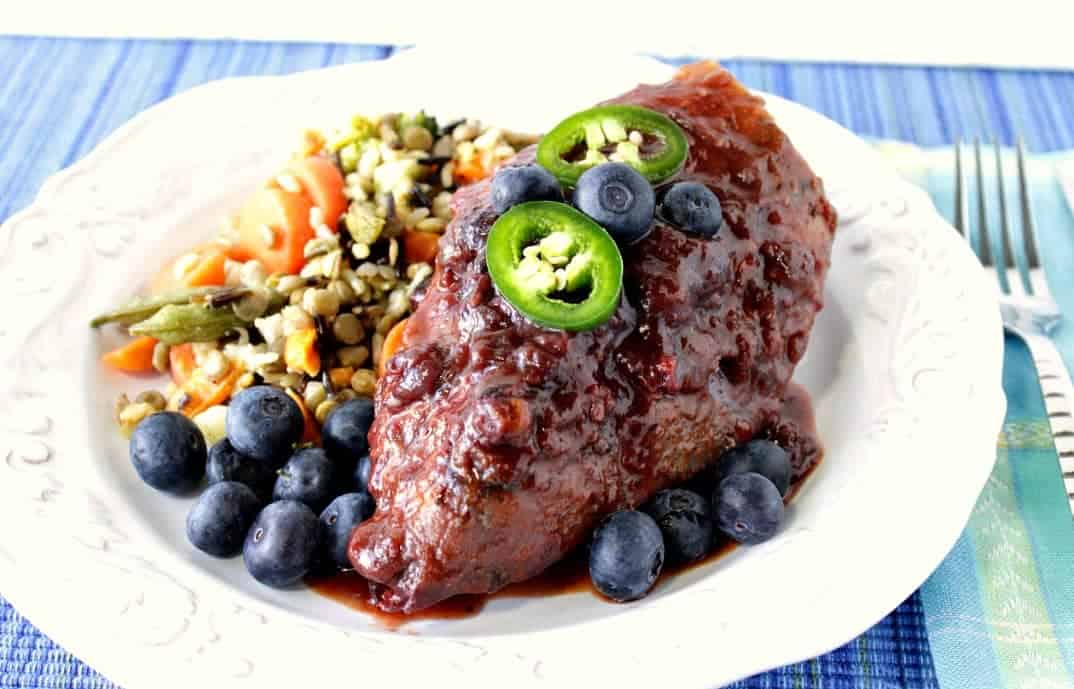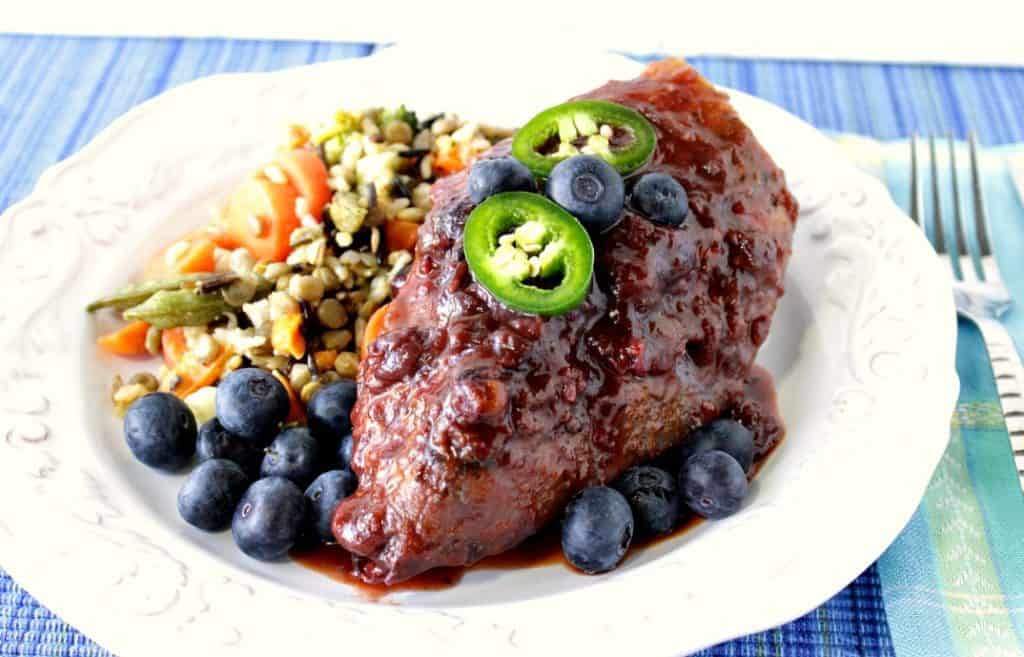 Hawaiian Pineapple Chicken Thighs are a moist and flavorful family favorite that comes together in a snap with the help of the slow cooker.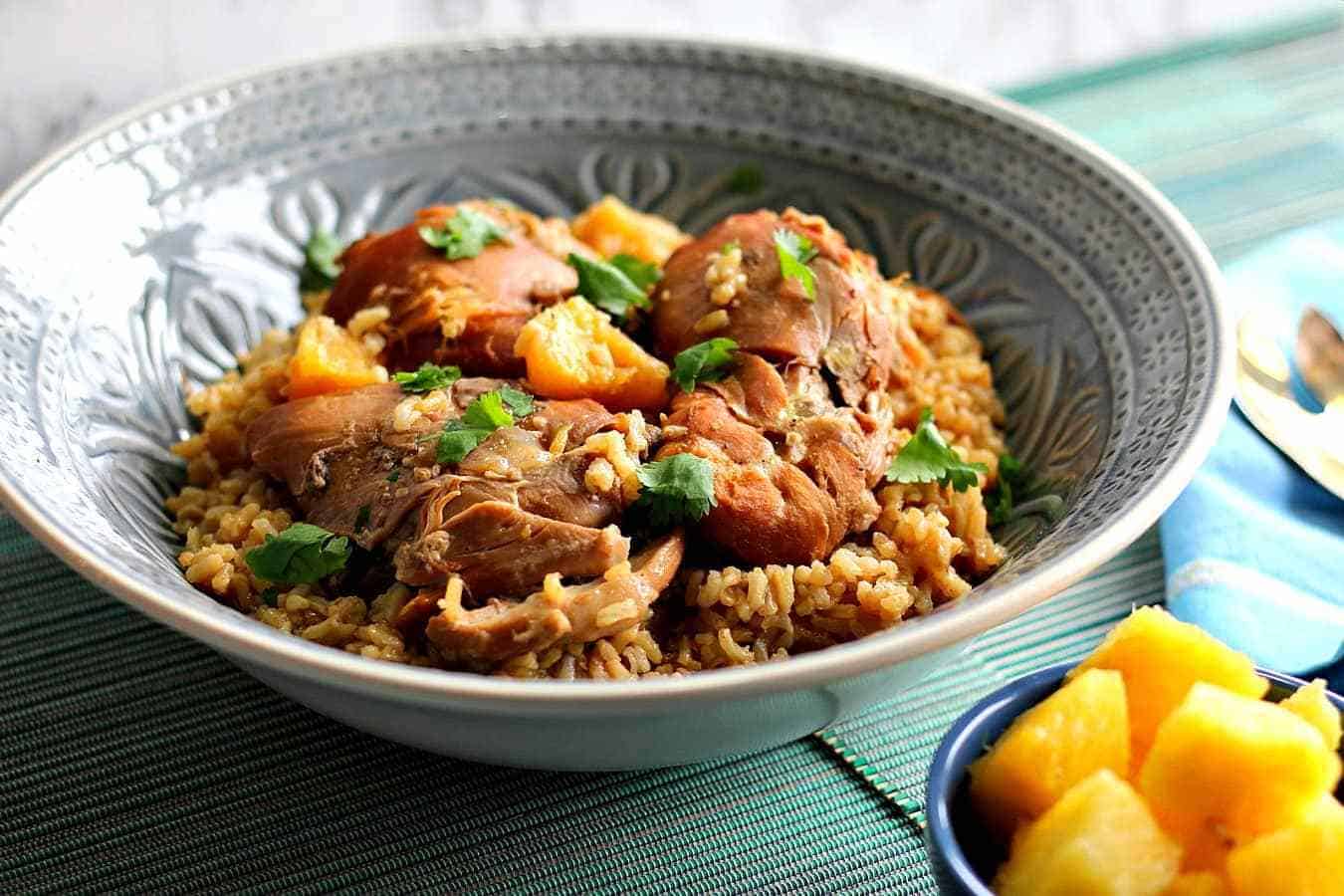 Chicken Oscar (pictured below) THIS IS THE PLACE!!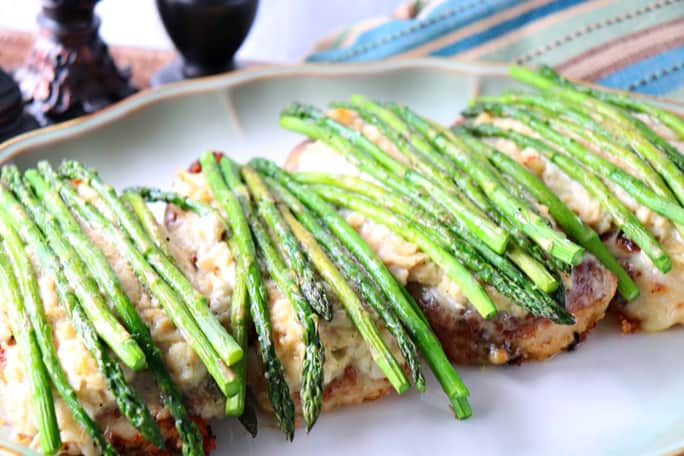 Below is the printable recipe card along with the nutritional information for today's delicious Chicken Oscar.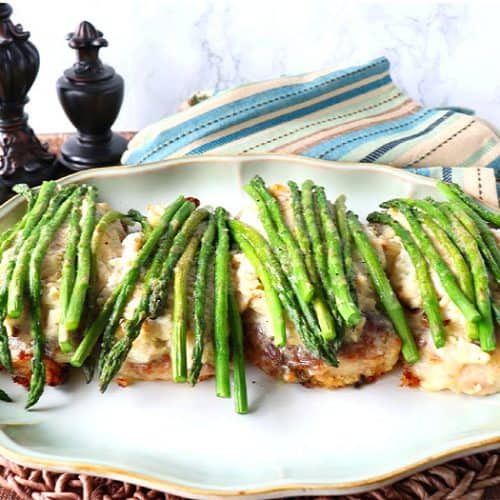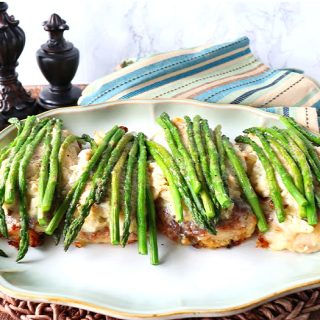 Chicken Oscar
Tender and crunchy chicken breasts are smothered in sweet crabmeat, topped with Swiss cheese and fresh asparagus, and then drizzled with a white wine butter sauce.
Ingredients
For the marinade;
¼

cup

white wine

your favorite variety

1

tablespoon

Dijon mustard

4

large

5 ounces chicken breast, boneless and skinless
For the breading and pan frying;
1

cup

panko crumbs

1

cup

bread crumbs

1½

teaspoons

salt

1

teaspoon

pepper

⅛

teaspoon

seafood seasoning

2

tablespoons

olive oil

2

tablespoons

butter
For the crabmeat topping;
2

cans lump crab meat

drained and cleaned

2

tablespoons

mayonnaise

1

tablespoon

white wine

⅛

teaspoon

seafood seasoning

small pinch salt

small pinch pepper
For the sauce;
4

tablespoons

butter

¼

cup

white wine

¼

cup

chicken stock

or broth

1

teaspoon

Dijon mustard
To complete the dish;
8

slices

Swiss cheese

24

spears asparagus

lightly steamed
Instructions
To marinate the chicken breasts;
Mix the marinade ingredients in a large zip-top bag. Add the chicken breast and marinade for 20-30 minutes.
To make the breading;
In a shallow dish, combine the breading ingredients and coat the marinated chicken on both sides with the breading. Set the breaded chicken aside while preparing the crabmeat topping.
To make the crabmeat topping;
In a medium bowl, stir together the crabmeat topping ingredients and chill until ready to use.
To pan fry the breaded chicken;
Melt the butter and oil together in a large skillet over medium/high heat. Add the breaded chicken breast and brown the chicken on both sides until golden (approximately 4-5 minutes per side).

While the chicken is browning, prepare the asparagus spears by steaming them lightly, but not overcooking them, in the microwave. Keep warm.

Remove the browned and breaded chicken breasts from the skillet and place on a baking sheet.

Top each chicken breast with two slices of Swiss cheese and divide the crabmeat topping equally between the chicken breasts.

Bake the crab topped chicken breasts in a preheated oven and bake for approximately 25-30 minutes, or until the chicken is cooked through and no longer pink in the center.

*Note - the proper internal temperature for cooked chicken breasts is 160-165 degrees Farenheight.
To make the pan sauce;
While the chicken is cooking in the oven bring the sauce ingredients to a boil in a small saucepan, whisking occasionally. Cook for 5-6 minutes over medium/high heat until the sauce reduces by half.
To complete the dish;
Remove the chicken Oscar from the oven and place the steamed asparagus over each chicken breast.

Spoon the reduced sauce over the chicken, and return to the oven for an additional 5 minutes.

Serve immediately, and enjoy!
Notes
Tools and equipment:
A shallow dish, large zip-top bag, tongs, measuring cups, measuring spoons, large skillet, baking sheet, foil (optional), baking rack (optional), medium-size bowl, spoons.
Nutrition
Serving:
1
grams
Calories:
731
kcal
Carbohydrates:
35
g
Protein:
33
g
Fat:
47
g
Saturated Fat:
23
g
Cholesterol:
126
mg
Sodium:
2085
mg
Fiber:
2
g
Sugar:
4
g
I sincerely hope you've enjoyed today's recipe for Chicken Oscar, Kudos Kitchen Style as much as I've enjoyed bringing it to you!