Whether you make Pineapple Pork Tenderloin on the outdoor grill, or inside in the oven...just make it. The pineapple gives the pork a wonderful flavor that you're going to flip over!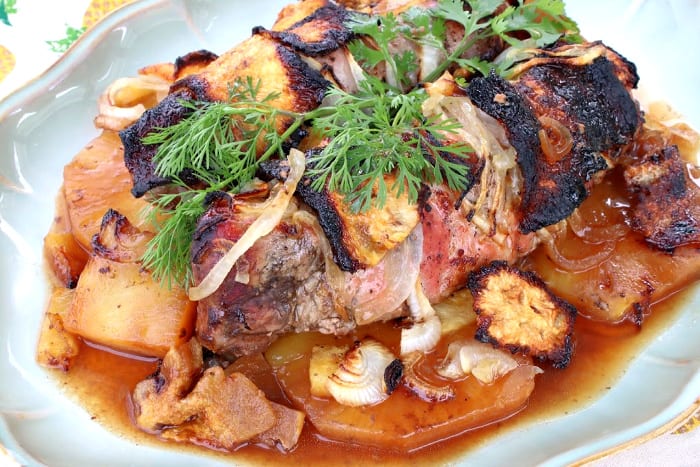 This easy dinner recipe is super simple to make and takes only 6 ingredients!
Jump to: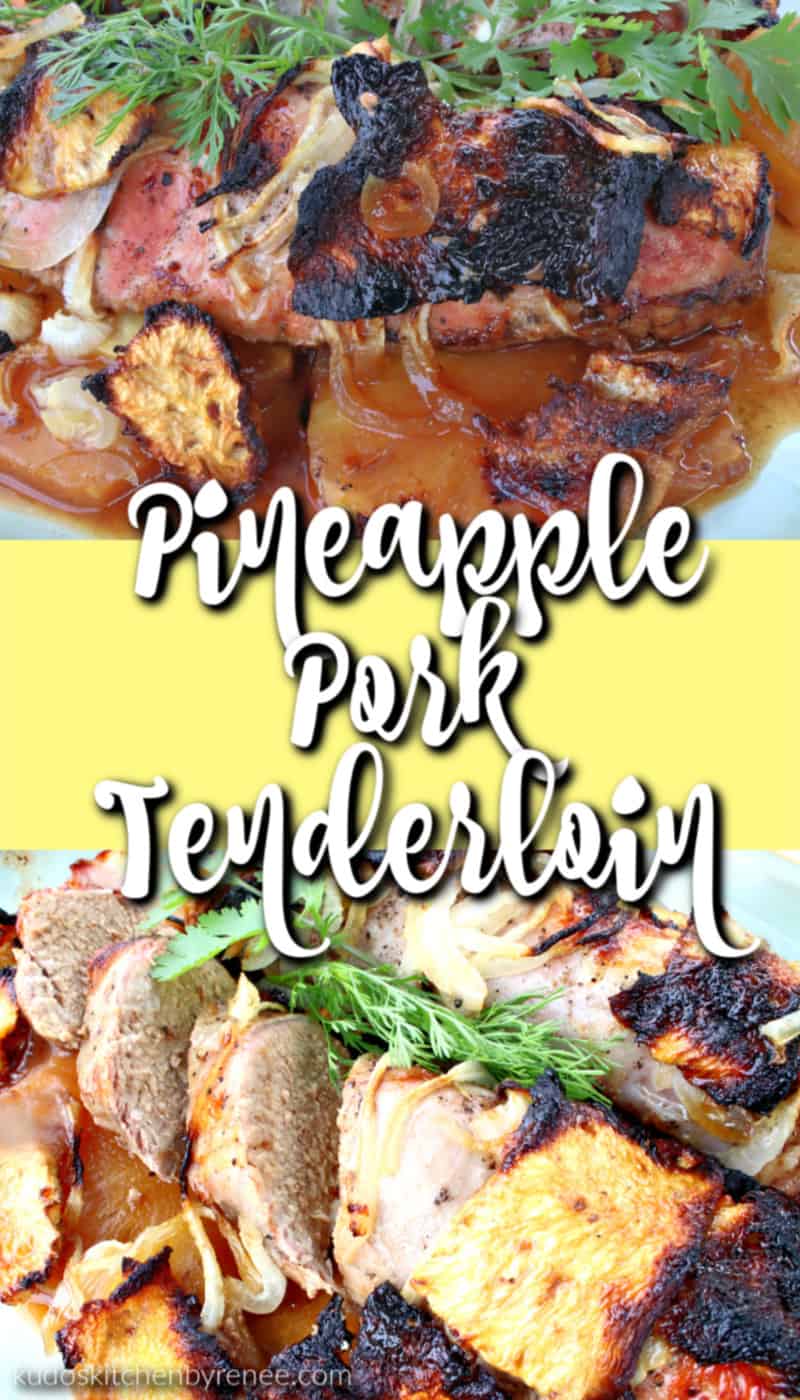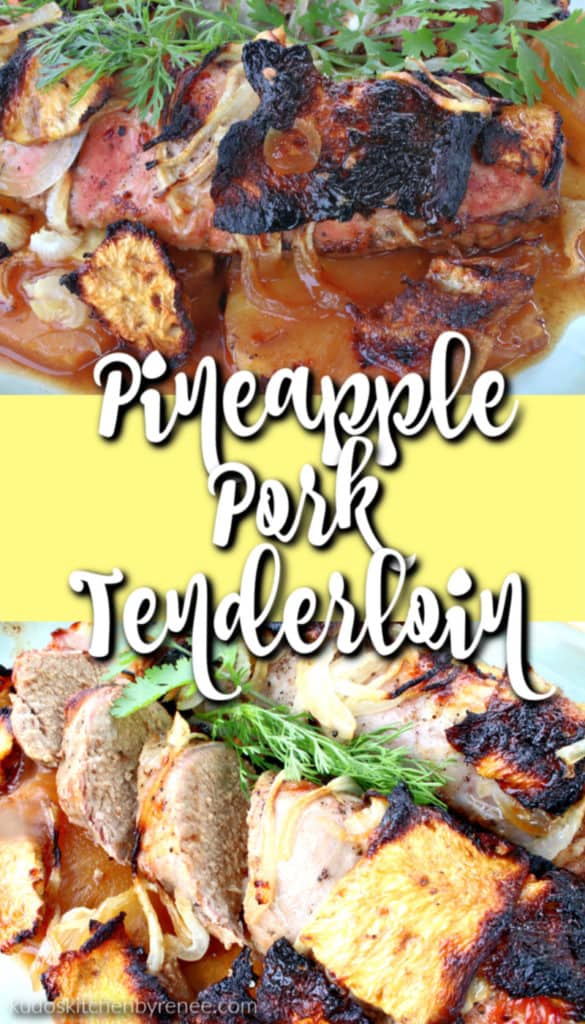 The ingredient list:
**Note - The following lists of ingredients plus kitchen tools and equipment contain affiliate links (highlighted in blue) for your consideration and shopping convenience. #CommissionsEarned
1½ pork tenderloin
pineapple slices (fresh or canned)
onions, sliced
minced garlic
Kitchen tools and equipment needed:
What is the proper internal temperature for cooked pork?
As recommended by the National Pork Board, pork is safe to eat when the internal temperature reaches 145-degrees Fahrenheit, followed by a three-minute rest.
Fresh or canned pineapple?
You can either use fresh pineapple that you slice yourself or feel free to use canned pineapple if that's what you have in the pantry.
Pineapple pork tenderloin will still be delicious no matter which direction you choose to go, so please don't fret if you don't have a fresh pineapple sitting on the counter.
How long will it take to make pineapple pork tenderloin from start to finish?
Approximately 40-50 minutes, but it really will depend on if you're cooking the pork indoors in the oven, or outdoor on the grill where the cooking temperature may be harder to control.
The pork tenderloin photos shown were cooked on the outside grill, and in a disposable aluminum foil roasting pan.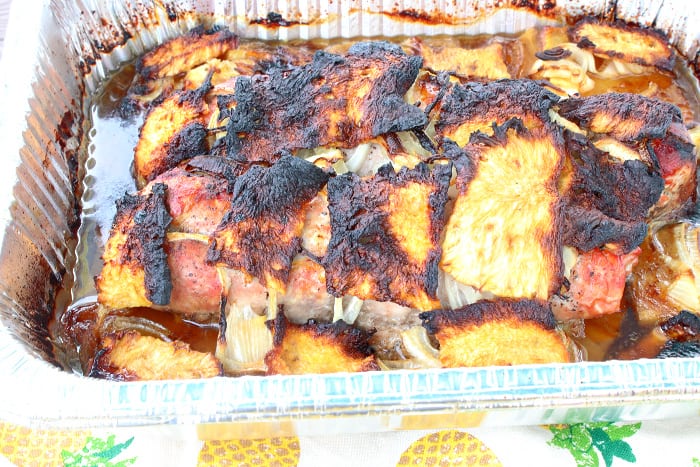 How to turn an outdoor grill into an outdoor oven:
My simple brick method is one I've been using for many years. It works like a charm for cooking food in a baking dish on the grill just as you would in the oven.
By using the bricks, you can elevate the food without fear of direct flame coming into contact with the dish, which can result in burning or overcooking.
Also, depending on the dish used, direct contact with an open flame is very dangerous and may result in severe breakage or explosion of the dish itself.
See below for photo examples of my easy brick method of outdoor cooking...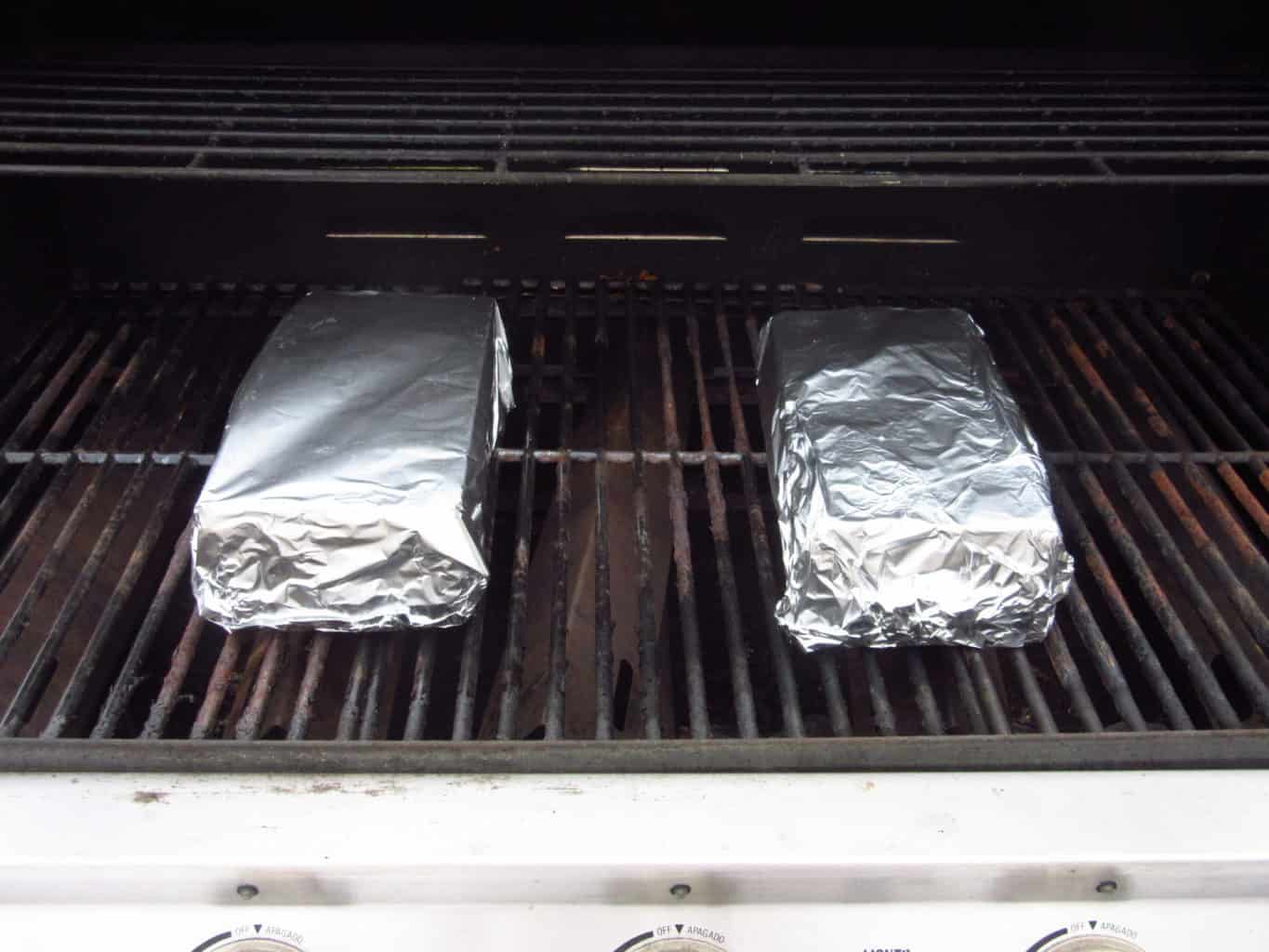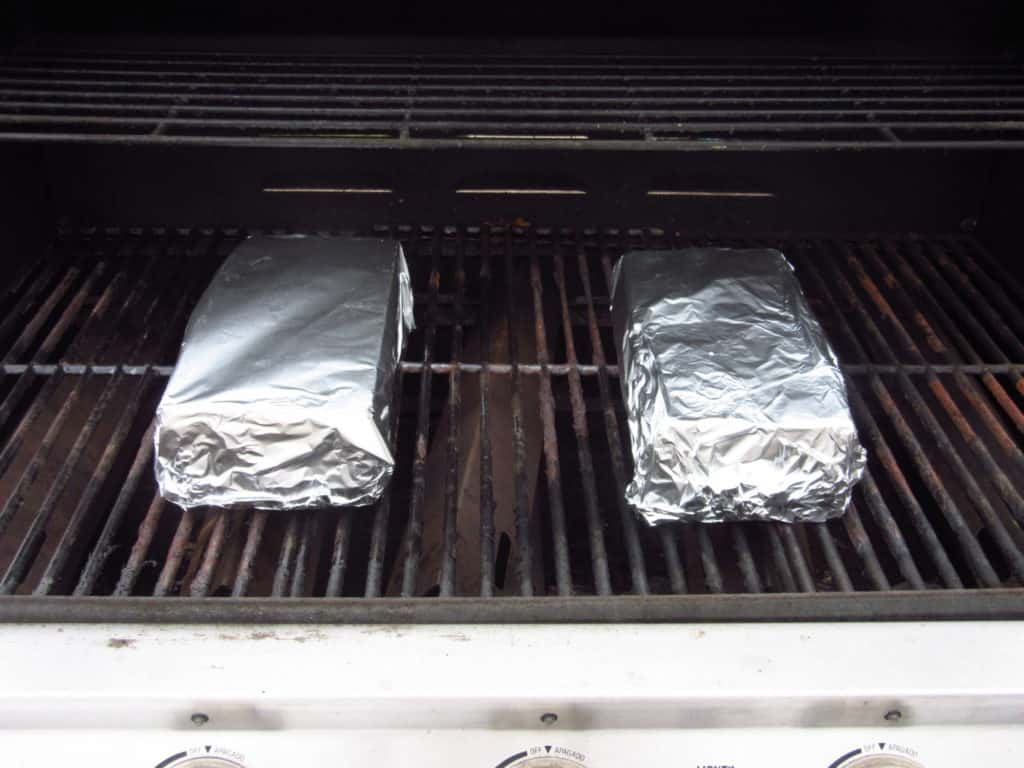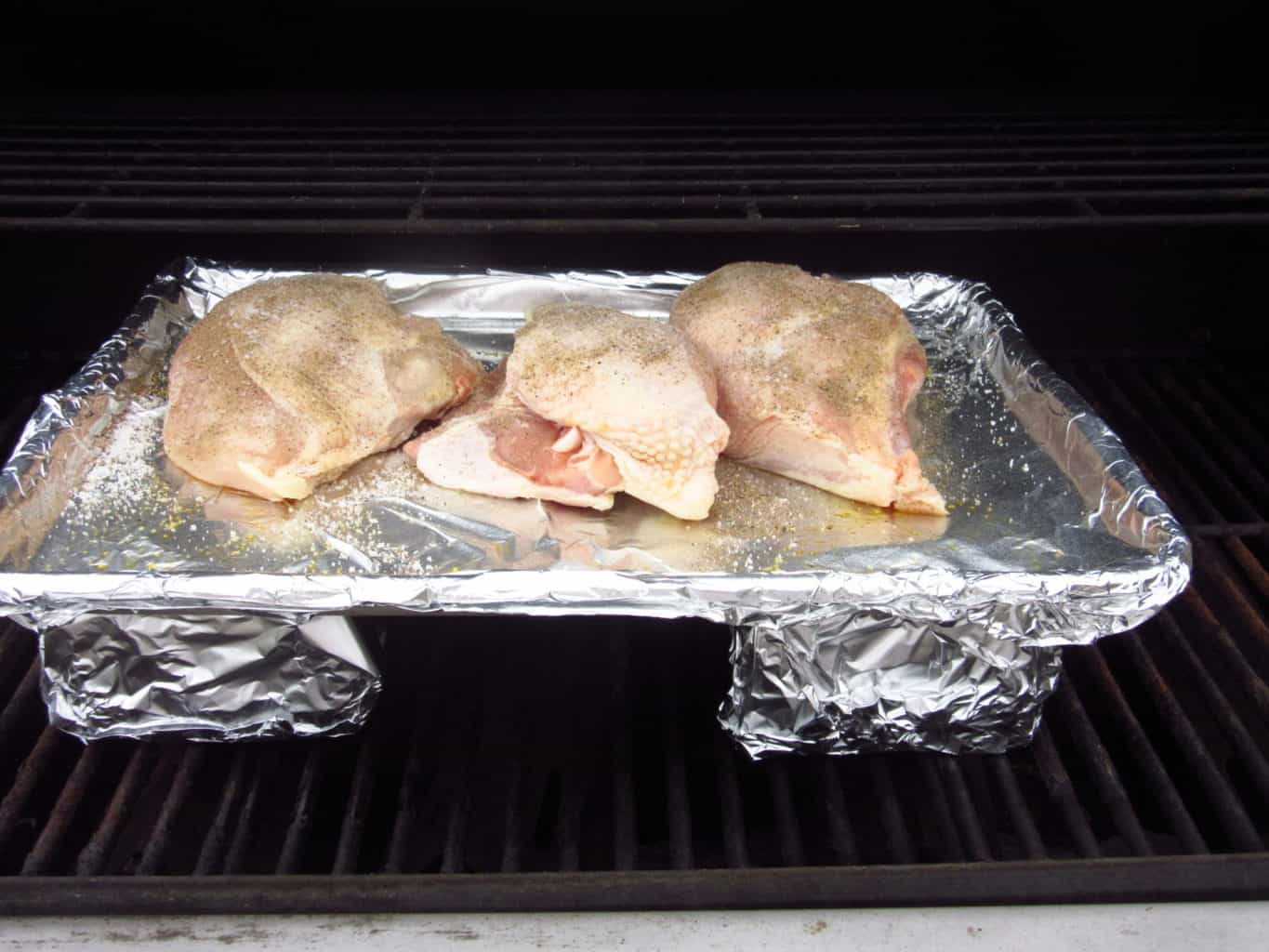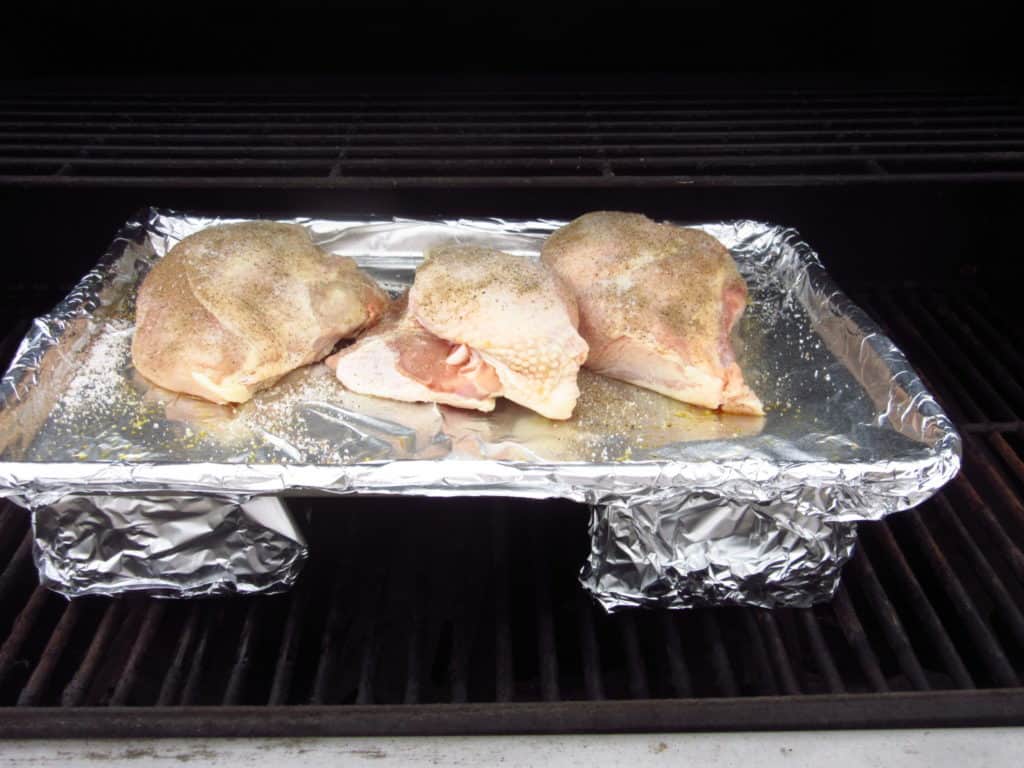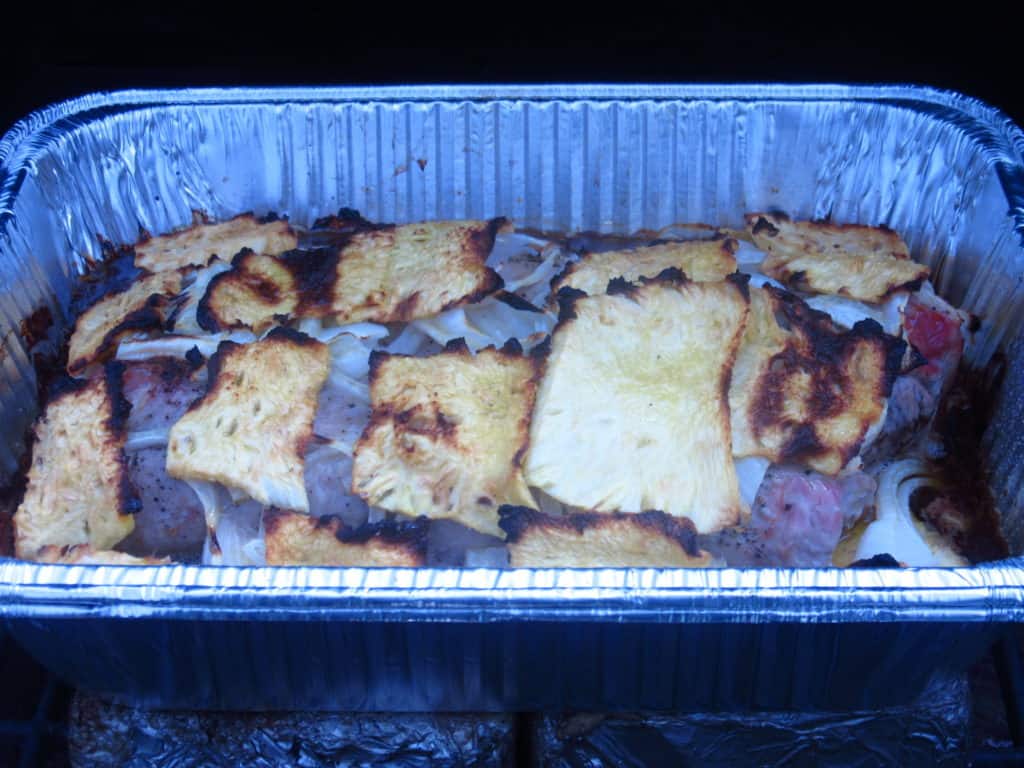 How to make pineapple pork tenderloin:
Prepare and slice the pineapple if not using canned.
Layer some slices in the bottom of a 13 x 9 pan.
Place the pork tenderloin on top of the pineapple slices.
Drizzle the pork liberally with teriyaki sauce.
Season the pork with salt and pepper.
Slice onions and place over the pork tenderloin.
Place more pineapple slices over the pork and onions.
Roast in a 375-degree oven (or on the outdoor grill) for approximately 35-50 minutes, until the pork reaches an internal temperature of 145-degrees on an instant-read thermometer.
Once the pork has reached the proper internal temperature remove and allow it to sit for 5 minutes before slicing and serving.
To serve, spoon the juices from the pan over the pork and enjoy!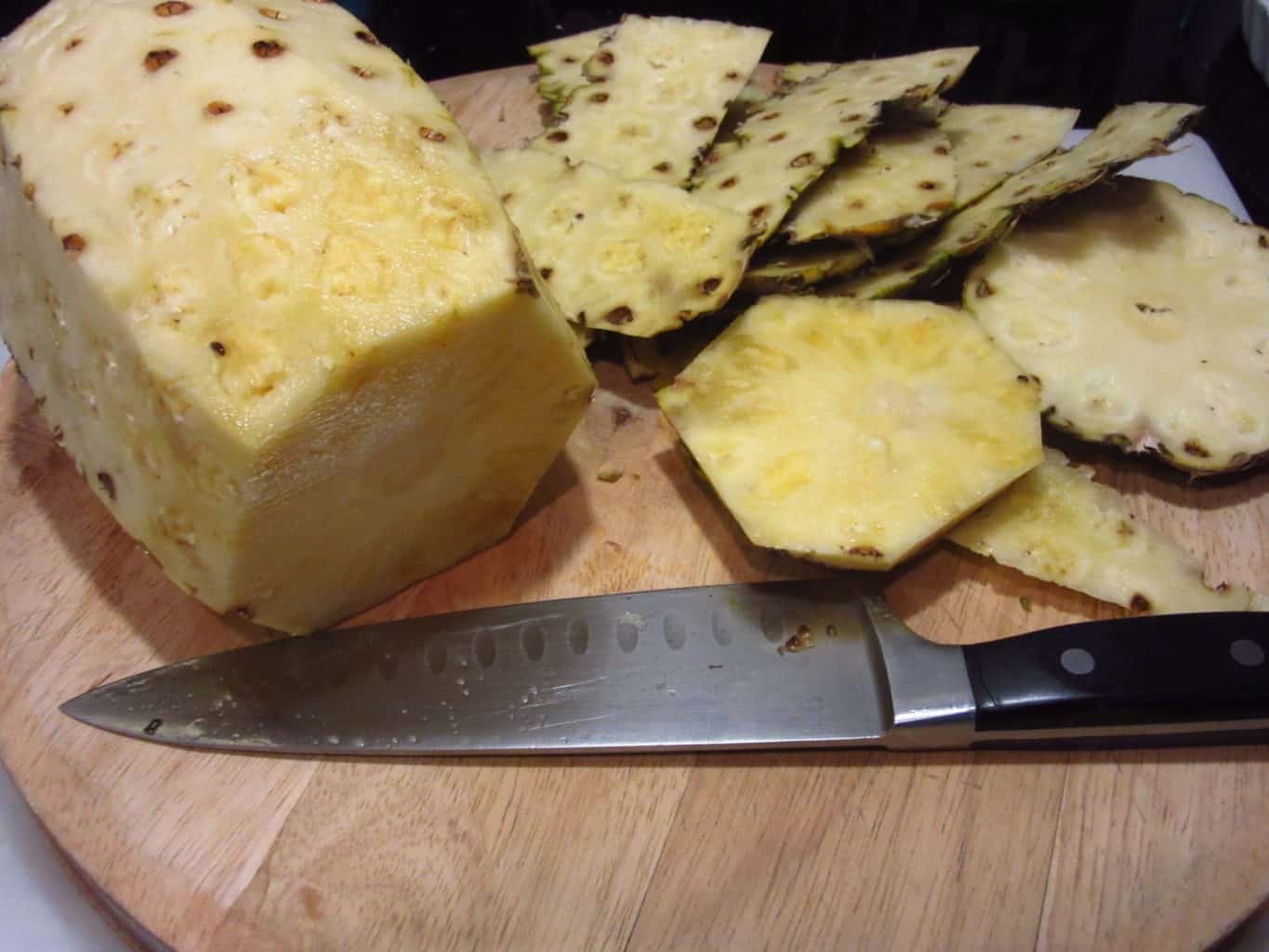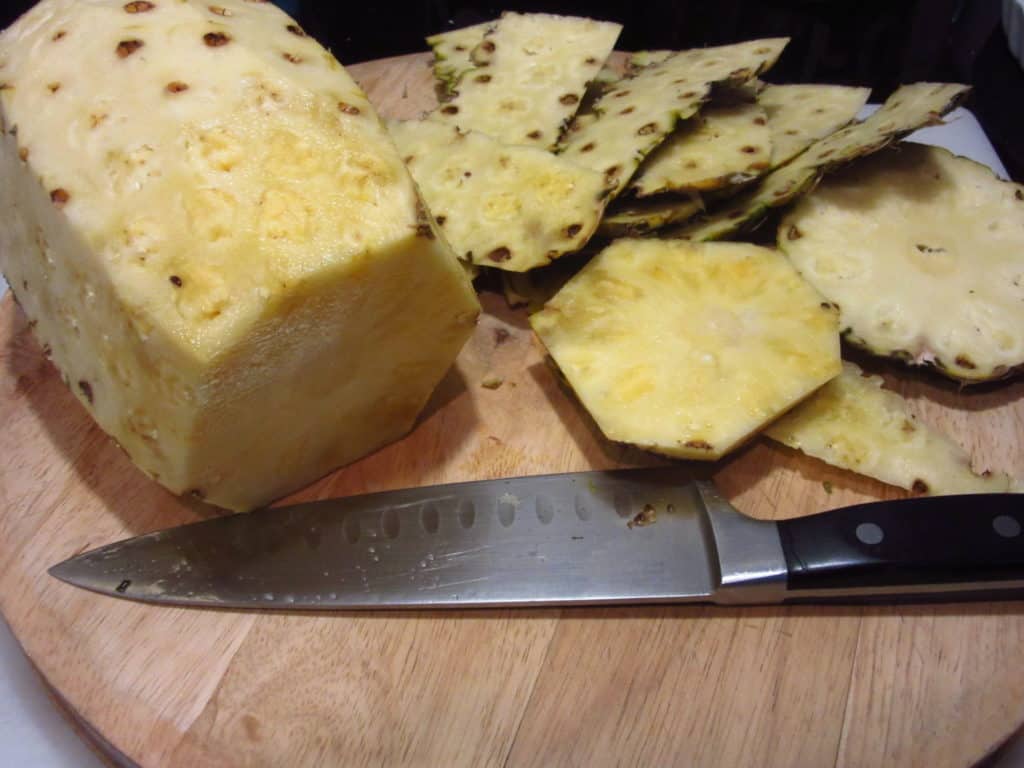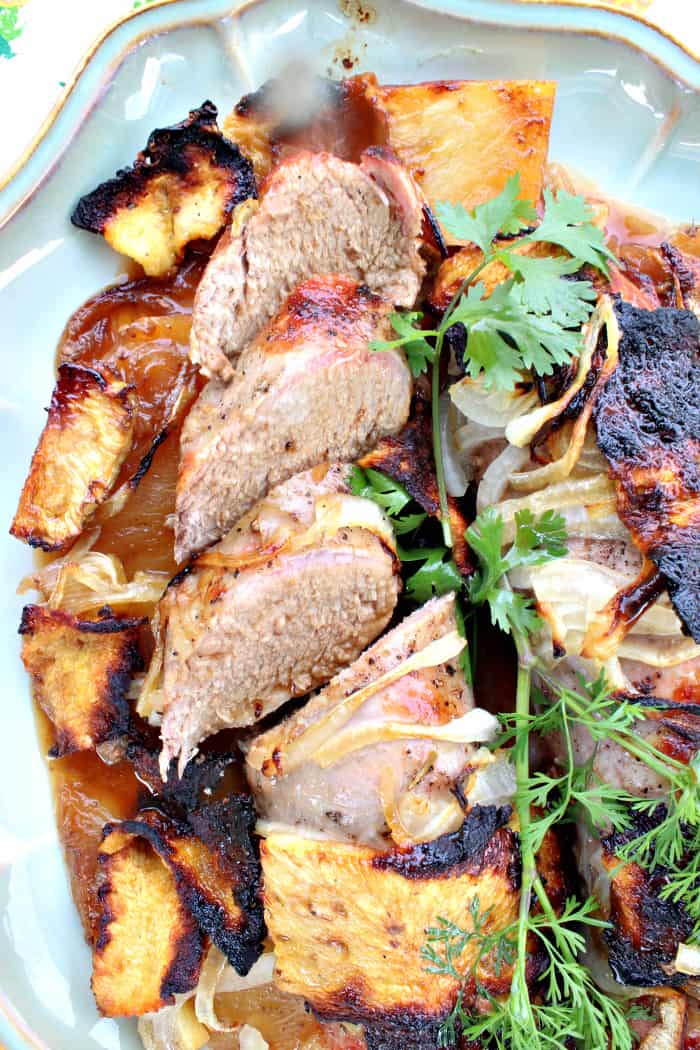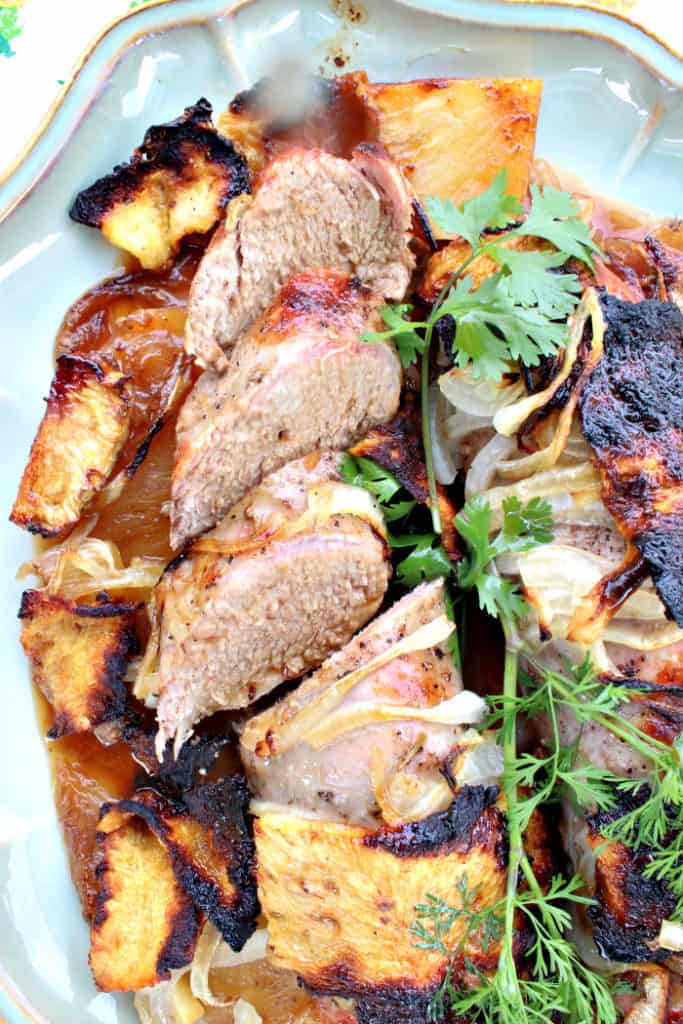 How long will this dish keep in the refrigerator?
If stored in an airtight container, this pork tenderloin will keep for up to 5 days.
Can Pineapple Pork Tenderloin be frozen after cooking?
Yes. Cool the pork completely after cooking and then place any leftovers in an airtight freezer container and freeze for up to 3 months.
This simple pork tenderloin recipe would be a perfect dinner recipe for any night of the week, but also keep it in mind for summertime entertaining...especially if you're throwing a luau!
For more delicious food to serve at a luau, check out the following recipes:
*Aloha Pineapple Cheese Ball (pictured below and showcased in the featured video). This super cute pineapple-shaped cheeseball will be the hit of your next summer party. It's very easy to make, and it's crazy delicious too!
*Tropical Twice-Baked Sweet Potatoes (pictured below)
Travel to the tropics with these fun, festive, and extremely delicious Twice-Baked Sweet Potato Boats featuring coconut and lime flavors.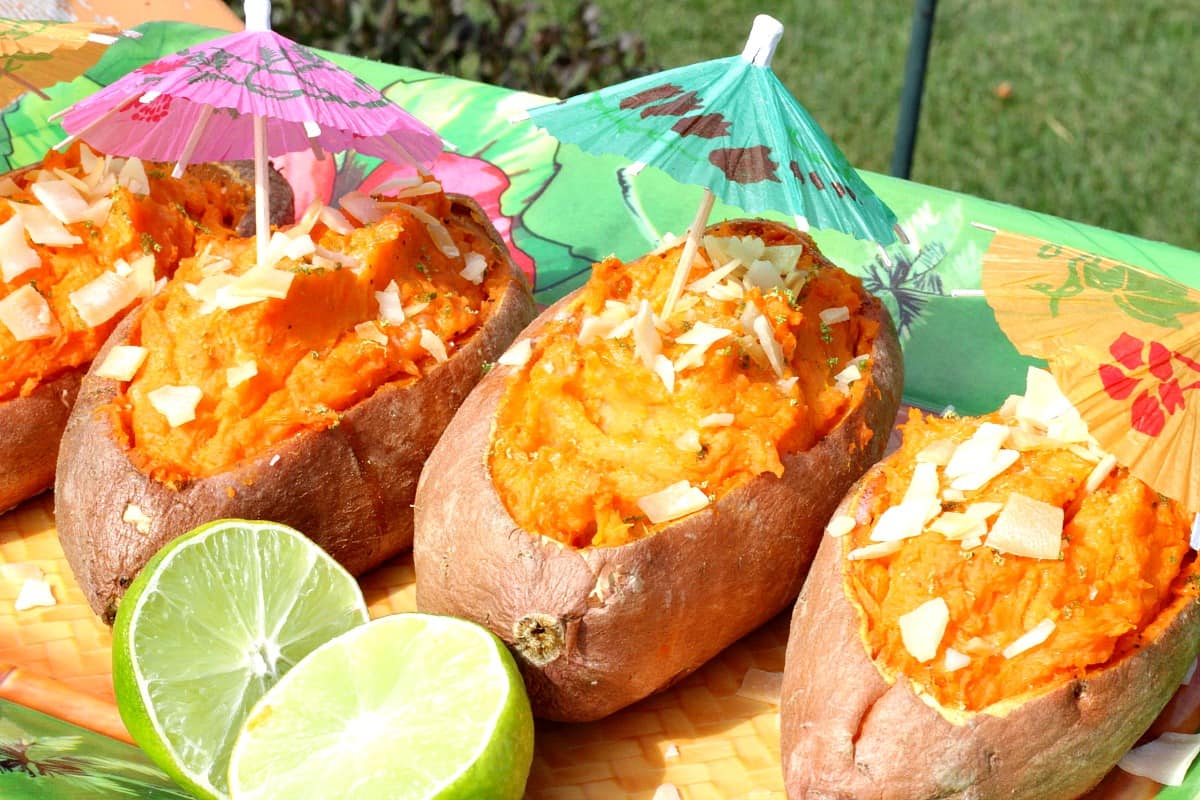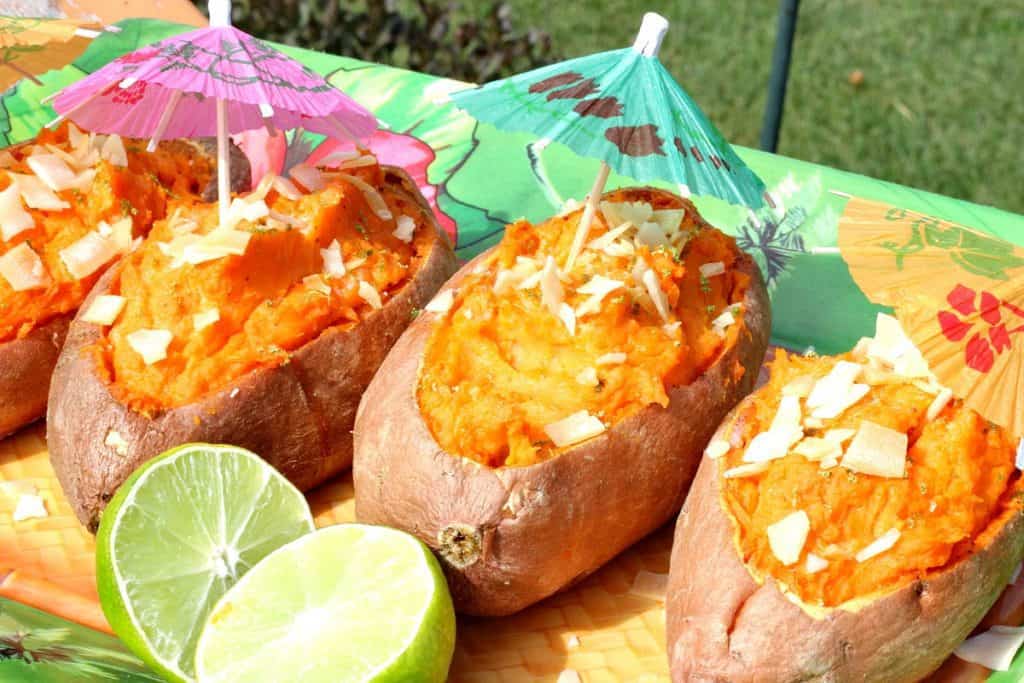 *Coconut Macadamia Nut Cookies (pictured below)
Coconut Macadamia Nut Cookies are just what you're craving when you need a little something sweet, and a little something rich and buttery.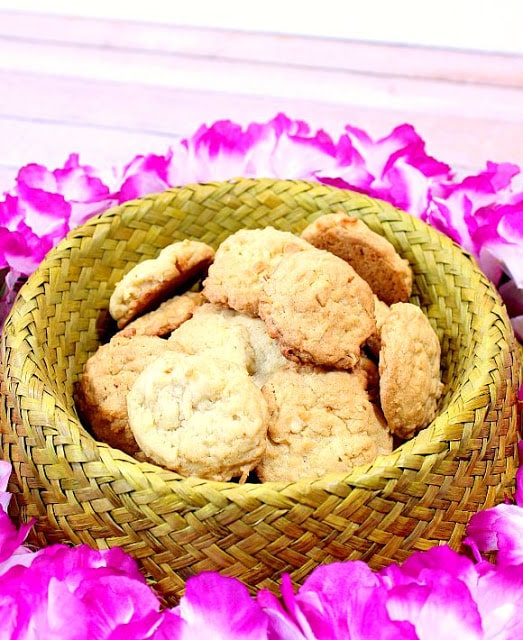 *Luau Recipe Roundup (pictured below)
This Luau Recipe Roundup for brings you plenty of great recipes so you can throw a whopper of a luau for tons of people, or for a small and intimate gathering.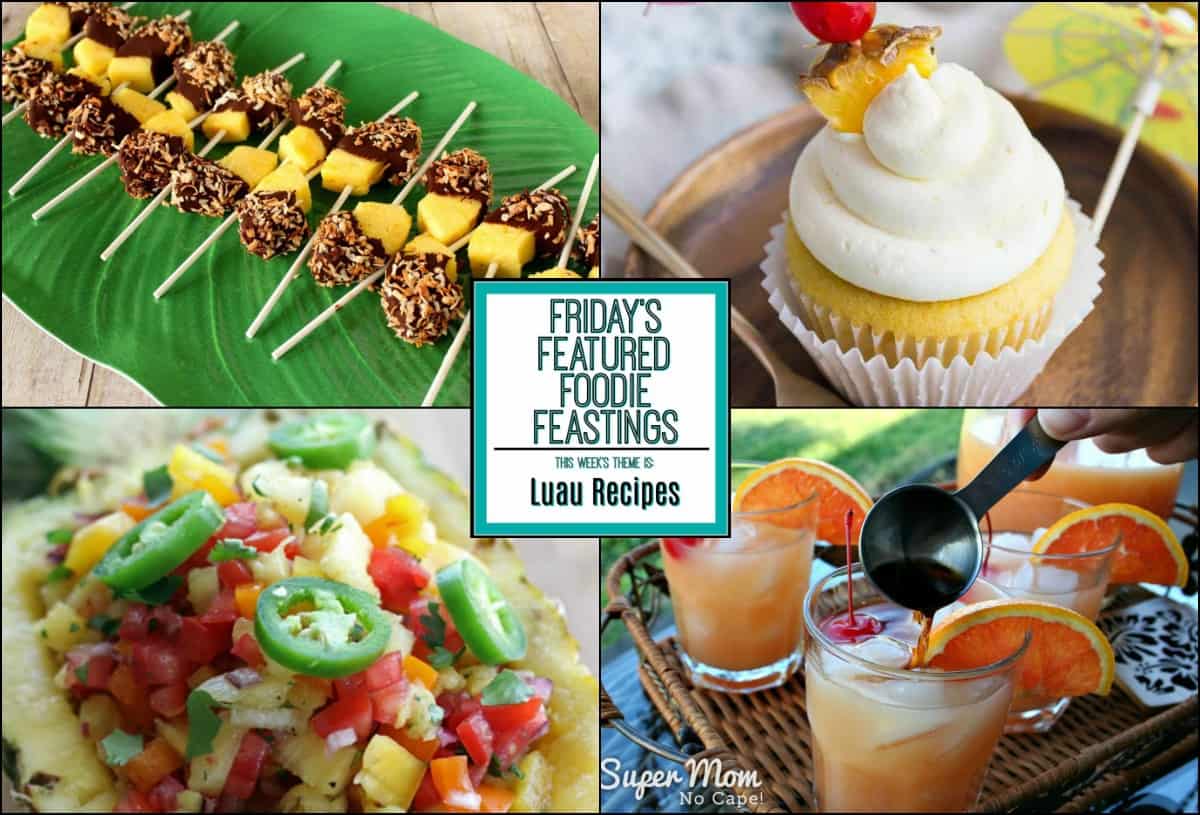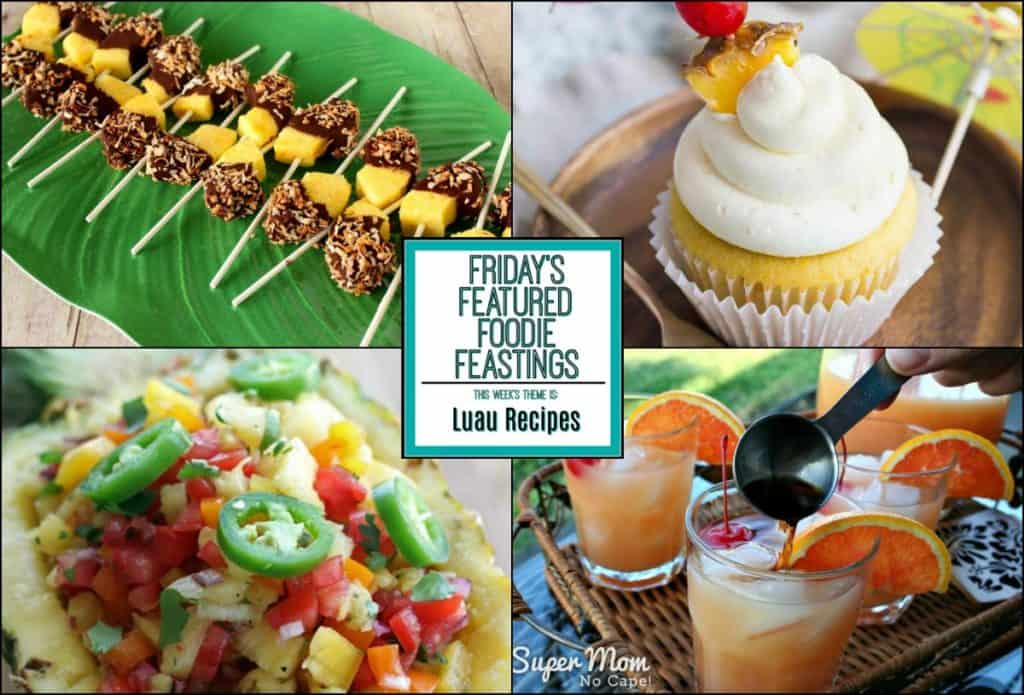 *Hawaiian Chicken Salad (pictured below)
Treat yourself to a taste of the tropics with this Hawaiian Chicken Salad. It's quick to make and completely delicious with plenty of meaty chicken, dried pineapple, chopped macadamia nuts, and toasted coconut flakes. Serve it for a special occasion or just because you deserve it!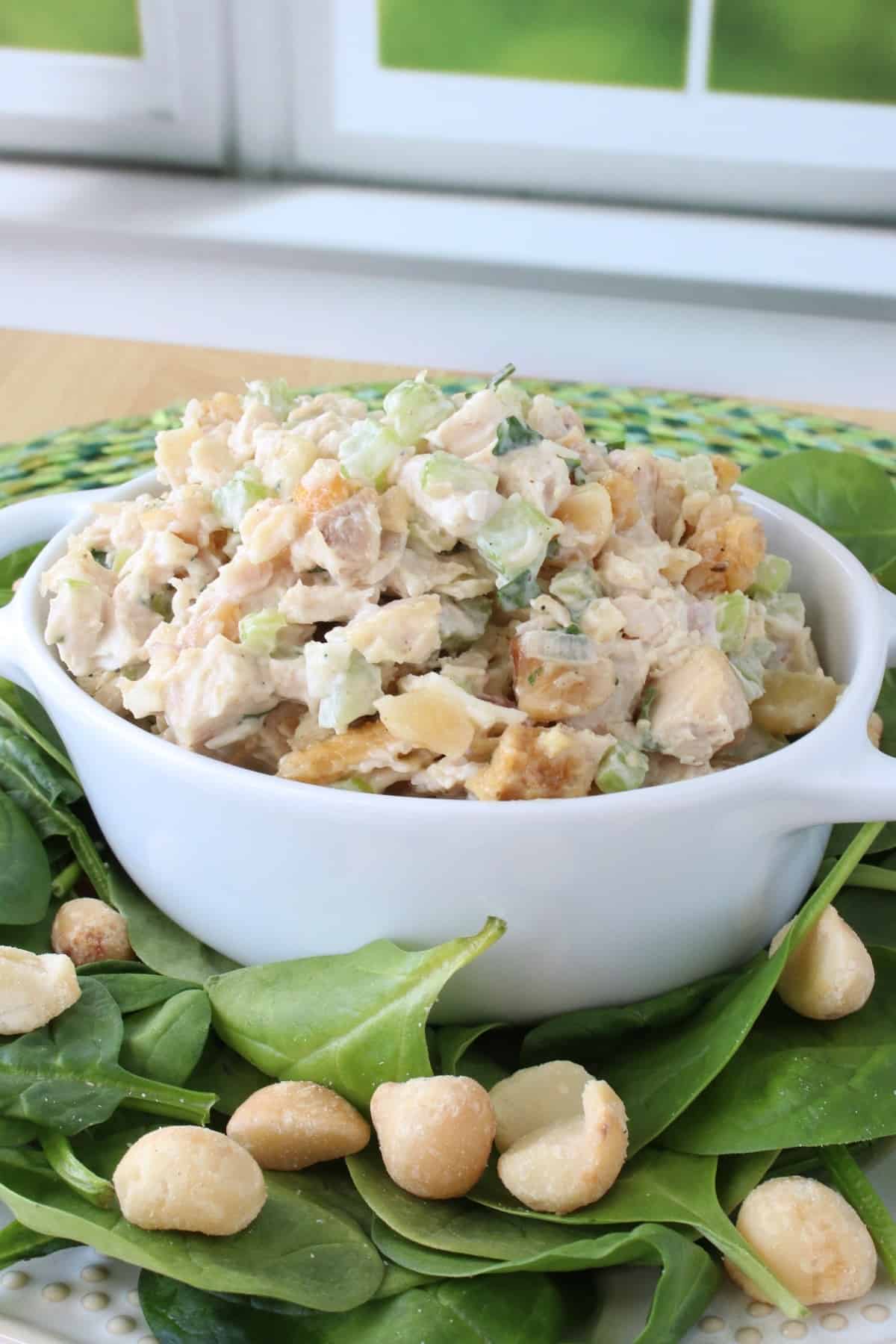 *Pineapple Pork Tenderloin (pictured below) THIS IS THE PLACE!!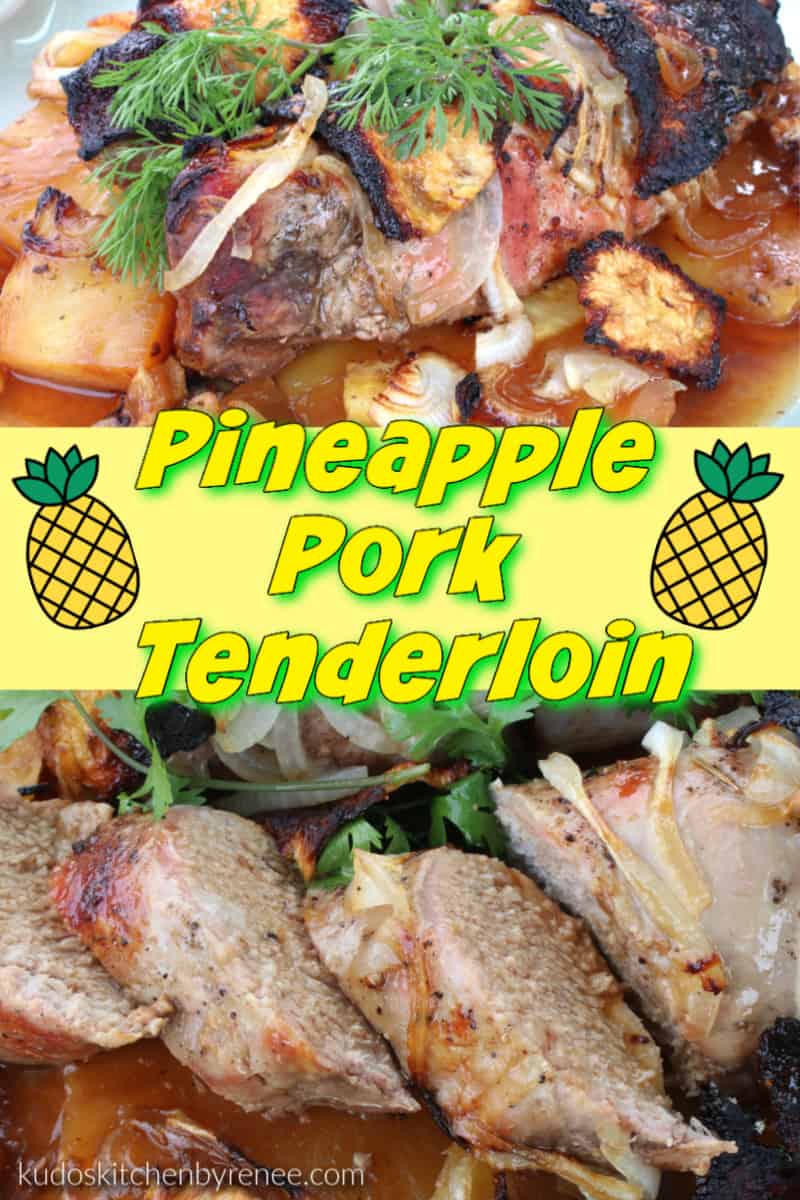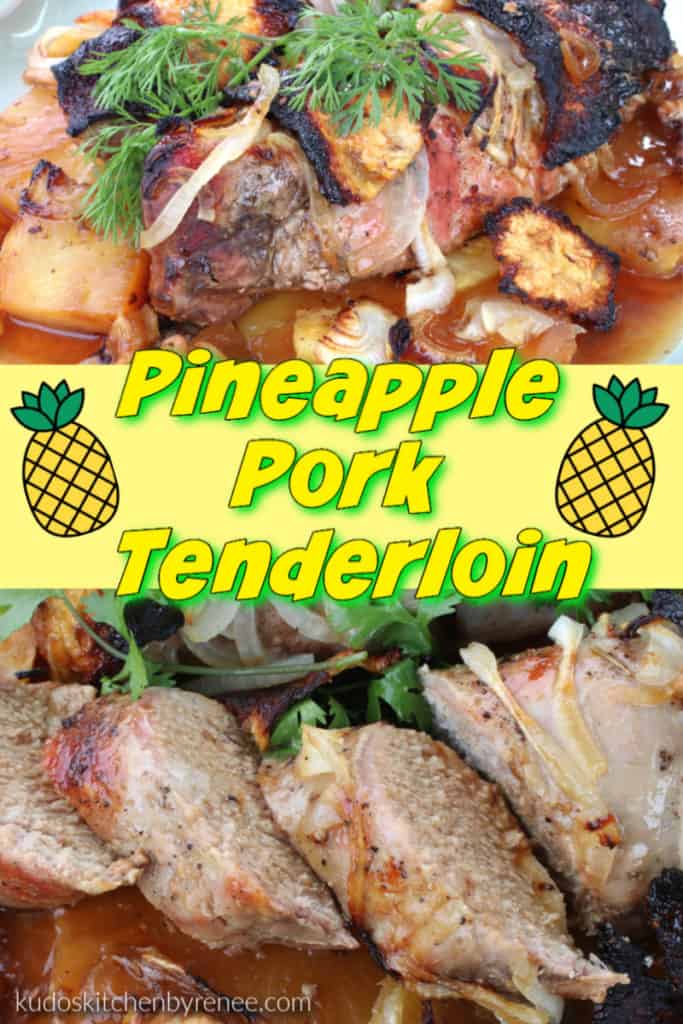 Printable Recipe Card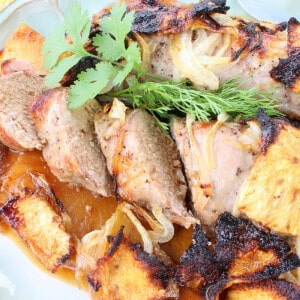 Pineapple Pork Tenderloin
Whether you make pineapple pork tenderloin on the outdoor grill, or inside in the oven...just make it. The pineapple gives the pork a wonderful flavor that you're going to flip over!
Ingredients
1-1½

pound

pork tenderloin

15

slices (approximately

pineapple

(1 fresh, or 2 large cans)

1

large

sweet onion

sliced

¼

cup

teriyaki sauce

1½

teaspoon

kosher salt

or to taste

½

teaspoon

black pepper
Instructions
Prepare a 13x9 baking dish by spraying with cooking spray.

Preheat oven to 350-degrees, or prepare an outdoor grill by heating to medium/high.

Layer a few slices of pineapple on the bottom of the dish.

Place the pork tenderloin pieces on top of the pineapple slices.

Drizzle the teriyaki sauce evenly over the pork tenderloin.

Season with salt and pepper.

Lay the slices of onion over the seasoned pork tenderloin.

Top with the remaining pineapple slices.

Place in a preheated oven for 40 minutes, or until an instant-read meat thermometer reads 145-degrees. OR place on top of two bricks on an outdoor grill, cover, and cook until an instant-read meat thermometer reads 145-degrees.

Once the pork reaches 145-degrees remove it and allow it to rest for 5 minutes before slicing.

Slice and serve the pineapple pork tenderloin by spooning the pan juices over the top, if desired.
Notes
*NOTE - cover the pork with aluminum foil if it's getting too dark before it is completely done cooking, and return it to the oven (or grill). Be aware that if cooking this on the grill, the cooking process may take a little longer.
Turn your outdoor grill into an outdoor oven by placing two aluminum foil-covered bricks on the grates of the grill, and place the dish on top of the bricks for indirect cooking.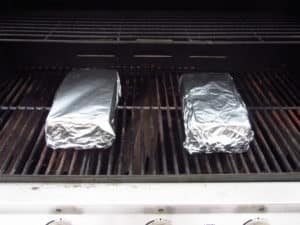 Nutrition
Serving:
2
thick slices
Calories:
147
kcal
Carbohydrates:
5
g
Protein:
23
g
Fat:
3
g
Saturated Fat:
1
g
Polyunsaturated Fat:
2
g
Cholesterol:
62
mg
Sodium:
793
mg
Sugar:
3
g
I sincerely hope you've enjoyed today's easy dinner recipe for pineapple pork tenderloin as much as I've enjoyed bringing it to you!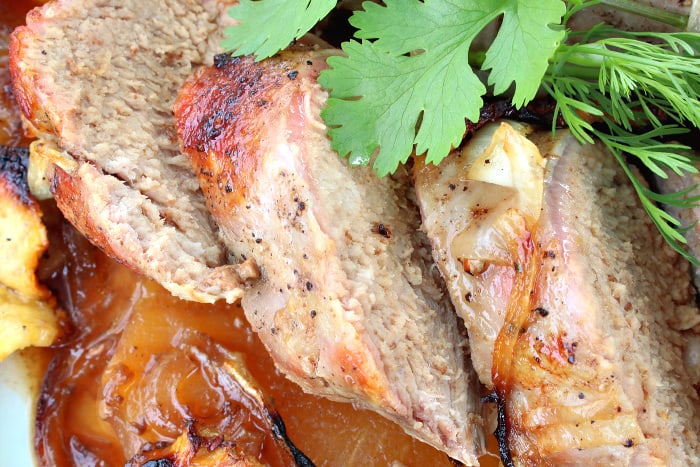 Follow me across my social media platforms and join in on the conversation: FACEBOOK, INSTAGRAM, PINTEREST, TIKTOK, AND YOUTUBE.
Thank you so much for visiting me today in my Kudos Kitchen. I hope you found something you'll love and that you'll come back and visit me often. There is always room for you around my table!
Should you have any questions or comments regarding anything you've seen here on my blog, please don't hesitate to reach out to me. It is always my distinct pleasure to respond to you just as soon as I possibly can.
Until we eat again, I hope you have a delicious day!!